Steve Carell is a treasure that we know from films like 40-Year-Old Virgin, Evan Almighty, and Anchorman: The Legend of Ron Burgundy.
Of course, his work on the American remake of the British sitcom, The Office, as branch manager Michael Scott has made the series remarkably successful.
Steve Carell has been married to his wife Nancy Walls for over two decades (Credit: FayesVision / WENN)
We love hearing about how kind and pure he is off set. He's even been described as "the Tom Hanks of television." He's now been married to his wife Nancy Walls for over two decades! Here's the story of how Steve and Nancy met.
Steve Carell: As Massachusetts Boy
Steve Carell was born and raised in Massachusetts as the youngest of four brothers. He had an early interest in history, leading to his major at Denison University. He even learned to play the fife, which he used during historical reenactments in his youth.
During his time at Denison, he joined the school's improv troupe, Burpee's Seedy Theatrical Company. His success in the group prompted him to join The Second City in Chicago after graduation, where he would take classes and later teach.
Steve Carell's Early Career
Carell performed from 1991 to 1994 with The Second City, a legendary comedy troupe in Chicago.
The Second City provided the comedic start for such performers as John Candy, Bill Murray, Amy Poehler, and of course Nancy Walls, who would go on to marry Steve Carell.
Steve Carell started performing with Chicago legendary comedy troupe The Second City in 1991 (Credit: WENN)
The relationships he forged at Second City proved to be important as his career reached into work on television. He got his start on TV on The Dana Carvey Show alongside his Second City alum, Stephen Colbert.
After the show's cancellation, The Ambiguously Gay Duo animated sketch crossed over to the better-known Saturday Night Live.
Steve Carell Lands a Role on The Office
Both he and Colbert also worked as correspondents on Jon Stewart's The Daily Show, a news satire that still airs on Comedy Central.
He worked on The Daily Show beginning in 1999 and continued through 2005 when he was cast by NBC as his iconic persona, Michael Scott, in the American remake of the British classic, The Office.
Before The Office launched, however, Steve played Brick, the dimwitted meteorologist, in Anchorman: The Legend of Ron Burgundy in 2004. The film did well at the box office, but its acclaim grew in the coming years as the actors' cult followings descended upon the film.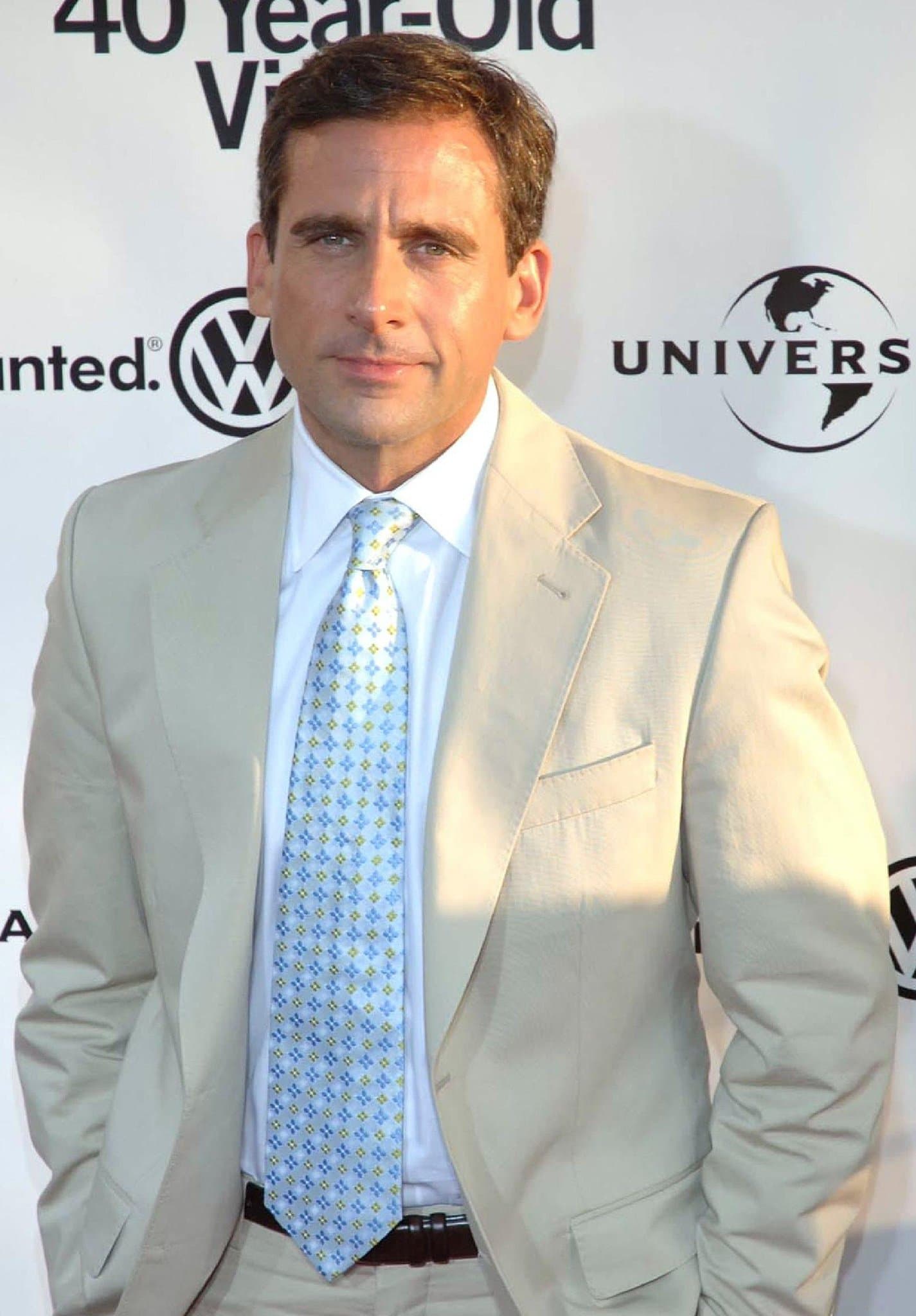 After gaining recognition on The Daily Show, Steve Carell landed his breakthrough role as the comical boss in the mockumentary sitcom The Office in 2005 (Credit: Dimitri Halkidis / WENN)
2005 proved to be a busy year for Steve. The Office was actually met with harsh reviews in its first season; however, NBC opted to renew the show for a second, much more successful season when seeing the star power that Steve brought in 2005's The 40-Year-Old Virgin.
You could say that The Office paved the way for Steve's transition into full-length feature films; however, his success in films sustained his success on television.
By the second season of The Office, the show was seeing overwhelmingly positive reviews and award nominations. Carell was even tapped to write for some episodes of the show.
Steve Carell Transitions to the Big Screen
Steve continued to film movies concurrently during his work on The Office. Some of his film credits include Horton Hears a Who!, Over the Hedge, Little Miss Sunshine, and Evan Almighty.
While working on The Office, Steve Carell starred in several films, including Evan Almighty in 2007 (Credit: Nikki Nelson / WENN)
Carell's Michael Scott character appeared for the last time in 2011, aside from a brief appearance in the show's final episode.
The departure wasn't entirely planned, rather, it was in response to an awkward response during an interview about the filming of the show.
He had inadvertently revealed his desire to focus on his movie career when asked if he would continue to return for future seasons.
His relationship with NBC turned a bit of a corner, and his character was, in effect, written out of the show. It was then that he was able to pursue more diverse and professionally challenging projects.
Over the years, the funnyman showed his versatility and garnered much attention in the movie, Foxcatcher. He received Academy Award and Golden Globe nominations for his role in the drama.
Steve Carell received Academy Award and Golden Globe nominations for his role in the biographical sports drama Foxcatcher in 2014 (Credit: WENN)
Steve's wife, Nancy Walls, has appeared in many of the same productions as Steve. They teamed up once again to create the television show Angie Tribeca in 2016 for TBS.
Around the same time, the Carell family was reported to have been significant financial contributors to the Minnesota Freedom Fund, which assists with bail for financially underprivileged individuals.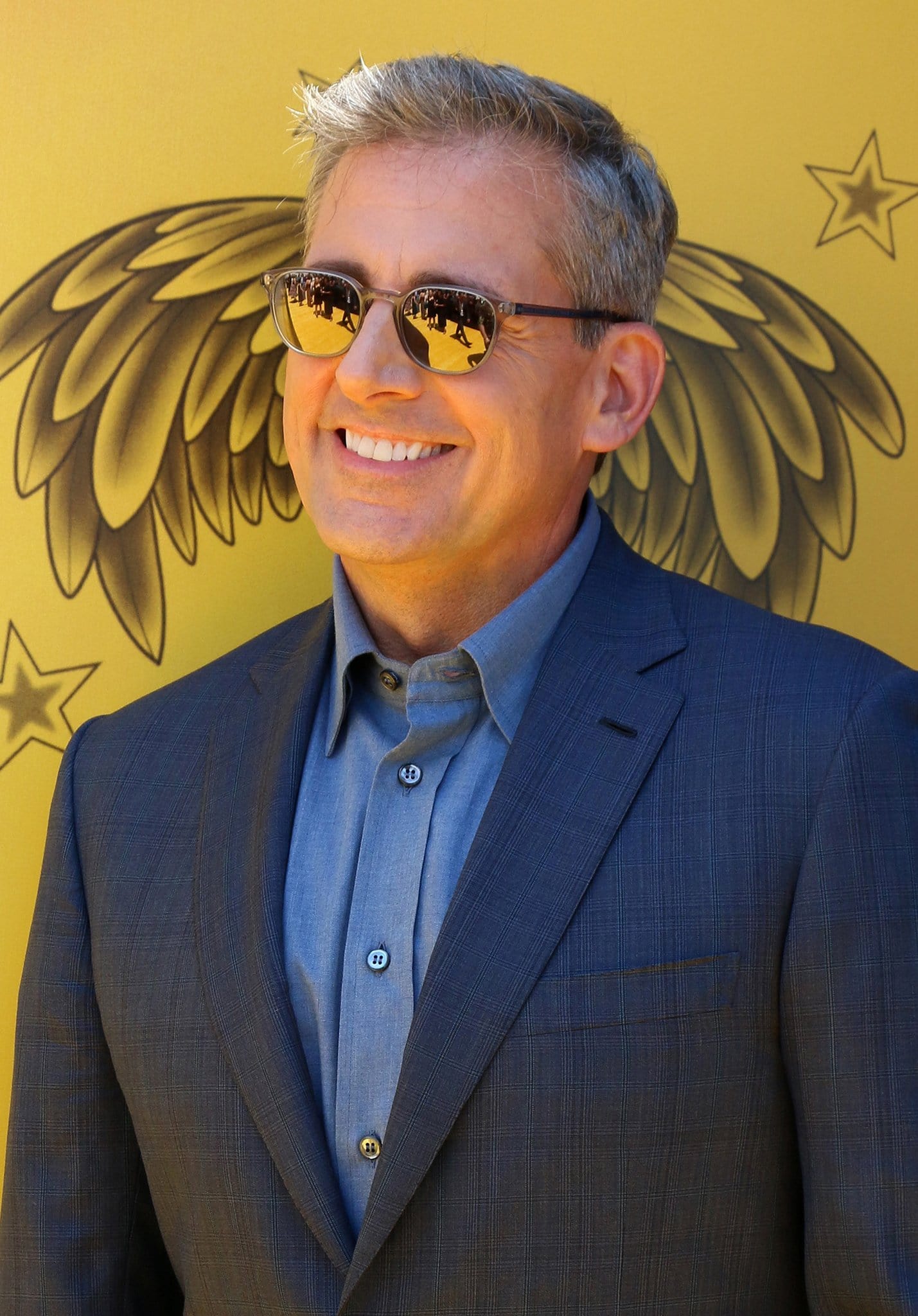 Steve Carell voiced Gru in the Universal CGI film Despicable Me franchise (Credit: Nicky Nelson / WENN)
Carell has most recently been seen in Netflix's Space Force and Apple TV+'s The Morning Show. He also continues to carry the role of Gru in the Despicable Me franchise. Despicable Me: The Rise of Gru is expected to be released in 2022.
Nancy Walls and Steve Carell Meet in Chicago
Steve met Nancy Walls at Second City in Chicago, where he was teaching at the time. He says that he was "immediately attracted" to her.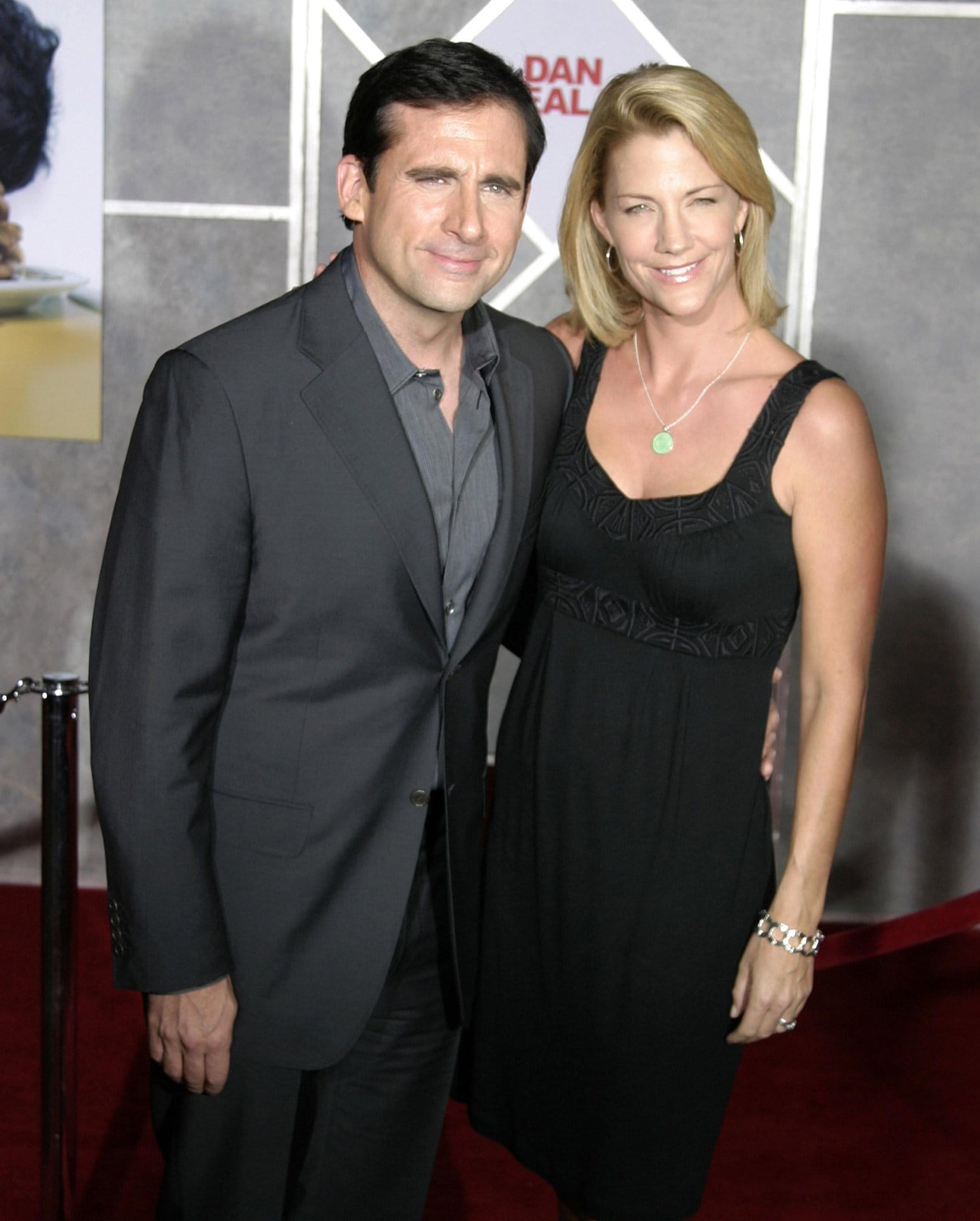 Steve Carell was immediately attracted to Nancy Walls when he met her at Second City in Chicago in the 1990s (Credit: John Cronise / WENN)
Nancy had been taking improv classes at Second City but worked at a nearby bar. He found himself bellying up to her bar as an excuse to talk to her after shows.
On The Ellen Show, Carell describes both as "very, very timid, sort of nervous, shy people around each other" at the time. As a result, their banter leading up to a first date literally stretched on for weeks.
"I beat around the bush and said something stupid like, "Well, you know, if I were to ever ask someone out, it would be someone like you." It's so stupid, but it was all self-protection," he told Details in 2013.
"She was the same way: 'If somebody like you were to ask me out, I would definitely go out with him. If there was a person like you.'"
"She happened to be in one of the improv classes I was teaching. She's beautiful, intelligent and really funny. She kind of checked all the boxes in my head, but I thought she hated me because she was very quiet around me. I thought she for sure knew that I was full of it, and I later found out that she was just as nervous as I was and trying to act cool," he wrote in The Guardian about meeting his wife.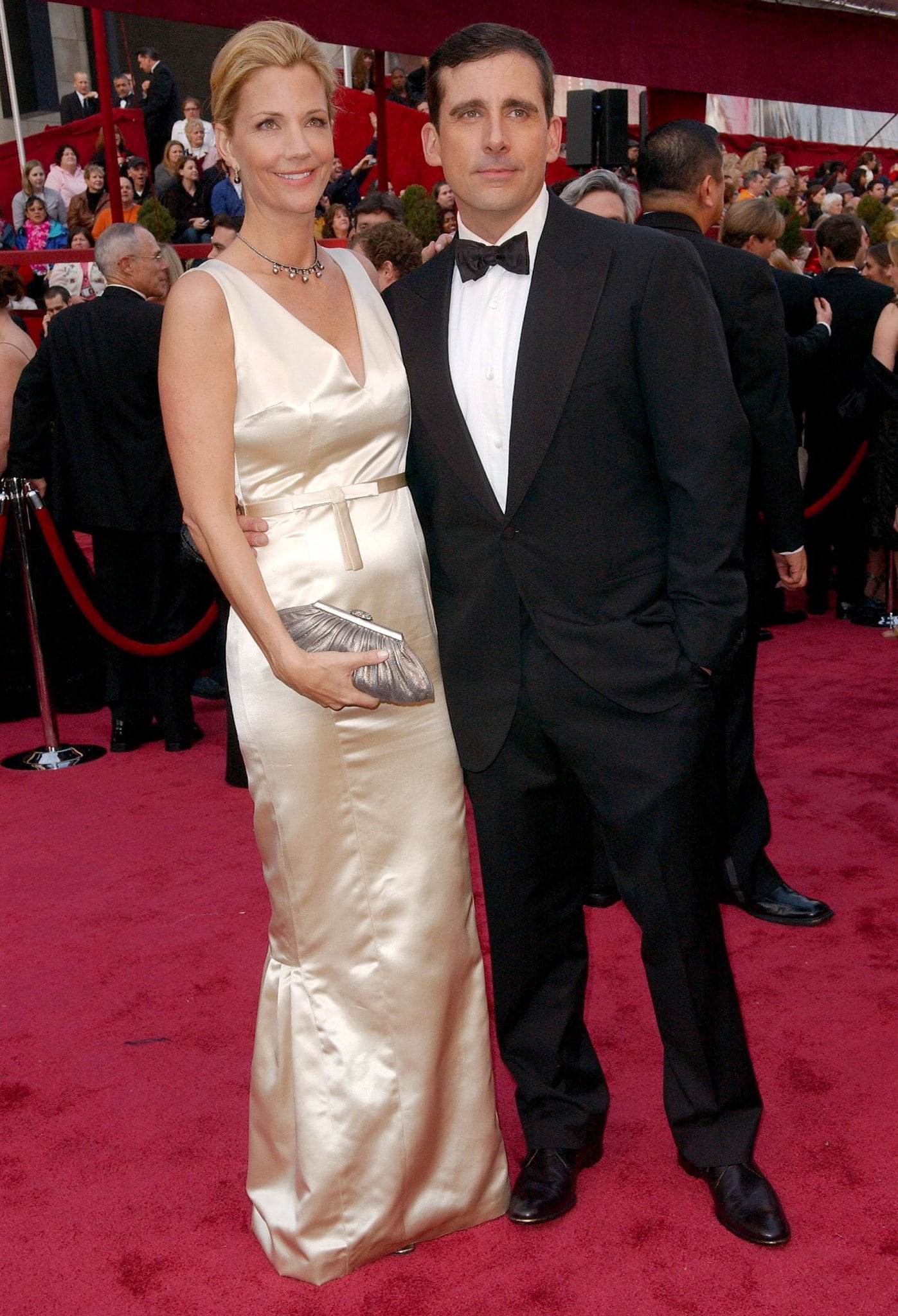 Nancy Carell and Steve Carell relocated to New York City after getting married in 1995 (Credit: Apega/ WENN)
Nancy Walls is also from Massachusetts. She graduated from Boston College, where she participated in the improv troupe, My Mother's Fleabag. Years later, she found herself across the bar from the love of her life, Steve Carell.
In 1995, the newlyweds, Nancy and Steve, relocated to New York, where she received a coveted position on the historic Saturday Night Live. She continued through 1996 at SNL, occasionally making appearances on The Daily Show.
During the successful run of The Office, she frequently appeared as Michael Scott's girlfriend, Carol Stills.
The Carell Family at Home
Steve Carell and Nancy Walls were married in 1995. Steve gushes about the day, saying, "I'll never forget standing at the altar and I saw her coming down the aisle – immediately a sense of calm came over me. There was an ethereal sense of how right it all was and more than anything it was very empowering knowing that person was going to be my partner and have my back. It just made me feel strong, and I'll never forget it."
Nancy Carell and Steve Carell share two kids together (Credit: WENN)
The couple has two children. Their oldest, Elisabeth Anne Carell, recently graduated from Northwestern University. Their youngest, John, is about to graduate high school.
Steve describes their kids as "very funny." We'll assume he gets it from both sides of his family tree.
Steve and Nancy are wonderful, supportive parents. The actor even reportedly goes on father-daughter dates with his daughter, "Annie," as she's called.
Nancy and Steve Carell are supportive parents to their two kids and he even goes on dates with his daughter (Credit: FayesVision / WENN)
The only time on record that Steve has lost his temper was in response to paparazzi badgering his daughter. She had been learning to ride a bike, and she ran inside, visibly upset after the taunts and attention became too much.
Carell scolded the camera-wielding crowd for their actions.
"Look! I'm right here. If you want to take pictures of me, take pictures of me… But do not ever hurt my daughter like that. She didn't sign up for this. She just got born into my family, and I am famous. Why can't I have an experience with my daughter [in] private?"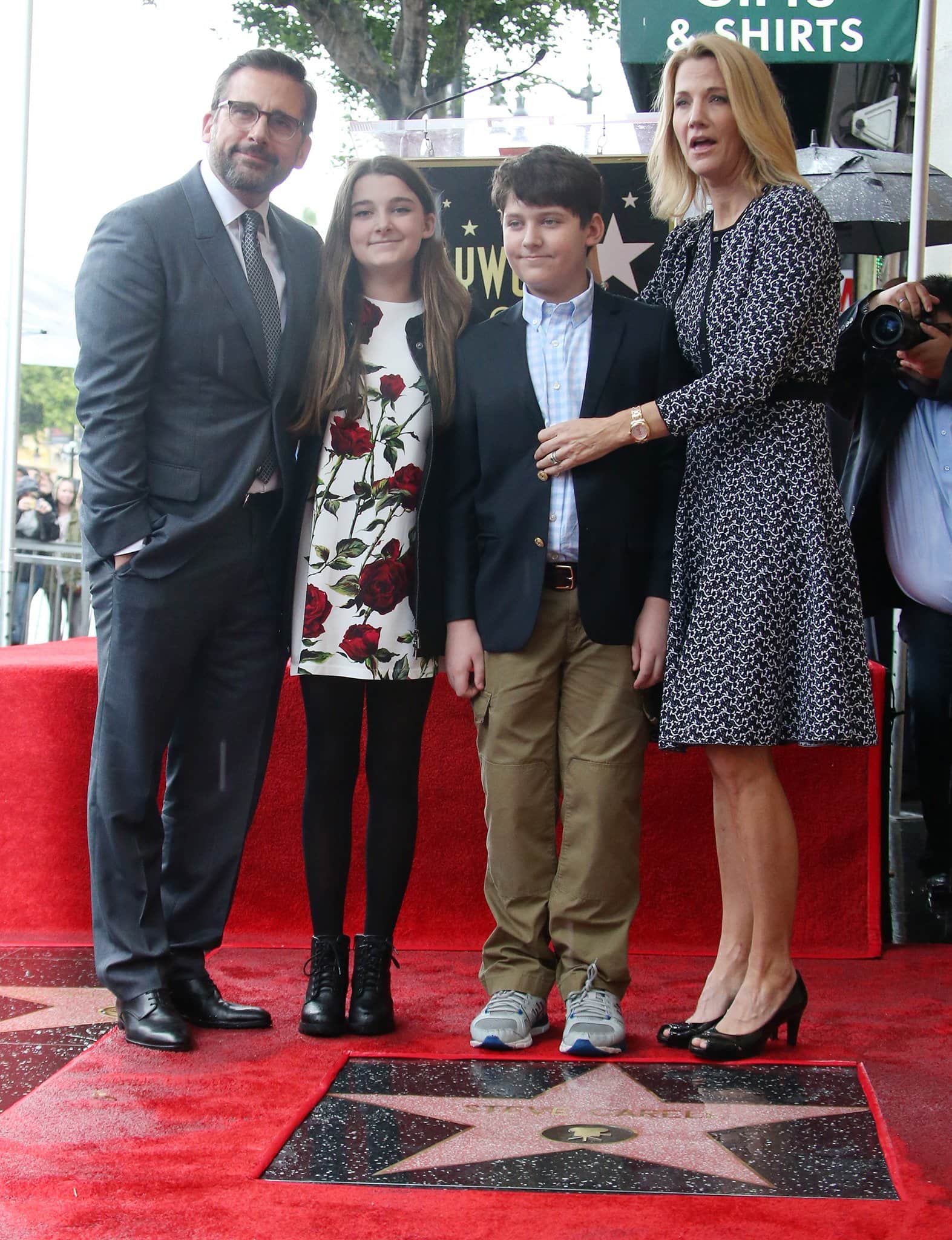 Steve Carell receives Hollywood Walk of Fame star with his kids Elisabeth Anne Carell and John Carell and wife Nancy Carell on January 6, 2016 (Credit: FayesVision / WENN)
Heads hung, they agreed with the father and packed up their gear, leaving the family in peace.
Most of the time, though, the Carell household seems to be ticking with a laugh a minute. Steve's even been spotted wearing a dog head mask in an effort to embarrass his son.
Relaxing Back in Massachusetts
The Carell family frequently returns to the Massachusetts countryside, where they purchased Marshfield Hills General Store on New Year's Day in 2009.
The quaint store features a coffee bar, a bakery case, penny candy, and a variety of merchandise for purchase. The store itself dates back to 1969 and serves as a historical landmark for the town.
"I think it's nice for people to actually go and talk and have a cup of coffee and communicate with one another," Carell says about the store.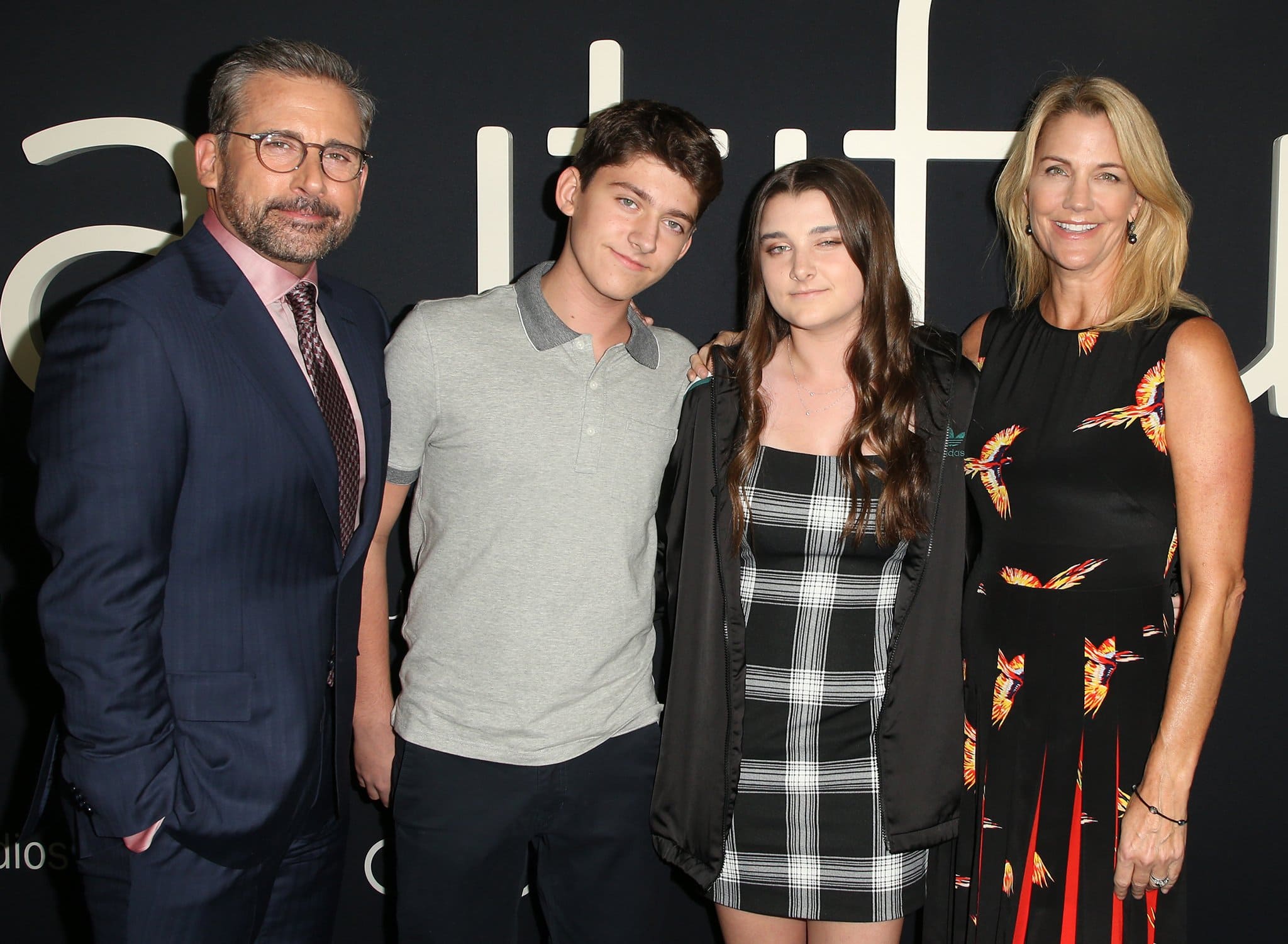 The Carell family frequently returns to the Massachusetts countryside, where they purchased Marshfield Hills General Store (Credit: FayesVision / WENN)
Tourists and locals are sometimes lucky enough to run into Steve and Nancy Carell, who still spend summers near the town.
Steve's sister-in-law, Tish, runs the store's day-to-day operations. The star also appears at scheduled events at the store, one of the most recent being the "Thing On The Porch," where Steve was standing by to take pictures and sign autographs.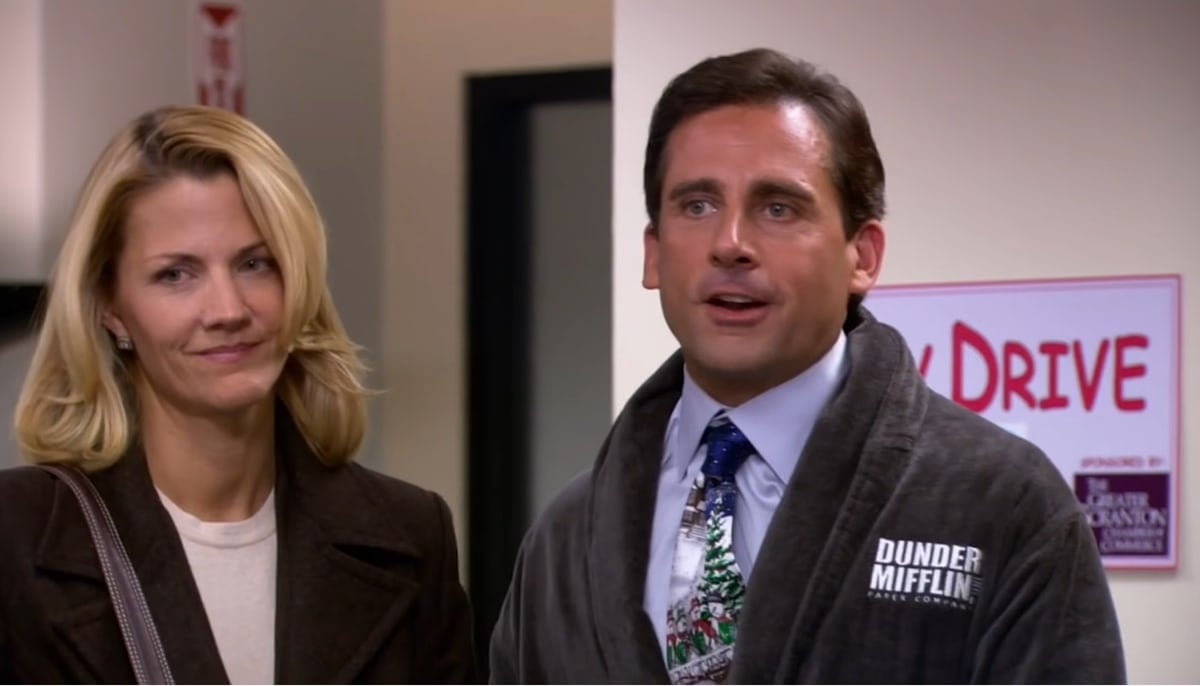 Michael Scott's girlfriend in The Office, Carol Stills, was played by Steve Carell's real-life wife Nancy Ellen Carell (née Walls) (Credit: WENN)
You simply cannot talk about comedy without mentioning one of the projects this amazingly talented and hilarious family has had their hands in. Oh, what we wouldn't give for a dinner invitation to the Carell household!
Until that happens, we'll lean into the words he shared with Princeton's 2012 graduates: "Do something kind, make someone laugh, and don't take yourself too seriously." Thank you, Steve, for being every bit as awesome as you are on screen!
In October 2014, Jennifer Garner joined her co-star Steve Carell on the red carpet for the premiere of their new film "Alexander and the Terrible, Horrible, No Good, Very Bad Day" held at the El Capitan Theatre in Hollywood.
Jennifer Garner rocking a ruffle-detailed dress by Valentino (Credit: Adriana M. Barraza / WENN / FayesVision)
Flashing her legs in a classy mini dress, Scott Foley's ex-wife was also joined by Dylan Minnette, Bella Thorne, Ed Oxenbould, and Kerris Dorsey.
Steve Carell and Jennifer Garner at the premiere of 'Alexander and the Terrible, Horrible, No Good, Very Bad Day' held at the El Capitan Theatre in Hollywood on October 6, 2014 (Credit: Adriana M. Barraza / WENN)
The then 42-year-old actress opted for a ruffle-detailed dress by Valentino from the brand's Pre-Fall 2014 collection featuring a round neck, short sleeves, a concealed rear zip fastening, and a front ruffle detail.
Jennifer Garner shows off her Neil Lane jewelry (Credit: Adriana M. Barraza / WENN)
Jennifer styled the dress with Neil Lane jewelry, an Oscar de la Renta 'Goa' crystal clutch, and showed off her sexy toes in black suede ankle-strap "Kalpa" sandals by Jimmy Choo.
Jennifer Garner showed off her sexy toes in black suede ankle-strap "Kalpa" sandals by Jimmy Choo (Credit: Apega / WENN)
How do you like Jennifer's sexy mini dress and Jimmy Choo sandals?
The mixed-media Jimmy Choo 'Kalpa' sandals have sold out online, but you can browse more recent releases from the same designer at Mytheresa, Nordstrom, and Farfetch.
Jimmy Choo "Kalpa" Sandals, $1,495 – $1,995