In August 2021, Jennifer Garner opened up about her divorce from her ex-husband Scott Foley. They met on the set of the American drama television series Felicity in 1998.
Scott Foley starred as Noel Crane, and Jennifer Garner played his season one girlfriend, Hannah.
Jennifer Garner and Scott Foley married in 2000 and separated in 2003 (Credit: WENN)
"She played my girlfriend on Felicity. We met on the show and … we hit it off instantly and [we were] soon dating," Foley said during a September 2021 episode of SiriusXM's "Radio Andy."
"You have to say hello. You're very civil," Foley added about seeing his ex-wife at Hollywood events. Garner and Foley married in October 2000 and announced their separation in April 2003.
"I mean, we do not keep in contact because she has her own family. I have mine. … But I've seen her a few times — especially when we were living in L.A. — and Marika has been with me. You know, everybody says hi and you're cordial and you move on. That's life, right?"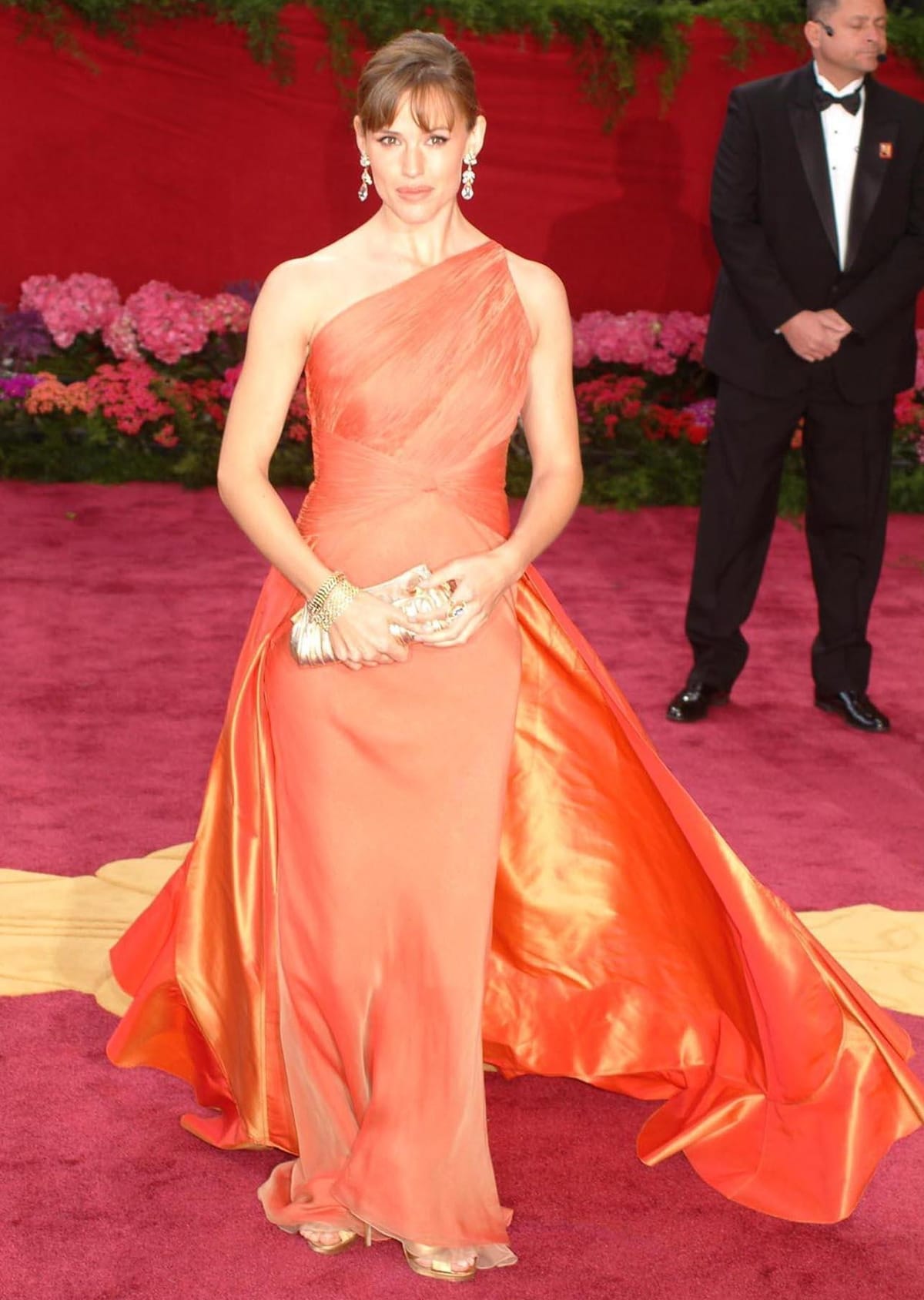 Jennifer Garner in an orange asymmetrical Valentino dress at the 2004 Oscars held on February 29, 2004, at the Kodak Theatre in Hollywood, Los Angeles (Credit: WENN / Cortes)
"Oh, he's a great guy. We were full-on grown-ups, but looking back I'm aware we did not know what hit us," Jennifer told Allure about her first divorce. "We didn't have a shot. He's a really good guy, and we just imploded."
"We're speaking about this with my current wife [actress Marika Domińczyk] behind me, and she's laughing. She's really enjoying the squirming that I'm doing here," Foley said on SiriusXM's Andy Cohen Live.
Scott Foley and his wife Marika Dominczyk met through an introduction by Marika's sister (Credit: Nikki Nelson/ WENN)
Grey's Anatomy star Marika Dominczyk and Scandal's Scott Foley met in 2003 after being introduced by Marika's sister, who was working with Scott on a show.
Marrying in June 2007 in a private ceremony in Hawaii, they have a daughter, Malina Jean, and two sons, Keller Aleksander and Konrad.
"[Garner and I] were together for a total of about five years. I say that, I downplay that, because my wife's right behind me. … I think we were married for three."
Scott Foley and his wife Marika Dominczyk with their children Malina Jean and Keller Aleksander arrive at the Premiere of Warner Bros. Pictures and IMAX Entertainment's 'Island Of Lemurs: Madagascar' at California Science Center on March 29, 2014, in Los Angeles, California (Credit: Bridow / WENN)
"Jennifer became a huge celebrity," Foley told TV Guide in 2003 and insisted rumors of infidelity were not true.
"She became a huge star, and she deserved everything she got. There was no other relationship, there was no infidelity, nothing. People get divorced, you know? Through no one's fault and everyone's fault."
Wearing Brooks Levitate 4 sneakers and a The Uplifters Hug a Farmer tee, Jennifer Garner goes for a bicycle ride with her son Samuel Affleck in Pacific Palisades on September 12, 2021 (Credit: MEGA / WENN)
"Everyone reaches maturity at different times. I wish I'd known to wait for marriage until I was 30 or over," Garner told The Sun in 2012.
"I did marry in my twenties and I found divorce a crushing experience," Garner added. "I thought the divorce statistics would never apply to me. I was beyond heartbroken when they did."
Jennifer Garner's Mom Style: How She Stays Stylish While Running Errands with Her Kids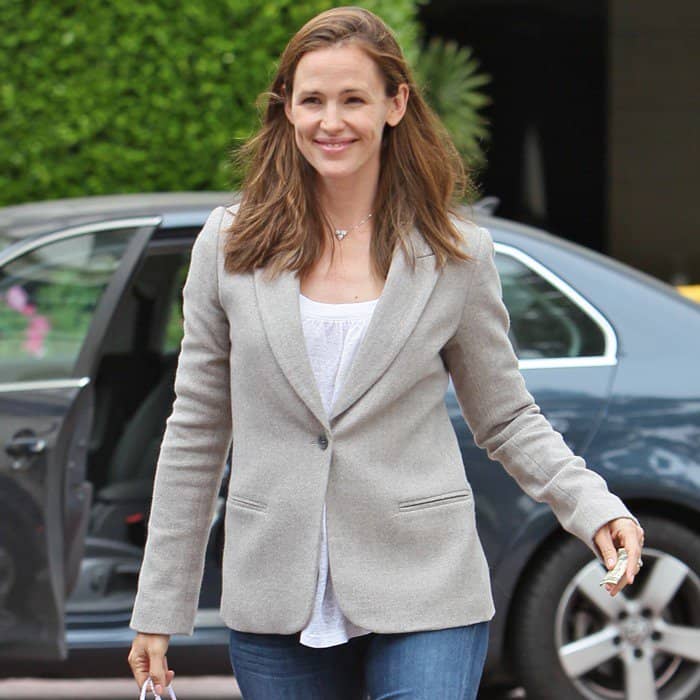 Jennifer Garner wearing a fitted beige blazer over her blue skinny jeans (Credit: Michael Wright / WENN)
The best celebrity moms are the ones who do actual mommy duties without dropping the stylish look. Jennifer Garner is on top of the list, doing everything from shopping with her family, bringing her kids to school, and getting some take-out.
In June 2013, the "13 Going on 30" actress was spotted with her daughter, Violet Affleck, leaving American Girl Place in The Grove.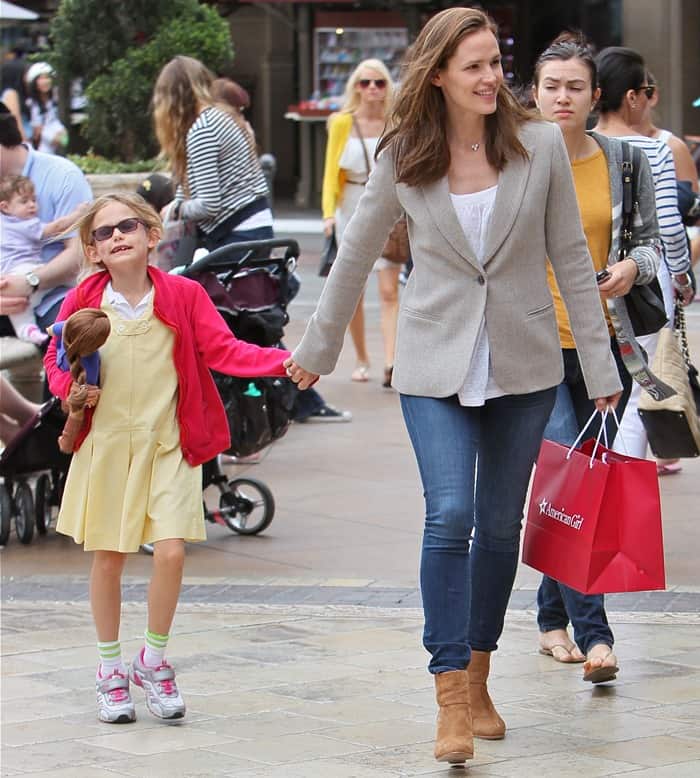 Jennifer Garner rocks Citizens of Humanity Avedon Skinny jeans in Secret with a white top (Credit: Michael Wright / WENN)
The Capital One spokesperson had a bit of a business casual look going on with a fitted beige blazer over her jeans. She finished the look with a pair of caramel-colored boots with stacked heels.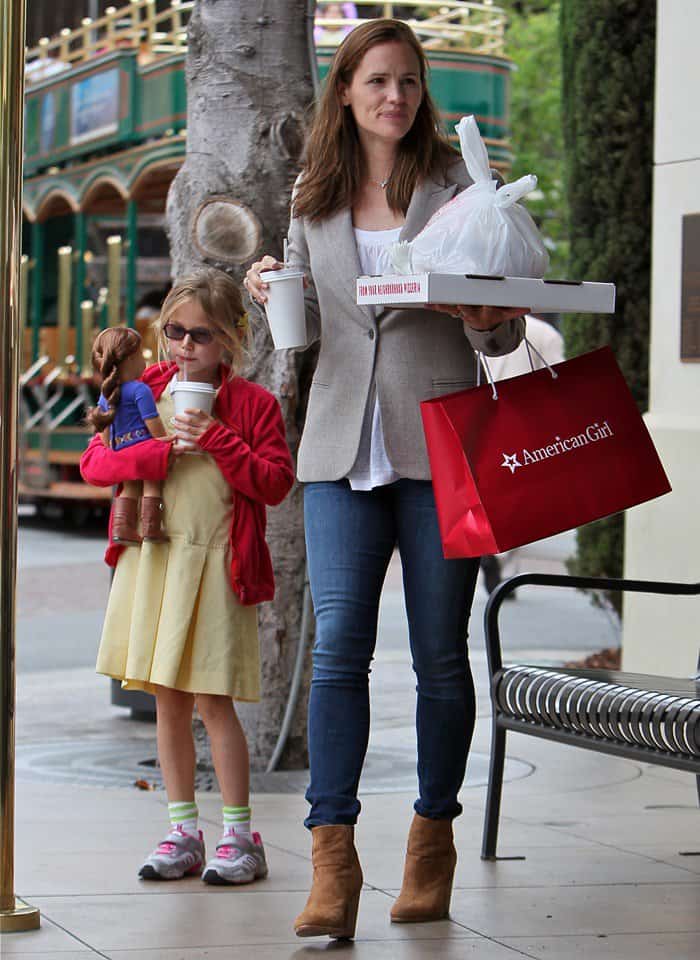 Jennifer Garner and daughter Violet Affleck leaving American Girl Place at The Grove and head to La Piazza for some takeout at The Grove in Los Angeles on June 4, 2013 (Credit: Michael Wright / WENN)
The boots may look classic, but they gave the actress' prepped-up outfit a bit of an edge.
You'd expect her clothes to be worn with a pair of ballet flats or pumps, but the boots worked and are actually very much in keeping with Jennifer Garner's laid-back, girl-next-door style.
Jennifer Garner wearing a pair of caramel stacked-heel booties with jeans and a blazer (Credit: Michael Wright / WENN)
Tory Burch's 'Sabe' booties look a lot like Jennifer's — with the caramel hue, the sturdy stacked heels, and no platforms. However, she was, of course, wearing her favorite Rag & Bone Classic Newbury booties.
Tory Burch "Sabe" Booties, $385
I'm sure being a mom of two had a lot to do with Jennifer's chosen boot style. You can't really wear super high heels when you have kids to care for, right? Unless you got Victoria Beckham calves, of course.
Remember, when someone calls your child by name, they may not perceive that person as a stranger. To ensure your child's safety, it's crucial to avoid displaying their name on visible areas of their backpack or clothing. By doing so, you can minimize the risk of strangers gaining undue familiarity with your child.
You can purchase the below Nike Kids Brasilia Just Do It backpack on Zappos.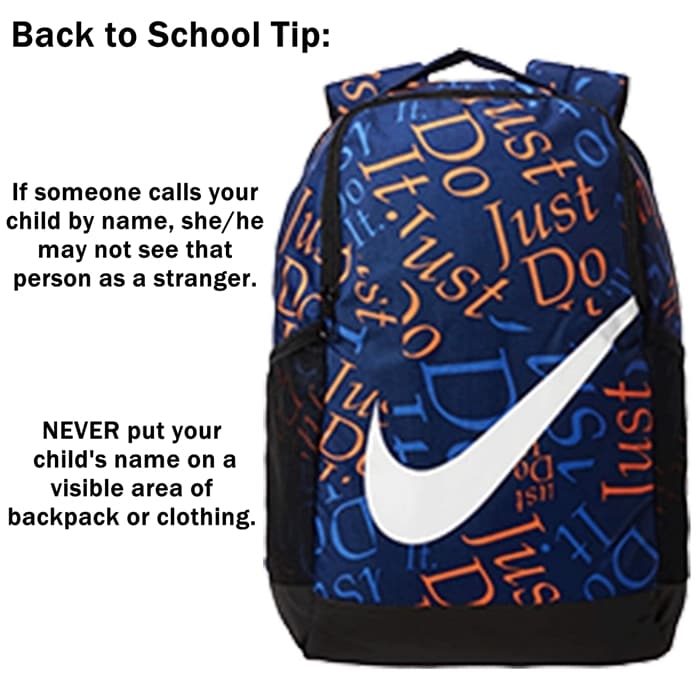 NEVER put your child's name on a visible area of backpack or clothing