Also known as fanny packs, belt bags have gone from being a streetwear and activewear staple to a bag that you'll find everywhere from Tory Burch to Coach.
The sudden rise in the popularity of belt bags comes from the shift towards casual and laidback fashion that is both functional and stylish.
This small pouch bag is worn like a belt around your waist – or even your neck – secured using buckles and a tri-glide slide strap that allows you to adjust the fit to be comfortable against your silhouette.
Khloe Kardashian, Vanessa Hudgens, Halsey, Myleene Klass, and Fergie show how to carry a belt bag or a fanny pack (Credit: Mega / WENN)
While belt bags are still popular within the street style world, they've broken out into the mainstream. Almost every fashion brand has released its take on the classic belt bag.
What we love about this bag is it gives you comfort, style, and flexibility all in one. The belt bag is one that you can take with you as your everyday bag, use while commuting to work or while being a tourist in your own city.
It's one of the most versatile bags that you can add to your collection and is a functional size – sitting between the 'mini' bag and the larger shoulder bags.
What is a belt bag used for?
A belt bag is the perfect size to carry all the essentials that you need – including your passport, keys, makeup, and spare necessities. If you value having a hands-free bag, this is the one for you.
We're taking a look at everything that you need to know about belt bags, including whether they're in style, how to wear them, and the best belt bags for women in fall 2021.
Read on to find out more about this must-have bag silhouette and the reason behind its hype.
Put simply, a belt bag is a small pouch bag attached to an extendable belt strap. What we love about belt bags is that they're a hands-free option for carrying everything you need.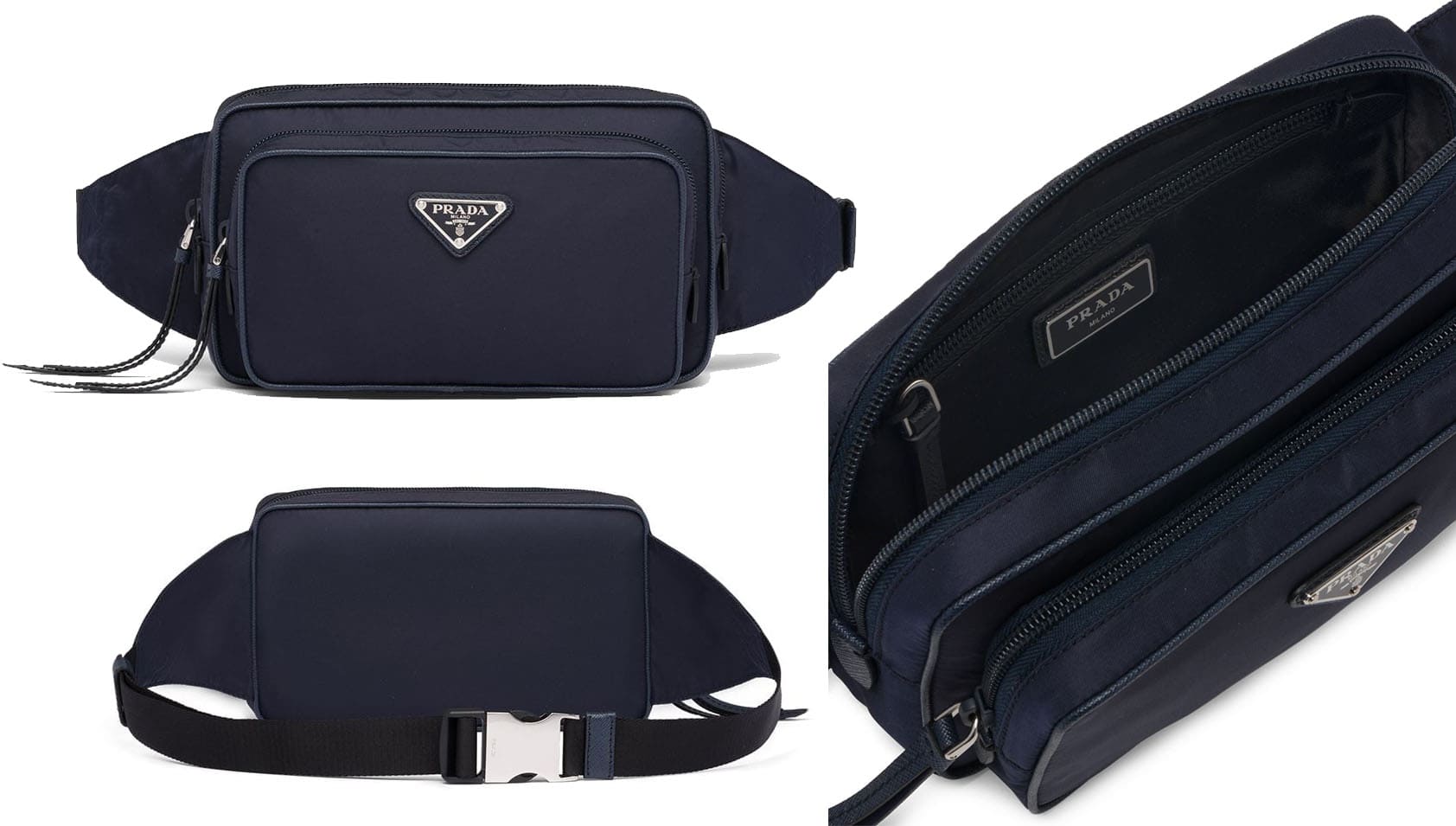 Belt bags are used to carry daily essentials and are usually worn around the waist using a belt-like strap with a triple-glide slide
You'll typically wear a belt bag around your waist, placing the strap just above the hypes before securely fastening it with a buckle.
The strap uses a tri-glide slide, similar to a car or airplane seatbelt, allowing you to adjust the bag and belt to achieve the perfect fit to accommodate your body.
Why belt bags are still in style
Yes, belt bags are still in style. In 2018, the bag officially came back into style when new silhouettes were introduced by fashion brands like Louis Vuitton, Prada, and Gucci.
These luxury belt bags retailed up to several thousand dollars and were quickly spotted being character by celebrities like Vanessa Hudgens and Bella Hadid.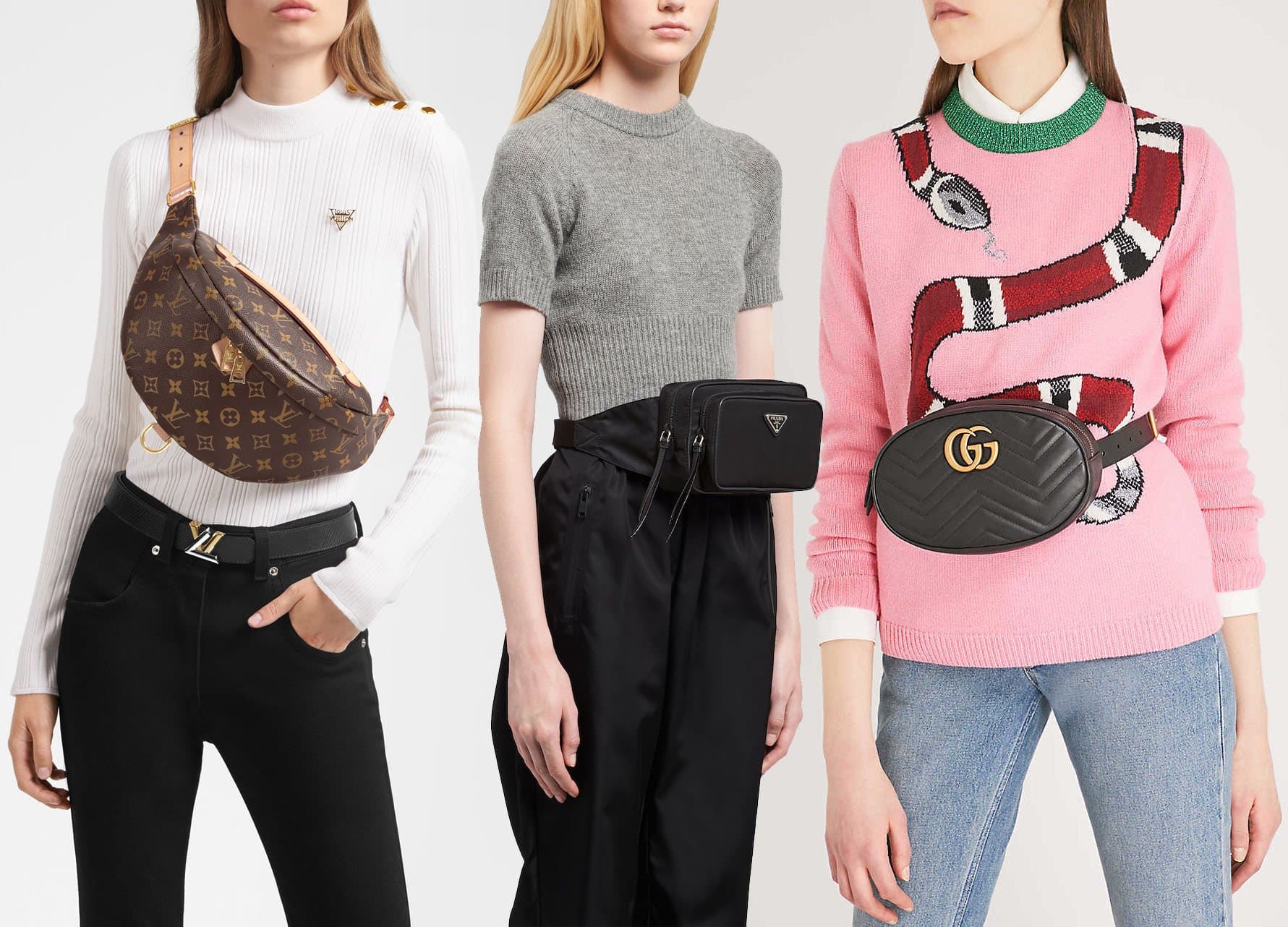 High-fashion brands like Louis Vuitton, Prada, and Gucci introduced new belt bag silhouettes in 2018
The belt bag shows that what we once considered to be tacky and unappealing can become one of the biggest fashion trends.
It's just like the never-ending debate about wearing socks with slides. Some of us don't like it, while others love it.
Part of the reason for the popularity of the belt bag is the fact that they're truly hands-free. You don't have to worry about straining your shoulder with a tote bag or being weighed down by a backpack.
You'll often see a belt bag referred to as 'festival fashion' due to its laidback atheistic and ease of use.
With no shortage of styles to choose from and powerhouse fashion brands like Louis Vuitton continuing to release more versions, it's clear that the belt bag trend is here to stay.
With fashion trends being more laidback, a belt bag is the perfect in-between size that will hold all your essentials without weighing your down while keeping you hands-free to work or talk.
How are belt bags different from fanny packs?
A belt bag and a fanny pack are the same thing – just two different terms. You'll usually hear the term "fanny pack" used in the United States, whereas the term is different in the UK as the word 'fanny' means something else entirely there.
While 'belt bag' is a popular term, you'll also see this style of bag called a 'bumbag' by Brits, while others call it by different names, such as 'moon bag' or 'waist bag'.
In France, the belt bag is known as 'banana bags', while the Spanish call it a 'kidney bag'. All these terms mean the same thing, and there aren't any obvious or significant differences between either style.
It's useful to know which countries use each term if you're planning to take your belt bag with you for traveling.
How to wear a belt bag
Typically, you'll wear a belt bag with a pouch at the front of your body. The belt bag is actually one of the oldest designs still in use today.
A buffalo pouch bag – that may have been carried using a neck strap or lanyard – is believed to be one potential origin for the style.
Fast forward to the modern era, and this bag has evolved into the belt bag that we know and love today.
The modern synthetic belt bag first rose to popularity in the 1980s and 1990s before falling out of use during the early 2000s.
In 2012, a small group of luxury brands tried to bring the style back in vogue by incorporating belted satchels into their bag collections.
Belt bags can be carried around the waist, across the body, or over the shoulder
Although we can call a belt bag a 'waist bag', most people actually utilize the strap to turn the bag into a crossbody silhouette instead of using it at the waist.
Luxury fashion houses like Chanel and Gucci have tailored the straps on their belt bags to make this look easier to achieve.
What we love about the belt bag trend is how easy it is to style and wear.
You can wear this bag with everything from cargo shorts and an oversized t-shirt to blazers and bicycle shorts or even a maxi dress. It all depends on the style of belt bag that you're using and how it works with your outfit.
If you want to get the most wearability and versatility out of your bag, it's best to opt for a more structured silhouette in a neutral color palette.
You can even take your belt bag with you for a night out on the town, styling it with an off-the-shoulder dress or a sparkly mini skirt. Your options for styling a belt bag are limitless.