If you're on the hunt for a belt bag, the good news is that virtually every brand offers a style for you to choose from. Whether you want to splurge on a Gucci style or a mid-level Coach bag, there are dozens (if not hundreds!) of belt bag options for you.
Grab a pen and write your wishlist. These are the belt bags that everyone is lusting after this season. They're the perfect investment piece to purchase before or during the holiday season.
Our list of the best belt bags for women also includes more budget-friendly options and alternatives to help you jump on the belt bag bandwagon without breaking the bank.
Also known as waist bags and fanny packs, here are the best-selling and must-have belt bags for women:
1. Saint Laurent Kate Belt Bag in Smooth Leather, $1,100
Saint Laurent has taken one of its best-selling bags – the Kate – and given it a belt bag twist for added versatility.
This bag has an adjustable flap belt with a removable pocket and interlaced YSL initials for a monogram look.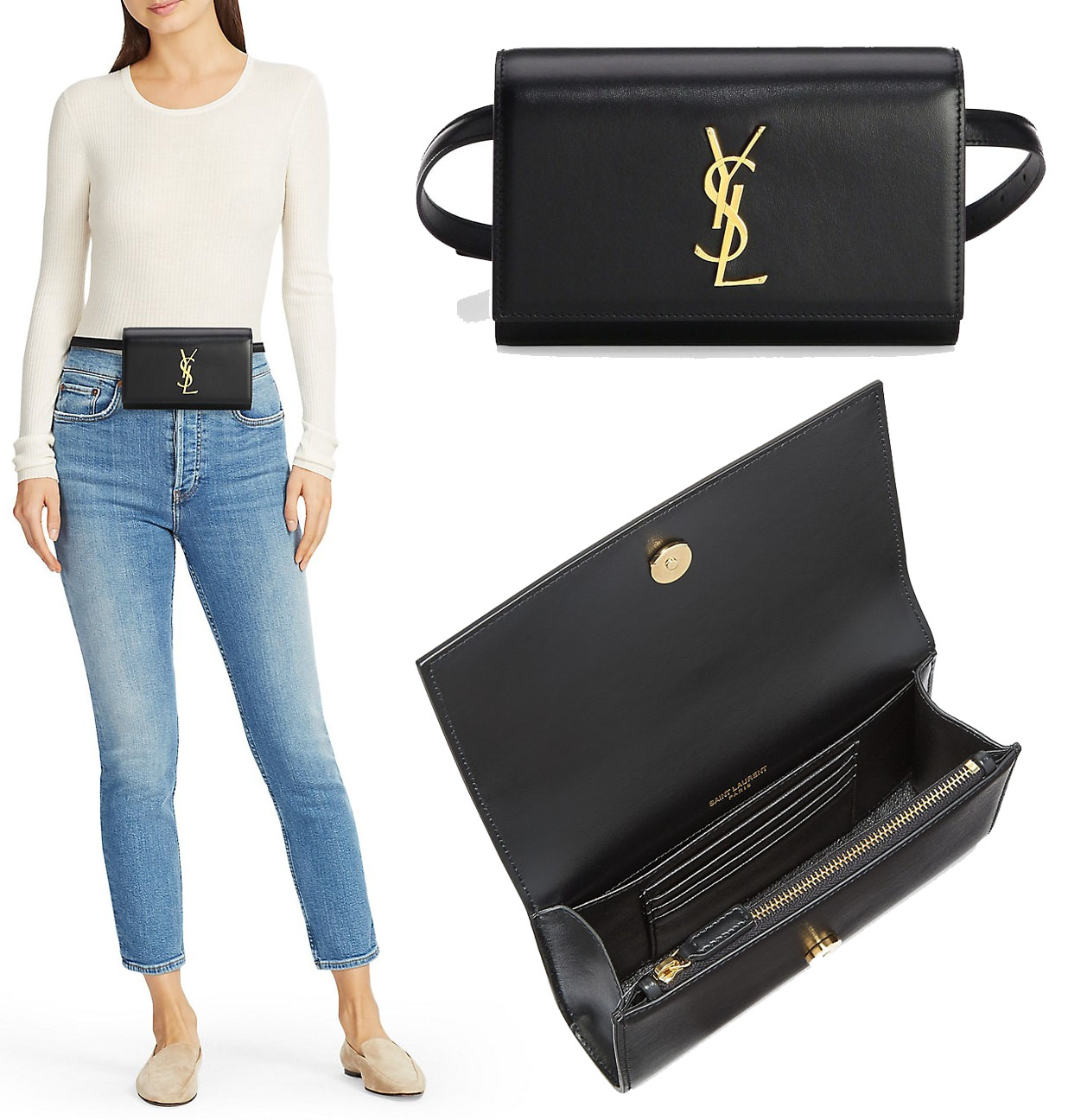 A classy, minimalist belt bag made of smooth leather with gold-tone YSL logo on the foldover flap
Available as a one-size bag, the belt bag has gold metal hardware and a buckle with adjustable closing. On the interior, you'll find one main compartment, an open pocket, a zipper pocket, and four card slots.
It's an entry-level bag from Saint Laurent and ideal if you want a luxury handbag that isn't going to set you back a Hermes price tag.
2. Lululemon Everywhere Belt Bag, $40
If there's anyone who tries to claim ownership of the belt bag, it's fitness enthusiasts.
For years, they've been using bum bags and smaller alternatives to hold on to their essentials while on the go, whether they're running or heading to the gym.
Lululemon's Everywhere belt bag is a practical complement to workout and off-duty outfits
One of the most popular and budget-friendly belt bags is the 'Everywhere' bag by Canadian athletic apparel retailer Lululemon.
Available in one size and eight color choices, it's designed to hold everything you'll need for your next adventure, including your phone, keys, and wallet.
This belt bag is made using a water-repellent and easy-to-wipe clean material that is perfect for anyone who is always on the go or worried about scratching or staining their bag.
It's a minimalistic and sleek belt bag that can introduce you to the silhouette to help you decide if it's the one for you.
3. Bottega Veneta The Belt Chain Pouch, $2,160
If there's a handbag trend, you can be sure that Bottega Veneta is involved somewhere. Their 'The Belt Chain' pouch is one of the most expensive (and smallest) options on the market.
Bottega Veneta's The Belt Chain Pouch is a convertible crossbody and belt bag made of supple leather
It's available in a mixture of earth-tone and jewel-tone color schemes and features gathered detailing on the pouch, with front flap closure and chain-link detailing for the classic Bottega look.
This bag is the perfect choice if you want an elevated style that you can wear for any occasion and know that you already like and are willing to invest in a luxury belt bag.
4. H&M Waist Belt Bags, $24.99 – $29.99
This entry on our list isn't exactly a belt bag in the traditional sense, but it's just as popular and versatile.
The waist belt bags incorporate a number of small pockets to help you organize and store all your essentials on the go.
An interesting take on classic belt bags, H&M's Waist Belt Bag is a simple belt with multiple pockets for your essentials
This budget-friendly style incorporates everything you need, from space for your phone to your cards and lipstick. You'll even find dedicated pockets for your AirPods.
H&M is always one of our go-to places to look for dupes and cheaper alternatives to the latest trends. The belt bag is no exception to this rule.
5. Kate Spade 'The Little Better Sam' Nylon Medium Belt Bag, $148
If you're familiar with a belt bag, you probably wouldn't put Kate Spade down as a brand to stock the style.
Just like their other workwear and classic pieces, Kate Spade has gone back to normal with its signature recycled nylon look. It gives you the feel and aesthetic of Prada nylon with the top-sticker price for the bag.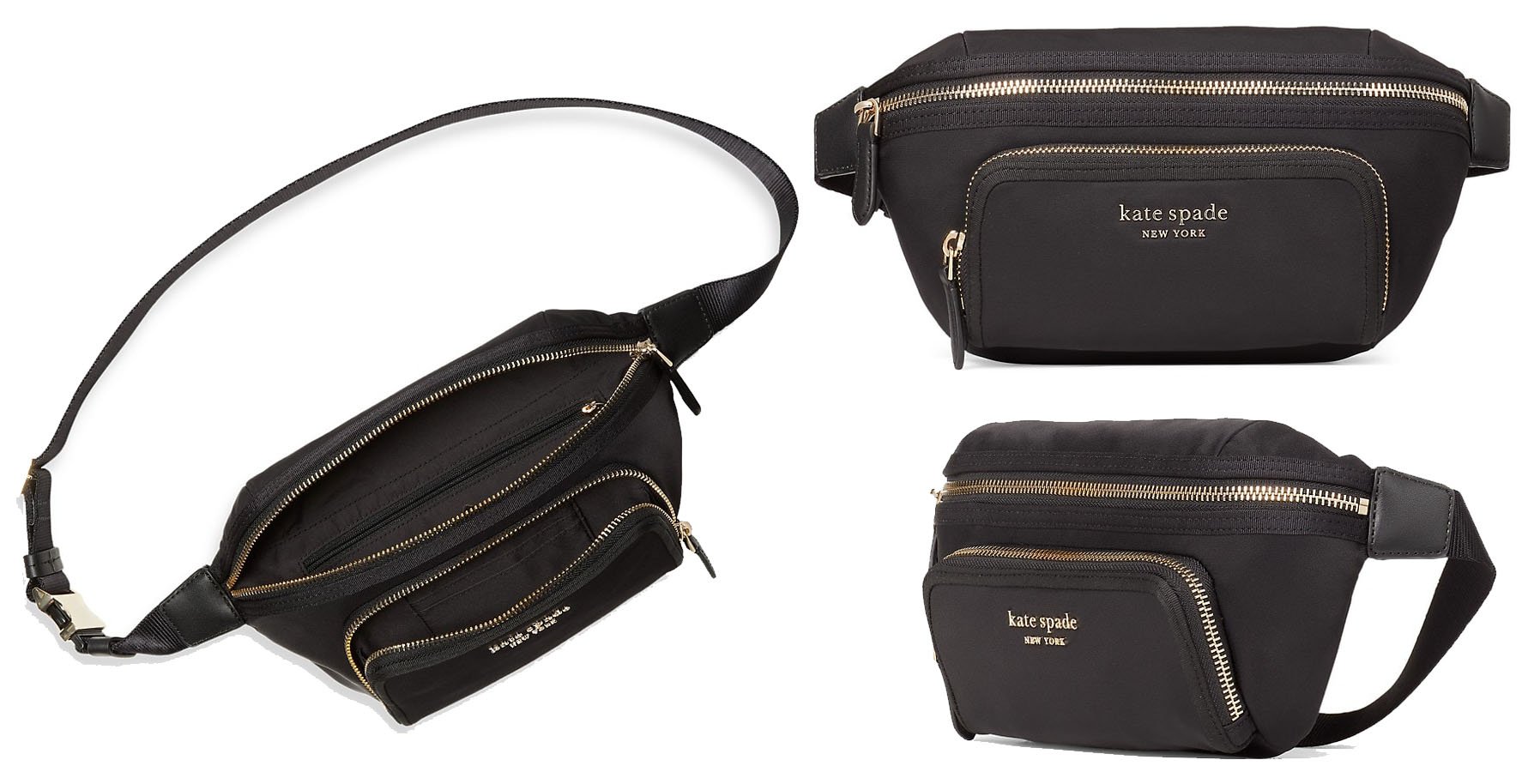 Made of durable nylon, this belt bag is highlighted with Kate Spade New York signature logo at the front zip pocket
This bag is perfect for runners if you don't want to break the bank on a designer option then damage your belt bag. The easy-wipe fabric will survive anything you throw at it while helping to keep your belongings organized while you're on the go.
6. Senreve Aria Belt Bag, $475
Are you looking for a belt bag that screams minimalism and contemporary sass? This belt bag by Senreve is an upgrade from the nylon style used by Kate Spade, giving you the signature silhouette with a leather finish.
Senreve's Aria belt bag has a minimalist, classic look, featuring an adjustable waist strap and a detachable shoulder strap
This belt bag contains three interior pockets, including ones that can hold your iPhone Pro. You can wear this bag as a crossbody, sling bag, or even as a clutch.
This design promises to be more than just a belt bag with extra functionality. You can even add in a chain strap to shake up the look and make it edgier.
The Senreve bag is an effortlessly chic take on the belt bag trend, updating it for the modern woman with its focus on beauty, functionality, and versatility.
The other belt bag that Senreve offers is their Coda belt bag that you can buy at Senreve. It helps to accelerate your curves in the right place.
An update to the classic fanny pack that can be worn as a belt bag, a sling bag, a crossbody, or a clutch (Credit: Senreve)
It's made using Italian leather for added flexibility, allowing you to wear it in dozens of different ways. The center of the bag has been given an upgrade as well, now taking phone receipts.
It would be impossible to round up all the best-selling belt bags into just one article. What we know is that this trend is here to stay. If you've been hunting for a functional and hands-free bag, this is your sign to get a bum bag.
What do you think of the belt bag? Is it a hit or a failure in your books?