Since its inception in 1993, Kate Spade New York has maintained its reputation as one of the world's and America's most iconic fashion brands.
Best known and beloved for chic handbags, the label was founded by designer Kate Spade's desire to create minimal and practical bags and purses for the modern woman.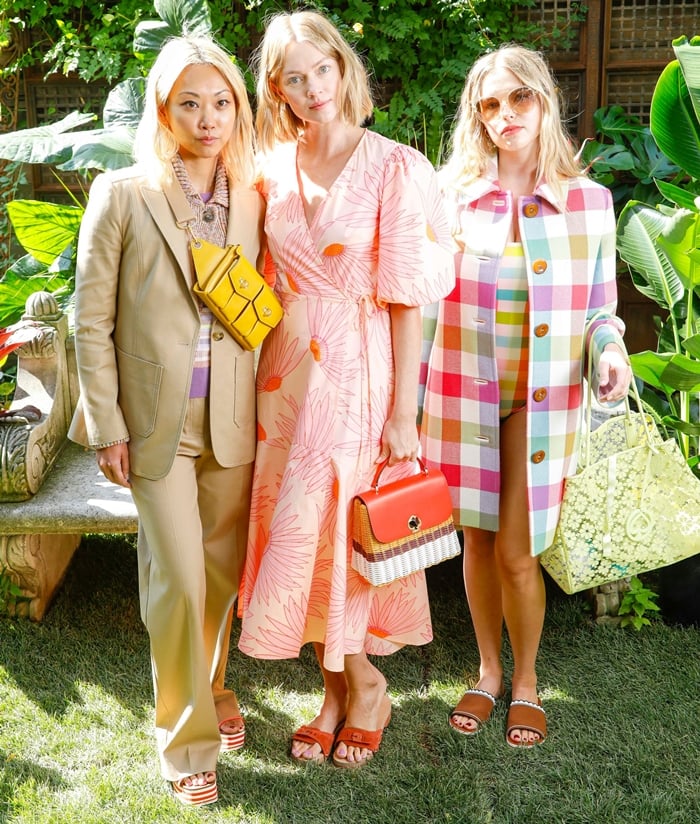 Lindsay Ellingson and guests attend the Kate Spade S/S 20 Fashion Show at Elizabeth Street Gardens on September 7, 2019, in New York City (Credit: WENN / Instar)
Celebrities and the fashion elite frequently wear Kate Spade handbags and backpack purses, including big names such as Taylor Swift and Gwyneth Paltrow.
Following the increase in popularity of Kate Spade purses, counterfeits, and fakes quickly proliferated the market, seen everywhere from Manhattan's infamous Canal Street to numerous online sellers.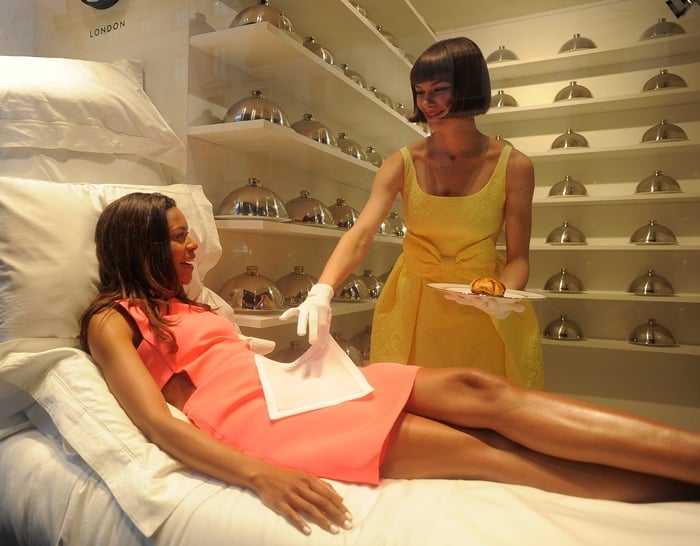 Naomie Harris attends the Kate Spade New York Regent Street store opening on April 21, 2016, in London, England (Credit: WENN)
In February 2019, KXLY-TV reported that a driver was caught attempting to cross the border from the United States to Canada with an estimated $32,000 worth of counterfeit merchandise, which included handbags from luxury brands such as Kate Spade, Gucci, Michael Kors, and Chanel.
Upon being questioned about his intentions, the driver admitted that he had planned to sell the fake purses in Canada.
Due to counterfeit bags becoming harder and harder to tell apart from authentic designs. Do thorough research beforehand if you decide to purchase from a secondhand store or a third-party seller.
Where to buy Kate Spade bags
With plenty of options ranging from classic styles to vibrant designs, there's a Kate Spade bag to suit every lifestyle and personality.
If you've been wanting to own your very Kate Spade bag or add another piece to your collection, the retailers listed below are some of the most popular online stores for Kate Spade bags:
1. Farfetch
2. Zappos
3. Macy's
4. Nordstrom
5. Amazon
To avoid discovering that your Kate Spade handbag is a counterfeit or a knock-off, there are several ways to ensure you can get your hands on an authentic Kate Spade bag.
1. Purchase from reputable sellers
The primary way to avoid being scammed into buying a counterfeit bag is to purchase from renowned and highly regarded sellers.
Kate Spade's official website is a great start to browse through an extensive assortment of bag styles and designs, while department store giants like Saks Fifth Avenue provide a more curated range of Kate Spade bags.
One of the most commonly counterfeited designer brands in the world, you should only purchase Kate Spade bags and purses from authorized retailers (Credit: Roman Zaiets / Shutterstock)
The same goes for online discount retailers like Nordstrom Rack and Saks OFF 5TH.
The company has a team of brand protection experts who work to identify and stop counterfeit products. If you see a counterfeit Kate Spade product, you can report it to the company by visiting the brand protection page.
You can also report counterfeit products by calling the company's counterfeit hotline at 1-833-768-1778.
2. When it doubt, look at the label
Kate Spade handbags have two main labels: an embossed or stamped label and a fabric label.
The embossed or stamped label is usually found on the front of the bag, under the handle, or at the top center area. It is made of metal or plastic and has the Kate Spade logo embossed or stamped on it.
The fabric label is usually found on the inside of the bag, near the lining. It is made of fabric and has the Kate Spade logo printed on it.
On the other hand, Kate Spade's fabric label is directly stitched on the handbag. An easy way to tell apart a counterfeit version is to gently pull at the sides of the fabric label to see if it comes off or if the sides peel away.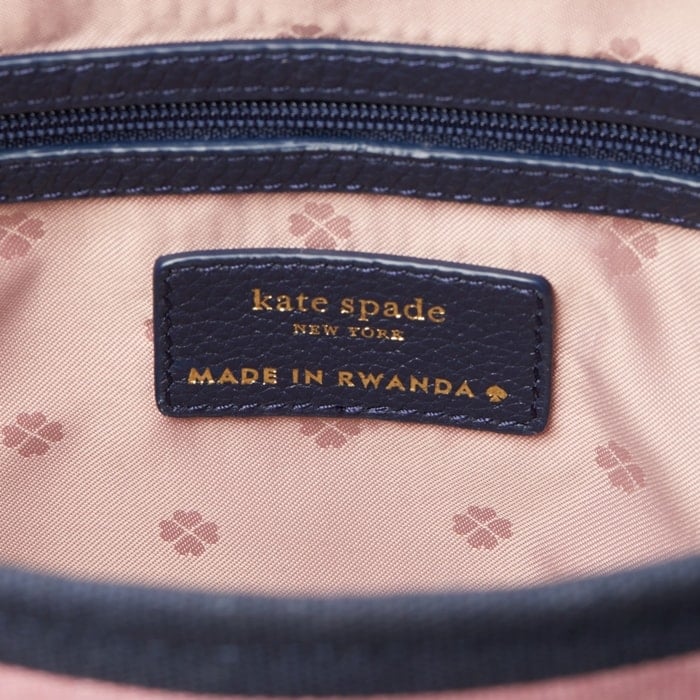 Authentic Kate Spade label on limited edition handbag made by a group of local artisans in Masoro, Rwanda
Most fakes feature fabric labels glued on or sewn on an original Kate Spade fabric label.
Leather bags will never have fabric labels, only stamped or embossed ones, usually in gold-tone letters. In contrast, most nylon bags typically have the logo embossed on rectangular-shaped patches found at the front of the bag.
2. Check the font and lettering on the label
The authentic Kate Spade font should always appear in lowercase letters, with even spacing throughout.
There is only one font style for all Kate Spade handbags, so this can be one of the quickest ways to tell whether a bag is counterfeit.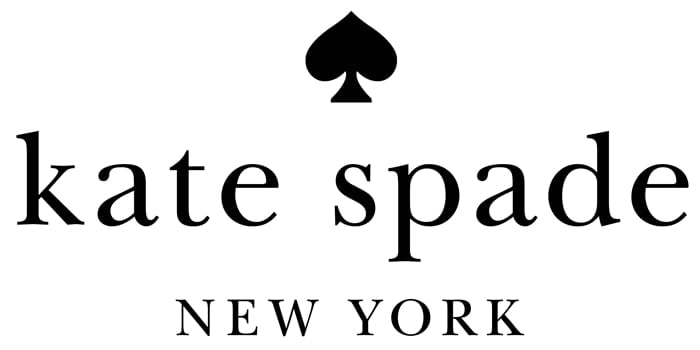 Kate Spade's logo features the iconic spade and a combination of lowercase and uppercase serif nicely spaced
Since 2000, all handbag labels should have the words 'New York' below 'Kate Spade' in uppercase letters. The 'T' in 'Kate Spade' should always align with the 'N' in New York, and the 'K' in New York should always be paralleled with the 'A' in 'Spade.'
If a bag is part of a special collection, the collection's name will be found below 'Kate Spade' instead.
3. Look at the hardware of the bag
Most Kate Spade handbags don't feature any feet at the bottom. Bag styles that come with feet are often small and usually circular or flat and can be located at the four corners of the base.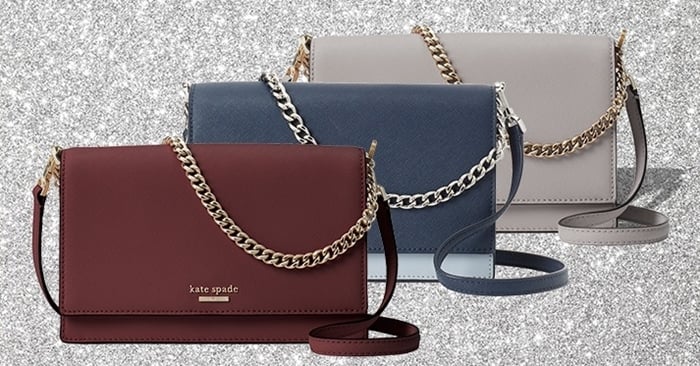 Luxurious hardware on Kate Spade New York's Cameron Convertible crossbody bag
Always remember that the shape of the feet should not be triangular or cone-like. The rest of the bag's hardware should be gold or silver and never tarnish or rust.
4. Materials and stitching
While different materials are used for Kate Spade handbags, the most popular types include leather, nylon, canvas, and suede.
Upon inspection, you can tell whether the material matches Kate Spade's reputation for high-quality products.
Perfect stitching on a genuine Kate Spade satchel handbag
The same goes for the handbag's stitching quality, which should be even and not snag or become loose over time. The stitching is also usually the same color as the handbag, though this is dependent on the bag style.
5. Note the tags that come with the bag
Brand new and authentic Kate Spade handbags have green retail tags with 'Kate Spade New York.' The retail card should state the name of the bag style, with the style number in small letters and a barcode.
Care cards should also be included with every Kate Spade bag, with instructions on correctly caring for the item.
Another important tag is the Country of Origin, usually found in the bag's interior seam pocket.
All Kate Spade bags made after 1996 should have a Country of Origin tag. Kate Spade bags have only been produced in the following countries: USA, Italy, China, Taiwan, Dominican Republic, Indonesia, Vietnam, Rwanda, and the Philippines.
6. If you're still unsure, check the Kate Spade website
If you're still hesitant about the bag in question, a great idea is to check out the official Kate Spade website and compare the bags to your bag's features.
Kate Spade's website also has information about how to authenticate your bag, including a dedicated page to report counterfeit items.
Kate Spade Questions and Answers
Where are Kate Spade bags made?
Kate Spade bags are made in various countries, including China, Indonesia, Vietnam, and the Philippines. The exact location of production depends on the specific bag style and design.
Kate Spade has cited rising costs in the United States for moving production to Asia. In recent years, Kate Spade has also been criticized for using sweatshops in some production facilities.
Christina Ricci elegantly paired a monochrome maxi dress with a chic black leather handbag for the Kate Spade show during New York Fashion Week 2023 on September 8, 2023, in New York City (Credit: Roger Wong / INSTARimages)
In June 2011, Forbes reported that workers at a South Korean-owned factory in Panyu, Guangzhou, Guangdong province, went on strike to protest against low pay and harsh working conditions. The factory produced handbags for upscale brands like Michael Kors, DKNY, Burberry, Kate Spade, and Coach.
The workers complained that they were forced to stand for 12 hours straight with only two toilet breaks and were prohibited from drinking water while working.
The strike involved over 4,000 workers and was met with violence from security guards, who beat and detained several workers.
Tapestry, the parent company of Coach, Kate Spade New York, and Stuart Weitzman, has been accused of using sweatshops in China and other countries in Asia where bags are produced (Credit: Chie Inoue / Shutterstock)
A 2020 report by the Business & Human Rights Resource Centre (BHRRC) found that nine factories linked to brands, including Michael Kors, Tory Burch, and Kate Spade, have unfairly dismissed more than 4,870 union members.
The Bangladesh, Cambodia, India, and Myanmar factories blamed the layoffs on reduced orders and COVID-19, but local unions say that members and activists have been disproportionately targeted.
Do Kate Spade bags have serial numbers?
Kate Spade bags do not have serial numbers. However, they do have a "credo patch, " a small square of leather sewn into the lining of the bag.
The credo patch contains the bag's style number, a unique identifier that can be used to verify the bag's authenticity.
The style number is usually in the credo patch's bottom right corner. It is a 6-digit number preceded by the letters "KS" or "KSP."
If you want to verify the authenticity of a Kate Spade bag, you can check the style number on the credo patch against the style number on the Kate Spade website. You can also contact Kate Spade customer service for assistance.
How did Kate Spade die?
On June 5, 2018, her housekeeper found Kate Spade dead in her apartment. Her death was ruled a suicide by hanging, and she had left a note addressed to her daughter, Frances Beatrix Spade.
According to unconfirmed sources, Katherine Noel Valentine Brosnahan (known professionally as Kate Spade) hung herself with a scarf tied to a doorknob.
New York City's chief medical examiner ruled fashion designer Kate Spade's death a suicide by hanging (Credit: Joseph Marzullo / WENN)
Why did Kate Spade commit suicide?
Andy Spade, who co-founded the fashion brand Kate Spade New York with his wife, released a statement indicating that her suicide was caused by depression and anxiety.
"Kate suffered from depression and anxiety for many years. She was actively seeking help and working closely with doctors to treat her disorder. … There was no indication and no warning that she would do this. It was a complete shock. And it clearly wasn't her. There were personal demons she was battling."
Before her death, the couple had been living separately for ten months.
"Our daughter was our priority," he said. "We were not legally separated, and never even discussed divorce. We were best friends trying to work through our problems in the best way we knew how.
Andy Spade with his wife Kate Spade at the RxArt Ball on October 25, 2007, in New York City (Credit: Flashpoint / WENN)
"We were together for 35 years. We loved each other very much and simply needed a break."
"This is the truth," he added. "Anything else that is out there right now is false."
With a net worth of $200 million, Andy Spade emphasized that his wife had not been abusing alcohol or drugs.
"I have yet to see any note left behind and am appalled that a private message to my daughter has been so heartlessly shared with the media," he said.
"My main concern is Bea and protecting her privacy as she deals with the unimaginable grief of losing her mother. Kate loved Bea so very much."
Who owns Kate Spade?
Kate Spade was acquired by Coach, Inc. in 2017 for $2.4 billion. However, the founders, Kate and Andy Spade, did not get anything from the sale. They sold a 56% stake in the company to Neiman Marcus in 1999 for $34 million.
In 2006, Neiman Marcus Group acquired the remaining 44% stake for $59.4 million. According to CNN, Kate and Andy Spade left the company in 2007.
The American multinational luxury fashion holding company Tapestry, Inc. is the parent company of Coach New York, Kate Spade New York, and Stuart Weitzman (Credit: T. Schneider / Shutterstock)
Following the acquisition of Kate Spade, Coach, Inc. changed its name to Tapestry on October 31, 2017. In addition to Kate Spade and Coach, the American multinational luxury fashion holding company Tapestry, Inc. owns Stuart Weitzman.