Though she's got a long career as an actor, writer, and producer, Rashida Jones is best known for her role as Anne Perkins in the NBC sitcom Parks and Recreation, starring Amy Poehler as Leslie Knope. Jones acted as Knope's best friend, a nurse, and a part-time city hall employee.
The cast of Parks and Recreation: Rashida Jones, Nick Offerman, Retta, Michael Schur, Adam Scott, Amy Poehler, Chris Pratt, Aziz Ansari, Jim O'Heir, Aubrey Plaza, Rob Lowe at the 100th Episode Celebration for Parks and Recreation at CBS Studios on October 16, 2013, in Studio City, California (Credit: Sara De Boer / Startraksphoto)
Jones was part of the cast at the start of the series, but she exited prior to the finale. Here's why Jones left the hit series prematurely, how it impacted the show, and what she's been doing since:
The End of Rashida Jones's Time at NBC
Parks and Recreation aired on NBC for seven seasons, six of which included Rashida Jones.
The sitcom performed well among viewers, and it was critically acclaimed, earning 14 Primetime Emmy Awards during its tenure. Jones was part of the ensemble cast, quickly becoming a fan favorite.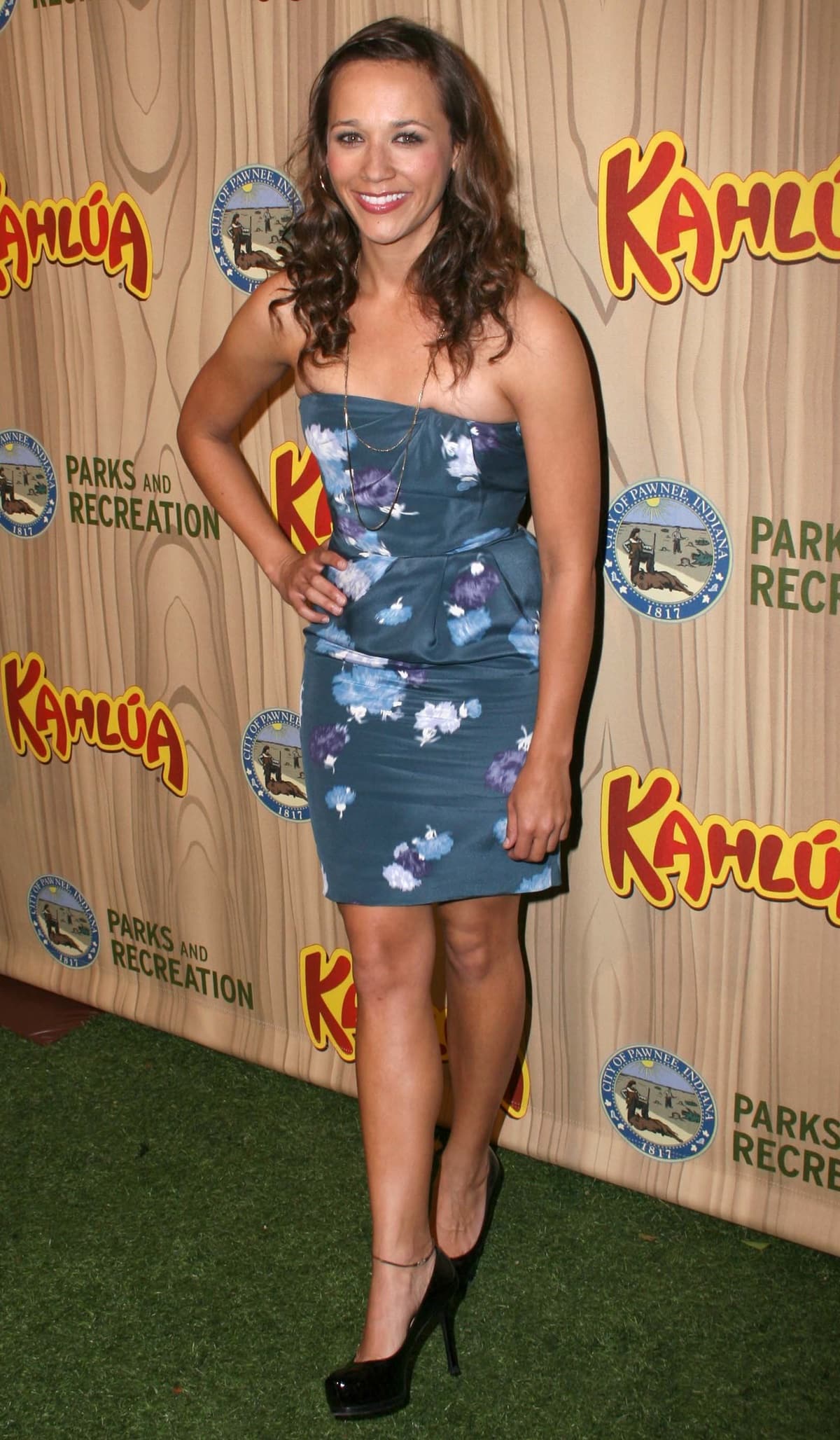 Rashida Jones was 33 years old when the first episode of Parks and Recreation aired on April 9, 2009 (Credit: Kristen Noseda / INFevents)
Although the show was a hit, Jones left to pursue different career opportunities. Jones was only part of the show as an actor, and she wanted to get more into production and focus on writing, too.
Jones's desire to leave was not fought by Parks and Recreation producers, though, as the executive producer Mike Schur had always planned on cutting her character anyway. The timing worked out perfectly between the plans of the producers and Jones's professional goals.
Jones's departure worked well within the show's narrative, too. Her character, Anne Perkins, became pregnant and got back together with Chris Traeger, played by Rob Lowe.
Rashida Jones and Amy Poehler became close friends starring in Parks and Recreation (Credit: Sara De Boer / Startraksphoto)
The characters decided to move from Pawnee, Indiana, the fictional setting of the show, to Michigan, easily tying up loose ends in the sitcom's storyline.
Jones didn't leave on bad terms, though. The decision for her to no longer be on Parks and Recreation was clearly mutual, and Jones appeared in another episode shortly after her character moved, allowing Knope to meet Perkins's baby.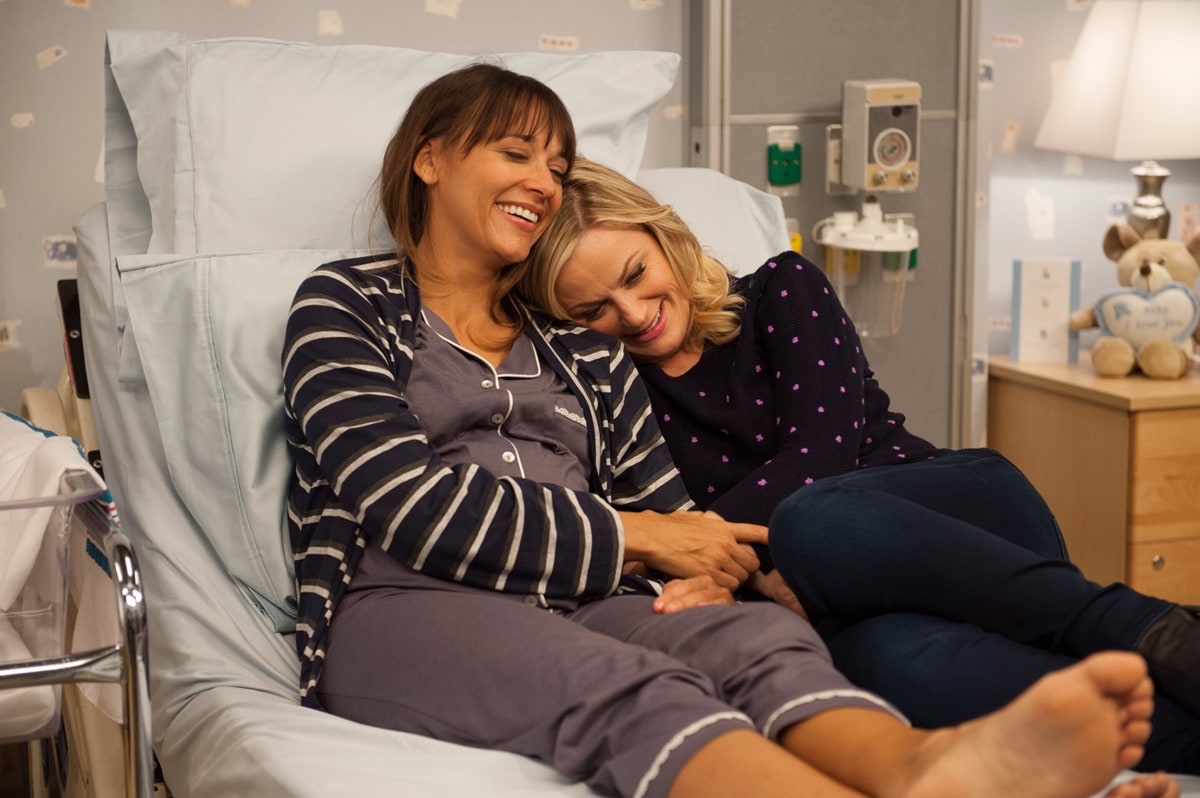 Amy Poehler as Leslie Knope and Rashida Jones as Ann Perkins in Parks and Recreation (also known as Parks and Rec) (Credit: NBC)
Jones reprised her role a final time for the series finale in 2015, where it was revealed Perkins and Traeger would be returning to Pawnee.
Rashida Jones's Career Now
It's been about eight years since Rashida Jones was on Parks and Recreation, and she's had a busy career since.
Just as she wanted to, Jones got into more producing after leaving NBC, some of her more notable works being Claws, as well as Angie Tribeca and #BlackAF, both of which she starred in, as well.
In addition to her work as a producer, Jones has been acting steadily, starring in the aforementioned television shows, as well as projects like Duncanville, Toast of Tinseltown, Klaus, and Spies in Disguise.
Rashida Jones in a The Vampire's Wife dress at the 2022 Vanity Fair Oscar Party Hosted By Radhika Jones at Wallis Annenberg Center for the Performing Arts on March 27, 2022, in Beverly Hills, California (Credit: INSTARimages)
Jones has also done a bit of writing, her most prominent work being the original story for Toy Story 4, though she exited the project early due to major philosophical differences between her and Pixar.
Jones has also written an episode of Black Mirror, Quincy – the documentary created about her father, and two projects currently in production – The People Upstairs and The Other Black Girl.
Jones is consistently on the television screen. When she's not on an episode of hit television shows, she's starring in or providing voice-over for popular commercials. Jones has been featured in ads for Toyota, Tory Burch, Expedia, Southwest Airlines, and Citi Custom Cash Cards.
What's Next For Rashida Jones?
Rashida Jones is clearly a fixture in Hollywood, though these days, it's more behind the scenes. Still, she doesn't seem to be slowing down any time soon. Jones has several projects on the horizon.
In addition to what's been mentioned, Jones is working on Sunny, Straight Talk, and Wool either as a producer, actor, or both, and The Revengers, a television show for which she served as an executive producer, is completed and should air soon.
Jones is notoriously private about her personal life, but she does share a child with her partner Ezra Koenig, a member of the band Vampire Weekend whom she's been with since 2015. Though she doesn't share photos on social media of her son or her partner, Jones does post occasional photos of herself concerning her career.
Only time will tell what Rashida Jones accomplishes next.
Rashida Jones in yellow and black floral Batik-print sleeveless dress (Credit: WENN)
In March 2011, Rashida Jones wore a Thakoon Fall 2011 yellow and black floral batik-print sleeveless dress to the 'Monogamy' screening at the IFC Center in New York.
She completed her outfit with black tights, Robert Clergerie for Opening Ceremony shoes, Monique Pean earrings, and an Erickson Beamon bracelet.
Rashida Jones attends the screening of her new drama, 'Monogamy' held at the IFC Center in New York City on March 7, 2011 (Credit: WENN)
The following Tibi dress from Shopbop is an excellent look-for-less option if you want an inexpensive alternative to Rashida's Thakoon dress.
This strapless lace-print dress from Tibi features princess seams at the front and darting at the back