While celebrities often seem larger than life, the reality is that many of them are much shorter than you'd expect! The female celebrities on this list all stand at a petite 5'2 or below!
5'2 is generally considered to be short, but not abnormally so. The average height for a woman in the United States is 5'4, so while 5'2 is below average, it isn't too far off.
Being short may even give these celebrities (especially the actresses) an advantage, given that it will allow them to maintain a desirable height difference between themselves and their male co-stars.
However, the grass is always greener- many of the women on this list would like to grow a few inches and share their tips and tricks on how to appear taller!
Short female celebrities also tend to have small feet (Credit: WENN)
People have always believed that women with small feet are more attractive and youthful compared to ladies with big feet. Thus, men's preferences for female partners are skewed toward those with dainty feet.
It has long been presumed that having small feet is ideal for women. Through the years, small feet have become synonymous with beauty and femininity. But while it has been considered a beauty standard, women with tiny feet also have their fair share of struggles.
Perhaps the most common problem is that some shoe stores do not carry small shoe sizes, leaving women with small feet no choice but to shop in the kids' section.
And although they are cheaper, it's sometimes embarrassing to browse through children's shoes. Moreover, shoe designs in the kids' department are not exactly what adult women want. Luckily, both Zappos and Nordstrom offer plenty of small-size women's shoes.
Another problem is some women get conscious about wearing flip-flops or sandals. They worry that people might notice their tiny feet and make fun of them.
Having small feet is nothing to be ashamed of. In fact, some of the biggest names in Hollywood have smaller-than-average foot sizes!
36. Jenna Dewan – 5ft 2 (157.5 cm) – Shoe Size 8 (US)
As a dancer, Jenna Dewan's height works to her advantage. Dancers are often required to be relatively petite and slim, especially at the professional level.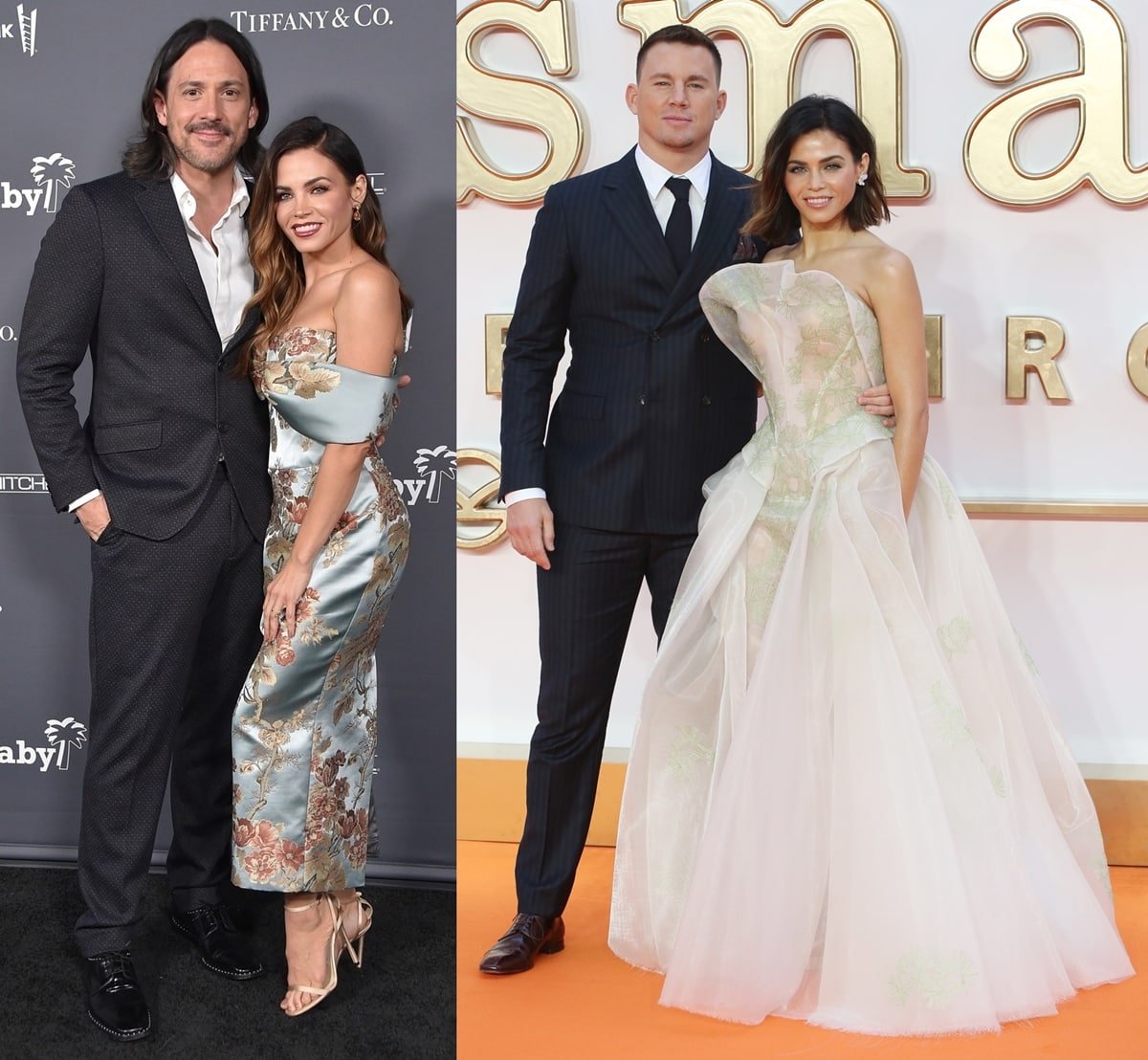 Petite actress Jenna Dewan is much shorter than her boyfriend Steve Kazee (L) and her ex-husband Channing Tatum (Credit: Lia Toby / WENN / Mega)
Similar to gymnasts, this allows them to contort their bodies easier when attempting complicated dance moves.
However, off the dance floor, Jenna Dewan is often spotted wearing sky-high heels on red carpets that elongate her toned legs.
35. Sarah Michelle Gellar – 5ft 2 (157.5 cm) – Shoe Size 7 (US)
Although she has claimed to be 5'4, Sarah Michelle Gellar is generally believed to be 5'2. Though, working in an industry as scrupulous as Hollywood, it's hard to blame for the exaggeration.
Sarah Michelle Gellar met her much taller husband, Freddie Prinze Jr., in 1997 on the set of the American slasher film I Know What You Did Last Summer (Credit: Z.Tomaszewski / WENN)
In an interview with Self, the actress opened up about the pressure of being in the public eye, stating: "As an actor, I'm incredibly scrutinized. If you wear one bulky sweater, you're pregnant or you're fat. When you're 5 foot 4 like me, any weight gain can look like a lot. People dissect you for 2 pounds. That can be incredibly difficult, but I don't take it as personally anymore."
"We all have good days and bad days, and since you can't please everybody, try to please yourself first. I care only that I'm healthy," she added.
"Besides, I'm not an actor who is known for her body necessarily. I hope I have a few other things going for me!"
34. Kim Kardashian – 5ft 2 (157.5 cm) – Shoe Size 7 (US)
One of the most famous women in the world, Kim Kardashian certainly makes an impression- just not necessarily with her height!
Standing at 5'2, she is the second-shortest of all the Kardashian-Jenner sisters, with her older sister Kourtney being the shortest at just 5'0.
5′ 2″ tall reality star Kim Kardashian is about 6 inches shorter than her ex-husband Kanye West (Credit: Ian Wilson / WENN)
Kim Kardashian isn't the biggest fan of her height and has publicly shared the style tricks she uses to appear taller.
Back in 2016, she wrote an entire blog post titled 'Short-Girl Problems: My Top 3 Tips For Lengthening Your Look'. Her tips included wearing nude-colored shoes, wearing cropped pants, and always wearing heels.
33. Emilia Clarke – 5ft 2 (157.5 cm) – Shoe Size 6 (US)
Lisa Bonet's ex-husband Jason Momoa has also made the next actress on this list, the charming Emilia Clarke, look incredibly short.
Emilia Clarke (R) looks short standing next to Lena Headey and Kit Harington at the "Game Of Thrones" Press Conference at The Grosvenor House Hotel on May 14, 2012, in London, England (Credit: Munawar Hosain / Startraksphoto)
Clarke and Momoa played Daenerys Targaryen and Khal Drogo, respectively, a married couple on the famous show Game of Thrones. Momoa, who measures 6ft 4 (193 cm), towered over Clarke in all of their scenes together.
Jason Momoa and Emilia Clarke played Khal Drogo and Daenerys Targaryen on Game of Thrones (Credit: HBO)
Despite her short stature, however, through her portrayal of the formidable dragon queen Daenerys Targaryen, Emilia Clarke proved that just because one is petite does not mean that one can't also be the most powerful person in the room.
32. Camila Cabello – 5ft 2 (157.5 cm) – Shoe Size 7 (US)
A young star, Camila Cabello's career has consistently grown since her time in Fifth Harmony, to her hit songs Havana and Señorita. Her height, however, has not grown quite as much- she still stands at just 5'2.
While Camila Cabello does wear high heels to almost every red carpet event, on a day-to-day basis, she is known to be extremely confident in her body, including her height. She is known for encouraging body positivity to her fans as well.
Shawn Mendes split from his much shorter girlfriend Camila Cabello in November 2021 after dating since July 2019 (Credit: MEGA / WENN)
Most recently, in 2021, she made a TikTok speaking directly to her fans, telling them: "I was just running in the park minding my own business, trying to be fit, trying to keep it healthy, and I'm wearing a top that shows my belly and I wasn't tucking it in," the artist said to the camera.
31. Lisa Bonet – 5ft 2 (157.5 cm) – Shoe Size 8 (US)
Like mother, like daughter! Lisa Bonet, Zoë Kravitz's mother, also stands at 5'2.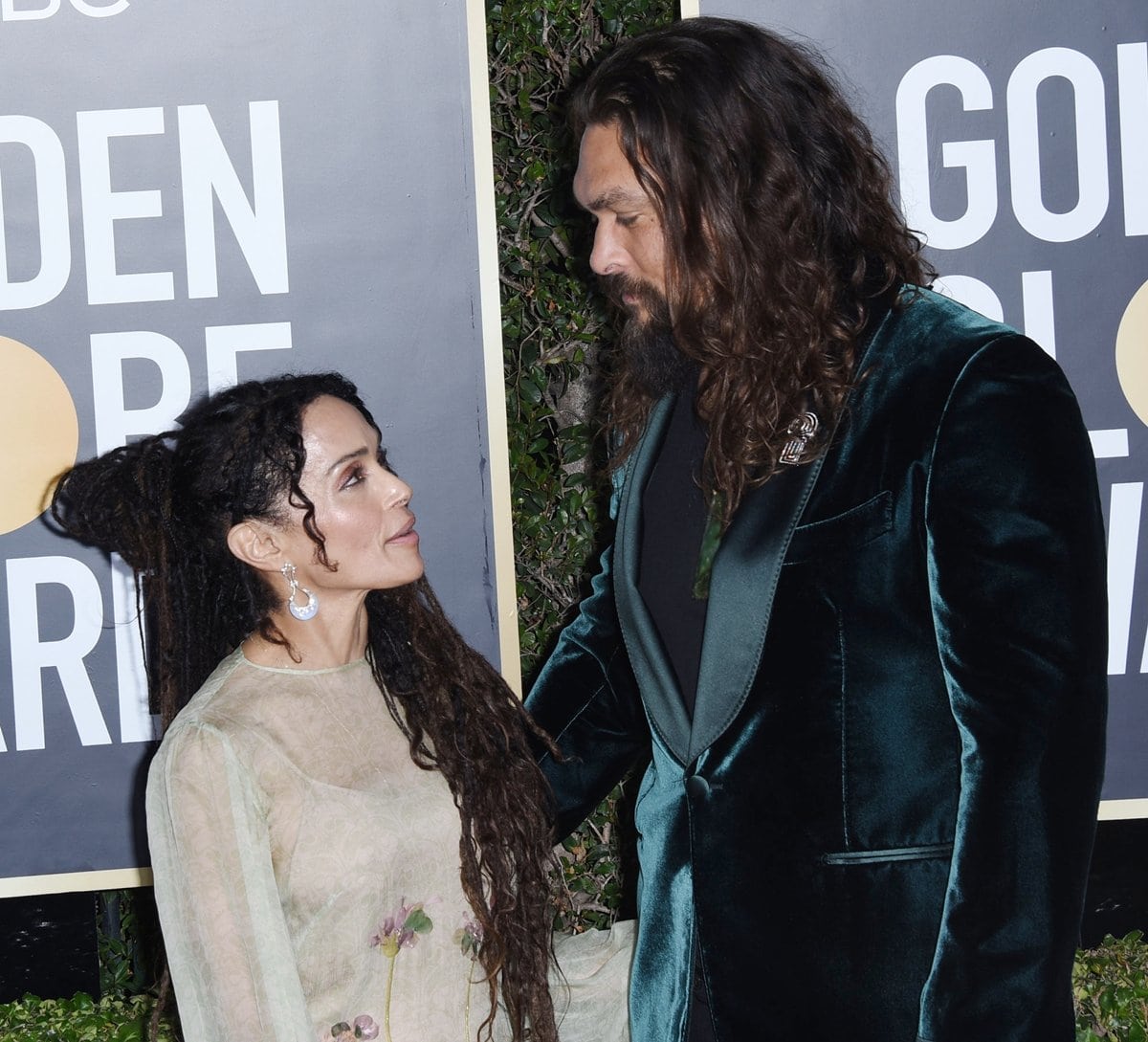 Jason Momoa (6′ 4″) is 14 inches taller and 12 years younger than his 5′ 2″ tall wife, Lisa Bonet (Credit: Avalon / WENN)
So, while the two beauties complement one another perfectly, Lisa Bonet looks remarkably short next to her husband Jason Momoa, who stands at a whopping 6'4.
On January 12, 2022, the couple shared a joint statement announcing their split after more than 16 years together.
30. Melissa McCarthy – 5ft 2 (157.5 cm) – Shoe Size 7 (US)
Melissa McCarthy is a popular actress, from her roles in Gilmore Girls to Bridesmaids. She commands almost any scene she's in on-camera and continues to shine brightly off-camera through her bubbly personality.
Throughout her career, Melissa McCarthy's weight has fluctuated, but she tends to lean towards the curvier side.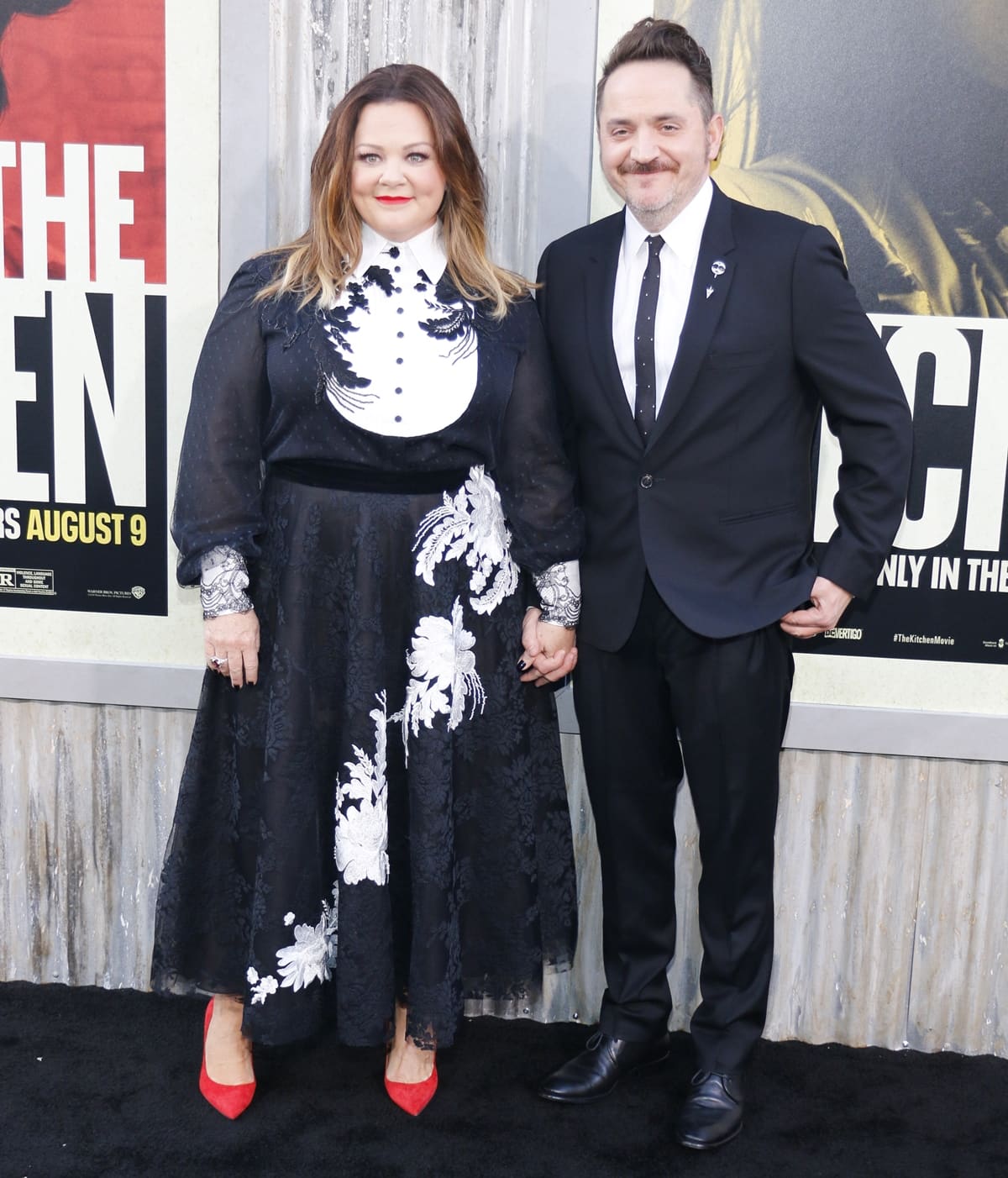 Melissa McCarthy and her taller husband Ben Falcone met at a comedy writing class at The Groundlings Theater & School in Los Angeles in 1998 (Credit: Apega / WENN)
As a petite woman, weight fluctuations are more easily seen (as was also noted by Sarah Michelle Gellar), which can be tough for someone in the spotlight.
However, McCarthy has always maintained high confidence and self-esteem, and rightfully so. She showcases what it means to be curvy, short, and stunning all at once.
"Because I was running and existing like a normal person that doesn't tuck it in all the time."
29. Salma Hayek – 5ft 1 ½ (156.2 cm) – Shoe Size 6 (US)
Salma Hayek has long been considered one of the most beautiful women in Hollywood, regardless of her height. However, years ago in a Redbook Magazine article, she spoke about struggling with her height while growing up, stating:
"I am 5-2, and in Mexico, it was very important to be tall. People used to say that the short thing was a deformity… I'd come home saying, Everybody teases me."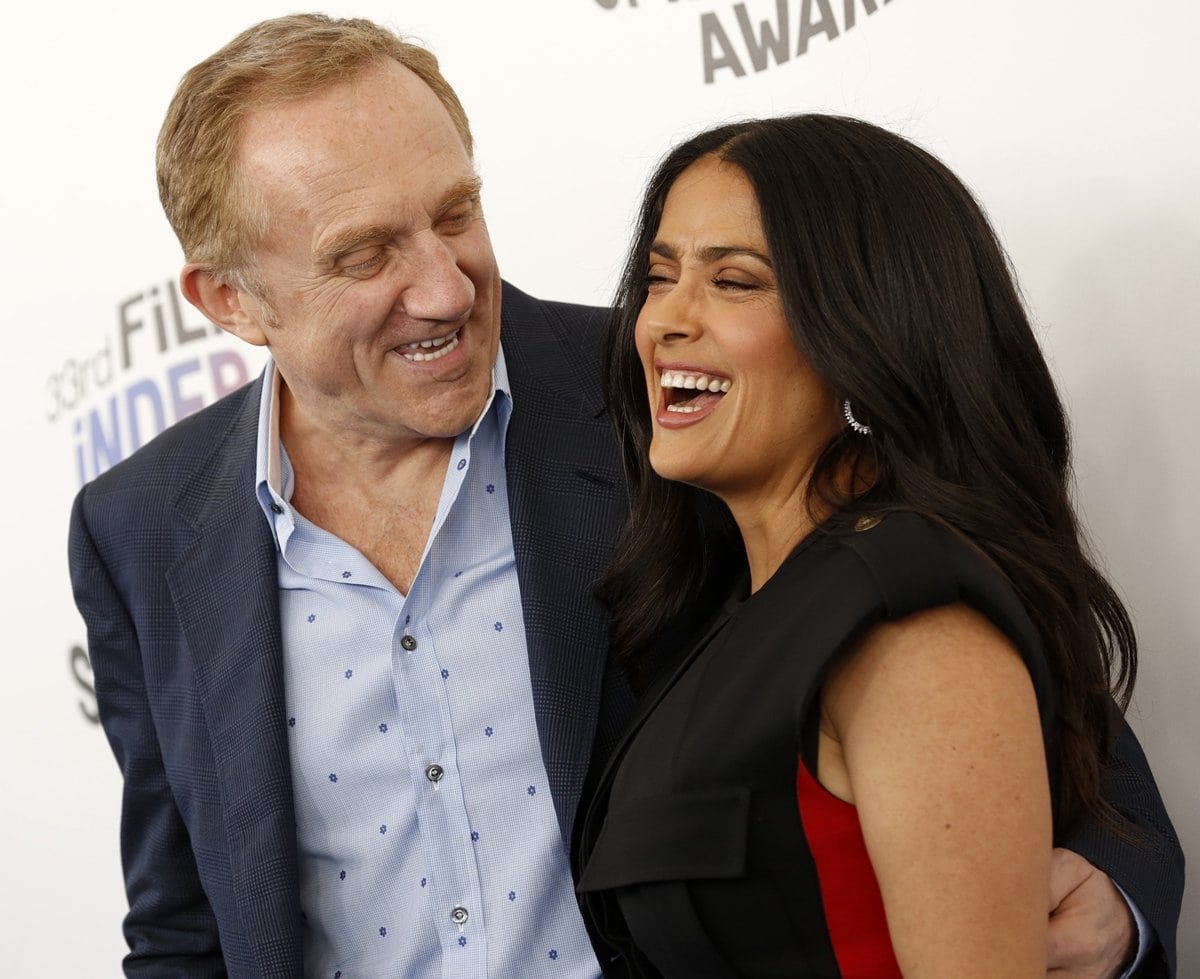 François-Henri Pinault met his shorter wife, Salma Hayek, in the spring of 2006 at a gala held at the Palazzo Grassi in Venice (Credit: Brian To / WENN)
However, as she has gotten older, Hayek has since gained confidence and learned to embrace her small stature. She went on to say:
"I was really upset about my height. One day, I said, 'Who decided that it's better to be tall? Why is it better? Am I less healthy? Am I less capable?"
28. Elisha Cuthbert – 5ft 1 ½ (156.2 cm) – Shoe Size 5 (US)
Best known for her role as Kim Bauer in the Fox action-drama 24, Elisha Cuthbert has a height of 5'1" and a shoe size of 5.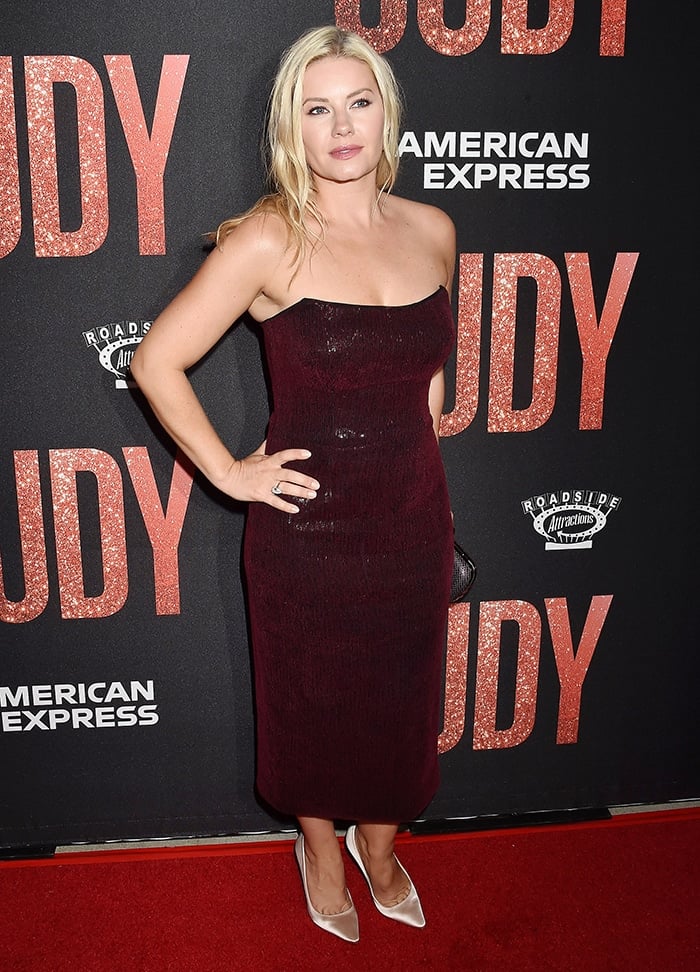 Elisha Cuthbert at the LA premiere of Roadside Attraction's Judy on September 19, 2019 (Credit: WENN)
Considering her stance, her feet are relatively small compared to the average woman of the same height.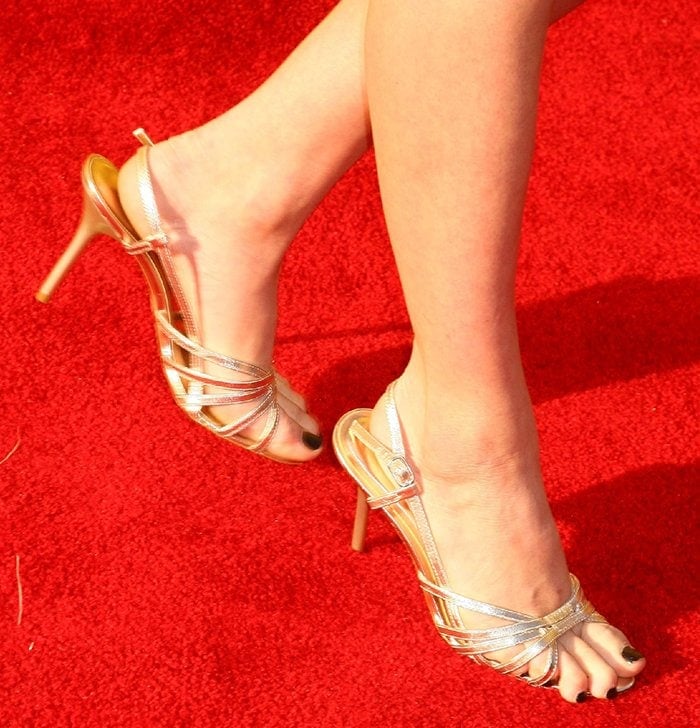 Elisha Cuthbert's size 5 feet suffer toe overhang in gold sandals (Credit: WENN)
27. Reese Witherspoon – 5ft 1 ½ (156.2 cm) – Shoe Size 6.5 (US)
Like Eva Longoria, Reese Witherspoon also wears a size 6.5, which is somewhat big considering her 5'1" height.
The Morning Show actress used to worry about her body image, but she has become more positive about the way she looks as she has gotten older.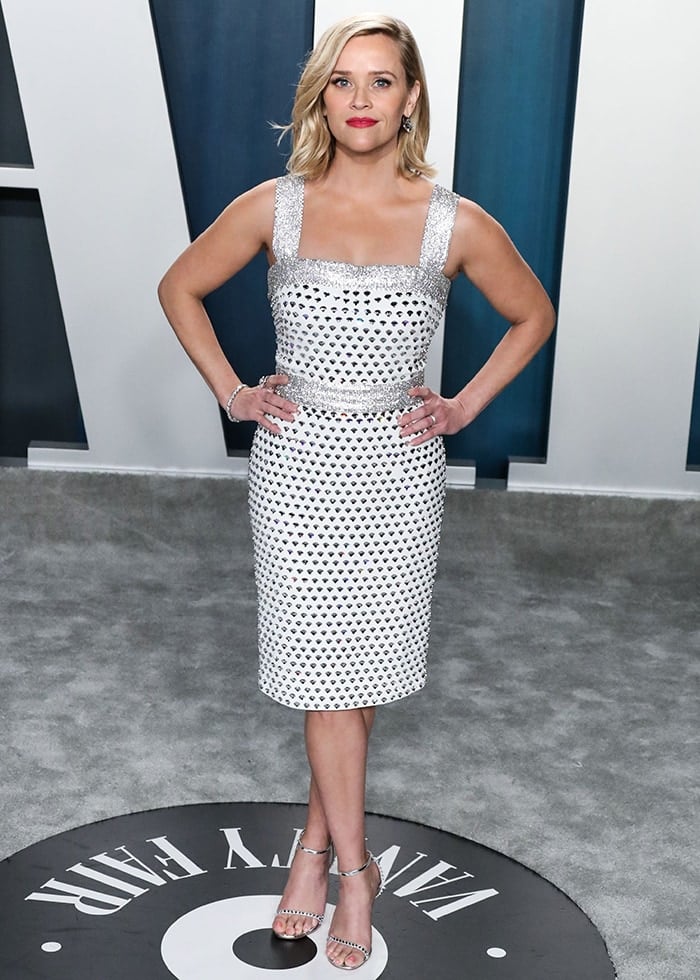 Reese Witherspoon slips her curves in Dolce & Gabbana dress at the 2020 Vanity Fair Oscar Party on February 9, 2020 (Credit: WENN)
Most of the time, she's seen in short dresses and high heels, flaunting her legs and pretty feet.
Reese Witherspoon shows off her sexy tiny feet in Jimmy Choo heels (Credit: WENN)
26. Alyssa Milano – 5ft 1 ½ (156.2 cm) – Shoe Size 7 (US)
The Insatiable star may be short, but she sure is one of the hottest in the industry.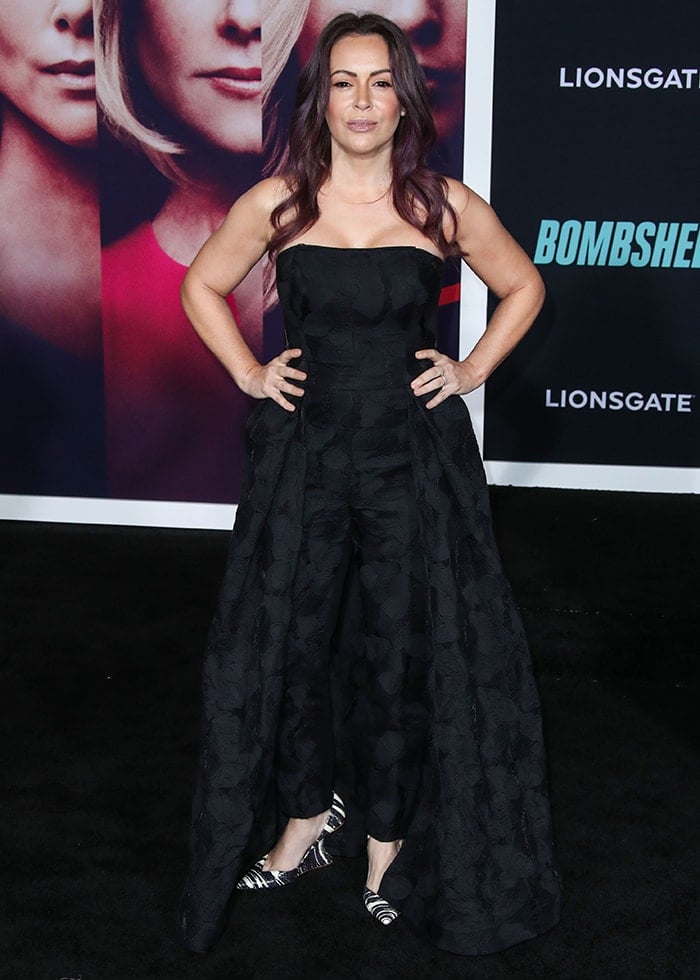 Alyssa Milano at the Bombshell Los Angeles screening on December 10, 2019 (Credit: WENN)
Her sexy feet are a size 7, and just like other petite celebrities, she often increases her height with high heels.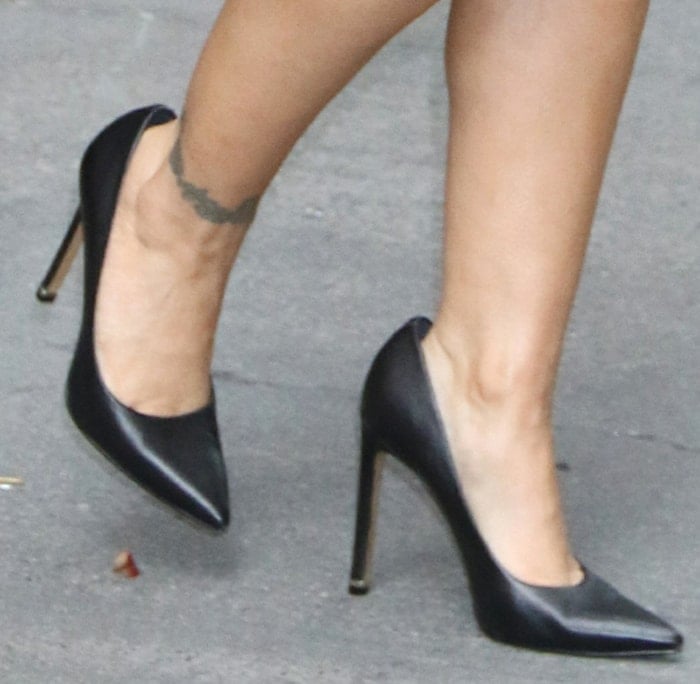 Alyssa Milano's ankle tattoo and small feet in heeled pumps (Credit: WENN)
25. Christina Aguilera – 5ft 1 ½ (156.2 cm) – Shoe Size 5 (US)
Grammy-winner Christina Aguilera has one of the biggest celebrity shoe collections.
Standing under 5'2", the singer-songwriter usually wears platform sandals, pumps, and boots in size 5.
In 2007, however, Christina's feet increased by two sizes when she was pregnant with her first child, Max Liron.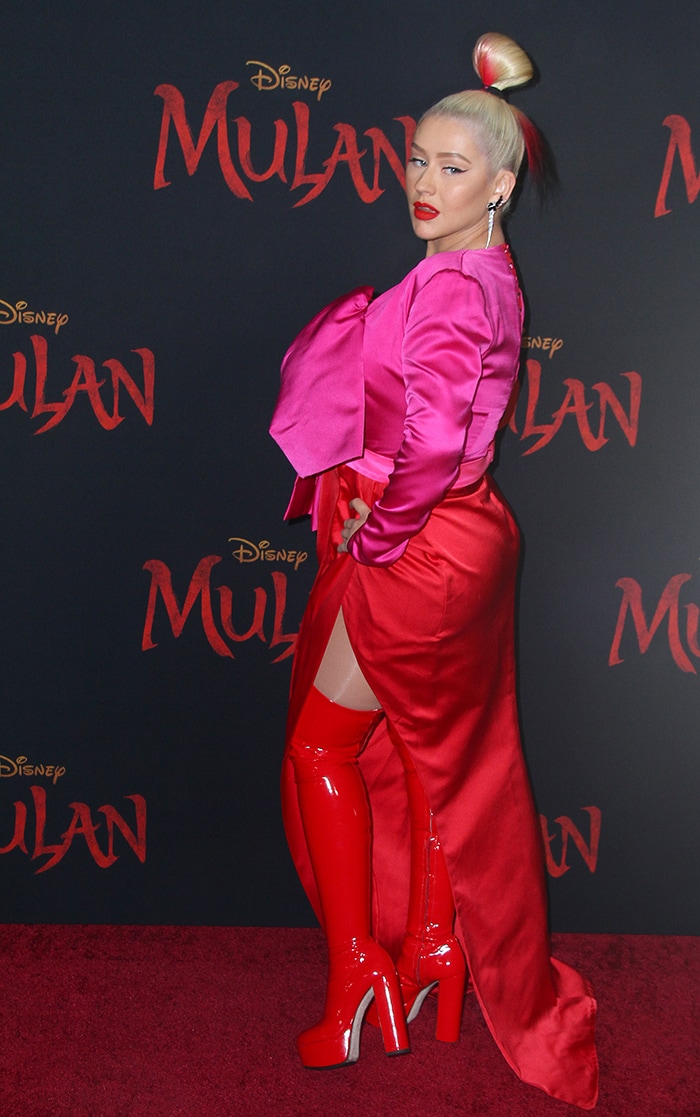 Christina Aguilera in Galia Lahav at the premiere of Disney's Mulan on March 9, 2020 (Credit: WENN)
"My stomach was really where I carried my weight. Toward the end of my pregnancy, I felt really big – I gained about 40lbs, which is a lot for my size. My hips also changed significantly. And my feet grew from a size five-and-a-half to a size seven in flats!"
Good thing her feet went back to their normal size following her pregnancy as she could wear her shoe collection again.
"Thank God my feet went back to normal. I would have been so depressed if I had to get rid of my shoe collection."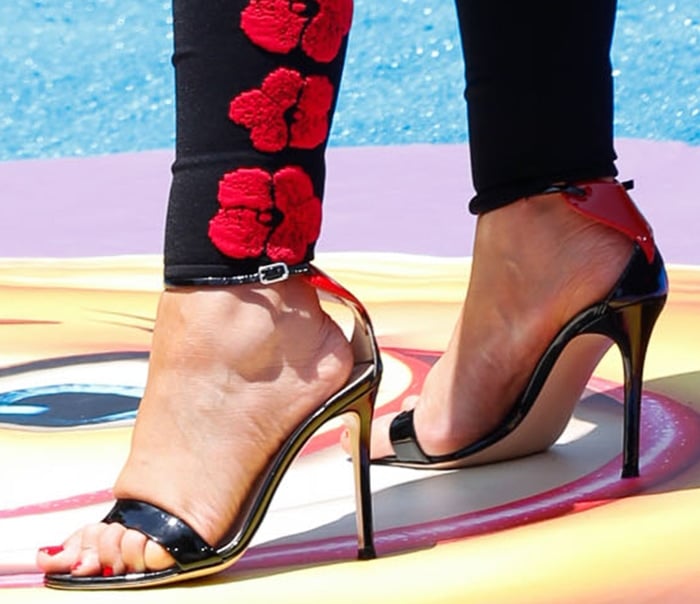 Christina Aguilera squeezes her small feet in high-heeled sandals (Credit: WENN)
24. Shakira – 5ft 1 ¼ (155.6 cm) – Shoe Size 7 (US)
The ultra-famous Shakira's hips don't lie, and neither does her height (unless she's wearing heels). Considered one of the hottest women in the world right now, she is an incredibly successful singer in both the English and Spanish-speaking worlds and actually uses her small height to her advantage.
Shakira once told The Daily Mirror: "I'm actually very proud of my short legs, they take me to places – actually when you're short people feel pity for you, so you can get away with a lot more stuff."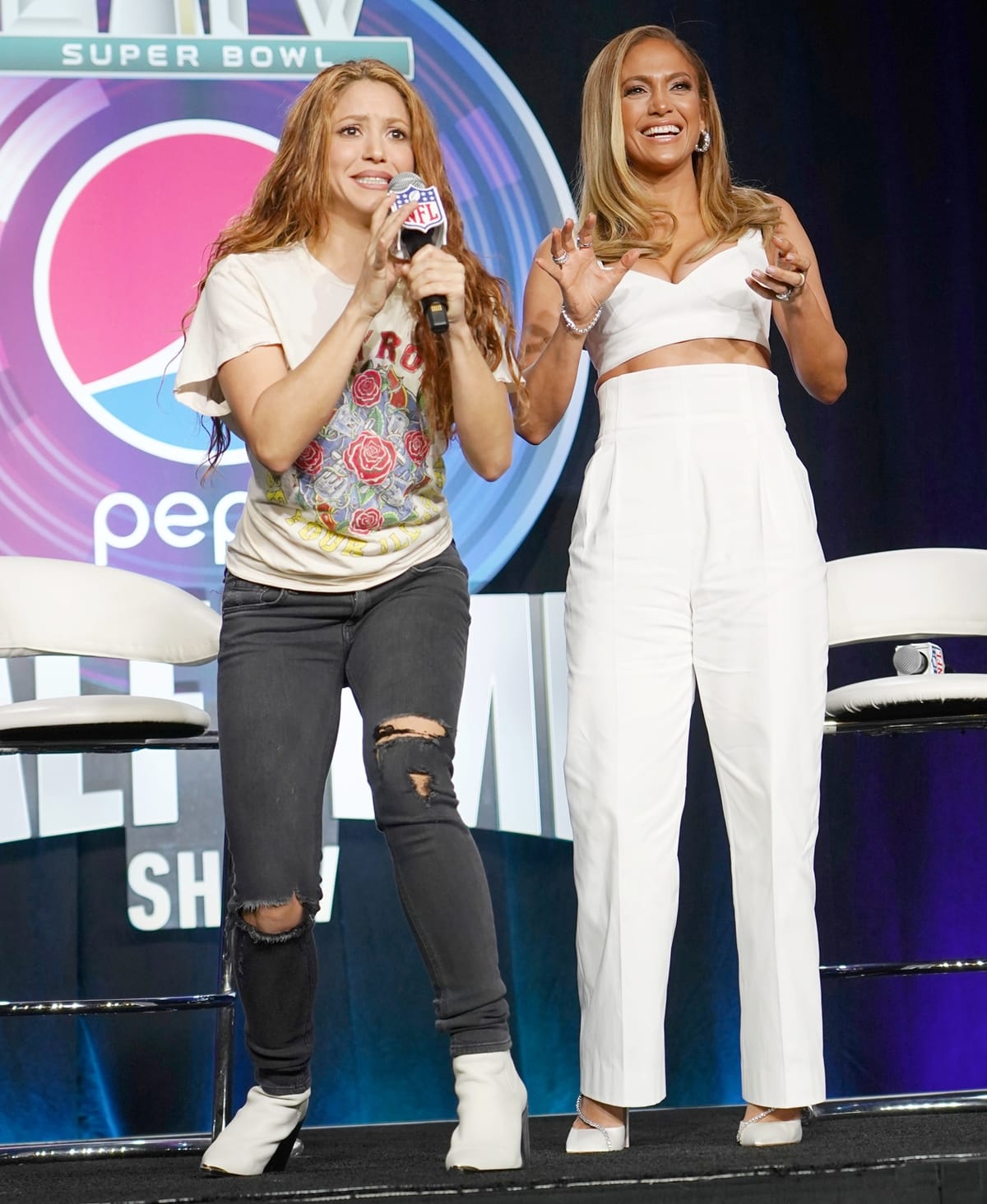 Shakira posing with much taller singer Jennifer Lopez onstage during the Pepsi Super Bowl LIV Halftime Show Press Conference at Hilton Miami Downtown on January 30, 2020, in Miami, Florida (Credit: WENN / Avalon)
She went on to add that if she were tall, she'd "be in a lot of trouble."Furthermore, despite the length of her legs, or lack thereof, she has absolutely no trouble showing them off. In the same interview with The Daily Mirror, she stated:
"I've grown as a woman and if I want to show my legs in a video, does that make me less of a thinking person?" she said. "I don't think so."
23. Lady Gaga – 5ft 1 ¼ (155.6 cm) – Shoe Size 6 (US)
The Grammy-winning singer, songwriter, and record producer is famous not just for her songs but also for her quirky sense of style. She's also known for wearing ridiculously high heels, which add extra inches to her 5'1" height.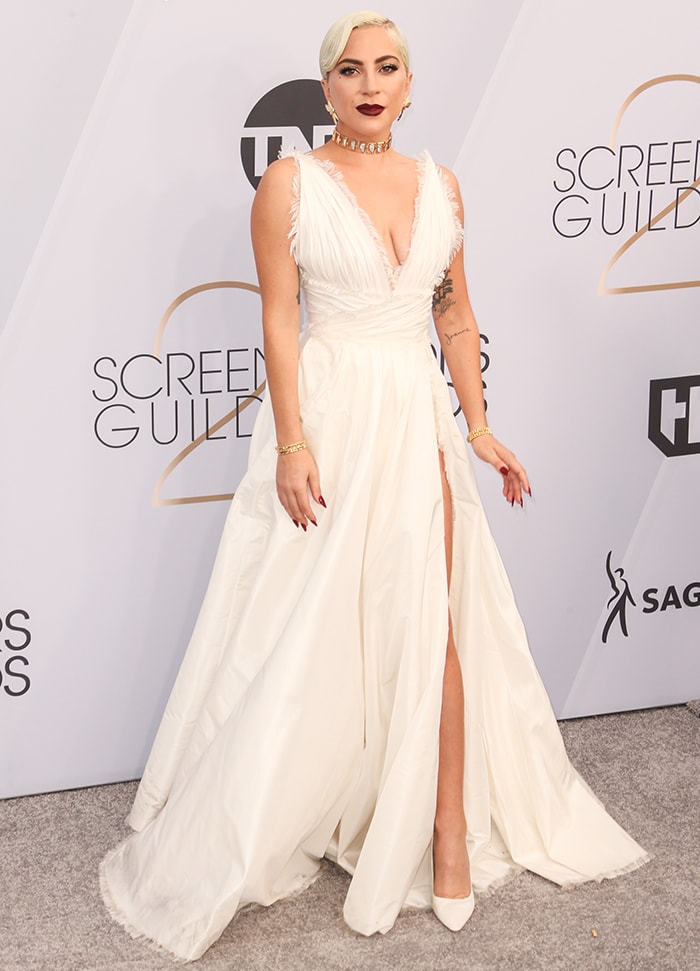 Lady Gaga in a Dior Couture gown at the 25th Annual Screen Actors Guild Awards on January 27, 2019 (Credit: WENN)
Surprisingly, Lady Gaga is a size 6, which is a little big for her petite height. However, it's still considered small compared to the average female shoe size of between 8.5 and 9.
Lady Gaga's size 6 feet in ridiculously high platform boots (Credit: WENN)
22. Sarah Hyland – 5ft 1 (154.9 cm) – Shoe Size 6 (US)
Most know Sarah Hyland from her portrayal of Haley Marshall in the beloved sitcom Modern Family. Although her character Haley is quite the party girl, Sarah Hyland herself is much more laid-back.
She is both short and slim, with extremely long legs. In fact, she once joked on Twitter that:
"If my torso were proportionate to my legs, I'd be around 5'6," subsequently stating that she was "5'2 and proud of it."
Sarah Hyland, in a Vera Wang dress, kisses her much taller fiancé Wells Adams at the 2021 E! People's Choice Awards on December 7, 2021, at the Barker Hangar in Santa Monica, California (Credit: MEGA / WENN)
However, Sarah Hyland's slim figure has garnered some criticism throughout the years, with some people telling her to "eat a burger" or otherwise shaming her for being too small.
However, Hyland clapped back at critics in 2017 through a lengthy Twitter post in which she stood up for herself, saying: "I'm not in control of my body type."
She also cited several ongoing health issues as the reasons behind her slimmer-than-normal figure, effectively silencing hateful critics and proving that although she may have lost some muscle mass, her mental strength was better than ever- no matter what her body looked like.
21. Carrie Fisher – 5ft 1 (154.9 cm) – Size 5 (US)
The American actress was famous for playing Princess Leia in the Star Wars franchise. She was only 5'1" and was a foot shorter than her on-screen partner, Harrison Ford, who played Han Solo.
Carrie Fisher at Backstage at the Geffen Gala on May 1, 2006 (Credit: WENN)
Reports say that the late Carrie Fisher had to shoot her scenes while standing on a box to put her on eye level with the 6'1"-tall Harrison.
She wore a size 5, which was just right for her height. Carried Fisher died of a sudden cardiac arrest on December 27, 2016, at age 60.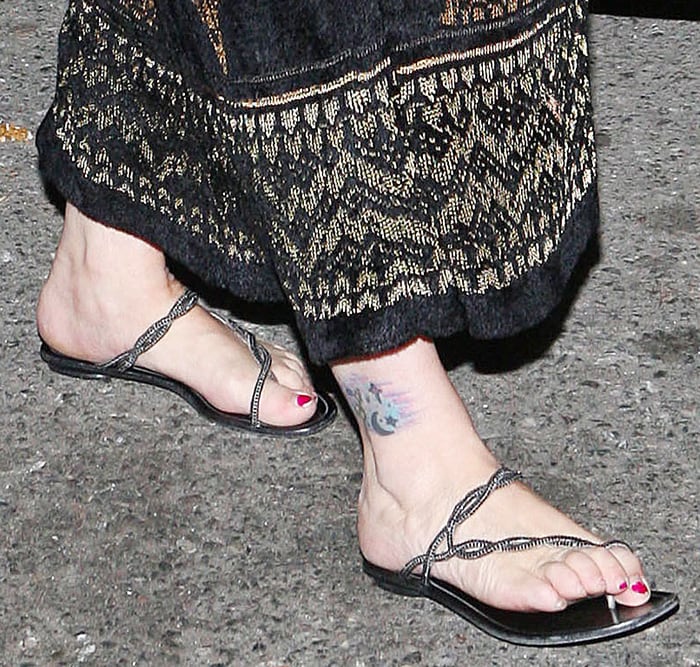 Carrie Fisher's galaxy ankle tattoo and small feet (Credit: WENN)
20. Rachel Bilson – 5ft 1 (154.9 cm) – Shoe Size 5 (US)
Short women tend to have small feet, and such is the case for Hart of Dixie's Rachel Bilson. She's 5'1" and wears a shoe size 5.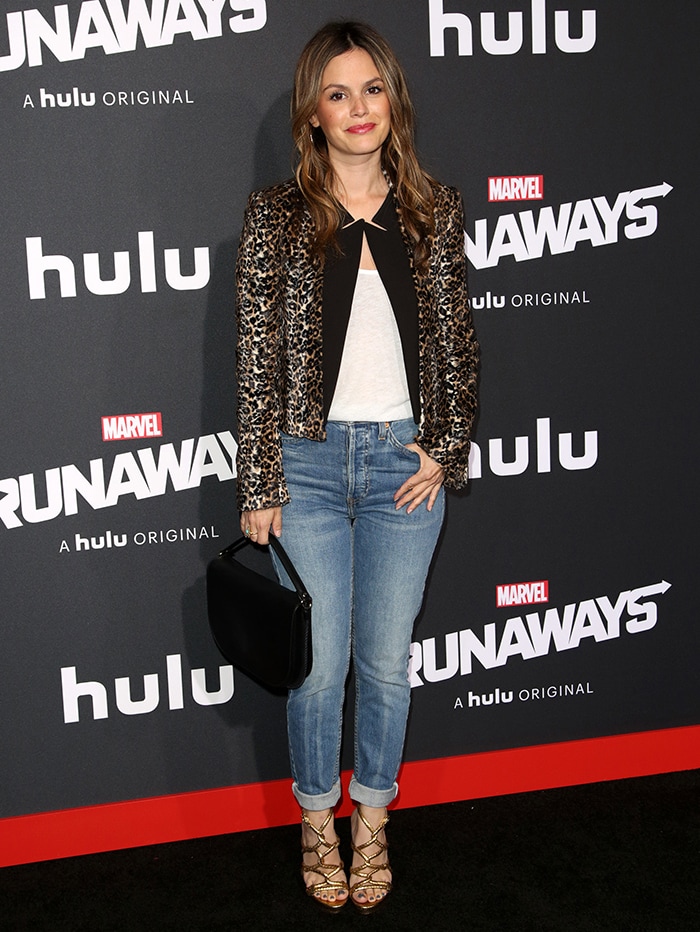 Rachel Bilson at the Runaways film premiere in Westwood on November 17, 2017 (Credit: WENN)
In May 2009, the Bling Ring, a group of high school thieves that target celebrity homes, burglarized the actress' home five times.
They stole $130,000 to $300,000 worth of Rachel's designer clothes and accessories, including her vintage shoe collection, despite her shoes running small in size.
Rachel Bilson showcases her small feet in a pair of orange sandals (Credit: WENN)
19. Lucy Hale – 5ft 1 (154.9 cm) – Shoe Size 6 (US)
Known for her role as Aria Montgomery in Pretty Little Liars, Lucy Hale is short at just 5'1".
Lucy Hale in Saint Laurent at iHeart Radio Music Festival 2019 on September 21, 2019 (Credit: WENN)
Among her Pretty Little Liars co-stars, Lucy has one of the best collections of designer shoes. She wears a size 6, which is perfect for her petite height.
The actress is usually seen showing off her pretty little feet in high-heeled sandals and pumps.
Lucy Hale's tiny toes and sexy feet in Schutz heels (Credit: WENN)
18. Kristen Bell – 5ft 1 (154.9 cm) – Shoe Size 6 (US)
Height doesn't really matter in Hollywood. And Kristen Bell has proven it several times by playing strong female lead characters in both film and TV series.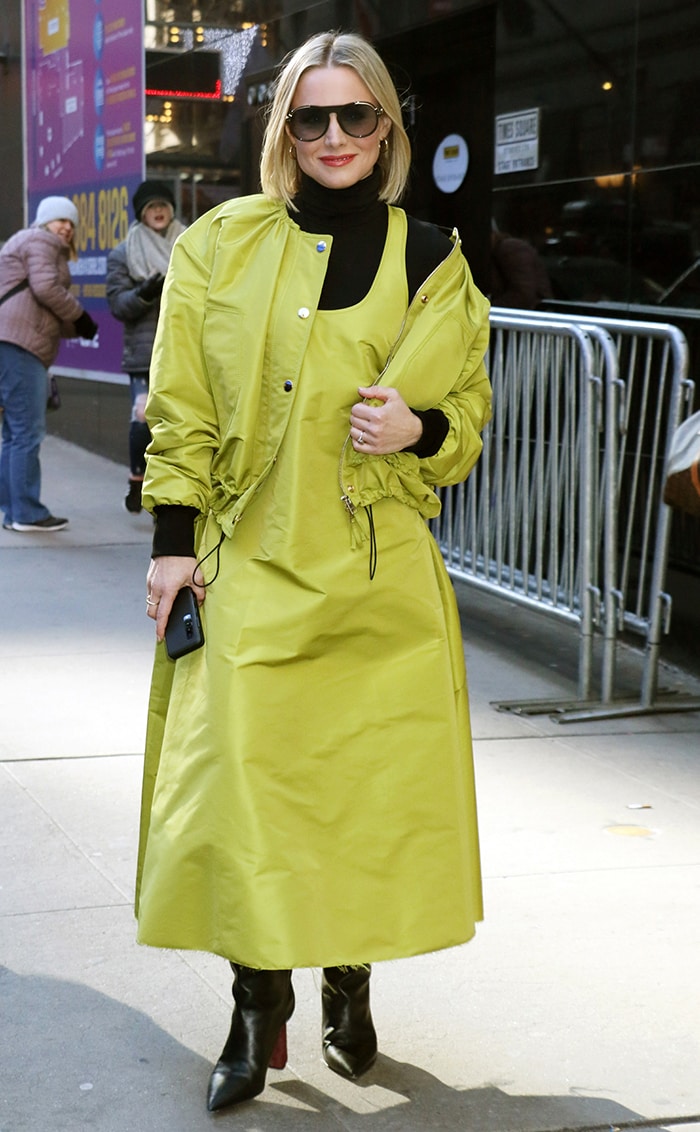 Kristen Bell arrives at Good Morning America studios on February 21, 2020 (Credit: WENN)
Standing just 5'1", Kristen Bell can definitely kick some serious ass even with her size 6 feet.
Kristen Bell's small size 5 feet in platform block heels (Credit: WENN)
17. Nicole Richie – 5ft 1 (154.9 cm) – Shoe Size 7 (US)
She may appear taller thanks to her lithe frame, but Nicole Richie stands at only 5'1". And just like Lady Gaga, the fashion icon wears a size 7.
The former reality TV star has made a name for herself in the fashion industry with the launch of her jewelry line-turned-lifestyle brand, House of Harlow 1960.
Nicole Richie in Calvin Klein at FIT's Future of Fashion Runway Show April 30, 2015 (Credit: WENN)
She's also into shoes and has collaborated with several footwear brands, including Raye and Le Silla.
Proud of her small feet, Nicole even has an eye-catching tattoo of rosary beads on her left foot.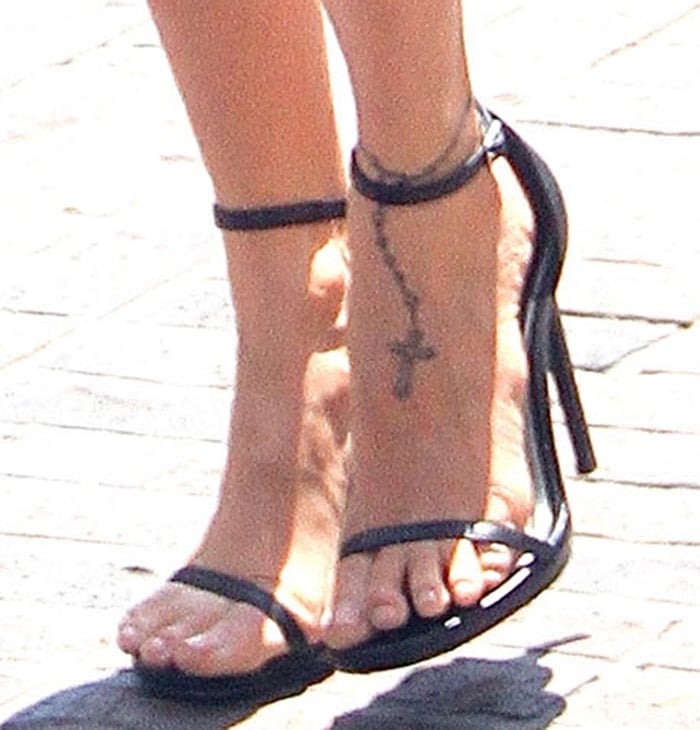 Nicole Richie shows off her small feet and rosary foot tattoo (Credit: WENN)
16. Anna Kendrick – 5ft 1 (154.9 cm) – Shoe Size 7 (US)
Anna Kendrick is yet another notoriously short actress who has publicly joked about her height. In an interview with Esquire, she happily proclaimed that her big personality and voice easily make up for any lack of physical height.
5′ 2″ actress Anna Kendrick looks short next to 5′ 8″ actor William Jackson Harper at the Tribeca Fall Preview 'Love Life' held at the DGA Theatre on October 24, 2021, in New York City (Credit: MEGA / WENN)
She went on to admit that although she felt "angsty" about her height when she was younger and worried that guys preferred tall girls, she now just loves just how "compact" she is, and has realized that most guys love all girls.
Like many of the other women on this list, Anna Kendrick is also a big fan of high heels for red carpets and other events where she dresses in fancier attire.
15. Zoë Kravitz – 5ft 1 (154.9 cm) – Shoe Size 8.5 (US)
Zoë Kravitz is another quite petite actress, despite her commanding stage presence. Her slim, streamlined figure also allows her to appear taller than she truly is.
Actress Zoë Isabella Kravitz in a red hooded gown with much taller make-up artist Nina Park at the 2021 InStyle Awards at The Getty Center on November 15, 2021, in Los Angeles, California (Credit: Avalon / WENN)
Throughout the years, Zoë Kravitz has also utilized some interesting style techniques to increase her height, such as the 6-inch top knot she wore at the New York premiere of The Divergent Series: Allegiant.
She is also often seen wearing heels on red carpets that elongate her even further.
14. Eva Longoria – 5ft ½ in (153.7 cm) – Shoe Size 6 (US)
We've been seeing her in signature form-fitting outfits, which never fail to highlight her famous curves. But what you probably didn't know is that Eva Longoria has very sexy feet, too.
Eva Longoria shows off her cleavage in Teresa Helbig dress at the 31st Producers Guild Awards on January 18, 2020 (Credit: WENN)
The Desperate Housewives star is under 5'2" and wears a shoe size 6. They may be a little small, but many agree that they're one of the sexiest pairs in Hollywood.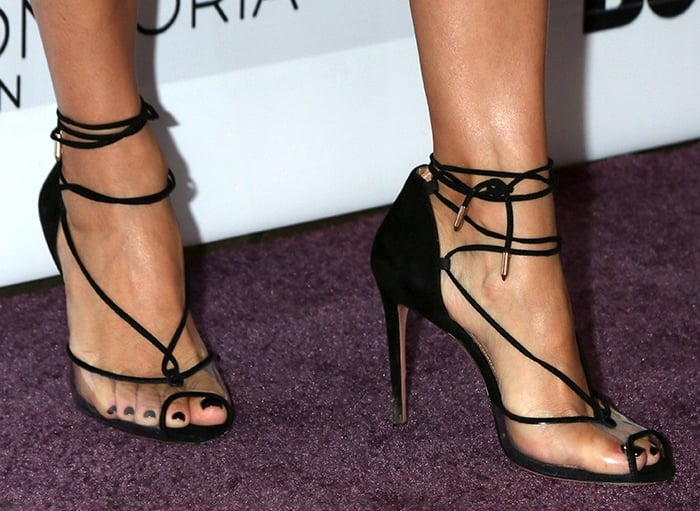 Eva Longoria squishes her small feet in Aquazzura suede and PVC sandals (Credit: WENN)
13. Christina Ricci – 5ft ½ in (153.7 cm) – Shoe Size 6 (US)
Actress and producer Christina Ricci is known for her childhood work in the supernatural black comedy, The Addams Family, and her role as Kathleen "Kat" Harvey in the 1995 fantasy film Casper.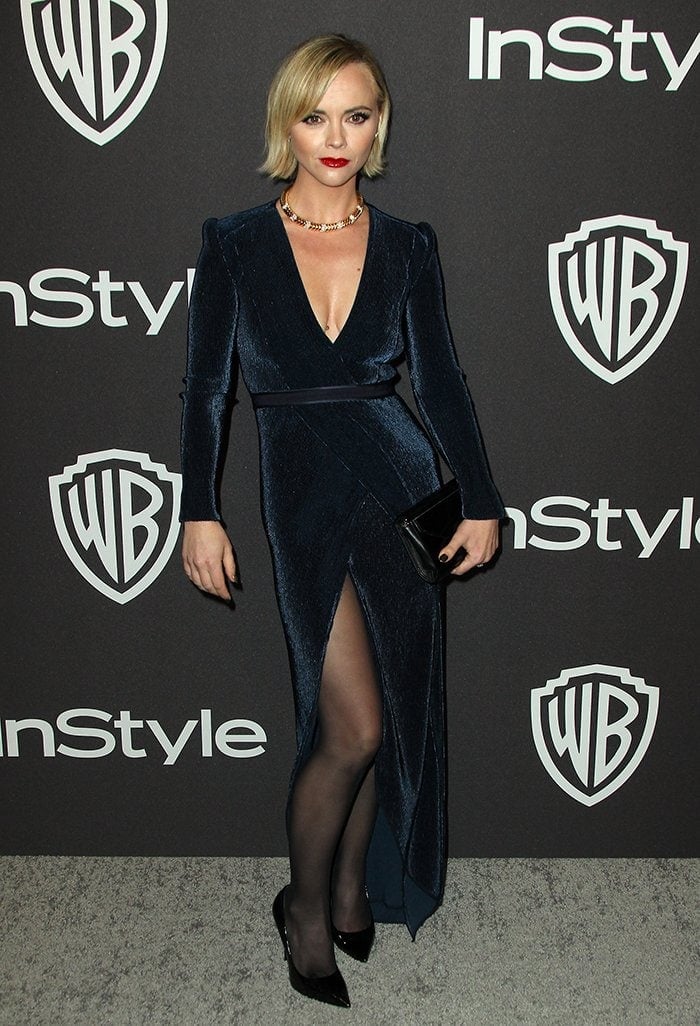 Christina Ricci at InStyle Warner Bros Golden Globe After Party on January 7, 2019 (Credit: WENN)
She's also known to have several body tattoos, which include a mermaid tattoo on her left ankle.
The actress stands 5'1" and wears a size 6, which suits her height well.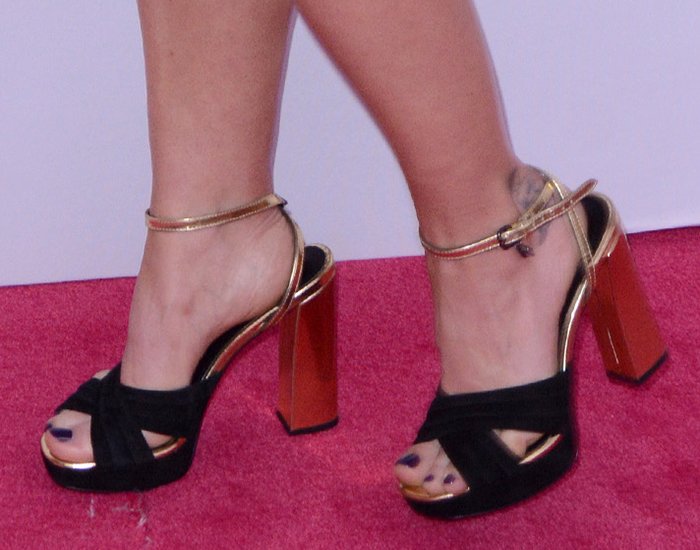 Christina Ricci wears platform sandals to increase her height (Credit: WENN)
12. Elliot Page (formerly Ellen Page) – 5ft ½ in (153.7 cm) – Shoe Size 6 (US)
He's used to playing badass roles—from Babe Ruthless in Whip It to X-Men's Kitty Pryde to Vanya Hargreeves in The Umbrella Academy.
Elliot Page, then known as Ellen Page, in a black suit at the "Tales of the City" New York premiere at The Metrograph on June 3, 2019, in New York City (Credit: WENN)
Elliot Page (formerly Ellen Page) just proves that even petite actors with tiny feet know how to beat some ass.
The Canadian actor stands 5'1" and has a shoe size of 6. In December 2020, Ellen Page came out as transgender and changed his name to Elliot Page. "I can't begin to express how remarkable it feels to finally love who I am," he said in a statement.
Elliot Page, then known as Ellen Page, shows off his small size-6 feet (Credit: WENN)
11. Ariana Grande – 5ft ½ in (153.7 cm) – Shoe Size 6 (US)
She may be short at 5' flat, but Ariana Grande has a powerful, four-octave vocal range.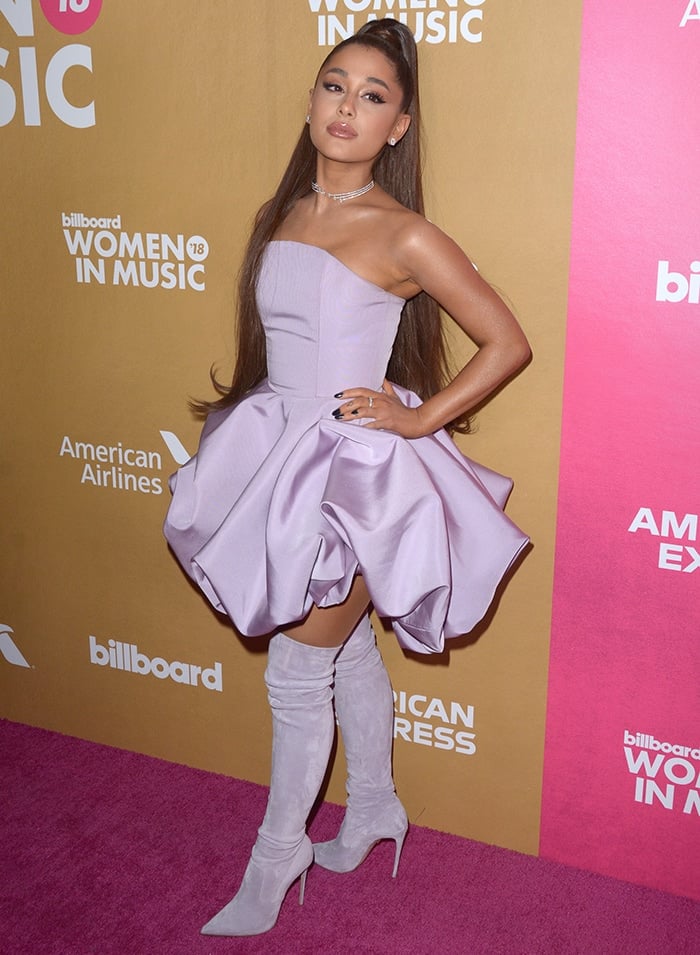 Ariana Grande in Christian Siriano lilac bubble skirt at the Billboard Women In Music 2018 on December 7, 2018 (Credit: WENN)
While her fans do adore her and her multiple talents, there's another thing that they love about the singer—her feet. They say she has beautiful legs and feet, which are a size 6, and we couldn't agree more.
Ariana often wears towering platform pumps and boots to boost her height.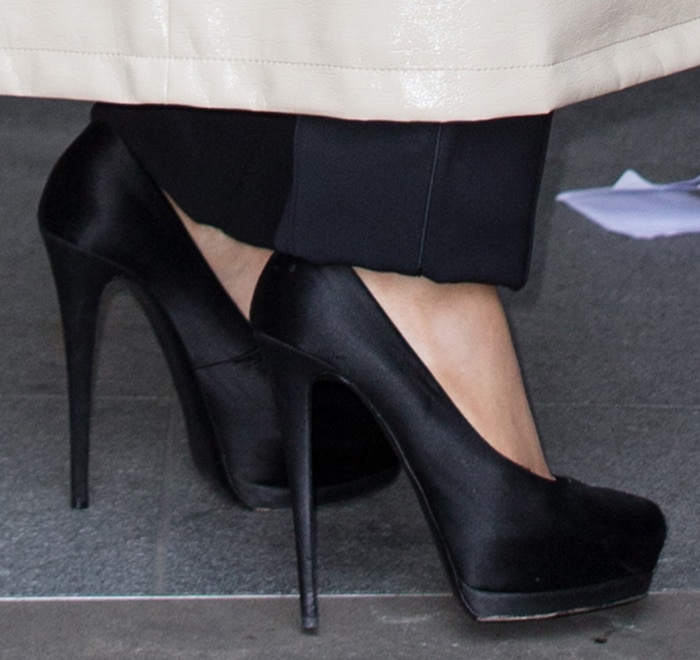 Ariana Grande's small feet in towering pumps (Credit: WENN)
10. Hayden Panettiere – 5ft ¼ in (153 cm) – Shoe Size 5 (US)
She's best known for portraying high school cheerleader Claire Bennet in the NBC series, Heroes. With a petite height of 5' flat, Hayden Panettiere was the perfect choice for the role.
And although short, the actress was surprisingly considered a sex symbol in the world of sports.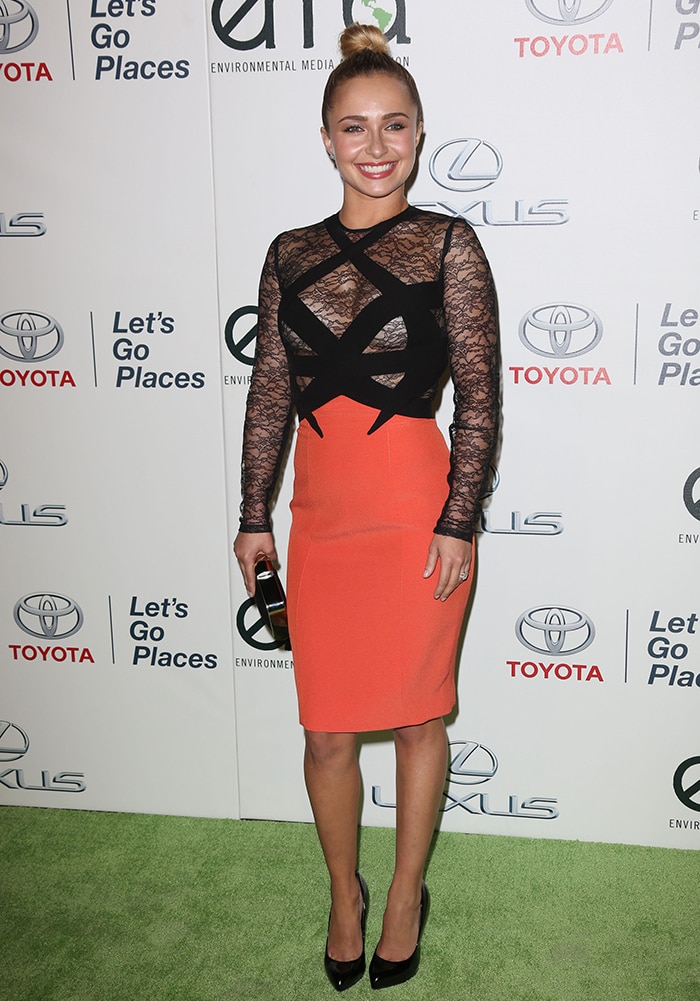 Hayden Panettiere at the 23rd Annual Environmental Media Awards on October 19, 2013 (Credit: WENN)
Along with her tiny height is a small shoe size of just 5.
Hayden Panettiere's size 5 feet look cramped in her platform slingback pumps (Credit: WENN)
9. Maisie Williams – 5ft 0 (152.4 cm) – Shoe Size 6 (US)
She's one of the shortest actresses in the industry at 5'0". But despite her short height, Maisie Williams has made huge waves by playing Arya Stark in the biggest show of the decade, Game of Thrones.
Maisie Williams in Olivier Theyskens at the Sky Up Next 2020 event on February 12, 2020 (Credit: WENN)
The actress wears a size 6, and she has a vast collection of designer shoes, which, of course, includes high heels.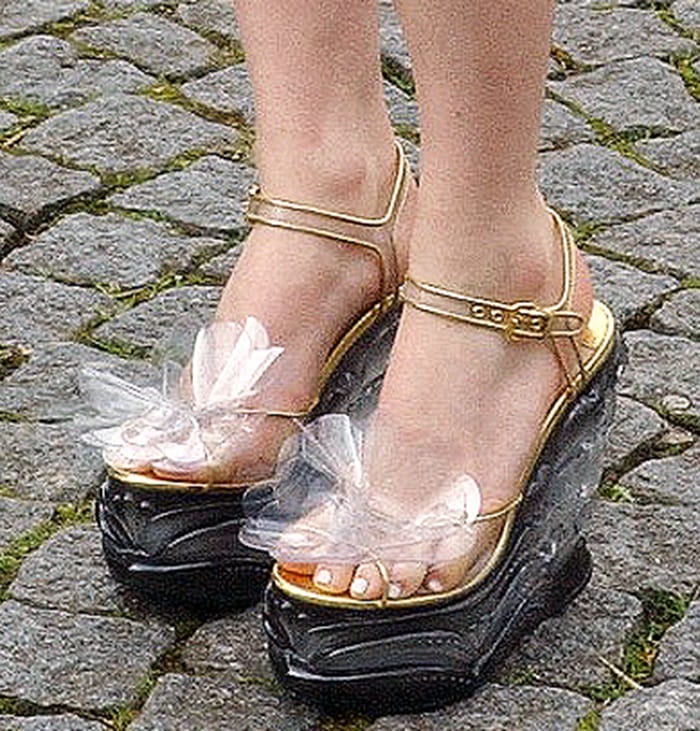 Maisie Williams slips her small feet into platform sandals to boost her petite height (Credit: WENN)
8. Victoria Hesketh – 5ft 0 (152.4 cm) – Shoe Size 5.5 (US)
Also known by her stage name Little Boots, electropop singer and DJ Victoria Hesketh stands 5'0" and wears a size 5.5.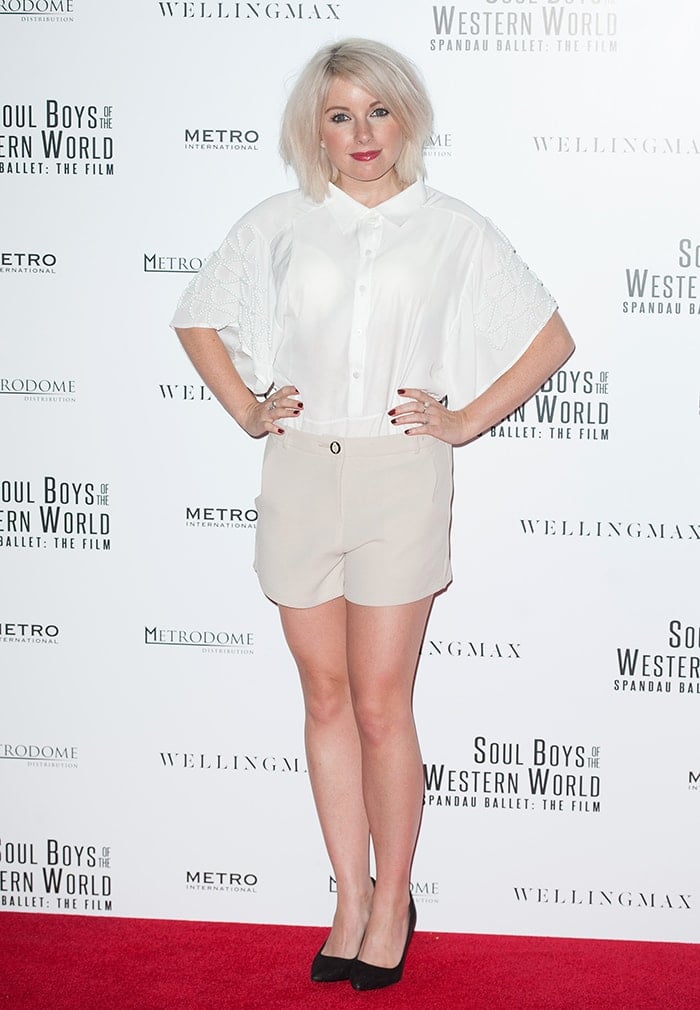 Victoria Hesketh at Soul Boys of The Western World UK film premiere on September 30, 2014 (Credit: WENN)
She once said that shoe shopping is a nightmare for her unless she's in Japan. This is because Japanese shoe sizes often run smaller than Western sizes.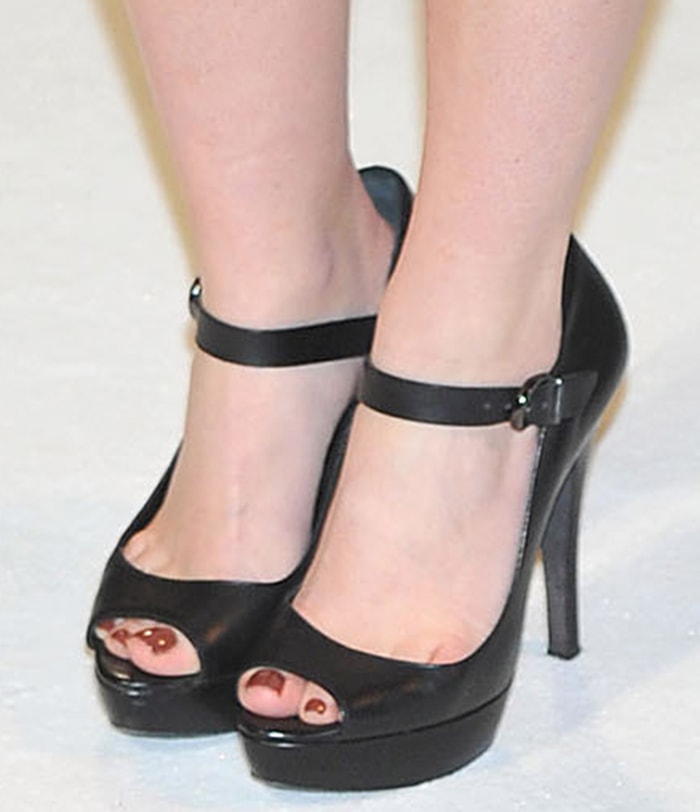 Victoria Hesketh's beautiful size 5 feet (Credit: WENN)
7. AnnaSophia Robb – 5ft 0 (152.4 cm) – Shoe Size 5 (US)
She plays the teenage version of shoe enthusiast Carrie Bradshaw in the Sex and the City spin-off, The Carrie Diaries.
But while the character is addicted to shopping for expensive designer shoes, AnnaSophia Robb once admitted she hated shopping and struggled to fill Sarah Jessica Parker's big shoes, literally.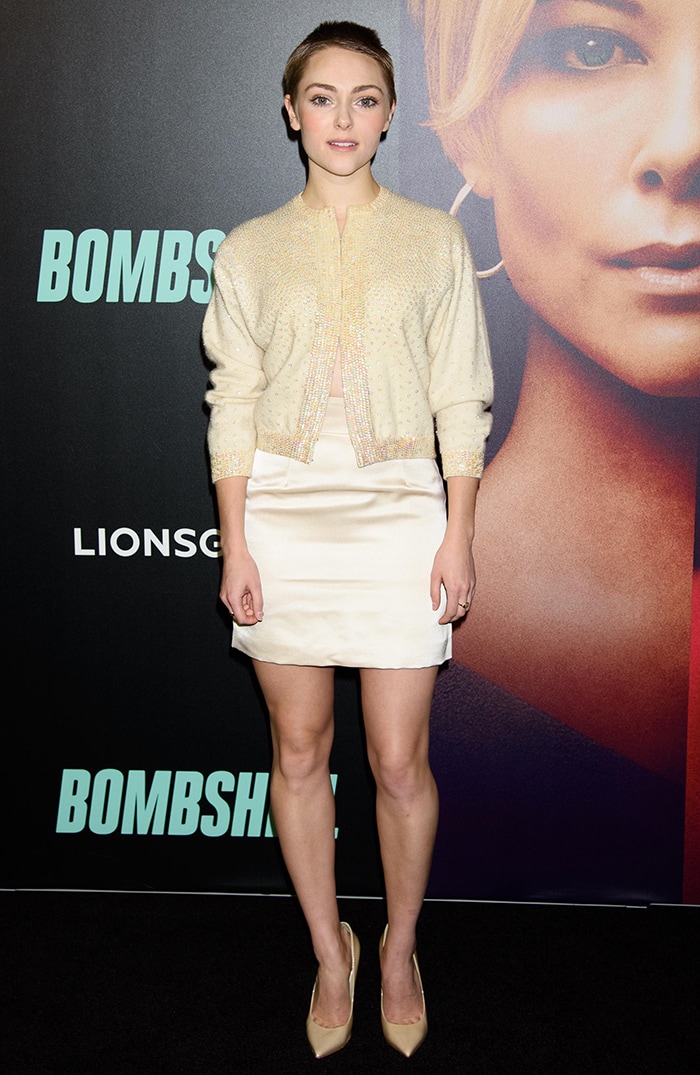 AnnaSophia Robb at Bombshell NY screening Jazz on December 16, 2019 (Credit: WENN)
"I mean really. My feet are ridiculously tiny. I'm practically still in a child's-size shoe. I'm just a little bit too small for adult shoes so we have to pad my shoes when I play Carrie. It's terrible. I need to buy shoes in Asia!," the actress said in an interview with Independent.
She stands 5' flat, so wearing a size five is no longer surprising.
AnnaSophia Robb's small feet in colorful snakeskin pumps (Credit: WENN)
6. Kourtney Kardashian – 5ft 0 (152.4 cm) – Shoe Size 5 (US)
She may be the eldest among her siblings, but Kourtney Kardashian is also the shortest of the bunch.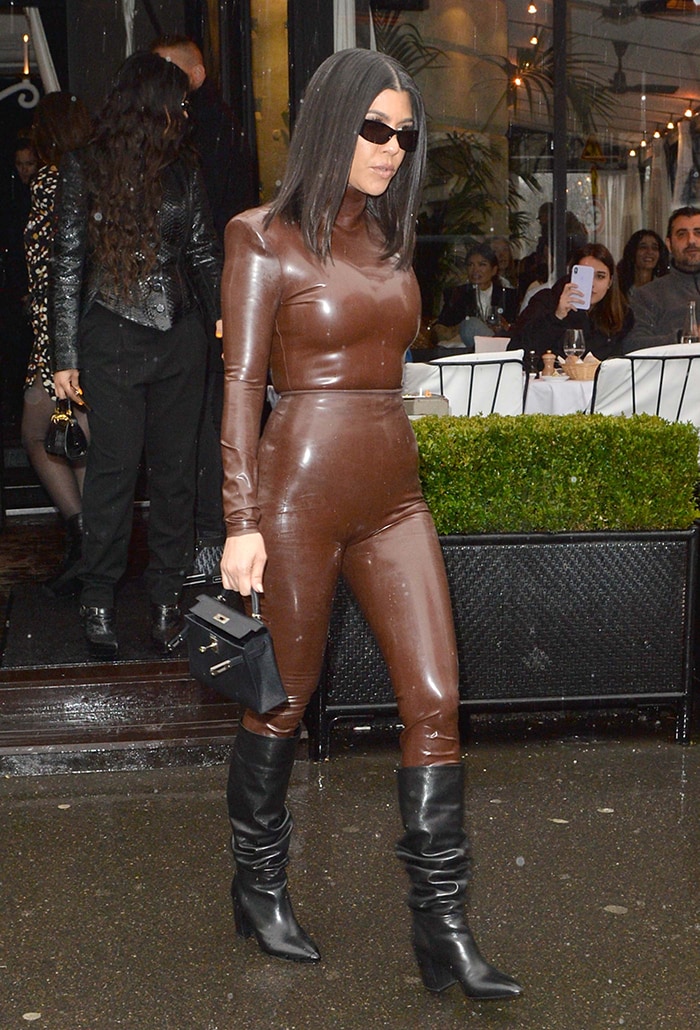 Kourtney Kardashian in Balmain brown latex suit at L'Avenue Restaurant in Paris, France, on March 1, 2020 (Credit: WENN)
With a height of just 5'0", Kourtney is often towered over by her sisters. Naturally, she also has the tiniest feet.
She wears a size 5, while her sister Khloe and half-sister Kendall both wear a size 10.
Kourtney Kardashian shows off her feet in high-heeled sandals (Credit: WENN)
5. Kylie Minogue – 5ft 0 (152.4 cm) – Shoe Size 5 (US)
She's one of the biggest pop stars in the industry and the highest-selling female Australian artist of all time. No wonder she's dubbed the Princess of Pop.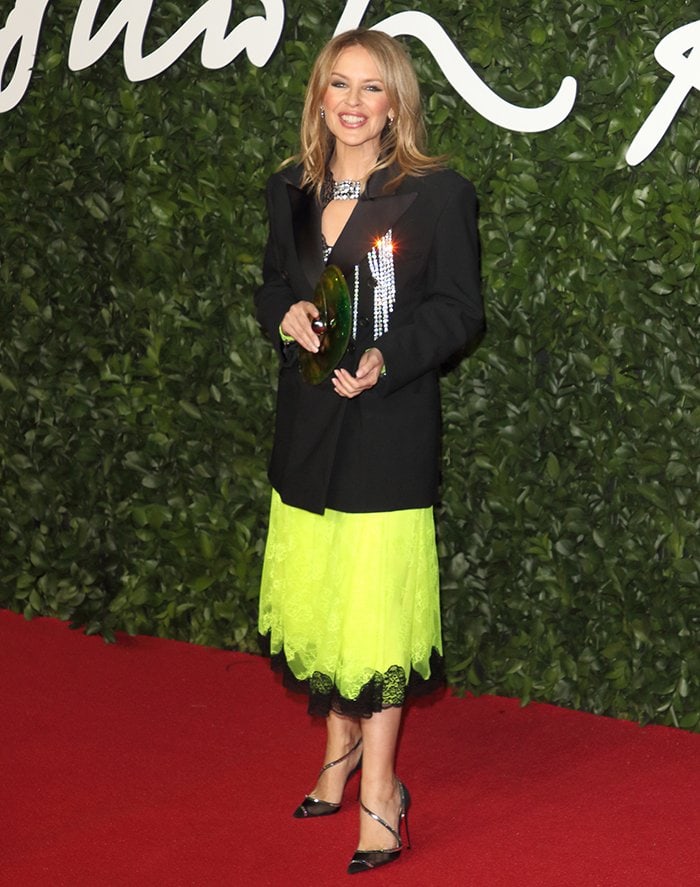 Kylie Minogue at The Fashion Awards 2019 in London on December 2, 2019 (Credit: WENN)
With a height of just 5' flat, many look up to Kylie Minogue for her talent and fashion sense. Foot fetish enthusiasts also love her pretty feet, which are a size 5.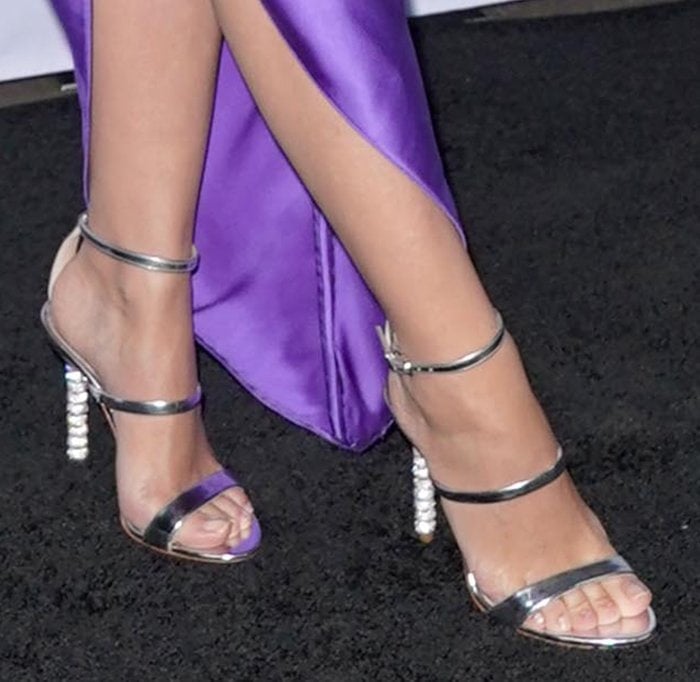 Kylie Minogue's beautiful small feet in crystal heel silver sandals (Credit: WENN)
4. Jada Pinkett-Smith – 4ft 11 ½ (151.1 cm) – Shoe Size 6 (US)
Will Smith's wife is the shortest member of her family and surprisingly wears a size 6. It's quite big for her height, but it is still small compared to the average foot size, which for an American woman is somewhere between 8.5 and 9.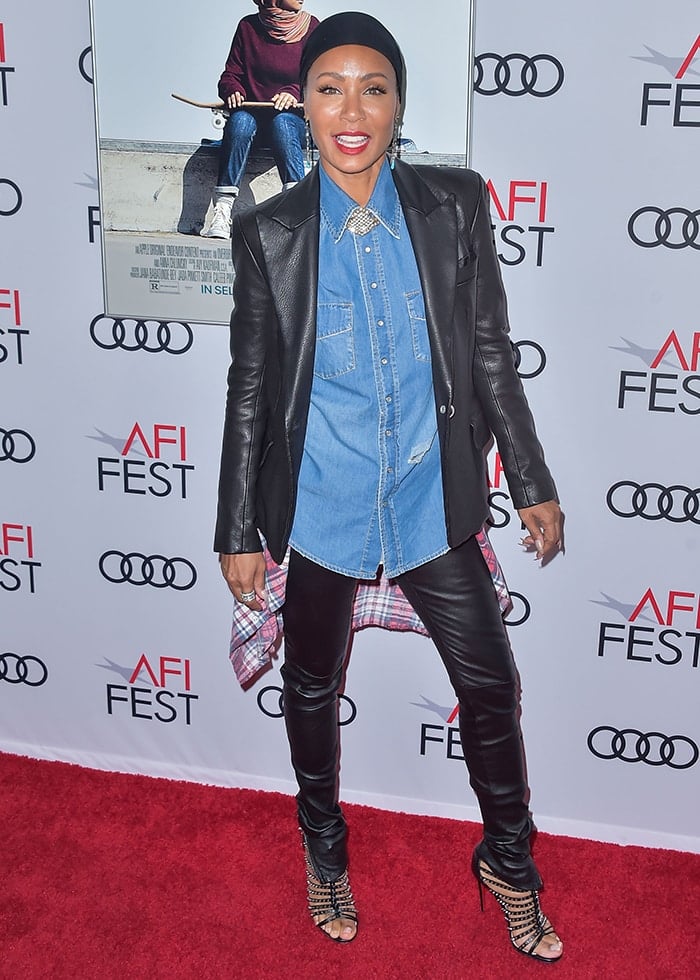 Jada Pinkett Smith at the AFI FEST 2019 screening of Hala on November 18, 2019 (Credit: WENN)
Seldom seen in flats, Jada Pinkett-Smith usually flaunts her feet in height-boosting heeled pumps and sandals.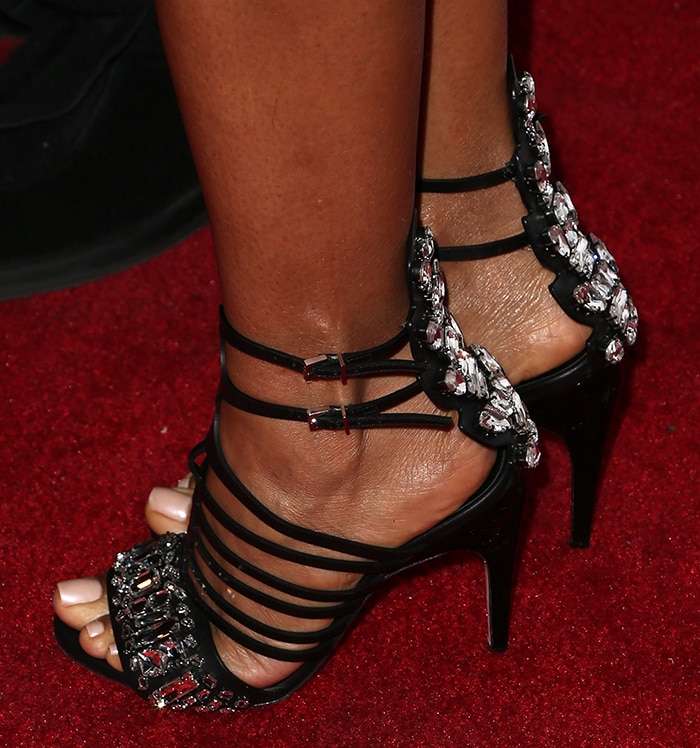 Jada Pinkett Smith squeezes her small feet in cage sandals (Credit: WENN)
3. Ashley Olsen – 4ft 11 ½ (151.1 cm) – Shoe Size 6.5 (US)
Ashley Olsen is slightly taller than her twin sister, Mary-Kate. She's under 5 feet, and her shoe size is 6.5.
Ashley Olsen at Gemfields Jewelry Salon Opening at Bergdorf Goodman on December 15, 2015 (Credit: WENN)
Like her sister, Ashley's classic shoe choices include short heels, flats, and loafers. They also have the same style, which is a mix of vintage and high-end grunge.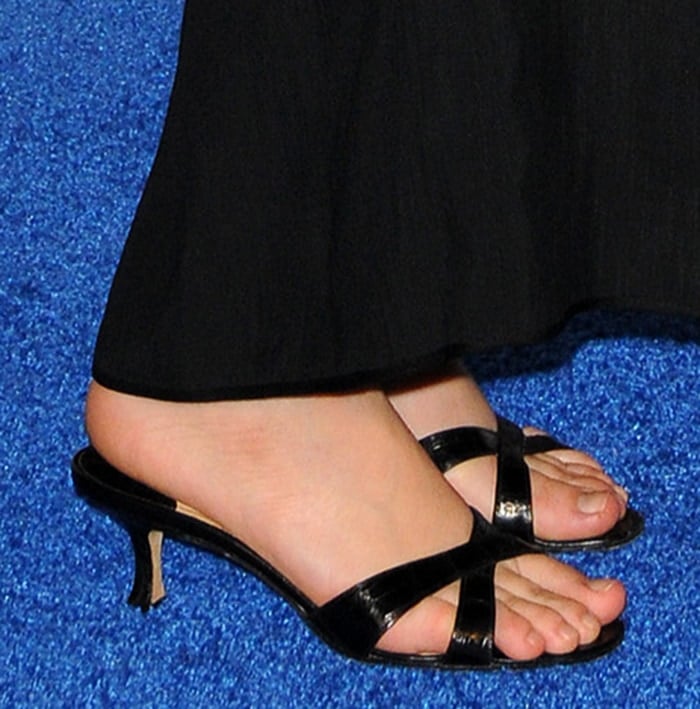 Ashley Olsen's pretty and sexy feet in kitten heel sandals (Credit: WENN)
2. Mary-Kate Olsen – 4ft 11 (149.9 cm) – Shoe Size 6.5 (US)
Mary-Kate Olsen and her twin sister Ashley Olsen have become one of the most powerful sets of twins in Hollywood.
They started their career as babies in the ABC sitcom Full House and eventually made a name for themselves in the fashion industry.
While they look almost identical, Mary-Kate and Ashley are genetically fraternal.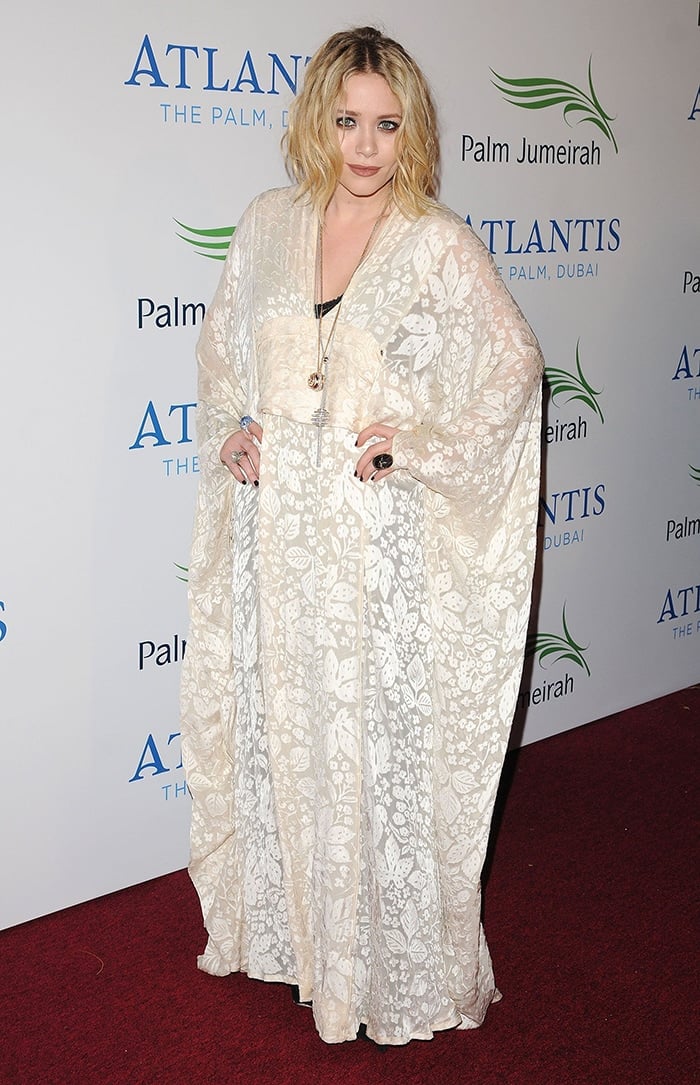 Mary-Kate Olsen at the launch of the new Atlantis Hotel on the Palm Jumeirah Dubai on November 20, 2008 (Credit: WENN)
She stands 4'11 and wears a shoe size 6.5. Although short, Mary-Kate prefers wearing kitten heels and loafers more than high heels.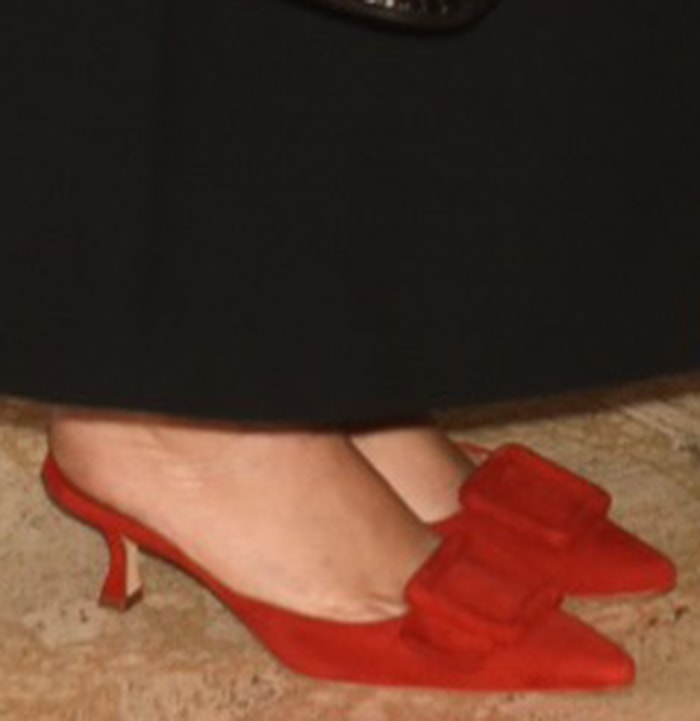 Mary-Kate Olsen slips her small feet into a pair of kitten heels (Credit: WENN)
1. Nicole Polizzi – 4ft 8 (142.2 cm) – Shoe Size 5 (US)
Nicole Polizzi, a.k.a. Snooki, became famous for starring in the MTV reality TV show Jersey Shore.
She's short in stature, standing just 4'8", but she knows how to stand out in a crowd with her pouf hairstyle and unique fashion choices.
Snooki in a rainbow crop top and black pants at the 2019 MTV Video Music Awards on August 26, 2019 (Credit: WENN)
The Chilean-American star wears a size 5, which is smaller than average but quite big for her height.
Like other women with small feet, Snooki also struggles to find shoes in her size. She once complained about Dolce Vita not having size five shoes.
Snooki displays her small feet in strappy heels (Credit: WENN)
There are beautiful celebrities of all ages and body types, and these petite female celebrities prove it.