If you haven't heard, Jason Momoa and Lisa Bonet have a pretty unusual marriage. Their love story is unique and stuff of bohemian storybooks.
Lisa Bonet is 12 years older than her husband Jason Momoa (Credit: WENN / Avalon)
Manifesting romance and secret weddings? Grits, Guinness, and dreadlocks? Here's the story of how Jason Momoa and Lisa Bonet met and fell in love.
Why is Lisa Bonet famous?
Lisa Bonet starred as Denise Huxtable in the 1980's hit, The Cosby Show. Lisa portrayed a quick-witted teenager with a free spirit.
Lisa Bonet was 16 years old when she landed the role of Denise Huxtable in the hit comedy series The Cosby Show (Credit: WENN)
She has also starred in movies like Enemy of the State (1999) and High Fidelity (2000). In addition to her onscreen work, she may be equally known for her romantic history punctuated with two very different, very talented men.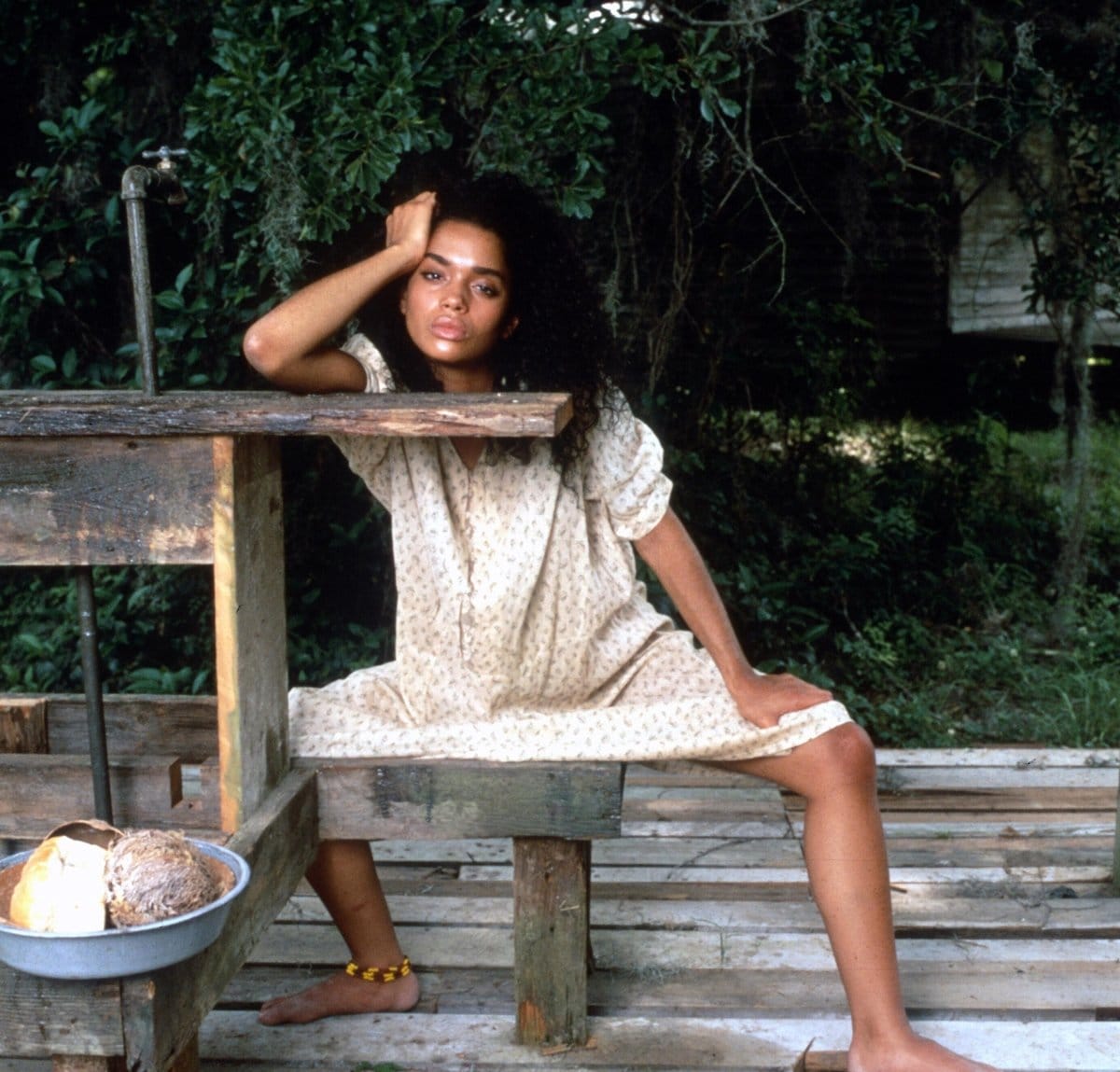 Lisa Bonet was 19 when she played 17-year-old Epiphany Proudfoot in the 1987 American neo-noir psychological horror film Angel Heart (Credit: WENN)
Musician Lenny Kravitz and Lisa Bonet
In rocker Lenny Kravitz's memoir, he describes reaching for a TV Guide, claiming that he would one day marry the beautiful woman on the cover one day.
As luck would have it, the same woman, Lisa Bonet, would cross his path one evening at a New Edition concert. However, you'll soon find that Nicole Kidman's ex-boyfriend is not the only one who seemingly manifested a romance with Bonet.
After a whirlwind romance, the two eloped on November 16, 1987, Lisa's 20th birthday. Both had parents of the Jewish faith, and also shared similar life philosophies.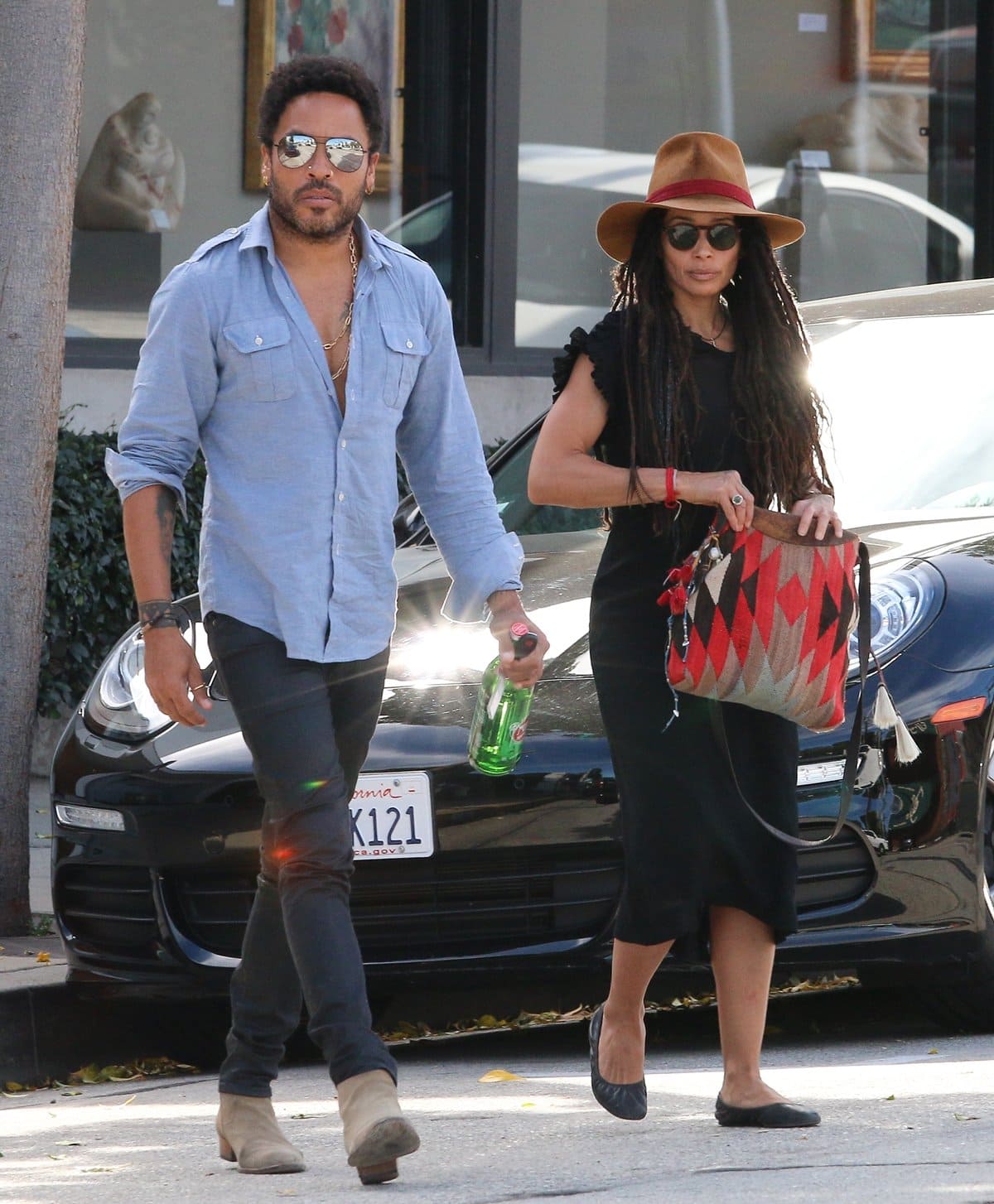 Lenny Kravitz and his ex-wife Lisa Bonet go for lunch together at Gracias Madre Restaurant in Beverly Hills on March 13, 2015 (Credit: WENN)
The pair had a daughter, Zoë Isabella Kravitz, who has gone on to become quite famous. Kravitz and Bonet split amicably in 1993 and remain fast friends to this day.
If you had any question about how Lenny took the divorce, then look no farther to "It Ain't Over Til It's Over," which rocked the airwaves for years following the divorce.
Several songs on the same album reference the pain and difficulty Kravitz was experiencing near the end of their marriage.
Who is the daughter of Lenny Kravitz and Lisa Bonet?
Lenny Kravitz and Lisa Bonet have one daughter together: Zoë Kravitz.
Zoë has amassed deep filmography credits including the Spiderman franchise as well as J.K. Rowling's Fantastic Beasts: The Crimes of Grindelwald. Miss Kravitz also stars in Hulu's series High Fidelity, which is based on the film her mother was in.
Zoë Isabella Kravitz is the daughter of actor-musician Lenny Kravitz and actress Lisa Bonet (Credit: FayesVision / WENN)
She has also modeled professionally for brands like Coach, Vera Wang, and Tiffany & Co.
Where is Jason Momoa from?
Jason Momoa was born in Honolulu, Hawaii but was raised in Norwalk, Iowa from the age of six months. He later returned to the islands to attend the University of Hawaii.
Momoa strongly identifies with his Native Hawaiian heritage from his father's ancestry. In fact, the sleeve tattoo on his forearm is representative of a shark, his family's spirit guardian.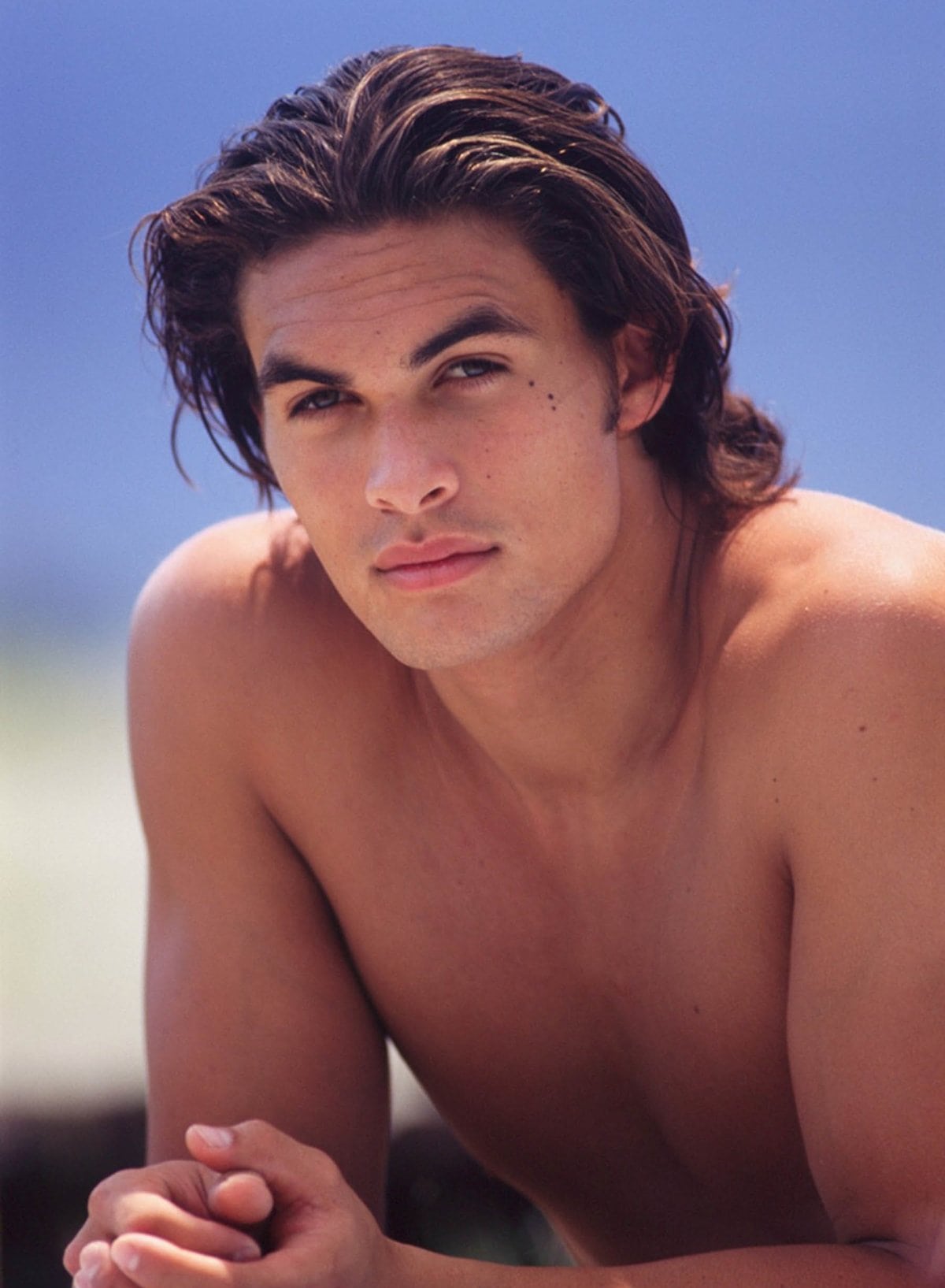 Joseph Jason Namakaeha Momoa is of partial Native Hawaiian ancestry and his mother is of German, Irish, and Native American descent (Credit: WENN)
He also reportedly performed the Haka, a traditional war dance of Māori origin that is now performed in Hawaii, during his audition for Game of Thrones.
Love at First Sight: Jason Momoa
On multiple occasions, Jason Momoa has described his early infatuation with Lisa Bonet. As an 8-year old, Jason reportedly pointed to his television while watching The Cosby Show and said "I want that one," indicating Lisa.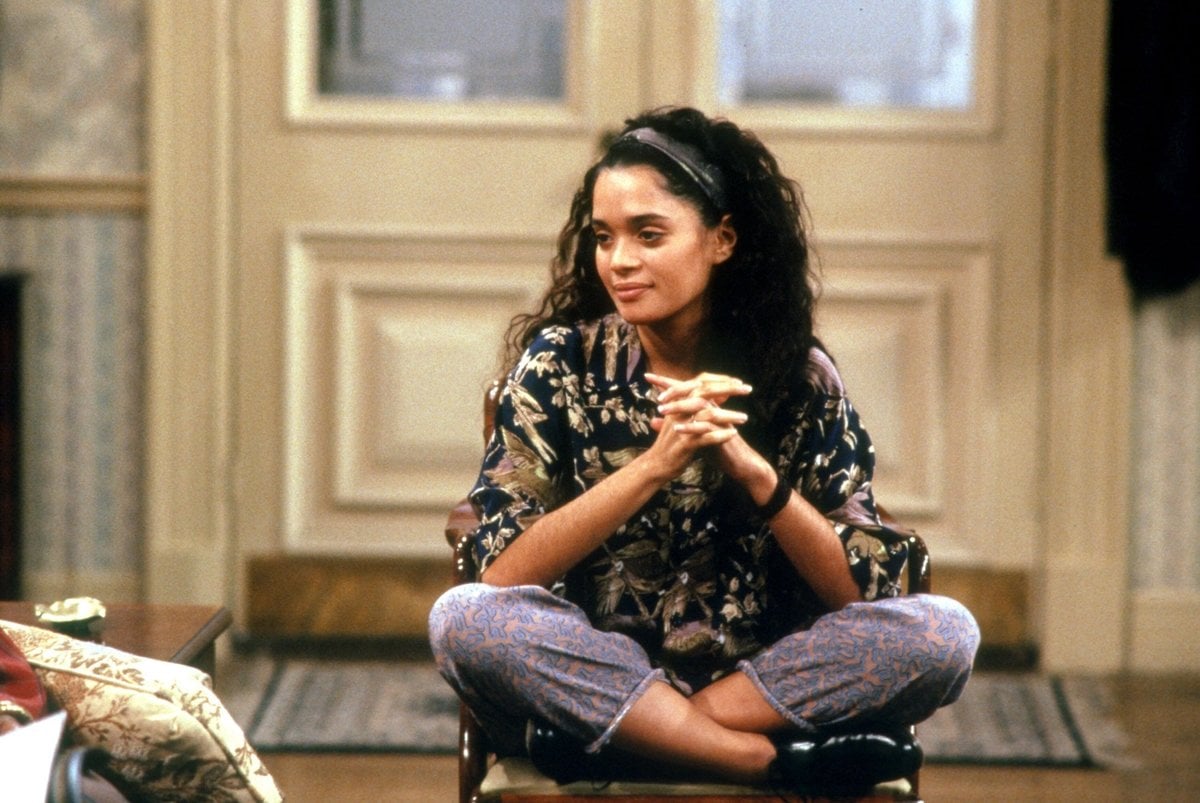 Jason Momoa was only 8 years old when he fell in love with Lisa Bonet after watching her on The Cosby Show (Credit: WENN)
She was the most beautiful girl he had ever seen. His mother smiled, dismissing the sweet gesture. Over the years, he admits to following her as a fan before their first meeting.
How did Jason Momoa get started in Hollywood?
Almost unrecognizable next to his present-day physique, Jason Momoa made his screen debut as a slender and clean-shaven actor first cast in Baywatch: Hawaii in 1999.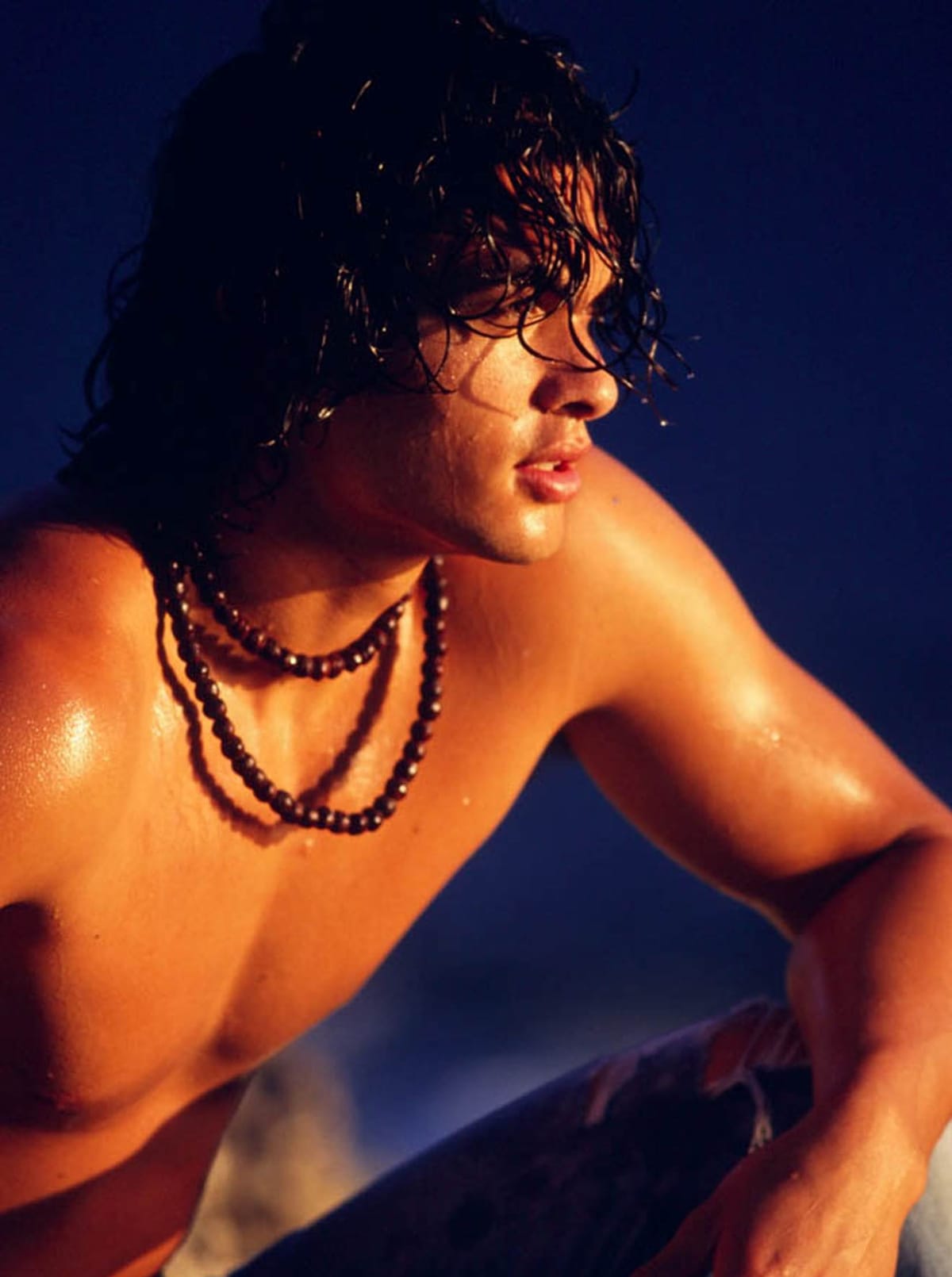 Joseph Jason Namakaeha Momoa made his acting debut as Jason Ioane on the syndicated action drama series Baywatch: Hawaii (Credit: WENN)
Around the time that Jason met Lisa Bonet, his career was starting to pick up steam when he accepted a role in 2005 on Stargate: Atlantis, which would span four years.
How did Jason Momoa and Lisa Bonet meet?
Years passed when one fateful evening in 2005, Momoa was spending the evening with friends at a jazz club in Los Angeles when he was introduced to Bonet by mutual friends.
Jason's 6'4" frame towered over Lisa's 5'2". He struggled to maintain his composure, but Jason still managed to arrange for Lisa to give him a ride home that evening, as he was staying at a hotel and was without a car.
The pair stopped off at a cafe for a quick bite and ended up bonding on everything from grits to Guinness and their dreadlocks. At the time, he didn't have the courage to tell her that it was, in fact, Lisa that had inspired him to get the iconic hairstyle.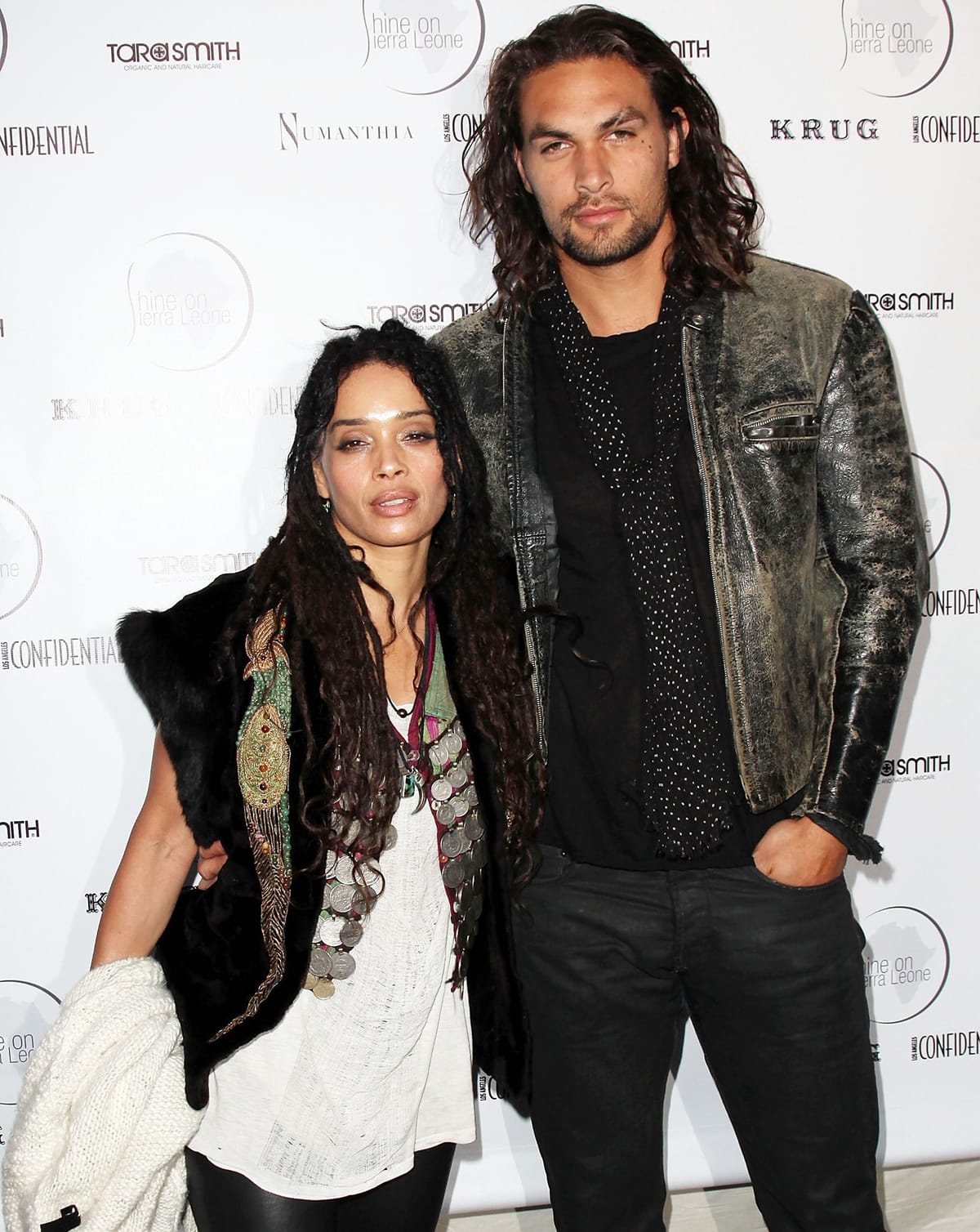 Lisa Bonet and Jason Momoa first met at a jazz club in Los Angeles in 2005 (Credit: WENN)
Over time, their relationship grew, and Momoa referenced Lisa as his wife in interviews. Fans assumed for years that the two had secretly been married around 2007.
Even though they had been living as a common-law married couple for years, Lisa and Jason made it official in 2017 and held an intimate, secret wedding with a close group of friends. They described it as "a celebration of [their] love."
How much older is Lisa Bonet than her husband?
If you've been keeping track, Jason Momoa had professed his celebrity crush at age 8 while Bonet was already a teenager on The Cosby Show.
The year that they met, Lisa was 38 years old Jason turned 26 in 2005, making their age difference 12 years.
Are Jason Momoa and Lisa Bonet happily married?
In short, yes. Listening to Jason and Lisa speak about each other has us taking furious notes for our own relationships.
Lisa recently told PORTEREdit in March 2018, "What's cool about Jason is that he's an alpha male who stands for love and family."
She went on to say, "He's a leader. He's generous. Just in terms of charisma, physique, the right use of power, responsibility, work ethic- you can go down the line."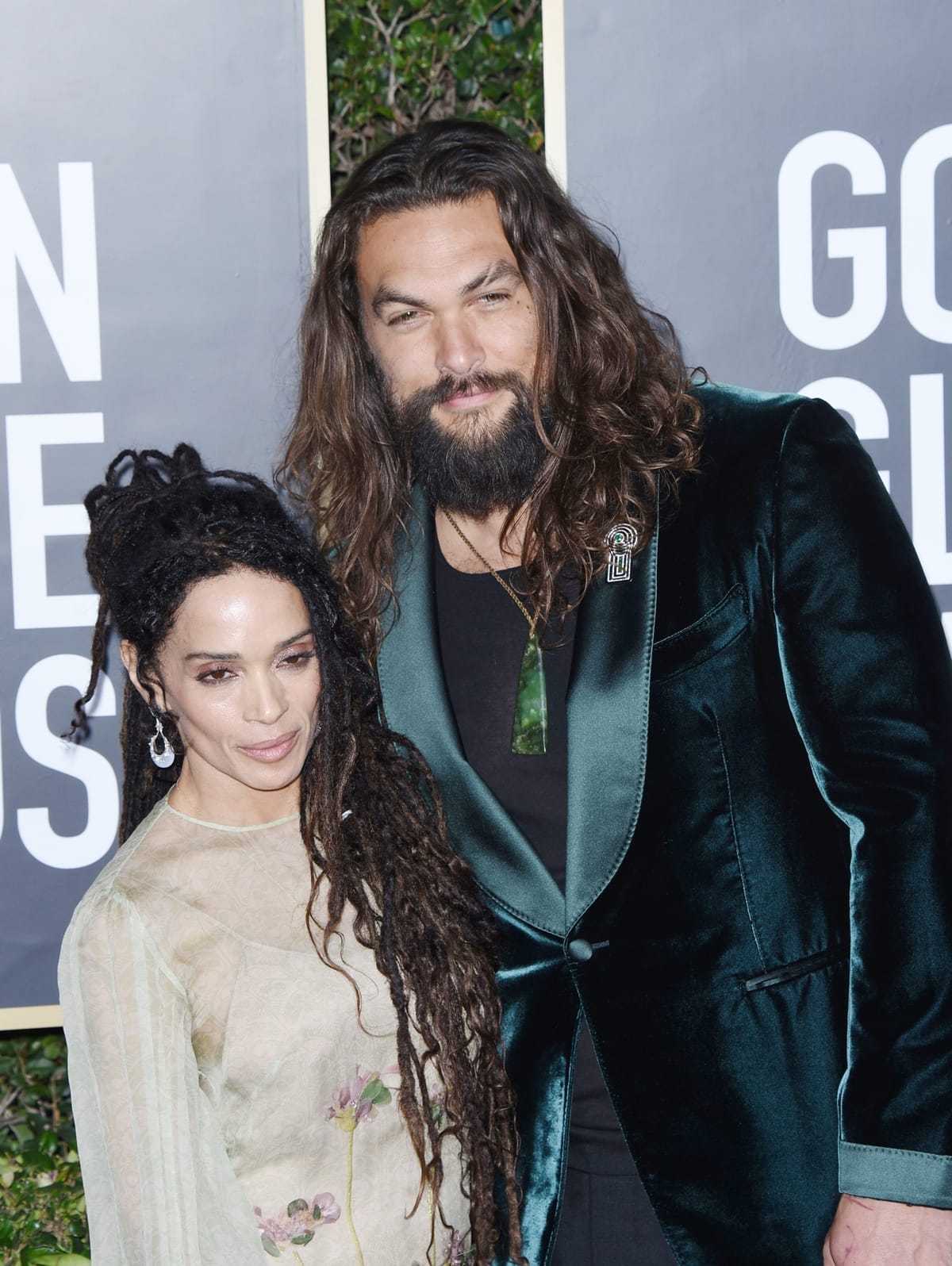 Jason Momoa and Lisa Bonet secretly married in 2017 and have two children together (Credit: Avalon / WENN)
Jason has described his wife as "a goddess," and "the boss." He also told HuffPost Live that "She's so amazing. She's an angel. She's amazing. God bless her."
In fact, just watching the couple gaze at each other on the red carpet gives us butterflies. Jason claims that the thing Lisa loves most about him is his wild, trademark hair. He says she "would probably leave me," if he were to cut it.
Do Jason Momoa and Lisa Bonet have kids?
Jason Momoa and Lisa Bonet have two children together. Their daughter, Lola Iolani Momoa, was born in 2007. Their son, Nakoa-Wolf Manakauapo Namakaeha Momoa, was born in 2008. "Wolfie," as his father calls him, has been cited as Jason's much smaller lookalike.
The family lives in a wooded acreage near Topanga, California. They have two wolf-hybrid pups, a donkey, and a python.
Jason Momoa with his mom Coni Momoa, his son Nakoa-Wolf Manakauapo Namakaeha Momoa, his wife Lisa Bonet, and his daughter Lola Iolani Momoa (Credit: Apega / WENN)
Somehow, we wouldn't expect anything less from the Game of Thrones star. In addition to housing their family and exotic pets, their home also has an elaborate "man cave," an ax-throwing range, and a yoga studio. Can we get an invite?
Do Lenny Kravitz and Jason Momoa get along?
Upon separating, Lisa Bonet and ex-husband Lenny Kravitz vowed to co-parent young Zoë Kravitz peacefully.
Once Jason Momoa entered the picture, their friendship and dedication to co-parenting did not falter. Instead, Lenny and Jason struck up a strong friendship that some might find surprising.
Both Kravitz and Momoa can be seen striking poses together and showing off matching bone skull rings on their Instagram pages.
View this post on Instagram
Given their history, they've created quite an unexpected bromance. The two even reportedly spent more time together in recent periods of lockdown. Kravitz says that he loved Momoa from the moment he met him.
Kravitz describes Jason as "a big teddy bear." He recently said, "He's a kid at heart and that's why I love him. We really love each other. We're not only family but friends."
Momoa is a bit more tight-lipped about their friendship aside from quips and shoutouts on Instagram. Although when asked about his stepdaughter, Zoë, and her father, he gushed, "I love her dad. I hope and pray my daughter is that talented and loving and open and close to her family."
Did Jason Momoa and Lisa Bonet work together?
Jason Momoa directed, co-wrote, and starred in Road to Paloma (2014). Lisa Bonet was cast opposite Momoa. He reportedly was incredibly nervous to perform in front of his wife.
The film was shot with a budget of $250,000- very slim by Hollywood standards- and relied heavily on the collaboration of friends and family to bring the piece together.
What are Jason Momoa and Lisa Bonet doing now?
Jason continues to strike box office gold with hits like Aquaman in 2019. He is also starring as the title character in its sequel that's scheduled for release in 2022.
Unbeknownst to many, Jason also has several producing credits under his belt. He also continues to contribute in co-writing roles on different projects.
Actor Jason Momoa and wife/actress Lisa Bonet arrive at the World Premiere Of Apple TV+'s 'See' held at the Fox Village Theater on October 21, 2019, in Westwood, Los Angeles, California, United States (Credit: Avalon / WENN)
Lisa describes herself as "living life on [her] own terms," and is very selective about the projects she pursues. She can be seen most recently as part of Showtime's Ray Donovan.
Bonet has actually changed her name to Lilakoi Moon; however, she maintains Lisa Bonet as her name for professional work. Off-screen, she's enjoying motherhood and pursuing strict, natural health and fitness regimens.
These two stars have such a unique story surrounding their relationship and blended family.
We love their bohemian vibe, and we can't wait to see more of this gentle giant, free spirit, and their family on the red carpet as they churn out more box office hits!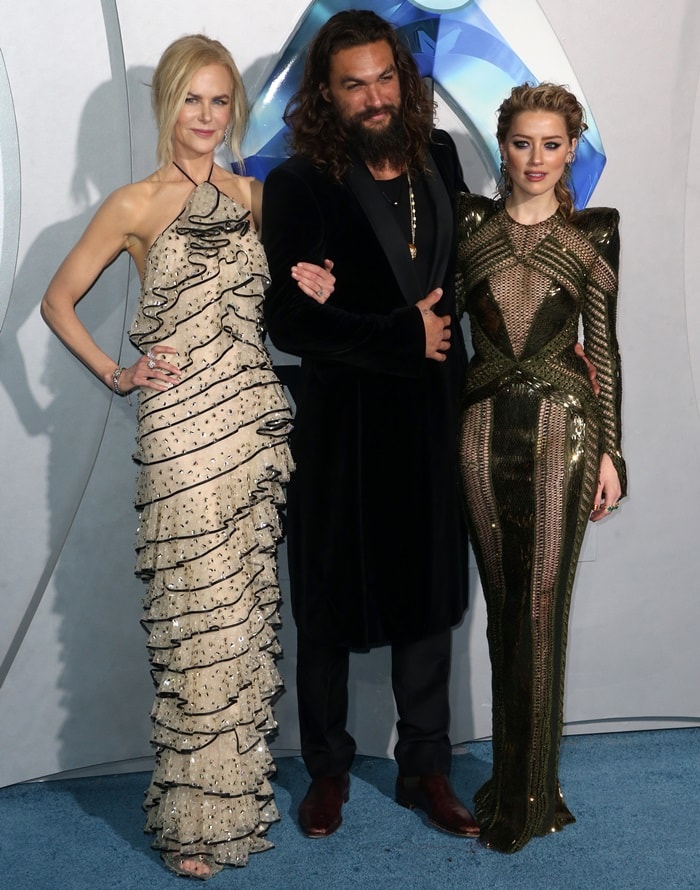 Nicole Kidman, Jason Momoa, and Amber Heard at the Aquaman premiere at the TCL Chinese Theatre premiere in Los Angeles on December 12, 2018 (Credit: WENN / FayesVision)
In December 2018, Amber Heard looked like she fell into a well filled with swamp water before hitting the blue carpet at the TCL Chinese Theatre premiere of her new movie 'Aquaman' in Los Angeles.
She was also joined by her co-stars Patrick Wilson, Dolph Lundgren, Ludi Lin, Jason Momoa, Nicole Kidman, and Djimon Hounsou.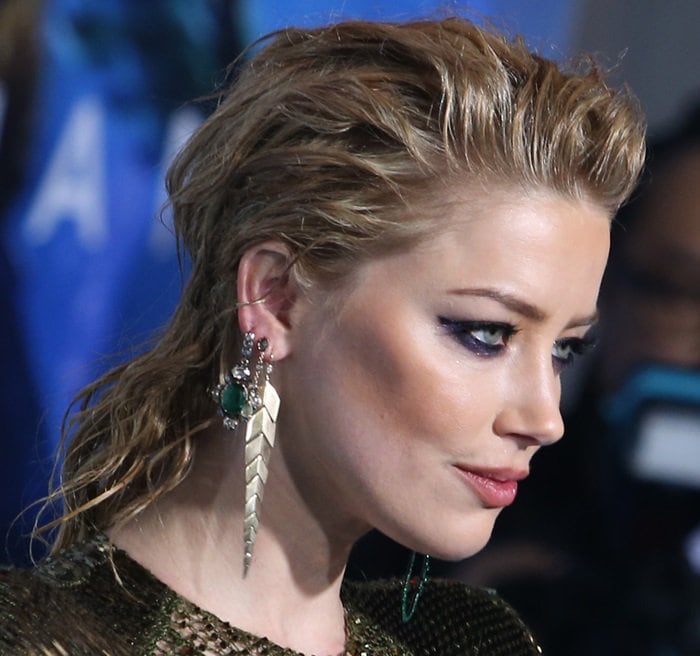 Amber Heard rocked a variety of jewelry by Ana Khouri, AS29, and Jacquie Aiche (Credit: WENN / FayesVision)
The then 32-year-old American actress donned a seaweed-metallic embellished long-sleeve dress from the Julien Macdonald Spring 2018 Collection.
She styled her dress with jewelry by Ana Khouri, AS29, and part-Egyptian jewelry designer Jacquie Aiche. Her outfit was styled by Karla Welch.
Amber Heard's seaweed-metallic embellished long-sleeve dress from Julien Macdonald (Credit: WENN / FayesVision)
Amber's outfit was completed with a messy off-the-shoulder hairstyle, smoky eyes, and copper Pigalle Follies pumps by Christian Louboutin.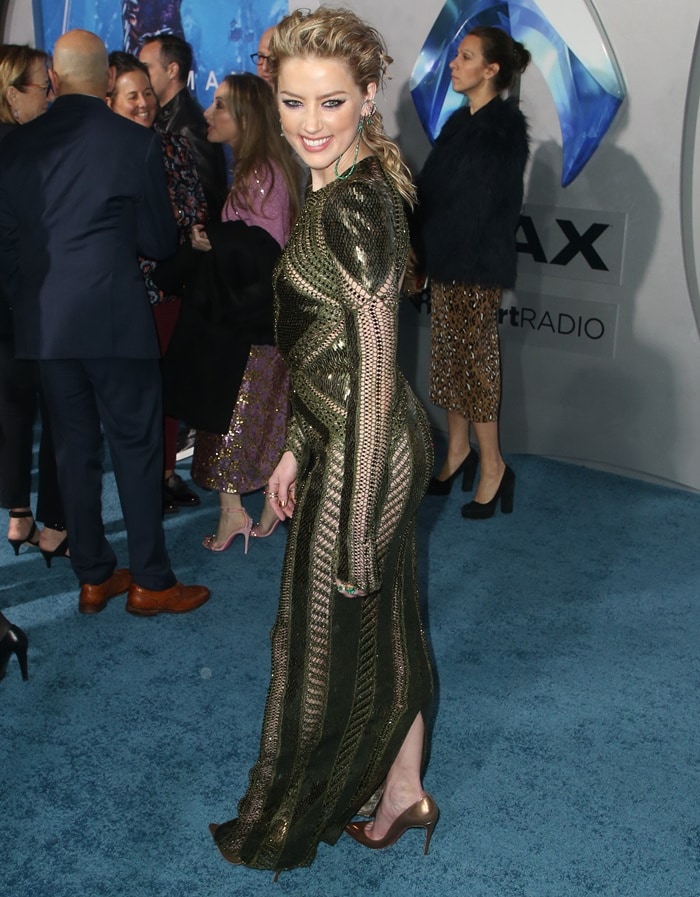 Amber Heard flaunts her legs in copper Pigalle Follies pumps by Christian Louboutin (Credit: WENN / FayesVision)
Do you prefer this ensemble to the swim cap outfit that she wore to the London premiere?
Amber's co-star Nicole Kidman donned a champagne-hued Armani Prive Fall 2018 sequin-embellished halter neck tiered gown.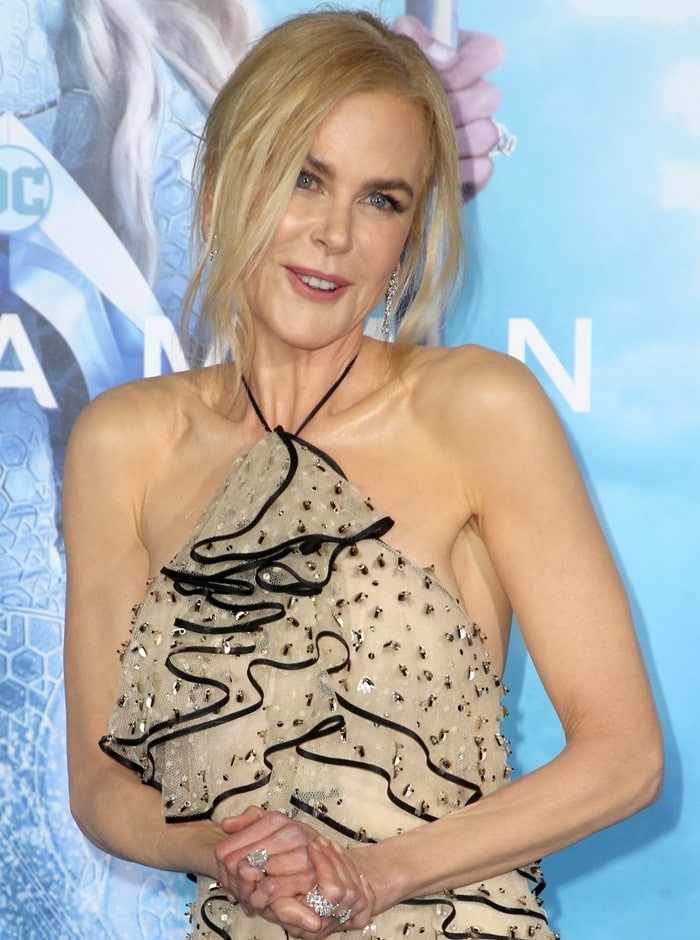 Nicole Kidman's champagne-hued sequin-embellished halter neck tiered gown (Credit: WENN / FayesVision)
She accessorized with Harry Winston jewelry. Nicole's ensemble was styled by InStyle's fashion director Julia Vonn Boehm.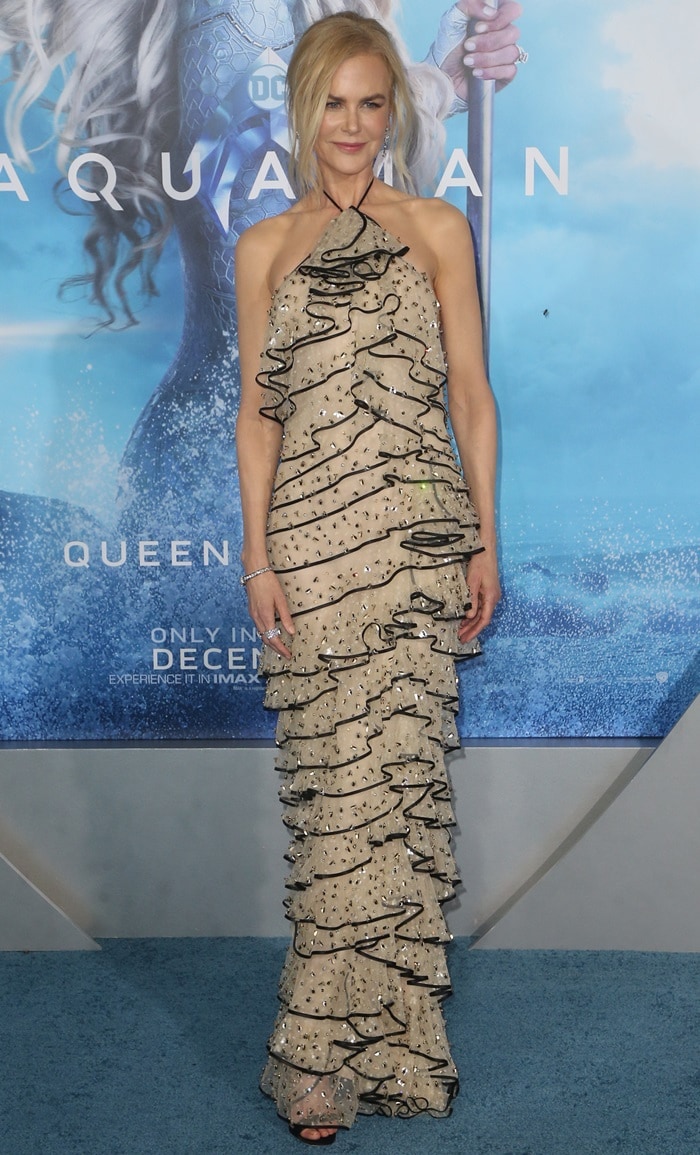 Nicole Kidman with Harry Winston jewelry and messy hair at the Aquaman premiere at the TCL Chinese Theatre premiere in Los Angeles on December 12, 2018 (Credit: WENN / FayesVision)