Nicole Kidman is known and loved for her iconic roles in Moulin Rouge, Practical Magic, Big Little Lies, and more. The Australian actress is amongst Hollywood's tallest actresses, measuring 5ft 10 ½ (179.1 cm).
In Australia, the average height for adult women typically ranges from about 162 cm to 167 cm (approximately 5 feet 4 inches to 5 feet 6 inches).
Kidman's height puts her approximately 12.1 to 17.1 centimeters taller than the average Australian woman, highlighting her above-average stature within the country.
Nicole Kidman stands taller than her 5-foot-10 husband, Keith Urban (Credit: Tinseltown / Shutterstock)
Nicole Kidman is believed to wear a shoe size 11 in the United States. In other international shoe sizing systems, her size would generally translate to around a European size 42-43, a United Kingdom size 9-9.5, a Japanese size 28-28.5, and an Australian size 10-10.5.
However, her exact shoe size is unknown. At least three eBay auctions have featured shoes worn by Nicole Kidman in the 2005 American fantasy romantic comedy film Bewitched, all sold with certificates of authenticity (COA) by a reputable dealer.
Two of these shoes were heels and were listed as European size 38.5, equivalent to a US women's 8.5, which is the average shoe size for women. It is possible that she was wearing a smaller size shoe for the purposes of the film.
Considering her above-average height of 5ft 10 ½ (179.1 cm), it would not be a surprise if the size of her feet is above average. Additionally, her shoe size may have changed over time, as people's feet can sometimes grow or shrink slightly as they age.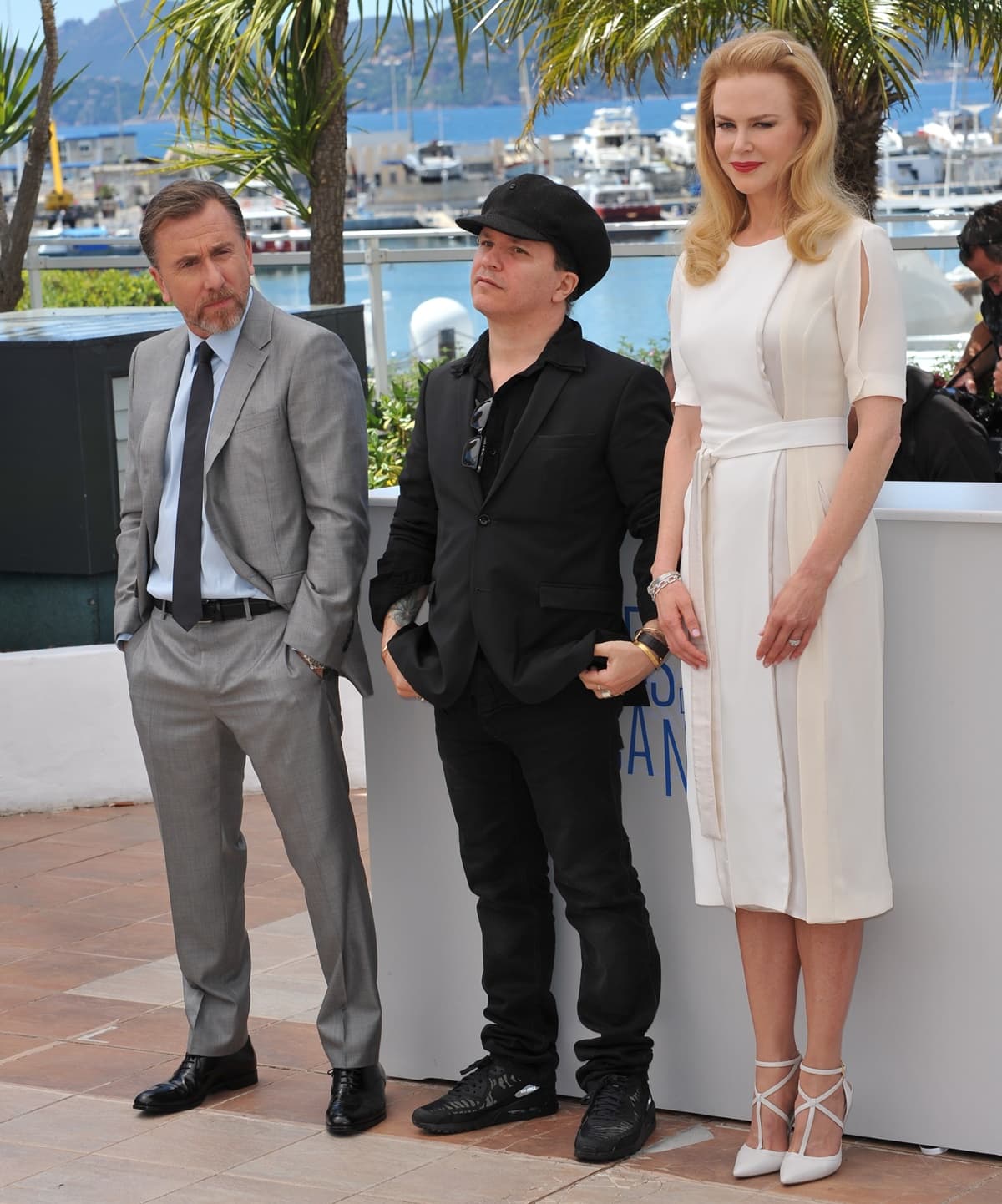 Tim Roth and Olivier Dahan looked tiny standing next to the much taller Nicole Kidman at the "Grace of Monaco" photocall at the 67th Annual Cannes Film Festival on May 14, 2014, in Cannes, France (Credit: Featureflash Photo Agency / Shutterstock)
The Australian actress is one of the best-paid celebrities in the world, with a net worth of $250 million.
Kidman has often commented on her height throughout her nearly 40-year acting career.
She once said, "I'm five foot 10½ – I'm very proud of the half because I don't want to be five foot 11 – so structurally, there are certain things that suit my frame."
She has also said, "I have this thing about liking to be small onscreen cause I hate being tall. I'm five ten, and it's the one thing I've always hated my whole life is being really tall and taller than people."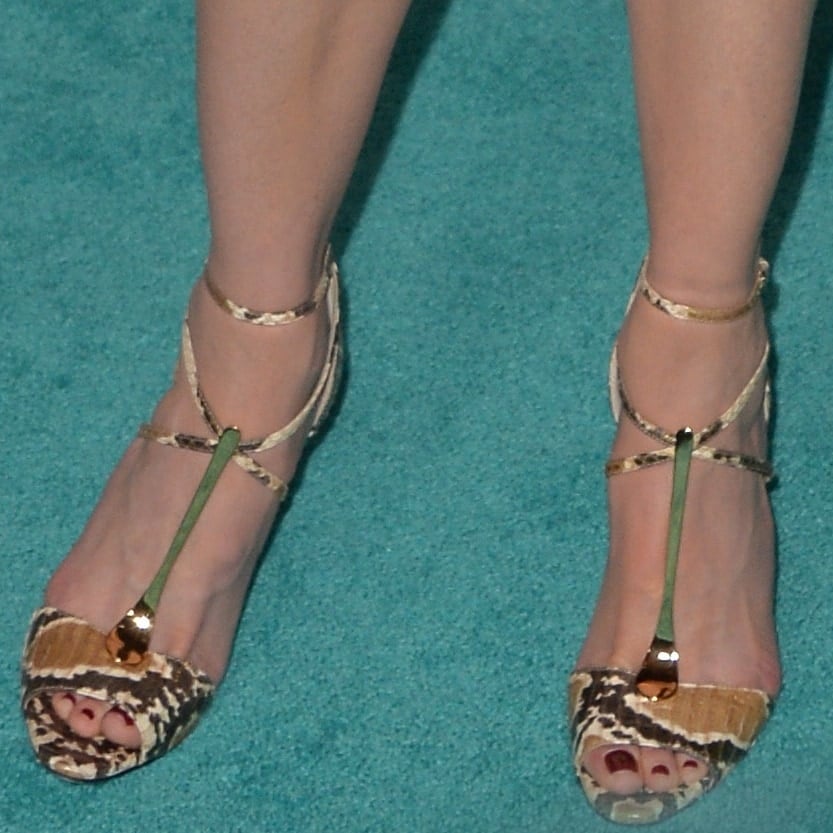 Nicole Kidman shows off her feet in Brian Atwood sandals at the Women In Film 2015 Crystal + Lucy Awards at the Hyatt Regency Century Plaza on June 16, 2015, in Los Angeles, California (Credit: Featureflash Photo Agency / Shutterstock)
Kidman Towers Over Tom Cruise
The leading actress often towers over her male co-stars on the screen, but she has also stood taller than her love interests in real life.
Her first husband, Tom Cruise, whom she married in 1990, is two inches shorter than the actress, measuring 5ft 7in.
From December 24, 1990 – August 8, 2001, Tom Cruise was married to much taller actress Nicole Kidman (Credit: Startraks Photo)
However, she has also said that "I have no inhibitions about my height. I learned early on to be totally self-assured about it. When I see a guy going out with a taller girl, I immediately like him. It shows he's confident. Most men find it intimidating. Tom doesn't mind my being taller than him. I could wear 3-inch heels, and he would like it."
Although the actress was confident in her height difference from her first husband, she remarked, "I can wear heels again!" when they split in 1991.
The couple adopted two children while they were married, Bella and Connor.
She's Also Taller Than Her Husband
Kidman was linked to musician Lenny Kravitz for a short time in the early 2000s. He is 5ft 8 ½ (174 cm).
The stunning actress went on to marry country star Keith Urban in 2006.
Around the same height as Lenny Kravitz, Urban also measures 5ft 9in.
Keith Urban and his taller wife Nicole Kidman at the 94th Annual Academy Awards at Hollywood and Highland on March 27, 2022, in Hollywood, California (Credit: Abby Grant / Cover Images)
The couple has two children together, Sunday Rose and Faith Margaret.
Despite her height difference from her husband, Kidman is still not scared to rock a high heel on the red carpet.
The actress is confident in her beauty and remarked, "Most tall women stoop to look smaller. I learned early on to be totally self-assured about my height…I'm five foot ten."
Does Nicole Kidman Speak Russian?
While she starred as the United Nations interpreter Silvia Broome in The Interpreter, a 2005 political thriller film directed by Sydney Pollack, Nicole Kidman does not speak any languages other than English and a bit of Italian.
Nicole Kidman stars as U.N. interpreter Silvia Broome in The Interpreter
For her role as Sophia/Nadia in Birthday Girl, a 2001 erotic comedy thriller film directed by Jez Butterworth, she learned to speak a flawless Russian dialect from a Russian girl she met through the Russian embassy in Australia.
Nicole Kidman: Facts, Rumors, and Fascinating Trivia
What is Nicole Kidman's net worth?
She is an Australian actress, producer and philanthropist with an estimated net worth of $250 million.
Full Name:
Nicole Mary Kidman AC
Born:
Nicole Kidman, whose birth name is Nicole Mary Kidman, was born on June 20, 1967, in Honolulu, Hawaii, USA.
Dating/Husband:
Keith Urban and Nicole Kidman have been married since June 25, 2006. Before her marriage to Keith, Nicole Kidman was previously married to Tom Cruise from 1990 to 2001.

In addition to her marriages, Nicole Kidman dated Steve Bing from 2004 to 2005, had a brief involvement with Robbie Williams in 2004, was in a relationship with Lenny Kravitz from 2003 to 2004, briefly dated Q-Tip and Jude Law in 2003, and had earlier relationships with Marcus Graham from 1987 to 1989, Tom Burlinson from 1986 to 1987, and Adam Levy. There have also been rumors of a romantic connection between Nicole Kidman and Russell Crowe in 2002.
Kids:
Nicole Kidman has four children, two biological and two adopted.

Her biological children are Sunday Rose Kidman Urban (born July 7, 2008) and Faith Margaret Kidman Urban (born December 28, 2010), whom she had with her husband, country singer Keith Urban.

Her adopted children are Isabella Jane Cruise (born December 22, 1992) and Connor Anthony Cruise (born January 17, 1995), whom she adopted with her ex-husband, actor Tom Cruise.
Weight:
Nicole Kidman has been rumored to weigh around 110-120 pounds (50-54 kg), but her exact weight is unknown.
Shoe Size:
It seems that Nicole Kidman's shoe size is somewhere between a US size 9.5 and US size 11. This is considered to be above average for women, but it is not uncommon among celebrities, who often have access to custom-made footwear.
Is Nicole Kidman really tall?
Yes, she's really tall and measures 5ft 10 ½ (179.1 cm).
Nationality:
Nicole Kidman holds dual citizenship of Australia and the United States.
Source of Wealth:
Kidman is one of the most successful and respected actresses in the world. She has built an impressive career and net worth through her hard work and dedication.
Ethnicity/Race:
Nicole Kidman's ethnicity is primarily English, Scottish, and Irish, with some distant German ancestry.
Is Nicole Kidman American or Australian?
She has dual citizenship of Australia and the United States.
How many languages does Nicole Kidman speak?
Nicole Kidman speaks English fluently. She has said that she is not fluent in any other languages, but she can speak some basic French and Italian.
Who was Nicole Kidman married to before?
She met Tom Cruise on the set of the 1989 film Days of Thunder and married on December 24, 1990. They divorced in February 2001.
Has Nicole Kidman won an Oscar?
Nicole Kidman has been nominated for five Academy Awards and won one. She won the Academy Award for Best Actress for her performance in the 2002 film The Hours.
Is Nicole Kidman really singing in Moulin Rouge?
Yes, Ewan McGregor and Nicole Kidman both did their own singing for the movie.
Nicole Kidman Rocks Manolo Blahnik's Lace-Up Cutout Boots With Navy Dress
In late July 2012, Nicole Kidman made her first public appearance following the Tom Cruise meltdown catastrophe. The plastic surgery recipient helped celebrate the opening of Omega House at a private party in London.
During the private opening of Omega House on July 28, 2012, at the House of St. Barnabas in London amidst the 2012 Summer Olympics, Nicole Kidman elegantly pulled back her blonde hair (Credit: Jaworski / WENN)
Lenny Kravitz's ex-girlfriend opted to wear a navy Azzedine Alaia dress that featured an on-trend figure-flattering flared skirt.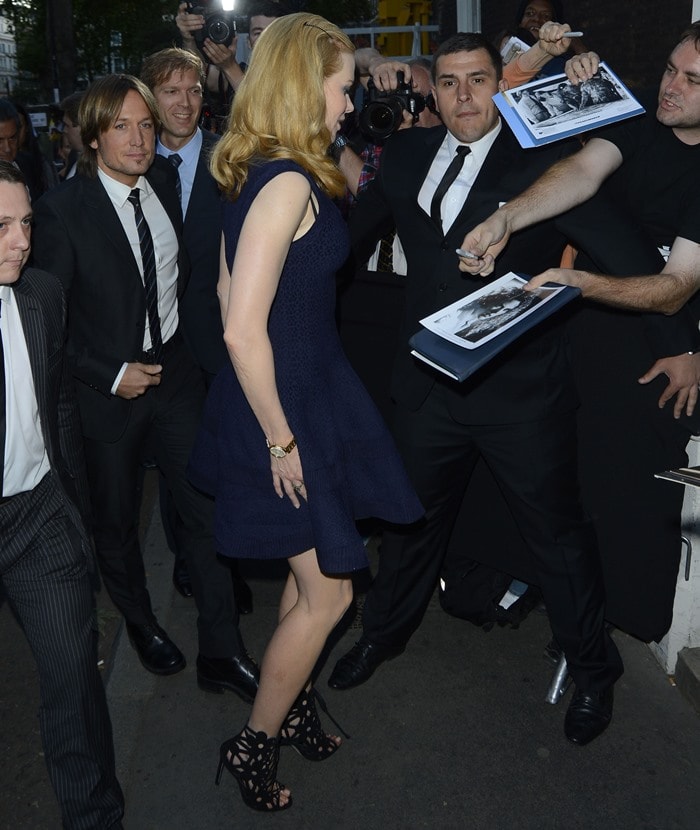 Nicole Kidman donning an Azzedine Alaia navy patterned dress with a fit-and-flare silhouette to a private party in London (Credit: Jaworski / WENN)
Nicole accessorized with a gold watch and wore her blonde hair clipped back and in curls.
Nicole Kidman wears a high-necked fit-and-flare dress from Azzedine Alaia with Manolo Blahnik Kahikalow lace-up sandals and chandelier earrings (Credit: Jaworski / WENN)
Nicole contrasted the elegance of her outfit with an edgy pair of lace-up cutout sandal booties. Do you like how The Peacemaker actress styled her navy dress?
These booties — the Manolo Blahnik "Kahikalow" lace-up cutout sandal booties — feature floral cutouts along the sides and stiletto heels.
Nicole Kidman's feet in lace-up floral print Manolo Blahnik sandals (Credit: Jaworski / WENN)
These shoes are also available in light beige on Farfetch and Nordstrom.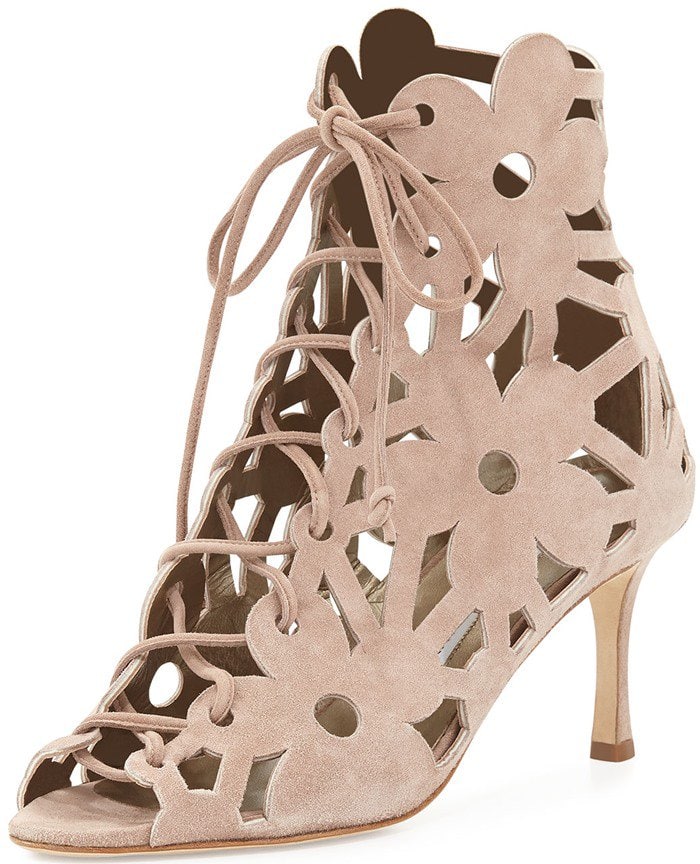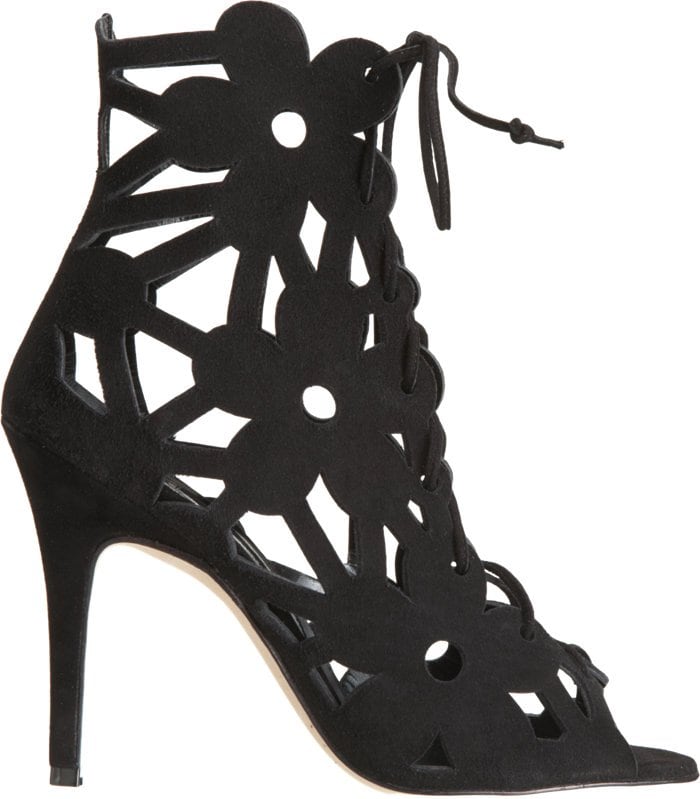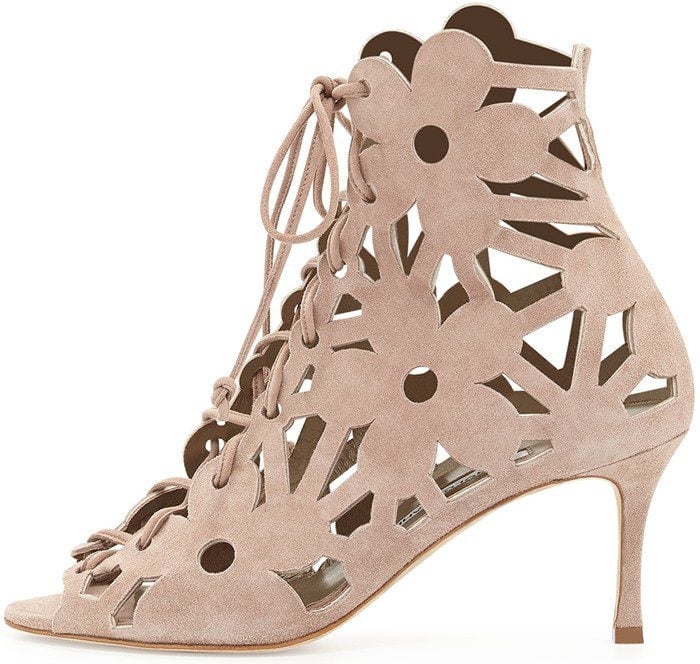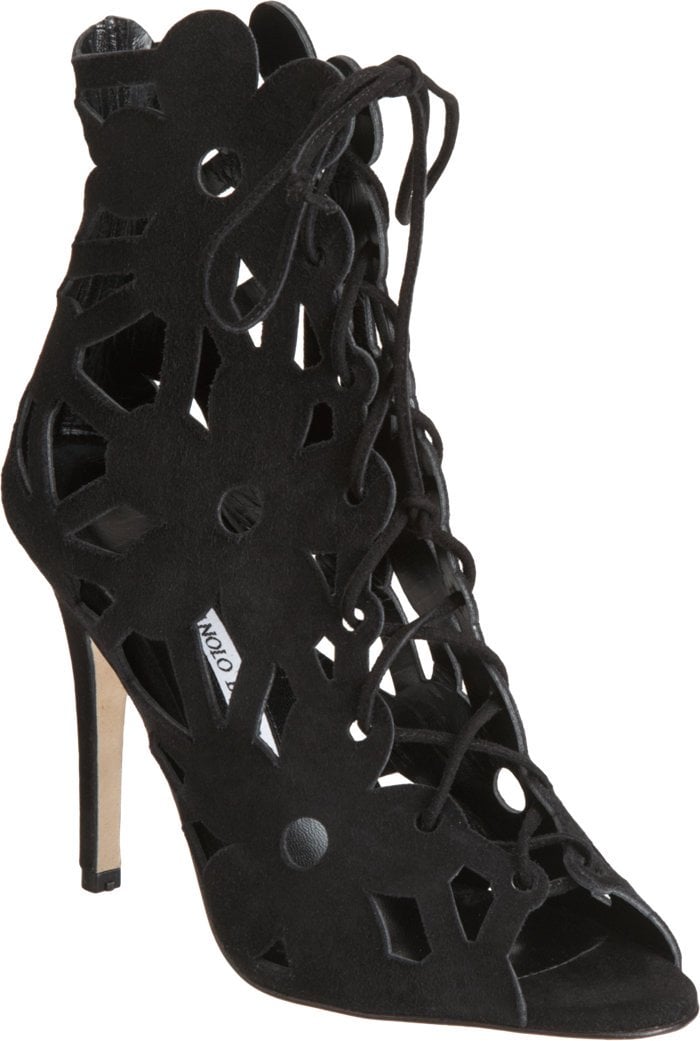 Manolo Blahnik "Kahikalow" Lace-Up Cutout Sandal Booties, $1,125.00