People who are shorter than average tend to get a lot of flack for their size — being used as an armrest and asked, "how's the weather down there?" — but in some industries, small stature is an asset. Case in point: Olympic gymnast Simone Biles.
Though many contact sports, like basketball, favor taller athletes, gymnastics is a sport that benefits the short.
Shorter gymnasts have a more beneficial weight-to-power ratio, meaning that they do not have to expend excess energy to propel a larger body through the air.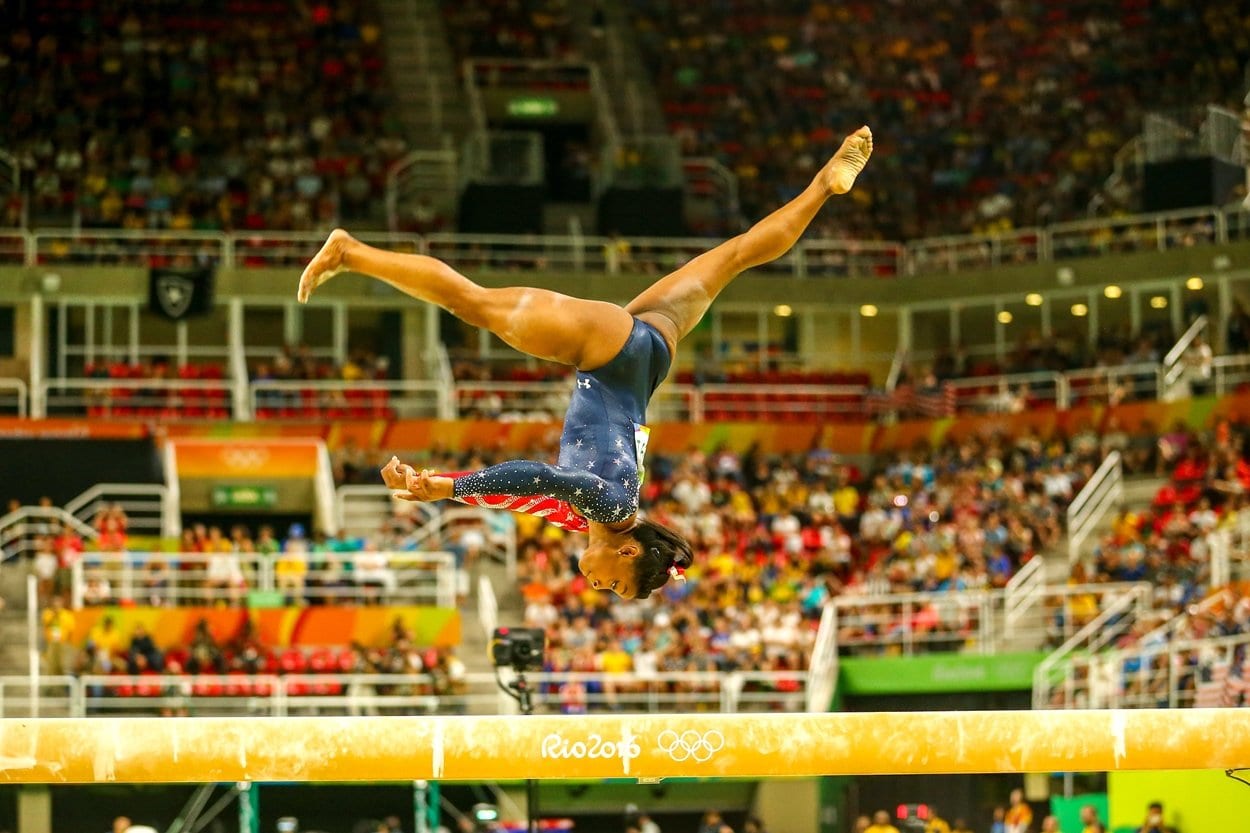 Olympic champion Simone Biles of the United States competing on the balance beam at women's all-around gymnastics qualifying at the Rio 2016 Olympic Games (Credit: Leonard Zhukovsky / Shutterstock)
With a lower moment of inertia, small gymnasts can push, pull, and spin their bodies quicker and far more efficiently than a taller person. It's science, folks!
For this reason, we have seen the average height of Olympic gymnasts dwindle. Thirty years ago, they averaged around 5'3" but now female gymnasts measure up at an average of 4'9".
Simone Biles, however, stands at a mere height of 4'8".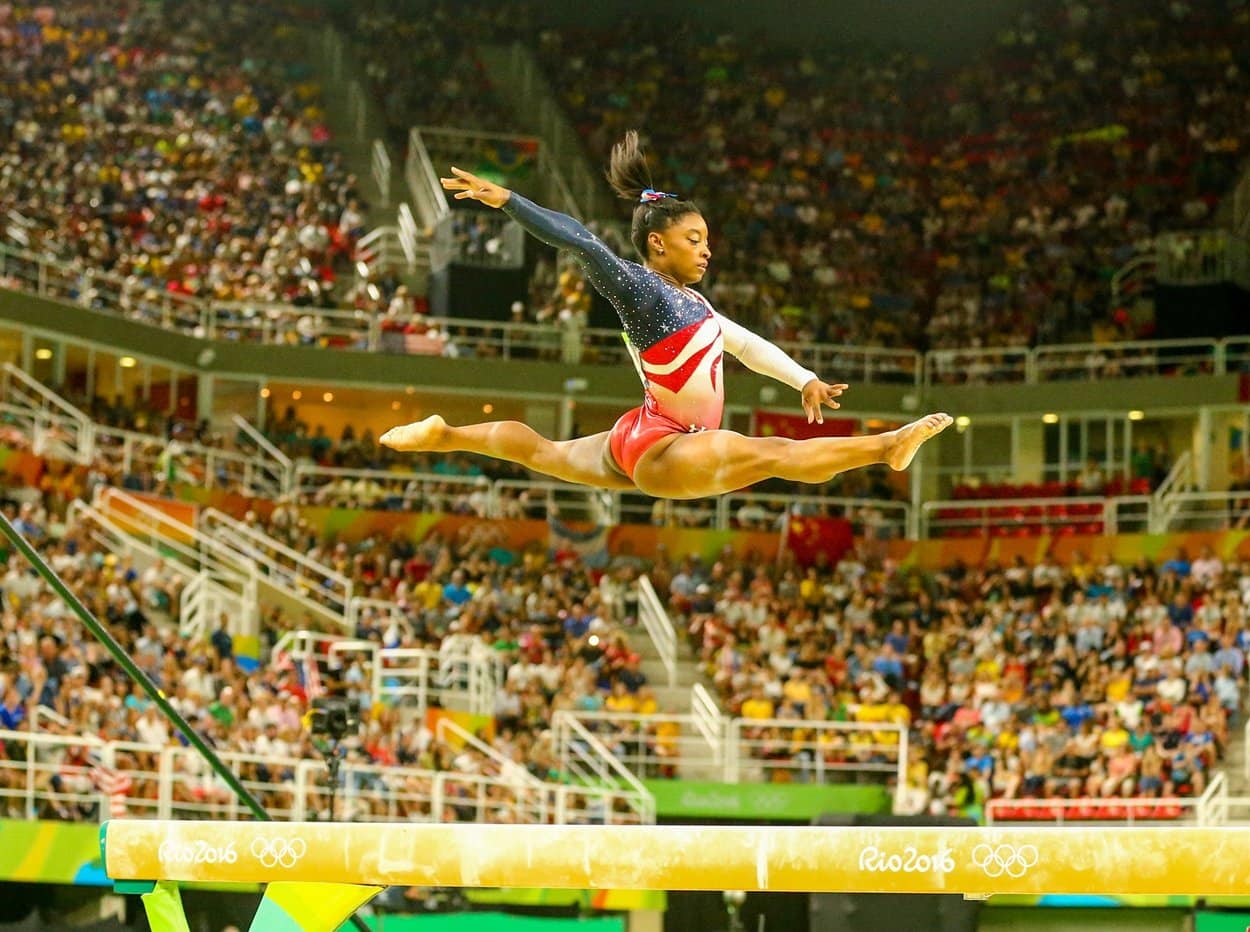 Simone Biles uses her short height to her advantage as it makes it easier to spin at high speeds and rotate in the air (Credit: Leonard Zhukovsky / Shutterstock)
Of course, her ability as an elite athlete is not due to her size alone. Simone Biles' height does play a factor, of course, but her success can mostly be attributed to her skill and steadfast dedication to the sport.
She may be small, but 25-year-old Simone Biles doesn't have to put up with jokes about her height anymore.
Her years of hard work have paid off, as the gymnast has earned herself a whopping seven Olympic medals and an impressive estimated net worth of $16 million as of this year.
Simone Biles is even shorter than fellow gymnasts Aly Raisman, Gabby Douglas, Madison Kocian, and Laurie Hernandez (Credit: Salty View / Shutterstock)
Here's everything you need to know about how Simone Biles' height and hard work led to her success — and what she's been up to since her scandalous withdrawal from the 2020 Summer Olympics in Tokyo.
Foster Care and Adoption
Though she may be a star athlete now, Simone Biles had a tough go of things growing up.
Born in the Midwest, in Columbus, Ohio, Simone Biles began her life at a disadvantage. Her mother and biological father both struggled heavily with drug addiction and alcoholism while trying to care for Biles and her three siblings.
After her birth father abandoned Biles and the rest of her family, her mother, Shannon, found it difficult to care for four young children while battling her own addictions.
Unfortunately, this led to Simone Biles, who was only three years old at the time, and her three siblings — Adria, Ashley, and Tevin — being placed in foster care.
"Most people might think that at age three I was too young to know what it meant to be placed into foster care, but the truth is I understood everything," Simone Biles wrote in her book, Courage to Soar, which you can purchase on Amazon.
"When the social worker piled the four of us into her car, I knew exactly what was going on. We were going to live with a new family, and we didn't know if we'd like it there. I think we were all a little scared, because none of us said a word during the car ride. Yet as clearly as I remember the heavy silence in the backseat of that car … the rest of my foster care memories are fuzzy images."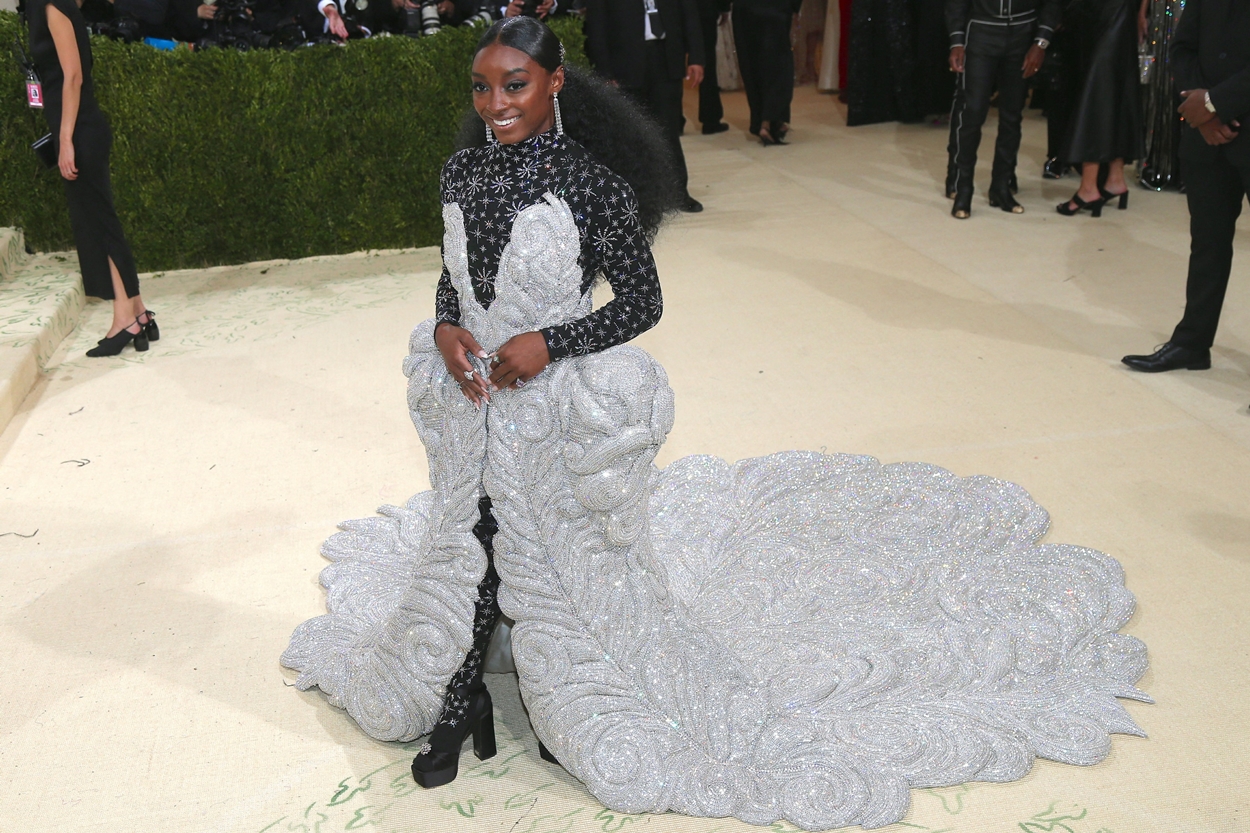 Simone Biles in a silver AREA x Athleta dress covered in Swarovski crystals at the 2021 Costume Institute Benefit – In America: A Lexicon of Fashion at the Metropolitan Museum of Art on September 13, 2021, in New York City (Credit: Guerin Charles / ABACA USA / INSTARimages)
Their maternal grandfather, Ron Biles, found out what was happening and stepped up to the plate, and housed the four children in their home.
He and his wife, Nellie, officially adopted Simone and her youngest sister Adria. However, Ron's sister Harriett (Simone's great aunt) later adopted the two eldest siblings, Ashley and Tevin.
Simone spent the rest of her childhood with her grandparents, whom she regards as her parents, in Spring, Texas outside of Houston.
Simone Biles Began Gymnastics at Only Six Years Old
According to the gymnast's book, Courage to Soar, Simone Biles fell in love with the sport on a daycare field trip to a gym.
She was in awe of the older girls practicing flips and jumps at the gym and began imitating their moves — somehow, she was pulling them off.
The coaches at the gym took notice and were impressed, writing a note to the Biles' family suggesting that they enroll the young Simone in gymnastics classes. Simone Biles enrolled in classes with Coach Aimee Boorman and quickly became a standout performer.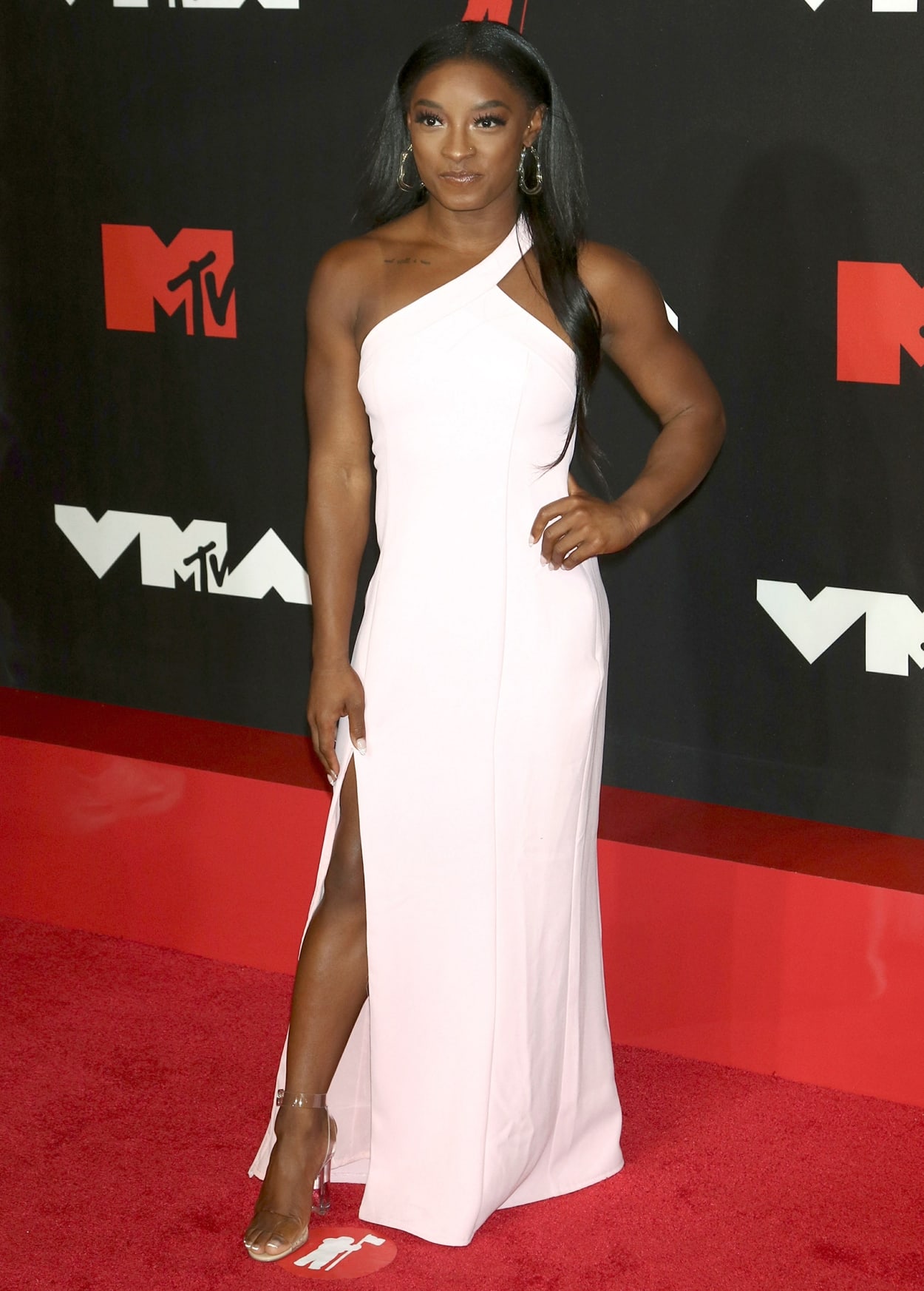 Simone Biles boosted her height in high heels paired with a pretty pastel pink dress at the 2021 MTV Video Music Awards on September 12, 2021, at the Barclays Center in New York City (Credit: Regina Wagner / DDP / INSTARimages)
After placing third overall in her first junior national competition in 2011, Biles left public school to be homeschooled so she could schedule her studies around gymnastics, as she trained for six to eight hours every day.
Since she was too young to compete for a spot on the Olympic team just yet, she competed in her first senior international competition instead, earning gold medals all around, cementing herself as a force to be reckoned with.
In 2016, Biles made her Olympic debut, and the rest is history.
Why Simone Biles Withdrew From the 2020 Tokyo Summer Olympic Games
The gymnast's decision to withdraw from the Olympic games was not easily made.
Under extreme mental and physical distress, Biles began experiencing a phenomenon called "the twisties", which is when gymnasts become severely disoriented — or a lack of "air awareness" — while flipping through the air, which can lead to detrimental injuries that can end careers or leave gymnasts disabled for life.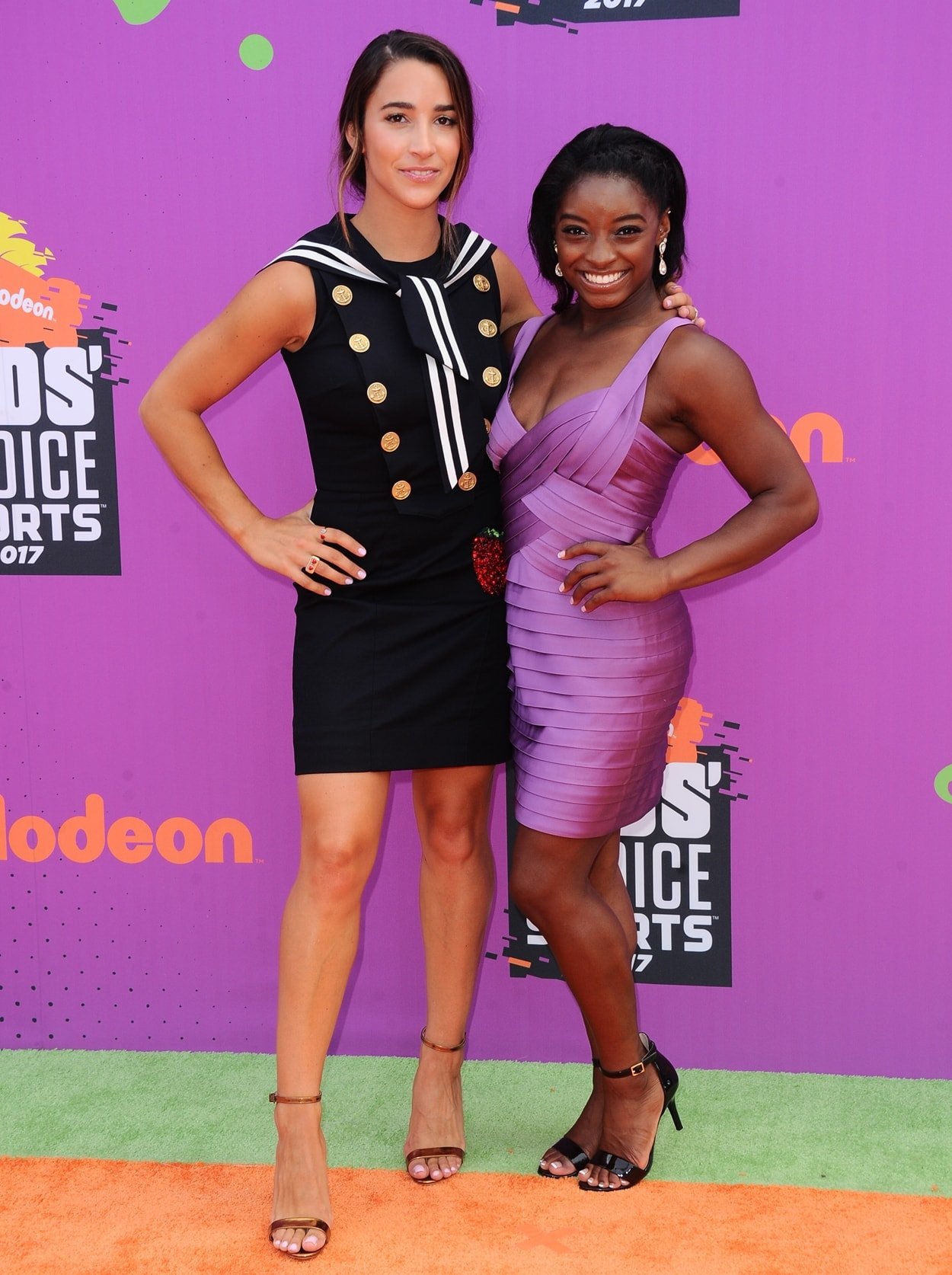 Simone Biles and much taller gymnast Aly Raisman flaunt their legs at the Nickelodeon Kids' Choice Sports Awards 2017 at Pauley Pavilion on July 13, 2017, in Los Angeles, California (Credit: Sara De Boer / startraksphoto)
After the news broke that Biles would not be competing, cruel talking heads — especially those affiliated with conservative media outlets — began berating the young gymnast, calling her selfish and a "quitter" despite the fact that she was heartbroken over not competing.
Besides, it seemed the loudest voices were from those who had no idea how to do a somersault, much less a complicated Olympic vault routine.
Thankfully, Simone Biles didn't let their hateful comments ruin her life.
Simone Biles looks tiny next to Michelle and Barack Obama during an East Room event at the White House on September 29, 2016, in Washington, DC. (Credit: Ron Sachs / Startraksphoto)
Since then, she has devoted her time to charitable causes, inspiring young gymnasts around the country and speaking out about injustices and inhumane treatment experienced by elite athletes.
Still, Simone Biles doesn't mind slowing down every once in a while — she certainly deserves to relax! The gymnast can frequently be seen on her Instagram spending time with her pals, pets, and fiancé, football player Jonathan Owens.
Inspiring Simone Biles Quotes About Her Height
I feel like I'm small and mighty and pack a powerful punch, just like Tide PODS.

I was built this way for a reason, so I'm going to use it.

I always say my biggest competitor is myself because, whenever I step out there on the mat, I'm competing against myself to prove that I can do this and that I am very well trained, prepared for it.

Mentally, I have to get my body and mind in the right place before I start the routine, but once into the zone, it's like I turn on a switch. I envision myself doing the same thing for the Olympic Games.

I'm always trying to push myself to the limit to see what I can do. It's my strong will that I've always had since I was a kid.

For me, I don't think about size – I focus more on being powerful and confident.

Growing up, it was kind of a struggle being small, since everyone would make fun of you – except for when it came to hide and seek: that's the only advantage I ever had!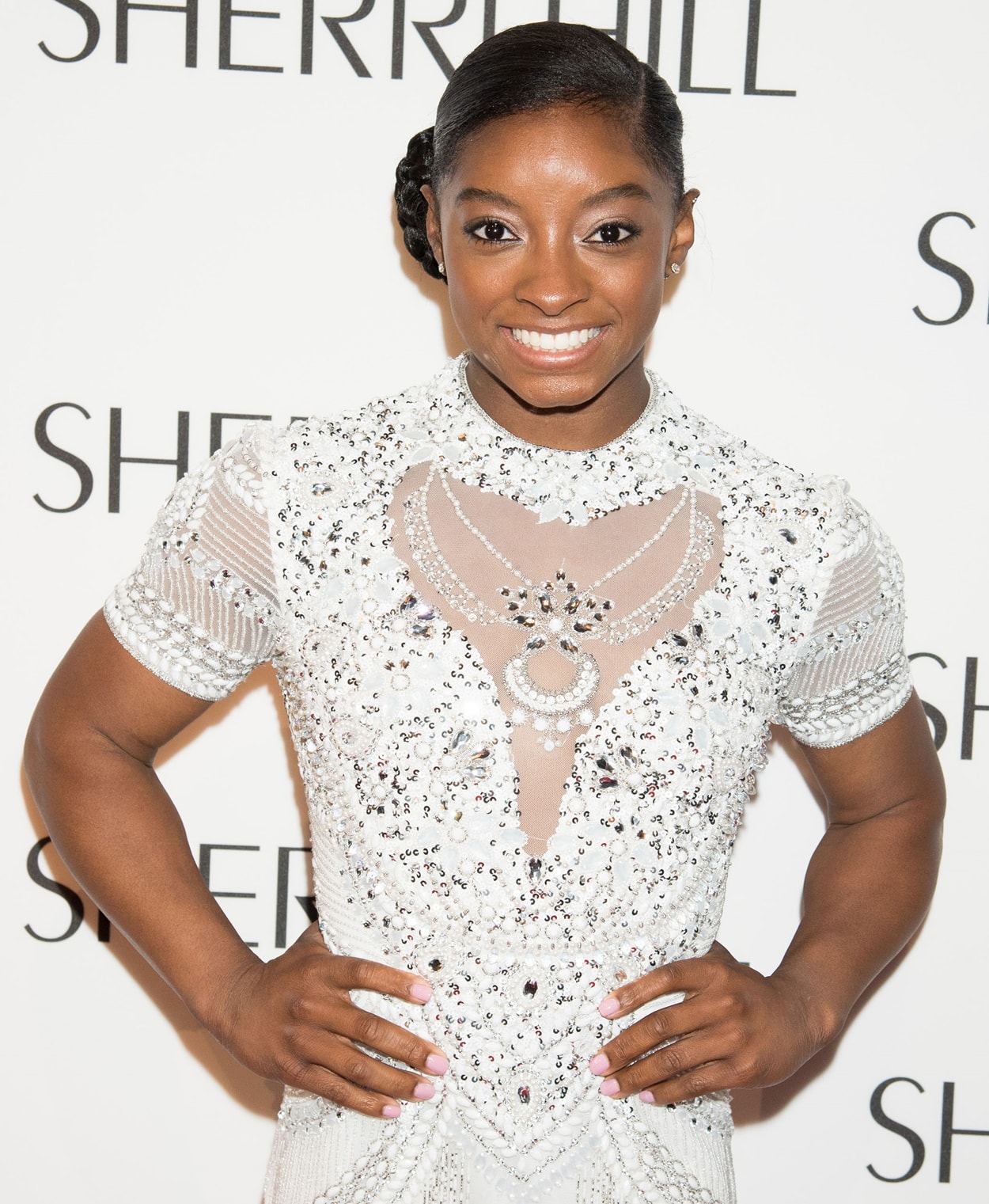 Simone Biles attends the Sherri Hill fashion show during 2016 New York Fashion Week at Gotham Hall on September 12, 2016, in New York City (Credit: Fernando Lucena / Startraksphoto)
I would say to always follow your dream. And dream big because my whole career, including any of the things that I've accomplished, I never thought in a million years that I would be here. So it just proves that once you believe in yourself, and you put your mind to something, you can do it.

A successful competition for me is always going out there and putting 100 percent into whatever I'm doing. It's not always winning. People, I think, mistake that it's just winning. Sometimes it could be, but for me, it's hitting the best sets I can, gaining confidence, and having a good time and having fun.

There are goals that I have, and then I dream of it, and then I make it a reality. If I could crawl out of my skin and see it, it would be really amazing.

In the morning, I usually get up between 7:40 A.M. and 7:45 A.M., and then I'll brush my teeth, do my hair, and just throw on my leotard and my clothes and go to the kitchen.

If anybody has a bad day, they'll just come to my room because they know I'll bring out the positive in everything, or I'll make them laugh, or I'll be just crazy.

I was missing out on public school and going to the football games, prom or homecomings. But I've been to three World Championships… so I think it's like a win-win.

I'm very fortunate to have a coach that I got to stay with all this time. Every year the bond gets stronger and better, and we understand each other more. And it's like she can tell if I walk into the gym what kind of mood I'm in, what she has to fix for the practice I need, or how I'm feeling.

It's amazing that I can inspire little kids to know that you can be short or tall, and your body type doesn't matter because you can do anything.

I tune it all out because if I let other people's stress get to me, then I stress myself out more than I need to.

I started gymnastics when I was six years old. I was at day care, and they took us on a field trip to a gym club, Bannon's Gymnastix in Houston, and that's how I got started.

Most people would focus on concentrating more, and I can't do that. It almost makes me overthink a lot of my things. I have to focus on not thinking.