Navy is one of those you either love or hate. While some people live in little black dresses, navy is a softer color option. The only downside to navy is that it lacks the wear-with-anything mentality of black.
Navy is a perfect alternative to black, giving your outfit a warmer look and helping to brighten your complexion. You might have put off investing in navy dresses because you're not sure what shoes to wear with them.
While navy and black are a fashion faux pas, according to some people, there are still plenty of color options to choose from. We're rounding up the colors you can't wear with navy and what shoe colors will take your navy dress to the next level.
Navigating the "No Black and Navy" Myth
Fashion is a form of self-expression. It doesn't stop people from having very strong opinions on what colors you shouldn't wear with navy.
Not being able to wear black and navy together is largely seen as a 'style myth,' but it still has some truth to it. You want to consider the hues of blue in your dress. Lighter shades of navy can clash with black, while darker shades can look like black from further away.
Black shoes don't often go well with dresses in lighter shades of navy
While most people choose to wear navy with neutral colors, you can have fun with your look by incorporating a bold hue. Celebrities like Victoria Beckham are famous for styling classic navy blue dresses with vibrant on-trend shoes.
What Colors to Wear with Navy
The perk of wearing navy is that there are dozens of colors you can pick from for your shoes. It's easiest to curate your options around warmer tones, whether neutrals or a pop of color.
You want to think of the look you're trying to achieve. Neutral colors will keep your look understated, making your dress the center of attention. If you're wearing a classic silhouette, choosing shoes with a pop of color can elevate your outfit.
The Neutral Palette: Timeless Navy Dress Combinations
1. Nude: Classic Elegance
Nude heels have a special place in our hearts. Find the right nude heels for you; they'll make you appear slimmer, taller, and more stylish than ever. Finding a nude pump that works with your skin tone can take a little trial and error.
1. Eliza J Pleated Sleeve Sheath Dress, $138 at Nordstrom; 2. Nine West Zadie Stiletto Heels, $89 at Zappos; 3. The Row Mirna Cady Sheath Dress, $1,190 at Mytheresa; 4. Nine West Pruce Block Heel Sandals, $89 at Zappos
Search for a high heel with a slim stiletto for ultimate impact. These shoes will take you from a day at the office to after-hours drinks. Want a more understated look? Shop for a nude shoe with a block heel for extra support.
2. Silver: Sparkling Navy Glamour
A navy dress is the new LBD. If you're heading to a cocktail party or a birthday bash, a navy dress will help you stand out from the sea of classic black attire. Silver sparkly shoes will take your navy dress from workwear to occasion wear.
To transition from a workwear look to an occasion-ready ensemble, consider pairing your navy dress with silver sparkly shoes (Credit: Shopbop)
3. Transparent: Modern Minimalism
Don't know what color shoes to wear with your navy dress? Don't wear any at all. Transparent or clear shoes are a late 2000s trend making a comeback. These shoes tick all the boxes by elongating your legs without distracting from your dress.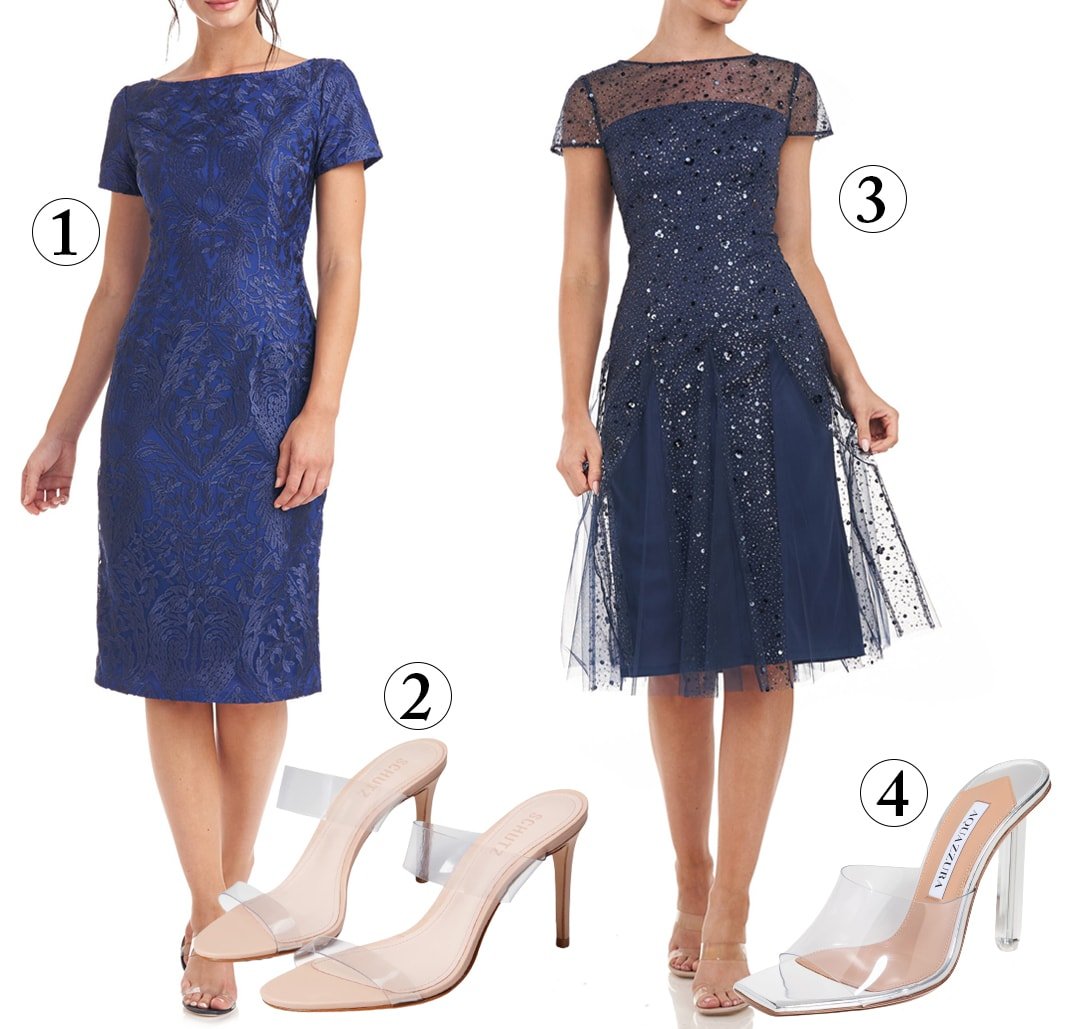 1. JS Collections Elise Embroidered Sheath Cocktail Dress, $178 at Nordstrom; 2. Schutz Ariella Clear Mules, $118 at Zappos; 3. JS Collections Alyssa Godet Sequin Lace Dress, $228 at Nordstrom; 4. Aquazzura Mirror Plexi Mules, $995 at Shopbop
They're the perfect choice for a navy dress with intricate detailing or a statement moment. Let your dress take center stage by choosing transparent shoes to keep your accessories lowkey.
4. Gold: Warm Metallic Sophistication
Gold instantly elevates any outfit. If you're a fan of gold jewelry, gold shoes will tie your look together seamlessly. While some people prefer silver, gold is a warmer metallic hue that works perfectly for navy dresses with a purple hue.
A pair of classic gold heels will transform a simple navy pencil dress into a wedding guest outfit or a sophisticated cocktail party look.
1. Lilly Pulitzer UPF 50+ Sophie Dress, $138 at Zappos; 2. Veronica Beard Gadot Heels, $395 at Shopbop; 3. Boss Belted Shirt Dress, $622 at Farfetch; 4. Aquazzura Maia Metallic Snakeskin-Effect Flats, $625 at Matches Fashion; 5. Karen Kane Tiered Poof Sleeve Dress, $178 at Zappos; 6. Paris Texas Nicole Sandals, $385 at Farfetch
You can still have fun with gold shoes. Gold ballet flats are a Parisian staple. Gold gladiator sandals will give your outfit an ethereal feel with a seductive twist.
5. White: Effortless Casual Chic
White sneakers work with every outfit. Dress down your navy outfit with your favorite pair of white sneakers. We love the idea of throwing sneakers in your tote bag for your post-work commute or an evening of exploring the city.
1. Stella McCartney Cotton Jersey Dress, $650 at Mytheresa; 2. Merrell Embark Moc Slip-On Sneakers, $100 at Nordstrom; 3. Comme des Garçons TAO Long-Sleeved Buttoned Midi Dress, $943 at Farfetch; 4. Adidas Originals Superstar, $94.95 at Zappos; 5. Jil Sander Belted Cotton-Blend Midi Dress, $2,490 at Mytheresa; 6. Schutz Maryana Boot, $238 at Nordstrom
Don't be afraid to experiment with a white knee-high boot to balance the darkness of your navy dress. Look out for boots with embossed detailing or reptile texture for a contrasting look.
6. Tan Leather: Beachy Elegance
We love the look of tan leather sandals with a navy dress, whether you're running errands or going for a sunset walk along the beach.
1. BEACHLUNCHLOUNGE Scarlett Flutter Sleeve Cotton Gauze Dress, $68 at Nordstrom; 2. Chantik Hari Mari Sandals, $109.95 at Zappos; 3. Stella McCartney Flounce-Sleeve Mini Dress, $975 at Farfetch; 4. A.W.A.K.E. Mode Rovena Sandal, $630 at Shopbop
Pops of Color: Adding Personality to Navy
You don't need to stick to neutrals when wearing a navy dress. It's a classic base that lets you experiment with a rainbow of color options, from baby pink to neon red and sunshine yellow.
1. Baby Pink: Feminine Grace
When in doubt, go pink. Navy dresses are a softer, feminine alternative to black. Lean into the look by wearing baby pink heels to give your outfit a glamorous finish.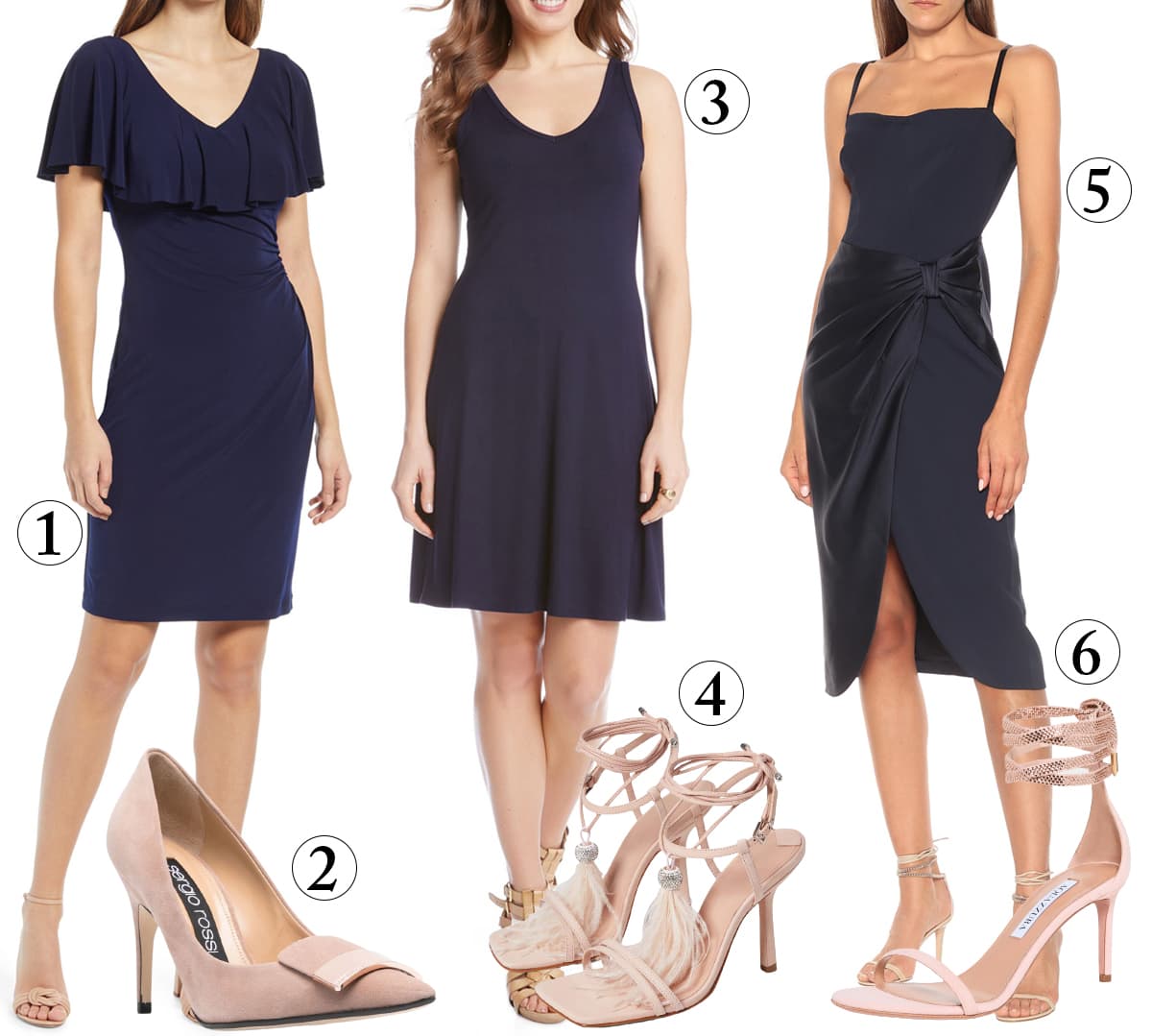 1. Connected Apparel Flutter Overlay Sheath Dress, $69 at Nordstrom; 2. Sergio Rossi Pointed Pump, $750 at Farfetch; 3. Karen Kate Brigitte Jersey Dress, $89 at Nordstrom; 4. Schutz Linda Sandals, $148 at Zappos; 5. Jonathan Simkhai Spencer Midi Dress, $703 at Mytheresa; 6. Aquazzura Mon Cherie Sandals, $995 at Shopbop
Pink heels are a great alternative to nude shoes if you want a similar look with a little more personality.
2. Neon Red: Bold and Elegant
Victoria Beckham attended the wedding of Prince Harry and Meghan Markle in a navy midi dress with red suede stilettoes. Her shoes did all the talking, while the navy dress kept the look elegant for the occasion.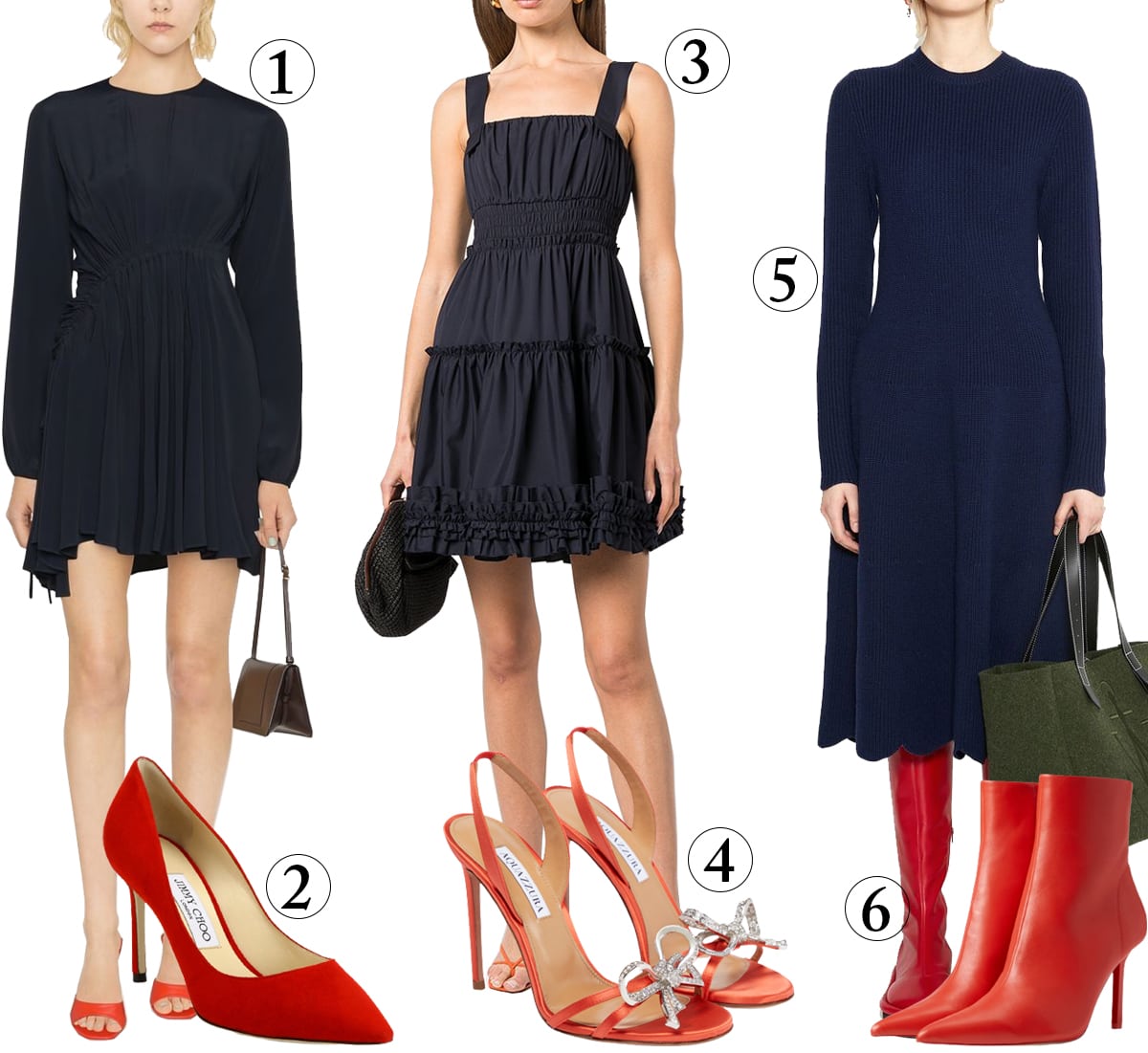 1. N21 Asymmetric Hem Mini Dress, $765 at Farfetch; 2. Jimmy Choo Romy Suede Pump, $595 at Saks Fifth Avenue; 3. Jason Wu Smocked Mini Dress, $595 at Farfetch; 4. Aquazzura Babe Slingback Sandals, $1,025 at Mytheresa; 5. JW Anderson Scalloped Hem Dress, $790 at Farfetch; 6. Steve Madden Elysia Booties, $159.95 at Zappos
A quirky shoe in your signature color is an easy way to add a touch of your personality to even the simplest of outfits.
3. Sunshine Yellow: Vibrant and Playful
Do you have a pair of yellow heels hiding in the back of your closet? Maybe you bought them on clearance or purchased them on the promise of making them a staple in your summer closet. Styling sunshine yellow shoes isn't easy – but a navy dress is always top of our list.
1. ASPESI Asymmetric-Hem Shirt Dress, $278 at Farfetch; 2. Alexander McQueen Leather Runners, $790 at Saks Fifth Avenue; 3. Maggy London Floral Asymmetric Midi Dress, $138 at Nordstrom; 4. Journee Collection Hera Sandal, $84.99 at Zappos; 5. Victoria Beckham Mini Dress, $779 at Farfetch; 6. Sam Edelman Anthony Mule, $150 at Nordstrom
Navy dresses are just as versatile as a little black dress. This transitional closet staple is worth the investment.
Our guide on the best color shoes to wear with a navy dress shows just how easy it is to wear this outfit. Stick to neutral shoes for everyday wear and experiment with bold hues for a statement look.