Karl Lagerfeld said it best: "One is never overdressed or underdressed with a little black dress."
Whether you're headed on a wild night out or just picking out a work outfit, a black dress is chic, timeless, and flattering.
As a neutral color, black is super easy to style. It pairs well with just about anything, but that doesn't mean you might not get lost occasionally.
That's why we share the best color shoes to wear with a black dress. Learn how to build a flawless LBD outfit from the ground up by following our tips below!
1. Matchy-Matchy Black Shoes
If you want to keep it simple and stylish, go for a matchy-matchy look with black shoes. Choosing a monochromatic look is a surefire way to look amazing every time. It may not be the most adventurous choice, but it's definitely elegant.
The great news is you can choose just about any shoe if you're sticking to a black palette.
1. Lulus My Dream Come True Velvet Strapless Dress, $58 at Nordstrom; 2. Rene Caovilla Cleo Sandals, $1,410 at Matches Fashion; 3. Tagliatore Jasmine Tailored Suit, $1,051 at Farfetch; 4. Sam Edelman Antonia Heels, $150 at Shopbop; 5. BB Dakota by Steve Madden Emma Dress, $68.95 at Zappos; 6. Dr. Martens 1460 Bex Smooth Leather Boots, $160 on Amazon; 7. Zella Cara Long Sleeve Fleece Hoodie Dress, $75 at Nordstrom; 8. Vionic Limitless Sneakers, $134.95 at Zappos
Heels and strappy sandals will look great with formal or party dresses for special occasions
Pumps are always a safe bet for professional or formal occasions
Boots add an edgy twist to both casual and evening outfits
Sneakers are perfect for completing laid-back looks with casual black dresses
2. Nude Shoes: The Ultimate Leg-Lengthening Trick
Nude shoes create a clean effect, like a black-on-black look, while giving the illusion of endless legs. This look is sophisticated and ultra-flattering; it's a celebrity and influencer-approved styling trick for good reason.
You can also create this look for just about any occasion!
1. Isabel Marant One-Shoulder Triangle Dress, $1,780 at Farfetch; 2. Gianvito Rossi Padded Strap Sandals, $875 at Matches Fashion; 3. M.M LaFleur Moreland Jacket, $325 at Zappos; 4. Calvin Klein Straight-Fit Suit Skirt, $64.99 at Zappos; 5. Naturalizer Anna Pump, $119.95 at Nordstrom; 6. Khaite Valeska Midi Dress, $1,934 at Farfetch; 7. Schutz Maryana Sculpt Boots, $238 at Zappos
Pair your black party dress with nude heels or sandals for a chic going-out look
Upgrade your office outfit with nude pumps
Create a cute fall/winter outfit with a cozy knitted or long sleeve black dress with nude boots
Pro tip: make your look cohesive by choosing a nude bag and gold jewelry!
3. Tan or Brown Shoes: A Chic Choice for Fall and Winter
Create a richer palette by pairing your black dress with tan or brown shoes. Think of this look as the fall/winter version of a black dress and nude shoes. It might not make your legs look quite as long (depending on your skin tone), but it's a chic choice for cooler temperatures.
This look works best for casual situations and professional events since brown shoes don't have the same glitzy feel as other colors do. Still, it's a perfect choice for fall and winter brunches, date nights, and days around the office.
1. Maggy London Flutter Sleeve Faux Wrap Midi Dress, $118 at Nordstrom; 2. Vince Qiana Strappy Leather Sandal, $330 on Amazon; 3. Galvan Persephone One-Shoulder Midi Dress, $795 at Mytheresa; 4. Linea Paolo Payton Pointy Toe Pump, $129.95 at Nordstrom; 5. Gabriela Hearst Hannah Gathered-Shoulder Wool Dress, $1,790 at Matches Fashion; 6. Scarosso x Brian Atwood Carra Boots, $1,145 at Farfetch
Make this look more formal by choosing heels or pumps
Keep things cozy by pairing black fall/winter dresses with tan or brown boots of any height
Pro tip: if you're not a fan of neutrals, you can also create these vibes with another quintessential fall color like burgundy or olive!
4. Go All Out With Gold or Silver Shoes
Go all out with gold or silver shoes. This high glamor look is perfect for date nights, parties, weddings, or any other special occasion. It can also be made appropriate for the day with flat styles and flowy dresses. Sneakers with metallic accents also work.
Contrasting your metallic shoes against a black dress really allows the shiny texture to pop. This color combination is an excellent choice for those wanting to make a big statement with their shoes.
1. Ieena For Mac Duggal Crewneck Faux Feather Hem Cocktail Dress, $398 at Nordstrom; 2. Stuart Weitzman Nudistcurve Sandals, $495 at Zappos; 3. Misha Ethel Gown; $378 at Shopbop; 4. Tory Burch Capri Metallic Thong Sandals, $228 at Mytheresa; 5. Blanqi Everyday Maternity Ruched Crewneck Minidress, $72 at Saks Fifth Avenue; 6. Golden Goose Tennis Sneakers, $480 at Farfetch
Pair metallic heels with an LBD for the ultimate party look
Create a cool summer outfit with a simple black dress and metallic sandals
Elevate your casual black dress with metallic sneakers
5. Take Color Blocking to the Next Level
Take color blocking to the next level by pairing your black dress with vibrant primary color. Red, yellow, or blue shoes are an excellent way to breathe new life into your black dress.
Be sure to choose a saturated shade that will really stand out against your black dress: cobalt blue, canary yellow, or poppy red.
Since this creates such a bold statement, it works best for special occasions like parties and date nights. Stick to minimalist shoe styles that are all about the color.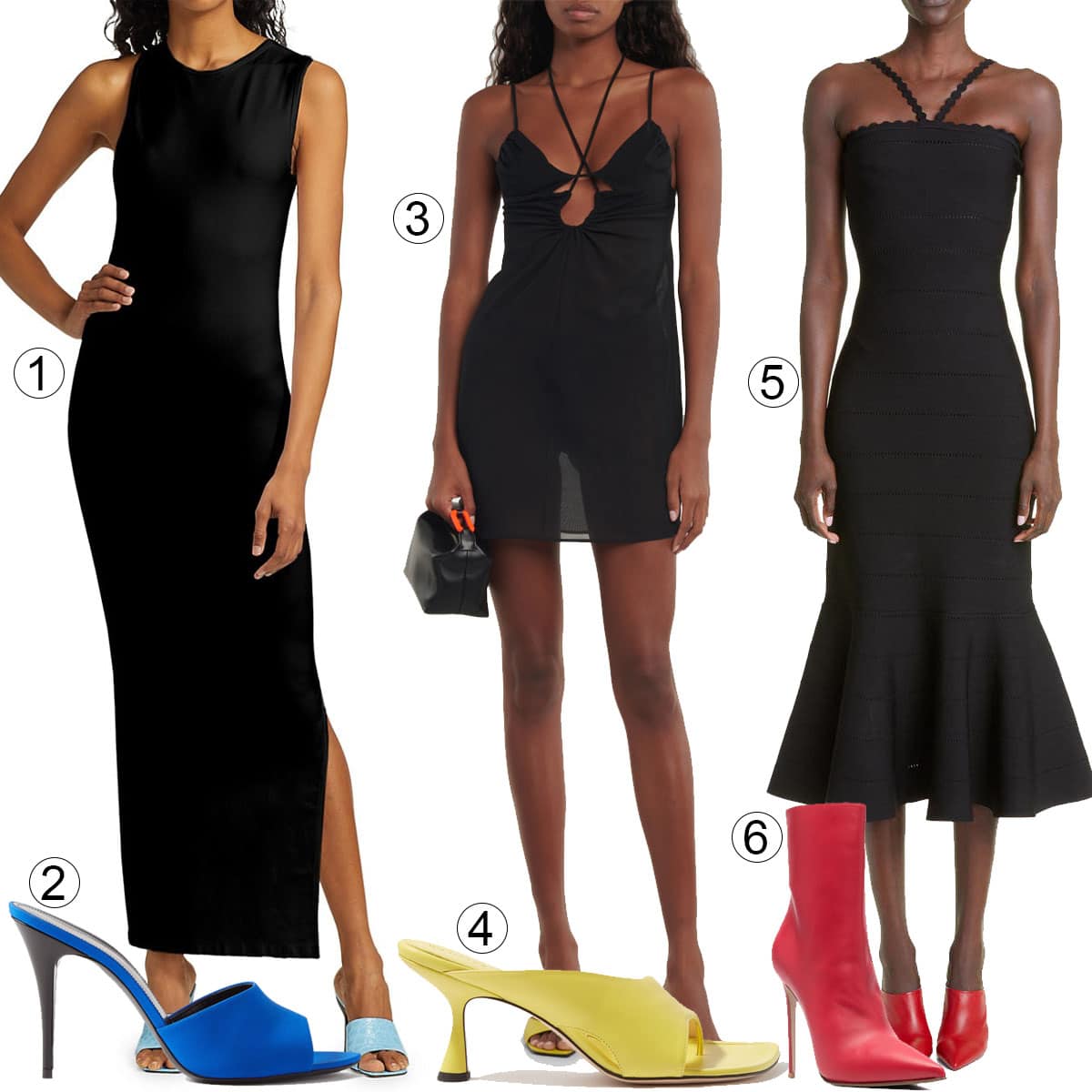 1. Simon Miller Lou Cutout Maxi Dress, $195 at Revolve; 2. Saint Laurent La 16 95 Crepe de Chine Mules, $695 at Matches Fashion; 3. Nensi Dojaka Cutout Halterneck Minidress, $825 at Mytheresa; 4. Wandler Julio Thong Mule Sandal, $600 at Matches Fashion; 5. Victoria Beckham Pointelle Stripe Scallop Strap Sweater Dress, $790 at Nordstrom; 6. Le Silla Eva Ankle Boot, $705 at Farfetch
Simple pumps or strappy sandals look incredible with black party dresses
For more coverage, stick to colored ankle boots. Knee-high or over-the-knee boots might feel too over the top
These tips also apply to other bright solid colors, such as green, purple, or pink.
6. Black and White: A Timeless Classic
You can't go wrong with black and white. This classic combination looks good on both clothing and accessories, including shoes. It seems simple, but a black dress with white shoes is a visually striking choice that will surely make heads turn.
It's a versatile look that looks good on both casual and formal outfits for any occasion.
1. Halston Carolina Stretch-Jersey Minidress, $345; 2. Stuart Weitzman Barelynude Sandal, $475 at Shopbop; 3. Halogen Ribbed Cutout Long Sleeve Sweater Dress, $89 at Nordstrom; 4. Paris Texas Knee-High Lizard-Embossed Leather Boot, $880 at Mytheresa; 5. Hurley Lo Racer Back Midi Dress, $60 at Zappos; 6. Axel Arigato Clean 90 Sneaker, $185 at Farfetch
Create an elegant formal look by pairing a black dress with white heels
Exude retro vibes by adding white boots (of any height) to a black dress
Nail off-duty dressing with a casual black dress and white sneakers or sandals
7. Animal Prints and Black Dresses: A Match Made in Fashion Heaven
From zebra stripes to leopard spots and snakeskin patterns, animal prints are an easy way to spice up your outfits. A black dress is the perfect neutral accompaniment to these wild shoes, no matter the occasion.
The great thing about animal prints is that many of them tend to have black in them, so pairing them with something black is a natural match.
1. Gucci Silk Duchesse Midi Dress, $4,200 at Mytheresa; 2. Nodaleto Snakeskin Platform Sandal, $635 at Farfetch; 3. Show Me Your Mumu Caroline Maxi Dress, $168 at Zappos; 4. Tory Burch Georgia Snake-Embossed Loafer Mule, $278; 5. Sportmax Cabina Leather Plunge Dress, $1,050 at Saks Fifth Avenue; 6. Schutz Maryana Pointed Toe Boot, $238 at Nordstrom
Add heels or ankle boots to a black party dress
Create a cool day look by pairing a simple black dress with animal print flats (sneakers, loafers, or ballet flats)
Be extra bold by styling tall animal print boots with a black dress
Pro tip: keep the rest of your accessories (bags, sunglasses, etc) black. Any other prints or colors will feel like too much with animal print shoes.
8. Embrace Cool Elegance: Elevate Your Style With Gray Shoes
We always use this neutral shade in black clothing combinations, but it's often overlooked as a shoe choice.
The sleek and timeless hues of gray and black effortlessly create a cool and refined ambiance suitable for a wide range of occasions, including work and casual events.
For those seeking an alternative to beige, these shades offer a fantastic option that exudes style and sophistication.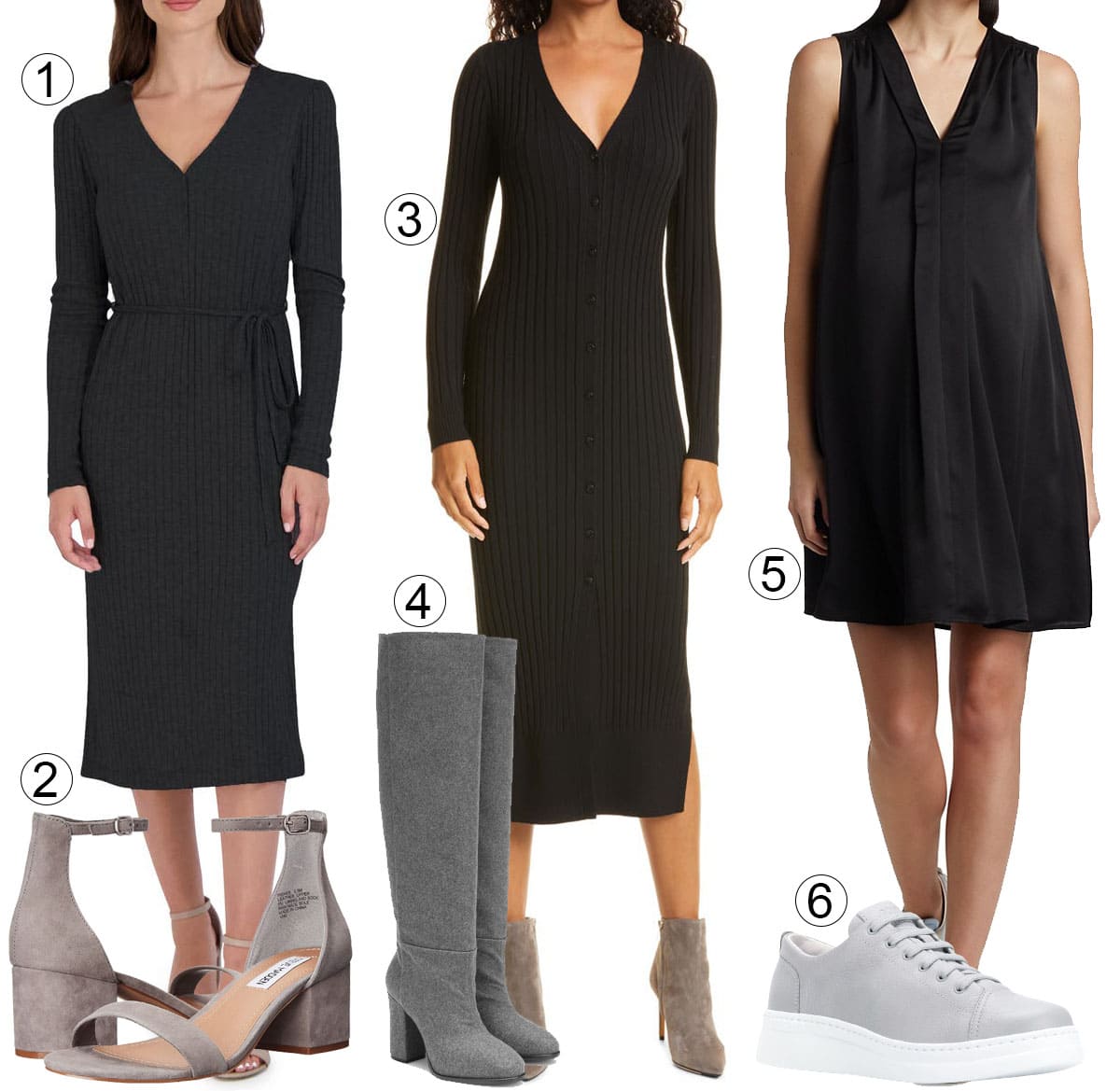 1. Julia Jordan Rib Tie Waist Long Sleeve Sweater Dress, $129 at Nordstrom; 2. Steve Madden Irenee Sandals, $69.95 at Zappos; 3. Club Monaco Ribbed Long Sleeve Wool Sweater Dress, $229 at Nordstrom; 4. Dries Van Noten OTK Boots, $1,015 at Mytheresa; 5. Emilia George Fabric Matters Cecilia Trapeze Maternity Midi-Dress, $169; 6. Camper Runner-Up Sneaker, $145 at Farfetch
Choose gray heels and a black dress for formal occasions or an understated going-out look
The gray shoe and black dress combination truly shines during fall and winter. Style gray boots, especially tall styles, with a cozy black sweater dress for a casual chic outfit
Swap your white sneakers for gray ones when you want to switch up your casual black dress looks
How will you be styling your black dresses?