They began dating in May 2013 and married in secret in December 2019. Nearly a decade into their relationship, Josh Dun and Debby Ryan still appeared very much in love as they shared a rare red carpet moment at the Cameron Boyce Foundation's 2nd Annual Cam for a Cause Gala.
The couple could barely keep their hands off each other as they posed on the purple carpet at The Thompson Hotel, where they were joined by the late Cameron Boyce's friends and former colleagues, including Sofia Carson and Dove Cameron.
The gala was organized to raise funds and awareness for the fight against epilepsy and Sudden Unexpected Death in Epilepsy (SUDEP), which took the young actor's life in 2019.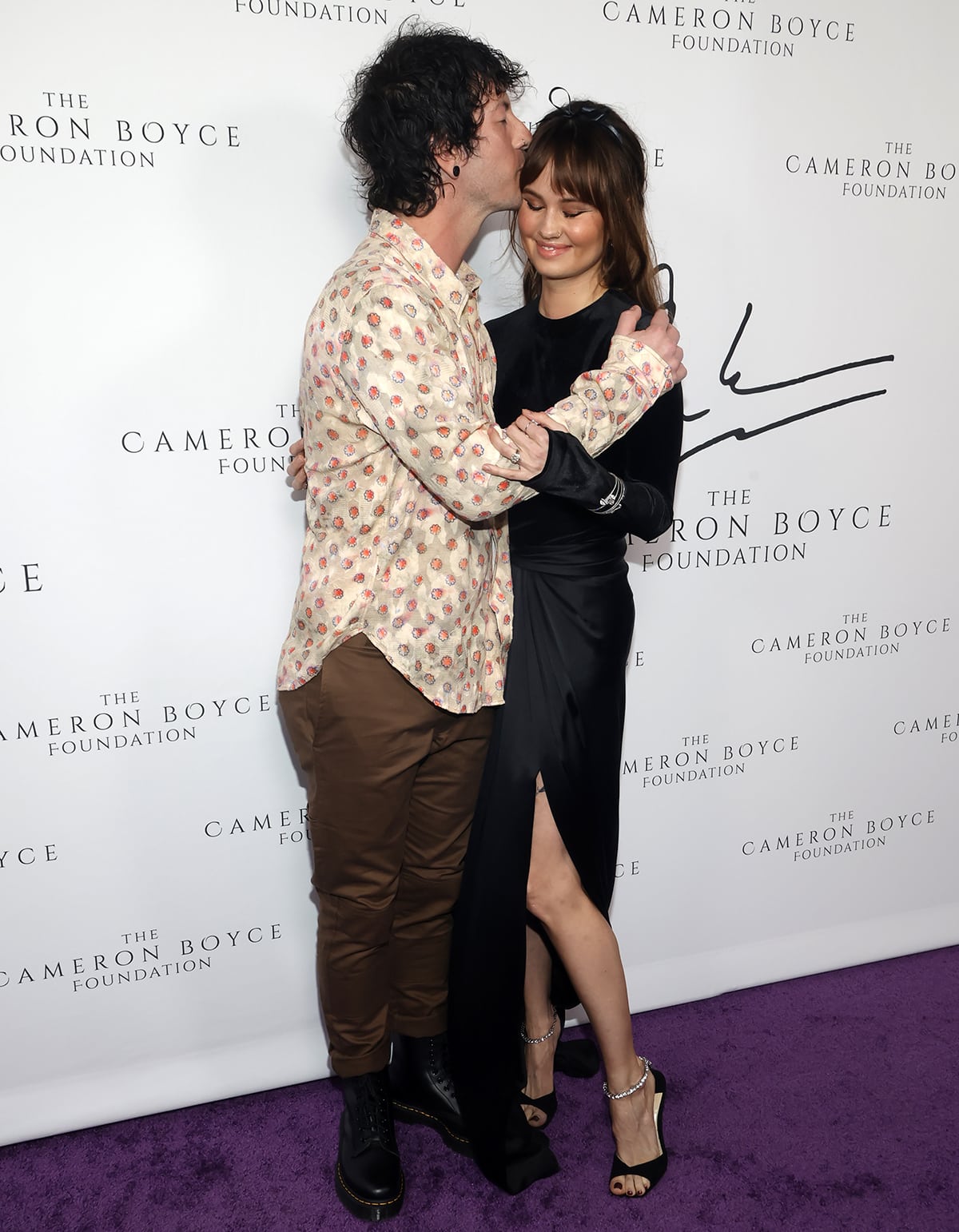 Josh Dun and Debby Ryan share a kiss on the purple carpet at the Cameron Boyce Foundation's 2nd Annual Cam For a Cause Gala at Citizen News Hollywood at The Thompson Hotel on June 1, 2023 (Credit: Faye's Vision / Cover Images)
Debby, Cameron's co-star in the comedy series Jessie, made a leggy appearance at the event in a gorgeous two-piece black ensemble that hugged every inch of her slender frame.
She wore an elegant velvet blouse with long sleeves and thumb holes, a floor-length satin skirt with a wrap-style waist, and a daring thigh-high slit that showed off her enviably toned leg and her "Howdy" thigh tattoo.
Adding some bling to her head-to-toe black look, Debby accessorized with a stack of silver and diamond bracelets on one arm, several sparkling rings on her fingers, and a pair of sparkling earrings.
A matching pair of open-toe sandals with crystal ankle straps tied her stunning look together.
Debby Ryan shows off her leg tattoos in a black velvet long-sleeved top and a black satin maxi skirt with a daring thigh-high slit (Credit: Faye's Vision / Cover Images)
Debby gave herself a sun-kissed glow for her glam, accentuating her eyes with shimmering bronze eyeshadow and volumizing mascara.
She exuded confidence as she showcased her signature bangs, effortlessly styling her lustrous brown hair into a captivating half-up 'do.
A delightful black bow accentuated her charm, instantly bestowing her an air of regality.
Debby Ryan styles her hair in a half-up 'do with a bow accent and highlights her features with a bronzed glow (Credit: Faye's Vision / Cover Images)
On the other hand, Josh Dun embraced the flower power trend in a pale yellow shirt printed with red flowers all over. He teamed it with brown trousers, with the hem tucked into a pair of black Dr. Martens boots.
The Twenty One Pilots drummer added a touch of rock 'n' roll to his retro ensemble by accessorizing with black earrings and a pearl necklace.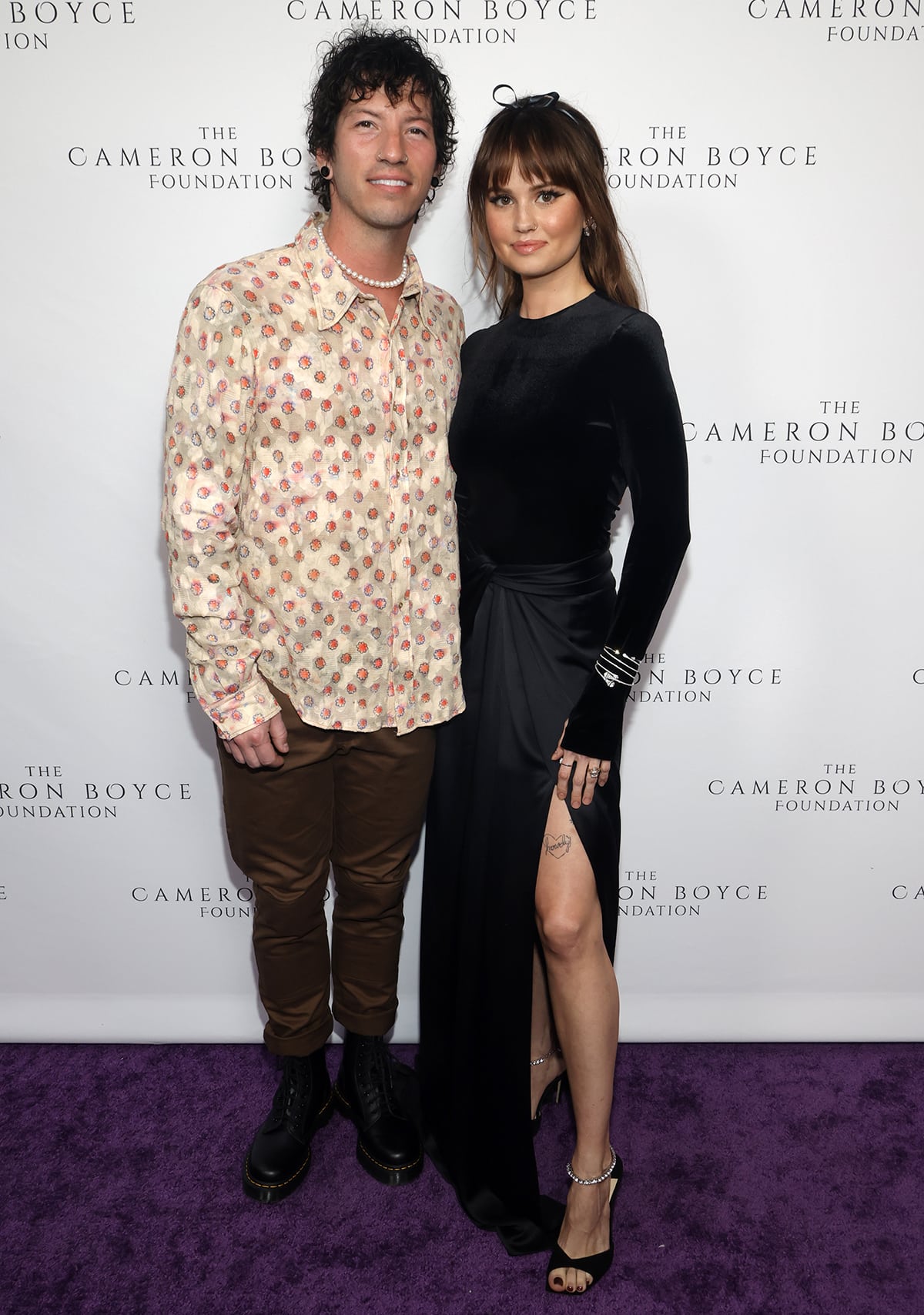 Debby Ryan's husband, Josh Dun, opts for a retro-printed shirt with brown pants and black Dr. Martens (Credit: Faye's Vision / Cover Images)
Josh Dun and Debby Ryan Share Details of Their Whirlwind Wedding
They started dating in 2013, and six years later, in 2019, they secretly got married.
Months after tying the knot, Josh Dun and Debby Ryan revealed the specifics of their whirlwind New Year's Eve wedding, which they had planned in just 28 days.
"We began to flirt with the idea of having a destination party celebrating the new decade, then decided in December to get married [in Austin] on New Year's Eve, and just keep dancing until after the ball dropped," Debby told Vogue.
View this post on Instagram

Following the proposal in 2018, the couple worked with Alex Moreau of XO Moreau to plan their dream wedding. "I'd met and had conversations for almost a year with a handful of the chicest recommended planners and teams from all over. They all seemed capable of throwing a beautiful wedding, but no one else put me into action like Alex," she explained.
Ryan reached out to Alex via Instagram and the two met on December 2. "We had long coffee meeting, and by the end of the night, we decided we could pull it off and set everything into motion. I had a lot of ideas and Alex helped me navigate how to best use those 28 days—how big I could dream, how unconventional to skew—and was a touchstone of how realistic to stay."
The couple chose Austin's Hotel Van Zandt for their venue as they wanted their guests "to be able to change for dancing, take a disco nap, and come and go at their leisure."
View this post on Instagram

Josh wore a green velvet Paul Smith suit with black Nike Cortez shoes, while Debby selected an off-the-shoulder Elie Saab creation.
"For a long time, it was the only image of a wedding dress I had saved anywhere, and the only image in a folder titled 'wedding' on my phone."
"[When everyone was in place], I began to hear 'Hoppipola' by Sigur Rós, and the church doors opened, and I saw him waiting. I took in everyone beaming as I moved through the extra-long church, drawn toward my favorite person. When [our officiant] Dave asked who gives me away, my dad responded, 'She does, and we support this decision wholeheartedly,' which brought the first tear to my eye."
How Did Actress Debby Ryan Meet Her Rockstar Husband Josh Dun
Debby Ryan and Josh Dun have kept their relationship private since dating in 2013. Details on how they first met remain unknown, but some sources claim they met through a mutual friend.
In September 2013, Josh Dun made their relationship Instagram official by posting a photo of them holding hands and writing the caption: "Trying to help each other not fall off that ledge."
View this post on Instagram

They split in 2015 but reconciled in December 2016 after being photographed at a Christmas party with matching Santa hats.
View this post on Instagram

In 2018, Debby honored Josh Dun on his birthday by sharing a throwback photo along with a few details of their first date.
"hbd, boy. thanks for learning how to tie a bowtie for our first date and everything we've figured out together since. you were only 24 here, before I dyed your hair and you taught me love."
View this post on Instagram

During a vacation in New Zealand in December 2022, Josh asked for Debby's hand in marriage. Debby later posted some photos that captured the occasion, one of which showed Josh getting down on one knee.
View this post on Instagram
Is Josh Dun older than Debby Ryan?
Yes, he is older than his wife. Debby Ryan was born on May 13, 1993, and Josh Dun was born on June 28, 1988.
This means that Debby Ryan is 30 years old, and Josh Dun is 34 years old. There is a five-year age difference between them.