"Insatiable" and "Life of the Party" star Debby Ryan kicked off her celebrated acting career as a center staple in several of Disney Channel's greatest hits including, The Suite Life on Deck, 16 Wishes, and most importantly, Jessie—a series that will always undoubtedly hold a pained position in her heart after the tragic loss of her co-star Cameron Boyce in 2019.
Boyce's passing provoked an onslaught of heartfelt online remembrances by fellow previous co-stars, fans, family, and friends.
Yet instead of allowing Ryan space to mourn her beloved friend Boyce's death, the Jessie fandom took to Twitter and Instagram to demand a statement from her.
Skai Jackson, Peyton List, Karan Brar, Debby Ryan, Kevin Chamberlin, and Cameron Boyce attend Disney Channel's 100 episode celebration for 'Jessie' at Hollywood Center Studios on February 12, 2015, in Los Angeles, California
While these fans were met with silence, the gears in the rumor mill started turning and the internet went wild with a theory for Ryan's silent treatment—allegedly she was rushed to the hospital after a heart attack from hearing about Cameron Boyce's death.
What happened to Cameron Boyce?
Today reported that the 20-year-old Disney Channel sensation's cause of death was from "sudden unexpected death in epilepsy," according to the confirmation of the Los Angeles County coroner's office following an autopsy on July 8.
Born and raised in Los Angeles, California, the sunny-dispositioned actor was initially found in his North Hollywood home unresponsive, his passing deemed as a certified natural death on July 6, 2019, according to the coroner's report published by the Los Angeles County Medical Examiner-Coroner.
Cameron's sister Maya Boyce and his parents Libby Boyce and Victor Boyce attend the 15th Annual Heller Awards at Taglyan Complex on November 07, 2019, in Los Angeles, California
A member of the family spoke out on July 10, pointing out that Boyce's "tragic passing was due to a seizure as a result of an ongoing medical condition, and that condition was epilepsy."
Boyce's family released separate statements recalling their cherished (although short) time with Cameron.
His father, Victor Boyce, tweeted, "I'm overwhelmed with the love and support our family has received. It really does help to ease the pain of this nightmare I can't wake up from. I can't thank you guys enough."
Cameron Boyce's father Victor Boyce expressing his gratitude on Twitter
His sister Maya also took to social media to remember her big brother, "Yes, he died. Yes, I'm sad. Cameron was my best friend. He is someone I will always idolize. His smile could light up a room, unlike anyone else's. He was perfect. He always said that if you have a voice, you have the privilege of using that voice for change, and he did not take that idea lightly. He understood his responsibility as someone so many kids would look up to. Cameron always went out of his way to be giving and kind."
View this post on Instagram
What the rest of the world had to say
The news of Cameron Boyce's death spread quickly across social media.
Charles Esten (Boyce's father in Jessie) addressed his co-star's passing on Twitter, writing, "My family and I are devastated today, by the loss of our young and amazing friend, Cameron Boyce."
Cameron Boyce arrives at the Los Angeles Premiere of "Eagle Eye" at the Mann's Grauman Chinese Theatre on September 16, 2008, in Los Angeles, California
Reminiscing over Boyce's first talent show at the elementary school Boyce attended along with Esten's kids, "It was there we were introduced to his endless talent, kindness, and joy for living. At his very 1st talent show, little Cameron's dancing lit up the stage, and left everyone on their feet, cheering."
According to ABC News, other co-stars followed suit in offering their condolences to Boyce's family with heartfelt words online. But someone was missing in the conversation, someone very near and dear to Boyce.
Debby Ryan's silence
Fellow Jessie co-star Ryan had not yet released a statement regarding Cameron Boyce's death. While Debby had liked Esten's tweet about Boyce, fans felt like this was not enough.
Debby Ryan was rumored to have had a heart attack after learning that her former co-star Cameron Boyce had passed away
Taking to her comment sections on her most recent Instagram posts to communicate their disdain for her 'unbothered behavior,' it ultimately caused Ryan to lock down her comment section, according to Heavy.
Pop Culture dug up some tweets and found that a few people following the saga went to Ryan's defense in her comment section saying, "I feel like all these comments shouldn't be said at all, maybe she's tryna (sic) process it like I still am. Please respect her and not post RIP CAMERON BOYCE."
Her lack of transparency with her and Boyce's fans led the fandom to assume the worst. The only possible reason for Ryan's absence must be because she was hauled away to the hospital from a heart attack!
This outlandish rumor started picking up heat with more fans rushing to Twitter to confirm this breaking news. One fan tweeted, "I can't find any articles about [Debby Ryan] being rushed to the hospital for a heart attack so until I have proof, I'm assuming this is a rumor."
The real truth
Two days after Cameron Boyce's death, the fact-checking website Snopes reached into the deepest corners of the internet to uncover the truth behind Ryan's heart attack (alleged heart attack).
Snopes traced the rumor to a viral YouTube video posted by @Dancetayley titled "Debby Ryan Rushed to Hospital After Finding Out About Cameron Boyce."
The video currently has over 3 million views and includes screen-shotted tweets 'praying for Ryan' but has no verified origins.
Not Ryan's first rodeo
Surprisingly enough, this is not the first time Ryan has been a victim of celebrity gossip.
According to Refinery29, fans mistook the death of famous actress Debbie Reynolds for 23-year-old Debby Ryan, causing a lot of confusion amongst fans.
American actress Mary Frances "Debbie" Reynolds died in 2016, but Debby Ryan is still alive
However, Ryan wasted no time reaching out to her devastated and mourning followers via Twitter to clear the air, "No… guys, that's very thoughtful but its Reynolds. Debbie Reynolds…"
What's taking Ryan so long to talk about Boyce?
Ryan did eventually make her sentiments known on social media; according to Snopes, Ryan posted Boyce's 2018 acceptance speech at the Thirst Gala for the coveted Pioneering Spirit award.
In this speech, Boyce shares some wisdom beyond his years, "It's crazy, we can tweet whenever we want and we can use social media and Instagram and make the world a better place, instead of a worse one, which so many people use it for…" Ring any bells for those who cyber-bullied Ryan out of her private grieving?
Debby Ryan's heart attack may have been a rumor, but is she suffering from a broken heart still? Now that's a different story.
In October 2013, she once again chose to show her mature side at People Magazine's Ones to Watch party held in Los Angeles.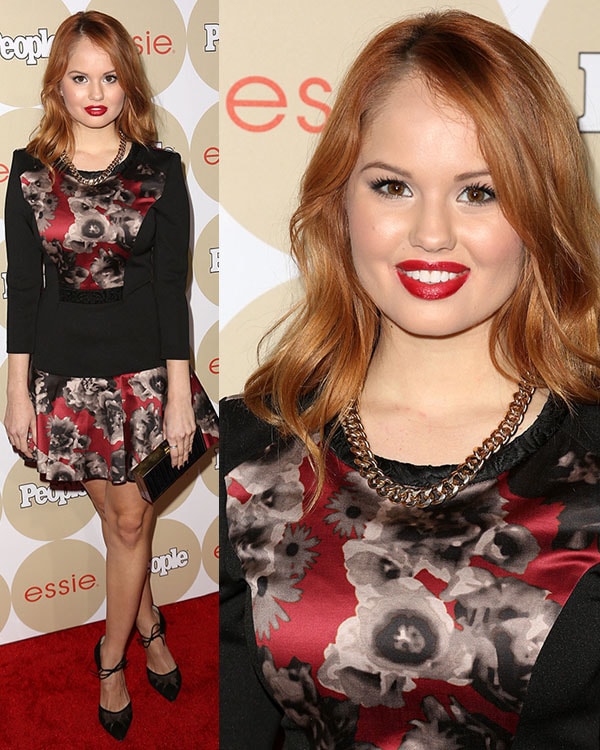 Debby Ryan's unflattering red lipstick at People's Ones to Watch party held at Hinoki & the Bird in Los Angeles on October 9, 2013
Although her red lipstick was an unflattering way to achieve this look, Debby managed to give a fierce and hot vibe. Her red lips matched the very chic Lublu floral dress, which was paired with Bionda Castana heels.
Her heels perfected her getup and added a romantic-dramatic appeal to her entire look. They feature mesh material, which remains in style these days. You probably have noticed a number of celebrities wearing mesh-paneled pumps and booties during the past weeks.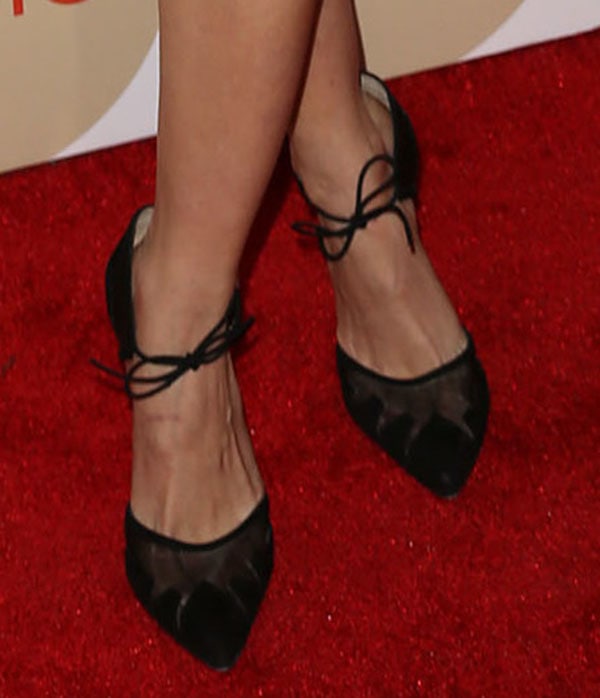 Debby Ryan shows off her feet in Bionda Castana pumps
Debby Ryan, obviously, is embracing the trend. Aside from that, Bionda Castana has quickly become one of the go-to brands of many Hollywood stars.
Debby's Bionda Castana pumps looked really great with her dress. They feature black suede material with zigzag details, pointed toes, leather-tie ankle fastening, and about 5 inches of heels.
Bionda Castana "Lana" Pumps, $679
Bionda Castana "Lana" Pumps in Lemon Leather, $679
Bionda Castana "Lana" Pumps in Red Leather, $679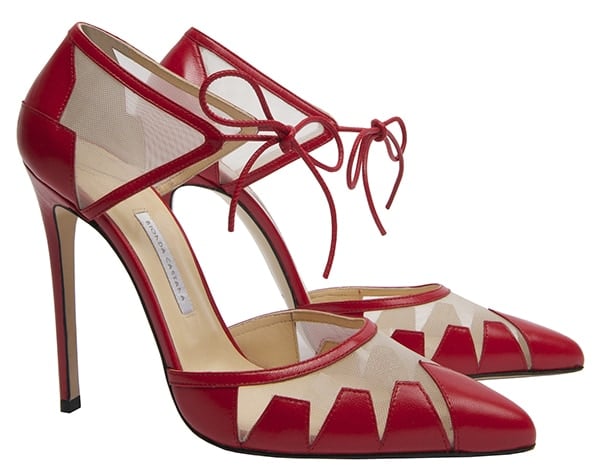 Credit: Brian To / WENN / Sheri Determan / Nicky Nelson / 
Adriana M. Barraza / Reggie Collier / Instar