Emmy Rossum, who portrayed Fiona Gallagher in seasons 1–9 of Shameless, announced in August 2018 that she would be leaving the American comedy-drama television series. Her final episode of Shameless aired Sunday, March 10, 2019.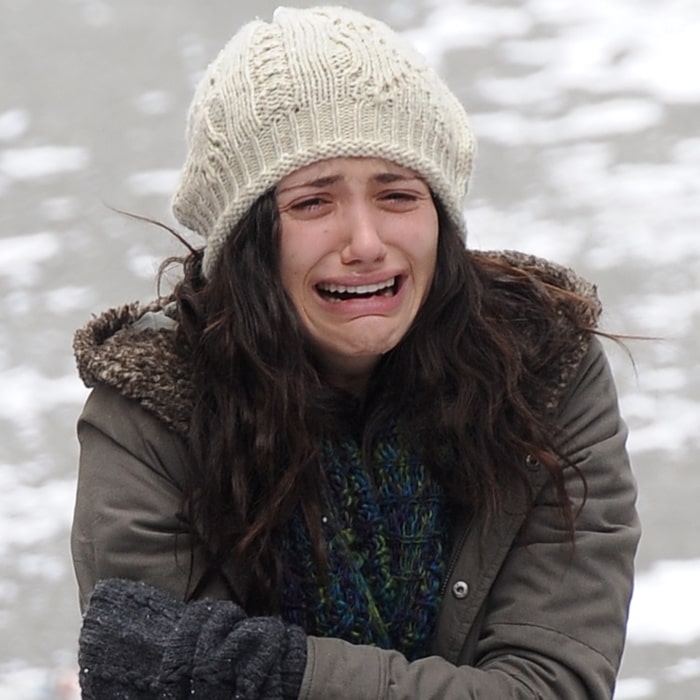 Actress Emmy Rossum as Fiona Gallagher crying on the set of "Shameless" as she walks down a dirty alleyway in downtown Los Angeles looking for drugs while wearing a house arrest ankle bracelet on January 7, 2014
The longest-running original scripted series in Showtime's history, the series continued for two more seasons after Fiona's departure. The eleventh and final season has been delayed due to the COVID-19 pandemic.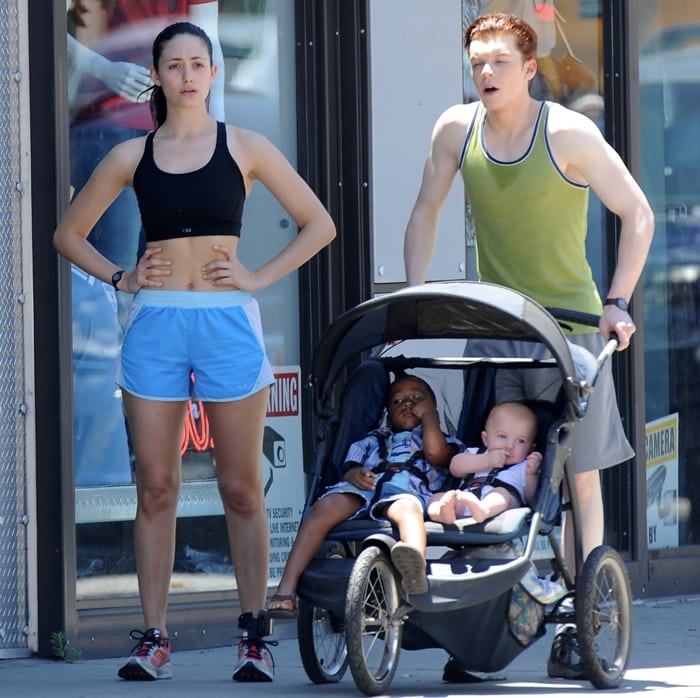 Emmy Rossum gets a workout jogging with costar Cameron Monaghan while filming a new episode of Shameless in Los Angeles on July 11, 2014
"I will never be saying goodbye to Fiona," Emmy told EW about her decision to leave the television series. Portraying the same character for nine seasons, she simply got tired of the show and reportedly quit to pursue other opportunities.
"Fiona is a part of me and has been like every character is a part of you and you are a little bit part of them. My Shameless family is really my second family and I've spent so much time with them — 10,000 hours — that it really feels like we've all grown up together. I started on the show when I was 23 and now I'm not. [Laughs.] And it's a wonderful, wonderful amount of time and I feel incredibly proud of everything we have created. I'm just filled with gratitude for everyone's hard work."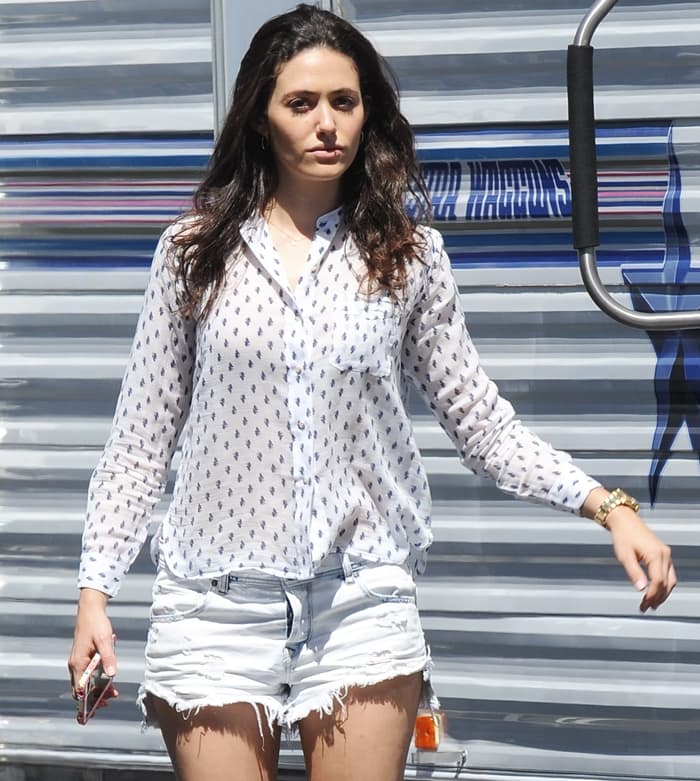 Emmy Rossum sports daisy duke shorts while filming 'Shameless' in Pasadena on July 23, 2014
"We feel incredibly lucky to have had the opportunity to investigate these characters and to continue to do so — and everyone will continue to do so until whenever the audience decides that they've had enough," she added.
"I think the show could quite honestly go on forever because the family is dynamic and the kids grow up and they have their own storylines and they branch out and they are fully-realized actors and human beings and they have opinions. I think there is so much to be mined here. There are so few shows on television that are showing what it's like to live in America and struggle right now. There are so many shows on TV that are aspirational, that are about vampires or zombies, that are escapist in some way, or just about plain rich people. So to have a show that's doing what other shows aren't and to have the audience stick with it is such a privilege."
Emmy Rossum filming on the set of 'Shameless' wearing a tight zebra print dress in Los Angeles on August 8, 2014
Why Fiona Gallagher is missing from Season 10
At the end of season 9, Fiona Gallagher decides to leave and make a fresh start somewhere else and departs the show. She leaves the South Side behind after receiving a check for $100,000 to start a new life. Emmy discussed her character Fiona Gallagher's new life in an interview with EW.
Something that was set up previously kind of pays off for Fiona. A door opens and she walks through. She goes to start to make her life elsewhere, and the way in which she says goodbye is quite moving. I think the final moment between her and Frank is actually quite telling about really how much he loves his kids but just really can't be a parent and there's an understanding there. It reminds me of a scene in the pilot. There's a scene with Frank and Fiona in the finale right at the very end where he's trying to acknowledge what she did for the family and it's in some way reminiscent of what Fiona wanted to hear in the pilot when he was passed out drunk in the living room and she was patting herself on the back and saying "Good job, Fiona." Now, of course, she doesn't hear those exact words because Frank is a terrible narcissist and not very generous with words, but there's an understanding that happens and I think the way John blocked the scene was so smart. There's a separation between the characters but there's a lot unsaid and understood between them. I'm quite happy with the life that Fiona is going to make for herself and the things she's put in place to take care of them before she leaves.
The creator of the television show, John Wells, told Variety that losing Rossum wasn't unexpected after nine seasons: "George Clooney left ER in year five, and we managed to do 10 more years.
It's what people do — they get on with their lives. We hope she'll come back in at some point and play with everybody again, but she's got other options."
Actors Matt LeBlanc, Emmy Rossum, Don Cheadle, and William H. Macy attend the Showtime celebration of the all-new seasons of "Shameless," "House Of Lies" And "Episodes" at Cecconi's Restaurant on January 5, 2015, in Los Angeles, California
In November 2015, Emmy Rossum looked as sweet as the drinks she was serving as she helped kick off the "Hot Chocolate for a Cause" benefit program at Godiva's Fifth Avenue store in New York City.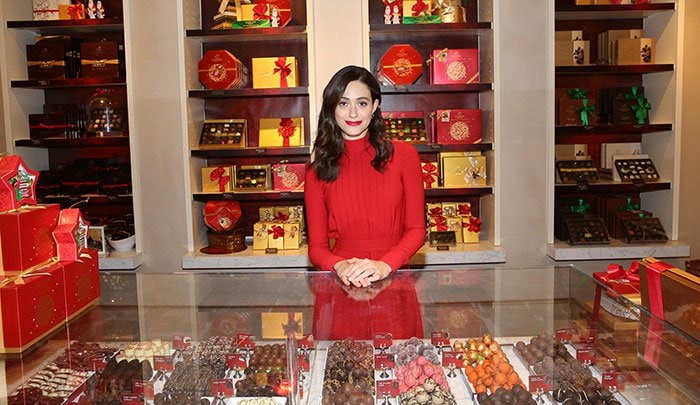 Emmy Rossum wears her hair down at the Hot Chocolate For A Cause event held November 30, 2015, at Godiva in New York City
The then 29-year-old actress looked radiant in head-to-toe red at the event, which benefitted the Toys for Tots foundation.
Emmy Rossum wears a pair of geometric earrings from Noor Fares
Godiva Chocolatier donated $1 to Toys for Tots for every Godiva Hot Chocolate drink sold in stores from December 1 to December 15.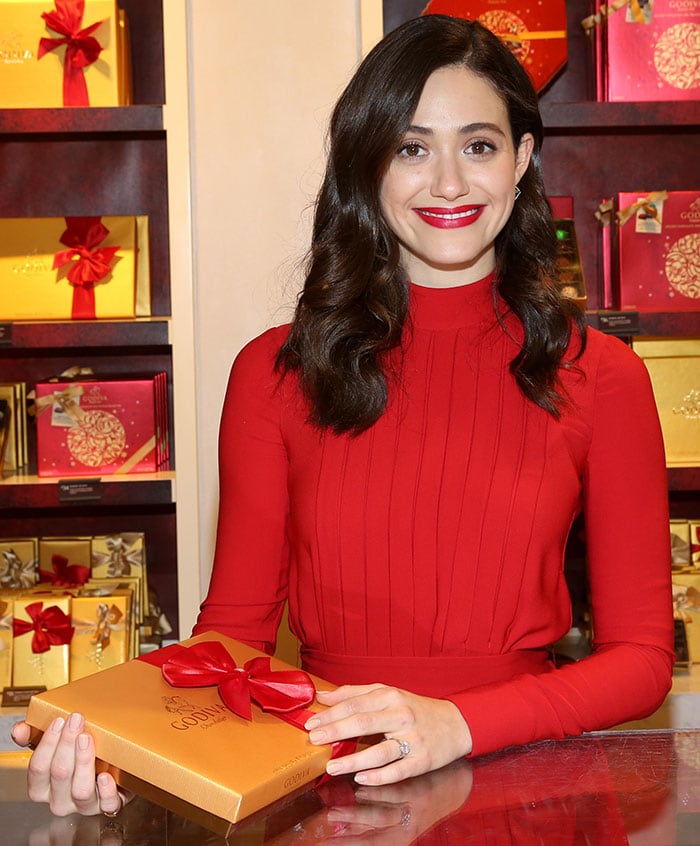 Emmy Rossum wears an all-red look from Salvatore Ferragamo that matches Godiva's Christmas packaging
Emmy was hard to miss in a red Salvatore Ferragamo pleated dress that featured a high neck, long sleeves, and a flattering waist-cinching tie belt that accentuated her slim figure.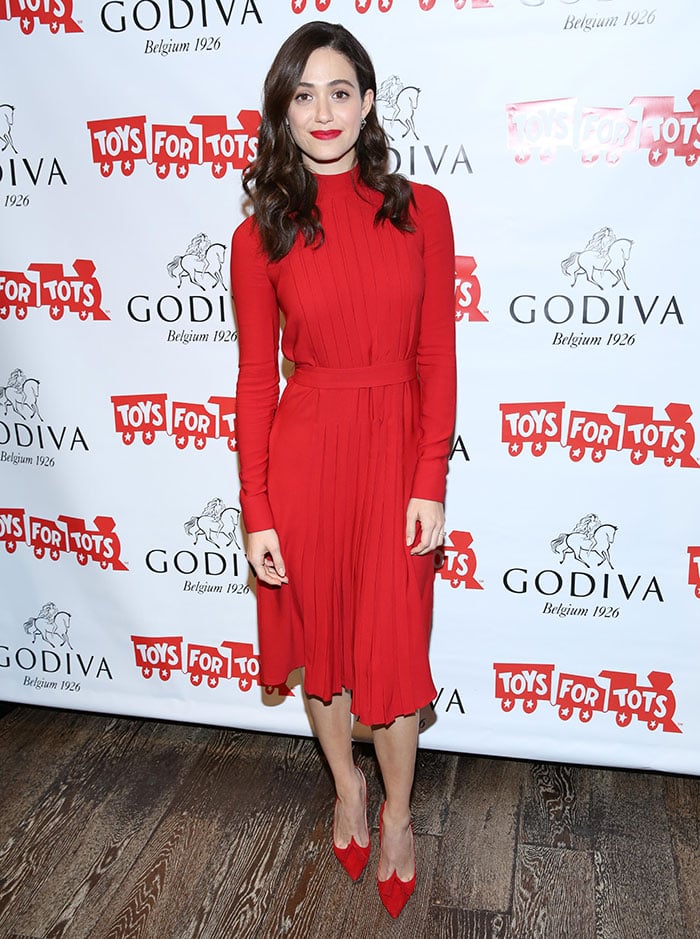 Emmy Rossum matches her red Salvatore Ferragamo dress to a pair of red pumps from Christian Louboutin
She teamed the bright red frock with matchy-matchy red pumps and lipstick.
The wealthy actress kept her accessories to a minimum, wearing only a few pieces of simple but luxurious jewelry from Noor Fares, including a pair of geometric earrings and a ring.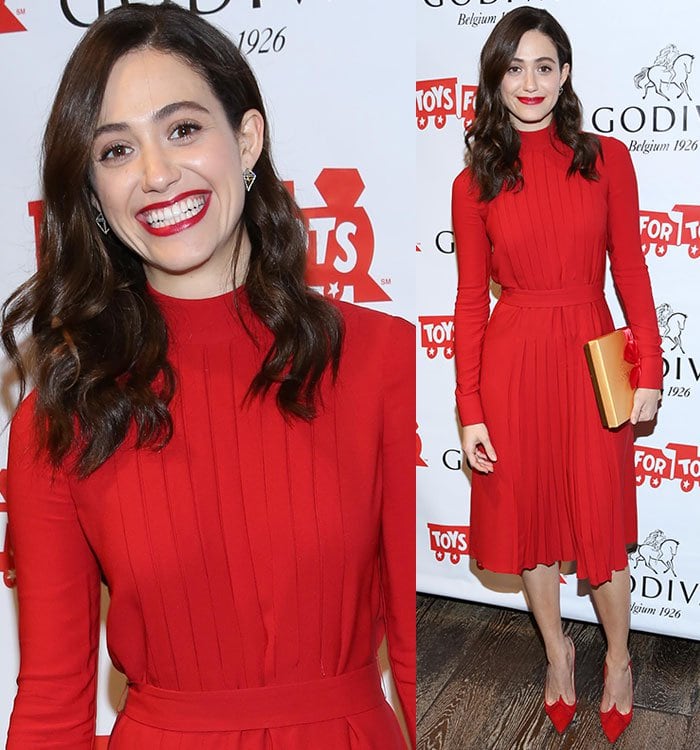 Emmy Rossum contrasts her wavy brunette hair with an all-red look for Christmas
She rounded out her look with side-parted wavy tresses and flawless makeup.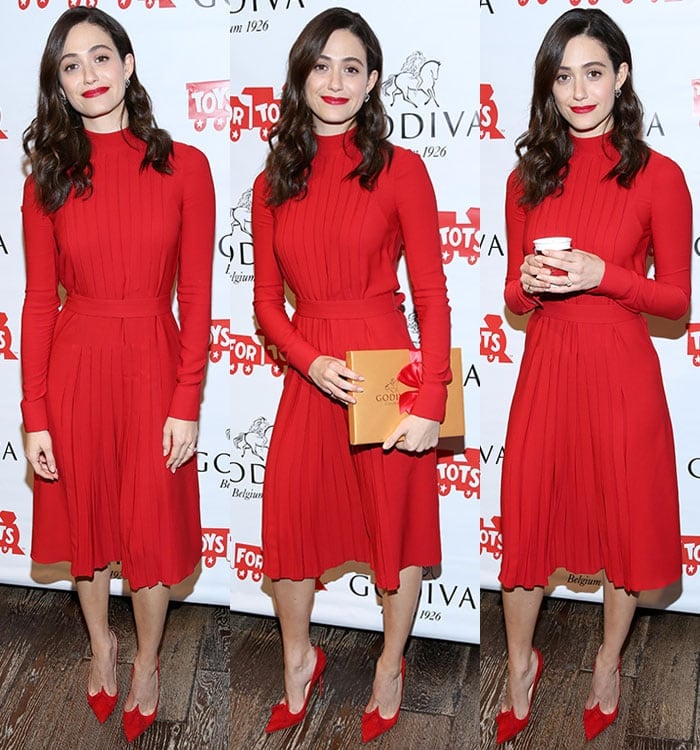 Emmy Rossum holds a box of Godiva chocolates and a cup of Godiva hot chocolate in a red pleated Salvatore Ferragamo dress
Emmy's bright red heels are the "Gwalior" pumps from Christian Louboutin that she wore a few weeks ago at the All-Star Dog Rescue Celebration.
Emmy Rossum's feet in Christian Louboutin pumps
These red suede pumps feature peaked vamps, tassel details, pointed toes, and about 4-inch heels.
Emmy Rossum's feet in "Gwalior" pumps
You can get these Christian Louboutin pumps in red and black versions at Mytheresa and Nordstrom.
Red Suede Christian Louboutin "Gwalior" Pumps, $795
Black Christian Louboutin "Gwalior" Pumps, $795
Credit: Andres Otero / WENN / Cousart / JFXimages / FayesVision