Salvatore Ferragamo is a brand with an unrivaled reputation in the world of luxury shoes. The Italian brand has never lost its Old Hollywood glamour, with vintage-focused designs that are undeniably timeless.
Ferragamo is the perfect alternative to brands like Chanel and Dior if you want understated elegance. The brand doesn't use flashy logos and is synonymous with its use of bows and the signature Gancini buckle.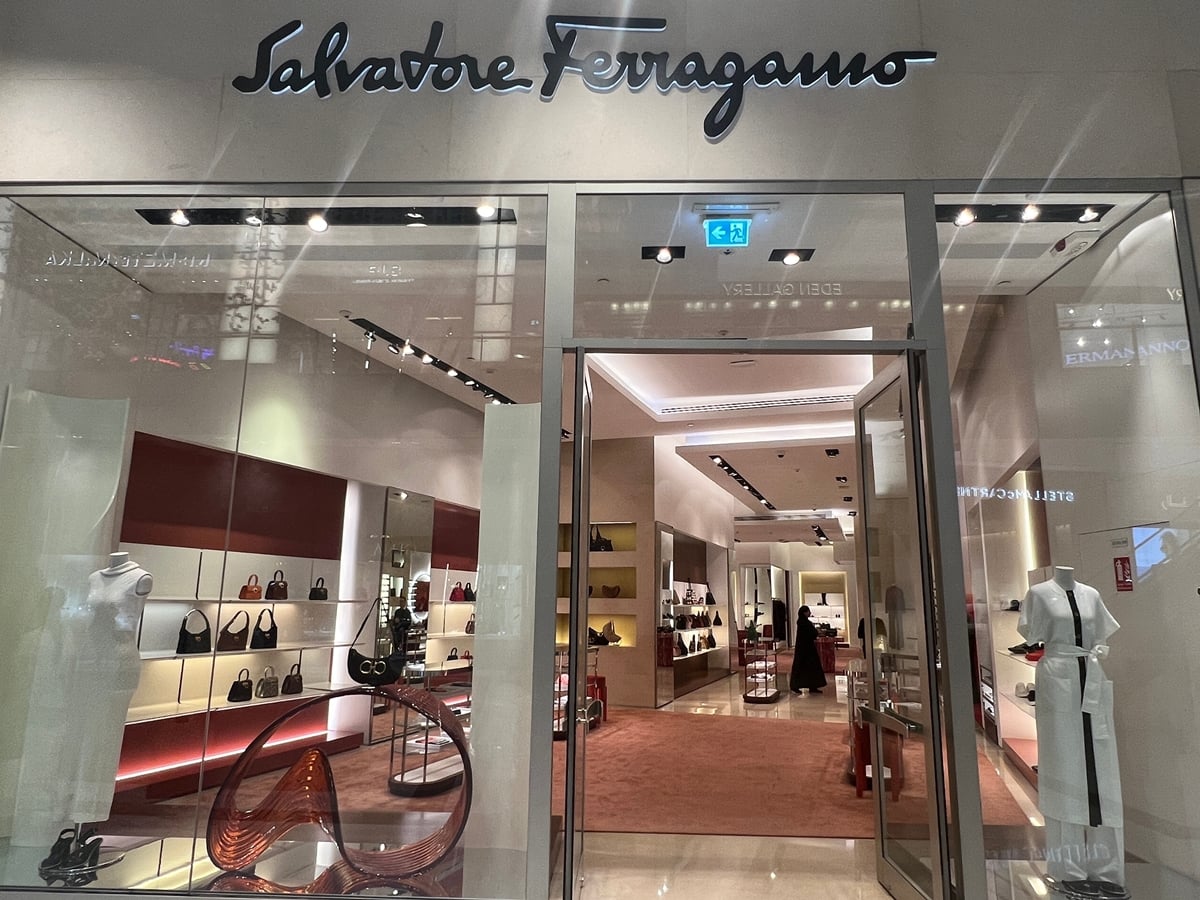 As of December 31, 2022, Salvatore Ferragamo had a total of 389 directly operated stores (DOS) around the world (Credit: Ritu Manoj Jethani / Shutterstock)
Salvatore Ferragamo shoes come with a high price tag, but they're an investment you can pass down to the next generation.
We will cover everything you need to know about Salvatore Ferragamo, their shoes, and what to look out for when buying your own.
Meet Salvatore Ferragamo
First, let's learn how to save "Salvatore Ferragamo". If you're not Italian, it can be a little confusing. We pronounce Salvatore Ferragamo like "sal-vuh-taw-rei feh-ruh-gaa-mow."
The brand was founded by the designer Salvatore Ferragamo in Italy in 1927, and the company has grown to become one of the most recognizable luxury European designers.
Diego Paterno Castello di San Giuliano, grandson of Salvatore Ferragamo, at the private view of the Ferragamo exhibition at the KaDeWe in Berlin on September 29, 2009 (Credit: WENN / Stefan Krempl / Z. Tomaszewski / Salvatore Ferragamo)
Salvatore Ferragamo was born with a rare talent. At the age of nine, he made his first pair of shoes and never looked back. He studied the craft in Naples before he ventured across the Atlantic to the United States.
Before Ferragamo established his eponymous brand, he opened the 'Hollywood Boot Shop' in the early 1920s. His clients included Hollywood legends such as Joan Crawford and his shoes appeared in the blockbuster film 'The Ten Commandments'.
When he returned to Florence, he set up the 'Salvatore Ferragamo' shoe brand. It took a while for the company to get its footing before experiencing a boom after World War II when they were making 350 pairs of shoes by hand every day.
Salvatore Ferragamo became known as a brand that produced comfortable handmade shoes. While most of us think of designer shoes as uncomfortable and sometimes painful to walk in, Ferragamo shoes are the opposite.
Two interchangeable Gancini Switch buckles
During his time in Hollywood, Ferragamo studied anatomy to figure out how to make shoes comfortable.
It would be an understatement to say that Salvatore Ferragamo revolutionized the world of shoe design. He was responsible for the innovation of metal heels, sculpture heels, and the sock-shoe.
The metal heels were made famous by Marilyn Monroe, for whom Ferragamo designed several pairs of shoes.
In 1951, Salvatore Ferragamo created the 'kimo' shoe, a sandal with a colored leather sock. This style would arguably one day evolve into the modern ankle boot.
You can also thank Salvatore Ferragamo for creating cork wedges, a staple summer shoe. This innovative spirit has continued through to the current era, making them one of the best luxury shoes to purchase.
Salvatore Ferragamo is credited with designing the cage heel
Salvatore Ferragamo continues to represent an ideal of glamour and sophistication that other luxury brands of the time have pushed aside for modern trends.
In 1949, Salvatore Ferragamo designed his first bag, designed to carry his tools, and they released the first Ferragamo scarves in 1955.
Salvatore's contemporaries included Christian Dior, who was in attendance when he won the Neiman Marcus Award in 1947. The award was known as 'The Oscar of Fashion'.
Don Johnson, Kelley Phleger, Tony Bennett, and Massimo Ferragamo at the opening of Salvatore Ferragamo store in San Francisco on March 10, 2000 (Credit: WENN / Stefan Krempl / Z. Tomaszewski / Salvatore Ferragamo)
The Ferragamo brand focused on shoes until Salvatore's passing in 1960 when his wife took control of the company and expanded it into a full fashion label. The brand launched its first ready-to-wear line, perfume, eyewear, and watch collection.
Salvatore Ferragamo is one of the few luxury houses still under the leadership of the founder's family.
Ferruccio Ferragamo is the brand's current Chairman and President. Salvatore Ferragamo's son, Massimo Ferragamo, is the chairman of Ferragamo USA.
Do Salvatore Ferragamo Shoes Run True To Size?
Salvatore Ferragamo is to shoes what Hermes is to bags. Salvatore Ferragamo earned the nickname "shoemaker to the stars".
His shoes have graced the feet of everyone from Hollywood royalty to British royalty. The designer formed a close relationship with Audrey Hepburn, designing shoes for the actress to wear in several of her most famous films.
Salvatore Ferragamo still offers the "Audrey" shoe today, initially designed for the actress Audrey Hepburn in 1954.
If you're debating what luxury brand is worth spending your money on for a pair of shoes, nothing beats the craftsmanship of Salvatore Ferragamo.
Jewelry designer Yvonne Hoelzel gets help from Diego Paterno Castello di San Giuliano to try on a pair of Salvatore Ferragamo shoes (Credit: WENN / Stefan Krempl / Z. Tomaszewski / Salvatore Ferragamo)
Their styles typically feature classic silhouettes, with lots of short block heels. For anyone who isn't a fan of bows, you can try the 'Gancini' shoe collection, which features the brand's equestrian-inspired buckle.
You can find contemporary designs within the brand's collections. New releases typically feature hallmarks of the brand's heritage, in particular the bow.
If you're looking for modern shoes that are less feminine, their sneaker range is minimalistic and streetwear appropriate.
The first thing to know about Ferragamo sizing is that they come in US and EU sizing. Depending on where you're purchasing your shoes, they may be displayed in one of these two sizing methods.
When trying to determine whether Ferragamo shoes run true to size, you need to think of the material. Their patent shoes, particularly the Vara flats, tend to run half a size smaller than traditional American sizes, meaning you should size up.
If you can try Ferragamo shoes on in person, it's always best to ask your sales assistant to get you a pair that is at least half a size, if not one full size larger than what you typically wear.
One thing to remember with Ferragamo shoes is that they tend to run narrow. With older Salvatore Ferragamo shoes, you'll notice lettering beside the size of the shoe.
The width options include AAAA (narrowest), AAA (slightly wider than AAAA), AA (narrow), A (narrow to standard), B (standard or regular, most common), C (slightly wider than standard), and D (wide).
You'll want to stay on the lookout for these letters if you're purchasing pre-loved Salvatore Ferragamo shoes at a consignment store.
What is Salvatore Ferragamo Famous For?
When you think of Salvatore Ferragamo shoes, the first pair that usually comes to mind is the Vara flats. Their design has hardly changed since their creation over 40 years ago.
The 'Vara' has had several reinventions over the years, and you can still purchase the original design.
1978 saw the creation of Salvatore Ferragamo's iconic Vara shoe under the reign of his eldest daughter, Fiamma Ferragamo di San Giuliano
Every season, Salvatore Ferragamo releases a new collection of colors, along with the occasional special release, to mark important milestones for the shoe.
The 'Vara' shoes have inspired an entire collection of products, including headbands, handbags, and small leather goods.
Outside of the world of shoes, Ferragamo is known for their silk scarves, which they have carried since the 1950s. Their designs are inspired by Italian artwork.
Silk scarves are synonymous with any European fashion house, but Salvatore Ferragamo makes it their own.
Salvatore Ferragamo's silk scarves have a delicate finish and a luxurious style
The brand is also famous for its handbags, which is no surprise when you consider the craftsmanship of its shoes.
The inspiration for their handbags typically comes from their shoes, which often feature the same detailing as their most popular styles, including the Varina, Viva, and Gancini hardware.
Salvatore Ferragamo is synonymous with the age of old Hollywood glamour. The brand's clientele included the likes of Audrey Hepburn, Greta Garbo, and Sophia Loren.
Ferragamo created several pairs of lace-up loafers for Greta Garbo and strappy low-rise flats. During the '60s, Ferragamo designed ankle boots for Brigitte Bardot. Other famous female fans of the brand include the Duchess of Windsor, Margaret Thatcher, and Eva Peron.
During the '90s, the brand became a favorite of Princess Diana, who owned several of their chain-strap leather handbags. Ferragamo later renamed the bag 'Lady D' in honor of the British royal.
How Can You Spot a Fake Salvatore Ferragamo Product?
Salvatore Ferragamo deals with considerably fewer counterfeit items than Louis Vuitton or Chanel. Still, you can never be too careful when purchasing a luxury item.
You need to be on the lookout, especially if you're looking for items like belts and sneakers. The best way to ensure you're purchasing a genuine product is to buy directly from Salvatore Ferragamo or an approved stockist.
One of the most affordable ways to buy Salvatore Ferragamo shoes is by looking on the pre-loved market and in vintage stores.
The design of several of their signature shoes has hardly changed over time, making them a unique case where vintage can appear new. While counterfeits are a relatively modern concept, you can never be too safe.
Telltale signs of counterfeit shoes include when the brand's font is incorrect. You want to make sure that the logo matches up entirely to the cursive version used by Salvatore Ferragamo. You'll also want to make sure that Salvatore Ferragamo is spelled correctly.
Ferragamo pump with a sleek Gancini jacquard monogram
Salvatore Ferragamo dust bags have changed over the years, but the current style is a white dust bag with a red drawstring closure.
Vintage dust bags typically feature the brand's red logo, and each shoe may have one dust bag. When buying a pair of Salvatore Ferragamo shoes, you purchase a piece of luxury craftsmanship.
The shoes should be impeccable. If you see a stitch out of place or obvious flaws in the design, you know it's a fake. The quality of the product is usually the easiest way to tell if it is real or fake, although you can come across 'super fakes.'
You won't see words like "genuine leather" or "real leather" on the box. They make Salvatore Ferragamo products in Italy, so any other country should throw up an instant red flag.
You should find a long serial number on the inside of your Salvatore Ferragamo shoes, right next to where you'll find the sizing information. Fake shoes often won't include a serial number.
Since 2014, Salvatore Ferragamo has added NFC tags to products to prevent counterfeits.
Where can I buy Salvatore Ferragamo?
Good news! As of December 31, 2022, Salvatore Ferragamo had 389 directly operated stores (DOS) around the world. This represents a decrease from 409 DOS stores in 2021.
Unlike other luxury fashion houses, Salvatore Ferragamo offers sales on their seasonal pieces. You can find even their most classic shoes, such as the Vara flats, on sale at the end of every season.
The Salvatore Ferragamo store on 40 Boulevard de la Croisette in Cannes, France (Credit: WENN / Stefan Krempl / Z. Tomaszewski / Salvatore Ferragamo)
It's worth signing up for the brand's newsletter if you want to be invited to their private sale before it launches to the public.
Salvatore Ferragamo also has several outlet stores around the world. You can find them at Bicester Village in the UK and some of the Premium Outlets offered by the 'Simon' group in the United States.
Be aware of any websites claiming to be the brand's outlet site. The only website the brand owns is its official one, and its outlet stores have no online presence.
You will find other online certified stockists offering sales on Salvatore Ferragamo items, and these typically run concurrently with your usual end-of-season sales.
You can purchase Salvatore Ferragamo items from popular luxury department stores like Saks Fifth Avenue, Nordstrom, and Bergdorf Goodman.
If you prefer to use online retailers, they stock Salvatore Ferragamo at Mytheresa, Farfetch, and Amazon.
If you're on a budget, you might prefer to look into the pre-loved market to find a pair of Salvatore Ferragamo shoes. It's worth checking in your local consignment stores and vintage-specialist shops. If you're looking online for second-hand Ferragamo shoes, try Vestiaire Collective.
Are Salvatore Ferragamo Shoes Worth It?
Do we think that Salvatore Ferragamo shoes are worth their price tag? Absolutely! You'll struggle to find another pair of shoes as well made as Ferragamo styles.
While these shoes come with a luxury price tag, they are not as expensive as European brands like Chanel and even certain styles of Christian Louboutin shoes.
Salvatore Ferragamo's shoes are more than a status symbol. They represent an ideal of regal elegance and innovative design passed down through the generations.
When you buy a pair of shoes by Salvatore Ferragamo, you know they will never go out of style.
If you want a comfortable pair of luxury shoes that will stand the test of time, you should look into the styles Salvatore Ferragamo offers.