After Anne Hathaway dropped out of the role as Christine Daaé because the production schedule of the film overlapped with The Princess Diaries 2: Royal Engagement, which she was contractually obligated to make, the then 16-year-old Emmy Rossum got the lead role in the film of Andrew Lloyd Webber's The Phantom of the Opera.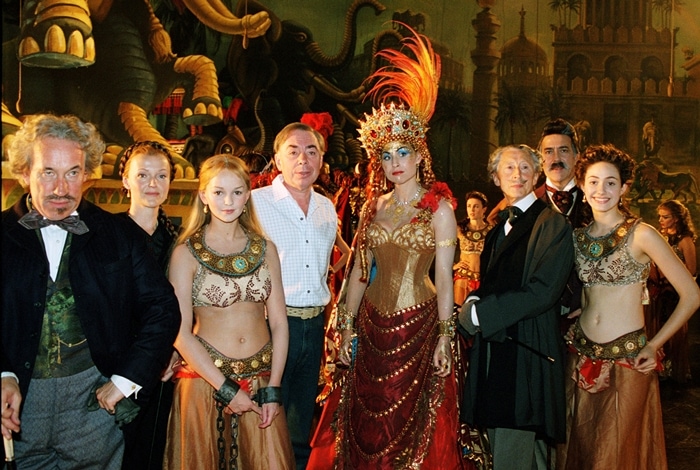 Simon Callow (as Andre), Miranda Richardson (as Madame Giry), Jennifer Ellison (as Meg Giry), composer/screenwriter/producer Andrew Lloyd Webber, Minnie Driver (as Carlotta), Murray Melvin (as Reyer), Ciarán Hinds (as Firmin), and Emmy Rossum (as Christine) in The Phantom of the Opera, a 2004 musical drama film based on Andrew Lloyd Webber's 1986 musical of the same name
For her performance in the movie, Emmy Rossum was nominated at the 62nd Golden Globe Awards for Best Actress in a Motion Picture Musical or Comedy, losing to Annette Bening in Being Julia.
However, Emmy won for Best Performance by a Younger Actor at the Saturn Awards.
Can Emmy Rossum actually sing?
Yes, she is a classically trained singer. Performing alongside the likes of Plácido Domingo and Luciano Pavarotti at the Metropolitan Opera since the age of seven, Emmy's perfect singing voice was left relatively untouched during the editing process of The Phantom of the Opera.
Actress Emmy Rossum attends the Metropolitan Opera's Opening Night Gala Benefit Performance of "La Fille du Regiment" on April 21, 2008, in New York City, New York
Before her leading role of Christine Daaé in the film adaptation of The Phantom of the Opera, she had already appeared in the ABC television film The Audrey Hepburn Story (2000).
Making her film debut at 13 in 2000's Songcatcher, Emmy also sang a duet with Dolly Parton on the Songcatcher soundtrack.
Following her critically acclaimed performance in The Phantom of the Opera, Rossum was offered several deals to record classical albums.
Her debut album, Inside Out, was released on October 23, 2007, and entered the U.S. Billboard 200 at number 199. Her second album, Sentimental Journey, was released in 2013.
Emmy Rossum attends the world premiere of "Phantom Of The Opera" at Leicester Square in London, England, on December 6, 2004
How old was Emmy Rossum in The Phantom of the Opera?
Really Useful Films announced on June 13, 2013, that 16-year-old Emmy Rossum would play opera singer Christine Daaé, whose voice is inspired by the Phantom.
Principal photography lasted from September 15, 2003, to January 15, 2004. Born on September 12, 1986, Emmy turned 17 three days before filming started.
When the film was released on December 22, 2004, Emmy Rossum was 18-years-old.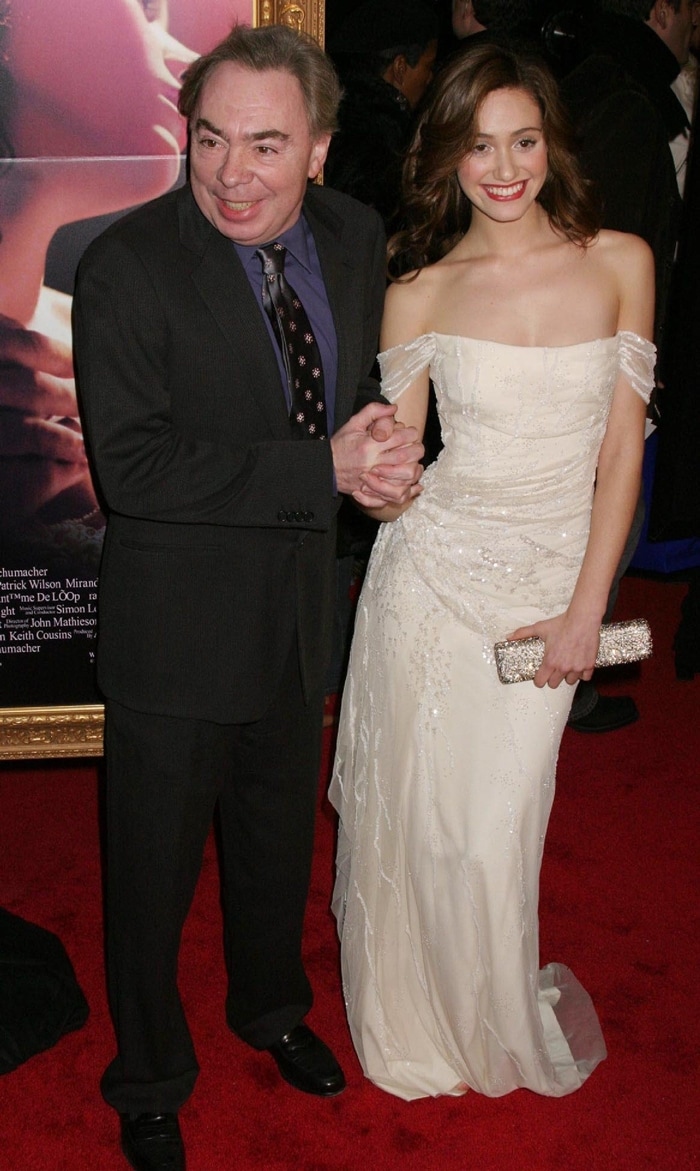 Andrew Lloyd Webber and Emmy Rossum during The Phantom of the Opera New York Premiere at Ziegfield Theater in New York City on December 12, 2004
What's better than Emmy Rossum looking cute? What about Emmy Rossum looking cute while holding a puppy?
Emmy Rossum wears her hair in loose waves at the All-Star Dog Rescue Celebration held November 21, 2015, at The Barker Hangar in Los Angeles
In November 2015, the then 29-year-old actress attended the All-Star Dog Rescue Celebration held at Barker Hangar in Santa Monica.
Emmy Rossum cuddles a puppy at the All-Star Dog Rescue Celebration
The special, which aired on Thanksgiving Day on Fox, was "a one-of-a-kind event celebrating America's rescue dogs, raising awareness of dog-related issues and encouraging people to adopt rescue animals."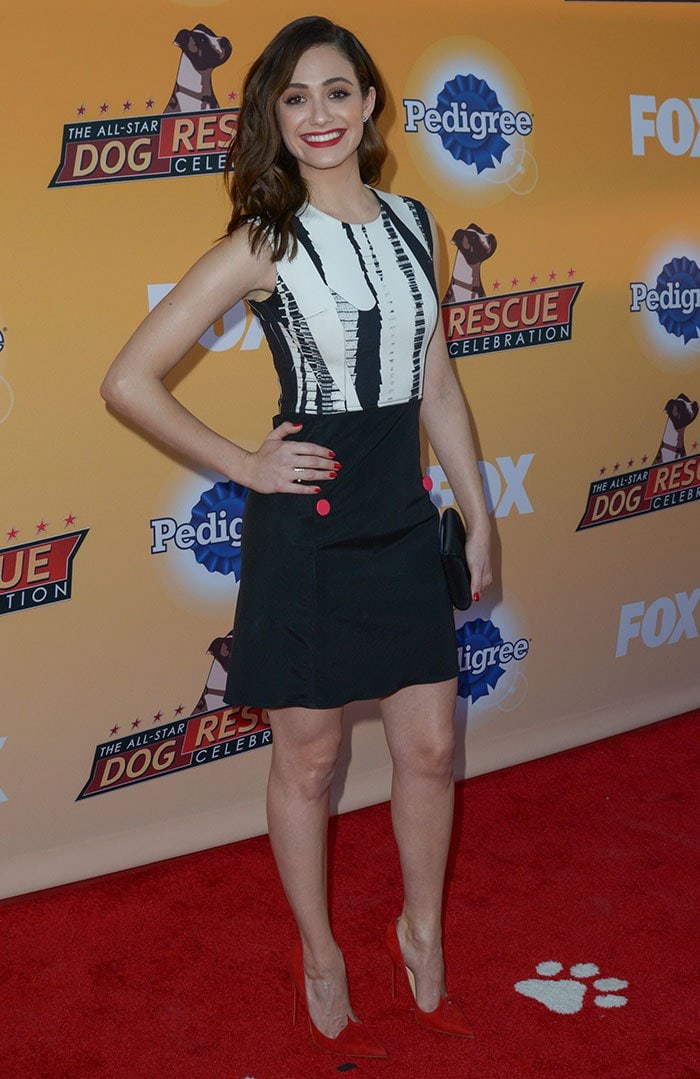 Emmy Rossum poses on the red carpet in a black-and-white top-and-skirt combo
Emmy kept it simple — yet chic — in a black-and-white monochrome number.
She wore a printed sleeveless top with a black A-line skirt that featured pink button details and a straight hem that fell to a couple of inches above her knees.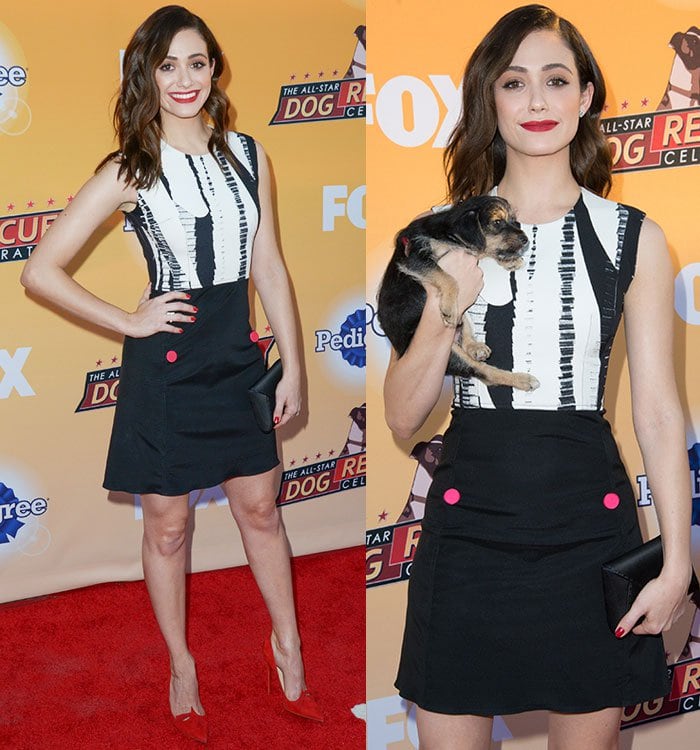 Emmy Rossum happily gets dog fur on her monochrome outfit
She carried a black clutch and wore red pumps, lipstick, and nail polish.
Emmy side-parted her wavy brunette tresses, tucking them behind an ear on one side, rounding out her gorgeous look.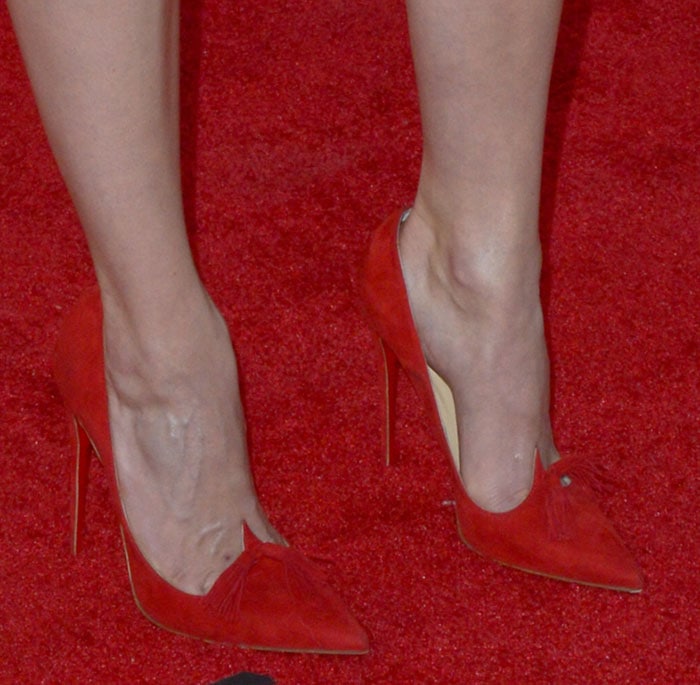 Emmy Rossum's feet in Christian Louboutin pumps
Emmy wore the Christian Louboutin "Gwalior" pumps in red suede with peaked vamps, two tassel details, pointed toes, and about four-inch heels.
You can get these pumps in red and black versions at Nordstrom and Mytheresa.
Christian Louboutin "Gwalior" Suede Pumps, $795
Credit: Charlie Steffens / WENN / PNP / Z.Tomaszewski