After 11 weeks of amazing dance performances and fierce competition, Dancing with The Stars season 29 has come to a close. And for the second year in a row, a Bachelorette star has claimed the Mirror Ball trophy.
Kaitlyn Bristowe, who starred in the 11th season of The Bachelorette, and her Russian-American professional dancing partner Artem Chigvintsev were named the Mirrorball Champions on Monday night.
View this post on Instagram
The two performed an Argentine Tango to Britney Spears' Toxic and a freestyle dance to Moulin Rouge's soundtrack Sparkling Diamonds. Each of their performance scored a perfect 30.
They competed against Catfish host Nev Schulman and his professional partner Jenna Johnson, who came in second place.
Rapper Nelly and his dance partner Daniella Karagach and actress Justina Machado and her partner Sasha Faber landed in third and fourth place, respectively. Johnny Weir and Skai Jackson were eliminated in the semifinals.
In an exclusive interview with ET following the show, Artem said winning the competition was "surreal."
"I was thinking about where I was a year ago, exactly. Where I was not a part of last season, how I felt that [my] old dancing dreams were done and dusted, and that I was never going to be able to perform on that stage at all. And then just standing with Kaitlyn in the final and being called as the champion of the season? I mean, it was such a surreal moment that I never thought it would be, in the reality of this world."
Artem Chigvintsev and Kaitlyn Bristowe, pictured in October, are the new Mirrorball Champions
Kaitlyn, who has always dreamed of competing in the show, said: "If you believe in something and if you have a passion or a dream… when you think of anyone who's gotten somewhere, I guarantee they have a story about what it took to get there."
She added: "So for me, it makes it all so much better that I had this dream. That it was taken away, that I still believed in it, that I worked hard for it, that I stayed true to myself through it. Same thing with Artem. You just never know when it's going to happen and the fact that everything just aligned for us and that we're here with the Mirrorball, like, what?"
Who Is Kaitlyn Bristowe?
Kaitlyn Bristowe, pictured at the 2019 People's Choice Awards, is a former spin-class instructor
Born on June 19, 1985, to Mike Bristowe and ballerina Leslie Hipkin, Kaitlyn grew up in Leduc, Alberta in Canada and moved to Vancouver, British Columbia after winning a dance scholarship.
Prior to becoming a celebrity, Kaitlyn was a spin-class instructor.
Kaitlyn Bristowe's The Bachelorette Journey
She first became a contestant in season 19 of The Bachelor in 2015 but was eliminated in week nine.
Kaitlyn Bristowe with her ex-fiance Shawn Booth at the Home for the Holidays party on November 22, 2017
Two months later, Kaitlyn starred in season 11 of The Bachelorette, where she chose personal trainer Shawn Booth as the winner. Shawn proposed to Kaitlyn in the season finale but they ended their engagement three years later in November 2018.
Who Is Kaitlyn Bristowe Currently Dating?
In January 2019, two months after breaking up with her fiancé, Shawn, Kaitlyn started dating former corporate banker Jason Tartick.
They reportedly met when Jason was a guest on Kaitlyn's Off the Vine podcast.
Jason was a contestant in the 14th season of The Bachelorette, featuring Becca Kufrin. Kaitlyn reportedly rooted for Jason during the show. "You could tell he just didn't want to cross any lines. He's a gentleman," she told ET.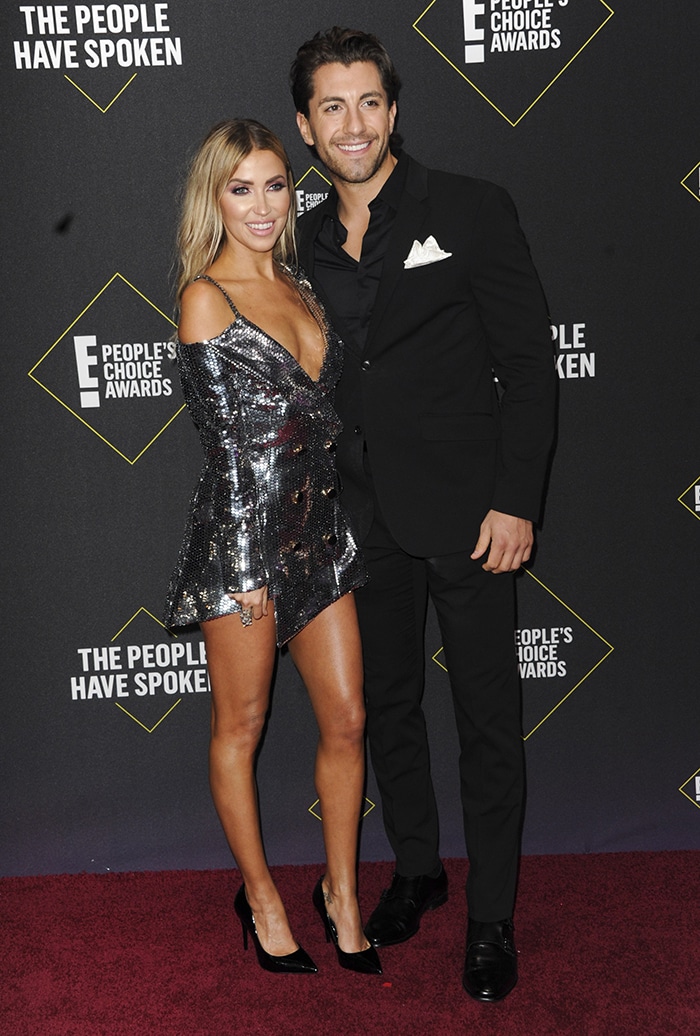 Kaitlyn Bristowe, dressed in Bao Tranchi frock, is currently dating The Bachelorette 14 contestant Jason Tartick
When asked about her favorite things about Jason, she said she's impressed at "just how respectful he's been through this whole thing. And we all know I like having a good time… he just seems to enjoy all the same things as me."
"The first thing that attracted me to him was that he seems like a dying breed. They don't make them like him anymore. He's a gentleman. He has the same morals and values as me and we want the same things."
The two share a home in Nashville, Tennessee, and have two golden retrievers.
Kaitlyn Bristowe Makes Billboard Chart Debut
In May 2020, Kaitlyn became the first Bachelorette to release a single.
She made her country music debut with her song, If I'm Being Honest, which was said to be inspired by her breakup with Shawn Booth.
View this post on Instagram
The song entered the all-genre Digital Song Sales chart and ranked at number 21 with 5,000 downloads. It also reached the number two spot on the iTunes charts.
Kaitlyn Is a Podcast Host
Following her reality-TV stint, Kaitlyn launched a podcast, Off the Vine, which is a "space where girls (and gents) can feel empowered to be themselves."
In her podcast, she talks to her guests over a bottle of wine. She also has a segment where she asks her guests to make a confession—either a secret or a funny or embarrassing story about their lives.
View this post on Instagram
Kaitlyn Is a YouTube Vlogger
Aside from being a podcast host, Kaitlyn has also entered the world of vlogging. She just recently started her YouTube channel, 9 to Wine, which features everything about her life, including her life story, dating history, her skincare routine, and more.
As of this writing, Kaitlyn has already amassed 27.3k subscribers.
Kaitlyn's Business Ventures
Aside from being a celebrity, Kaitlyn is also an entrepreneur. In 2018, she launched a line of scrunchies, called Dew Edit. And in May 2019, she launched a line of wine, Spade and Sparrows.
View this post on Instagram
Kaitlyn Bristowe's Net Worth
Kaitlyn reportedly has an estimated net worth of $3.5 million. According to Variety, the maximum contestants can earn per episode of DWTS is $295,000. Skai Jackson decided to donate a portion of her earnings!
Who Is Kaitlyn's Dancing Partner?
Kaitlyn was partnered with Russian-American professional dancer Artem Vladimirovich Chigvintsev.
At 22, he auditioned as a contestant on the first season of So You Think You Can Dance, where he placed sixth. He then returned for season two but as a guest choreographer.
In September 2010, he joined the eight series of Strictly Come Dancing as a professional dancer. He was partnered with actress Kara Tointon and were named winners of the series.
He then continued to appear on the show until its 11th series, where he and his British actress partner Natalie Gumede finished second.
Artem Vladimirovich Chigvintsev is a Russian-American professional dancer
Artem's Dancing with the Stars journey began in 2014, during the 18th season, as a member of the Dance Troupe.
He was then promoted to professional dancer for the show's 19th season, where he was paired with actress Lea Thompson.
He returned for season 20 and was paired with singer Patti Labelle. After six weeks, the couple was eliminated and finished eighth place.
Artem Chigvintsev's DWTS Season 21 Hiatus
Artem skipped season 21 due to a last-minute casting change. It was later revealed that Bachelorette Kaitlyn Bristowe was supposed to compete with him but Bachelor producer Mike Fleiss did not allow it.
Artem finally paired up with Kaitlyn five years later, in season 29, where they were declared winners.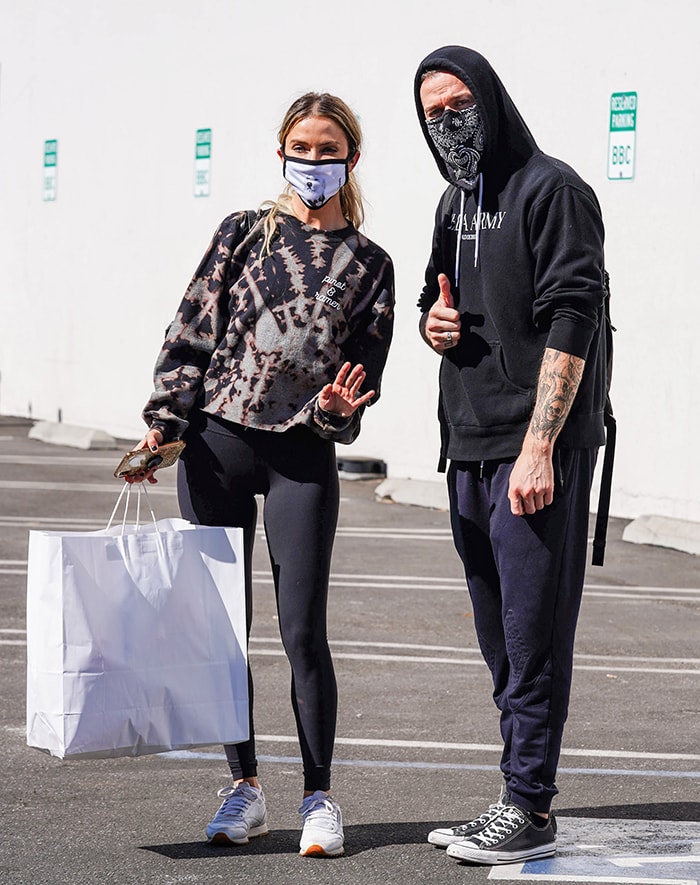 Kaitlyn Bristowe and Artem Chigvintsev at the Dancing with the Stars studio in Los Angeles on October 30, 2020
This marks Artem's first-ever Mirrorball trophy in his nine seasons as a professional dancer on the dance competition series.
Credit: Joseph Marzullo / Avalon / Instar / WENN