She may be the youngest competitor of Dancing With the Stars Season 29, but Skai Jackson is proving to be one to watch out for in the competition.
The former Disney star closed out the season premiere with a 21 out of 30 score, which was the highest score of the night, tied with One Day at a Time actress Justina Machado.
In the fourth week, Skai earned the first-ever 10 of the season and received the highest score of 28. She performed an emotional foxtrot to John Legend's Ordinary People, dedicated to her late friend and Jessie co-star, Cameron Boyce. The actor died at the young age of 20 last year due to epilepsy complications.
Skai has also had a few struggles in the show. In the second week, she dropped to the bottom of the leaderboard after stumbling during her samba performance with her partner Alan Bersten.
In the most recent episode, Skai had some missteps, but she ended her performance on a high note. The judges, however, were not at all pleased and gave her the lowest score of the night.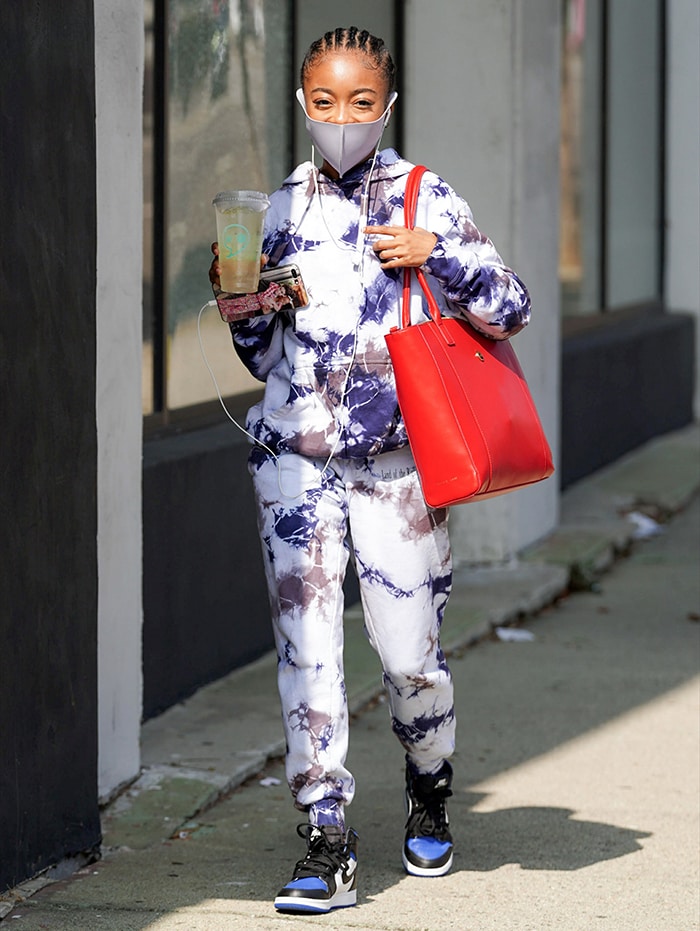 Skai Jackson on her way to rehearsals in a tie-dye hoodie and joggers and Nike hi-top sneakers on October 20, 2020
Following Monday's episode, Skai's dancing partner, Alan Bersten, admitted that they both "blanked" during their routine.
"I mean, if we had stopped I didn't know where I would go, so we had to keep going," he told Hollywood Life.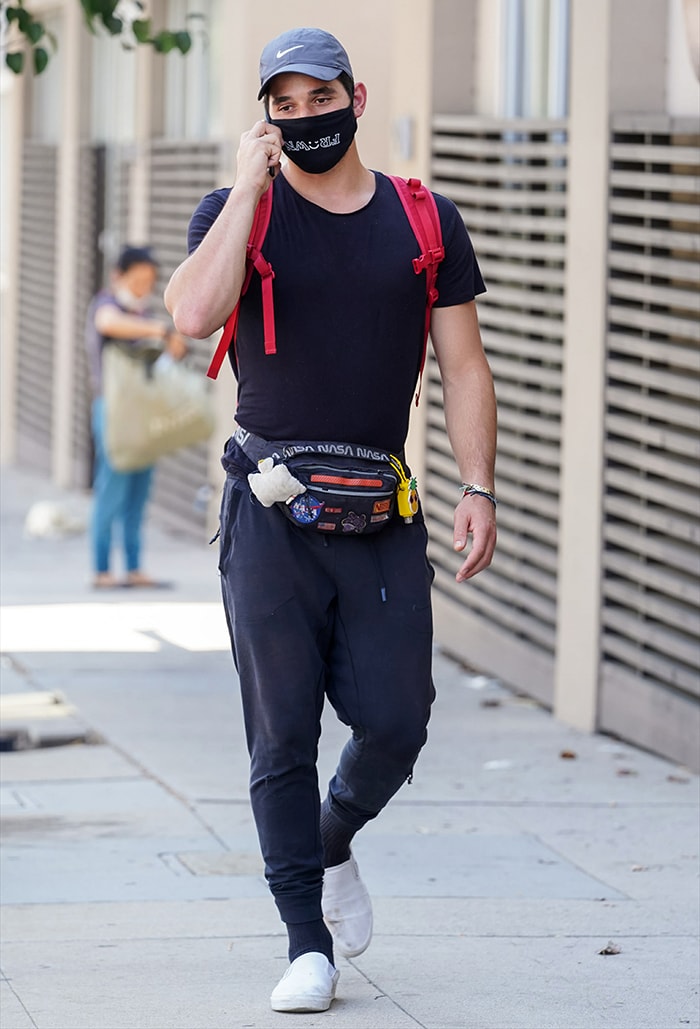 Alan Bersten outside the rehearsal studios on October 1, 2020
Alan also thanked Nicki Minaj for helping them get back on their feet after they stumbled. The duo performed cha-cha to Doja Cat and Nicki Minaj's Say So.
"I want to thank Nicki Minaj for saying 'kiki' because it really reminded us of the next step. Because when that little blunder happened, I messed up."
"It was so strange because this never happened to us. But from this, you just got to keep moving forward," he added.
Who Is Alan Bersten?
He is a 26-year-old professional Latin and ballroom dancer. He started dancing at the age of seven.
By the time he was 19, he joined the tenth season of So You Think You Can Dance, where he finished in the top 12 overall and top 6 males.
Alan Bersten, pictured on October 14, 2020, joined So You Think You Can Dance Season 10 in 2013
Alan's family is from Russia, but he was born in Minnesota and graduated from Hopkins High School. He is the youngest of three siblings, and his brother Gene taught him how to dance.
Gene also auditioned for So You Think You Can Dance but didn't make the cut. Gene and his wife Elena Bersten run the Dance With Us America dance studio in Southdale Center in Edina.
Alan Bersten's Dancing With the Stars Journey
Alan started his DWTS journey in season 20 as a troupe member and continued working as such for four seasons.
In 2017, he was finally promoted as a professional partner and made his debut in season 25, where he was paired with singer-songwriter Debbie Gibson. They were eliminated in the second week and took 12th place.
In the 26th season, Alan was partnered with Olympic figure skater Mirai Nagasu and was eliminated in the third week.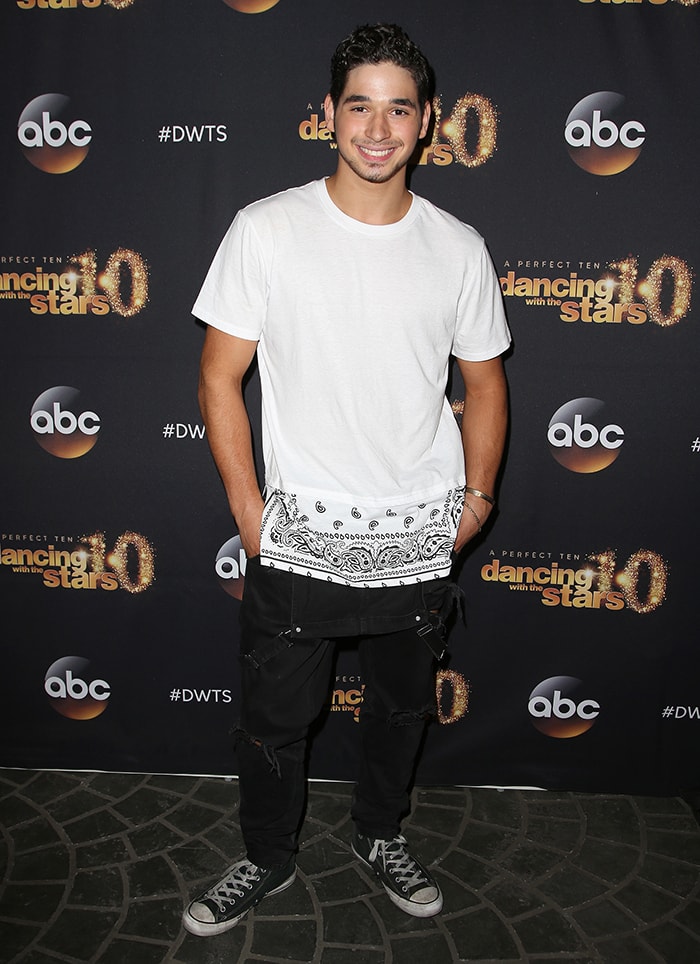 Alan Bersten at the Dancing With the Stars 20th Season premiere party on March 16, 2015
In his third season as a professional partner, Alan was teamed up with social media personality Alexis Ren, who later became his girlfriend. The real-life dance couple reached the finals and finished fourth.
A month after the season ended, however, Alan and Alexis called it quits. And in early 2019, Alan admitted that his relationship with Alexis was just a showmance.
"No more showmances for me, I'm done," he told Us Weekly.
Just last year, in the 28th season, Alan and his The Bachelorette partner Hannah Brown were named the season's champions, marking his first win on the show.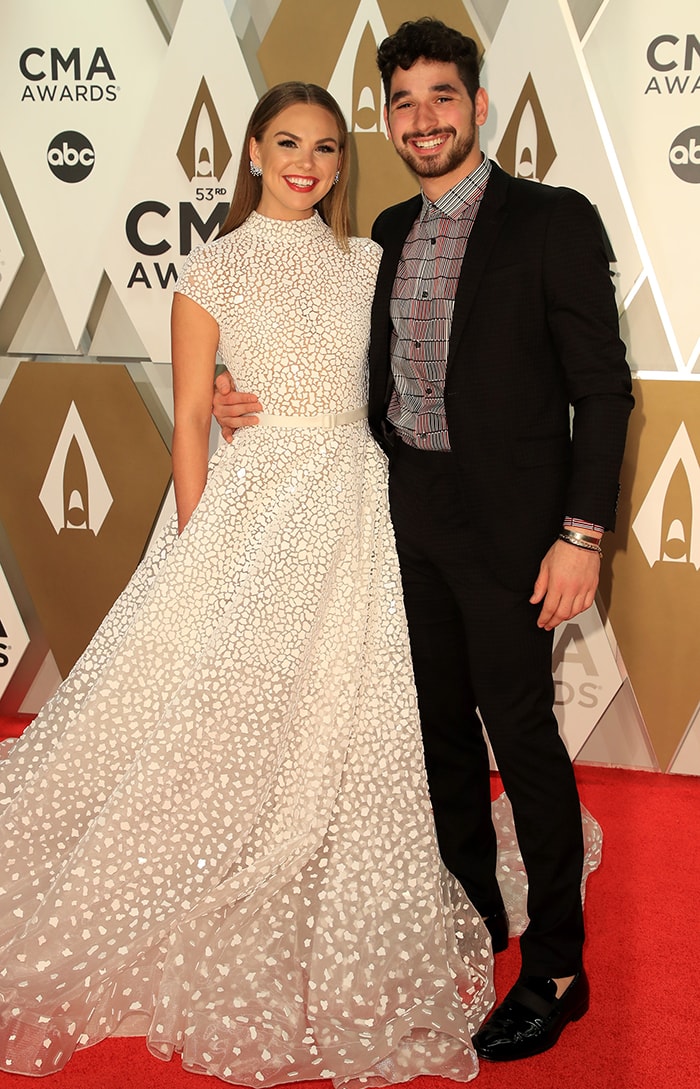 Hannah Brown and Alan Bersten, pictured at the CMA Awards 2019, named DWTS Season 28 champions
Alan Bersten on His Celebrity Partner Skai Jackson
The DWTS reigning champion and the young actress instantly clicked the first time they met each other.
Alan told Parade: "The second she walked through the door, our energies came together. We're so connected in such a friendly way."
Alan Bersten and Skai Jackson at the Dancing With the Stars rehearsal studios in Los Angeles on October 16, 2020
After failing to keep the top spot during the second week, Alan realized the trust they have for each other.
"Most couples don't get that, and we had it so early on because Skai is giving everything. And I think she's seen that I respect her and I'm putting all my trust in her. There's a lot of mutual respect."
"On top of that, it's just fun! We enjoy going to rehearsal together, and that makes the whole experience that much better," he added.
On getting the season's first 10 in week four, Alan praised her partner for showing her genuine emotions.
He told TV Insider: "Skai was able to be genuine and show how she truly felt and bring those emotions out into the dance, which then elevated the dance."
Credit: FayesVision / Instar / Judy Eddy / WENN