Have you heard about Doja Cat? If you're on TikTok, you've probably listened to a few of her songs while scrolling through.
From "Juicy" to "Say So" to "Boss Bitch" it's easy to find yourself bopping your head as her melodic songs fill your 'For You Page.'
After the release of her album "Hot Pink," she landed the Number 6 spot on the Billboard Hot 100 Charts with her remix of "Say So" with Nicki Minaj and has been nominated for the Grammys 3 times.
So you've heard her music, but how much do you really know about her?
How Did Doja Cat Become Famous?
If you've just heard of Doja Cat, it may seem like she became an overnight success. This is not the case; the rapper has been chasing her musical dreams from a very young age.
With time, she has slowly grown a loyal following, making her the international sensation she is today.
Doja Cat's performance of "Say So" at the 63rd GRAMMY Awards (Credit: Instar / WENN / Avalon)
This climb to success hasn't always been smooth sailing and has been sprinkled with controversy. Here's a timeline from where it all begins to being nominated for 3 Grammys.
2012 – 2017
From a young age, Doja Cat had always displayed a keen interest in music, dance, and performing. She dreamed of being a famous rapper, so when she was just 16 years old, she dropped out of school to go after this dream.
In 2012 she released her first track, "So High," on SoundCloud. This song got the rapper recognized, and she was signed with RCA / Kemosabe Records two years later in 2014.
RCA / Kemosabe Records was founded by the controversial figure Dr. Luke causing many to wonder about her connection to him, but she has not commented on this yet. She continued to release new music, but her rise to stardom had seemed to plateau.
2018
Although she released her first track in 2012, it wasn't until 2018 that Doja Cat struck gold with her viral song "Mooo!" It was social media that turned this song into a viral sensation.
Doja Cat highlights her boobs at TIDAL's 5th Annual TIDAL X Benefit Concert TIDAL X Rock The Vote At Barclays Center at Barclays Center of Brooklyn on October 21, 2019, in New York City (Credit: Instar / WENN / Avalon)
It became a lovable and fun meme that gained 70 million views on YouTube. It wasn't just her social media following that grew, "Mooo!" also caught the attention of musicians like Chris Brown, Chance The Rapper, and others who were all entertained by the ridiculous but appealing music video and song.
After seeing a cow print outfit, she felt inspired to make a song about cows, so with just a green screen and equipment in her room, she made the song and recorded the video. Despite silly lyrics, "B*tch, I'm a cow," the song was still very catchy.
Combine this with her cow outfit, graphics of bouncing anime breasts, and Doja Cat stuffing French fries up her nose; the absurd yet unforgettable video was very entertaining. Years later, the video now has over 84 million views.
This success lasted just a few weeks before Doja Cat's past homophobic tweets on Twitter were discovered by Twitter users. In a tweet addressed to Tyler, The Creator, and Earl Sweatshirt in 2015, she had tweeted, "@fucktyler @earlxsweat you both are faggots."
In the wake of cancel culture, she tweeted, "I called a couple people faggots when I was in high school in 2015 does this mean I don't deserve support? I've said faggot roughly like 15 thousand times in my life. Does saying faggot mean you hate gay people? I don't think I hate gay people. Gay is ok," but quickly deleted the tweet afterward. She obviously didn't have a public relations team at the time, and many believed after this, Doja Cat was canceled for good.
2019 – Present Day
Despite her past homophobic tweets, Doja Cat's popularity rose again in 2019 through TikTok. Between late 2018 and early 2019, TikTok was still considered a weird and cringey app that many avoided.
Over time, it began to develop into an app that was popular for short and attractive dance challenges amongst teenagers and eventually other age groups as the app's popularity grew.
Doja Cat promised to show her boobs if her Nicki Minaj collaboration 'Say So' hit number one (Credit: Instar / WENN / Avalon)
This is how many artists started, including Lizzo. The snappy and viral potential of songs through these short TikTok dances is what helped put Doja Cat back on the map.
Her songs "Tia Tamera," "Juicy," and "Candy" in 2019, and songs like "Say So" and "Boss Bitch" in following years all rapidly gained attention on the app and were co-opted for popular dance trends. Now, it's impossible to scroll through TikTok without hearing a song she's released.
Outside of TikTok, she's also amassed attention, reaching the top 10 on the Billboard 200 Chart, collaborating with creators like Nicki Minaj and Gucci Mane, and winning MTV's Video Music Award for Push Best New Artist.
Her unique style and catchy songs quickly grew her social media following as well. She now has over 10 million followers on Instagram and 8.5 million followers on TikTok.
Doja Cat Controversies
With this continued newfound success, the singer has found herself caught in multiple controversies. In 2015 she used a racist term in one of her songs.
Her song "Dindu Nuffin" created a stir of controversy that continues to resurface. "Dindu Nuffin" is a derogatory term that the alt-right has used to make fun of police brutality victims who 'Didn't do anything.'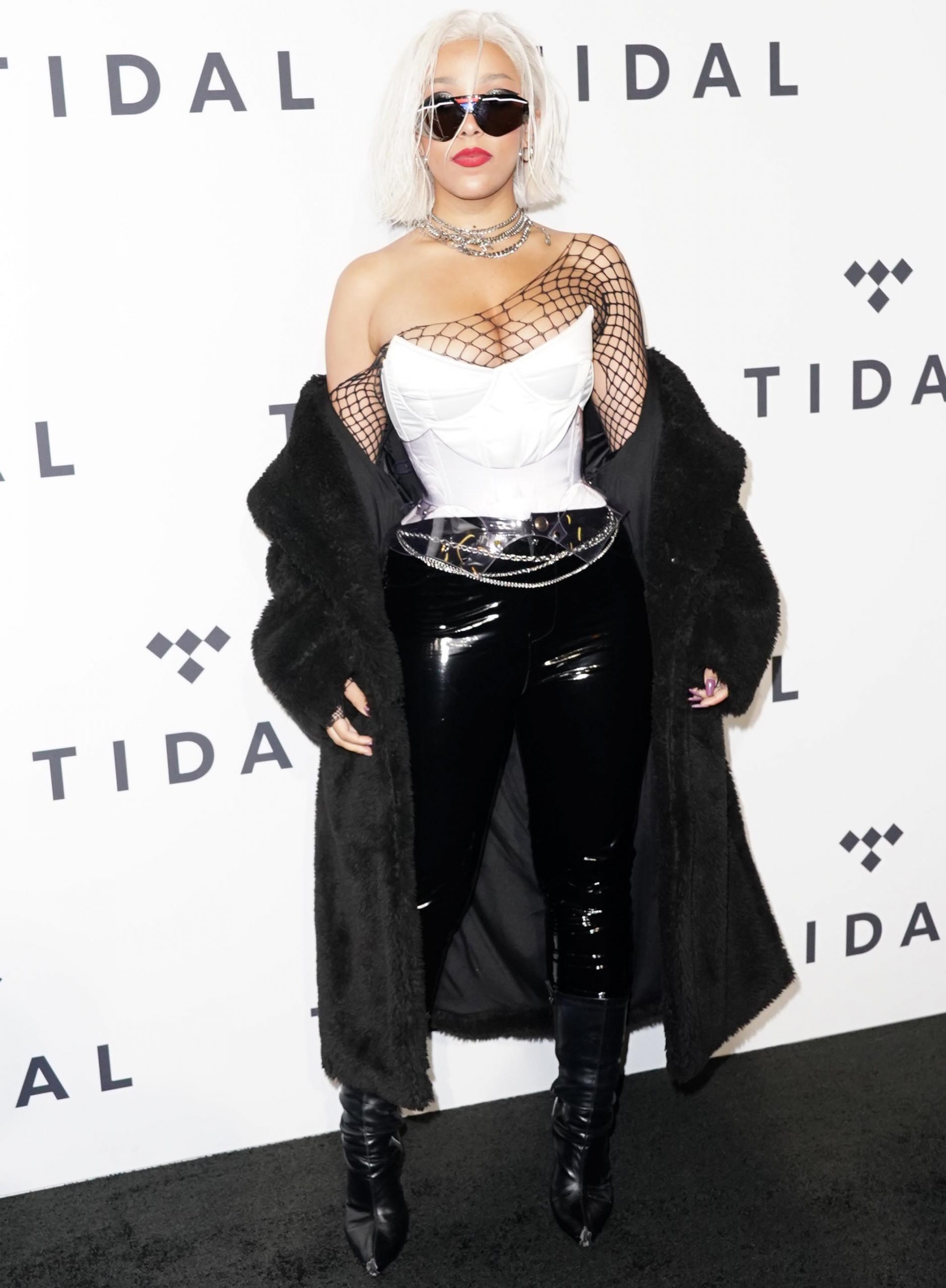 Born and raised in Los Angeles, Amala Ratna Zandile Dlamini is known professionally as Doja Cat (Credit: Instar / WENN / Avalon)
When paired with her perceived connections to the alt-right through the video chat room Tiny Chat, this song had resurfaced online. These incidents sparked the hashtag #DojaCatIsOverParty on Twitter.
In response to these allegations, she had a 30 minute Instagram Live to address people's concerns. In this Live, she said that she wrote the song "Dindu Nuffin" as a "response to people who often used that term to hurt me… (but) it was a bad decision to use the term in my music".
When addressing Tiny Chat concerns, she confirmed that there was racism on the chat room site and that she had previously been a moderator on the site who banned sexist and racist users. She summed up, "The narrative that it's a white supremacist chat is absolutely 100% incorrect."
Many internet users speculated that she experience internalized racism and self-hatred; however, she has rebutted this speaking openly about the love she has for her skin color and where she comes from.
Doja Cat's song "Say So" topped the Billboard Hot 100 chart and was certified 3x Platinum by the RIAA following the release of two remixes featuring Nicki Minaj
Controversy found the artist again when she promised fans that she would show her boobs in exchange for a spot on the Billboard Hot 100. This promise was made on Twitter, tweeting, "If Say So hits #1, I'll show you guys by boobs really hard".
Well, the hit with Nicki Minaj did hit Number 1, fans were quick to ask why she didn't hold up her end of the promise by showing her breasts.
She owned up to it, saying, "I'm just going to be honest with you guys, I did play you. I'm not showing my boobs", she went on to say "If I say I'm gonna show boobs, just know, I'm not gonna show boobs."
Her Background, Parents, and Ethnicity
Doja Cat was born in Los Angeles, California, in 1995 to parents Deborah Elizabeth Sawyer who is Jewish American, and Dumisani Dlamini, who is South African, making her biracial.
The singer-rapper has expressed that she was raised by her mother and had a limited relationship with her father growing up.
Her father, Dumisani Dlamini, is a famous actor and composer in South Africa. In an interview with Dazed, the singer confessed that she was in part influenced to pursue her career by her mother, who's a painter and loves to sing at home, and her father, who has danced in Broadway musicals like Lion King.
Regarding her father, Doja Cat told The Fader, "I don't hold grudges against him or anything in any way, but obviously it's a little weird."
She continued that her dad does comment on her social media posts and is open to becoming closer to his daughter.
Doja Cat has said that she feels blessed for the family she has in her life and that, "It's always great to have both of your parents in your life and all of your brothers and sisters and everybody loves each other, but like, shit isn't like that sometimes."
What Her Name Means
In her interview with Dazed, Doja Cat revealed that the word Doja is another word for weed and that she "was heavily addicted to weed" and liked how the word sounds like a girl's name. She then added a cat to the name to create the moniker Doja Cat because of her love for cats.
Doja Cat's real name is Amala Ratna Zandile Dlamini. The name Amala means "pure," and Ratna means "gem" in Sanskrit.
Zandile is a Zulu name that means "they have multiplied" and allegedly implies someone who has a lot of self-confidence. Lastly, her surname Dlamini means "royal family" and is a common surname in South Africa.
Doja Cat's Net Worth
It is believed that Doja Cat has amassed an impressive net worth of $4 million, which she has garnered through her versatile singing, producing, and songwriting skills.
From producing songs in her room to being a powerhouse on TikTok and being nominated by the Grammys, Doja Cat's career has taken off, and we're interested to see where she goes next.