She recently faced backlash for twerking in a revealing thong outfit at a Lakers game; but, Lizzo remained unfazed, and, in fact, she has a reason to feel good this week.
Lizzo in a custom red Moschino by Jeremy Scott sequin gown at the 2019 MTV VMAs on August 26, 2019
Amid the twerking controversy, the American singer/rapper was named Entertainer of the Year by Time Magazine. Her reaction? "ARE.. YOU.. NOT.. ENTERTAINED?!?"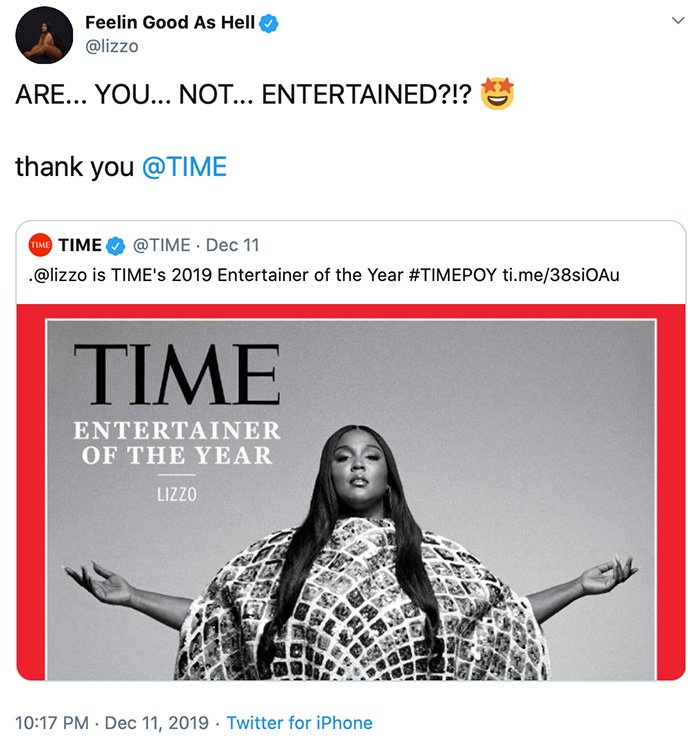 Time Magazine names Lizzo Entertainer of the Year
Lizzo was honored not just for her music but also for what she represents. Aside from her effervescent live performances, she is also famous for using her platform to promote body positivity and self-love.
"I've been doing positive music for a long as time. Then the culture changed. There were a lot of things that weren't popular but existed, like body positivity, which at first was a form of protest for fat bodies and black women and has now become a trendy, commercialized thing. Now I've seen it reach the mainstream. Suddenly I'm mainstream," she said in an interview with Time.
Moments after Time made the announcement, Entertainment Weekly also published its Entertainers of the Year, and one of them is Lizzo.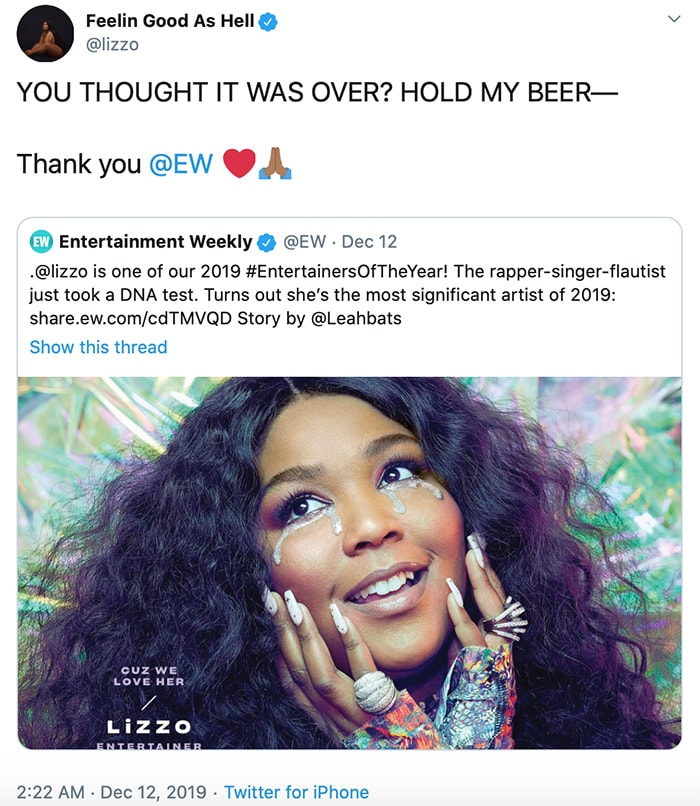 Lizzo was also named Entertainer of the Year by Entertainment Weekly
Following the twerking controversy, Lizzo proved her detractors that she's critic-proof with a response via Instagram stories: "Who I am and the essence of me and what I choose to do as a grown-ass woman can inspire you to do the same. You don't have to be like me. You need to be like you. And never, ever let somebody stop you and shame you from being yourself. Like, this is who I've always been."
"Now, everybody's looking at it and your criticism can just remain your criticism. Your criticism has no effect on me. Negative criticism has no stake in my life, no control over my life, over my emotions. I'm the happiest I've ever been and I'm surrounded by love. I just want to spread that love and also spread these cheeks. And, you know what, if you really, really don't like my ass, you can kiss it 'cause kissing it makes it go away. I promise," she continued in the video clip.
How Lizzo broke into the mainstream industry
The American singer/rapper has been making waves in the music scene following the release of her breakthrough album, Cuz I Love You, early this year.
She achieved mainstream success with her third studio album, which debuted at number six on the Billboard 200 and peaked at number four in its 19th week on the chart. It has multiple hit singles, including Tempo, featuring Missy Elliot, and her first commercial hit, Juice.
Lizzo shows off her legs in a glittery gold bodysuit while performing on NBC's Today Show on August 23, 2019
Lizzo has also earned her first Billboard No.1 song with Truth Hurts, making her the sixth female rapper to have a number one on the Hot 100 chart.
The song didn't chart when it was first released in 2017. It resurfaced two years later and became a sleeper hit after it inspired an internet meme on the TikTok video-sharing application. It was then featured in the Netflix movie Someone Great and was included as a bonus track on the deluxe edition of her album.
Lizzo's music is more into pop and hip-hop, but she's also well-versed in soul, R&B, and funk-pop genres.
Lizzo's rise to fame
Following her mainstream success, Lizzo has had guest appearances on various TV shows. And last month, it was announced that she will be making her Saturday Night Live debut on December 21.
Lizzo has also performed in different awards shows, including the MTV VMAs and the AMAs, where she was nominated for several awards.
Lizzo attends the 2019 AMAs in Maison Valentino mini dress on November 24, 2019
She also made her acting debut in Hustlers and lent her voice to the animated movie, UglyDolls.
Born in Detroit, Michigan, Lizzo also traveled between cities in the US and in Europe for her sold-out headlining tour, which wrapped up in November.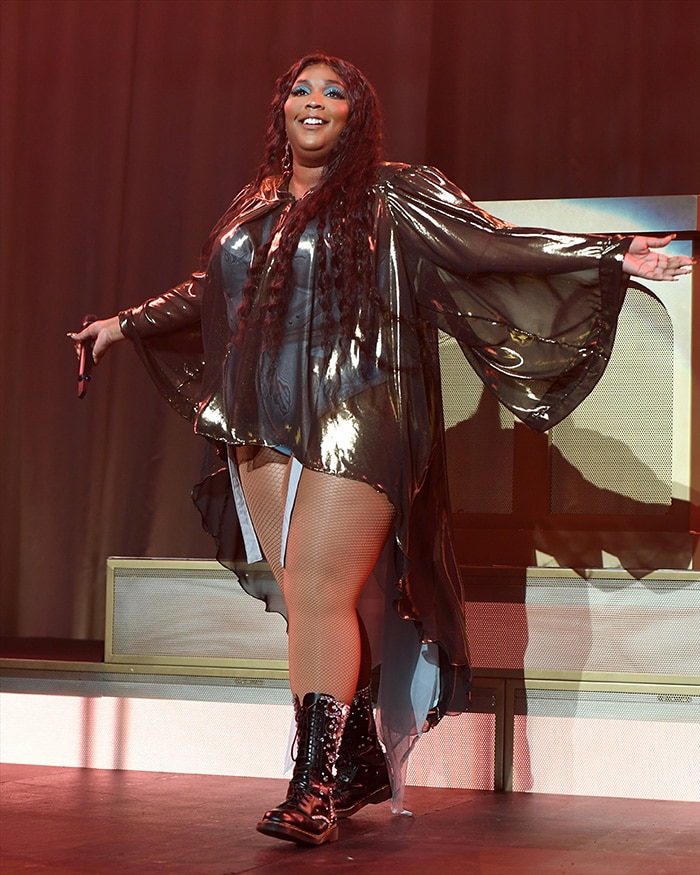 Lizzo performs during Cuz I Love You Tour at the Filmore in Miami on September 11, 2019
Just last month, Lizzo led the nominations for the 2020 Grammy Awards with eight nods, including Best New Artist, Album of the Year, and Song of the Year and Record of the Year for Truth Hurts.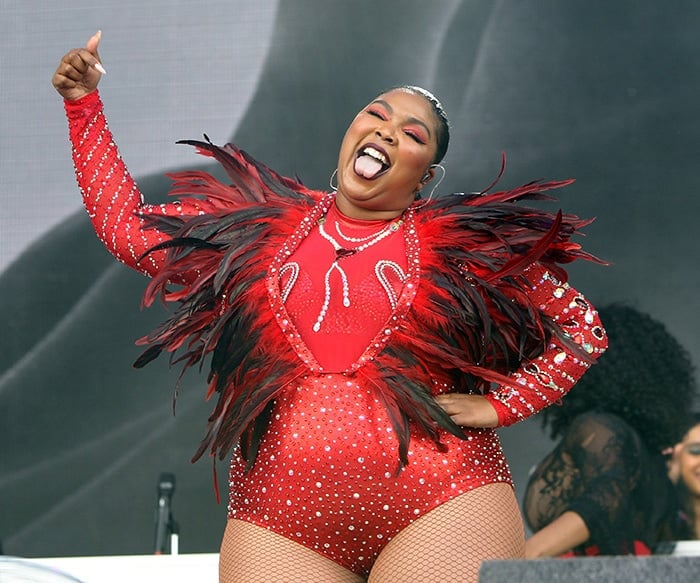 Lizzo performs on day 2 of Lovebox Festival at Gunnersbury Park in London on July 13, 2019
Madison Square Garden: A dream come true
She has been working hard to make her dreams come true. And on Friday, Lizzo fulfilled her childhood dream of performing at the Madison Square Garden.
The artist of the moment headlined the iHeartRadio Jingle Ball 2019 at the famed arena, where she performed some of her hit songs.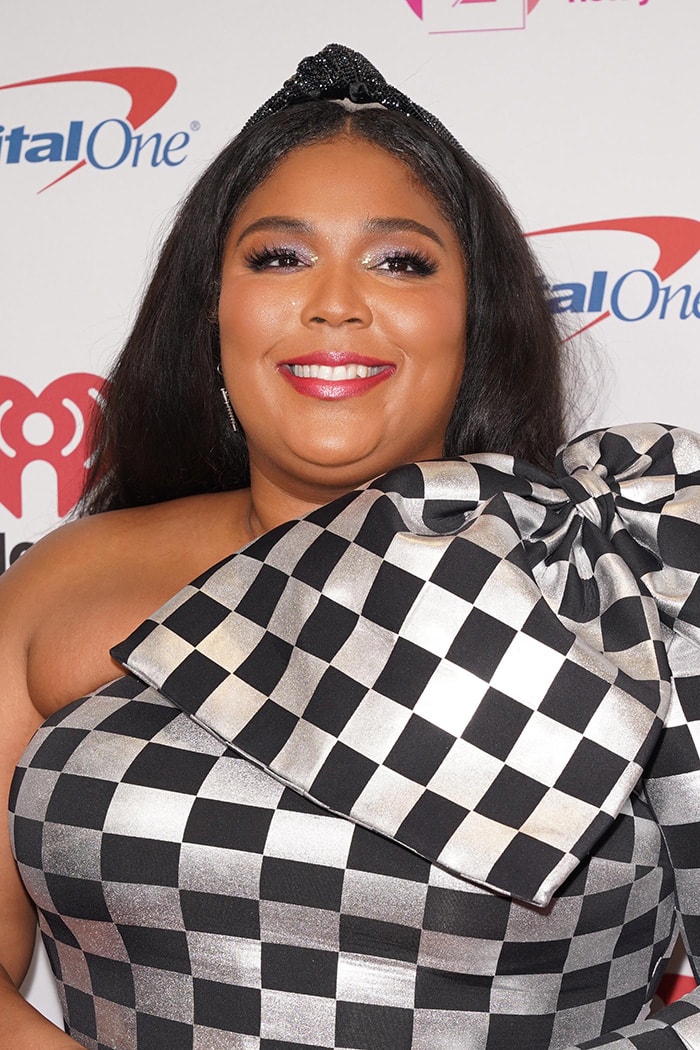 Lizzo fulfills her childhood dream of performing at the Madison Square Garden on December 13, 2019
While on stage, she paused for a moment and got emotional as she told the crowd that it was her dream to perform at the world's most famous arena.
"I've always dreamed of performing at Madison Square Garden. You made my dreams come true tonight. I've never performed for this many people before. Thank you for accepting me for who I am. If 20,000 people can accept me for who I am, the whole world can accept you for who you are."
"Don't ever let someone tell you what you can't be, cause you the juice," she added before she transitioned into her next song.
Before hitting the stage, Lizzo walked the red carpet in a form-fitting mini dress with a black and silver checked pattern and a large bow shoulder detail. She teamed the one-shoulder frock with black ankle boots, a knot-detailed headband, and a statement ring.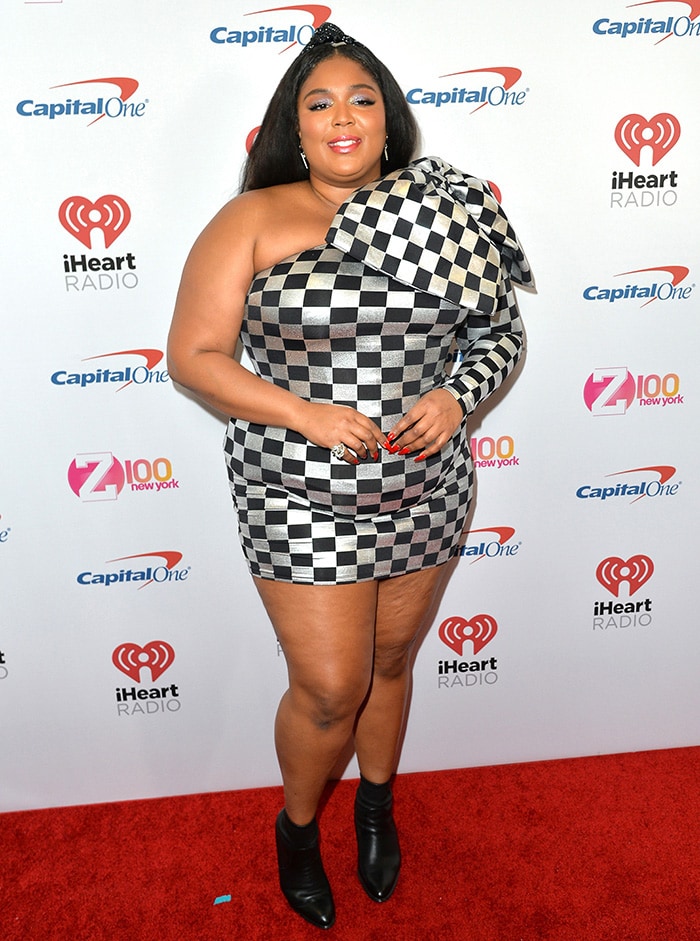 Lizzo wears a silver and black checkered dress at iHeartRadio's Z100 Jingle Ball 2019 at Madison Square Garden in New York City on December 13, 2019
She also performed at the Philadelphia stop of the tour, where she flaunted her legs in a red embellished bodysuit.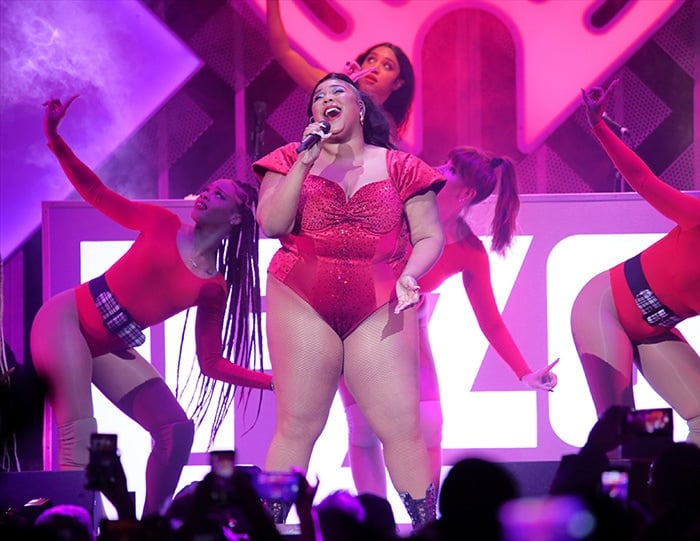 Lizzo performs in a red embellished bodysuit at the 2019 Jingle Ball Concert in Philadelphia on December 11, 2019
Last week, Lizzo was on hand at the iHeartRadio Jingle Ball in Los Angeles. She unleashed her wild side on the red carpet as she dressed in leopard-printed pants, which she teamed with a single-arm asymmetric top and a pair of black patent booties.
Lizzo shows her wild side in leopard-print pants at KIIS FM's iHeartRadio Jingle Ball 2019 in Los Angeles City on December 6, 2019
She later swapped her outfit for a tiny pair of denim shorts, a glittery silver bra top, and a PVC waist corset for her performance.
Lizzo performs in tiny denim shorts and glittery bra top with a corset at the 2019 KIIS FM iHeartRadio Jingle Ball Show in Los Angeles
What is Lizzo's net worth?
2019 has been an amazing year for Lizzo. In May, it was reported that her net worth was $3 million from album sales and concert tours. However, as the year ends, her net worth has reportedly skyrocketed to $10 million.
Lizzo's early days
While she may seem like an overnight success, it actually took Lizzo more than a decade to become the household name she is today. She struggled with anxiety, homelessness, and she even considered quitting two years ago.
Lizzo at Warner Music Group's celebration of the 59th annual Grammy Awards on February 13, 2017
Born Melissa Viviane Jefferson, Lizzo became interested in music during her teenage years.
In an interview with The Cut, Lizzo said that "the flute chose her" when she was asked by her school's band director if she wanted to learn the instrument in sixth grade.
Today, she's incorporating the flute, which she named Sasha, into her music.
Lizzo plays the flute while performing on NBC Today Show on August 23, 2019
At 14, she formed a rap group called Cornrow Clique with her friends. It was during this time when she got her nickname "Lizzo," inspired by Jay-Z's single Izzo (H.O.V.A.).
She then studied classical music focusing on flute at the University of Houston on a music scholarship. Three years later, she joined the band Ellypseas, playing the flute.
At 21, her father died, and she spent a year living in her car while working to get into the music industry.
Lizzo at GQ's 2018 All-Stars Celebration at Nomad Hotel Los Angeles on February 17, 2018
In 2011, she then moved to Minneapolis, where her career started to take off. She helped form the rap/R&B group the Chalice, which has a locally successful album, We Are the Chalice.
She also worked on her hip-hop-focused debut album, Lizzobangers, released in October 2013. After a month, Time Magazine named her one of the 14 music artists to watch in 2014.
Lizzo gropes her breast while posing for photos at GQ Men of the Year Awards on December 7, 2017
Lizzo released her second studio album, Big Grrrl Small World, in December 2015. This paved the way for the singer to sign a record deal with Atlantic Records. She later released her first major-extended play, Coconut Oil, which peaked at number 44 on the Billboard Top R&B/Hip-Hop Album chart.
The lead single, Good As Hell was released as part of the soundtrack for the 2016 movie, Barbershop: The Next Cut.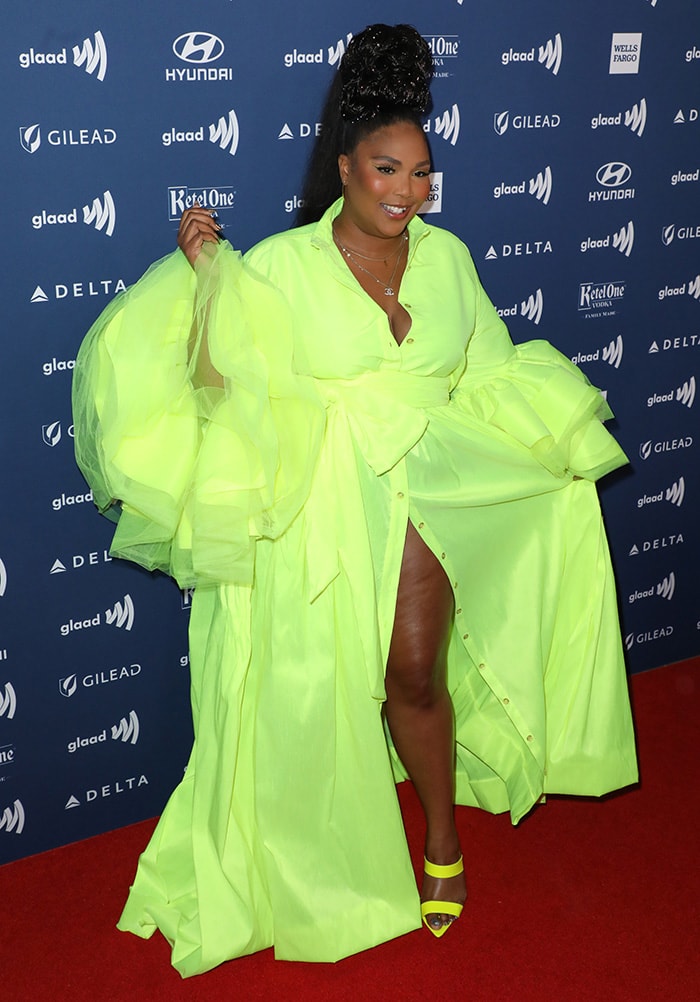 Lizzo in a neon green gown at the 30th Annual GLAAD Media Awards on March 28, 2019
A year later, she dropped Truth hurts, but she was distressed by the response and was on the verge of quitting music.
"The day I released 'Truth Hurts' was probably one of the darkest days I've had ever in my career. I remember thinking, 'If I quit music now, nobody would notice. This is my best song ever, and nobody cares,' "I was like, 'F— it, I'm done.' And a lot of people rallied; my producer, my publicist and my family, they were like, 'Just keep going because this is the darkest before the dawn,'" she opened up to People.
Now, the songstress is having the time of her life, taking the music industry by storm!
Credit: Sheri Determan / Brian To / FayesVision / Charlie Steffens / Ivan Nikolov / Instar / WENN