We know of a ton of Christian Louboutin loyalists in Hollywood (we're looking at you, Blake Lively), but The Princess Diaries actress Anne Hathaway isn't exactly the first girl that comes to mind when we think of the shoe designer.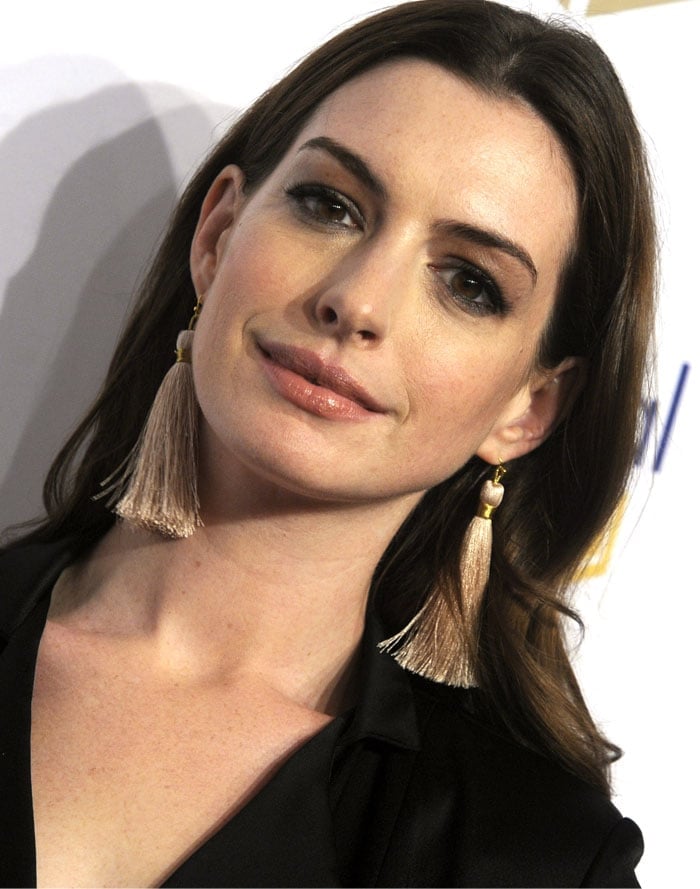 Anne Hathaway at the National Book Awards held at Cipriani Wall Street in New York on November 15, 2017
However, in 2017 Anne ditched her beloved Gianvito Rossi and Alaïa shoes in favor of those infamous red soles.
How old were Anne Hathaway and Julie Andrews in The Princess Diaries?
16 years earlier, she starred as Mia Thermopolis, heir to the throne and Princess of Genovia, in the 2001 American coming-of-age teen comedy film The Princess Diaries.
Her grandmother in the film, reigning Queen of Genovia Clarisse Renaldi, was played by Dame Julie Andrews.
Anne Hathaway and Julie Andrews star in The Princess Diaries
Not inspired by a true story, the film is based on Meg Cabot's 2000 young adult novel of the same name that you can buy on Amazon.
After Juliette Lewis declined the role of shy American teenager Mia Thermopolis who learns she is heir to the throne of a European kingdom, the studio considered Liv Tyler, Kirsten Dunst, Alicia Silverstone, Jessica Biel, Kate Hudson, Cameron Diaz, Drew Barrymore, Sarah Michelle Gellar, Brittany Murphy, Katie Holmes, Christina Applegate, Kate Beckinsale, Eva Mendes, and Claire Danes for the part.
Anne Hathaway was 17-years-old when cast in the lead role of Mia Thermopolis in The Princess Diaries
Auditioning for the role during a 26-hour layover in Los Angeles, California while traveling to New Zealand to film the 2001 American adventure drama film The Other Side of Heaven, the then 17 years-old Anne got the role after falling off her chair.
"At some point during the audition," Hathaway said about director Garry Marshall in an interview with Vogue, "I got really nervous and fell out of my chair, and I think that's what he was most impressed with."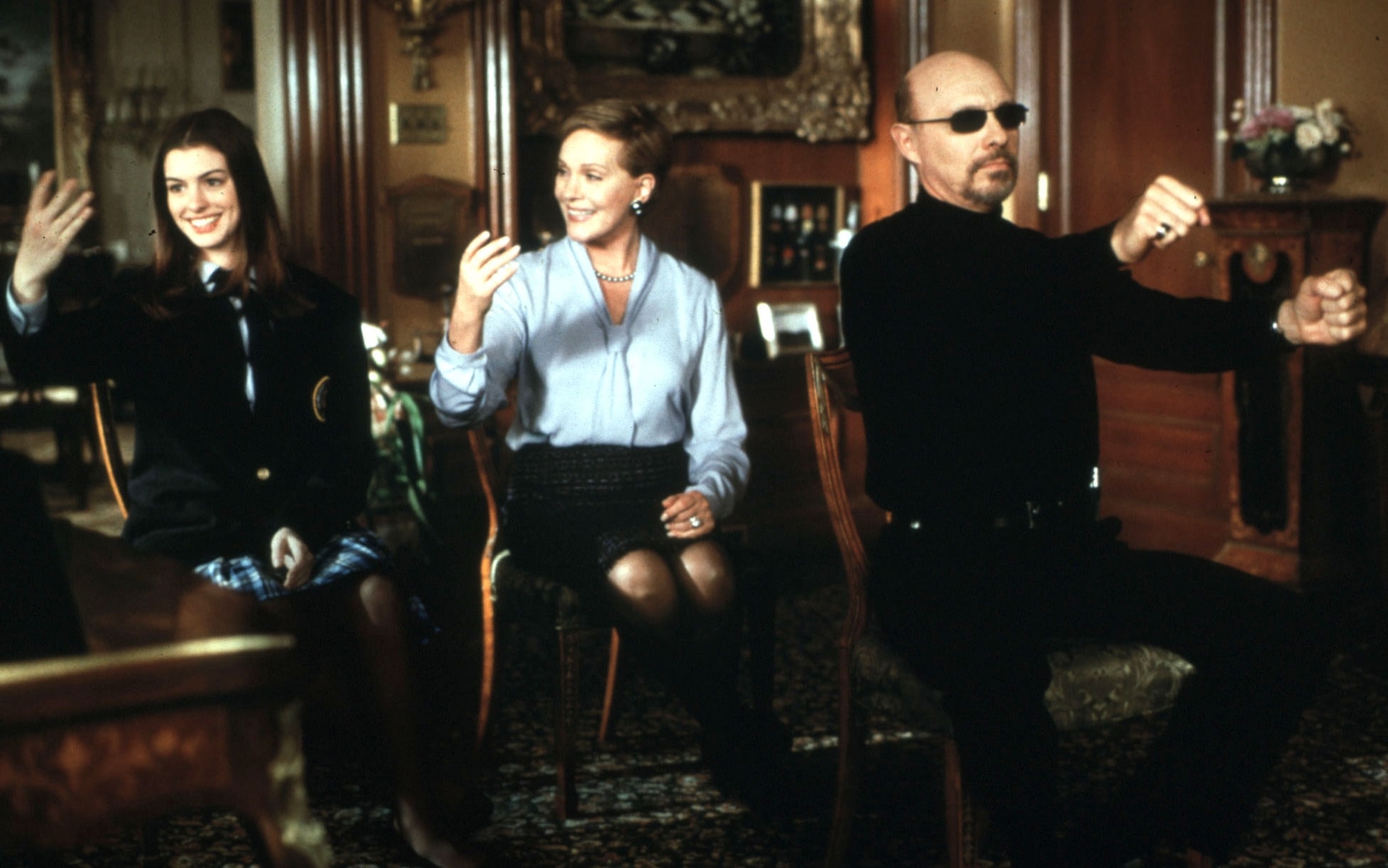 Anne Hathaway, Julie Andrews, and Hector Elizondo star in "The Princess Diaries"
Filmed on a budget of $26 million, principal photography for The Princess Diaries took place at Walt Disney Studios in Burbank, California, between September 18 and December 8, 2000. Born on November 12, 1982, in Brooklyn, New York, Anne turned 18 while filming the movie on November 12, 2000.
Born on October 1, 1935, in Walton-on-Thames, United Kingdom, Julie Andrews was 65-years-old when filming The Princess Diaries.
Released on August 3, 2001, the film grossed over $165 million worldwide and was a major box office success. An equally popular sequel, The Princess Diaries 2: Royal Engagement, was released in 2004.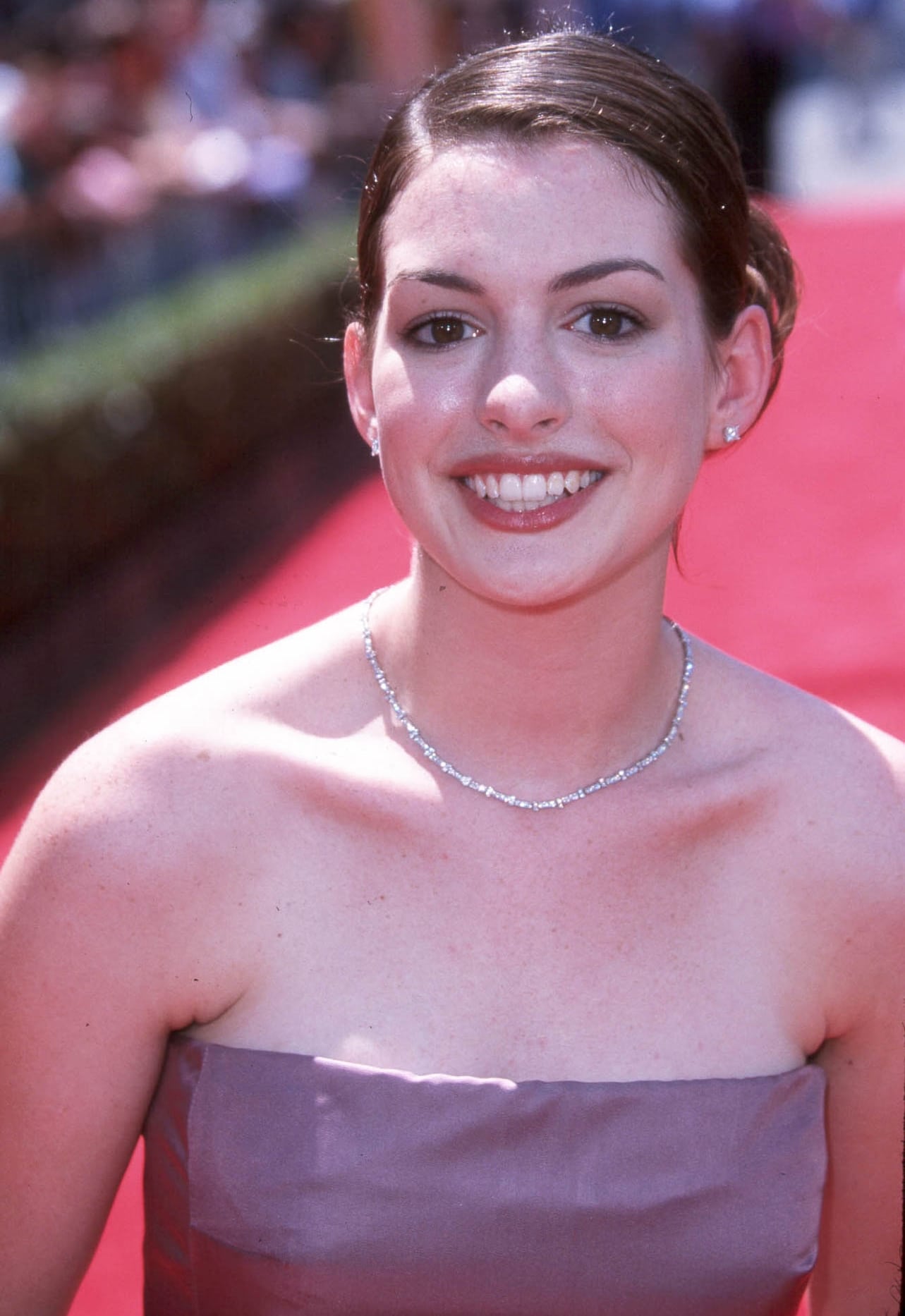 Anne Hathaway made her breakthrough as Mia Thermopolis in her debut film, the Disney comedy The Princess Diaries
Was Anne Hathaway wearing a wig in Princess Diaries?
In the first movie, she wore false eyebrows and a wig nicknamed "The Beast" to make her character's makeover more dramatic.
In the sequel, her hair is real. "Well, I didn't wear a wig in it and no fake eyebrows so that is pretty nice. It's Mia as a woman," Anne said about her hair in the sequel in an interview with LiveAbout in January 2018.
"I mean, if "Princess Diaries" was about Mia becoming a young woman, making the transition from young girl to young woman, "Princess Diaries II" is about her going from young woman to full on actualized, realized woman," she added.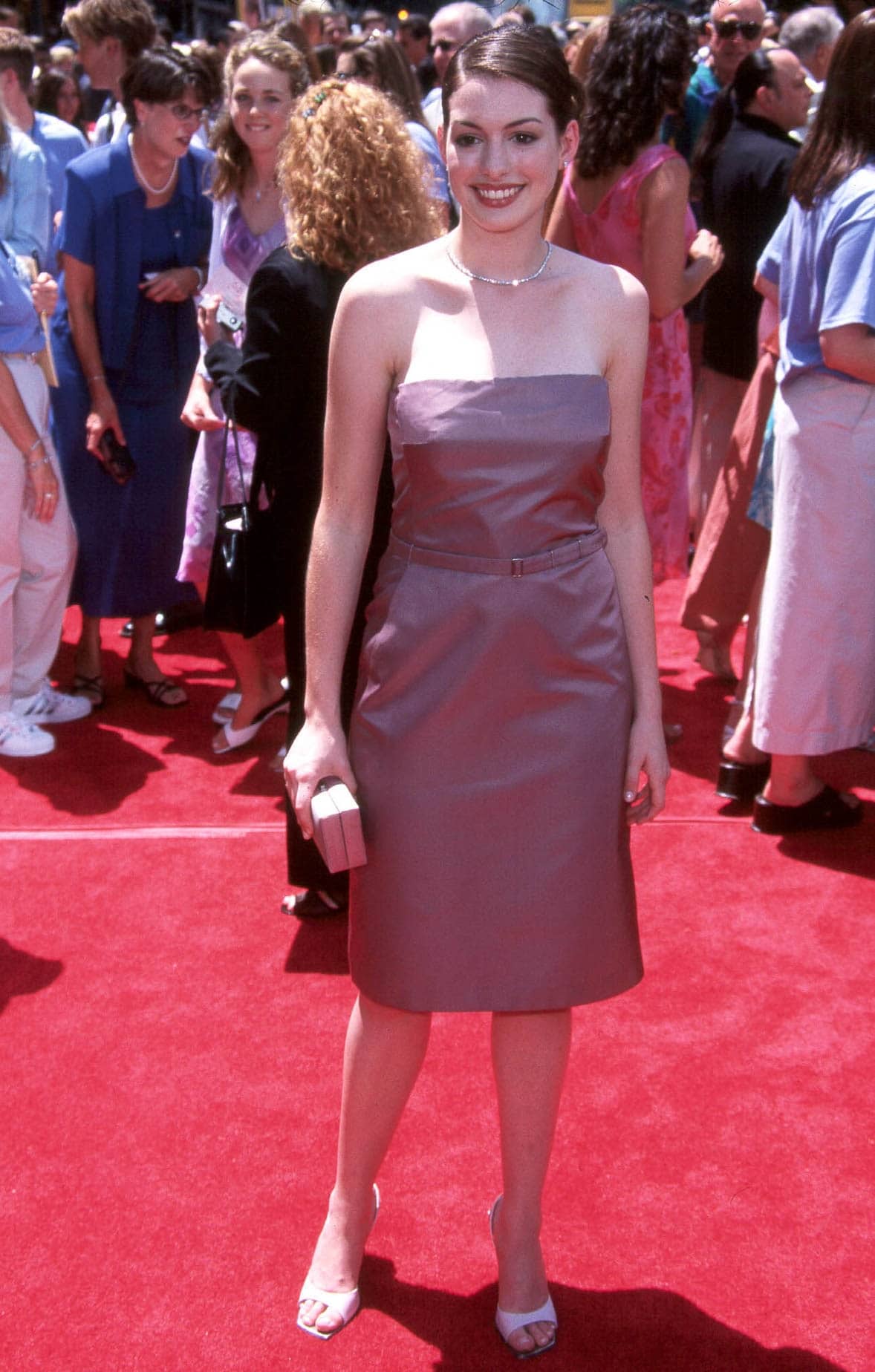 18-year-old actress Anne Hathaway arrives for the world premiere of The Princess Diaries on July 29, 2001, in Los Angeles
Is Genovia a real place?
In the film, Mia becomes the sole heir of the throne in the European kingdom of Genovia, which is described as a small country located between France and Spain. It's unfortunately not a real place.
However, Genovia sounds similar to Andorra, a tiny, independent principality situated between France and Spain in the Pyrenees mountains. And yes, Andorra is a real place.
Was Anne Hathaway supposed to fall in The Princess Diaries?
No, she was not, it was an accident. In the bleacher scene with Heather Matarazzo as Lilly Moscovitz, Hathaway simply tripped. Garry Marshall thought it was amusing so he kept it in the final movie.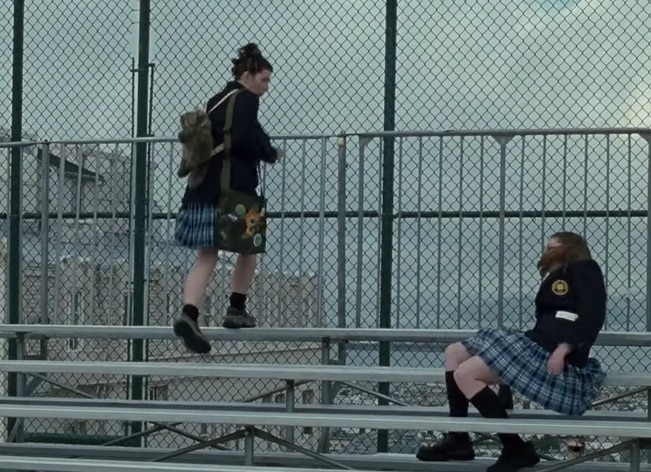 Anne Hathaway's fall during the bleacher scene was not planned
"I turned really fast, slipped on a puddle, and just I mean fell. I mean just absolutely fell, and burst out laughing, and kept going with the scene. Never thought about it again," she said in an interview for The Happy Days of Gary Marshall.
"All of a sudden, like six months later it's in the trailer … He kept it because it was a charming moment."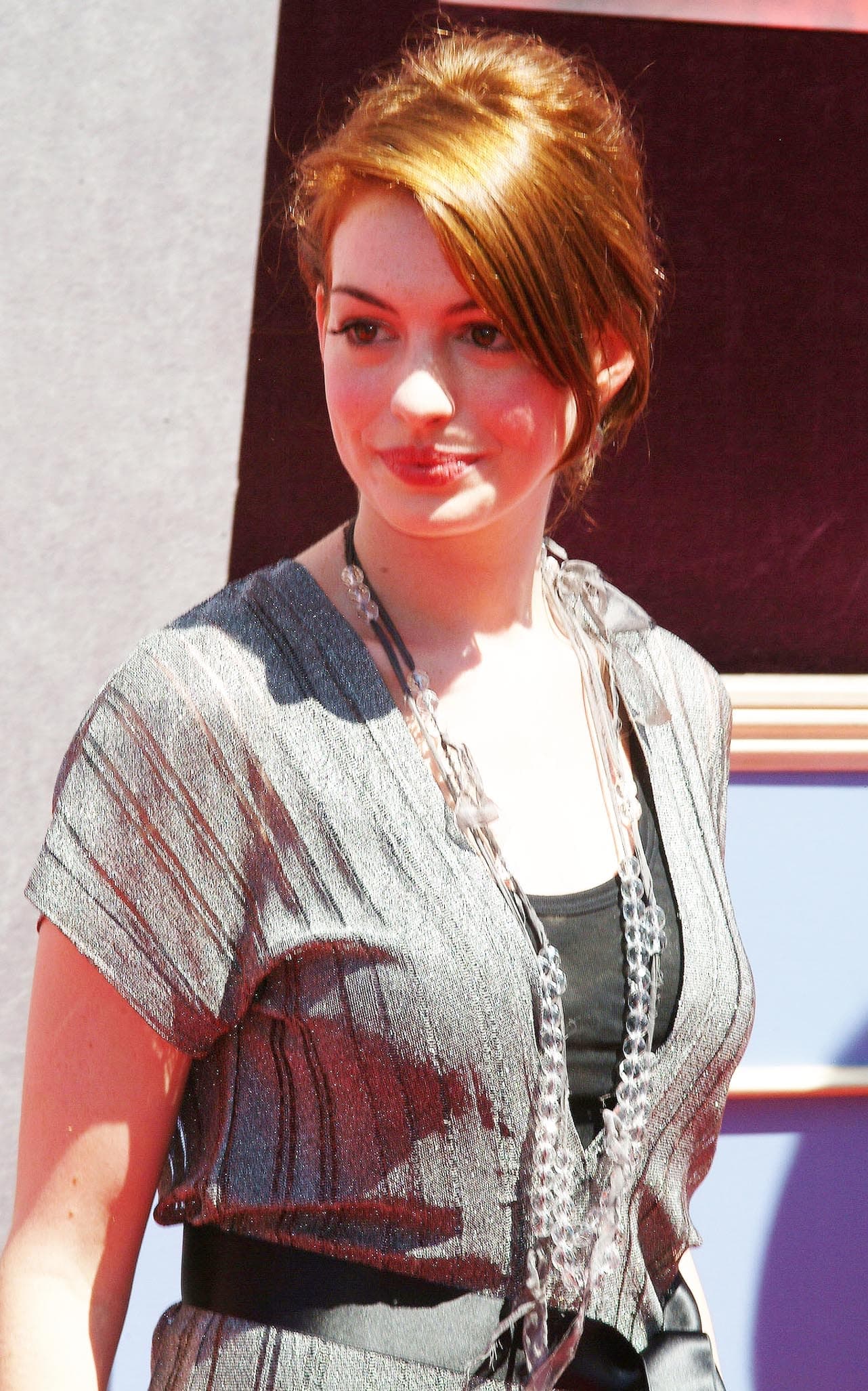 21-year-old actress Anne Hathaway at the Disney premiere The Princess Diaries 2: The Royal Engagement at Disneyland Resort in Anaheim, California, on August 7, 2004
In November 2017, we spotted Anne supporting two great causes — the National Book Awards and a benefit for The Children's Monologues — wearing her new favorite Loubs.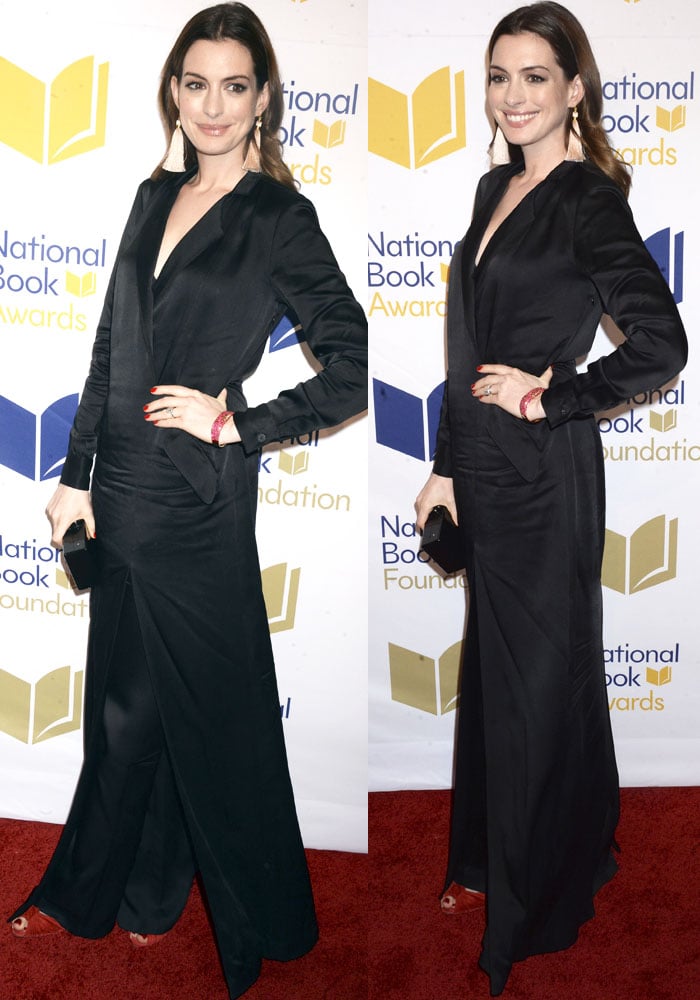 Anne mixed comfort and class in a Halston Heritage shirt dress
The actress arrived at the National Book Awards in a classy tuxedo-inspired Halston Heritage satin shirt dress. Anne's stylist, Penny Lovell, decided to take the look a step further by adding a pair of tailored pants.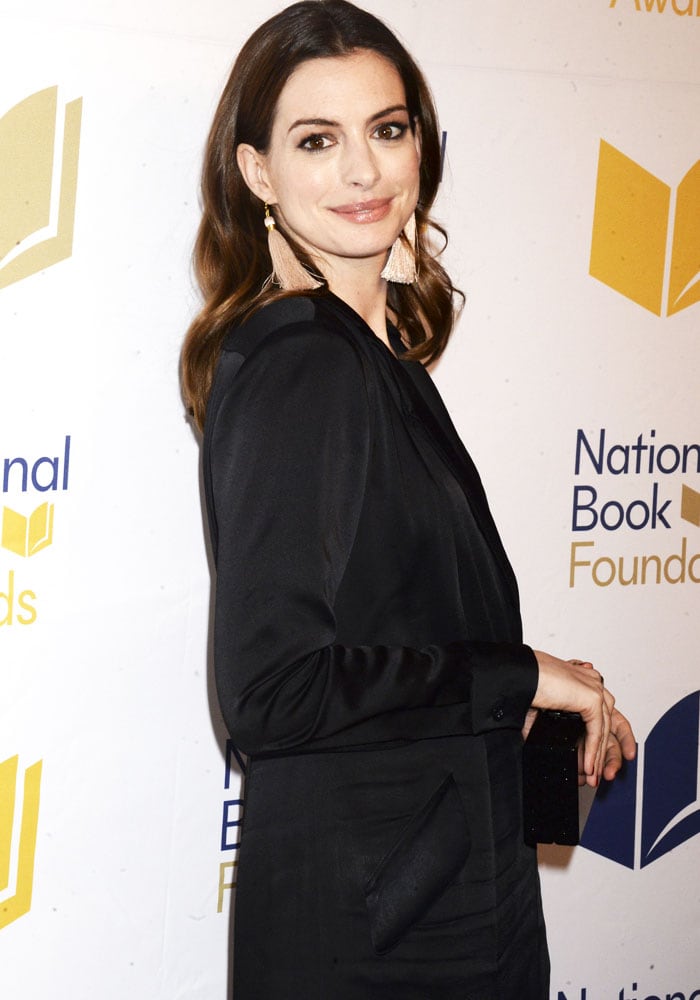 Anne holds on to a rectangular clutch by Edie Parker
To liven up the ensemble, a pair of gold tassel earrings dangled from Anne's ears. James Banks rings added a little sparkle to the outfit.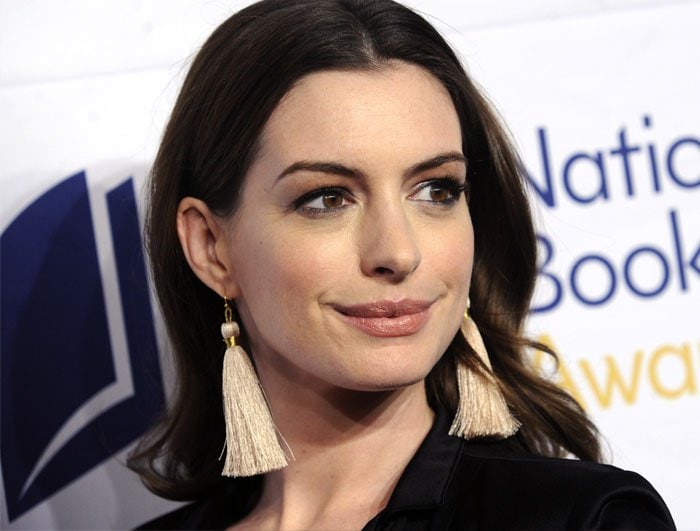 The actress livened up her look with a pair of pale yellow tassel earrings
A pair of Christian Louboutin "Marchavekel" knotted sandals in Rosso completed the look.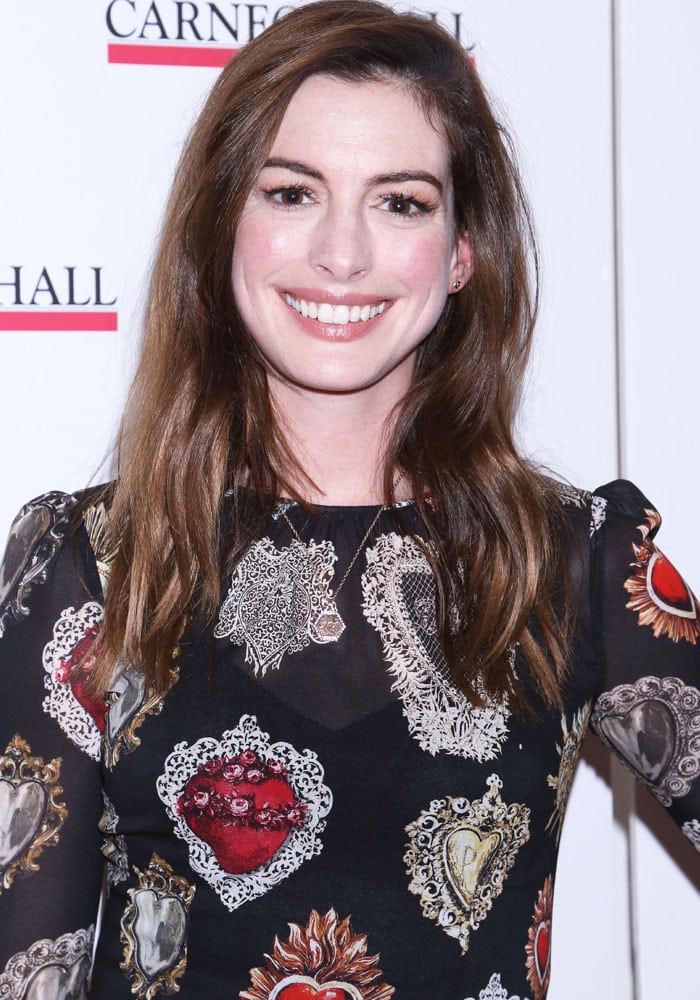 Anne at The Children's Monologues, a benefit for African-based creative arts charity Dramatic Need, held at Carnegie Hall in New York on November 14, 2017
The day before, Anne stuck to her classic look with a midi-printed dress from Dolce & Gabbana's Spring 2018 collection. Upon closer look, detailed drawings of heart jewelry covered the dress.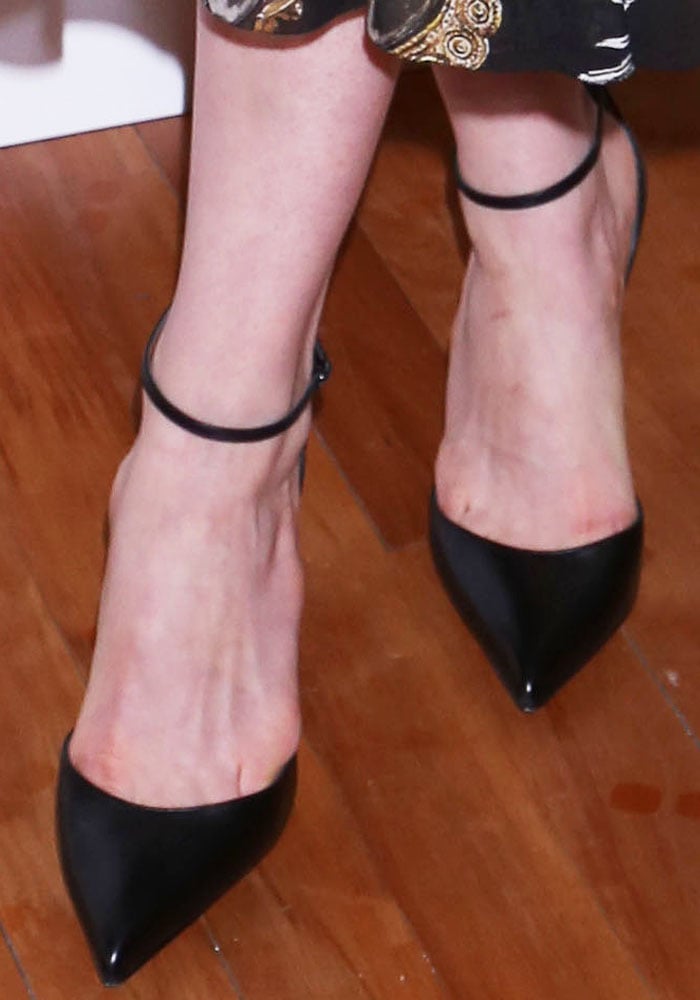 Anne dons a casual sophisticated look with a pair of Christian Louboutin "Uptown" pumps
Anne showed how casual sophisticated is done with a pair of pointy-toe Christian Louboutin "Uptown" pumps in black leather.
Surprisingly, Anne wore her hair like she had just rolled right out of bed. We're not sure how Miranda Priestly would handle this.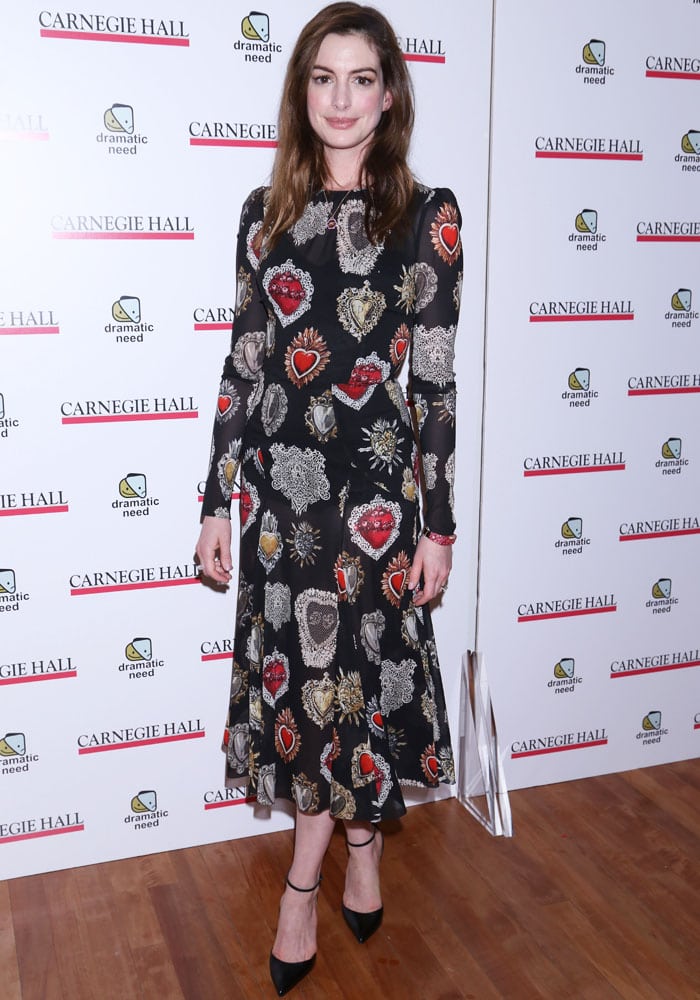 Anne steps out in a midi dress with eccentric prints from Dolce & Gabbana's Spring 2018 collection
We love how Anne styled her Louboutins — a brand that has a long-standing reputation for marketing with sex appeal — into a classic look.
While we would have loved to see more of her "Marchavekel" from underneath her pant hem, the "Uptown" heels were given the justice they deserved.
You can check out the Christian Louboutin "Marchavekel" sandals at Nordstrom and Mytheresa.
Christian Louboutin Marchavekel Leather Sandals, $945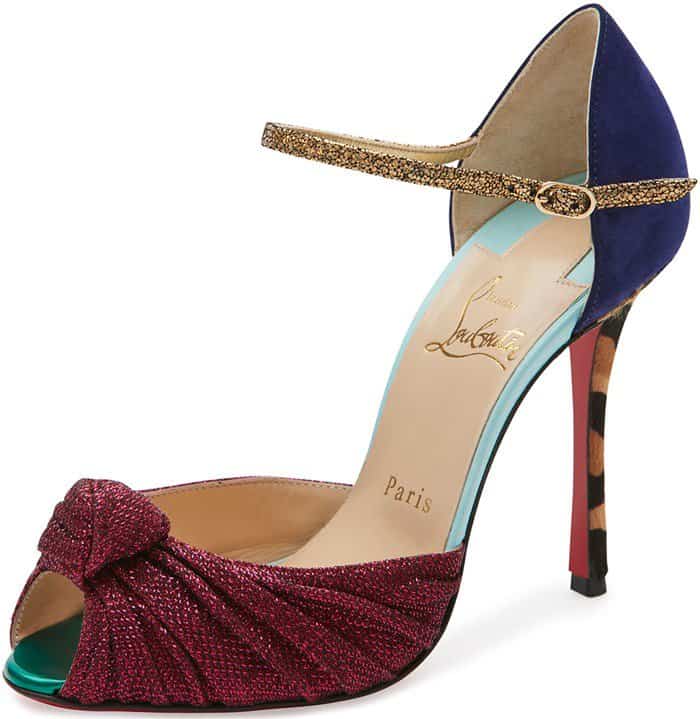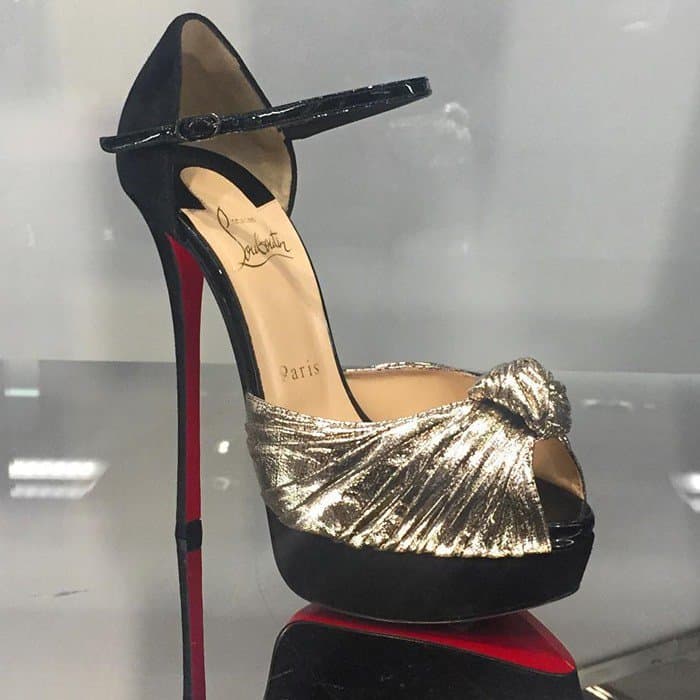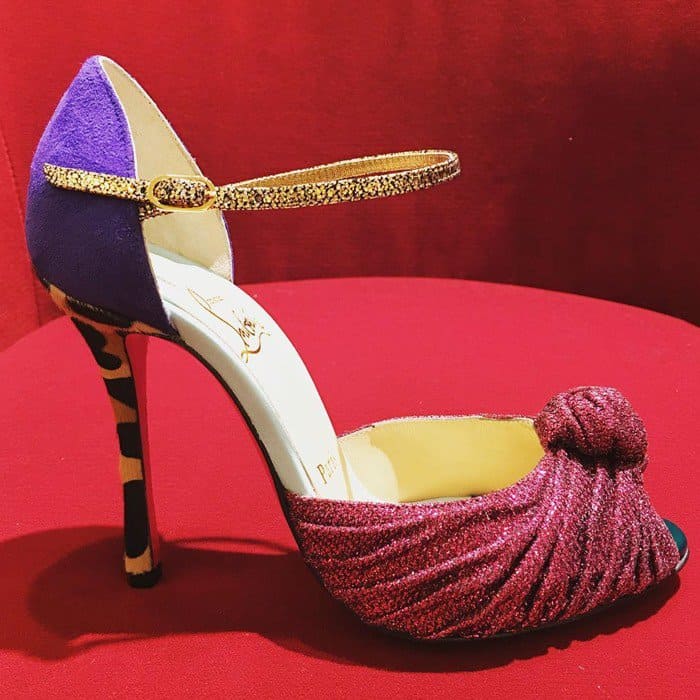 The Christian Louboutin "Uptown" pumps can be purchased in different variations at Net-A-Porter.
Christian Louboutin Uptown Pumps, $845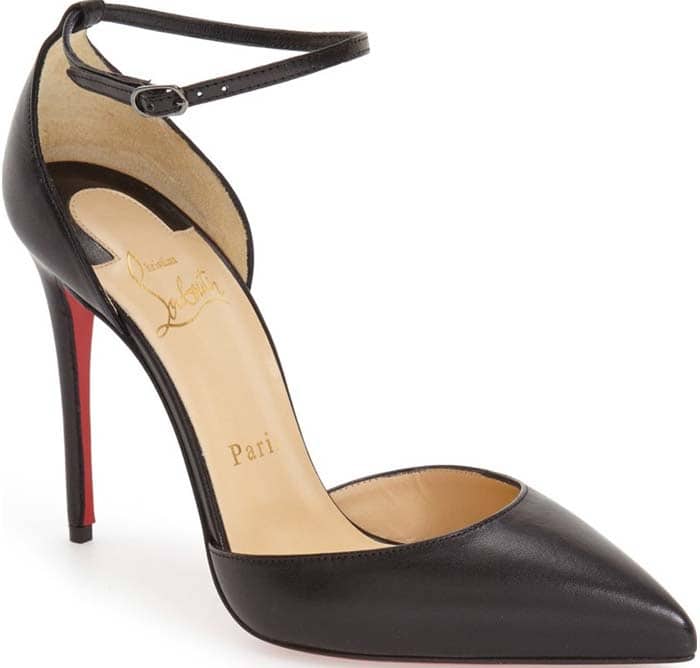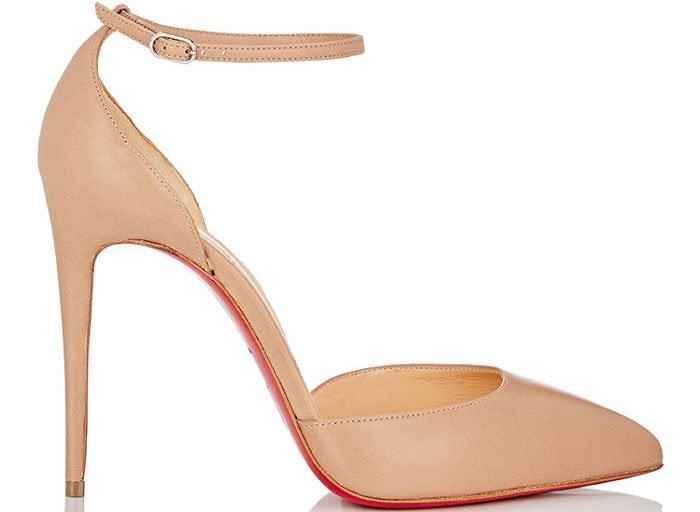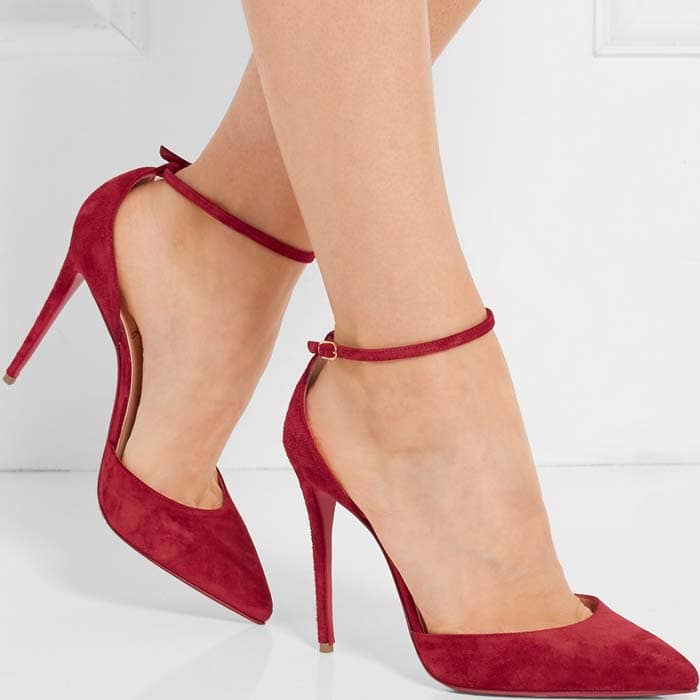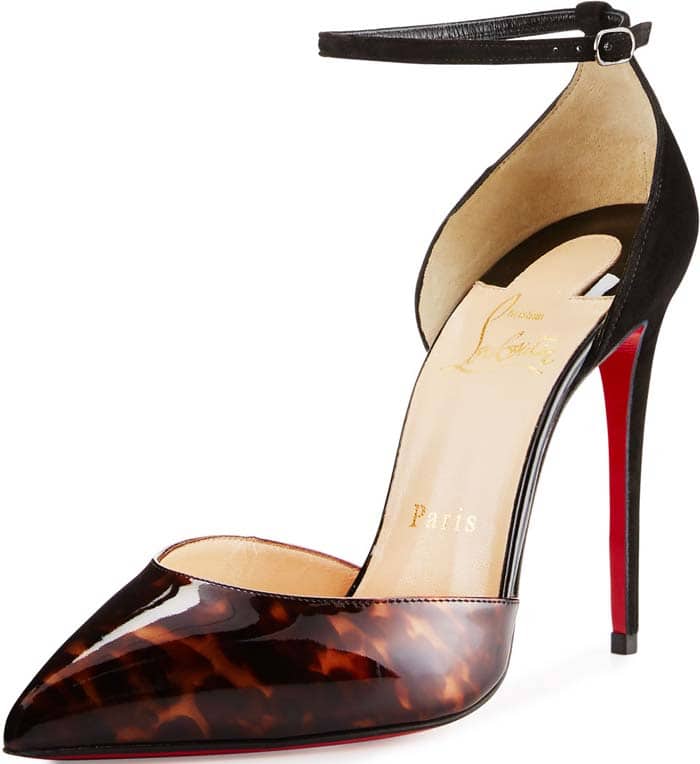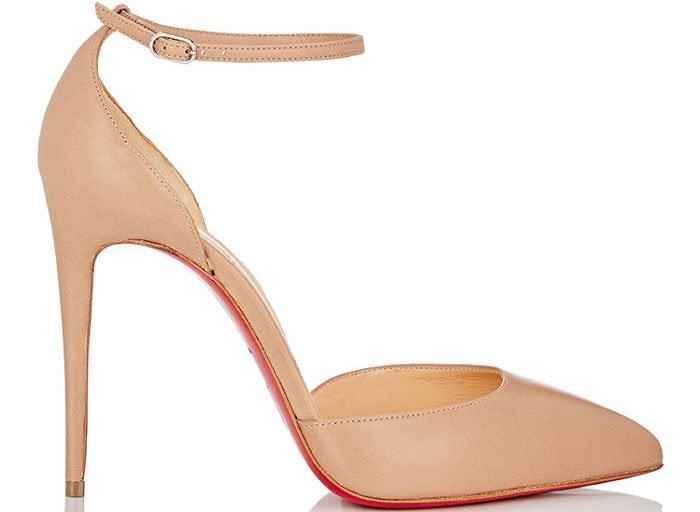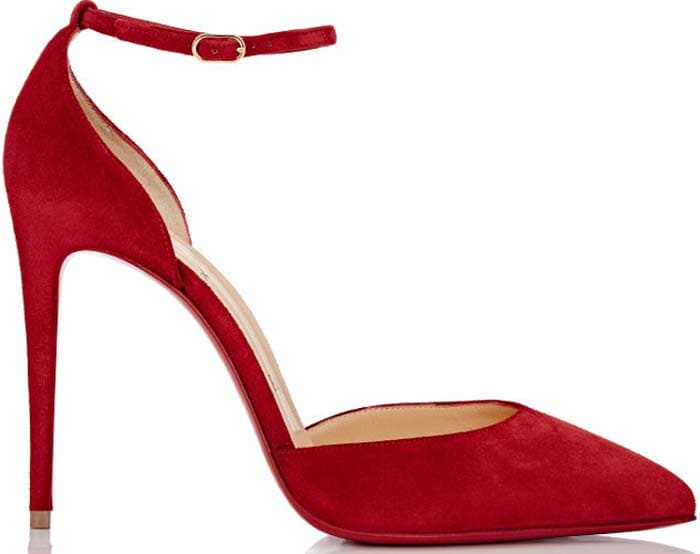 Credit: Dennis Van Tine / Future Image / Joseph Marzullo / WENN / Jody Cortes