Few Hollywood couples embody #RelationshipGoals as well as long-time love birds Claire Danes and Hugh Dancy.
While tabloids are always filled to the brim with celebrity breakups, make-ups, and divorces, Danes and Dancy almost never appear.
Claire Danes in a Narciso Rodriguez dress and her husband Hugh Dancy attend the 2021 New York City Ballet Fall Fashion Gala at David H. Koch Theater at Lincoln Center on September 30, 2021, in New York City (Credit: MEGA / WENN)
The reason? They're boring — at least to gossip columnists! The pair met in 2007 and have been together ever since, resulting in a whopping 14 years together. Due to their rock-solid relationship, there isn't any drama to report about.
Their love has matured over the years — Danes is 42 and Dancy is 46 now — but the couple still seems just as happy and in love as they were ten years ago. Follow along with us to see how these two met and have managed to keep the romance alive.
Before Claire Danes and Hugh Dancy got together… there were others
There always has to be a few exes along the road to forever love, and Claire Danes and Hugh Dancy both have their fair share — though not quite as many spurned lovers as other celebrities may have!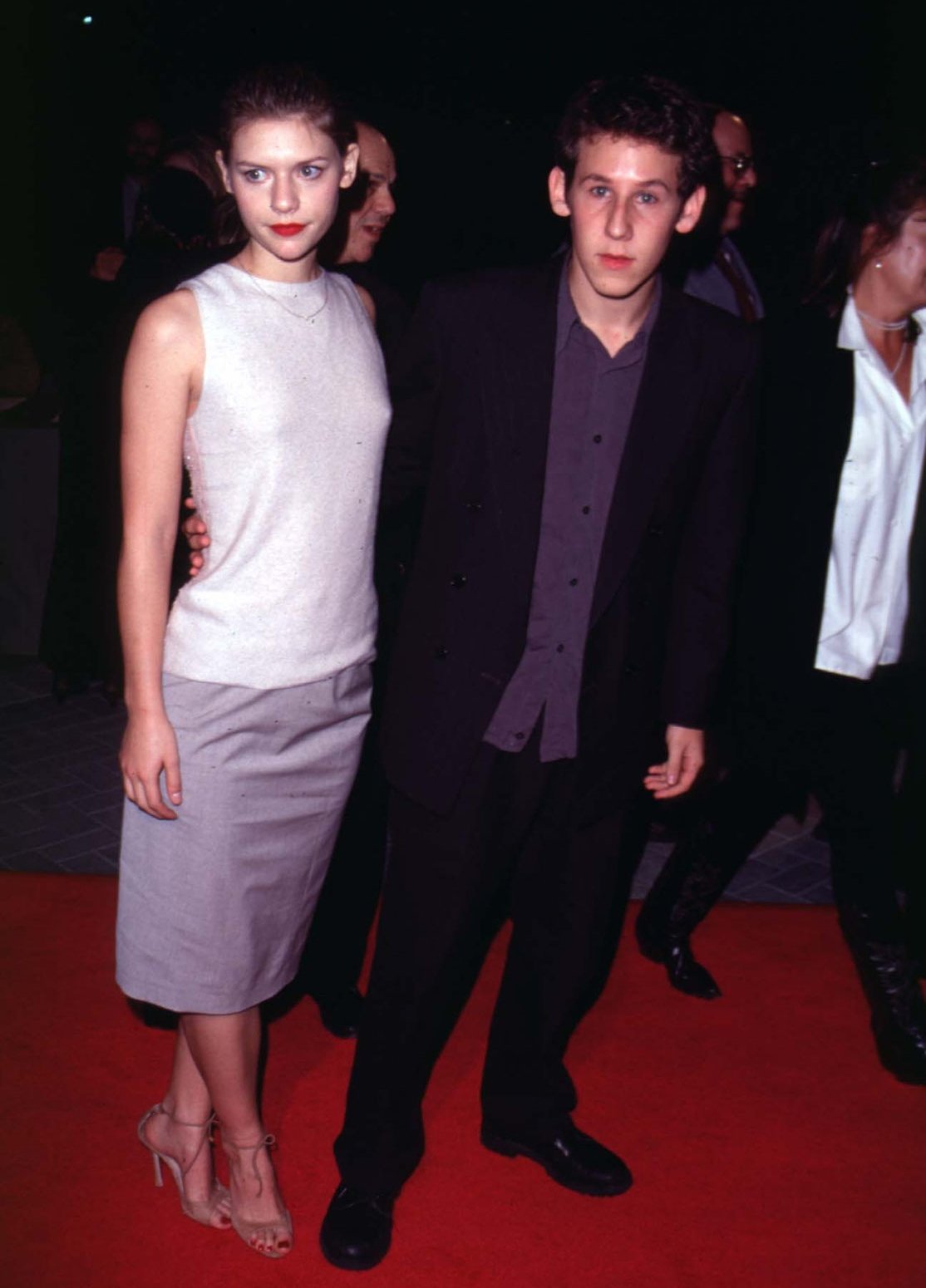 Claire Danes and Aussie singer Ben Lee dated from 1997 until 2003 (Credit: WENN / Hubert Bosl)
Claire Danes got her start in the film and television industry in 1990, landing her first big role in My So-Called Life before transitioning to the silver screen in 1994 with Little Women.
However, it wasn't until 1996, when Danes portrayed Juliet Capulet in Baz Luhrmann's adaptation of Romeo + Juliet, that the actress had her first taste of public romance in the tabloids.
Dane's Romeo + Juliet co-star was none other than teenage heartthrob Leonardo DiCaprio.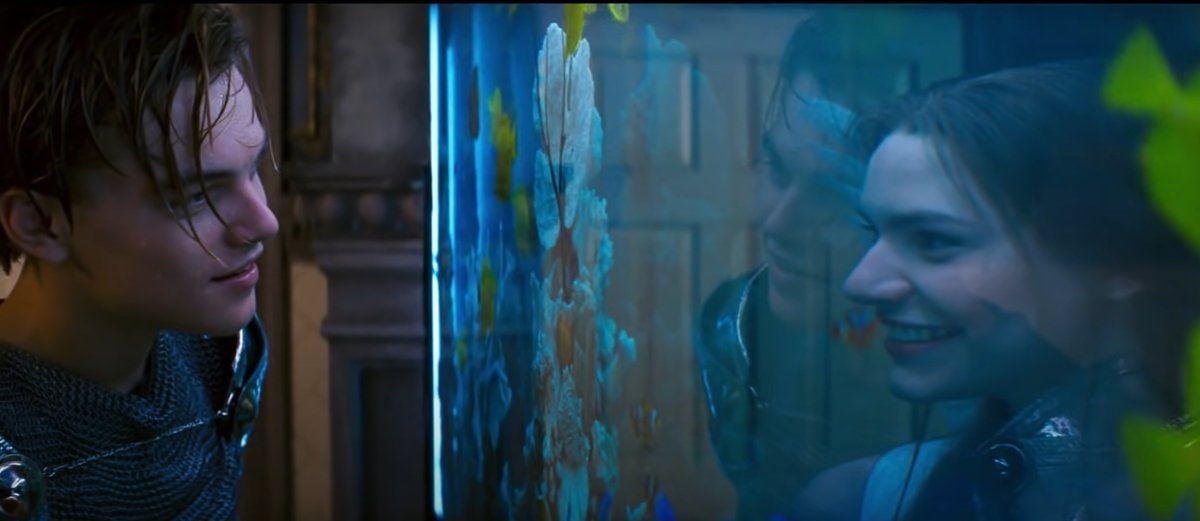 Leonardo DiCaprio and Claire Danes portray two teenagers who fall in love in Romeo + Juliet (Credit: 20th Century Fox)
The two were rumored to have been dating for a year, between 1995-1996, and fans were sure that their relationship must have been real, referencing the many steamy scenes the stars shared in the film.
However, neither Danes nor DiCaprio confirmed that they were dating, but 90s kids still remember "shipping" the two with fondness.
In 1997, Claire Danes met Australian musician Ben Lee at a birthday party. Introduced by Winona Ryder, the two hit it off and dated for almost six years before breaking things off in 2003.
Their breakup was rumored to have occurred due to Danes' alleged affair with a then-very married Billy Crudup.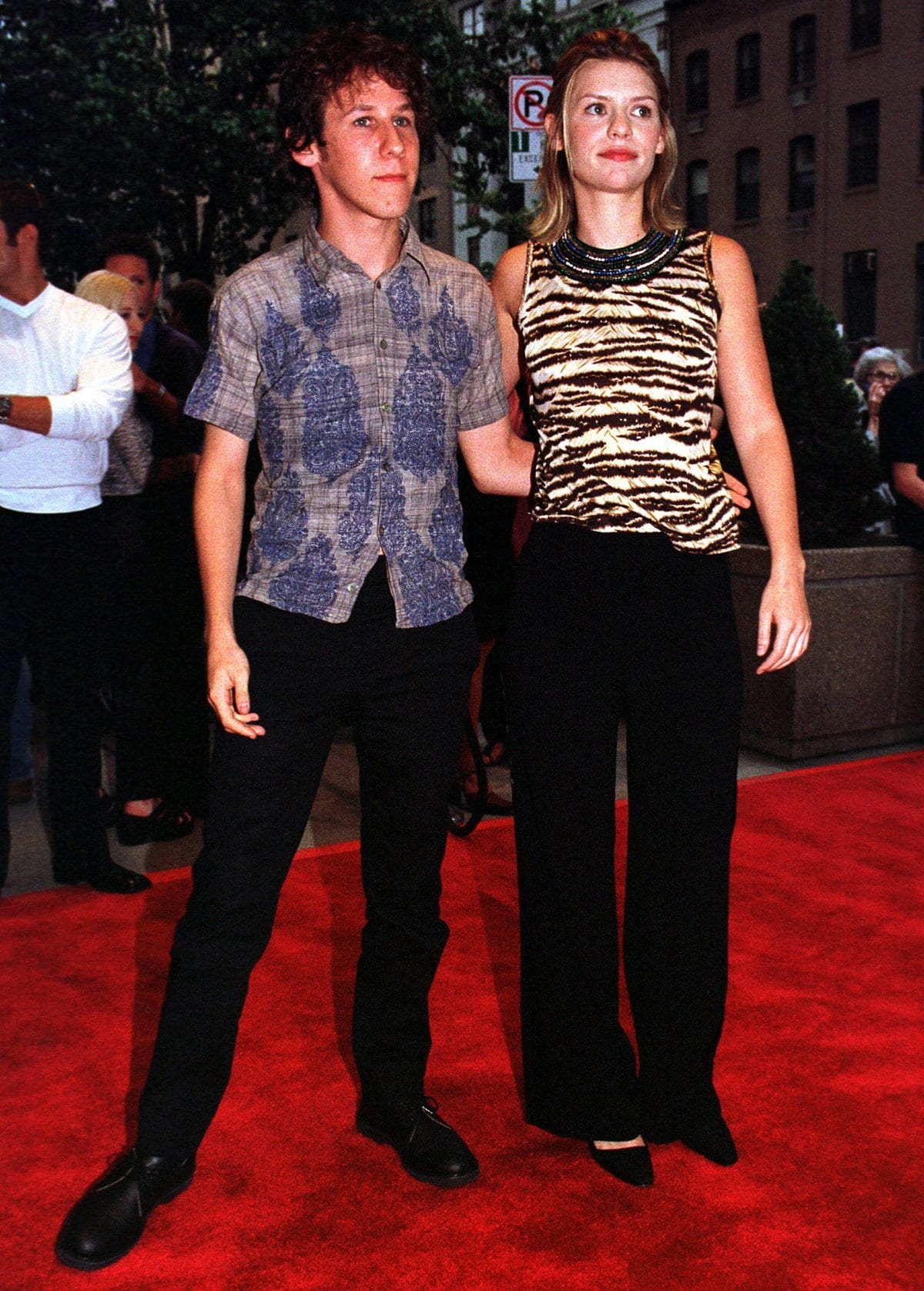 Claire Danes and Ben Lee reportedly split due to Claire's affair with her Stage Beauty costar Billy Crudup (Credit: Sidewalk / WENN)
After her breakup with Ben Lee, Danes began dating fellow actor Billy Crudup in 2004. It is rumored that Danes and Crudup began an affair, as Crudup was still very much involved with his girlfriend, Mary-Louise Parker, who was pregnant at the time.
"That was a scary thing," Danes told Howard Stern about her relationship with Billy Crudup, who ended up leaving his girlfriend who was seven months pregnant. "I was just in love with him and needed to explore that and I was 24 … I didn't quite know what those consequences would be."
Both Danes and Crudup deny that they were seeing each other while still in these other relationships, but the public was not convinced. They dated until 2006 when it was (again) rumored that Danes had left Crudup for her now-husband, Hugh Dancy. Allegedly, of course.
Billy Crudup left his then-pregnant girlfriend Mary-Louise Parker for Claire Danes (Credit: Kevin Corkum / WENN)
On the other hand, Hugh Dancy has not had quite as many publicized relationships.
He got his start acting eight years after his now-wife (less time in the public eye usually means less very public breakups) and is known for titles such as David Copperfield, Hannibal, and Ella Enchanted.
Dancy's only notable relationship (before Claire Danes, that is) was with his Ella Enchanted co-star Anne Hathaway. The pair dated for two years, beginning in 2003, and were photographed together many times.
However, Dancy and Hathaway split in 2005. Many speculate that their breakup was due to their age difference, as Dancy is eight years older than Hathaway, and that they were likely in different stages of their life journey.
Anne Hathaway and Hugh Dancy began dating in 2002 and split in 2004 (Credit: Daniel Deme / WENN)
Although breakups are no fun, these relationships had to end in order for Claire Danes and Hugh Dancy to get together, making all the heartache worthwhile.
Claire Danes Facts
| How much is Claire Danes's net worth? | She is an American actress with a net worth of $35 million dollars (combined with her husband Hugh Dancy) |
| --- | --- |
| Full Name: | Claire Catherine Danes |
| Born: | April 12, 1979, in Manhattan, New York, NY |
| Kids: | Cyrus Michael Christopher Dancy and Rowan Dancy |
| Husband: | She married actor Hugh Dancy in France in a private ceremony in 2009. |
| Feet/Shoe Size: | 8 (US) |
| Height: | 5′ 5″ (166 cm) |
| Nationality: | American |
| Source of Wealth: | Film and television |
| How old was Claire Danes when filming Romeo and Juliet? | She took the lead role in Baz Luhrmann's adaptation of Romeo + Juliet at the age of 16. |
How Claire Danes and Hugh Dancy met
Nowadays, Claire Danes and Hugh Dancy are no strangers to working together. In fact, that is how the husband and wife duo met!
The couple first laid eyes on one another in 2007 while they were on set for the movie Evening.
The chemistry between Danes and Dancy was fast and very evident to the rest of the cast, as their co-star (and Meryl Streep's daughter) Mamie Gummer told Life & Style, "I was there when it was happening and it's something that I will never forget. I'm incredibly happy for them. They are perfect for each other."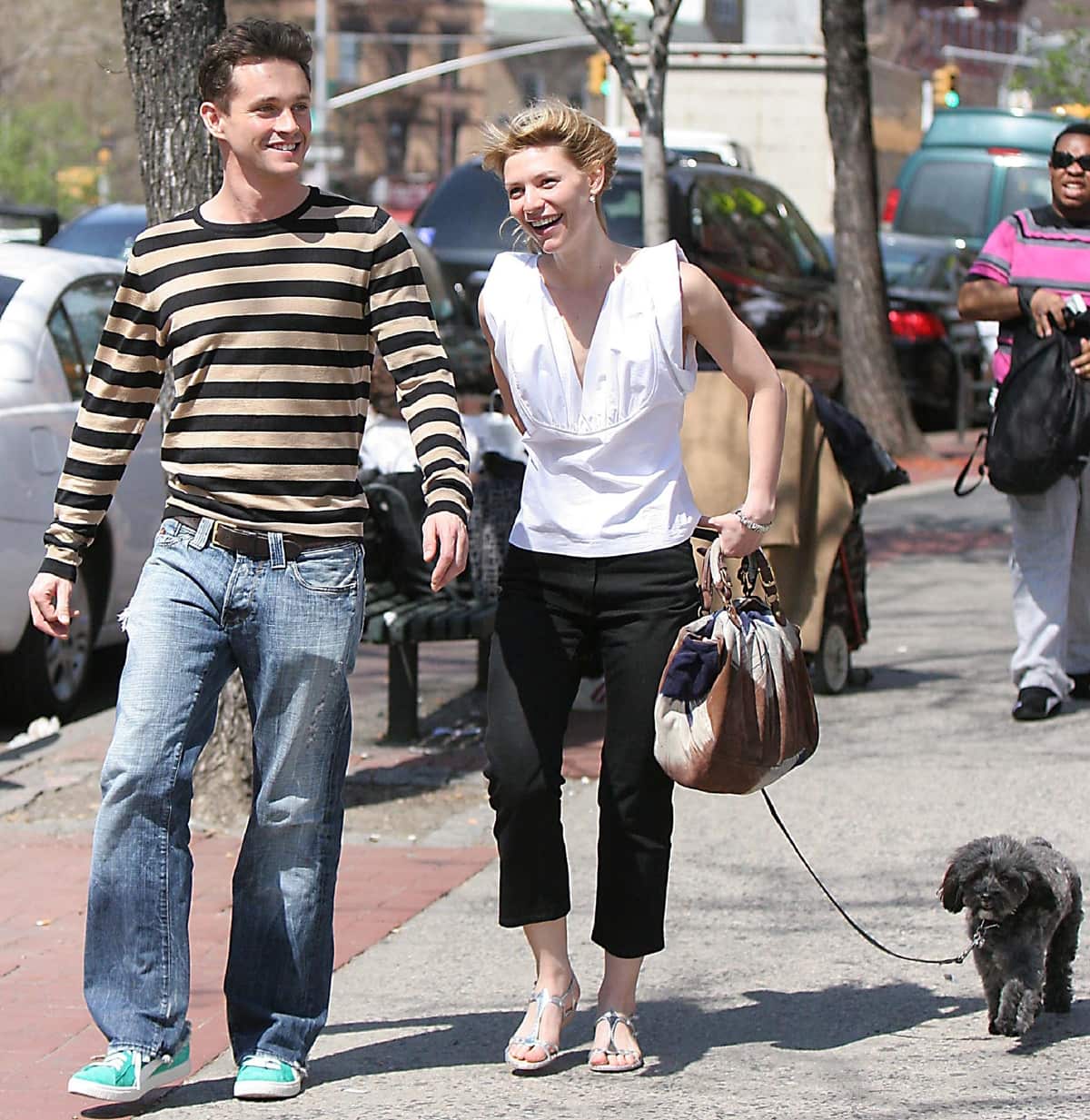 Claire Danes and Hugh Dancy met when filming the 2007 American drama film Evening (Credit: JSB Media / WENN)
However, their ultra-adorable meeting had some hilarious undertones, as Claire Danes revealed in 2017. During an episode of Dax Shepard's podcast, Armchair Expert, the actress admitted that a one-night stand helped develop her feelings for Dancy!
She explained that when the two first met, she had told herself that she wanted to stay single due to the fact that she had been in back-to-back relationships "since the moment [she] hit puberty basically."
As a result, Danes assumed that her crush on Dancy stemmed from her need to be in a relationship all the time — or that it was just an infatuation.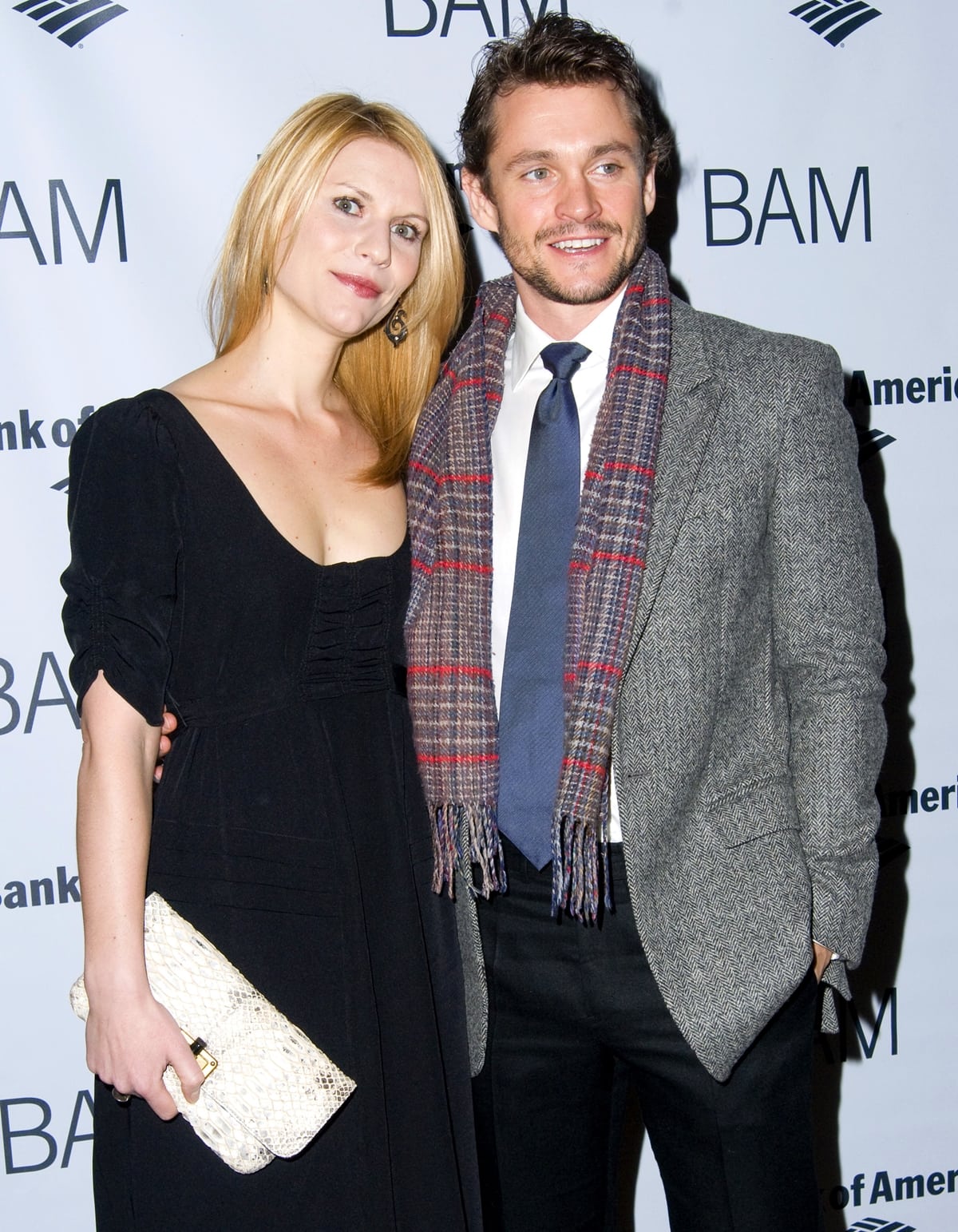 Claire Danes and Hugh Dancy married in France in 2009, two years after meeting on the set of the 2007 film Evening (Credit: Ivan Nikolov / WENN)
Though Danes had resolved to stay single, that didn't mean she was remaining chaste (she's not a nun, after all!) and still went on a number of casual dates.
One of these dates — who she was with, Danes did not say — resulted in a one-night-stand, after which she said her "palate was cleansed" and she was able to think about her relationship status more clearly.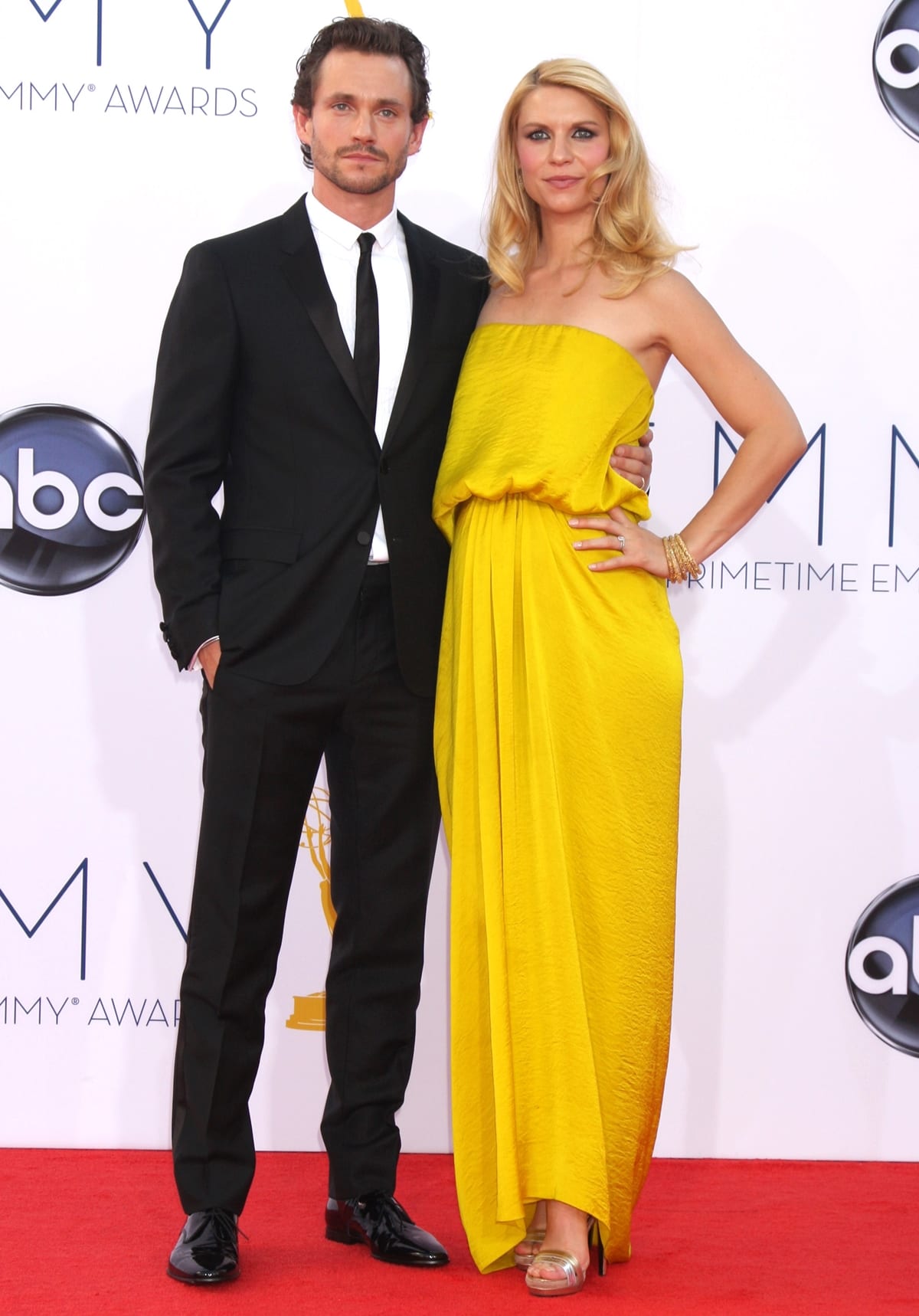 Claire Danes showed off her baby bump in a canary yellow Lanvin dress with her husband Hugh Dancy at the 64th Primetime Emmy Awards at Nokia Theatre L.A. Live on September 23, 2012 in Los Angeles, California (Credit: Nikki Nelson / WENN)
After "cleansing her palate", the actress realized that her feelings for her Evening co-star were not just a schoolyard crush.
Rather, these feelings were very real and very strong, telling Armchair Expert that truly could imagine spending the rest of her life with Hugh Dancy, saying, "Oh sh*t! I think I'm going to marry this person."
Ultimately, she was right!
Hugh Dancy Facts
| Does Hugh Dancy sing in Ella Enchanted? | Yes, he sings in the movie but not on the soundtrack. |
| --- | --- |
| Full Name: | Hugh Michael Horace Dancy |
| Born: | June 19, 1975, in Stoke-on-Trent, United Kingdom |
| Kids: | Cyrus Michael Christopher Dancy and Rowan Dancy |
| Wife: | He met Claire Danes on the set of Evening in Newport, Rhode Island, and they married in 2009. |
| Feet/Shoe Size: | 10 (US) |
| Height: | 5ft 9 ½ (176.5 cm) |
| Nationality: | British |
| How old is Hugh Dancy in Hannibal? | The first episode of the American psychological horror-thriller television series Hannibal aired on April 4, 2013, when Hugh Dancy was 37 years old. |
Claire Danes and Hugh Dancy married in 2009
Just two short years after Claire Danes and Hugh Dancy first met, the couple decided to make their love legitimate in the eyes of the law.
The couple is notoriously private, so fans did not even find out that they tied the knot until weeks later when their representative confirmed the wedding with People magazine.
The pair decided to take their nuptials to France in a low-key ceremony surrounded by their loved ones, but not much else is known about it other than that.
Claire Danes in a glittering Schiaparelli Haute Couture gown with her husband Hugh Dancy at the 2016 Emmy Awards held at the Microsoft Theater on September 18, 2016, in Los Angeles (Credit: FayesVision/ WENN)
However, we imagine the 5'5" starlet gazing up at the 5'10" actor with love in her eyes as they are surrounded by grapes. That's French, right?
Evidently, the couple loves married life, as Danes told Entertainment Tonight, "Marriage is wonderful. It's challenging, and … it just keeps getting deeper. It's a huge asset to have a partnership with someone you trust and admire, and want to make out with."
What Claire Danes and Hugh Dancy are up to now
After their marriage, the couple constantly gushed about one another in the media, leading to some seriously aww-worthy moments.
In a 2014 issue of Glamour, Danes described her husband, saying, "He is a gentleman. Downton Abbey-esque? I guess. He was raised well, went to great schools, he's a clever guy and he makes me giggle… I scored. I lucked out, big-time! But when you're truly intimate with somebody, they tend to lose their physical shape, you see through them. Occasionally I'll wake up and notice his… form. And I'll be, 'Oh, wow. Dude. Is a looker.' Then I get shy, all over again. It's not why I love him, but it's a very nice bonus."
Claire Danes in a Prabal Gurung dress and her husband Hugh Dancy in a Todd Snyder suit at the 2021 Met Gala on September 13, 2021, at the Metropolitan Museum of Art in New York City (Credit: MEGA / WENN)
Even better, Danes and Dancy don't have to worry about not seeing one another enough, something that becomes an issue for other busy celebrity couples.
In fact, they have been able to spend time together at work, too, starring together on the primetime television show, Homeland. Claire Danes played Carrie Matheson, a rough-hewn CIA officer with bipolar disorder, and has won two Emmys for this role.
Last year, Hugh Dancy joined his wife on set as John Zabel, a smooth-but-tough-talking presidential adviser who clashes with Danes' character.
Their on-screen counterparts may not always get along, but luckily everything is just fine between the real couple. Homeland wrapped last year after eight seasons, so we're looking forward to seeing what the couple will tackle next.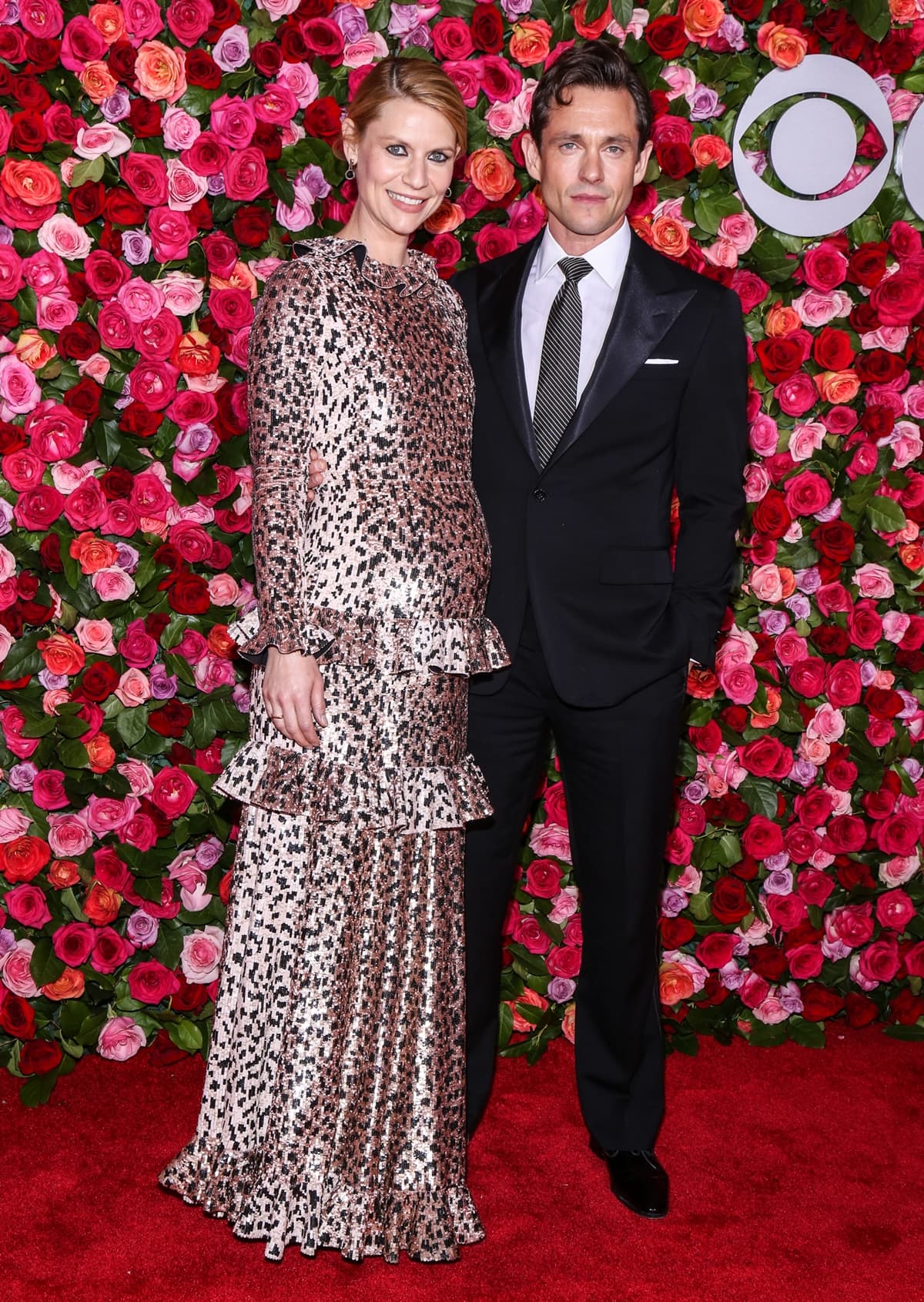 Claire Danes shows off her baby bump in a Valentino dress and Jimmy Choo shoes with her husband Hugh Dancy at the 2018 Tony Awards held at Radio City Music Hall on June 10, 2018, in New York City (Credit: Joseph Marzullo / WENN)
Working and living together might be too much for some couples, but Danes and Dancy do it in stride. In fact, Dancy loves to watch his wife work, telling Glamour, "She tries to be very honest, without artifice, in what she does. And it is hard to do that and be interesting and create something big. I know from experience, and watching her now on set, that she is fantastic to work with, generous without trying to be generous."
The pair now has two sons, Cyrus, who was born on December 17, 2012, and Rowan, born on August 27, 2018.
Currently, Hugh Dancy and Claire Danes have been going strong for almost fifteen years. Here's to many more!
Claire Danes wears her blonde hair down at the opening night party for the play "Dry Powder" held on March 23, 2016, at the Public Theater in New York (Credit: Joseph Marzullo / WENN)
Claire Danes is notoriously private about her personal life. So private, in fact, that she doesn't have a single social media account. So, it sometimes catches people off-guard to find out that she's been married since 2009.
In March 2016, Claire brought her doting hubby, Hugh Dancy, to the opening night party of the off-Broadway play "Dry Powder" in New York.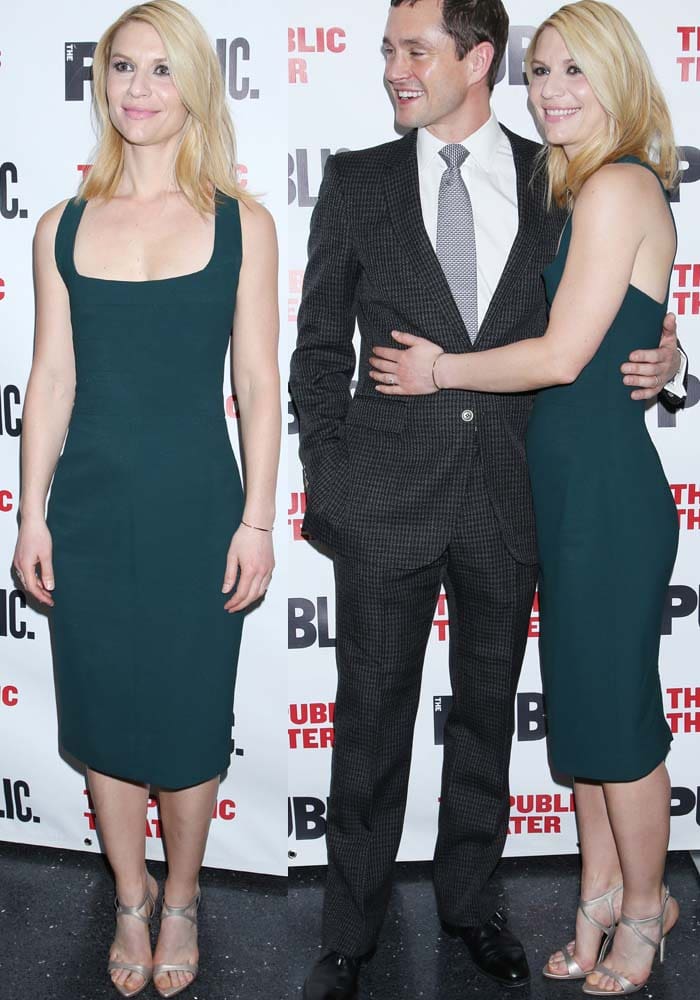 Claire Danes and husband Hugh Darcy pose for photos at the opening night party for the play "Dry Powder" (Credit: Joseph Marzullo / WENN)
Claire wore a gorgeous emerald green bodycon dress from Narciso Rodriguez, which featured a gorgeous angled neckline, and showed off enough cleavage without looking too feminine.
The actress wore jewelry from Eva Fehren and showed off her feet in "Carolyn" sandals from the same American fashion designer.
Claire Danes' feet in metallic Narciso Rodriguez sandals (Credit: Joseph Marzullo / WENN)
Claire's husband graciously gave her time to have her photo session with the "Dry Powder" cast, staying on the sidelines to quietly support his wife.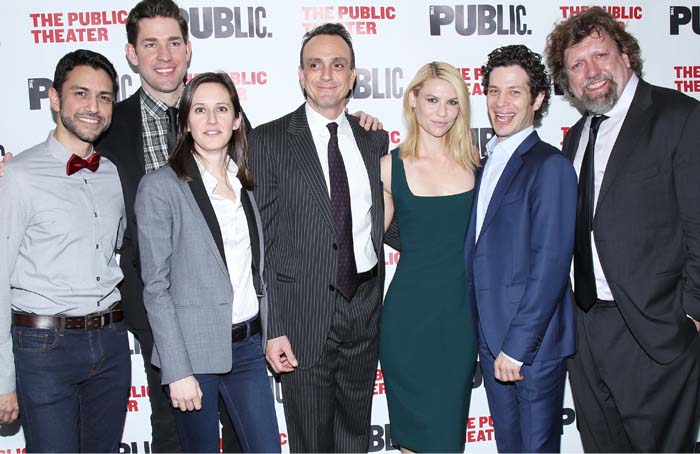 Sanjit De Silva, John Krasinski, playwright Sarah Burgess, Hank Azaria, Claire Danes, director Thomas Kail, and Public Theater Artistic Director Oskar Eustis pose at the Opening Night Party Arrivals for "Dry Powder" (Credit: Joseph Marzullo / WENN)
You can find great alternatives to Claire's metallic silver Narciso Rodriguez "Carolyn" sandals at Nordstrom and Zappos.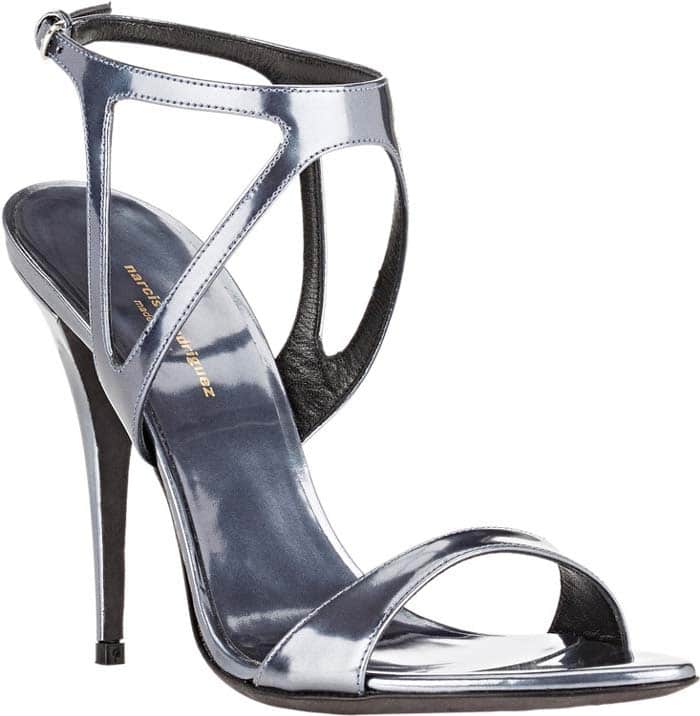 Metallic Silver Narciso Rodriguez "Carolyn" Cutout Sandals, $795
The other color variations have unfortunately also sold out.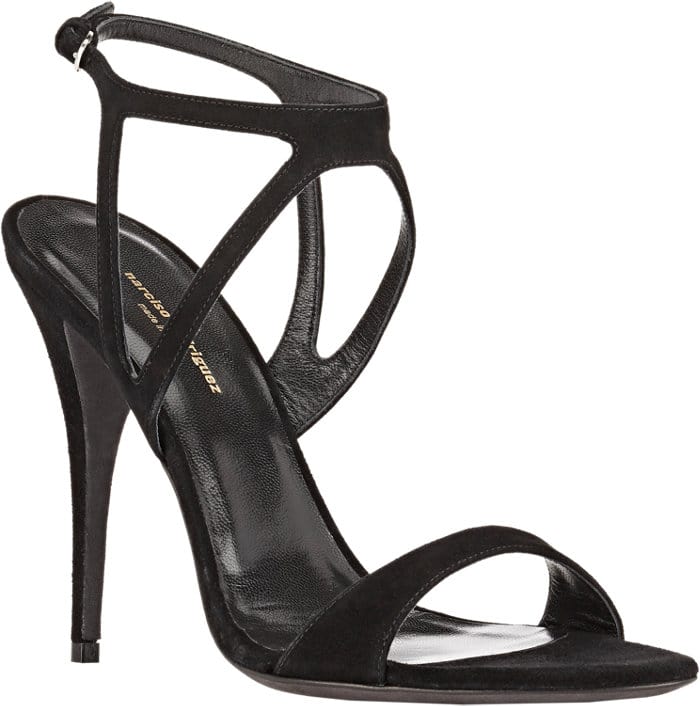 Black Narciso Rodriguez 'Carolyn' Sandals, $695
Blue Narciso Rodriguez 'Carolyn' Sandals, $695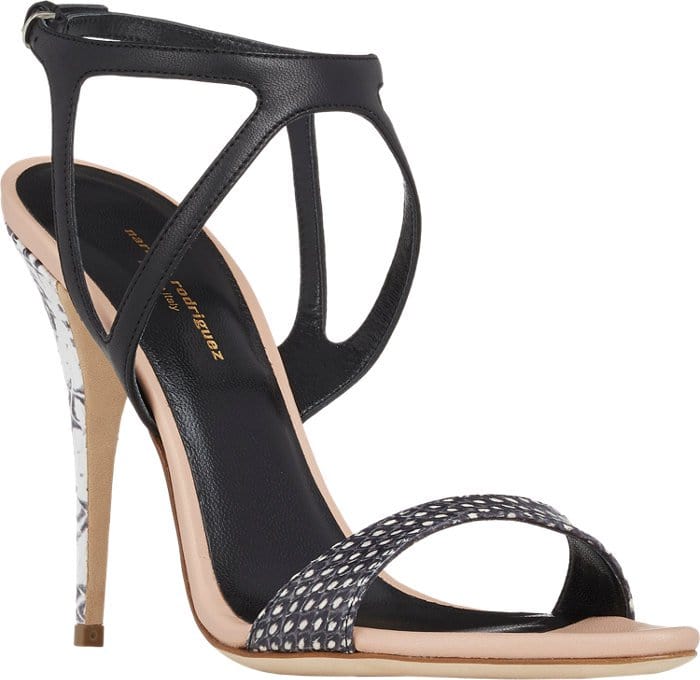 Snake Print Narciso Rodriguez 'Carolyn' Sandals, $695