Over twenty years after the release of Baz Luhrmann's 1996 film Romeo + Juliet, an adaptation of the classic Shakespeare play of the same name, the movie has become a classic in its own right.
Perhaps even more memorable than all of the Hawaiian shirts and thumb-biting were the stars of the film, launching the careers of then 17-year-old Claire Danes and 21-year-old Leonardo DiCaprio.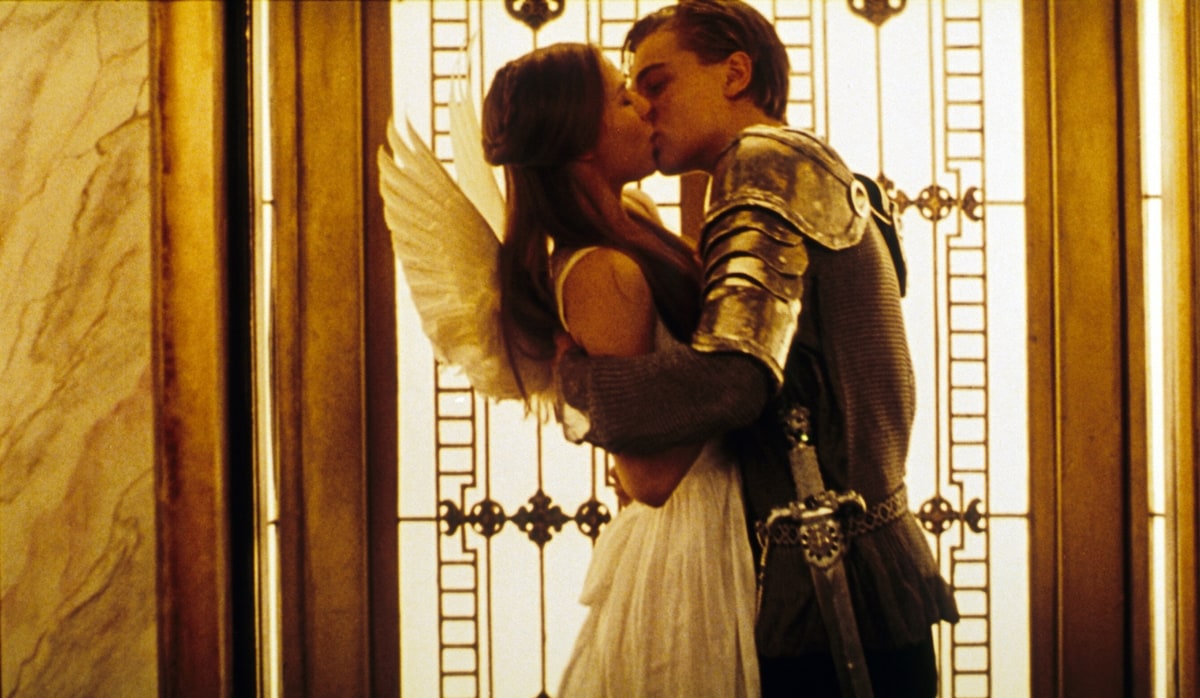 Leonardo Dicaprio was 21-years-old and Claire Danes was 17-years-old in William Shakespeare's Romeo and Juliet (Credit: WENN)
As the years have gone by, fans have learned more and more about what happened behind the scenes of Romeo + Juliet.
Claire Danes wasn't the first choice to play Juliet
Even though Claire Danes' performance has gone down in the history books, it almost never happened! In fact, the woman first chosen for the role was none other than Harvard graduate Natalie Portman.
Portman was only thirteen years old at the time, and although she was the same age as Juliet in Shakespeare's play (Romeo's age is unspecified, but most adaptations place him around sixteen to eighteen) showrunners felt that Portman looked too young.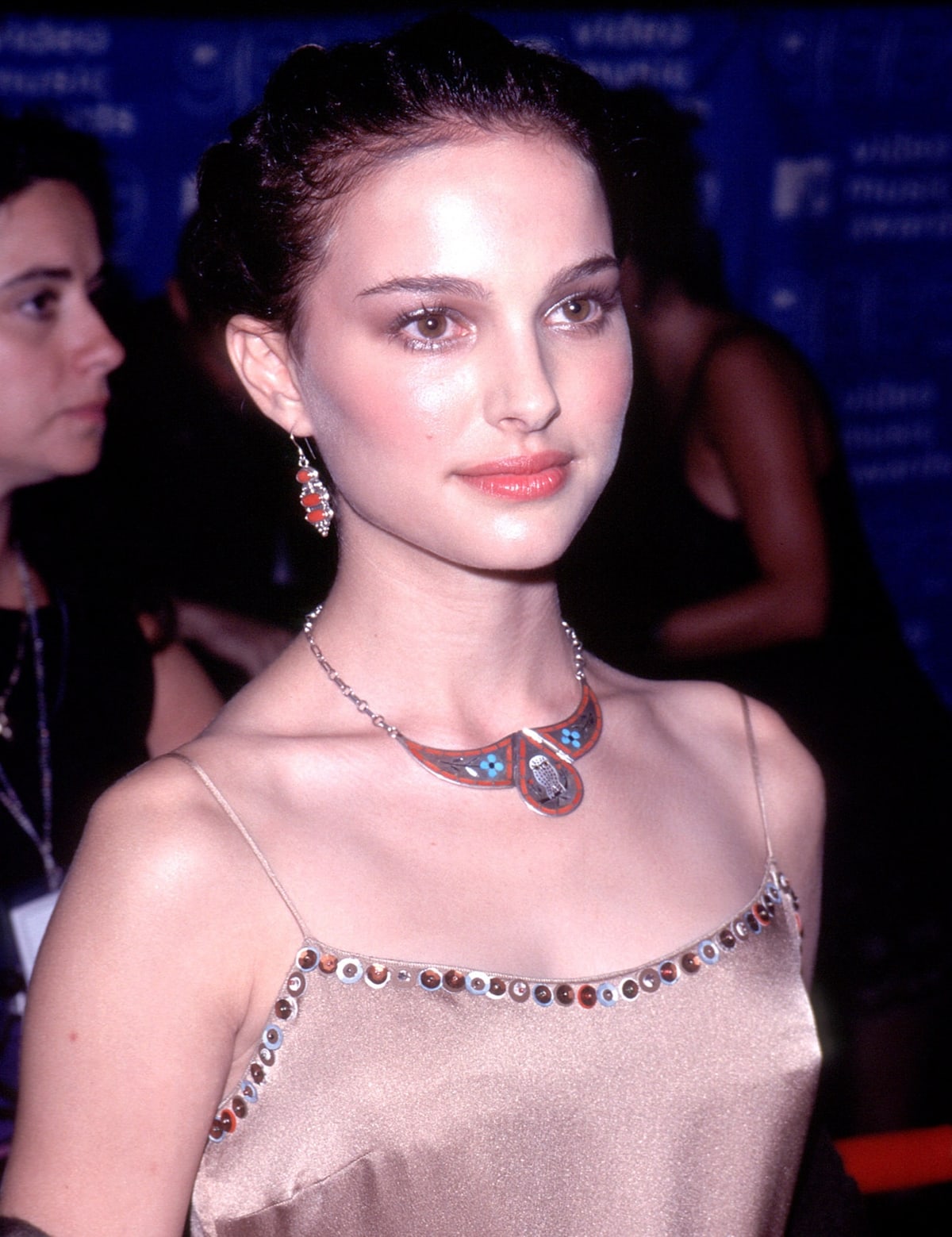 Natalie Portman was considered too young for the role of Juliet in the remake of Romeo and Juliet (Credit: WENN / Sidewalk)
"Fox said it looked like Leonardo was molesting me when we kissed," Portman told The New York Times. Alongside Leonardo DiCaprio — who was 21 at the time — it was simply too creepy, so we don't blame showrunners for replacing her.
Claire Danes had a crush on Leonardo DiCaprio filming the 1996 American romantic crime tragedy film William Shakespeare's Romeo and Juliet (Credit: WENN)
Fresh out of filming My So-Called Life, Claire Danes was chosen for the role. At seventeen, the future Yale student made a more age-appropriate Juliet, and her chemistry with DiCaprio was evident from the beginning, as he told the New Yorker, "She was the only girl that looked me in the eye in auditions."
Maybe the other actresses were just nervous? Young Leo was very cute, after all…
Leonardo DiCaprio was determined to get the role of Romeo
At only 21 years old, Leonardo DiCaprio was very ambitious in the way he went about securing the role of Romeo.
Baz Luhrmann was already interested in DiCaprio for the role, telling iHeart Radio, "When I saw Leonardo I thought, God, that's how [Romeo] should look. But can he act? Then I found out he was the pre-eminent young actor."
DiCaprio had already proved his acting chops with a 1993 Oscar nomination for What's Eating Gilbert Grape? but didn't want to leave his audition to chance.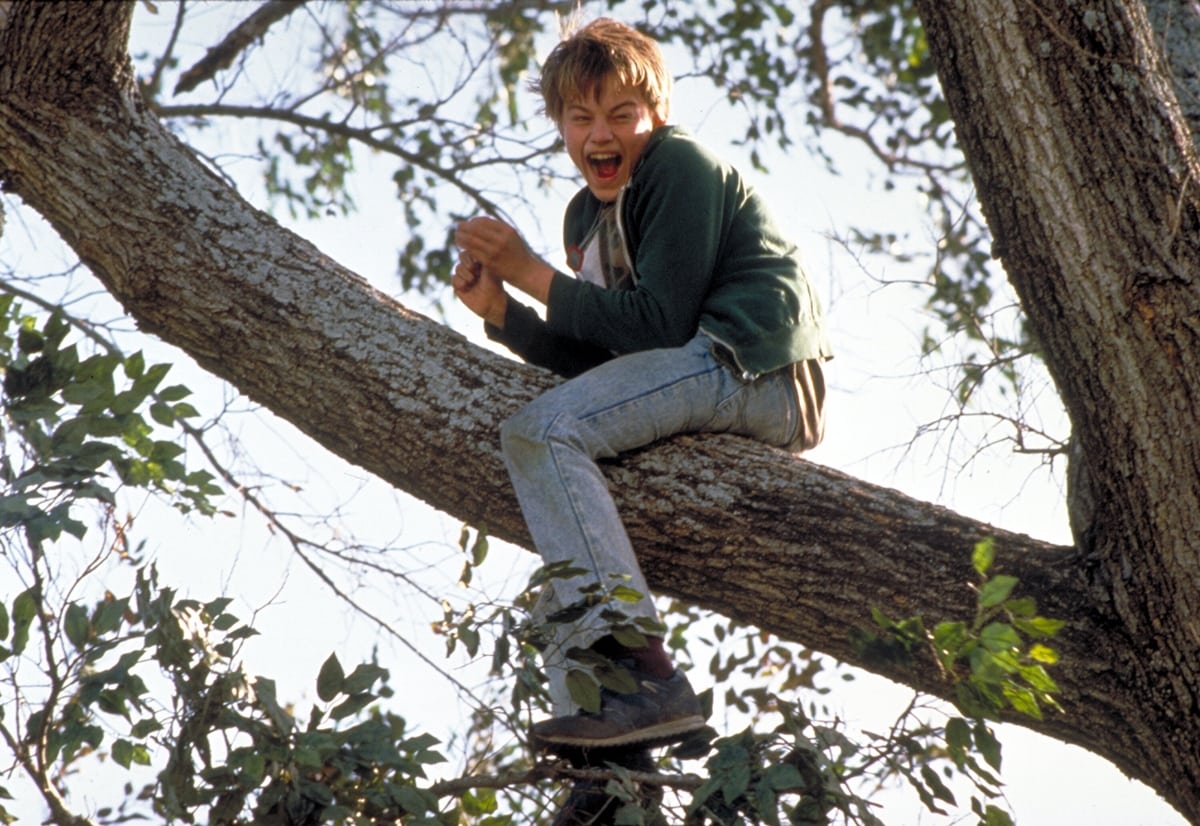 Leonardo DiCaprio was 19-years-old when he portrayed a mentally-disabled boy being looked after by his older brother in the 1993 American coming-of-age drama film What's Eating Gilbert Grape (Credit: WENN)
In fact, the young actor — along with a gaggle of his famous friends — hopped on a plane from Los Angeles to Australia so he could personally audition for director Baz Luhrmann. In the end, Leo's unorthodox methods paid off.
"He came down to Australia and he brought all these friends and we made a whole video of the show with other actors," Luhrmann told Vogue. "I won't say who, it will never be seen, I realized that I couldn't make it without him."
Claire Danes and Leonardo DiCaprio's relationship was… complicated
The on-screen chemistry between Danes and DiCaprio was (and still is) undeniable.
Rumors have swirled for years that the co-stars were secretly dating while filming Romeo + Juliet, and even more rumors surfaced that the pair didn't get along or worse — that they hated one another.
As far as the first rumor, even years later, neither Danes nor DiCaprio has confirmed that they ever dated — but have never outright denied it, either. However, Danes later revealed that her relationship with the actor was a bit more nuanced than the public may have believed.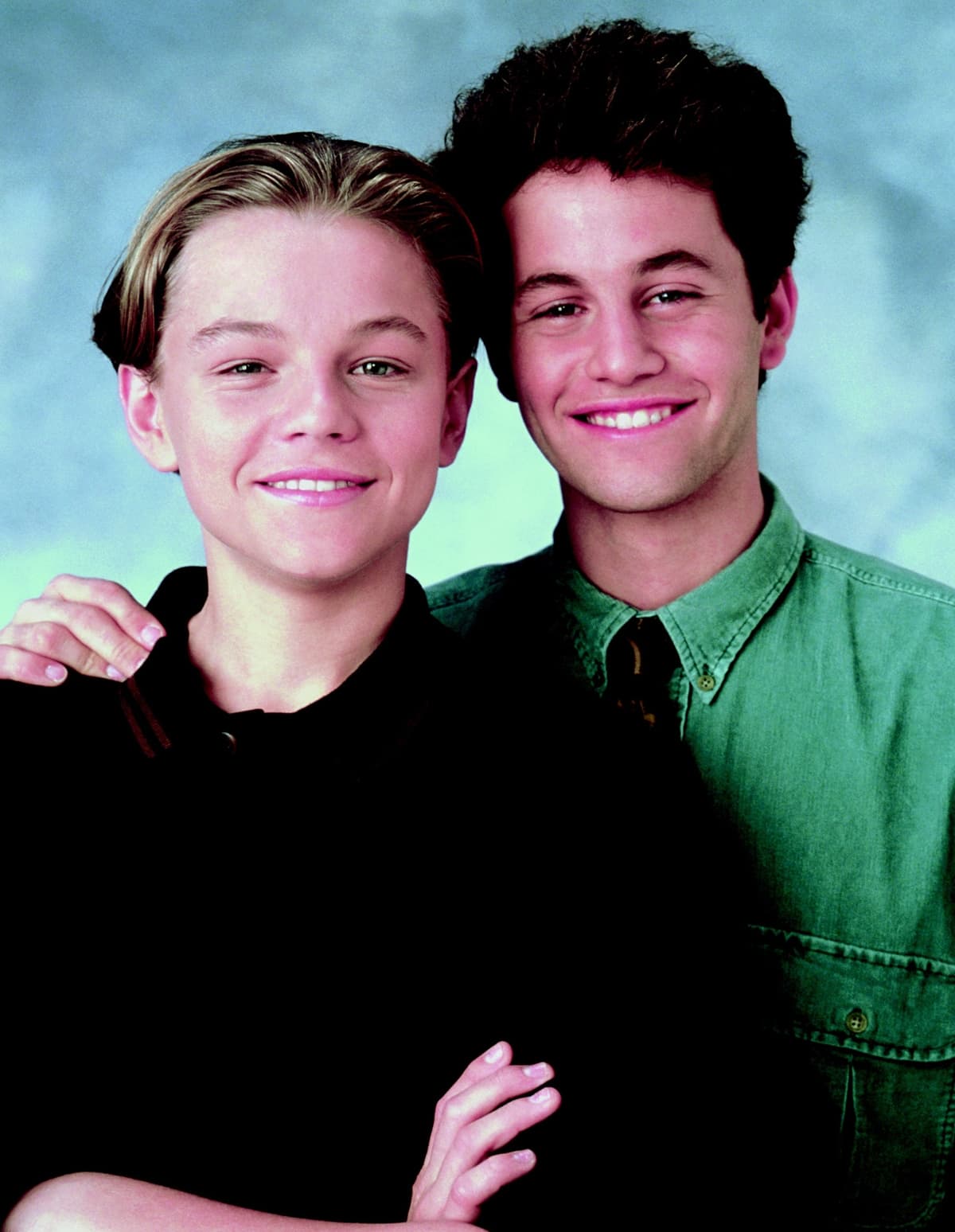 Leonardo DiCaprio and Kirk Cameron starred together in the American television sitcom Growing Pains (Credit: WENN)
At the time Romeo + Juliet was filmed, DiCaprio was at the height of his heartthrob fame — and he knew it.
In fact, he and his friends had been dubbed the "Pu*sy Posse" by the media for their loved-up, party boy lifestyle. DiCaprio, as the ringleader of the said posse, got away with plenty of mischief on set.
Despite her young age at the time, Danes was a serious actress. Though she may have found DiCaprio's pranks a bit immature, she wasn't immune to his charms, either.
The actress said that their relationship was "problematic" due to the fact that her desire to maintain a level of professionalism on set was at odds with her feelings.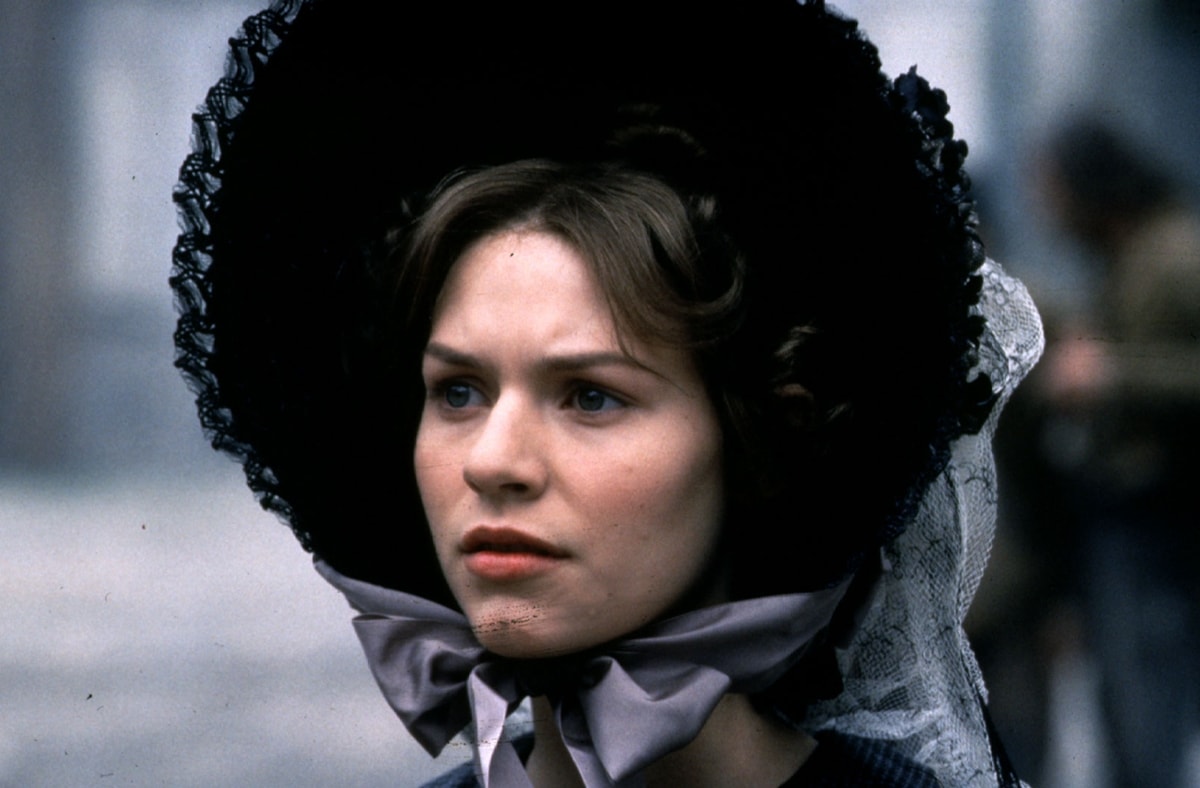 Claire Danes as Cosette in the 1998 film adaptation of Les Misérables (Credit: WENN)
"Yes, that was problematic," the actress said years later during a 2017 interview with W Magazine. "I couldn't really have a crush on the guy I was professionally having a crush on!"
In fact, this crush was reciprocated, which Danes says may be the reason behind the rumor that she and DiCaprio didn't like each other — they were acting like little kids at recess.
"There was definitely a spark, but I don't think either of us knew how to handle it," Danes explained. "So we sometimes sort of ignored each other. It was too big for us to really accept."
Romeo + Juliet was a huge career milestone for the young stars
After the success of Romeo + Juliet, both Leonardo DiCaprio and Claire Danes were able to forge lasting careers.
DiCaprio had already been on Hollywood's radar after his role in What's Eating Gilbert Grape? but Romeo + Juliet showed the public that he was an extremely versatile actor, not just a one-trick heartthrob.
Claire Danes was not the first choice for the role of Juliet in the film Romeo + Juliet (Credit: 20th Century Fox)
DiCaprio went on to star alongside Kate Winslet in Titanic, thrusting him into global stardom.
Coincidentally, Claire Danes was asked to star alongside DiCaprio again in Titanic but turned down the role.
"I looked at [Leo] like, I totally understand why he wanted to do [Titanic], but I'm not ready for that," she explained on Dax Shepard's Armchair Expert podcast.
Leonardo DiCaprio won the Silver Bear for Best Actor for his role as Romeo Montague in William Shakespeare's Romeo and Juliet (Credit: 20th Century Fox)
"I remember after the movie came out, he just went into another stratosphere… It was a little scary. I just couldn't do it, I didn't want it."
Since then, Danes has gone on to appear in titles such as Temple Grandin, Princess Mononoke, Homeland, and Evening, where she met her now-husband, Hugh Dancy.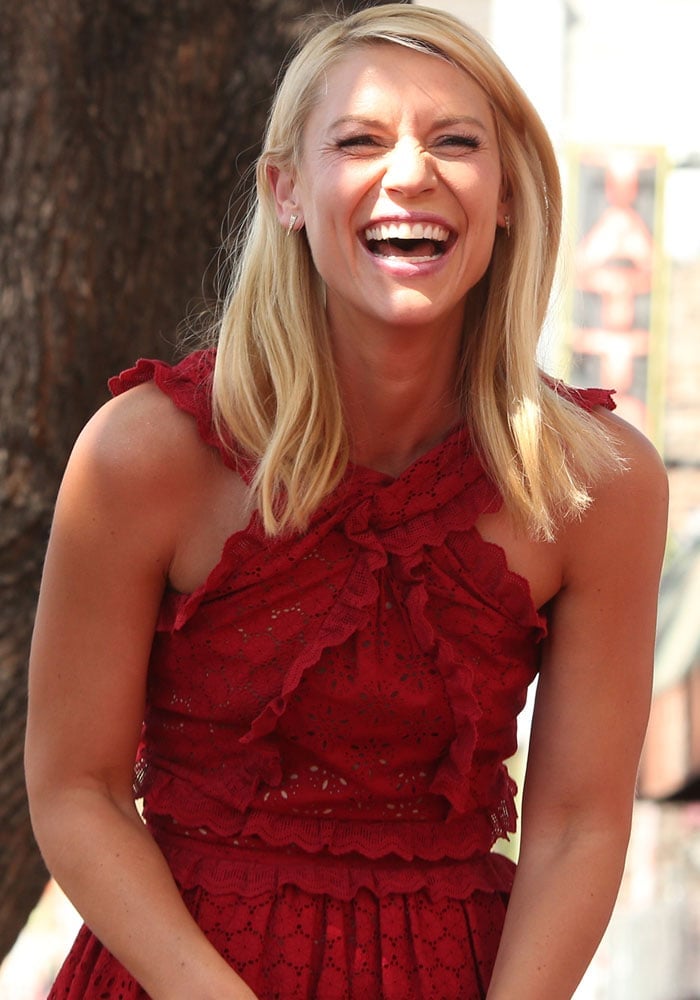 Claire Danes wears her blonde hair down as she's honored with a star on the Hollywood Walk of Fame on September 24, 2015 (Credit: FayesVision / WENN)
It was about time someone gave Claire Danes a star! In September 2015, the actress finally received a star on the Hollywood Walk of Fame after years of work in Hollywood.
Claire may have burst onto the scene alongside Leonardo DiCaprio in "Romeo and Juliet," but never seemed to get a big break like Leo's role in Titanic, and instead, found herself slowly taking on smaller roles.
Claire Danes on the red carpet in a red Oscar de la Renta dress (Credit: FayesVision / WENN)
That's why when the actress broke down mid-speech, we totally understood her. The then 36-year-old revealed that her parents gave up so much just to get her a mere shot at Hollywood.
Claire choked up as she thanked her dad for driving her to all her auditions, and could not stop the tears from flowing as she thanked her mom for being with her acting gigs.
Actress Claire Danes with her mom Carla Danes (née Hall) and her dad Christopher Danes (Credit: FayesVision / WENN)
"This is really cool to see my fans come here and cheer me on," she said. "That just means so very much to me. And of course, my parents are here. These are the two without whom I would be doing something else entirely."
"This is a little overwhelming and totally wonderful. I just learned that this building was built for actors because actors were such an unreliable unseemly bunch and they could never pay their rent and they needed some charity, so it's appropriate that I reside here."
Claire Danes' feet in strappy Kurt Geiger heels (Credit: FayesVision / WENN)
Claire wore a red laser cutout dress by Oscar de la Renta, which she paired with strappy heels from Kurt Geiger London.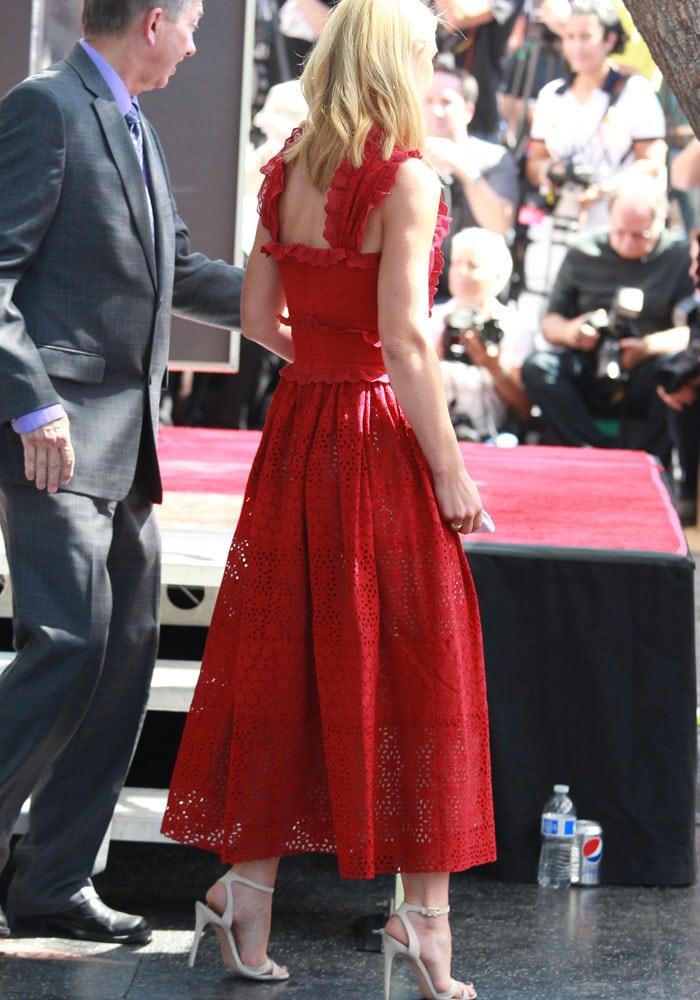 Claire Danes shows off her shoulders in a red Oscar de la Renta dress (Credit: FayesVision / WENN)
The actress put on some jewelry as well from Eva Fehren.
Claire Danes poses with her star on the Hollywood Walk of Fame (Credit: FayesVision / WENN)
We can't offer you your own Hollywood star but we can point you in the direction of Claire's star-worthy heels. Grab them while you can at Zappos or Nordstrom.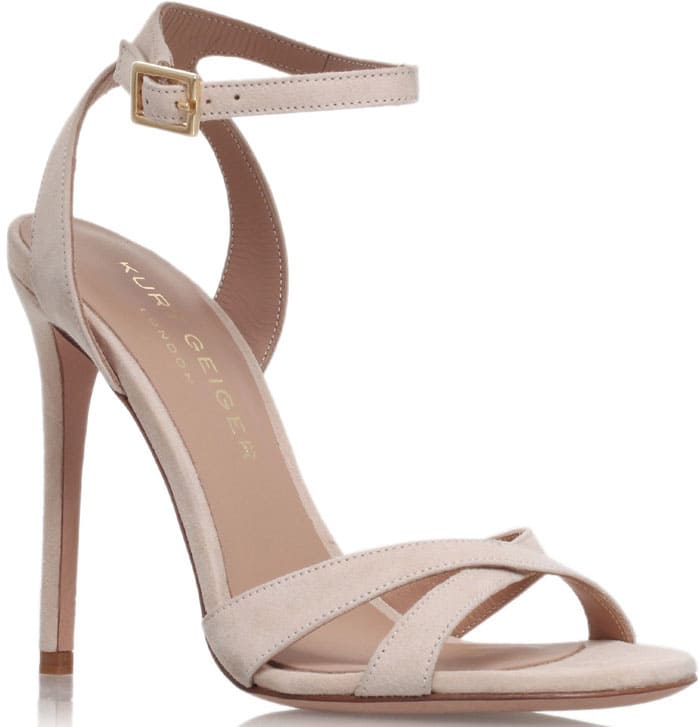 Nude Kurt Geiger 'Maia' High Heel Sandals, £220