Portraying Anne Marie in the 2002 sports film Blue Crush, which is based on Susan Orlean's 1998 Outside magazine article "Life's Swell," Kate Bosworth inspired young girls around the world to take on the male-dominated sport.
Mika Boorem (as Penny Chadwick), Michelle Rodriguez (as Eden), Kate Bosworth (as Anne Marie Chadwick), Sanoe Lake (as Lena) in Blue Crush
"For me," she told her co-stars during a virtual catch-up 18 years later, "Blue Crush is the one that everyone, and especially young girls, come up to me and say, 'You inspired me to do this! You guys are all my heroes!' It's so incredible."
"The other thing I think that really resonates with people and what you guys brought to your roles is the friendship. When you doubt yourself and you feel like I can't do this, I quit… You have your ride or dies saying, 'I believe in you more than you believe in you. We're gonna make this happen.' It's so beautiful to watch that," Kate added.
While Hawaii native Sanoe Lake, who is a lifelong competitive surfer, didn't need extensive training out on the water, Kate Bosworth and Michelle Rodriguez spent numerous hours learning to surf with personal trainers on set.
Can Kate Bosworth surf and how old is she in Blue Crush?
Yes, she learned to surf for her role in Blue Crush. She was 18 when filming the movie at various locations on the island of Oahu.
According to ESPN, she did most of the surfing in the movie but did not get good enough to ride the Banzai Pipeline.
"The most spectacular rides you see are really Rochelle Ballard, Bosworth's double, with Bosworth's face digitally superimposed on her body. When you see Anne Marie catch the biggest waves, you're probably seeing Bosworth's face on top of Noah Johnson's body."
A bantamweight big-wave rider from the North Shore of Oahu, Johnson surfed the Pipe, a surf reef break located in Hawaii, for the cameras while wearing a wig and a bikini bottom.
Kate Bosworth surfing in the 2002 sports film Blue Crush
"Literally, that was the most intense physical experience I have ever gone through, not exaggerating. It was seven hours a day of sheer work out. [It] took four hours of surfing and an hour of weight training and an hour of either running the beach or running under the water with a rock as in the movie," Kate said in an interview when the movie was released.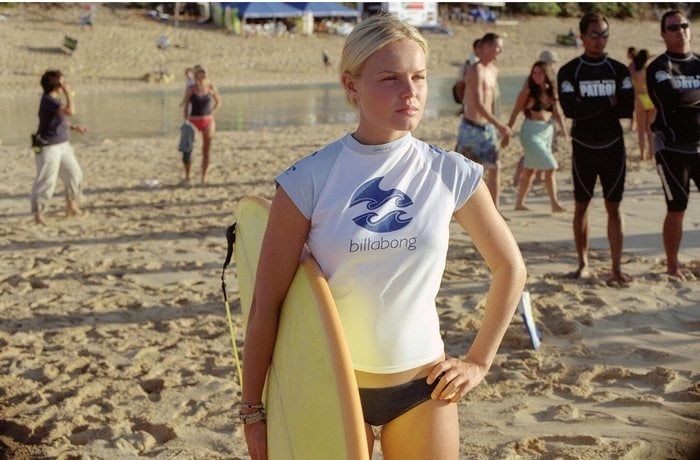 Kate Bosworth carrying a yellow surfboard in Blue Crush
We're pretty used to Kate Bosworth rocking some iconic looks.
So, in December 2015 when we noticed Kate's followers fawning over Instagram snaps of the actress's hair and makeup look for Charlotte Tilbury's "Naughty Christmas Party" flagship store launch in London, we weren't surprised.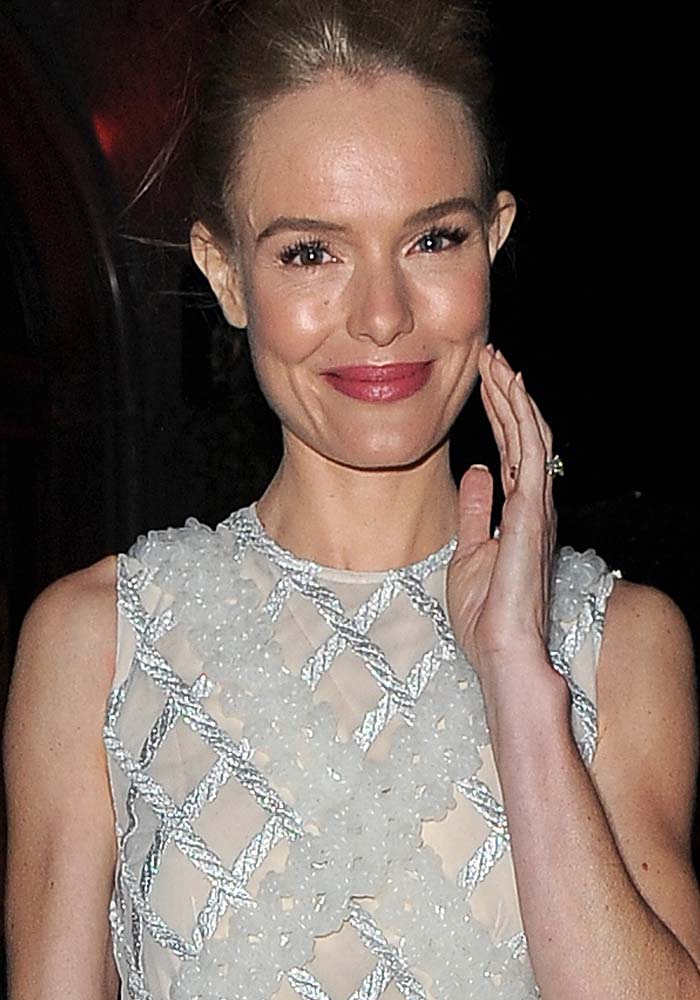 Kate Bosworth wears her hair up at Charlotte Tilbury's "Naughty Christmas Party" flagship store launch in London on December 3, 2015
Famous for her unusual eyes, Kate arrived in a gorgeous flowing Simone Rocha dress that featured a whimsical glittered rope detail on top of printed sheer fabric.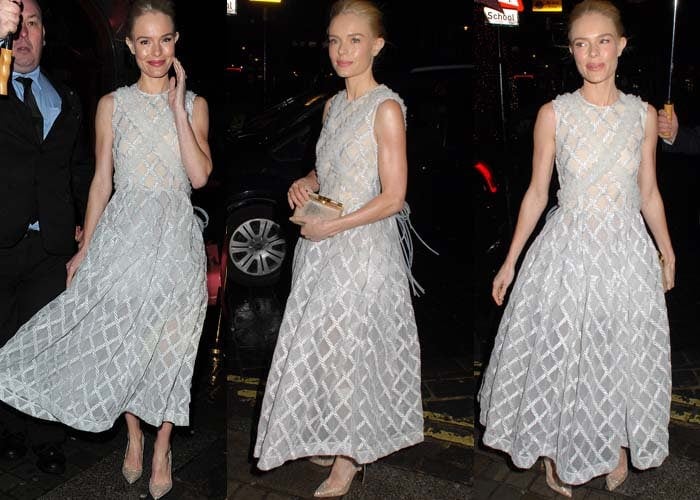 Kate Bosworth wears a Simone Rocha dress to a London outing
The actress wore her dress with the "Maeva" pearl-embellished glitter pumps by Nicholas Kirkwood.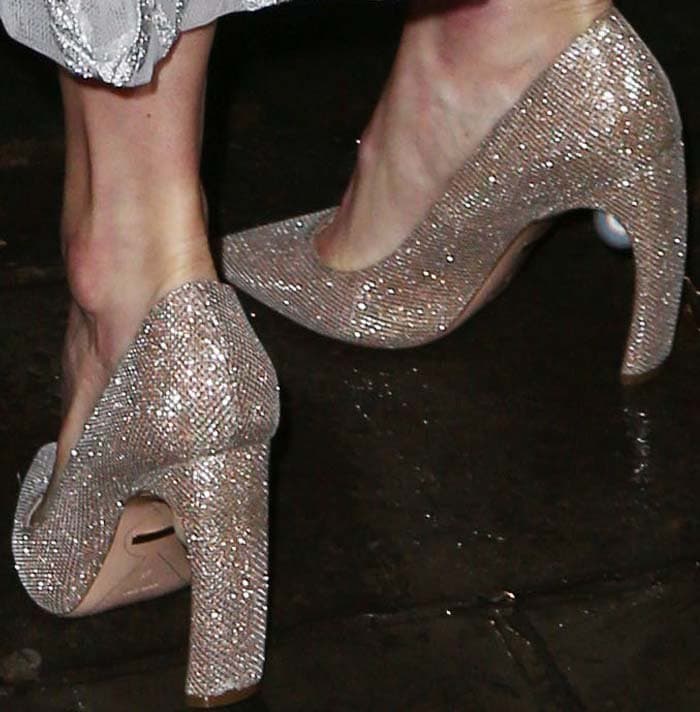 Kate Bosworth's feet in Nicholas Kirkwood pumps
We'd never think of styling ropes, silver glitter, gold glitter, and two huge pearls into one outfit, but somehow, Kate has a knack for making weird combinations work.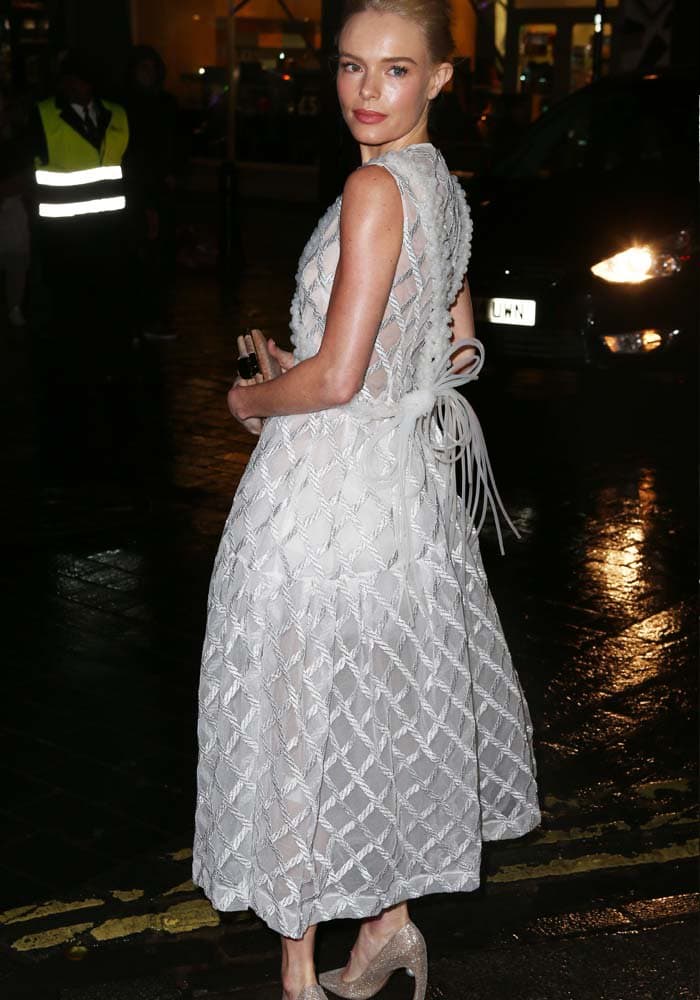 Kate Bosworth shows off her Simone Rocha dress and "Maeva" pumps
Kate also couldn't get enough of her hair and makeup. She uploaded two photos of her styling to Instagram, tagging her glam squad in both.
"Strobing on fleek," one follower commented.
Kate Bosworth's signature, white-blonde tresses
Kate Bosworth shows off her beautiful hairdo on Instagram
Nicholas Kirkwood is known for his quirky heels, and that is why Kate Bosworth is on the upper tier of his loyal clientele.
Get her pearl-embellished heels in different textures at Farfetch and Saks Fifth Avenue.
Nicholas Kirkwood "Maeva" Pearl-Embellished Lurex Pumps, £685
Nicholas Kirkwood "Maeva Pearl" Pumps, $799.81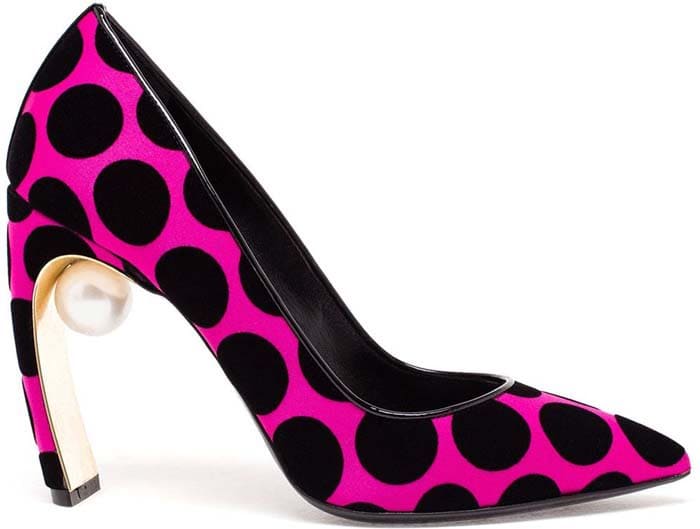 Nicholas Kirkwood "Maeva Pearl" Pumps, $845
Nicholas Kirkwood Pearl-Embellished Polka Dot Pumps, $875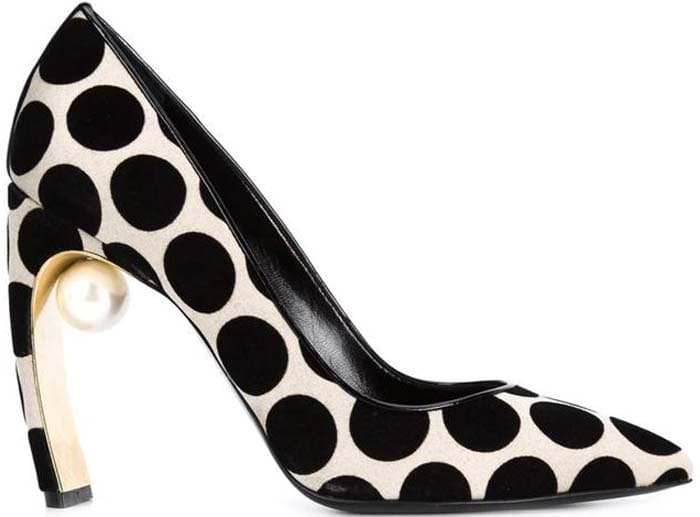 Credit: WENN