TikTok, a video-sharing social networking service, has become one of the most successful and popular mobile apps today.
It was first launched in September 2016 as Douyin for the Chinese market and released worldwide in August 2018 after merging with Musical.ly.
TikTok has around 800 million monthly active users worldwide that create 3 to 15 second-videos of themselves—from doing comedy skits and funny memes to lip-syncing, dancing, partaking in different challenges, and more.
A lot of our favorite stars have also jumped on the TikTok bandwagon. These include Jennifer Lopez, Selena Gomez, Justin Bieber, Will Smith, Dwayne Johnson, Jason Derulo, and Camila Cabello, among others.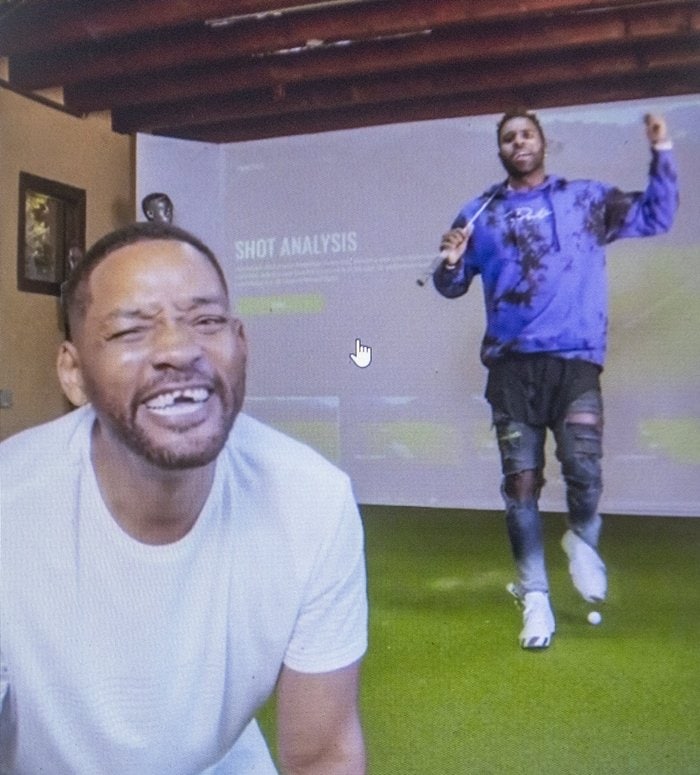 Will Smith and Jason Derulo pranked the whole internet on TikTok in August 2020 when Jason knocked Will Smith's front teeth out with golf club
While these celebrities were famous before joining in on the social media craze, there's one TikTok creator who is more popular on the platform that all the established Hollywood stars.
It's 16-year-old Charli D'Amelio, who has amassed over 80 million TikTok followers, making her the most-followed account on the app.
Enjoying her newfound fame, Charli smiled for the paparazzi while out for dinner with her friends at BOA Steakhouse in West Hollywood recently.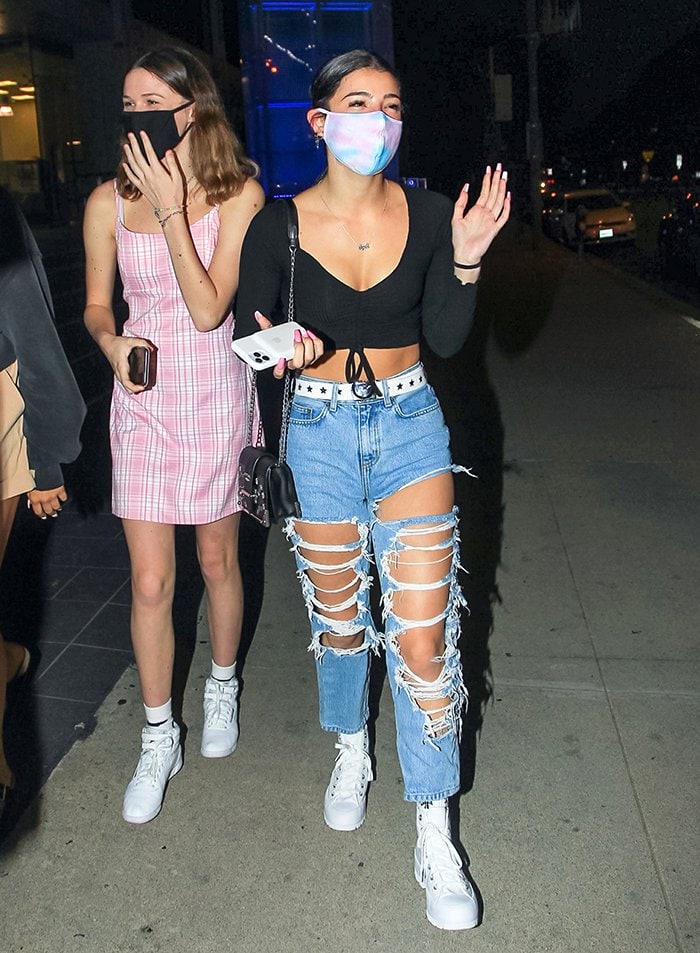 Charli D'Amelio visits BOA Steakhouse with friends in West Hollywood on August 18, 2020
The social media star flashed her toned abs and a hint of cleavage in a low-cut long-sleeved crop top with a tie fastening.
Considered a budding style icon, Charli teamed the revealing top with a pair of extremely ripped jeans, exposing her legs.
Charli D'Amelio flashes her abs and cleavage in a crop top and extremely ripped jeans
She styled her look with a star-patterned white belt and carried a small black purse with silver chain and hardware. The American social media personality also accessorized with a pair of silver dangling earrings, a silver pendant necklace, and a black band around her wrist.
With her dark hair pulled back into a ponytail, Charli glammed up with dark eyeliner and mascara. She then stayed safe with a chic tie-dye face mask to prevent the spread of coronavirus.
Charli D'Amelio wears a tie-dye-face mask for protection against coronavirus
To complete her look, Charli sported a pair of Converse Chuck Taylor All Star Lugged High Top sneakers.
The classic favorite high-top Converse sneakers were updated with lugged platforms that add about 1.5 inches to the height. These shoes also have thick ridged soles and OrthoLite insoles for comfort.
Charli D'Amelio completes her night out look with Converse lugged platform sneakers
Converse Chuck Taylor All Star Lugged Sneakers, $70
A white sneaker-boot hybrid of the iconic All Star high top
Who Is Charli d'Amelio?
Charli was born on May 1, 2004, to politician and former Republican Connecticut Senate candidate Marc D'Amelio and photographer and former model Heidi D'Amelio.
| Net Worth: | $4 million |
| --- | --- |
| Full Name: | Charli Grace D'Amelio |
| Born: | May 1, 2004, in Norwalk, CT |
| Dating/Husband: | On April 14, 2020, she announced her split from Cole Chase Hudson, also known as Lil Huddy, a social media personality |
| Kids: | None |
| Weight: | 123 lbs / 56 kg |
| Feet/Shoe Size: | 6 (US) |
| Height: | 5'6″ (168 cm) |
| Nationality: | American |
| Source of Wealth: | Social media |
| Ethnicity/Race: | D'Amelio is an Italian surname, but her ethnicity is unknown. |
| Does Charli D'Amelio have Instagram? | Yes, as of August 2020 she has almost 28 million followers at @charlidamelio. |
She has an older sister, Dixie Jane D'Amelio, who currently has the ninth most-followed account on TikTok.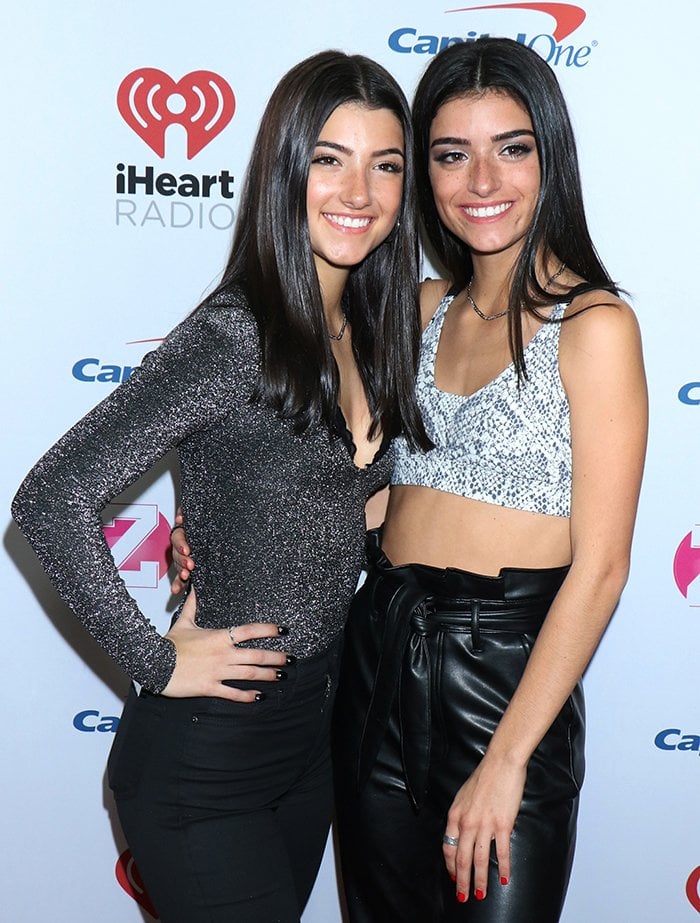 Charli and sister Dixie D'Amelio at the Z100 iHeartRadio Jingle Ball on December 13, 2019
Prior to her TikTok fame, Charli was a competitive dancer. She started dancing when she was three and learned ballet, tap, and hip-hop. By the age of five, Charli began competing on a national level.
When Did Charli Join Tiktok?
Charli joined TikTok in March 2019. She creates a variety of video content on the platform, but dancing is her forte.
Known for her choreography and dancing skills, the 16-year-old rising star became famous for her version of the viral "Renegade" dance to the tune of K Camp's Lottery, uploaded on the app in October 2019.
The dance was originally choreographed by Jalaiah Harmon, who, unfortunately, didn't get much credit for the dance until this year.
Charli received backlash for not referencing Jalaiah, prompting her to start crediting the creators of the dances she covers.
In November 2019, Charli joined The Hype House, a content creator collective based in Los Angeles, but left in May 2020.
A few weeks later, former Sony Music executive Barbara Jones signed Charli to her management company, Outshine Talent. And in January, she signed with United Talent Agency, along with her sister and parents.
Currently, the D'Amelio family is co-managed by Outshine Talent and Manncom Creative Partners and represented by United Talent Agency for larger projects.
Charli D'Amelio's Rise To Fame
In November 2019, Bebe Rexha invited Charli to perform with her during her opening act for the Jonas Brothers at the Barclay Center.
Three months later, in February 2020, Charli appeared in her first-ever commercial, which was in a Super Bowl advertisement for Sabra Hummus, along with other celebrities. She was also invited to attend the Super Bowl LIV and meet Jennifer Lopez for a TikTok dance challenge.
View this post on Instagram
That same month, Charli performed at the 2020 NBA All-Star game with her fellow Hype House members.
In March, the TikTok star appeared on The Tonight Show and taught Jimmy Fallon some viral dance challenges.
She also made her silver screen debut as Tinker, a mouse, in the animated movie, StarDog, and TurboCat, shown on DIRECTV Cinema in May and on VOD in June.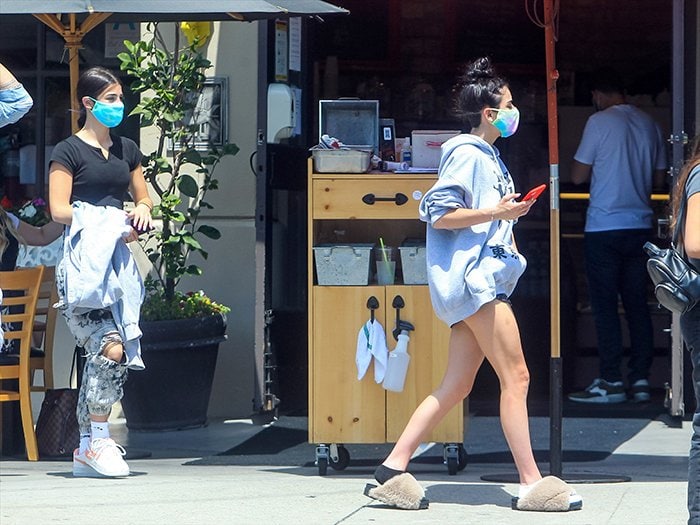 Charli D'Amelio and Dixie D'Amelio out and about in West Hollywood on August 12, 2020
She and her sister later became the face of Hollister's "Jean Lab" campaign. They have also partnered with Morphe Cosmetics for its Morphe 2 makeup line as well as with Orosa Beauty for its Coastal Craze nail polish collection.
And just recently, it has been reported that Charli and her family have been in talks for a reality TV show with production company Industrial Media.
View this post on Instagram
Did Charli D'Amelio Get a Nose Job?
On July 17, Charli shocked her fans with a video of herself showing her post-surgery look.
She captioned the TikTok post: "Surgery is done and I am so beyond excited that I was finally able to fix my breathing!!!!! And soon I will be able to be in dance classes again."
As it turns out, Charli had nose surgery to correct her breathing and sense of smell.
Prior to her surgery, she went live on Instagram and told her followers that she's excited to get her nose fixed and be able to smell again.
View this post on Instagram
In April, she revealed via Twitter that she broke her nose in August of 2019. Since then, she had experienced breathing problems through her nose.
How Much Does Charli D'Amelio's Make?
According to Forbes, Charli is not TikTok's highest-paid star despite having the most followers on the app. She reportedly has annual earnings of $4 million, which is only second to Addison Rae, who has $5 million.
Addison Rae, the second most-followed TikTok user, was named the highest-earning TikTok personality. She recently became friends with Kourtney Kardashian, whose son Mason Dash Disick is a fan of the TikTok star.
Credit: Instar / WENN / Avalon