Presenting the award for Best Documentary Feature at the 2022 Academy Awards on Sunday, Chris Rock made a joke about Jada Pinkett Smith's shaved head.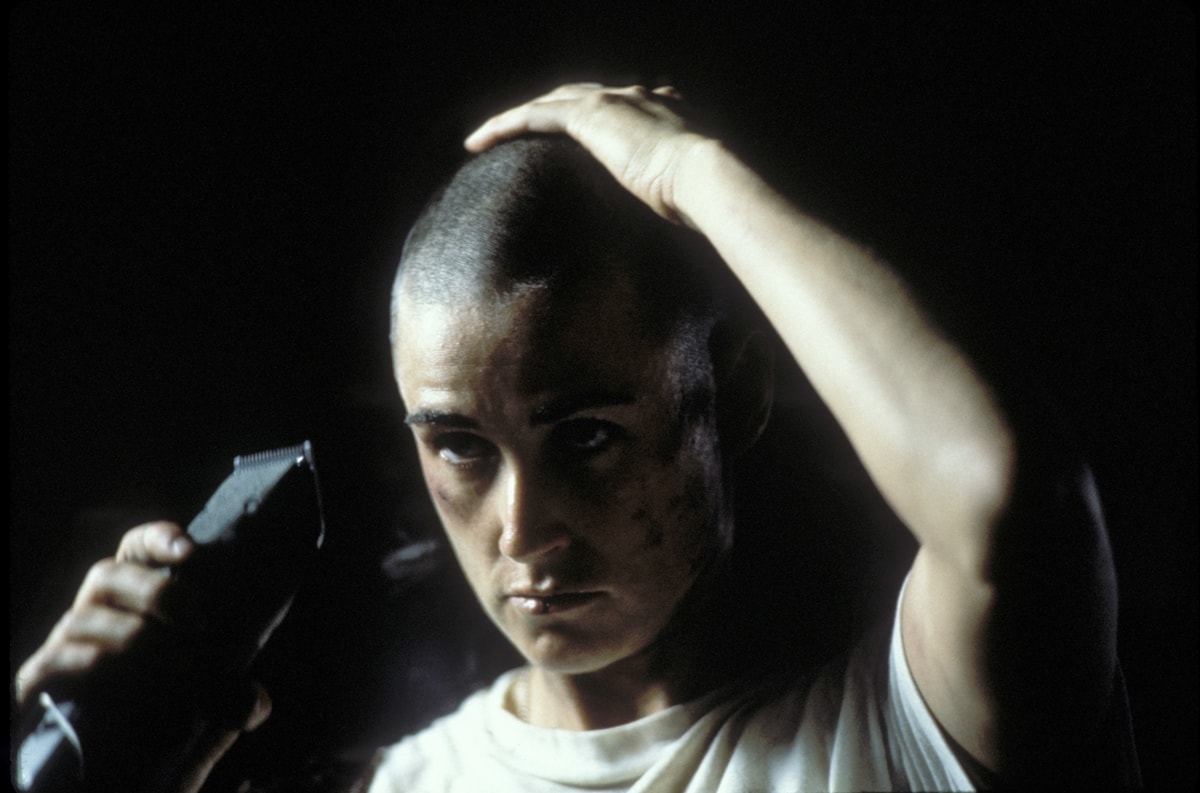 Demi Moore shaves her head as Lieutenant Jordan O'Neil in the 1997 American war drama film G.I. Jane (Credit: Buena Vista Pictures)
"Jada I love you, 'G.I. Jane 2,' can't wait to see it," he joked about Jada's bald head, referencing Demi Moore's bald look in the original movie.
Will Smith's wife first opened up about her battle with hair loss back in 2018. She has alopecia, an autoimmune disorder that attacks hair follicles.
"Mama's gonna have to take it down to the scalp so nobody thinks she got brain surgery or something😜," she captioned an Instagram video in December 2021. "Me and this alopecia are going to be friends … period!😆"
View this post on Instagram
In the video, Jada adds, "Now at this point, I can only laugh. Y'all know I've been struggling with alopecia and just all of a sudden one day, look at this line right here. Look at that."
"So it just showed up like that and this is going to be a little bit more difficult for me to hide," she stated. "So I thought I'd just share it so y'all are not asking any questions."
"Even in my fear…I really had to put it into a spiritual perspective, like the higher power takes so much from people," Jada said during an episode of her Facebook Watch show Red Table Talk.
"People are out here with cancer. People have sick children. I watch the higher power take things every day…When I looked at it from the perspective it really did settle me."
Quite understandably, Will Smith did not appreciate Chris Rock's joke about Jada Pinkett Smith's shaved head. He got onstage and smacked Chris for joking about his wife.
View this post on Instagram
"Wow, wow. Will Smith just smacked the s–t out of me," Chris said. The Hitch star then screamed from his seat, "Keep my wife's name out of your f–king mouth."
Chris then said, "Wow, dude. It was a G.I. Jane joke." Will once again repeated, "Keep my wife's name out of your f–king mouth." Chris responded, "I'm going to, okay?" He then went on to present the award.
When accepting Will Smith the award for Best Actor, Will apologized for his behavior. "I want to apologize to the Academy, I want to apologize to all my fellow nominees," Will Smith said.
View this post on Instagram
"I'm being called on in my life to love people and to protect people, and to be a river to my people…you've got to be able to take abuse, you've got to smile and pretend like that's okay," Smith emotionally said while accepting the award for his role as Richard Williams in King Richard
In July 2017, Jada Pinkett Smith celebrated her Haute Living magazine cover with an intimate dinner at a Southhampton restaurant.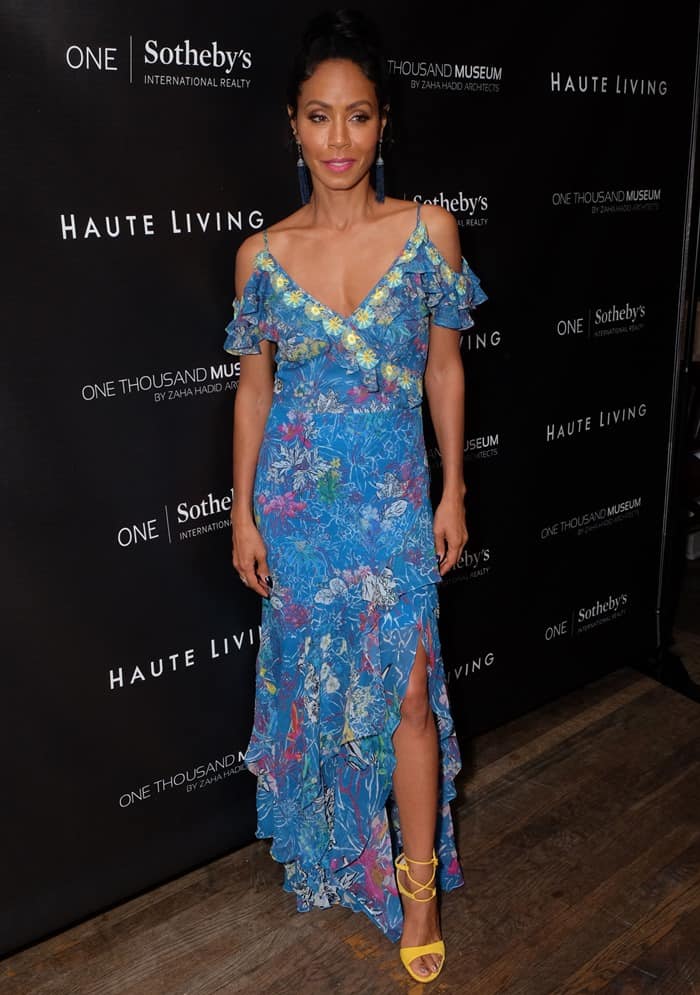 Haute Living magazine hosts an intimate dinner with actress Jada Pinkett Smith to celebrate her cover at the American restaurant 75 Main in Southampton on July 21, 2017 (Credit: Rocky / WENN)
The then 45-year-old actress, who was busy promoting her comedy movie "Girls Trip," looked ageless during the affair.
Jada was summer-ready in a floral dress that featured a cold shoulder style and an asymmetrical skirt. A pair of bright yellow heels and some blue tassel earrings added even more color to the already fun look.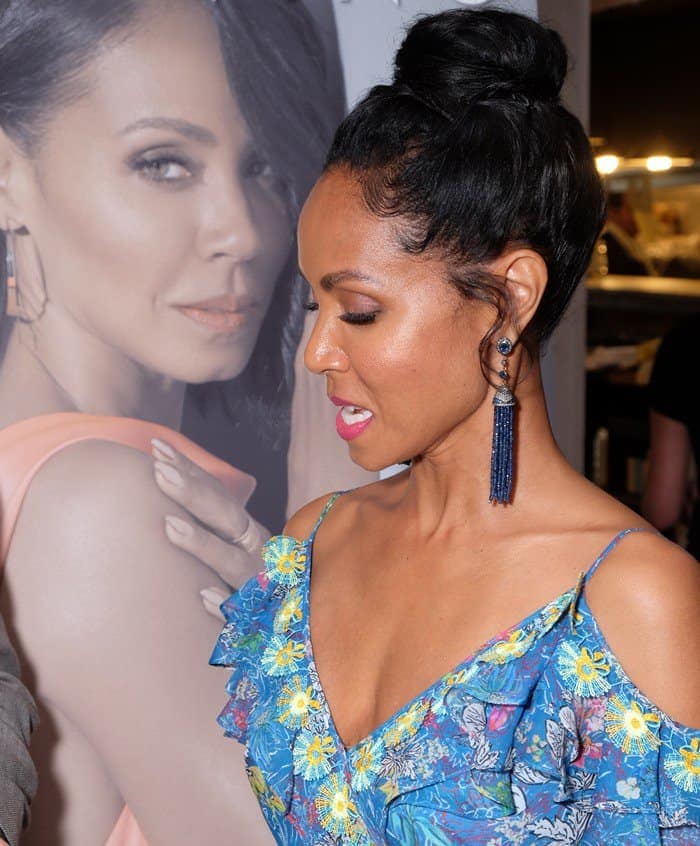 Jada styled her floral dress with a trendy pair of beaded tassel earrings (Credit: Rocky / WENN)
Jada's beaded tassel earrings were decorated with crystals and gemstones and capped off this sexy flirty ensemble perfectly.
Jada Pinkett Smith made her ears look smaller with long statement earrings (Credit: Rocky / WENN)
In addition to looking cute and trendy, long statement earrings can also make big ears look smaller. It's a simple style trick!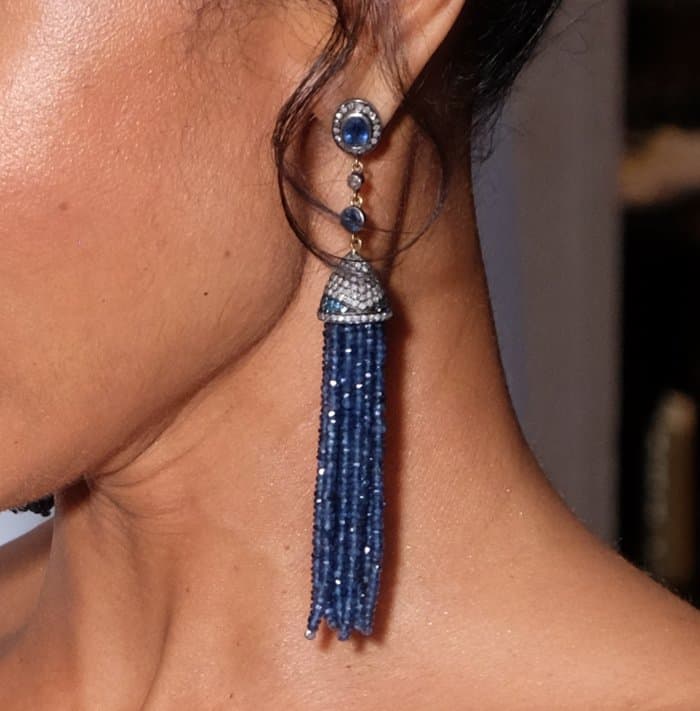 These beautiful beaded tassel earrings also feature crystal and gemstone embellishments (Credit: Rocky / WENN)
Add a flirty detail to your evening looks with our picks for trendy tassel earrings below from Shopbop.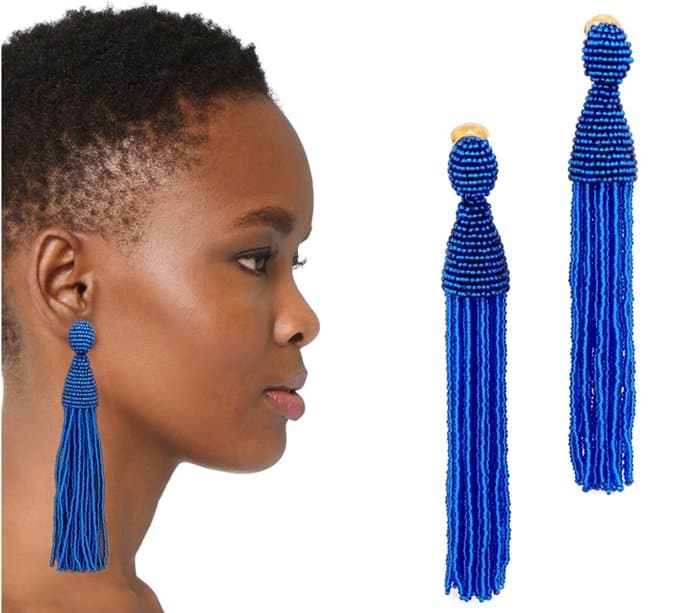 Oscar de la Renta Beaded Tassel Clip On Earrings, $395
Tory Burch Beaded Tassel Earrings, $158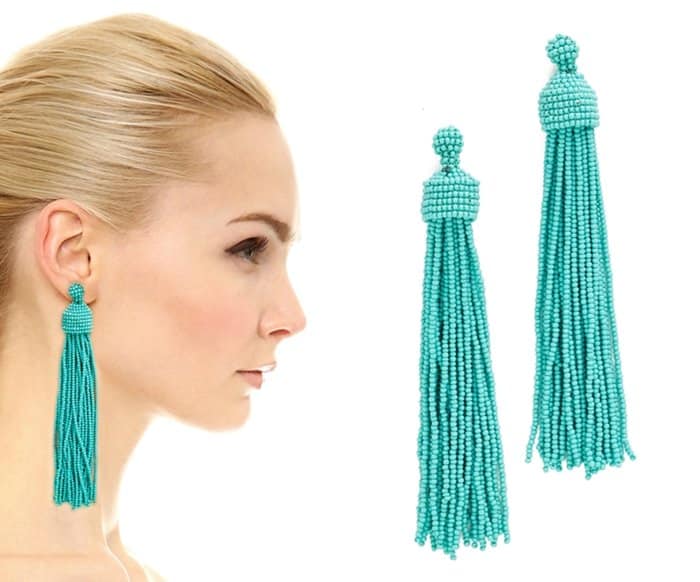 Kenneth Jay Lane Tassel Earrings, $100