The Fifty Shades Trilogy had even the most unlikely of us turn into avid bookworms.
The promise from the author, E.L.James that the trilogy would "obsess you, possess you, and stay with you forever" rang true as we waited in anticipation for the release of the first film, Fifty Shades of Grey.
Rita Ora in a Giambattista Valli Spring 2017 Couture gown and Stuart Weitzman 'Nudist' sandals while walking the carpet at the Fifty Shades Darker premiere at The Theatre at Ace Hotel February 2, 2017, in Los Angeles (Credit: Joe Seer / Shutterstock)
This provocative, romantic, erotic drama had captured our imaginations and we simply couldn't wait to see if the screenplay met our expectations.
And Rita Ora fans around the world were over the moon at the announcement she would be playing Christian Grey's younger sister. Was our favorite singer destined for Hollywood?
How Did Rita Land the Role?
Rita initially approached the production hoping to collaborate on the soundtrack, but director, British filmmaker and photographer, Sam Taylor-Johnson had other ideas and asked her to audition for the role of Mia.
In an MTV interview, Rita said, "It ended up with me being in the movie, I'm not going to complain."
Luke Grimes as Elliot Grey, Dakota Johnson as Anastasia "Ana" Grey, and Rita Ora as Mia Grey in the 2018 American erotic romantic drama film Fifty Shades Freed (Credit: Universal Pictures)
Elaborating further, she said, "Doing the movie was probably one of the best things ever, being in Vancouver, getting out of the music and just making it work was really good. I did like eight auditions, so I thought I would never get it. It was incredible that it worked out."
Fifty Shades of Grey
Speaking to MTV News on the red carpet for the MTV Movie Awards, Rita teased us by saying, "I've seen some. I've definitely seen my parts. I'm literally sworn to secrecy, but what I can say is expect something that would really make it worth your while."
For Rita, aged 25 at the time, being cast in what was going to be one of the steamiest films around, was a great achievement, one which had us waiting with bated breath.
Rita Ora only had four lines as Christian Grey's sister in Fifty Shades of Grey (Credit: Universal Pictures)
How would this franchise showcase her talent? Well, not very well if you ask most of Rita's fans! 4 lines, yip only 4 lines, and one was in French.
And to add insult to injury, her debut scene saw the camera cutting away from her mid-sentence. A total of 90 seconds of screen time which let's not forget took 8 auditions, the mind boggles!
But if we had thought that the soundtrack would redeem this production team in our eyes, we were going to be thoroughly disappointed as Rita was completely left out.
Fifty Shades Darker
The release of Fifty Shades Darker had us speculating on whether or not we would see more than 90 seconds of our favorite and surely this time the soundtrack would see her featured right up there.
But alas, Rita now 27 was once again not showcased quite in the way we had hoped for. On the upside, her fabulous song, "Kiss me" made a showing, although only on the Target Deluxe Edition, which some viewed as a greater insult than leaving it off completely.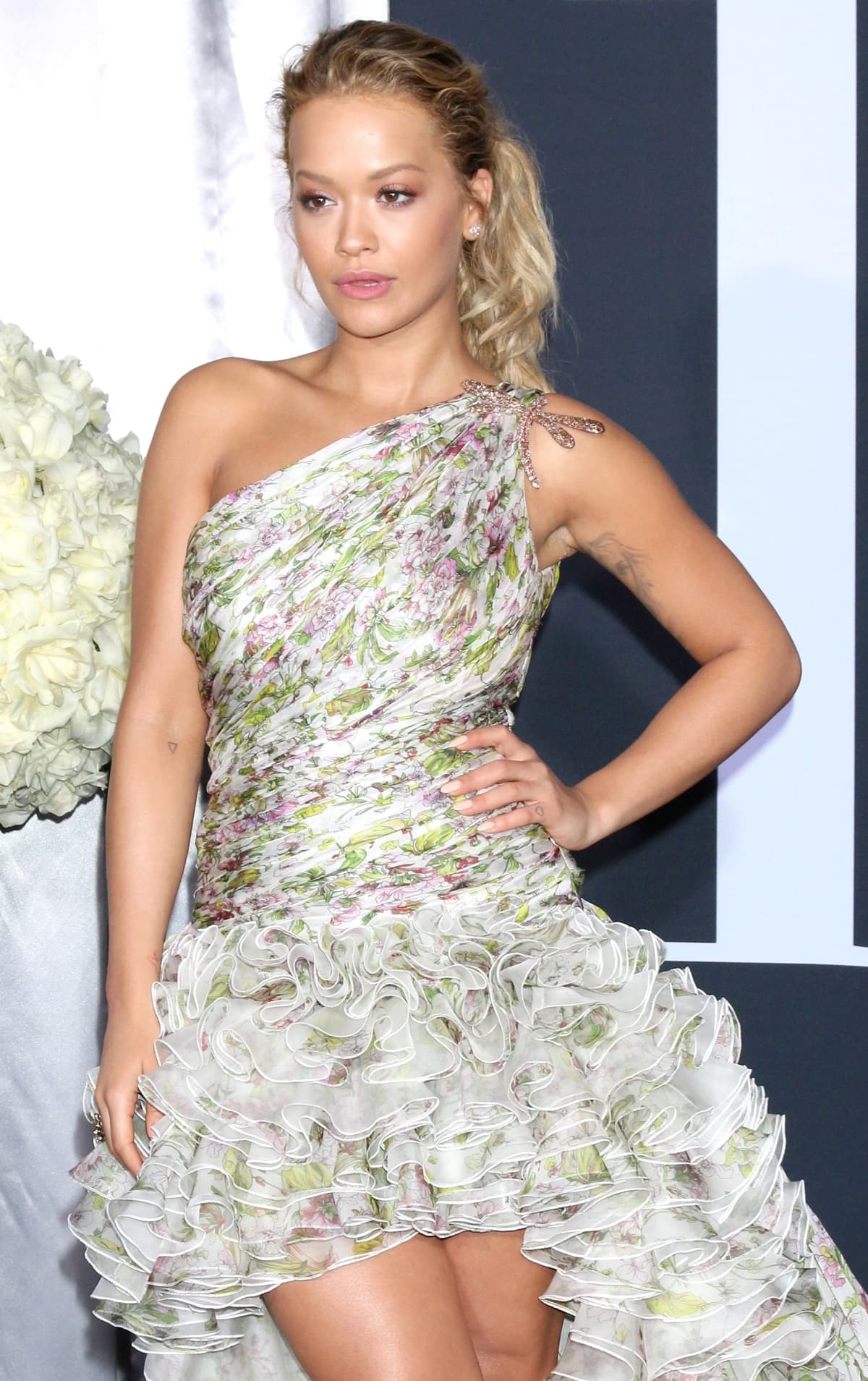 Rita Ora ended up auditioning for the role of Mia Grey after approaching the production hoping to contribute to the Fifty Shades of Grey soundtrack (Credit: Kathy Hutchins / Shutterstock)
None of us like seeing our favorite in a role that does not reflect their personality and getting owned is not how any of us see Rita.
From scenes where her brother does not recognize her and appears to find her conversation boring after half a minute, through to his engagement where he kicks off his speech with a joke at her expense, her character Mia definitely does not match up with the bubbly and feisty Rita we love.
The only positive we can take away from this film when it comes to Rita is at least they fixed her hair. Those 90 seconds we saw in the first movie had most of us distracted by that very odd wig.
Fifty Shades Freed
At last, the Fifty Shades production team appeared to have listened to Rita's fans and we found her not only having the Fifty Shades Freed soundtrack featuring her "For You" a duet with Liam Payne, but also an actual storyline!
Rita-fans had their heart skip a beat as she appeared in the opening scene – let's not forget we had to wait 40 minutes before we caught sight of her in Fifty Shades Darker. Here we see Mia in the front row of Ana and Christian's wedding, and she even catches the bouquet – which led to some of us secretly coming up with a whole new subplot!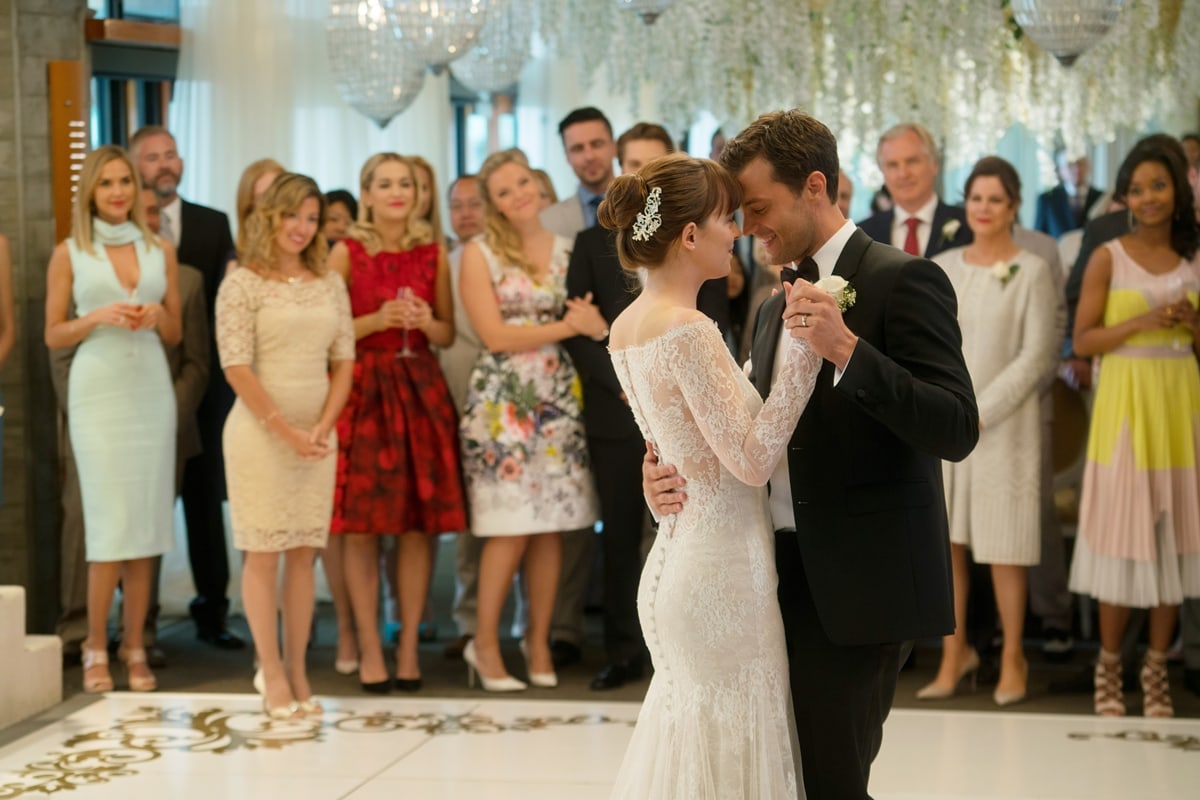 Jamie Dornan as Christian Grey and Dakota Johnson as Anastasia Steele dance with Rita Ora in the background in the 2018 American erotic romantic drama film Fifty Shades Freed (Credit: Universal Pictures)
Next, we have Mia being invited on a weekend skiing trip where she sets up Christian's first singing appearance, goes shopping with Ana and Kate but the highlight of her Fifty Shades career is when she is kidnapped by Ana's ex-boss.
A huge ransom demand combined with scenes of Mia being tied to a chair in that obligatory abandoned warehouse gives us a chance to see Rita on her own, but all too quickly it was over as Ana tries to save her, and once again Mia appeared to have been forgotten as the film moved back to Ana and Christian.
But, as Rita-fans we are finally happy with a soundtrack and a storyline of more than 90 seconds.
Rita Ora recording in over-the-knee boots (Credit: Rita Ora's Instagram)
In January 2014, we were in the thick of boot season, and Rita Ora was making the most of it.
She added some Instagram photos of herself wearing a pair of over-the-knee boots in New York City.
A few days earlier, we noticed Rita wearing a different pair of OTK boots — a beige pair from Salvatore Ferragamo — in London.
Rita Ora shows off her new black over-the-knee boots (Credit: Rita Ora's Instagram)
Do you love these shoes as much as Rita Ora does?
Aside from wearing them to the studio, she also took them to a girls' night out with Adrienne Bailon.
Rita Ora wears a vest and skirt combo fashioned from an old winter coat (Credit: Rita Ora's Instagram)
If you're wondering where Rita Ora got those boots, they're actually from Balenciaga and can be found at Nordstrom.
These black suede boots feature knotted silver-toned hardware at the ankles, small block heels, horizontal knee seams, and partial-size zippers.
Balenciaga "Daim" Slim Over-the-Knee Boots, $2,850