While the name "Sandra Bullock" is instantly recognizable across the globe currently, the actress had humble beginnings during her journey to superstardom.
Born Sandra Annette Bullock in 1964, Bullock was raised in the suburban town of Arlington, Virginia, though frequently traveled due to her father's occupation as a senior figure in the Army's Military Postal Service.
For a period of 12 years, Bullock was raised in Germany and Austria. She grew up speaking German.
Sandra Bullock and Keanu Reeves won Best Liplock at the 2006 Teen Choice Awards held on August 20, 2006, at the Gibson Amphitheatre, Universal City, California (Credit: s_bukley / Shutterstock)
Bullock always possessed a keen interest in acting, which lead her to study drama at East Carolina University. At the young age of 22, she decided to take the plunge and move to New York City, with the aim of fully realizing her dreams of being an actress.
She quickly found success in New York City and received rave reviews for her acting Off-Broadway, which lead her to receive more work in motion pictures.
Her film debut was in the movie Hangmen (1987), which began a string of consistent film roles for her (at the time) burgeoning acting career.
Sandra Bullock in the lead role as Tess McGill in the short-lived NBC television version of the film Working Girl (Credit: NBC)
Her first recognizable role was arguably in Demolition Man (1993), where she starred as a slightly ditzy woman from the future, opposite macho man Sylvester Stallone.
Sandra Bullock enters the Speed Film Franchise
However, no role Bullock had would compare to the exposure she would receive with her role in Speed (1994), a blockbuster action classic.
Speed was developed by screenwriter Graham Yost, who drew inspiration for the thrilling plot from a concept film by esteemed Japanese filmmaker Akira Kurosawa.
Sandra Bullock played Annie Porter, a passenger eventually driving the bus in the 1994 American action thriller film Speed (Credit: 20th Century Fox)
Initially offered to director John McTiernan (of Predator, Die Hard, and The Hunt for Red October fame), McTiernan declined, instead recommending Dutch director Jan De Bont, who had years of being a director of photography for action films under his belt.
When searching for the cast of the film, actors such as Tom Cruise, Tom Hanks, and Woody Harrelson were considered for the starring role, before landing on Canadian actor Keanu Reeves to act as LAPD SWAT officer Jack Traven. Bullock's casting came later, as the casting directors first envisioned her character being African American.
When Halle Berry declined the role, they then opted to cast Meryl Streep and Kim Basinger, who both declined, before settling on Sandra Bullock.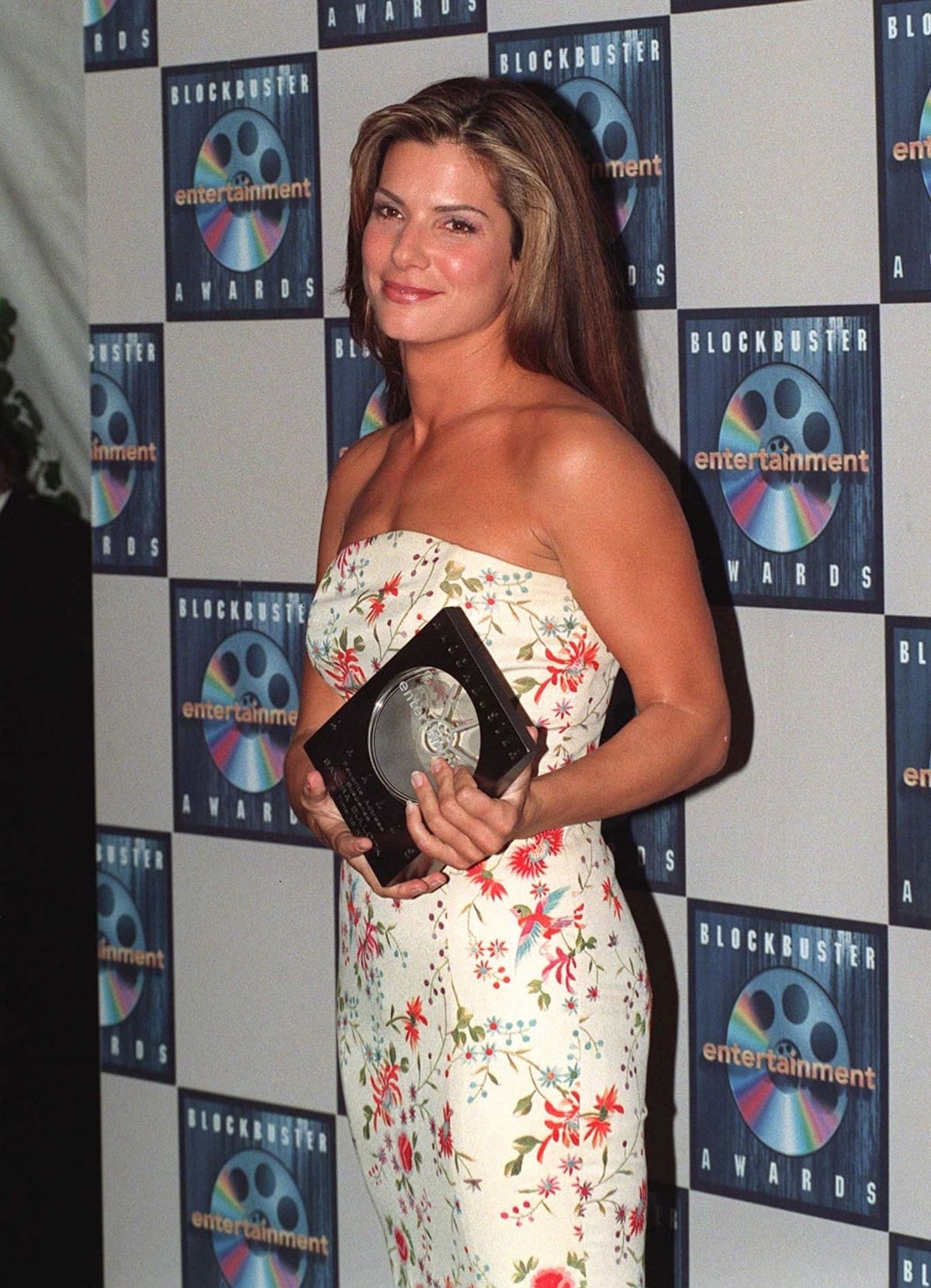 American actress Sandra Bullock attends the 3rd Annual Blockbuster Entertainment Awards held at the Pantages Theatre in Los Angeles, California, on March 11, 1997 (Credit: Featureflash Photo Agency / Shutterstock)
The film centers around Jack Traven, an LAPD SWAT officer who is thrust into a terrorist plot, where criminal mastermind Howard Payne (a former bomb squad officer) rigs a bus to explode if the bus dips below 50 miles per hour.
Desperate to save all on board, Traven teams up with bus driver Annie Porter (played by Sandra Bullock), to thwart Payne's schemes and save the innocent citizens' lives.
The plot ramps up as Traven and Porter chase down Payne, looking to seek justice for his crimes. As with many classic Hollywood films, Traven and Porter eventually form a kindred romance.
Keanu Reeves as Officer Jack Traven and Sandra Bullock as Annie Porter in the 1994 smash-hit blockbuster Speed
Upon release, Speed received critical and popular acclaim as a must-see summer thriller film. The film would go on to bring in a massive gross of $350.4 million USD, against a budget of $30 million USD.
This level of success would inevitably lead the producers to seek a sequel, and pre-production work on Speed 2 began when Fox Studios announced the film sequel during the first week of Speed's release.
Sandra Bullock's Return in Speed 2
In planning the plot for the sequel, Jan de Bont received hundreds of different ideas before settling on one involving an ocean liner that has been programmed to crash into an oil tanker.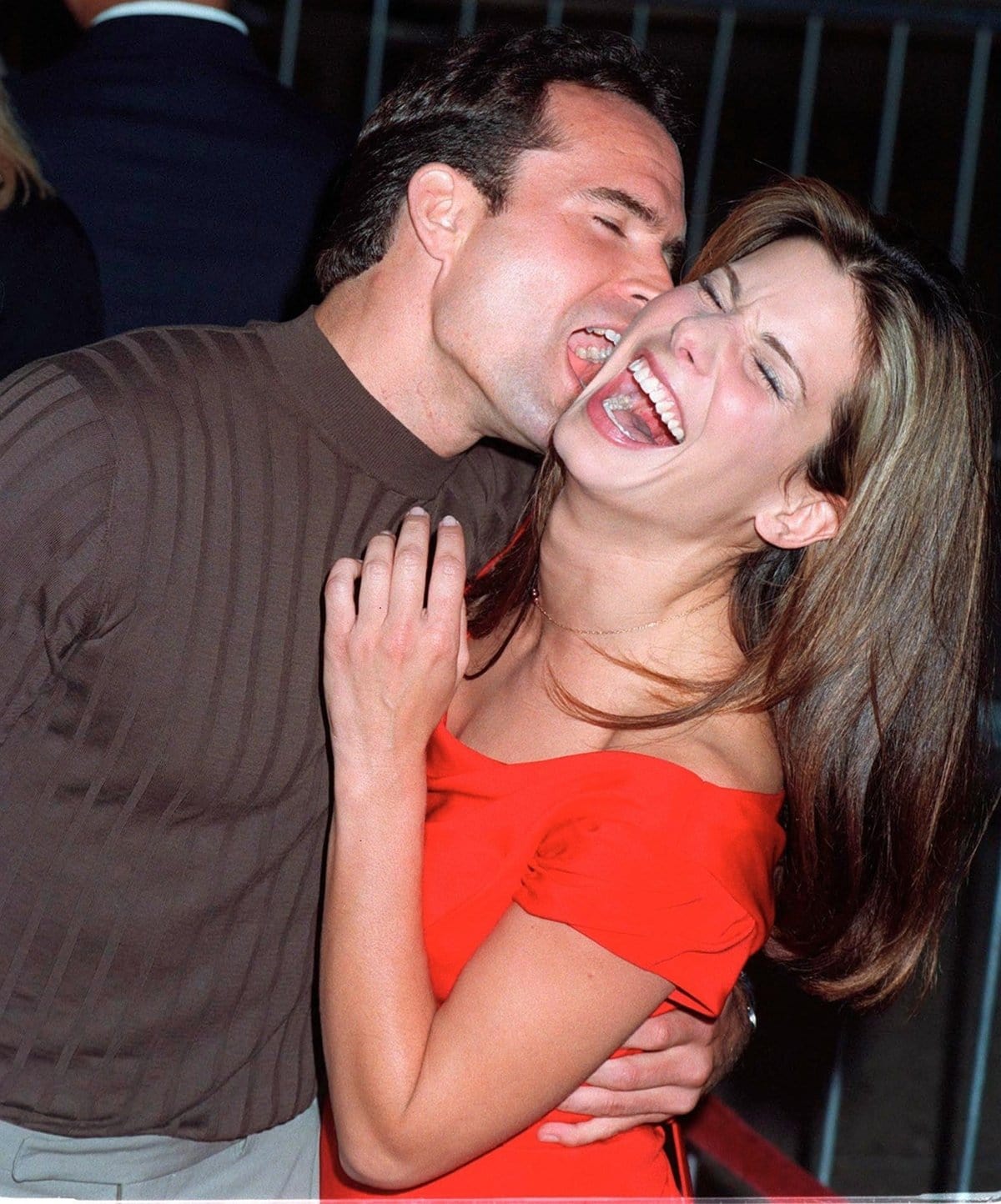 Sandra Bullock and Jason Patric at the "Speed 2: Cruise Control" Los Angeles premiere on June 9, 1997, at Cineplex Odeon Century Plaza Cinema in Century City, California (Credit: Featureflash Photo Agency / Shutterstock)
Director Jan de Bont was contractually obligated to direct the sequel, though the films stars, Reeves and Bullock, were not.
Because of this Sandra Bullock initially declined to star in the sequel, as she felt the plot was not as strong as the first film.
However, Bullock eventually relented and signed on to reprise her role as Annie Porter, allegedly in an attempt to secure funding for Hope Floats (1998), a romantic drama film that starred her alongside Harry Connick Jr.
Despite Bullock signing on, however, Keanu Reeves would still decline to reprise his role as Jack Traver in the film, stating in an interview with Variety that "I really wanted to work with Sandra Bullock, I loved playing Jack Traven, and I loved 'Speed', but an ocean liner? I had nothing against the artists involved, but at that time I had the feeling it wasn't right."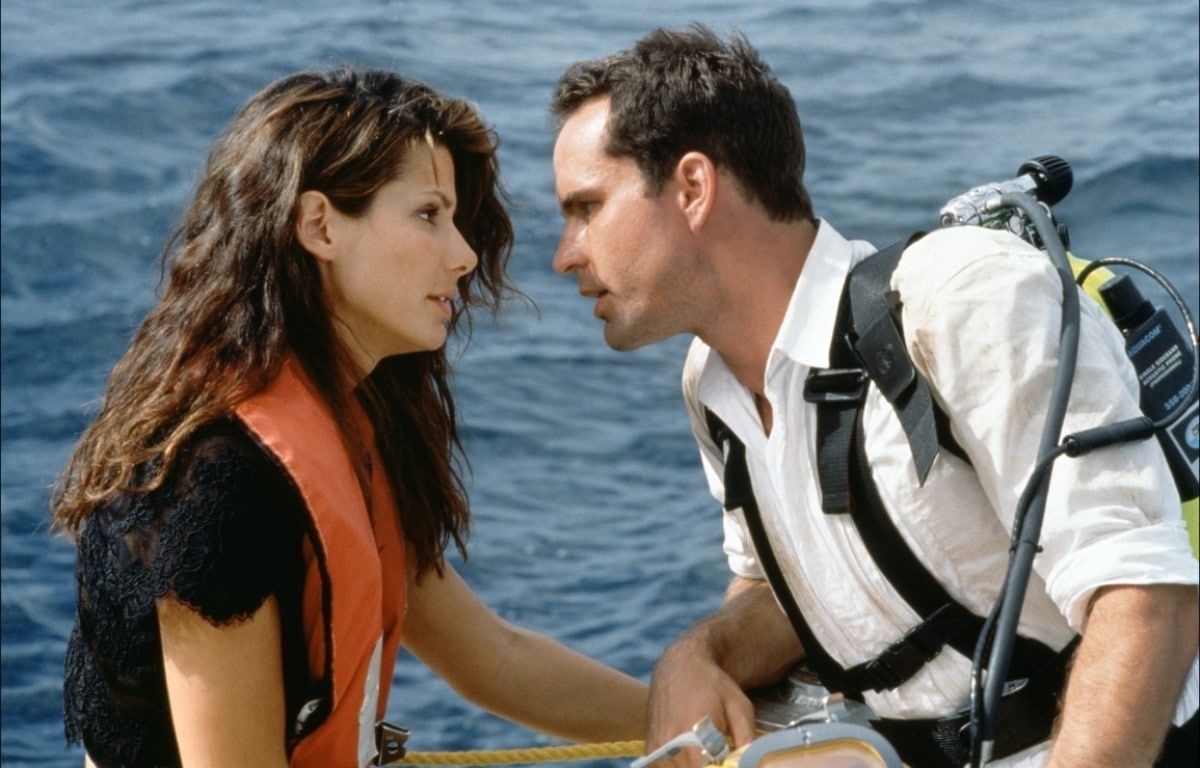 Sandra Bullock was paid $11 million to star in the 1997 American action thriller film Speed 2: Cruise Control with Jason Patric (Credit: 20th Century Fox)
Additionally, Reeves has stated that he desired to tour with his band, Dogstar, and that he was physically exhausted from the action film genre after completing production on Chain Reaction (1996).
Regardless, De Bont would replace Reeve's character with Alex Shaw, another officer portrayed by actor Jason Patric.
The Issues with Speed 2 and Bullock's Regrets
Speed 2 was finally released on June 13, 1997, to much anticipation and fanfare. Despite the success of the first film, however, many critics and audiences found Speed 2 boring in comparison.
Bullock was 32 years old when the movie was released and turned 33 the following month, on July 26, 1997.
Many critics pointed towards the shift from the central plot point of a speeding bus to a slow ocean liner as a critical flaw of the film as a whole.
Speed 2: Cruise Control starring Sandra Bullock as Annie Porter and Jason Patric as Officer Alex Shaw is considered one of the worst sequels in history (Credit: Featureflash Photo Agency / Shutterstock)
Because of this issue (coupled with the perceived downgrade in former leading man Keanu Reeves to less-exciting Jason Patric), Speed 2 was critically panned, with many calling it the worse film of 1997.
Jason Patric admitted "it wasn't a good movie", while popular magazine Entertainment Weekly stated that the film was "as slow-moving as a garbage scow".
The disappointment of the film cannot be overstated, especially since it is still cited by Bullock as being one of her very worst decisions as an actress.
"I have one no one came around to and I'm still embarrassed I was in. It's called 'Speed 2.' I've been very vocal about it. Makes no sense. Slow boat. Slowly going towards an island," Sandra told TooFab in March 2021.
Willem Dafoe as John Geiger and Sandra Bullock as Annie Porter in the sequel to Speed (Credit: 20th Century Fox)
"That's one I wished I hadn't done and no fans came around, that I know of, except for you," Bullock said acknowledging her The Lost City co-star Daniel Radcliffe.
"I feel like it had a kind of cult love as well," Daniel chimed in, to which Sandra responded, "Very quiet. Like 5 people. Him and the other four 12-year-olds who were watching the slow boat going towards the tiny island," she joked.
Despite this, some have considered Speed 2 to be somewhat of a cult film, including former Harry Potter star Daniel Radcliffe. Despite the cult following, Speed 2 is still considered one of the worst film sequels of all time, and will always exist as somewhat of a stain on Bullock's rock-solid filmography.
Sandra Bullock rocked a wavy updo to show off her earrings (Credit: Kento Nara / Future Image / WENN)
In December 2013, the ever-lovable Sandra Bullock flew to Tokyo, Japan, for the premiere of her hit movie 'Gravity' and was warmly received by her adoring Japanese fans upon stepping out onto the red carpet.
The then 49-year-old had an enviable glow as she happily greeted the fans and posed for the cameras (ladies, when it comes to aging gracefully, this woman right here is your peg).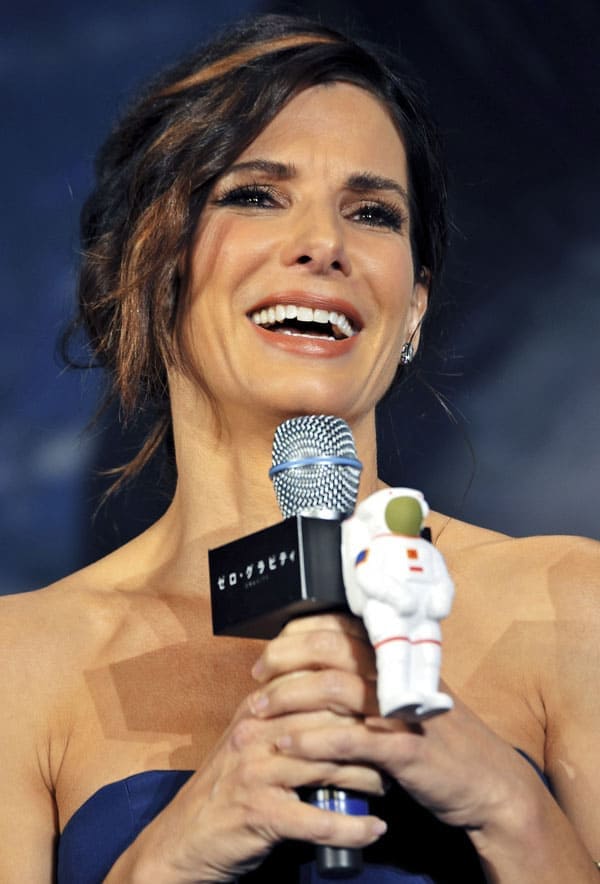 Sandra Bullock promotes Gravity in a navy-blue dress (Credit: Kento Nara / Future Image / WENN)
The actress was a vision in blue — a look that was as flawless as all her previous 'Gravity' premiere looks.

Sandra styled a Carolina Herrera dress with Charlotte Olympia shoes and Martin Katz jewels (Credit: Kento Nara / Future Image / WENN)
Sandra wore a silk bandeau dress by Carolina Herrera paired with some chunky black 'Daphne' peep toes from Charlotte Olympia.
Sandra Bullock portrays medical engineer and mission specialist Dr. Ryan Stone in the 2013 science fiction thriller film Gravity (Credit: Kento Nara / Future Image / WENN)
She swept her hair up in a romantic updo with a few thick and wavy tendrils framing one side of her face.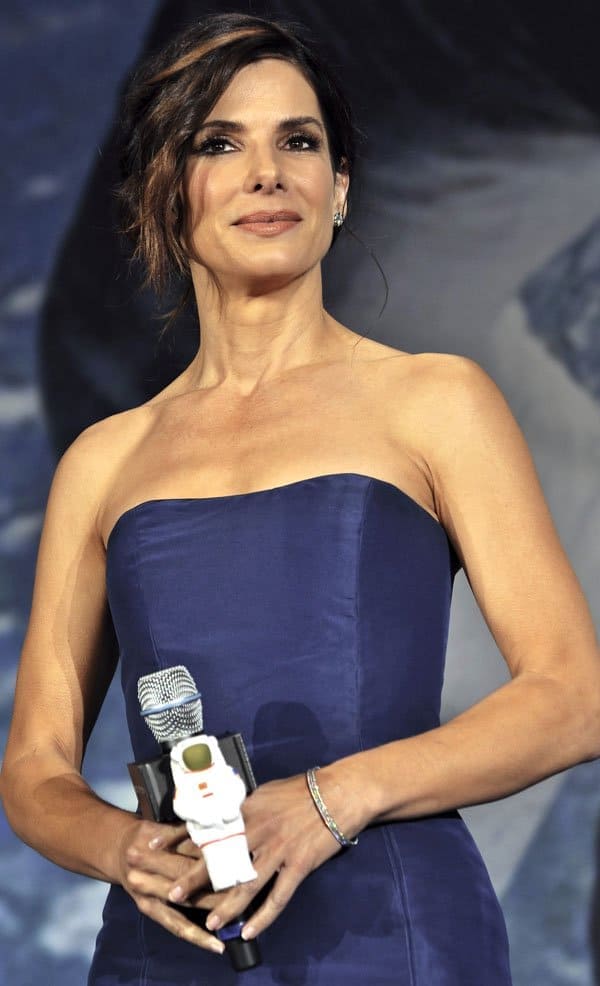 Sandra Bullock in a strapless Carolina Herrera Resort 2014 sculptural dress (Credit: Kento Nara / Future Image / WENN)
We absolutely love the simplicity and structure of this dress that emphasizes the beautiful enlarged lace tier at the bottom.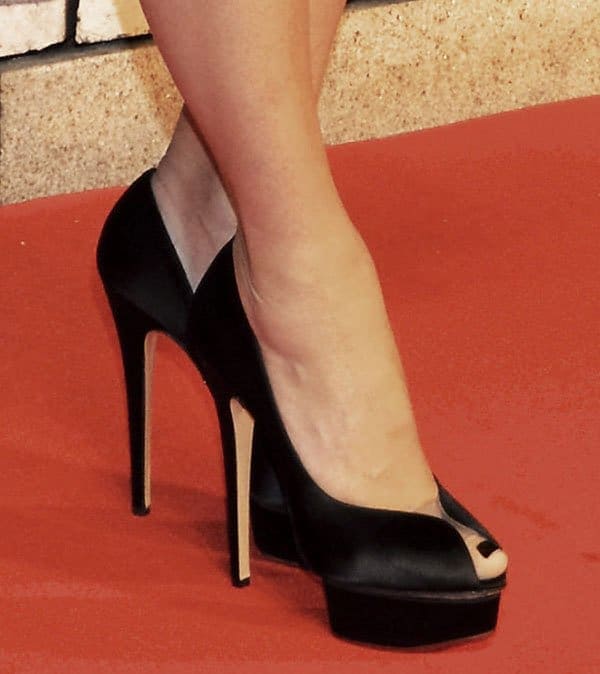 Sandra Bullock shows off her feet in black 'Daphne' peep toes from Charlotte Olympia (Credit: Kento Nara / Future Image / WENN)
It is made of silk and has a silk lining, making it less breathable than cotton and more apt for the cold weather of Tokyo.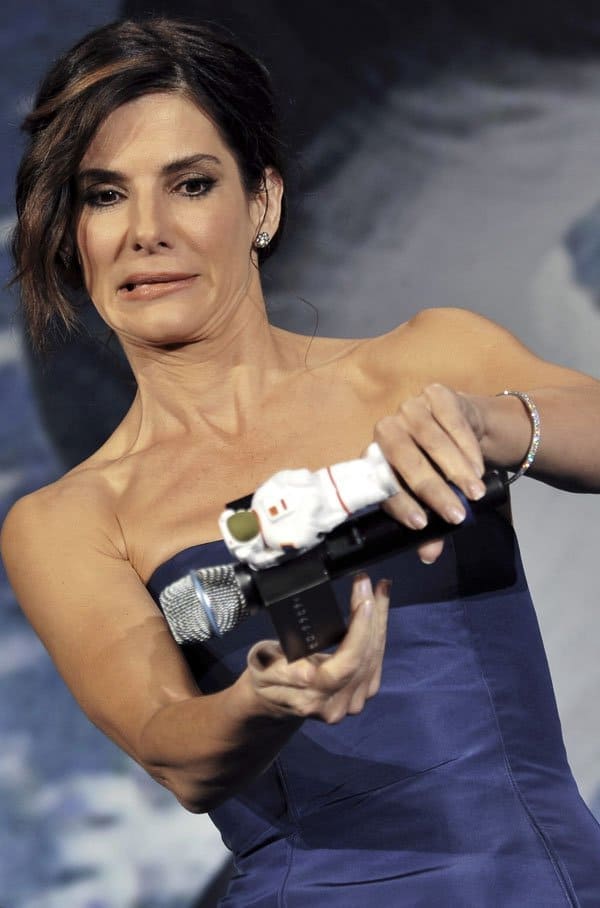 Sandra Bullock has some fun with her microphone while promoting Gravity in Japan's capital (Credit: Kento Nara / Future Image / WENN)
We also love the dropped waist that hugs the hips and gently flares at the bottom, creating a mermaid-like skirt structure.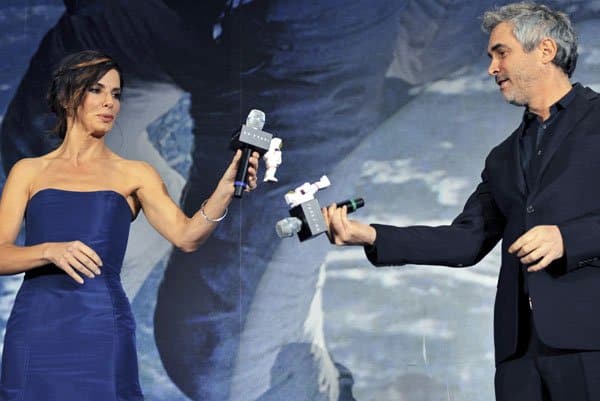 Sandra Bullock and George Clooney star as American astronauts who are stranded in space (Credit: Kento Nara / Future Image / WENN)
"It was a very intense experience for Sandra, I must admit," director Alfonso Cuaron said at the 2013 Comic-Con panel for their film Gravity.
"It required for her to be isolated. Outside there were robots holding the camera, in some instances the robot would be holding the lights."
Sandra Bullock in blue Carolina Herrera Resort 2014 sculptural strapless dress at the 'Gravity' premiere in Tokyo, Japan, on December 5, 2013 (Credit: Kento Nara / Future Image / WENN)
This breathtaking piece by Carolina Herrera is available at Saks Fifth Avenue.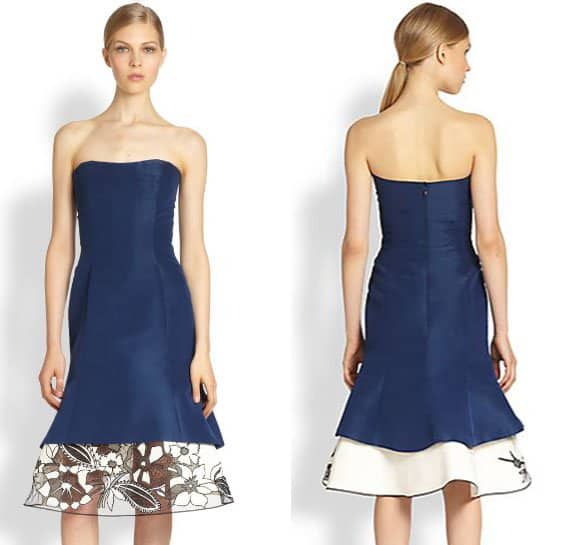 Carolina Herrera Silk Faille Strapless Dress, $3,690