Sanda Bullock's parents, Helga Mathilde Meyer (1942–2000), an opera singer and voice teacher from Germany, and John W. Bullock (1925–2018), an Army employee and part-time voice coach from Birmingham, Alabama, met and married in Germany.
Her dad was in charge of the Army's Military Postal Service in Europe. Sandra Bullock grew up speaking German in Nuremberg, Germany and Vienna and Salzburg, Austria. She even made her first stage appearance at age five in an opera in Germany.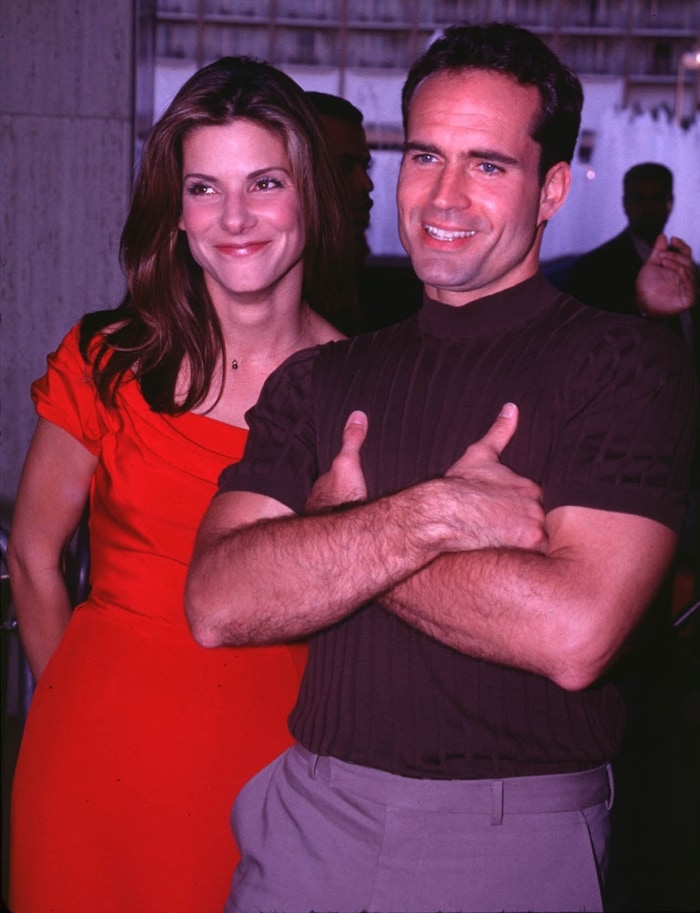 Actress Sandra Bullock and actor Jason Patric attend the 'Speed 2: Cruise Control' Century City Premiere on June 9, 1997, at Cineplex Odeon Century Plaza Cinemas in Century City, California
In Ocean's 8 (stylized onscreen as Ocean's Eight), a 2018 American heist comedy film, Sandra Bullock portrays Deborah "Debbie" Ocean who speaks German as part of her cover.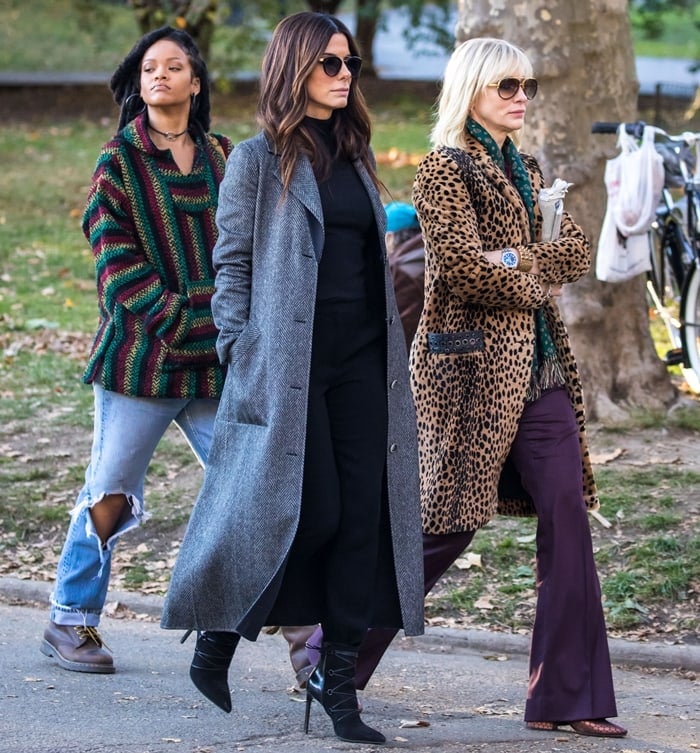 Sandra Bullock, on the set of Oceans 8 with Rihanna and Cate Blanchett in 2016, speaks German in her role as Debbie Ocean, the estranged sister of Danny Ocean (played by George Clooney in the previous three "Ocean's" films)
In June 2018, Sandra taught Jimmy Kimmel a very interesting phrase in German while promoting her new movie Oceans 8. While intending to keep her American citizenship, Bullock applied for German citizenship in 2009.
In October 2013, the bilingual actress attended the London premiere of her new movie "Gravity" in one of the hottest looks we've seen on her. It's hard to believe that the award-winning actress at the time was just about to turn 50!
Sandra Bullock attends the premiere of "Gravity" at the BFI London Film Festival in London on October 9, 2013
Sandra wore an intricate floral lace mini dress from Stella McCartney, which highlighted her incredible legs along with the help of some killer Charlotte Olympia heels.
Sandra Bullock shows off her legs in an intricate floral minidress from Stella McCartney
Sandra went for dramatic makeup with dark red lips and smoky eye makeup and completed her sexy siren look with a wavy hairstyle.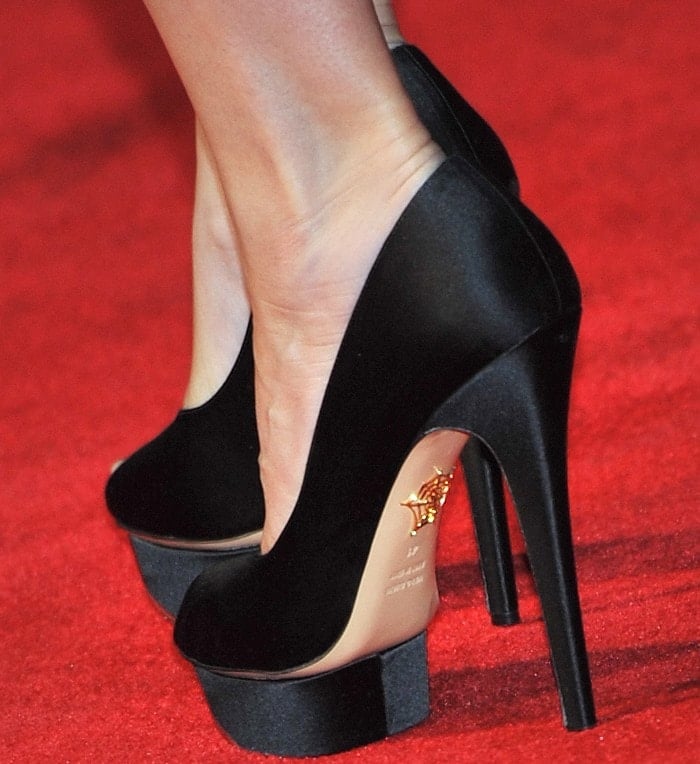 Sandra Bullock completes her red carpet look with a pair of Charlotte Olympia platform pumps
We immediately knew Sandra's shoes are from Charlotte Olympia, thanks to the gold spiderweb designs on their soles.
These pumps are called the "Daphne," and they have split peep-toes joined by clear PCV. Sandra wore a black satin pair with island platforms and huge stiletto heels.
Sandra Bullock wears a pair of "Daphne" pumps to the red carpet premiere of her new movie
The "Daphne" pumps are available in a variety of designs at Zappos and Farfetch. Sandra's exact black satin pair isn't available for purchase, but here are a few alternatives.
Charlotte Olympia "Daphne" Suede Pumps, $546
Charlotte Olympia "Daphne" Animal Pumps, $995
Charlotte Olympia "Daphne" Leather Pumps, $1,009.73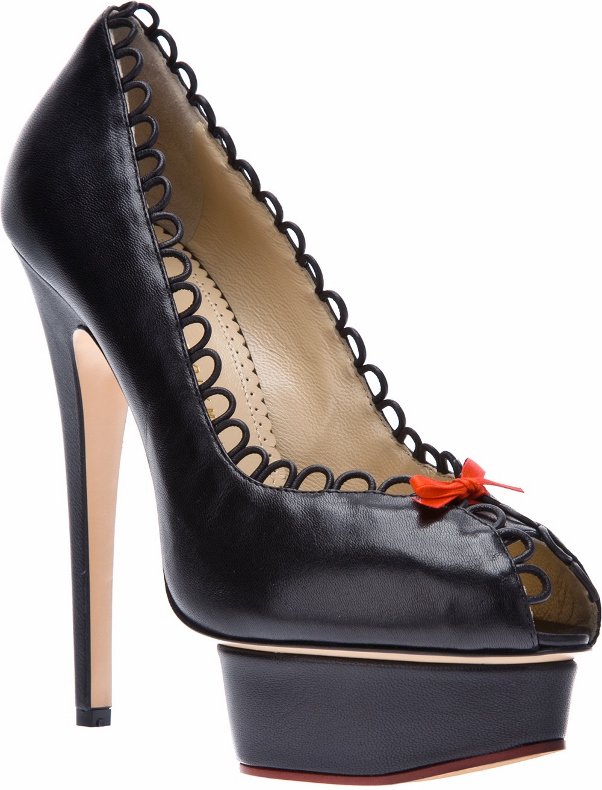 Charlotte Olympia "Daphne" Glitter Suede Pumps, $791.74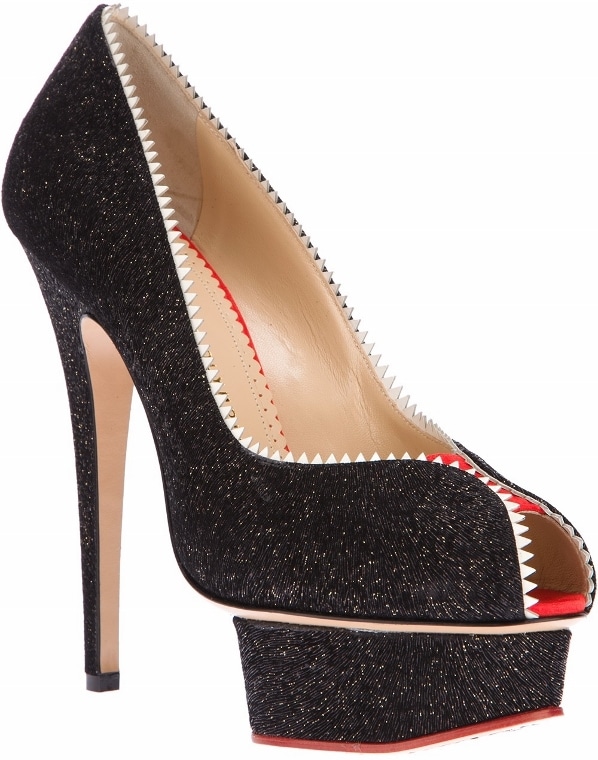 In the sci-fi thriller Gravity, Sandra plays a medical engineer who is stranded in space with an astronaut played by George Clooney. Not the worst person to be stuck with, eh ladies? Take a look at the trailer to see the two stars in action:
Credit: Daniel Deme / Lia Toby / WENN