While European designers rule the fashion industry, their British counterparts have made a name for themselves in recent years.
With a royal seal of approval, many of these brands are probably already on your radar. Whatever your aesthetic is, there's a UK designer out there for you.
We're recapping the fourteen most popular British designers you need to know, including some up-and-coming brands. You can add a touch of British charm to your closet with one of these iconic designers.
1. Alexander McQueen: The Trailblazing Icon of British Fashion
When it comes to modern British fashion brands, Alexander McQueen is in a league of its own. The brand single-handedly brought skulls back into the mainstream.
Founded in 1992, Alexander McQueen's logo features a unique "Q" lettering with a small "c" inside
Alexander McQueen was nicknamed the 'hooligan of fashion' and was famous for mixing structural silhouettes with delicate floral patterns and motifs.
Before launching his eponymous brand, Alexander McQueen worked as Creative Director at Givenchy.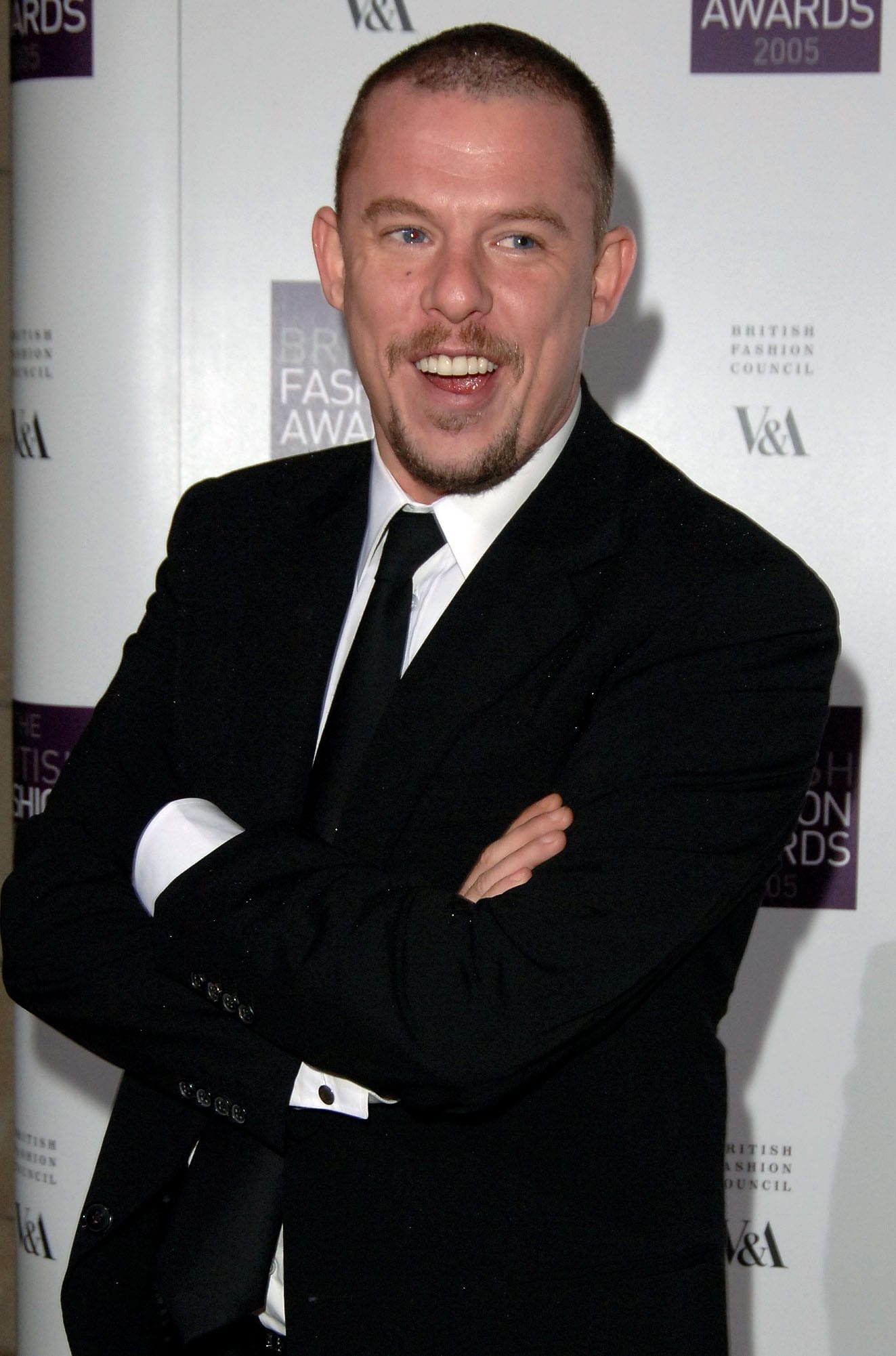 Alexander McQueen at the British Fashion Awards in November 2005 (Credit: WENN)
Some of Alexander McQueen's most recognizable pieces remain the signature skull scarf, knuckle-ring clutch bag, and white sneakers.
The brand describes itself as being "distinctive for its innovative and uncompromising expression of unbridled creativity."
Along with being synonymous with contemporary British couture, Alexander McQueen is a favorite amongst streetwear followers.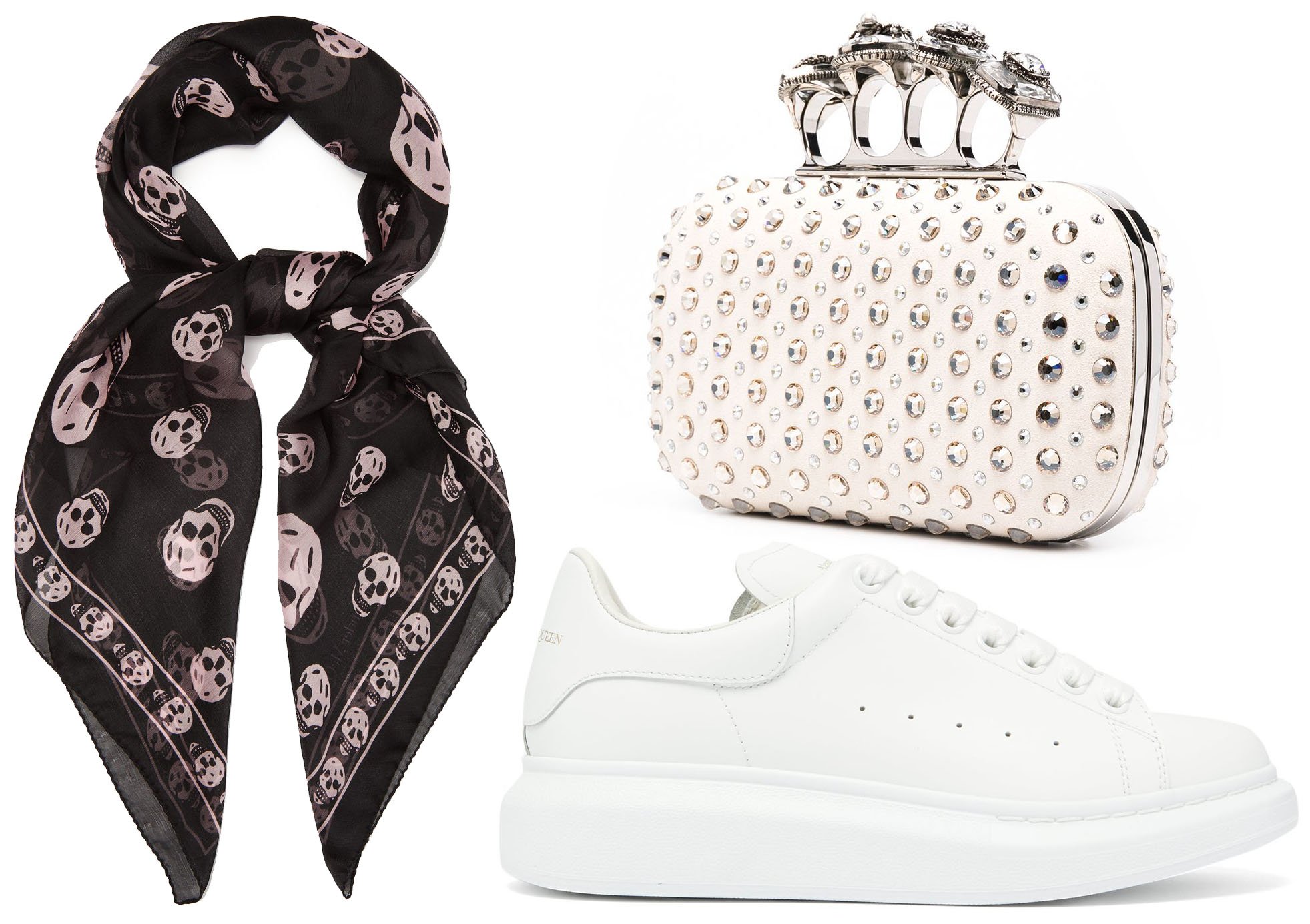 Alexander McQueen is famous for his skull designs
After the death of McQueen, any concerns about the future of the brand were quickly squashed when Sarah Burton was appointed Creative Director.
Under the Alexander McQueen label, Burton was responsible for creating the Duchess of Cambridge's iconic wedding dress. Since becoming a full-time royal, the Duchess has remained loyal to the brand.
Some of her most iconic pieces, often with a military-inspired flair, have been custom-designed by Alexander McQueen.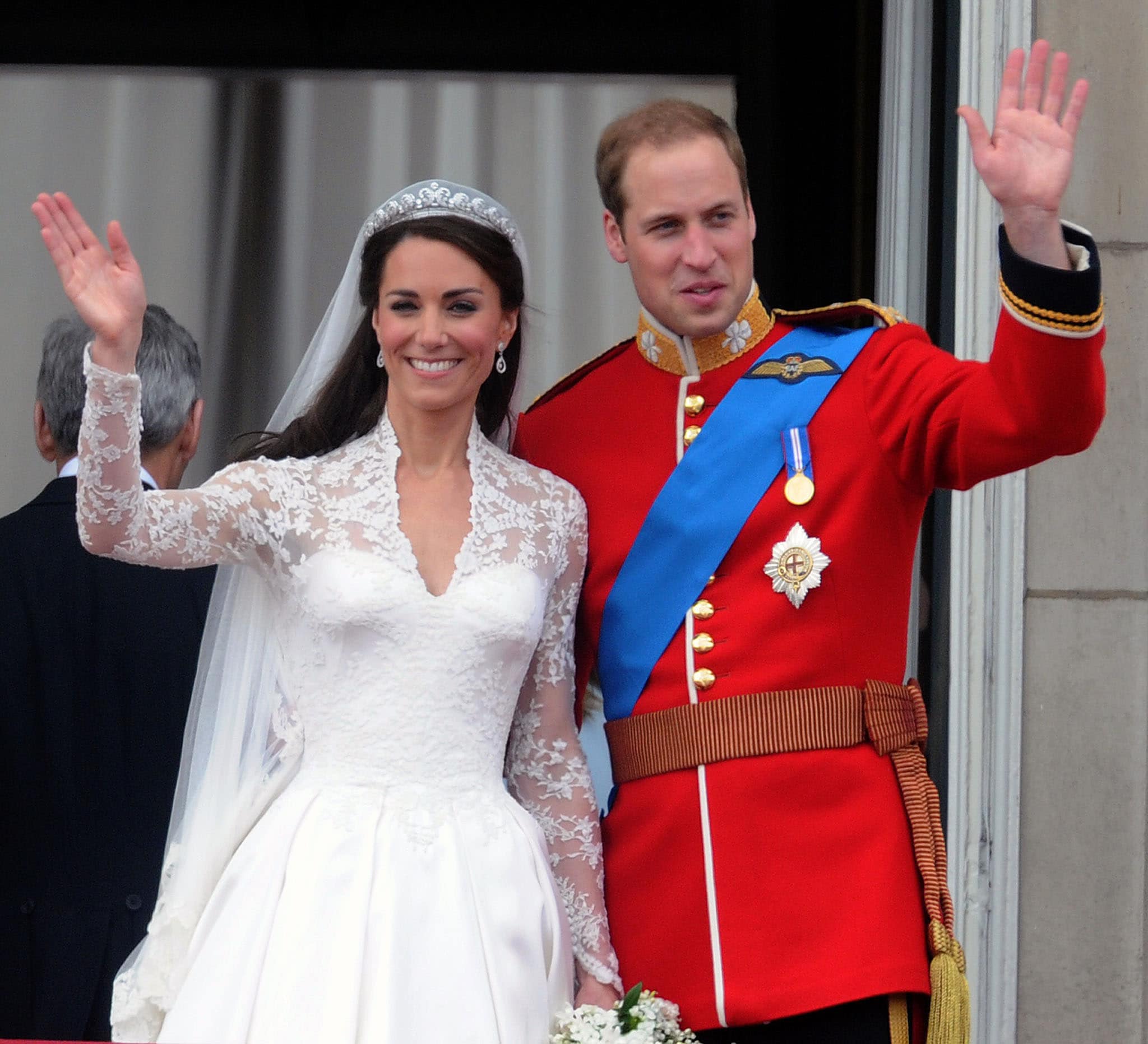 Duchess of Cambridge Kate Middleton wears a white lace wedding gown designed by Sarah Burton for Alexander McQueen in April 2011 (Credit: Anwar Hussein / WENN)
What makes Alexander McQueen unique is its ability to juxtapose the feminine with the masculine to create pieces that are wearable for any occasion.
2. Vivienne Westwood: The Punk Fashion Revolutionary
While you may know Vivienne Westwood for her environmental work, her eponymous brand is one of the most popular British brands of its era. It was born during the height of the hippie movement in the 1970s.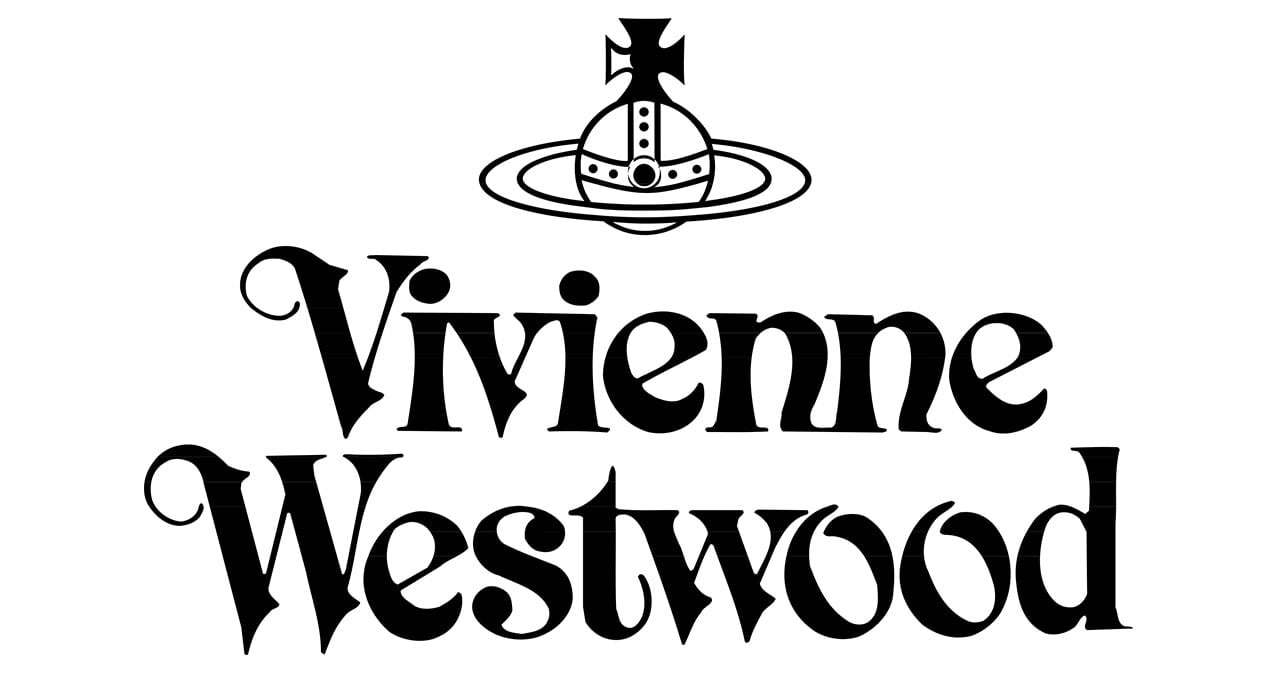 An Art Noveau-style font with an orb and cross emblem that is said to be a satirical reference to Vivienne Westwood being the self-proclaimed Queen of Fashion
Instead of taking inspiration from the era, Vivienne Westwood looked to the 1950s for her muse. She started making Teddy Boy clothes for Malcolm McLaren before opening her Kings Road store in 1971. It remains one of the most famous fashion districts in London.
Westwood's first runway collection came in 1981, bringing the innovation and subtle historical nods for which the brand would become famous.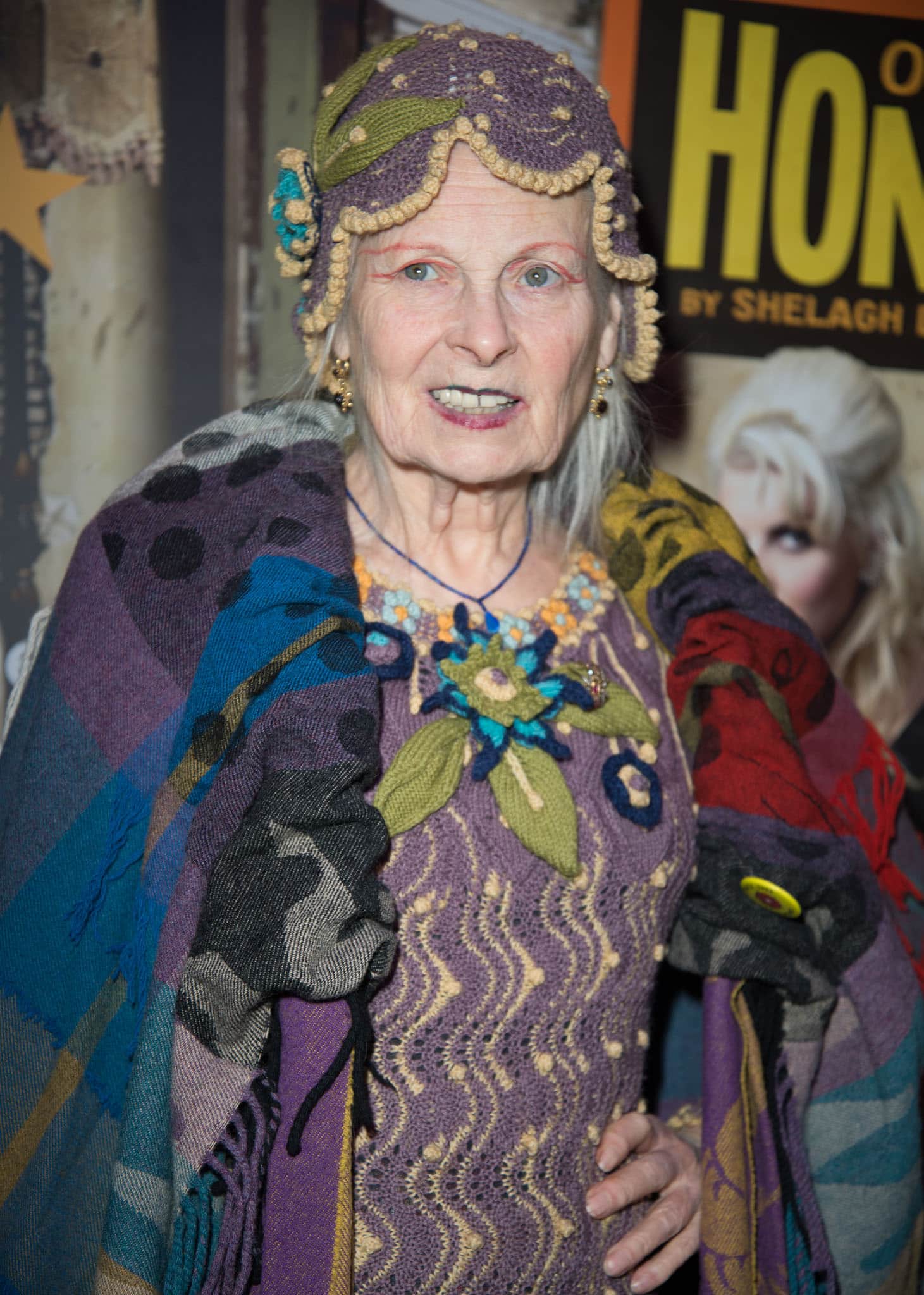 Vivienne Westwood at A Taste of Honey press night on December 9, 2019 (Credit: WENN)
During the late 1980s, the brand shifted its focus from punk fashion to the 'Tatler' girls, whose style parodied the upper British classes.
The synonymous Westwood designs were born with a focus on signature British fabrics and elevated basics with a quirky twist.
The modern Vivienne Westwood collections have a more asexual flair, focusing on the natural dynamic of fabrics. Her brand is to thank for bringing punk into the mainstream of fashion and ushering in a new era for the industry.
Vivienne Westwood is known for its modern punk and new-wave styles and designs
Must-have Westwood pieces include the pearl choker with a logo pendant, tartan bags, and checked ready-to-wear.
The brand recently unveiled a collaboration with the activewear brand Asics, focusing on their GEL-KAYANO 27 sneakers.
3. Stella McCartney: Champion of Sustainable Chic
When your dad is Paul McCartney, you're naturally a British treasure. Stella McCartney is a British legend in her own right, counting her mother, Linda, as her greatest muse.
The focus on animal rights and sustainability that Linda passed on to her daughter appears throughout Stella's fashion brand.

The label uses a bullet hole pattern for its logo wordmark
Within two years of graduating from Central St Martins, Stella was appointed Creative Director of the legendary French fashion house Chloe.
In 2001, she launched her self-titled fashion brand, showing her first collection in Paris. As a committed vegetarian, her collections have never featured fur, leather, feathers, or skin.
As the company has evolved, sustainability has remained at the heart of every collection.
Stella McCartney at the 4th Annual WWD Honors on October 30, 2019 (Credit: Derrick Salters / WENN)
The fashion house has since expanded to include a perfume range, an athleisure collaboration with Adidas, and a lingerie collection. The first iconic Stella McCartney bag, the Falabella, was unveiled in 2009 and became an instant best-seller.
Stella McCartney was appointed the Creative Director for the Team GB uniform and clothing for the 2012 Olympics. She was the first fashion designer to design the apparel for a country's team in every Olympic competition.
Meghan Markle's Stella McCartney white stretch-crepe halterneck wedding reception dress has been made available to the public for $5,200
Stella was invited to collaborate with Adidas again on the 2016 Team GB uniforms. The brand has its own stake in royal history.
Stella McCartney designed the minimalistic evening dress Meghan Markle wore to her wedding reception. In 2019, she partnered with LVMH to develop her iconic British brand further.
4. Mulberry: The Epitome of British Elegance
When it comes to iconic British handbags, look no further than Mulberry. The brand has collaborated with everyone from Lana Del Rey to Alexa Chung.
Mulberry's name and logo were designed by his sister Rosemary, inspired by the Mulberry trees they see on their way to school
Mulberry was launched in 1971 by Roger Saul, using a £500 investment from his mother.
The brand started with buckled leather belts before launching into a full accessory and womenswear line in 1979.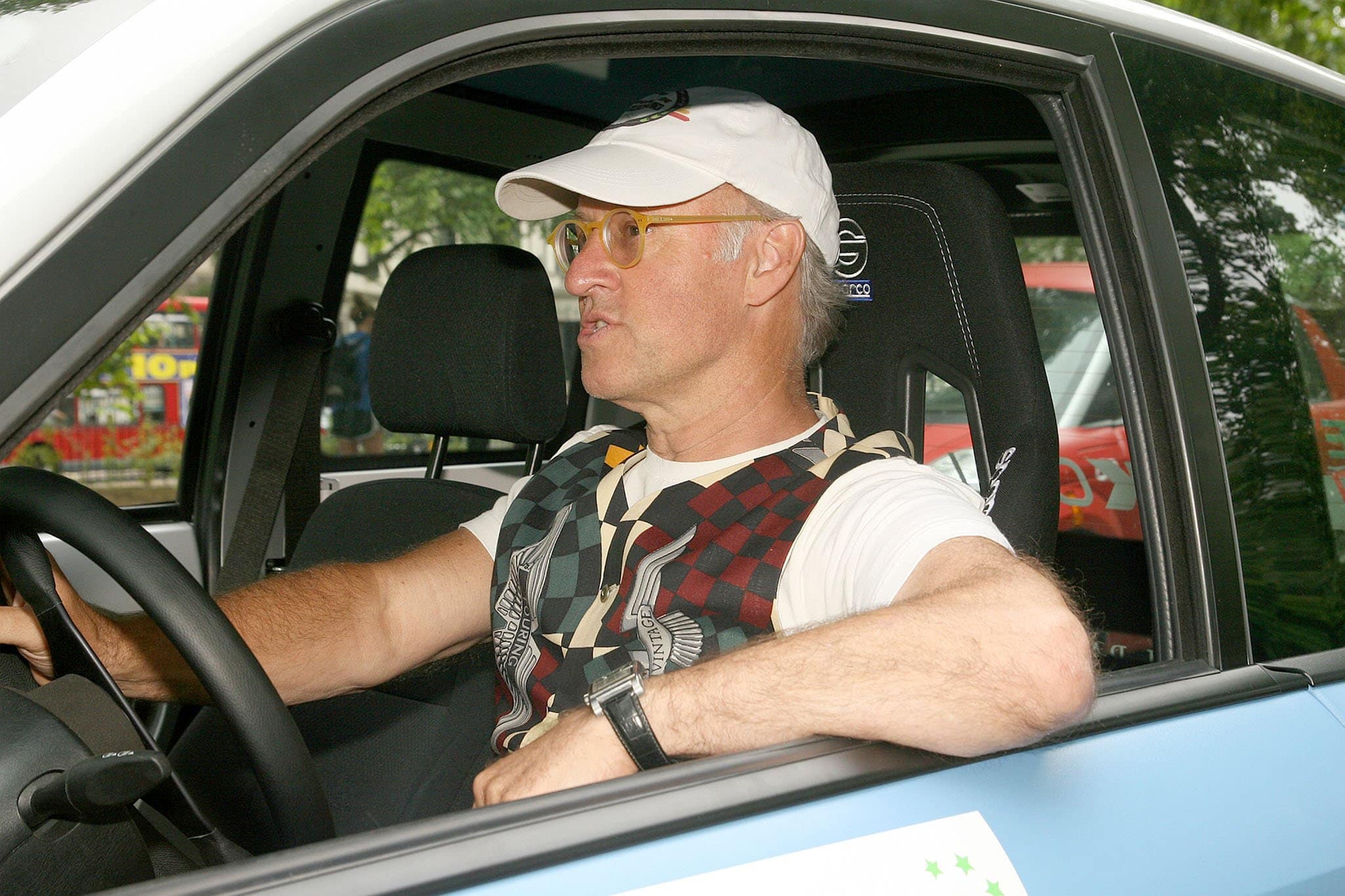 Mulberry founder Roger Saul driving an electric car during the 2010 Brighton to London Eco Rally on July 7, 2010 (Credit: WENN)
The Mulberry aesthetic has always been one that brings timeless silhouettes together with high-quality leather and a contemporary feel.
The brand is quintessentially British, giving a unique insight into the trends and values of the country's fashion scene. It shows the 'town and country' aesthetic throughout British fashion.
Mulberry describes itself as "heritage meets rebellion – rules are broken, to make something new." Considered a British institution, the brand has produced several 'it' bags you might already have in your closet. The Bayswater, Lily, and Alexa bags are all icons in their own right.
Mulberry's famous handbag styles include the Bayswater, Lily, and Alexa
The brand is currently undergoing a changing brand identity that keeps the British feel but brings the fashion house into the modern era.
If you're looking for a mid-tier luxury handbag, Mulberry is the perfect choice of a UK brand. They also regularly hold seasonal sales on their website if you want to grab a deal on one of their iconic styles.
5. Victoria Beckham: From Pop Star to Fashion Powerhouse
The former Spice Girls turned fashion designer is one woman behind some of our favorite trends. While her Birkin collection is worth lusting after, Beckham is a designer in her own right.
Victoria Beckham founded her eponymous fashion label in 2008
When her eponymous fashion brand launched with ten dresses, it became an instant success. Beckham easily translated her signature style into a brand aesthetic.
The Victoria Beckham fashion house has expanded to include two ready-to-wear lines, accessories, and a long-term collaboration with the activewear brand Reebok.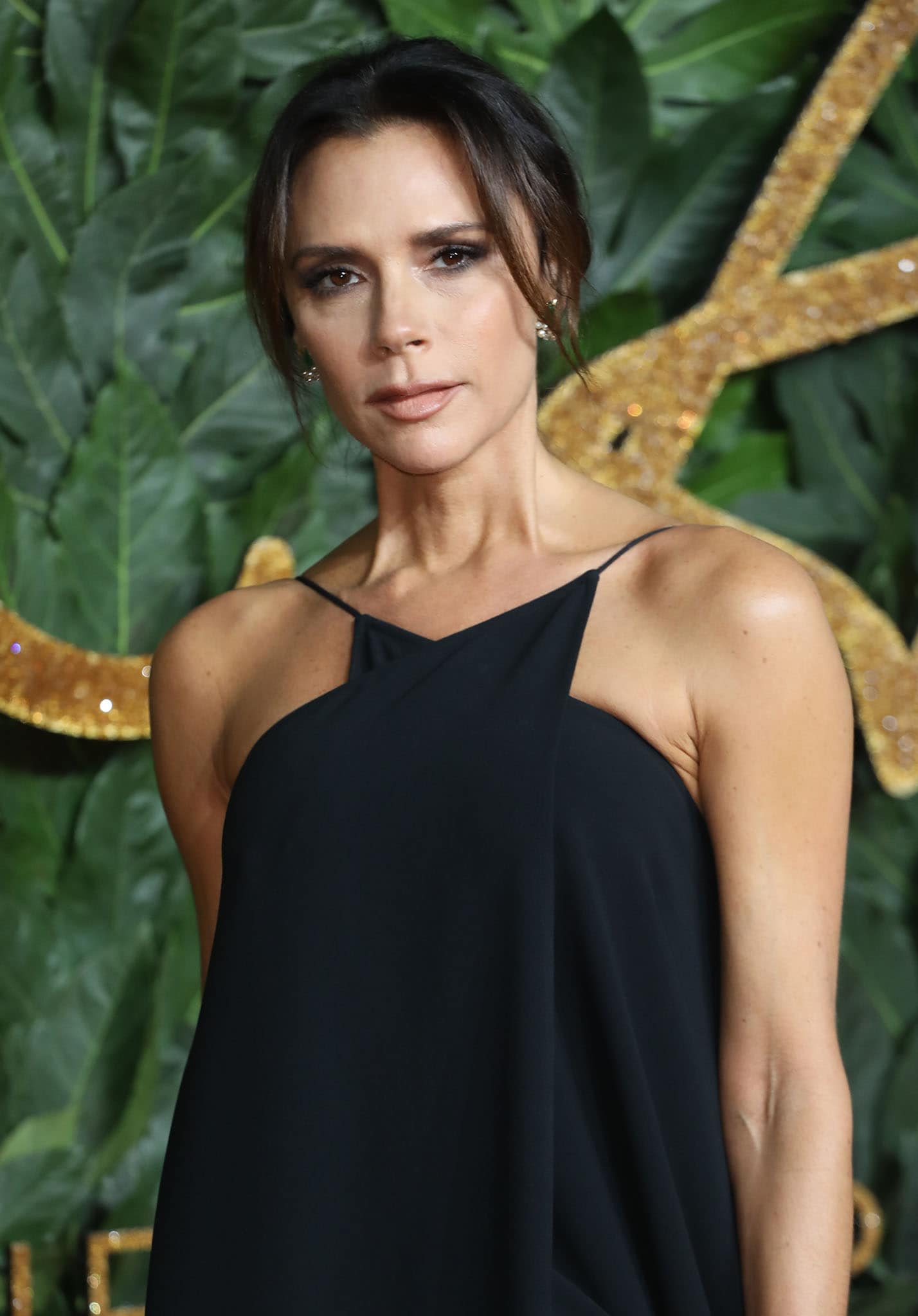 Victoria Beckham at the British Fashion Awards 2018 (Credit: Lia Toby / WENN)
The brand works by taking the personal style of Beckham and making it work for the needs of the modern, international woman.
You can find the brand in over 450 stores in more than 50 countries around the world. Victoria Beckham has won several awards, including the Best Designer Brand and Brand of the Year at the British Fashion Awards.
Victoria Beckham's fashion brand offers dresses, sweaters, lingerie, and accessories
Victoria Beckham's fashion collections have provided that she's more than just a WAG and former pop star. Her dresses, cashmere knitwear, and structured handbags are standout pieces from her collection.
Since the brand launched in 2008, it has sculpted out a unique space for itself in the UK fashion scene. Beckham launched her popular 'Victoria Beckham Beauty' range in 2019.
6. Burberry: A Legacy of British Luxury
Burberry is a British brand with an unparalleled heritage. Their check print is recognizable around the world and is almost as iconic as the British flag.
When Thomas Burberry founded the brand in 1870, its original purpose was to sell a waterproof fabric called 'gabardine', primarily to the Army to make trench coats.
Aside from the equestrian knight logo, Burberry is also famous for its signature check design
Burberry received its royal warrant from the Queen in 1955. It represents the fact that the brand is worn by the Queen herself, primarily for weatherproof outerwear.
Almost every member of the Royal Family has been spotted wearing a Burberry piece. In 1990, Burberry received a second royal warrant from Prince Charles.
The brand broke into the mainstream of fashion during the mid to late 20th century before undergoing a makeover when Christopher Bailey took over in 2001.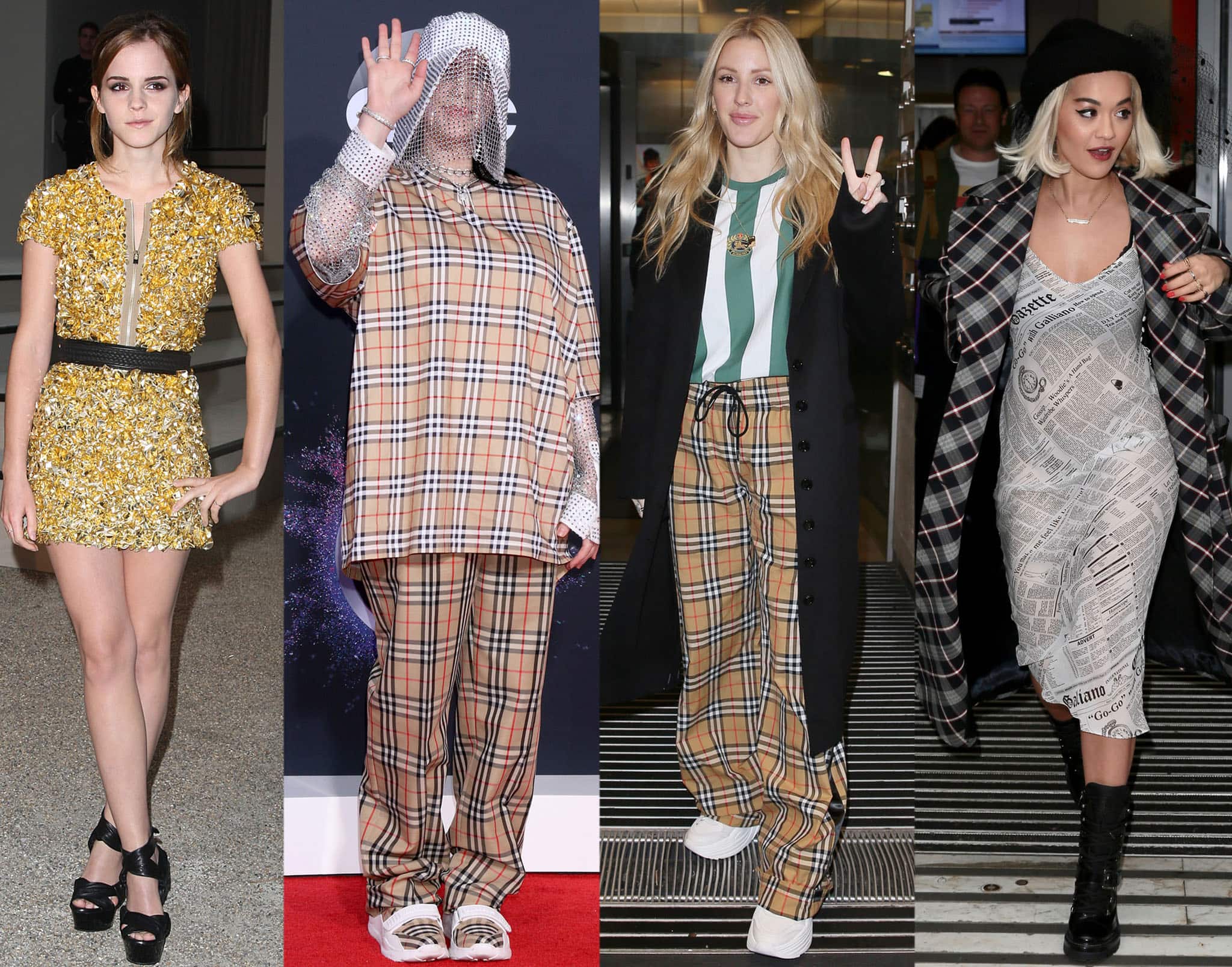 Emma Watson, Billie Eilish, Ellie Goulding, and Rita Ora wearing Burberry (Credit: Nicky Nelson / Michael Wright / WENN)
In recent years, Burberry has been moving towards an increasingly younger audience. Some of the most famous British celebrities, including Emma Watson, have acted as global ambassadors for the brand.
If you want to add some Burberry to your closet, you can't go wrong with a signature check scarf or beige trench coat.
Known for its classic checkered scarf and beige trench coat, Burberry now also incorporates its interlocking TB logo into its handbags and small leather goods
The brand has now streamlined and modernized its logo to an interlocking 'TB', which appears on most of its current handbags and small leather goods.
7. Lulu Guinness: The Playful Side of British Fashion
If you love quirky, feminine designs, Lulu Guinness is the British designer for you. It's the home of the original witty and playful handbag you want to show off to all your friends.
Some of their most famous pieces include the lips clutch and florist basket, which are on permanent display in the V&A.
Lulu Guinness launched in 1989 as a handbag and accessories retailer
The brand was started by Lulu Guinness in 1989 with an attached case with pockets to hold all your essentials. The aesthetic has always blended vintage inspiration with ladylike fashion and a playful tongue-in-cheek twist.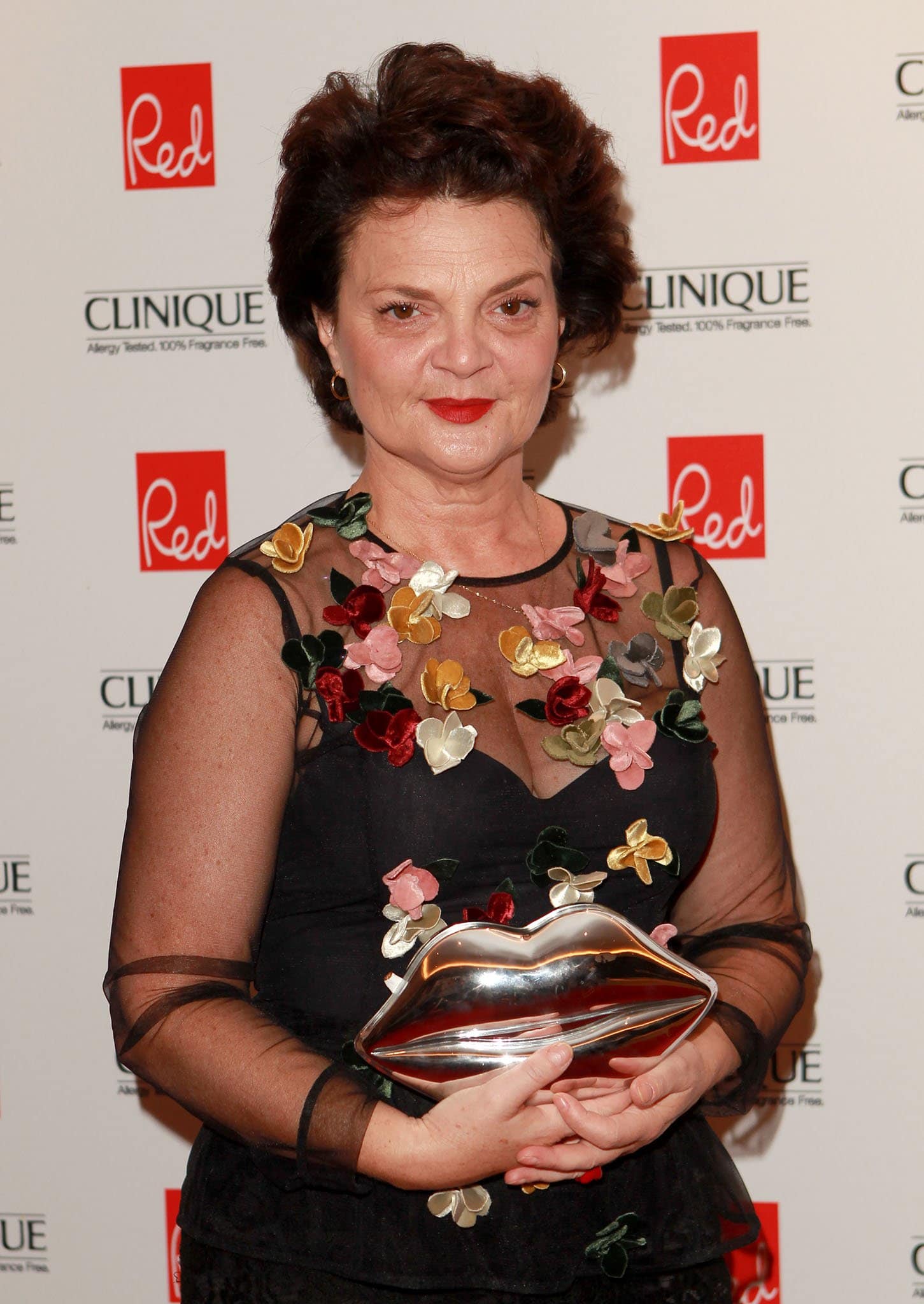 Lulu Guinness at the Red Woman of the Year 2014 ceremony on September 3, 2014 (Credit: WENN)
Lulu Guinness is a British brand with a celebrity cult following that includes Gillian Anderson, Bella Hadid, and Kate Moss. David Hodgson became the brand's Creative Director in 2018, with Lulu becoming Artistic Director.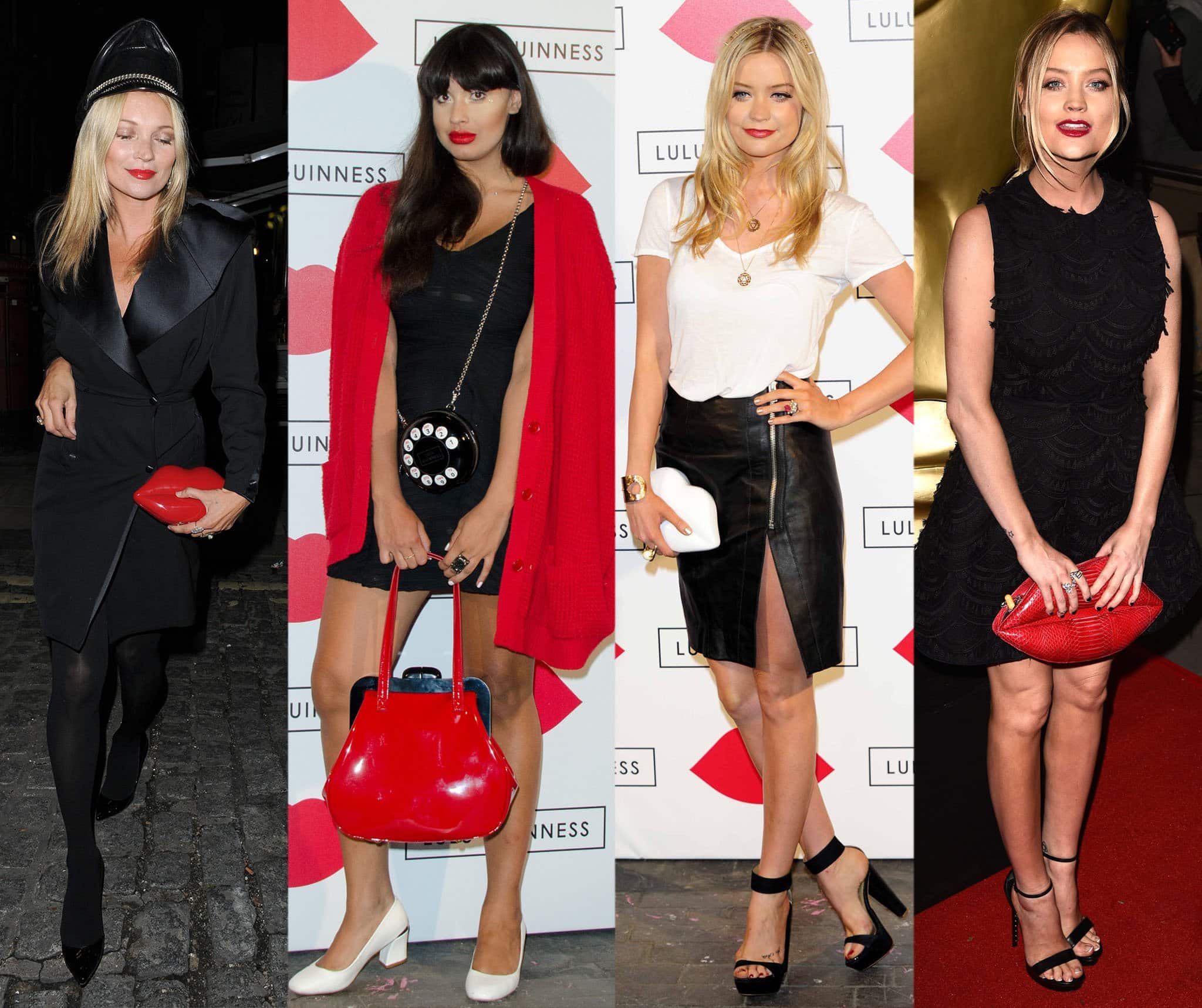 Kate Moss, Jameela Jamil, and Laura Whitmore carrying Lulu Guinness' popular lips clutch (Credit: Will Alexander / PBI / WENN)
The artistic spirit and quirky sense of fun have made this one of the most beloved brands in Britain.
Their designs regularly include subtle nods to British society, whether it's to do with the pub or the monarchy. A Lulu Guinness bag can be your perfect souvenir if you ever visit the UK.
8. Strathberry: The Rising Star of Royal Fashion
An up-and-coming British brand that you need to know is Strathberry. It's already received the royal seal of approval by both Meghan Markle and the Duchess of Cambridge.
Royal-approved luxury leather goods brand Strathberry was founded in 2011
This Edinburgh-based accessories brand was launched in 2013 by a husband-and-wife duo who wanted to create a true luxury brand.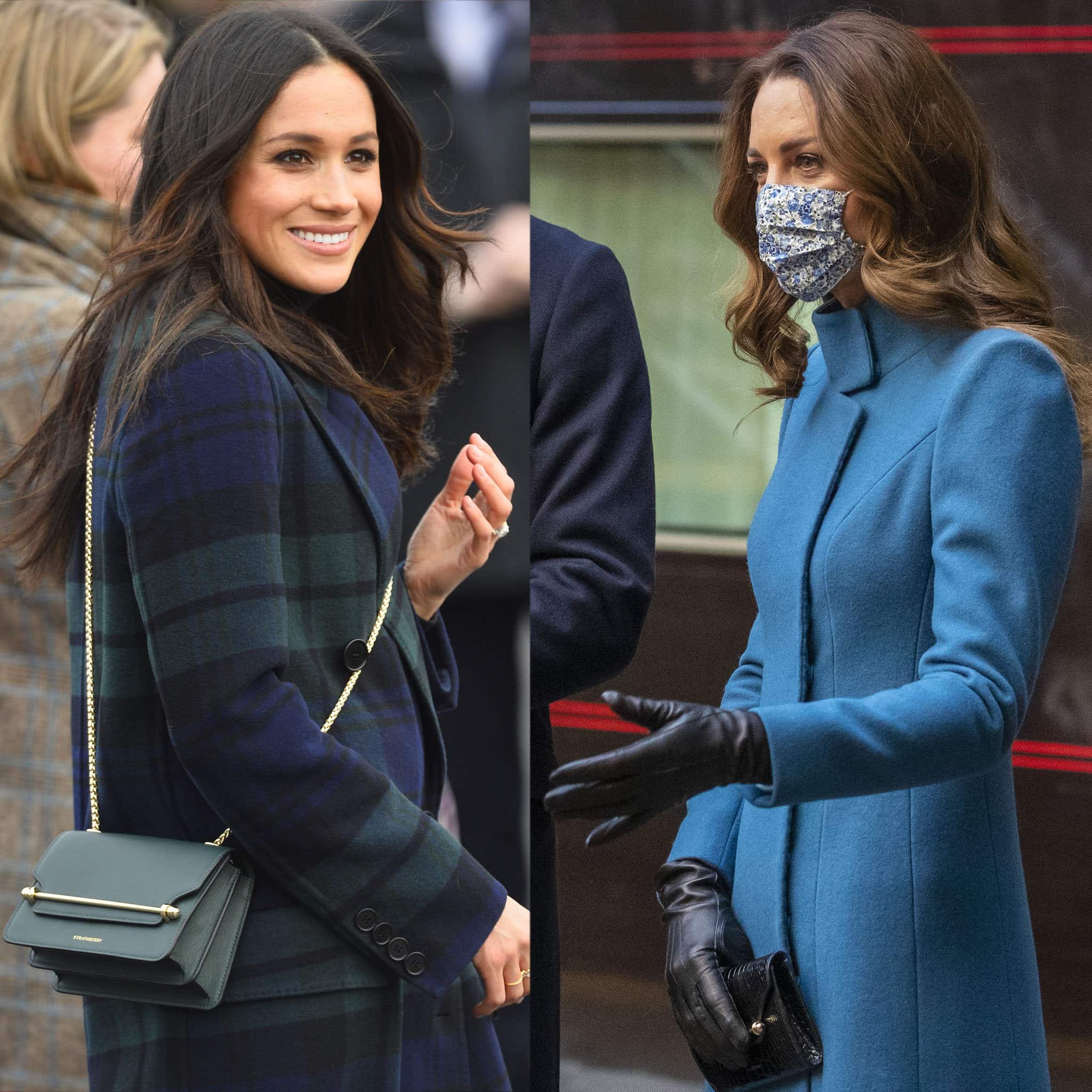 Meghan Markle, Duchess of Sussex, carries the East/West Mini bag, while Kate Middleton, Duchess of Cambridge, holds her Multrees Chain wallet (Credit: Euan Cherry / Avalon / WENN)
The brand is proudly Scottish, with its famous structured bags taking the fashion world by storm. Every Strathberry bag takes at least 20 hours to craft by hand – a testament to their dedication to luxury.
The brand's aesthetic is contemporary and minimalistic, with accessories intended to be timeless and last a lifetime.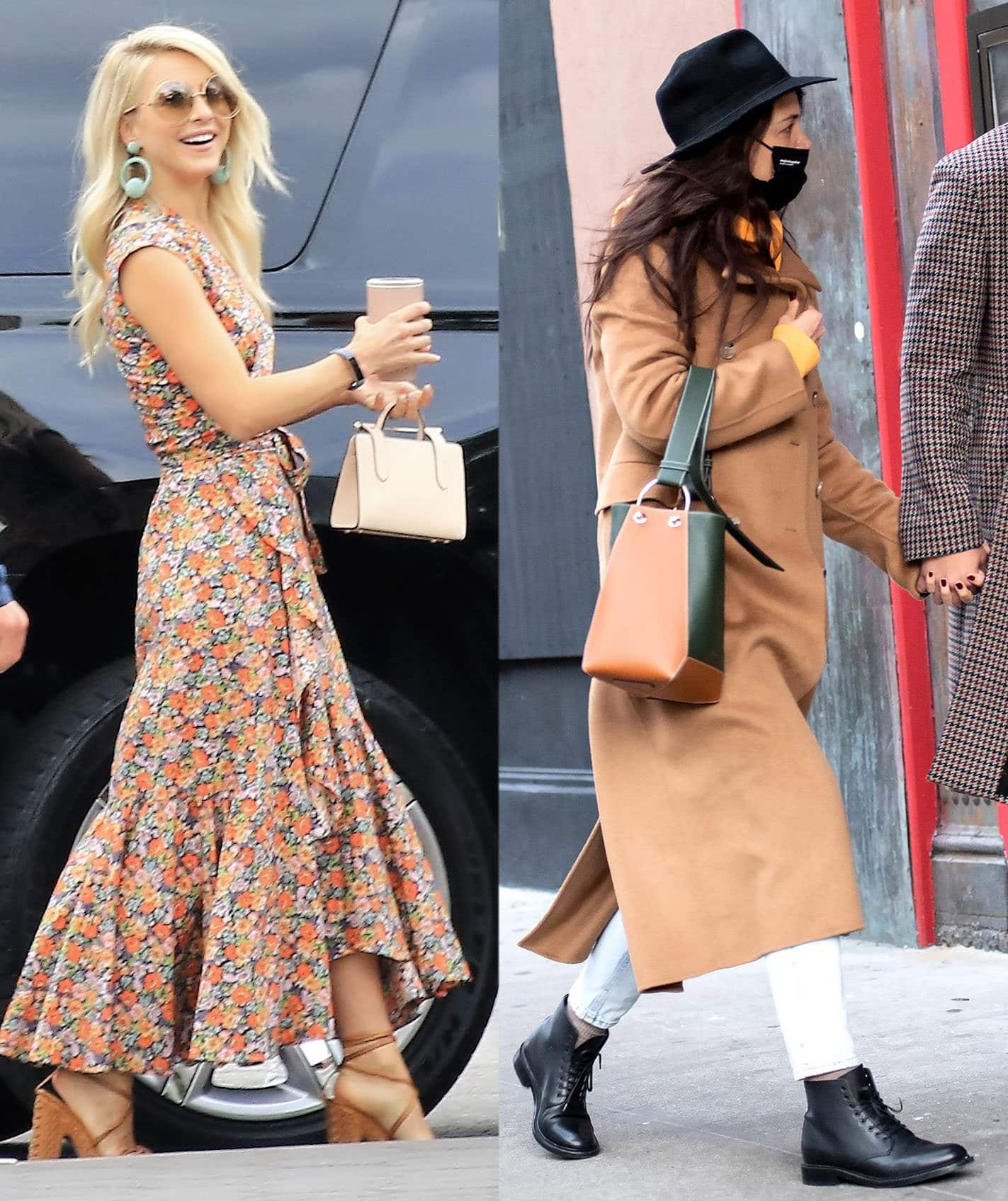 Julianne Hough and Katie Holmes carrying the Strathberry Nano tote and Lana bag respectively (Credit: Instar / WENN)
Strathberry's incredible growth has been fuelled by a collaboration with famous British fashion influencer InTheFrow and its royal patrons. Other celebrities spotted wearing their bags include Katie Holmes, Lady Gaga, and Heidi Klum.
9. Paul Smith: A Sartorial Blend of Classic and Quirky
When it comes to British tailors, few are as famous as Paul Smith. His work within the UK fashion industry earned him a Knighthood from the Queen.
The brand is synonymous with its use of bright colors and inventive shirt designs, turning it from a niche London brand to a global success story.

Named after its founder and designer, Paul Smith's highly recognizable logo features his elegant signature
If you're a fan of elevated basics and classics with a quirky twist, you'll want to check out Paul Smith. The brand's aesthetic combines tradition with modernity, bringing the 'classic with a twist' into the mainstream.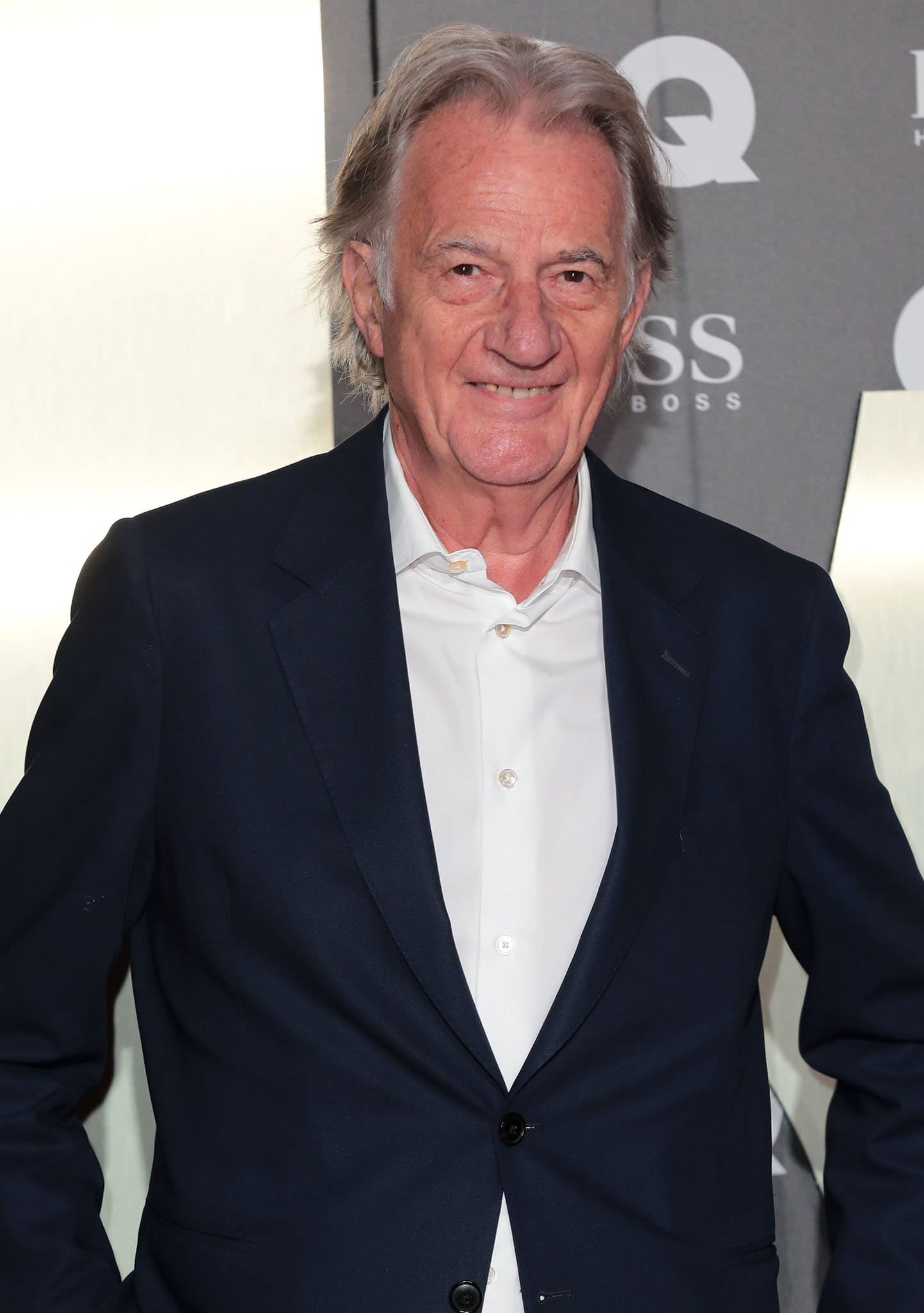 Paul Smith at the 2019 GQ Men of the Year Awards in London on September 3, 2019 (Credit: Avalon / WENN)
The founding principle of Paul Smith is that "you can find inspiration in everything" – whether it's everyday life or high art.
The brand's designs are underpinned by the classic sense of dry British humor that is quirky without being eccentric.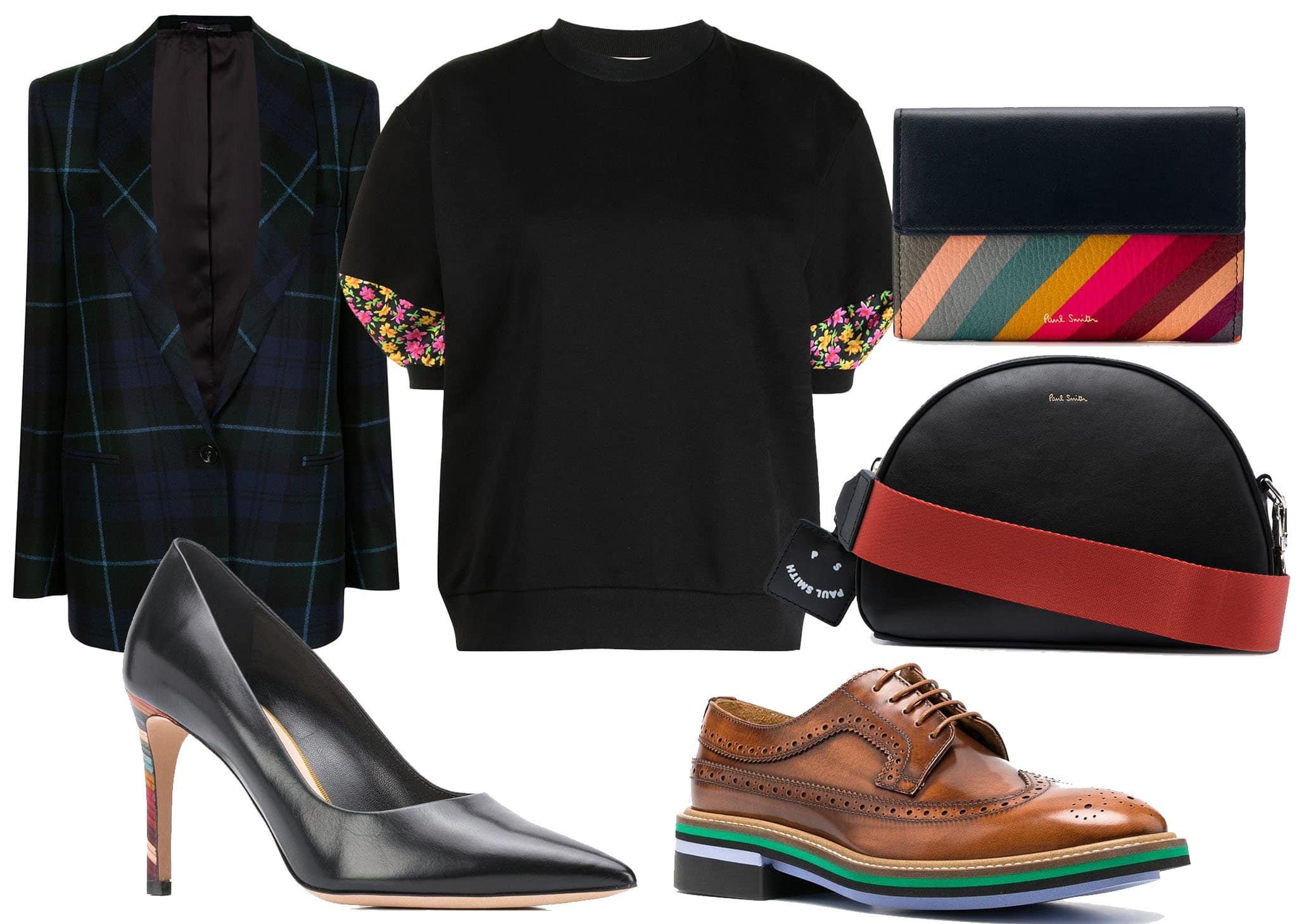 Paul Smith offers clothes, shoes, and accessories
Paul Smith is the perfect British brand to experiment with if you want a taste of the local fashion industry without breaking the bank.
10. JW Anderson: The Innovator of Modern British Style
JW Anderson is one of the few big-name designers from Northern Ireland. You can find his work at his eponymous fashion brand, JW Anderson, or Loewe, where he is the Creative Director.
JW Anderson was founded in 2008 and was initially focused on menswear before moving into womenswear in 2010
He's a designer on the rise with investment from LVMH and a popular collaboration with the high-street brand Topshop.
Under his leadership, Loewe has transformed from a niche Spanish luxury brand to a mainstream label. It's a transformation on the same level as that of Celine and Gucci in recent years.
Jonathan Anderson, founder of JW Anderson, pictured at The British Fashion Awards 2012 (Credit: WENN)
While this list focuses on UK designer brands, we must touch on Anderson's work at Loewe. You must check out the brand if you prefer a more refined look.
It's now largely considered to be the Spanish equivalent of Hermes. Anderson has modernized the brand, making it a luxury fashion destination with gender-blurring aesthetics and a contemporary feel.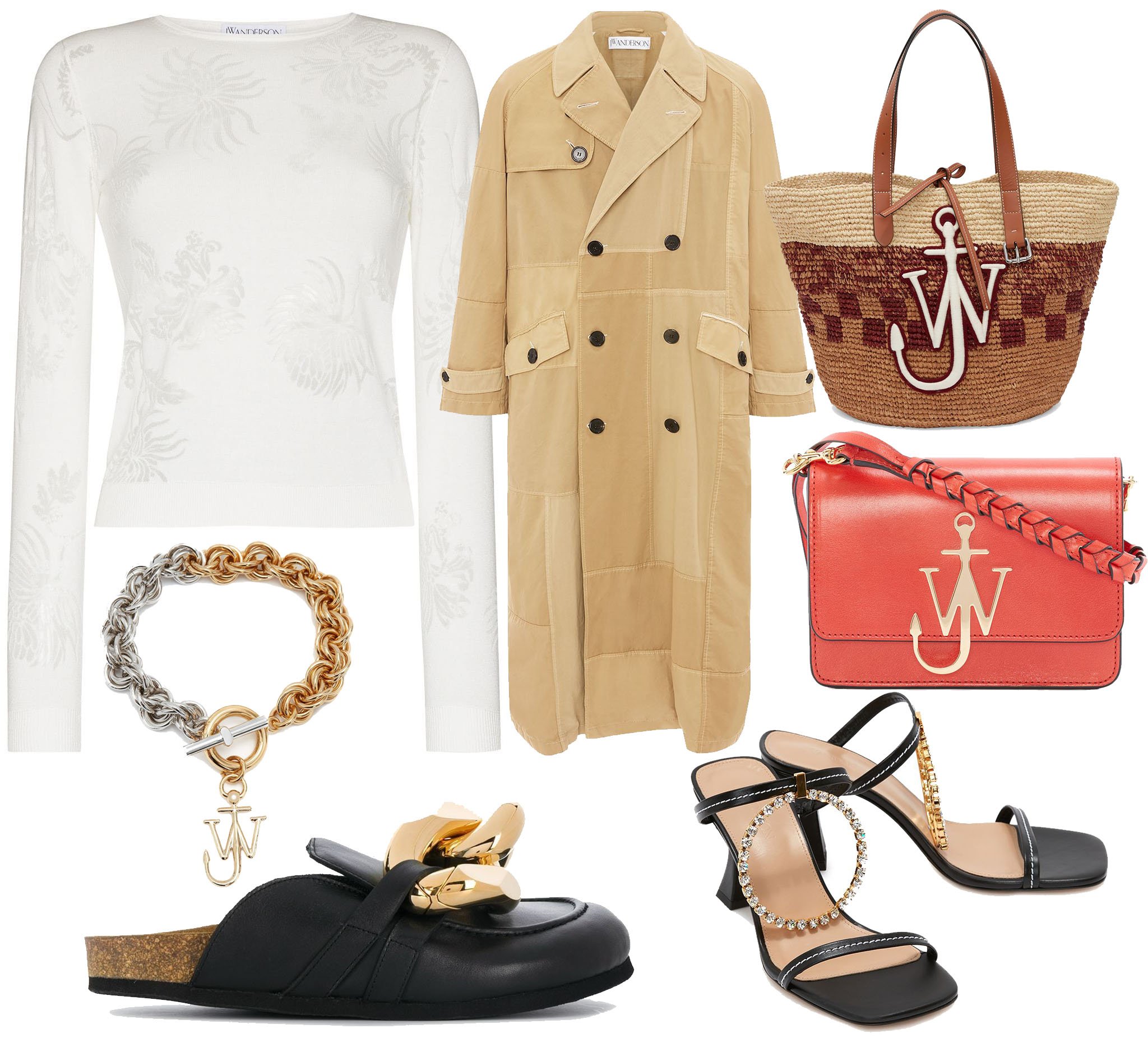 JW Anderson has everything–from tops, dresses, and outwear to bags, shoes, and accessories
11. Antonio Berardi: The Maestro of Sensual Elegance
Antonio Berardi is a British-Sicilian designer who is known for his dresses. His eponymous fashion brand won the Harper's Bazaar award for 'Dress of the Year' in 2009.
The brand is synonymous with its figure-hugging and sensual dresses that are sophisticated but striking, focusing on contemporary fabrics and the latest manufacturing techniques.
After launching his fashion brand, Antonio Berardi designed for the Italian label Ruffo Research. In 1999, he entered into a partnership with the Italian label Exte.
Berardi is considered one of the greatest British designers, helping revive British fashion alongside other designers like Alexander McQueen.
Daisy Lowe in a pink stretch-cady Antonio Berardi jumpsuit with chain straps (L) and Lana Condor in a navy Antonio Berardi jumpsuit with beaded gold shoulders (WENN / Avalon / Lia Toby)
Berardi takes his inspiration from the world of arts and cinema, along with Italian art, Catholic symbolism, and feminine influences.
One of his most famous designs is a coat illuminated by light bulbs that formed a crucifix – with the design shown at Milan Fashion Week in 2003.
His black and white dress for Gwyneth Paltrow's Two Loves premiere, featuring a trompe-l'oeil corset, is amongst his most iconic designs.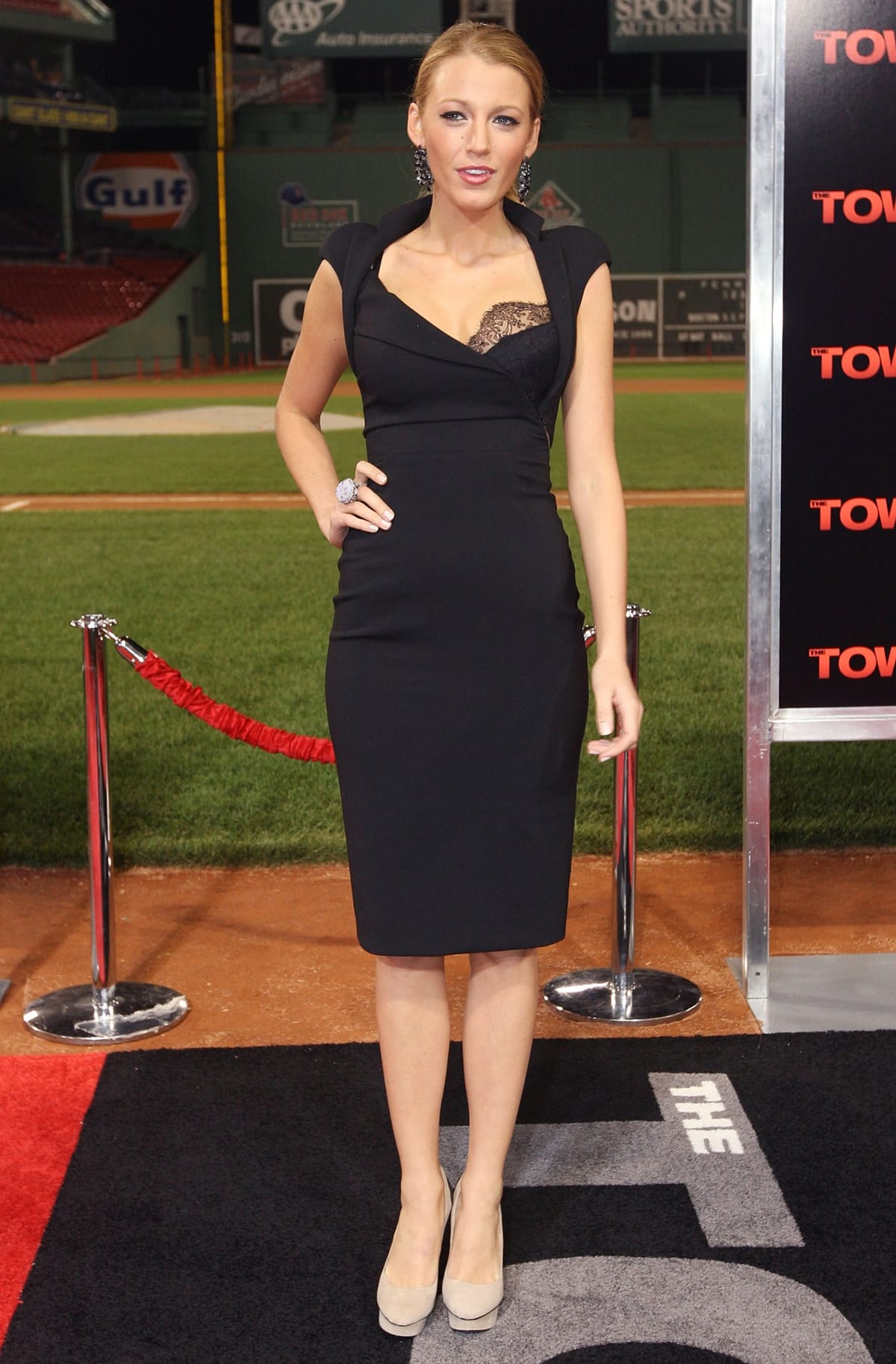 Blake Lively wears an Antonio Berardi crepe pencil dress with Lorraine Schwartz jewelry and Elizabeth and James "Nora" pumps at the premiere of The Town on September 14, 2010, at Boston's Fenway Park (Credit: Bizu / WENN)
In 2009, Berardi returned to London Fashion Week after previously showing in Italy. His most recent collections have changed their focus to incorporating romance into their designs, focusing on contemporary designs that add elegance to modest silhouettes and shapes.
Among Berardi's celebrity clientele, you'll find Jennifer Aniston, Jennifer Lawrence, Gwyneth Paltrow, and Rose Leslie. The Antonio Berardi brand has featured in numerous publications, including Vogue, Elle, and Harper's Bazaar.
12. Alice Temperley: The Dream Weaver of Fashion
Temperley London is an eponymous British fashion brand that captures the heritage of English fashion.
Established by Alice Temperley and her then-boyfriend Lars von Bennigsen in 2000, the brand is known for its focus on intricate detailing and luxurious fabrics.
American Vogue once named Temperley as the designer making the biggest waves in British fashion. She's even been called the 'English Ralph Lauren' for her ability to capture a distinctively British concept of fashion.
Greg Williams and his girlfriend Alice Temperley attend the Summer Exhibition Preview Party at the Royal Academy of Arts on June 3, 2015, in London, England (Credit: Lia Toby / WENN)
It's no surprise that Temperley is perhaps one of the most influential British designers of the last two decades.
The brand had its first fashion show in 2003 in Noting Hill before their fashion shows switched to New York from 2005 to 2011. In recognition of the brand's influence, its tenth-anniversary show was hosted at the British Museum.
The growth of the Temperley brand
Temperley London was founded a year after Alice graduated from the Royal College of Art. After two decades, she continues to remain at the helm of the brand.
She's famous for her ability to capture the romance and decadence of a bygone era with timeless silhouettes and feminine designs. Temperley London encapsulates a unique idea of 'British bohemianism' with its lifestyle-driven fashion.
Fashion designer Alice Temperley attends the BFI Luminous Fundraising Gala at The Roundhouse on October 1, 2019, in London, England (Credit: Avalon / WENN)
While 'Temperley London' is the parent brand, there are several diffusion brands below it. Temperley Bridal is one of the most popular, while ALICE by Temperley was launched in 2010 with a focus on a younger demographic before it was closed in 2013 to allow a focus on a one-brand approach.
In 2012, Temperley collaborated with British retailer John Lewis to launch 'Somerset by Alice Temperley' which became the fastest-selling collection in John Lewis' history.
Temperley's celebrity customers and awards
Amongst Temperley's celebrity clientele, you'll find several members of the royal family. The Duchess of Cambridge is a repeat customer, and her sister Pippa Middleton famously wore an Alice Temperley dress for her sister's evening reception.
Other celebrity clientele includes Thandie Newton, Freida Pinto, Penélope Cruz, and Julianne Hough.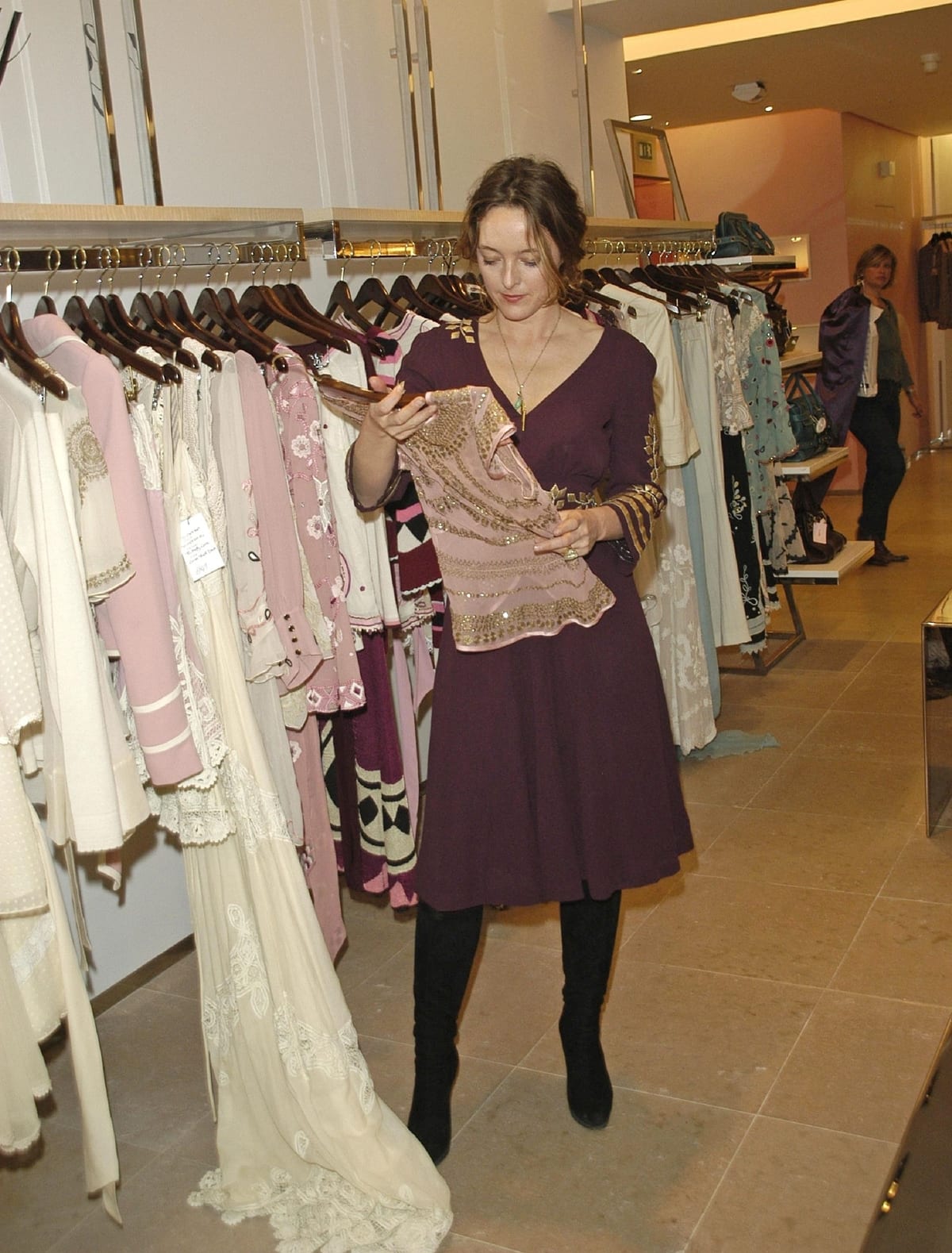 Alice Temperley MBE launched her fashion label, Temperley London in 2000 (Credit: Vince Maher / WENN)
Alice Temperley has won several awards for her work, including being named the 'Best Young Designer of the Year' by Elle in 2004. She was awarded an MBE in 2011 for services to the fashion industry.
In 2018, Temperley London was awarded the Butterfly Mark by Positive Luxury in recognition of its commitment to responsible practices across the brand.
Alice Temperley is also a member of the British Fashion Council Advisory Board and was an Ambassador for the nonprofit humanitarian organization Women for Women International.
13. Christopher Kane: The Artisan of Avant-Garde Fashion
Scottish designer Christopher Kane is the founder of the eponymous fashion brand, Christopher Kane. He won the 'Lancome Colour Award' in 2005, working alongside Giles Deacon and Russell Sage.
His early work attracted the attention of some of the fashion world's most celebrated designers, including Donatella Versace. She would later compare Kane to her late brother, Gianni Versace.
Scottish fashion designer Christopher John Kane attends the opening party of Skate at Somerset House with Moët & Chandon at Somerset House on November 16, 2021, in London, England (Credit: Avalon / WENN)
His MA Graduate collection won him the Harrods Design Award, which included a showpiece window at the up-market London department store.
Upon graduation, he was snapped up by Versace for their couture collection and accessories. Kane graduated from the highly esteemed Central Saint Martin's College of Art and Design.
Kane's bandage-tight tailoring is his signature, inspired by the feminine silhouettes and evening dresses of Antony Price in the 1980s. His namesake brand was created in 2006 in partnership with his sister, Tammy Kane.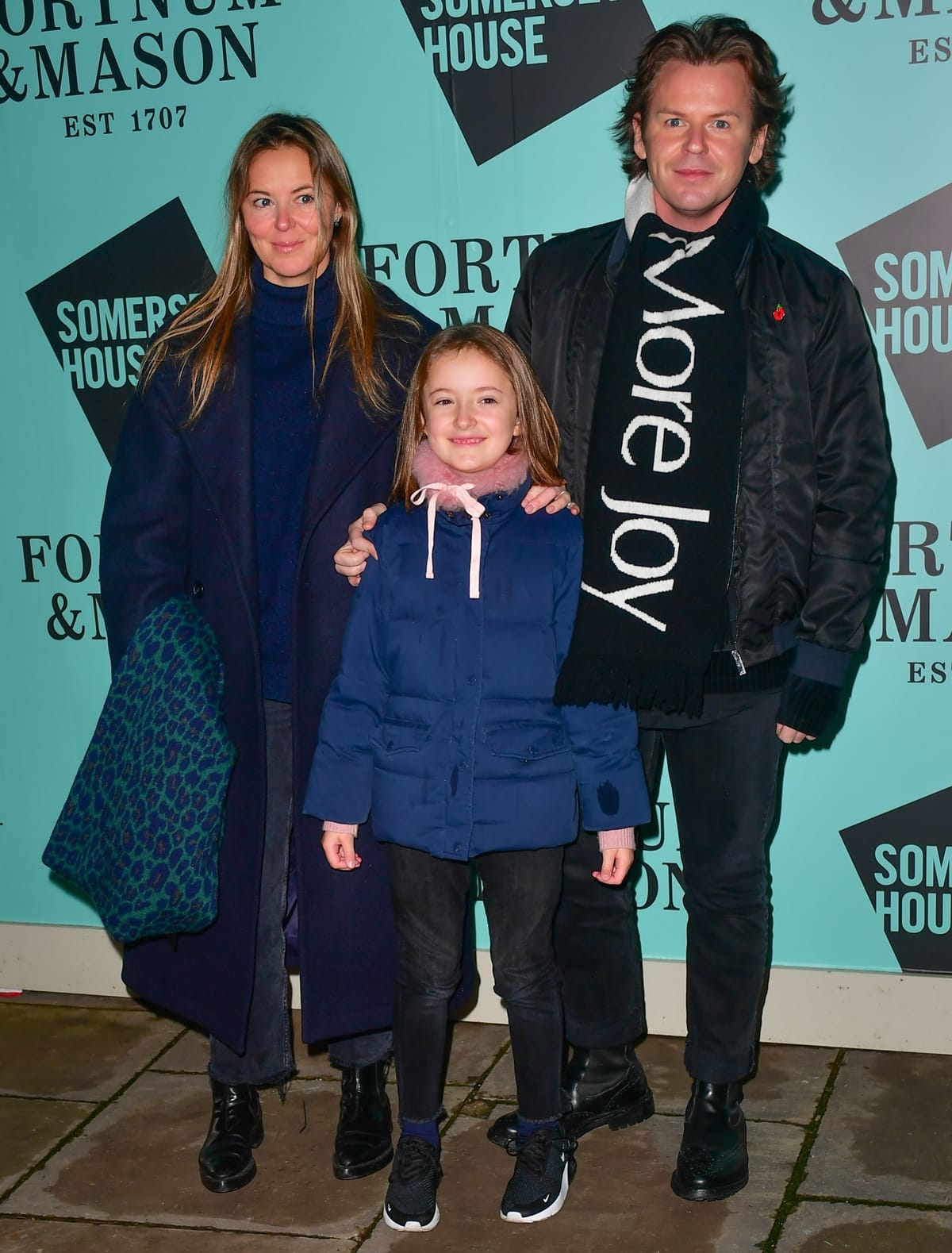 Tammy Kane with her daughter Bonnie and her brother Christopher Kane at the opening party of Skate at Somerset House on November 12, 2019, in London, England (Credit: Avalon / WENN)
The debut Christopher Kane collection revolved around short neon bandage dresses, which led to the surge in popularity of the 'fluoro' trend.
He's collaborated with some of the biggest names in entertainment and beauty, including Kylie Minogue and Lancôme. In 2013, he received the 'Women's Wear Designer of the Year' award at the British Fashion Awards.
Kane describes his London label as "challenging fashion ideologies and notions of beauty" with the belief that the "ordinary is transformed into the extraordinary when collections that start with autobiographical inspirations are realized using innovative techniques."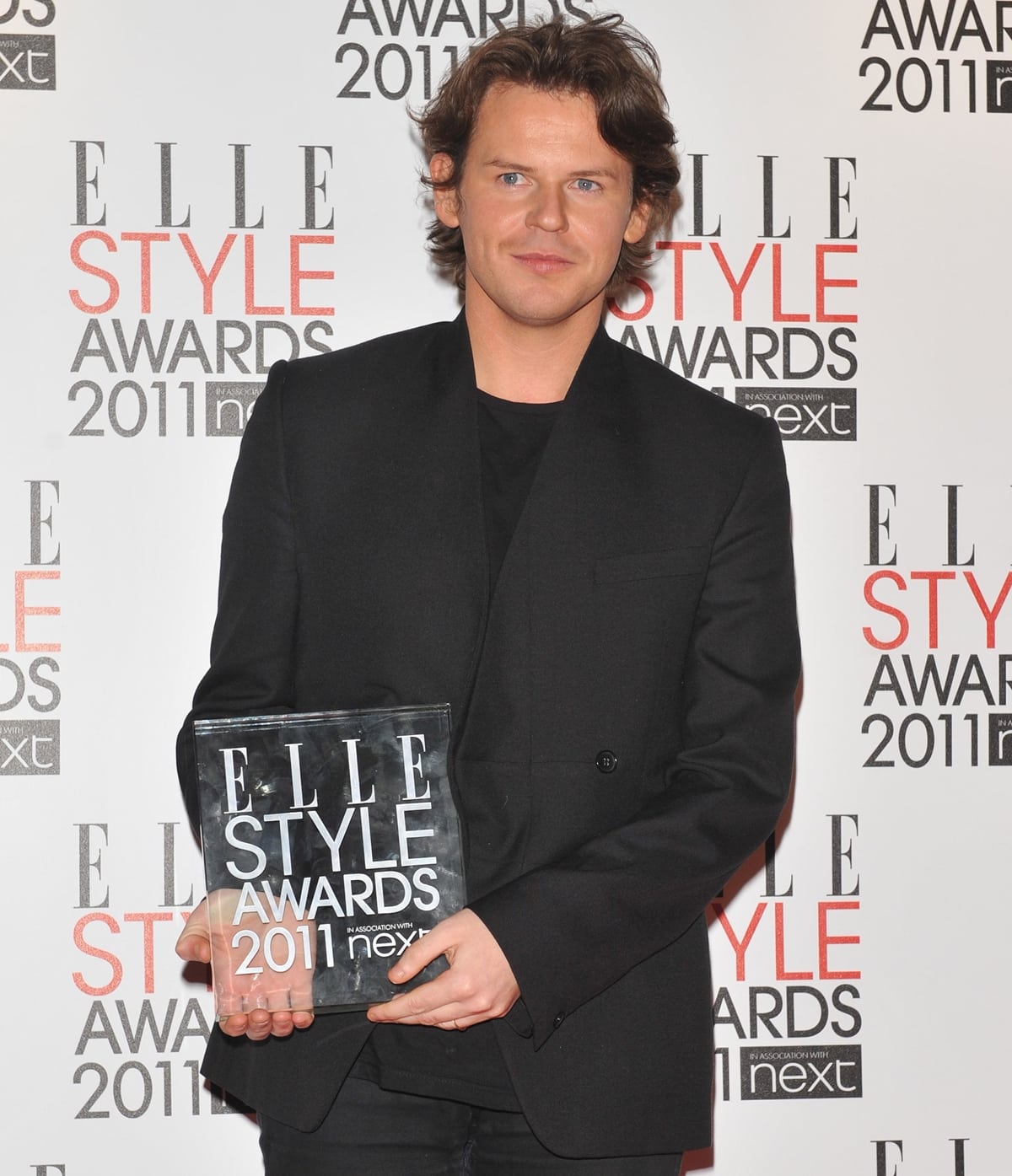 Christopher Kane poses with the award for British Designer during the ELLE Style Awards 2011 at the Grand Connaught Rooms on February 14, 2011, in London, England (Credit: Daniel Deme / WENN)
Every collection from Christopher Kane blends creativity with sensuality and wit in an unpredictable and provocative way.
14. Paul Andrew: A Visionary in Contemporary Fashion
Paul Andrew, son of Queen Elizabeth II's upholsterer, emerged as a fashion powerhouse after honing his craft alongside Calvin Klein and Alexander McQueen.
In 2013, he unveiled his eponymous luxury women's shoe line, garnering critical acclaim and establishing him as a fresh, innovative force in fashion. His work has been featured in prestigious publications like Vogue, Harper's Bazaar, and Elle.
Additionally, he has received several notable awards and accolades, including the CFDA/Vogue Fashion Fund and the British Fashion Award for Accessory Designer of the Year.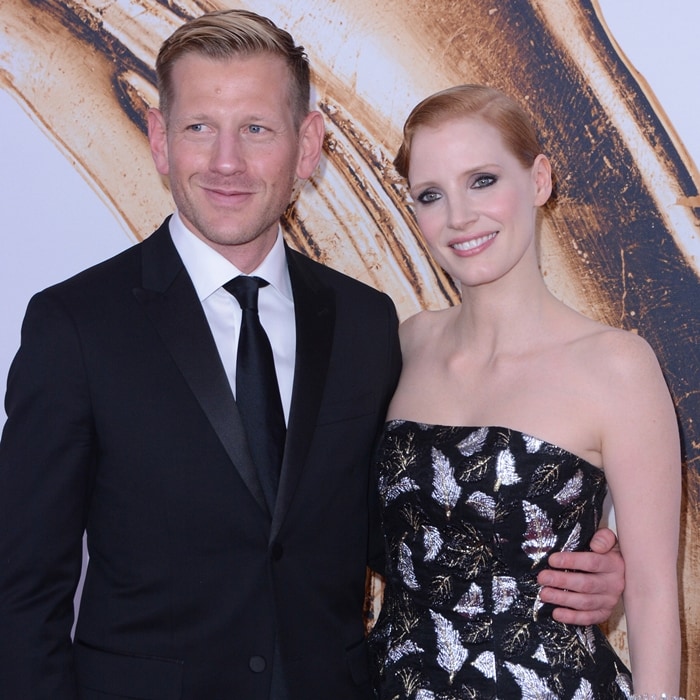 Paul Andrew and Jessica Chastain attend the 2016 CFDA Fashion Awards at the Hammerstein Ballroom on June 6, 2016, in New York City (Credit: Ivan Nikolov / WENN)
Andrew's exceptional talent attracted the attention of Salvatore Ferragamo, who appointed him Creative Director in 2019. His dedication to Ferragamo led him to pause his namesake label temporarily.
He relaunched his namesake brand in February 2022. The announcement came nearly a year after he stepped down as Creative Director of Salvatore Ferragamo in May 2021.
Andrew's decision to leave Ferragamo was reportedly due to strained relations with the Ferragamo family, which controls the group. The relaunched Paul Andrew shoe line is focused on a few silhouettes that blend novelty and color with comfort and wearability. Andrew targets the collection at independent luxury retailers and plans to scale the business gradually.