Nearly every longtime celebrity has had their ups-and-downs when it comes to marriage, and the love song aficionado, Sir Paul McCartney, is no different.
Luckily, the third time seems to be the charm for the Beatles bassist, as he has been married to his third wife, Nancy Shevell, since 2011.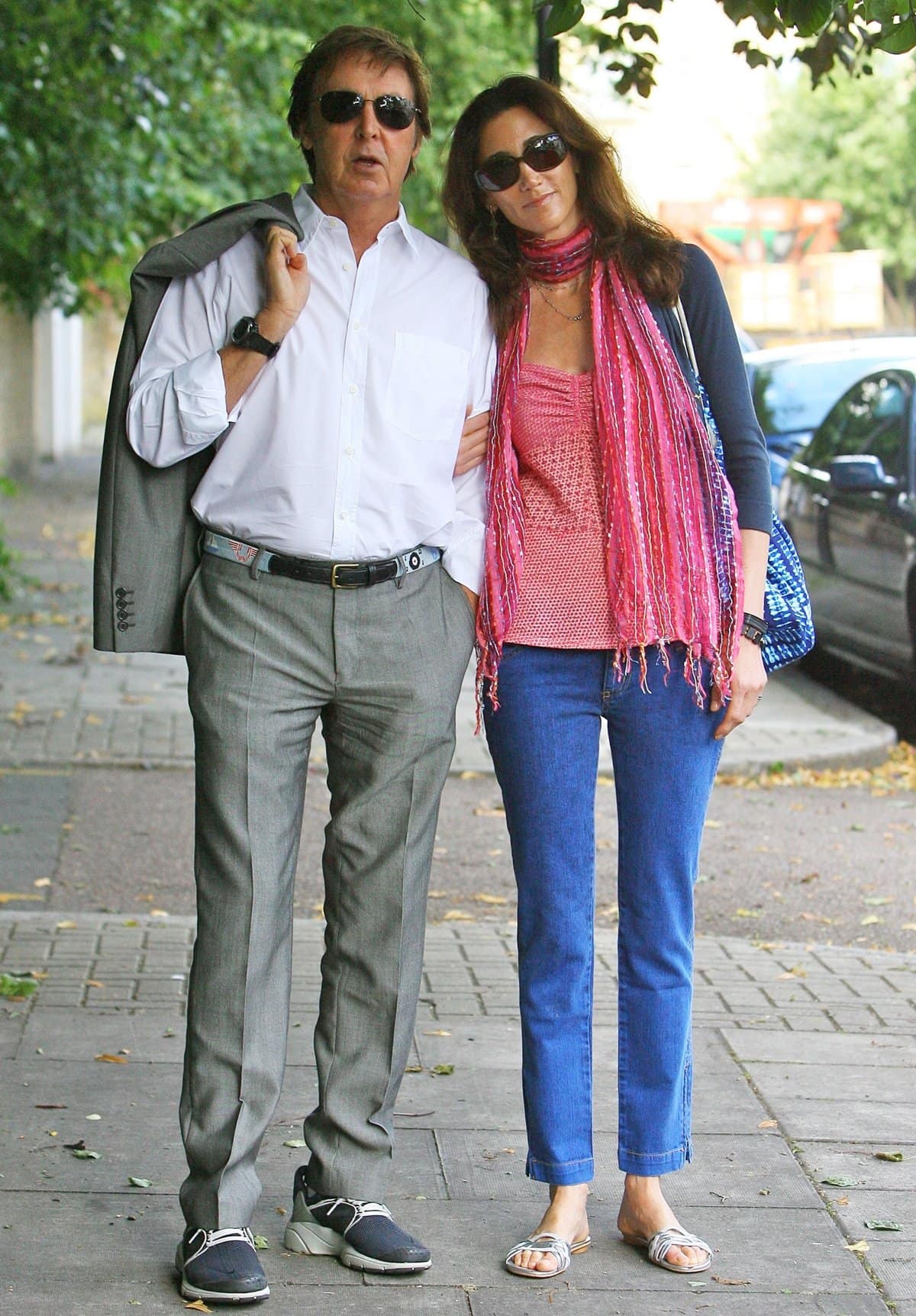 Sir Paul McCartney met his third wife Nancy Shevell in the Hamptons on Long Island (Credit: WENN)
Before meeting Nancy Shevell, Sir Paul McCartney had been married twice, both with unfortunate ends.
First, he was married to the American music industry photographer, Linda Eastman, and the pair wed early in McCartney's career in 1969.
Eastman was well known for her portraits of McCartney and his contemporaries and has a book of her photography published, called Linda McCartney's Sixties: Portrait of an Era that you can buy on Amazon.
Eastman had a daughter before they wed, Heather, then welcomed three more children, Mary, Stella (the fashion designer Stella McCartney), and James, during their marriage. The pair was married for a whopping 29 years until Linda Eastman lost her long battle with breast cancer in 1998.
Paul and Linda McCartney married in March 1969 in London and had three children together (Credit: 20th Century Fox / Photofest / WENN)
In 2002, Paul McCartney married model and amputee activist, Heather Mills. Mills first rose to fame in 1993, after the model was hit in London by a police motorcycle.
The accident was bad enough that Mills had to have part of her left leg amputated. Despite this, Heather Mills continued to model, this time sporting a prosthetic, and became an outspoken activist for the disabled.
In October of 2003, Mills gave birth to her and McCartney's daughter, Beatrice. Unfortunately, their relationship was not meant to last, as they separated in 2006.
Paul McCartney and Heather Mills were married from 2002 until 2008 (Credit: Jody Cortes / WENN)
Their divorce and legal battle was extremely public due to the nature of the case and the money involved. Eventually, McCartney agreed to give Mills a $48.6 million settlement and their divorce was finalized in 2008.
Amid the lengthy and demanding legal battles from his last divorce, Paul McCartney met and began dating his future third wife, Nancy Shevell. Read on to learn more about Nancy Shevell and her relationship with Sir Paul McCartney.
Who is Nancy Shevell?
Unlike Sir Paul McCartney's previous wives, Nancy Shevell was not exactly famous — at least, not in the traditional sense — before she met the Beatles star. However, that is not to say that Shevell is not a successful woman in her own right.
In fact, Shevell is an accomplished businesswoman who has held many prestigious titles, including being a former board member of the New York Metropolitan Transportation Authority (MTA) and is currently the vice president of the transportation conglomerate and family business, the Shevell Group.
Former member of the board in the New York Metropolitan Transportation Authority (MTA), Nancy Shevell is an American businesswoman and vice president of Shevell Group family business (Credit: AT / WENN)
Though Nancy Shevell has worked hard for her success, she likely had a bit of help from her family's wealth, as her father, Mike Shevell, was the former CEO of New England Motor Freight (which filed for bankruptcy in 2019, more on that later) and is the current chairman of the family company, the Shevell Group, which is estimated to be worth roughly half a billion dollars.
Strangely enough, the Shevell family has had a tumultuous history. The family has been involved in the transportation industry since as early as the 1920s, trucking fish and other seafood from New Jersey to New York City.
The Shevells had a lucrative business, but were subject to scandal when they were suspected of misconduct in the 1960s after conflict with government investigators and again in the 1970s after they were charged with fraud, citing involvement with the Mafia.
Then, in 1988, Myron Shevell (Nancy's father, then the CEO of New England Motor Freight, or NEMF) was accused of collusion with the head of one of the "five families" of New York City organized crime. Myron Shevell was never charged but was banned from union negotiations for five years.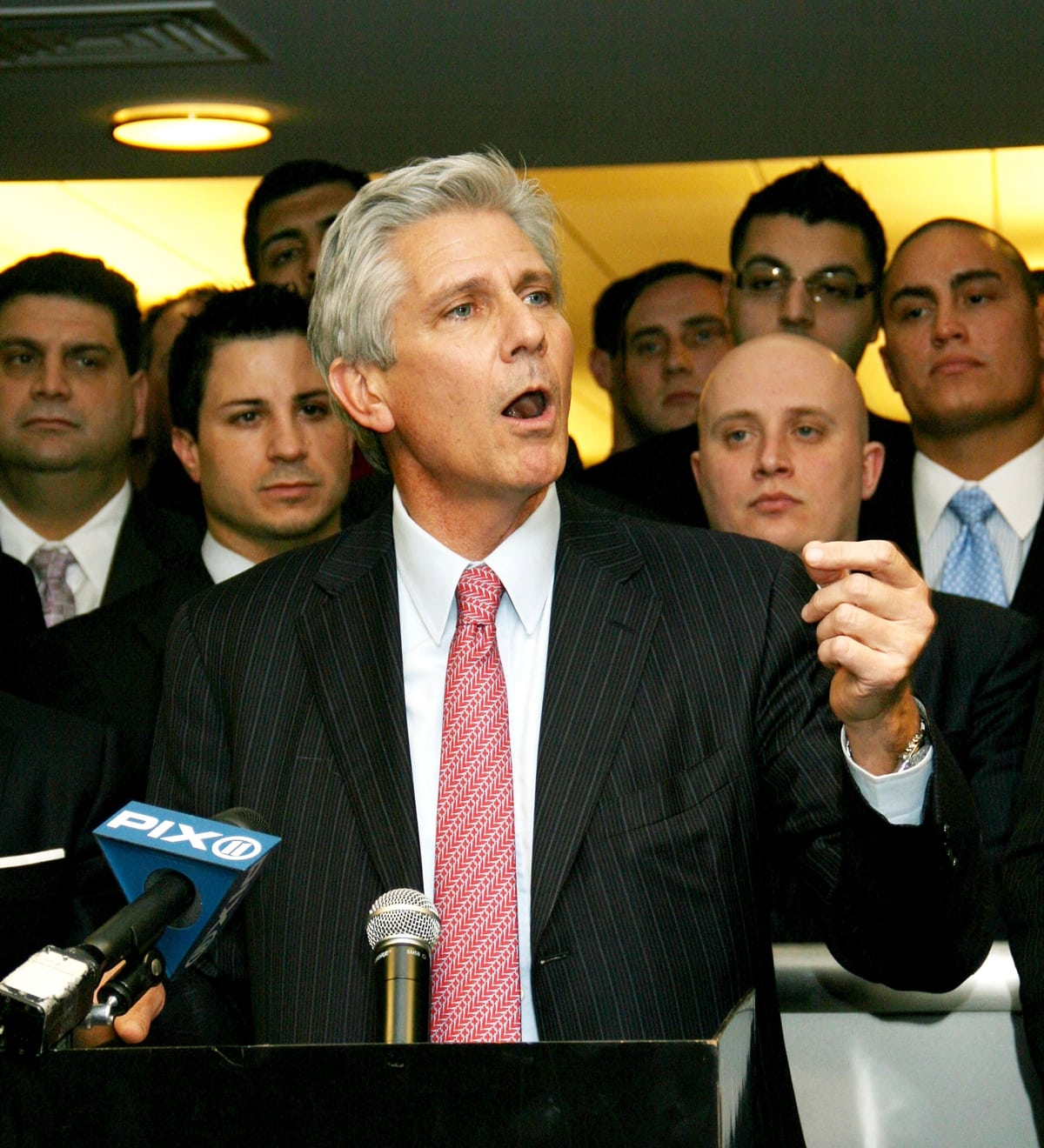 Nancy Shevell's ex-husband is lawyer Bruce Blakeman, with whom she shares a son named Arlen (Credit: Michael Carpenter / WENN)
Luckily, Nancy Shevell has stayed away from the scandal that has run in her family but has still struggled. Like her husband's first wife, Linda Eastman, Shevell also battled with breast cancer after being diagnosed in 1996 but was able to recover.
How Nancy Shevell and Sir Paul McCartney Met
Sir Paul McCartney and his now-wife Nancy Shevell actually met long before they got together.
The pair first met thirty years ago, in the early 90s, before striking up a romantic relationship, crossing paths as they both owned homes in the Hamptons, on New York's Long Island.
At the time, Shevell was married to the silver-haired Nassau County lawyer and politician Bruce Blakeman, and shares her son, Arlen, with him. Of course, due to this, all contact between Shevell and McCartney was purely neighborly — they had no idea that they would be falling in love years later.
Sir Paul McCartney and Nancy Shevell met through Barbara Walters, who is Nancy's cousin-once-removed (Credit: Will Alexander/WENN)
According to the Daily Mail, Shevell was popular with the McCartney clan even then, as the families attended dinner parties and neighborhood events together.
McCartney's children even referred to Shevell as 'Jackie O', referencing her "sense of style and love of sunglasses" similar to that of the former first lady.
Coincidentally, just as Sir Paul McCartney was going through divorce proceedings with his model ex-wife Heather Mills, Nancy Shevell was also separating from her then-husband, Bruce Blakeman. Both of their divorces were eventually finalized in 2008.
Around this same time, in the summer of 2007, McCartney and Shevell began to strike up a romantic relationship. Apparently, McCartney and Shevell's fortuitous meeting can be attributed to one person — none other than the legendary reporter Barbara Walters.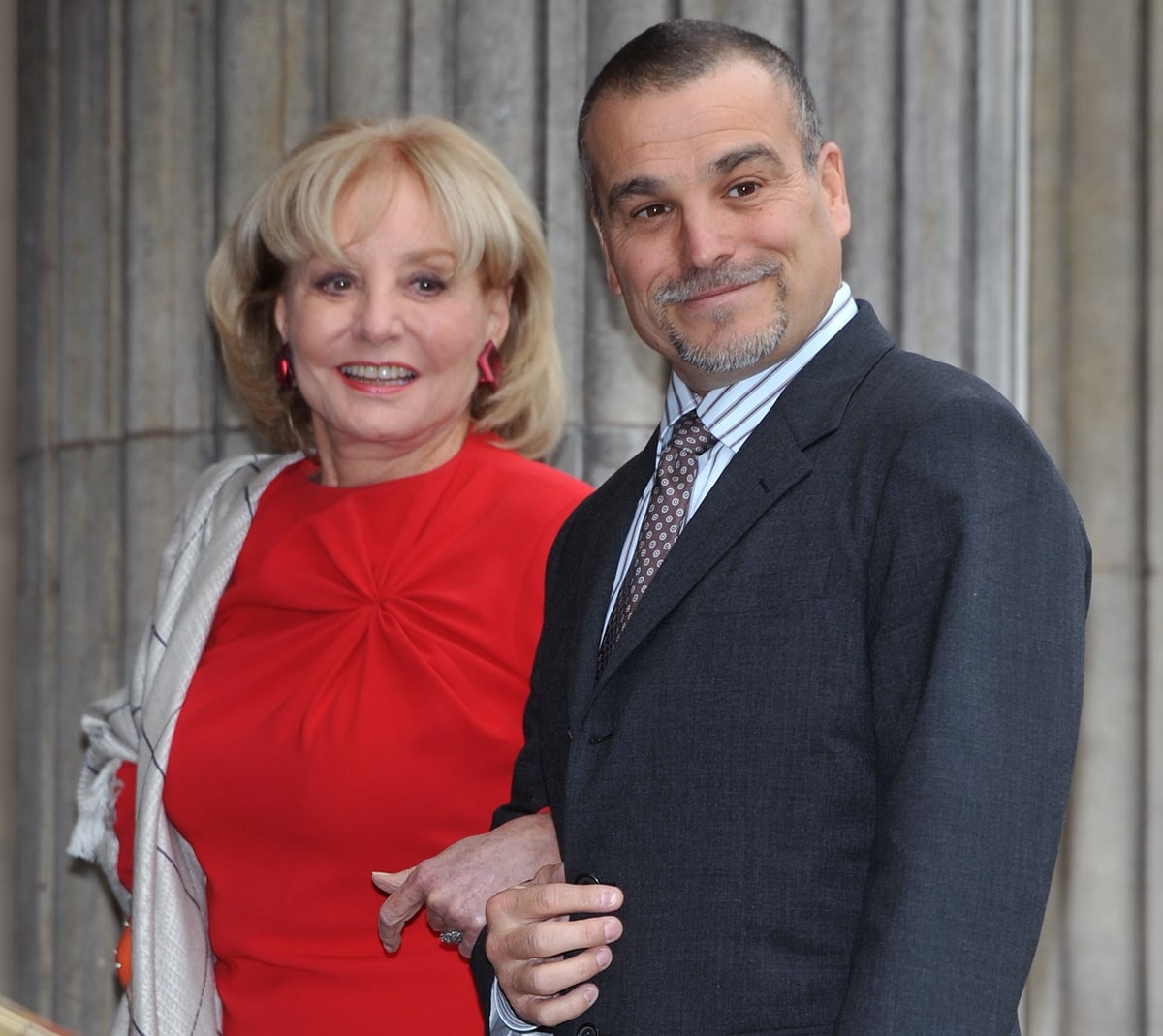 Barbara Walters and a guest attend the wedding of Sir Paul McCartney and Nancy Shevell at Marylebone Registry Office on October 9, 2011, in London, England (Credit: Daniel Deme / WENN)
Strangely enough, Walters is Shevell's second cousin, serving as both a shoulder to lean on during her divorce and a matchmaker when Shevell was ready to move on. For Walters, this is no burden, telling The Observer, "We are very close. Nancy is like a second child to me."
Barbara Walters even coached Nancy Shevell on how to win Sir Paul McCartney's heart, considering that there were many other women waiting to strike after learning about the musician's divorce — including actress Rosanna Arquette, who is allegedly the influence for Toto's "Rosana" and Peter Gabriel's "In Your Eyes".
Walters' strategy for Shevell, according to The Observer, was simple: "Look at Heather Mills, and do precisely the opposite."
Since McCartney and Shevell had both gone through bitter, drawn-out divorce proceedings, they were in no rush to turn around and get married again. However, the Beatles alumni could not help but be swayed by the tall, dark-haired beauty — McCartney has barely an inch on Shevell, as he is 5'11" and she is 5'10 — and the pair were soon inseparable.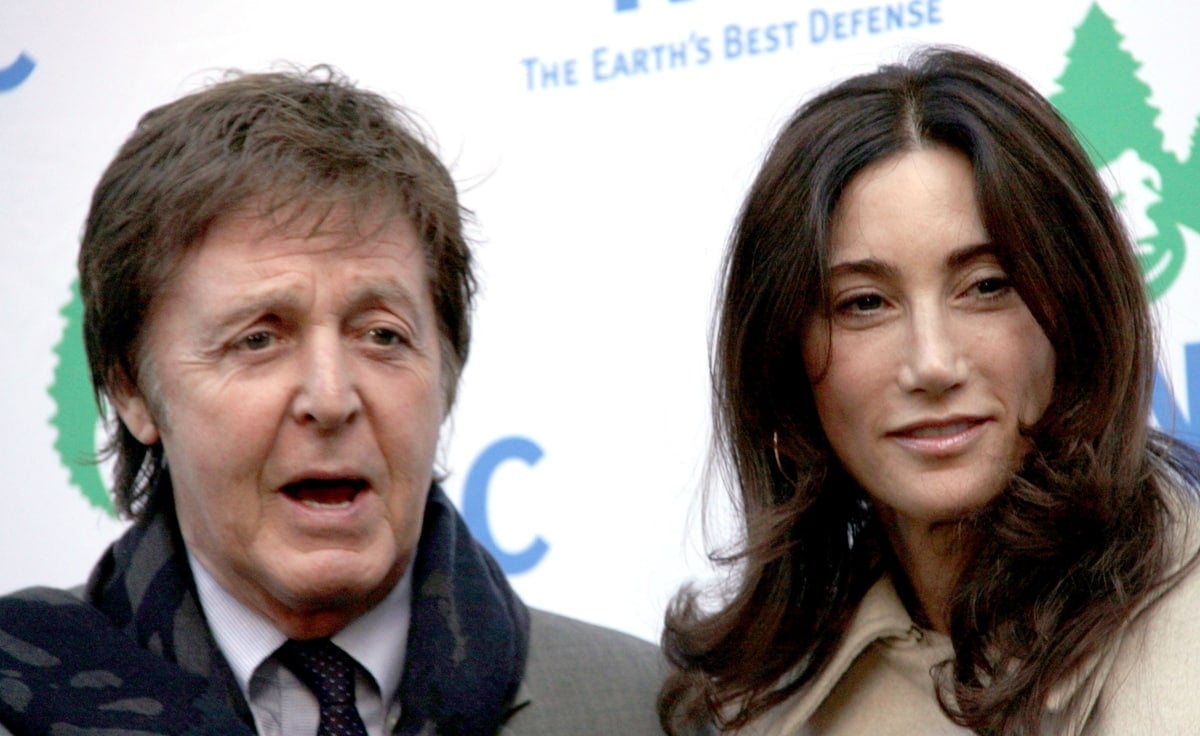 Dating since 2007, Paul McCartney is 18 years older than his wife Nancy Shevell (Credit: Flashpoint / WENN)
After roughly a year of dating, the pair was committed to one another, as Shevell even converted to McCartney's famous vegetarian diet, and their combined seven children were supportive of their relationship.
Sir Paul McCartney and Lady McCartney
On October 9, 2011, Nancy Shevell and Sir Paul McCartney were married in a small ceremony in front of 30 guests composed of close friends and family. All of their children were in attendance.
McCartney's daughter, Beatrice, was a bridesmaid, and Shevell's dress was designed by McCartney's fashion designer daughter, Stella.
Unlike McCartney's previous wives, Shevell prefers to stay out of the limelight. Barbara Walters explained this to The Observer, saying, "She doesn't want anything to do with publicity. She's turned down a piece in Vogue. She doesn't want anything to do with music."
"She told me that she didn't like to have her picture taken with people she didn't know," a photographer told The Observer, "And she mentioned she wasn't used to the attention."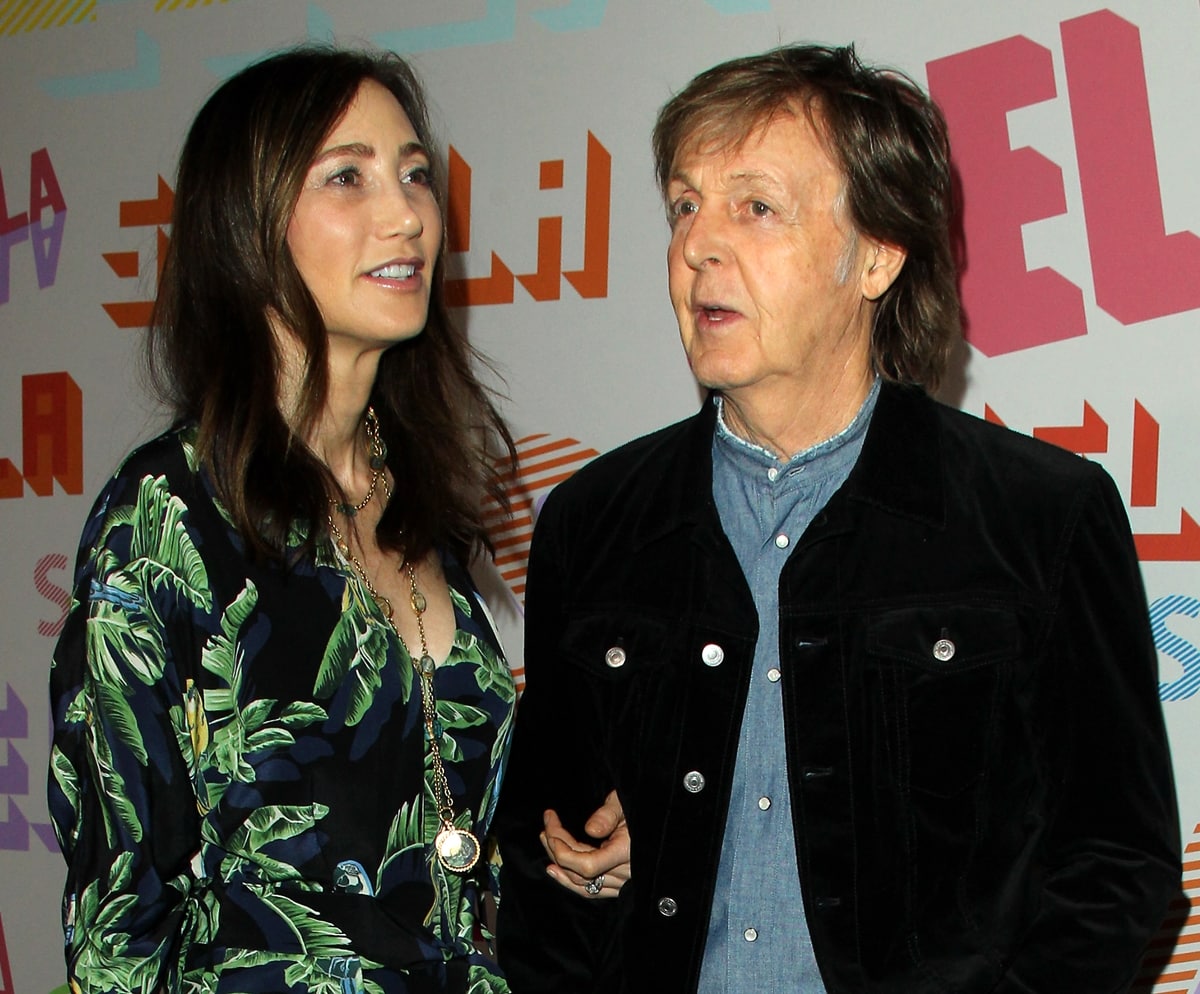 Paul McCartney and his wife Nancy Shevell arrive at the Stella McCartney's Autumn 2018 Collection Launch on January 16, 2018, in Los Angeles, California (Credit: Adriana M. Barraza / WENN)
"It's just not that intriguing," Shevell said in that same interview. "Not like his last marriage, which was really intriguing. I'm over 50. I work. That's it. I haven't been social and I have a small group of girlfriends. There really isn't much to talk about."
Perhaps Lady McCartney's aversion to the spotlight is a breath of fresh air for her husband, as 61-year-old Shevell and 79-year-old McCartney will be celebrating their tenth anniversary this October.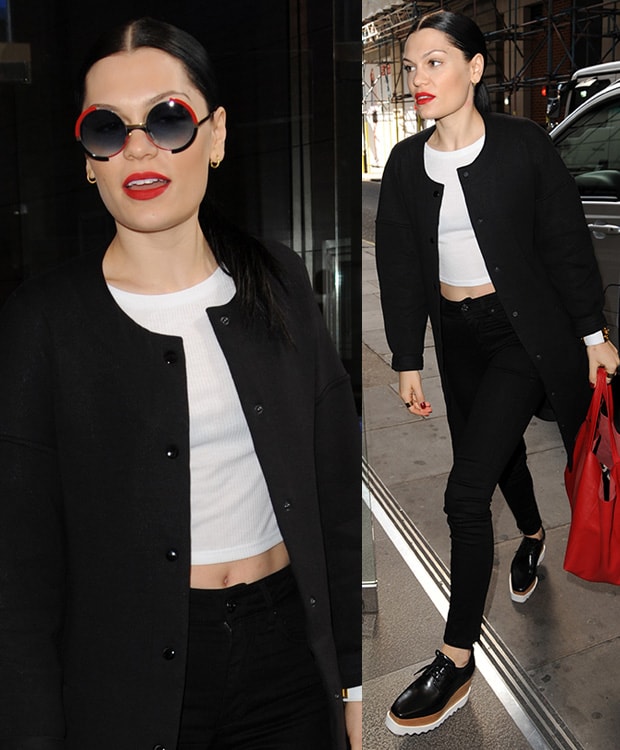 Jessie J promoting her hit song "Bang Bang" at Kiss FM in London, England, on August 13, 2014 (Credit: WENN)
In August 2014, Jessie J's "Bang Bang" collaboration with Nicki Minaj and Ariana Grande peaked to number three on the US Billboard Hot 100. The song was the lead single from Jessie J's third studio album Sweet Talker (2014).
Usually seen in daring outfits on stage and in striking clothes on the red carpet, on regular workdays, she can be seen attending meetings, jet-setting, or partying in more laid-back but still stylish ensembles.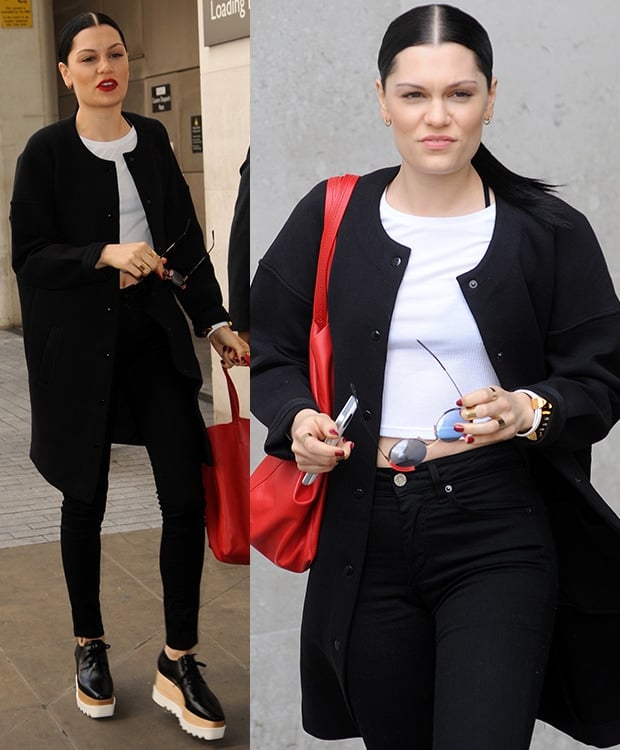 Jessie J styled a white cropped top with high-waisted black pants and a black coat (Credit: WENN)
Simple, clean, and edgy — these best describe the English singer's look while she was out in London to promote her new music.
She arrived at Kiss FM and BBC Radio 1 studios wearing the same clothes, including a white cropped top, a pair of high-waisted black pants, and a black coat.
The "Wild" singer added a punch of color to her monochrome outfit by wearing a dark red lip shade and by carrying a matching leather bag. Her center-parted, slicked-back ponytail and gold rings made the look even edgier.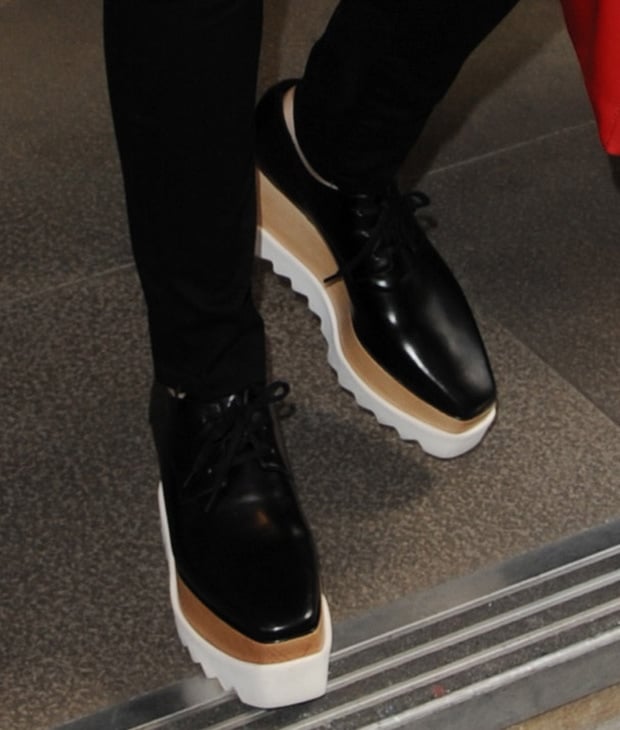 Jessie J in Stella McCartney platform oxfords featuring shark-tooth rubber soles (Credit: WENN)
To make the rather low-key getup more interesting, the former The Voice UK judge opted to finish it off with a pair of platform oxfords.
She was wearing British designer Stella McCartney's "Paul" shoes, which features a lace-up design and 3-inch double-layer wedges with platform wooden midsoles and shark-tooth rubber soles.
Jessie J wearing Stella McCartney platform oxfords (Credit: WENN)
How do you like these Stella McCartney platform oxfords? Aside from black, they are also available in nude faux-patent material.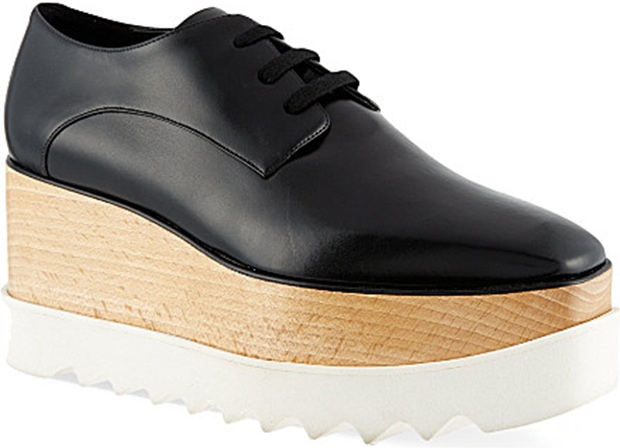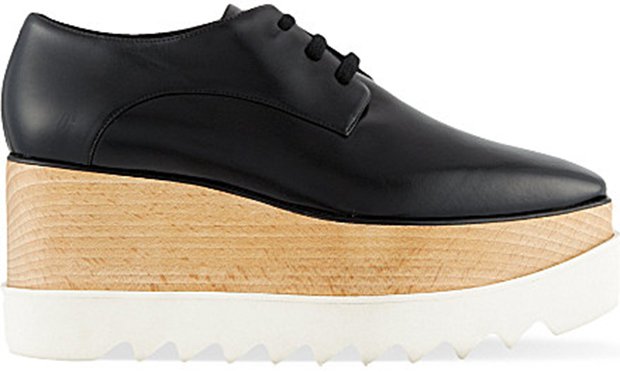 Stella McCartney "Paul" Platform Oxford Shoes, £600
Stella McCartney Faux-Patent Platform Oxfords in Nude, $995