Jessica Alba may command respect for her A-list actress status and successful career as a businesswoman, but the 40-year-old Sin City star was not always held in such regard, especially when she was just starting out on the small screen.
Specifically, she cites her short time as a guest star on Beverly Hills, 90210 as one of her worst experiences.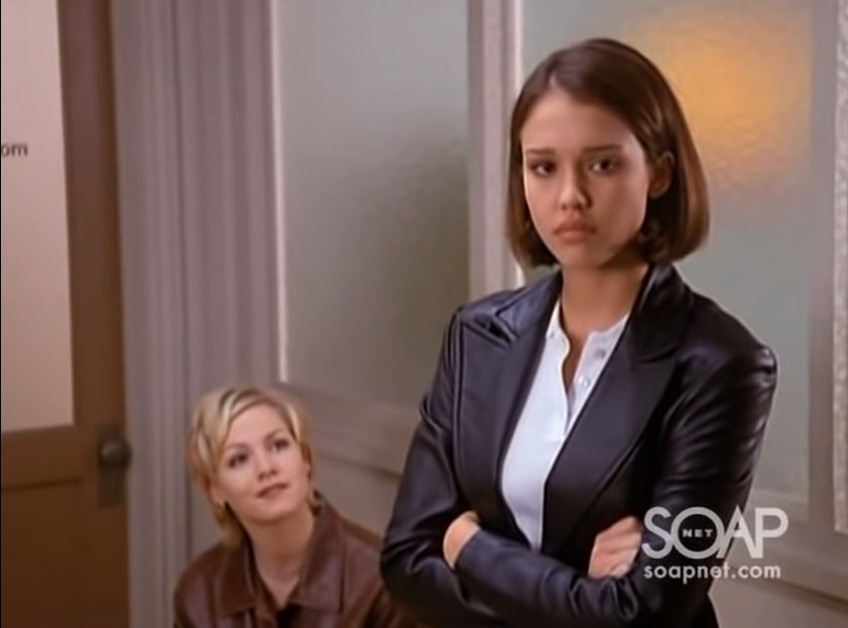 Jessica Alba portrayed pregnant teenager Leanne in two episodes of Beverly Hills, 90210 (Credit: Fox)
In an October 2020 episode of Hot Ones, where celebrities dish over plates of increasingly spicy hot wings, Jessica Alba revealed that she was treated unfairly during her short stint on the infamous teen drama Beverly Hills, 90210.
In 1998, the actress was cast as a teen mom named Leanne in season 8 of Beverly Hills, 90210. Born on April 28, 1981, she was just 16 years old when her two episodes aired in March 1998. The Honey actress turned 17 on April 28, 1998.
Though Alba's time on set was short, only appearing in two episodes of the show, the way she was treated by the showrunners has stuck with her for over twenty years.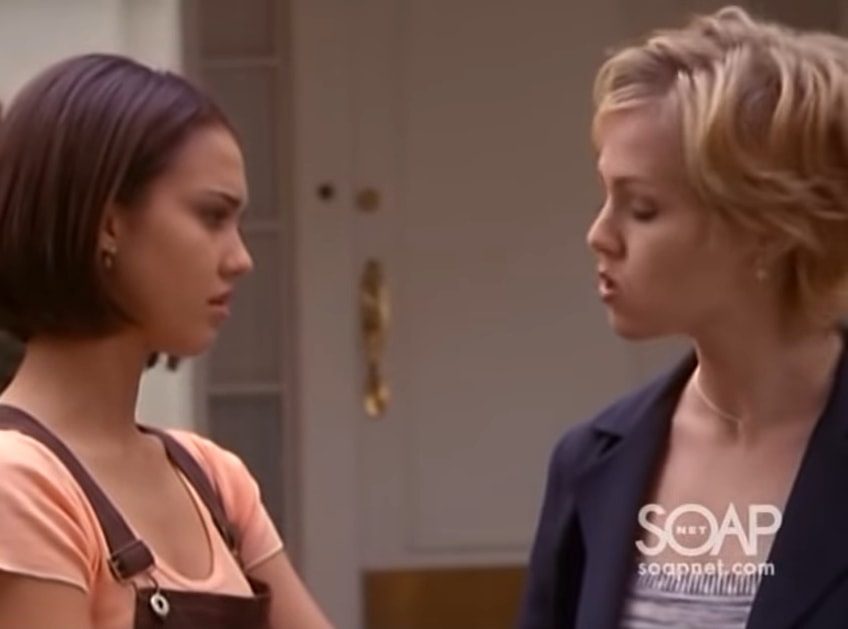 Jennie Garth as Kelly Taylor and Jessica Alba as Leanne in Beverly Hills, 90210 (Credit: Fox)
"I couldn't even make eye contact with any of the cast members, which was really strange when you're, like, trying to do a scene with them," Alba said in her Hot Ones interview.
She went on to say that the production crew even threatened her if she did not follow this rule, explaining, "It was like, 'You're not allowed to make eye contact with any one of the cast members or you'll be thrown off the set'."
The Fantastic Four star's claims of "no eye contact" and threats of retaliation apparently came as a surprise to many members of the Beverly Hills, 90210 cast and crew.
"'Don't look at the stars of the show' was never an edict that came down on our show. I don't know who told Jessica Alba not to look at us. We never thought we were MC Hammer," said Jason Priestly, who starred in nearly 200 episodes of Beverly Hills, 90210, as Brandon Walsh.
However, in an interview with KiSS 92.5's The Roz & Mocha Show, the actor did express sympathy around Alba's claims, saying, "I'm sorry that that happened to her. It seems really incongruous with everything else that happened on our show, so I don't know what her experience was."
Jessica Alba says she was not allowed to make eye contact with any of the cast members when filming Beverly Hills, 90210 (Credit: Fox)
Even Jennie Garth, another Beverly Hills, 90210 alum (who, coincidentally, shared most of the scenes Alba had on the show) said that she had no idea what Jessica Alba was talking about.
In an episode of her 9012OMG podcast, 48-year-old Garth jokes, "If anybody didn't want to have their eyes looked into, it would have been me. But I don't remember because I have the world's worst memory."
Though actress Jennie Garth's claims are suspect at best, it is plausible that neither she nor Jason Priestly — who actually seemed sympathetic — would even remember Jessica Alba's experiences on Beverly Hills, 90210 considering that she only appeared in two episodes over twenty years ago.
Additionally, as stars of the show, they likely had little to do with the onboarding process for new or temporary castmates.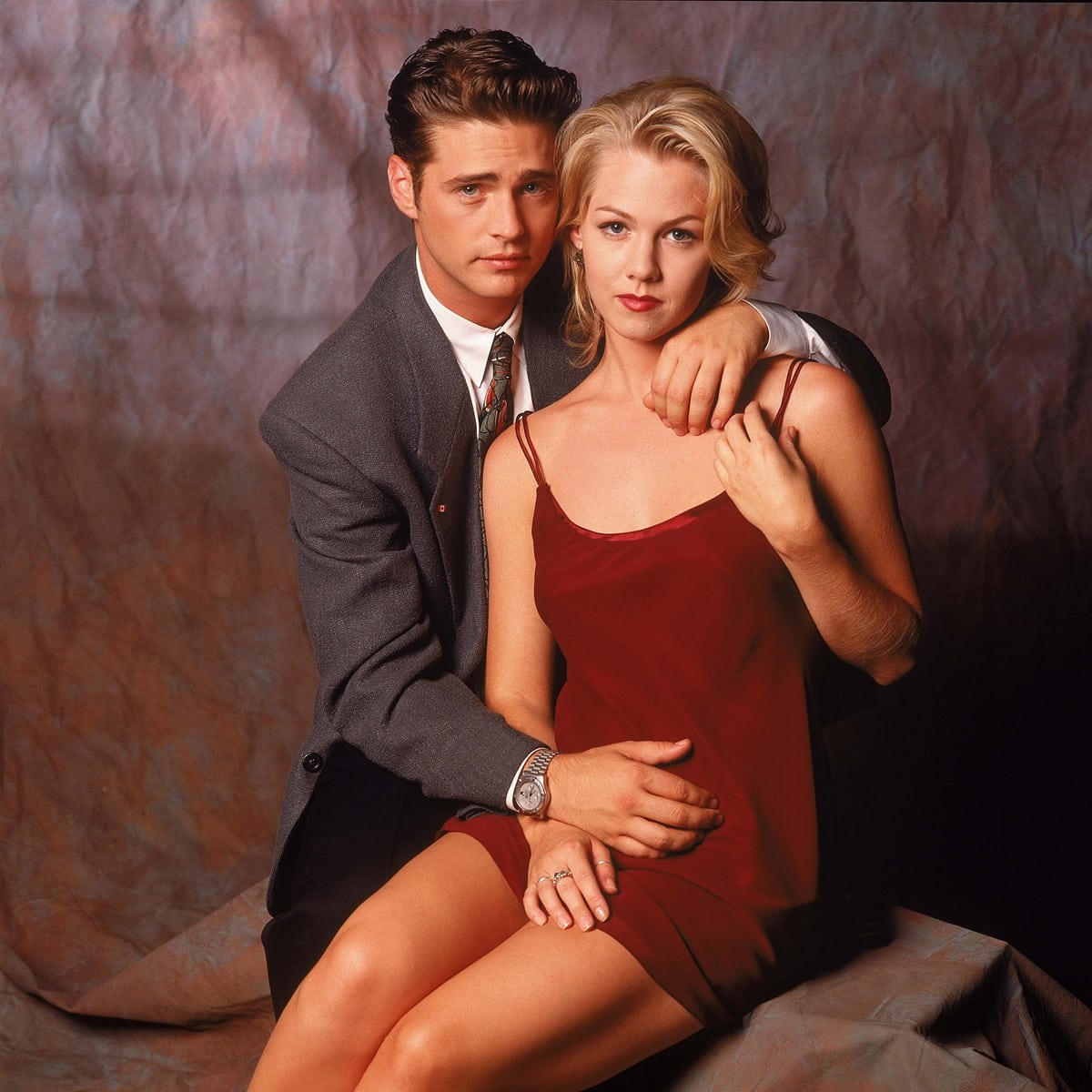 Jason Priestly (as Brandon) and Jennie Garth (as Kelly) have both refuted Jessica Alba's claims regarding Beverly Hills, 90210 (Credit: WENN)
However, Joel Feigenbaum, a director of Beverly Hills, 90210 and the man who personally oversaw Alba's scenes, deliberately spoke out in an episode of the Beverly Hills, 90210 Show podcast after Jessica Alba's Hot Ones interview and incendiary claims of mistreatment.
"I had not [heard about the no eye contact rule] but I'm not saying — it's very possible someone could have said that to her, either seriously or not," the director said on the podcast, not giving any fans of the show hope that Alba's claims were false.
"I can't imagine who it would have been. It certainly wasn't one of the cast — the only other people it might have been — an [assistant director] or maybe somebody in the makeup and hair trailer. I don't doubt that she heard that somehow, but I certainly was never aware of it and you certainly never saw that on set anyway."
Feigenbaum claims he was shocked to hear Alba's allegations, saying that he knew the majority of the cast very well and was doubtful that any of them would have said anything like that to the actress.
"She may have heard that somehow. Who knows? It could have been maybe even before she ever came to 90210, before she was even cast in the part. For all I know, somebody else was messing with her, but to my knowledge, that certainly wasn't a rule on the set by any means," Feigenbaum said, defending the cast and crew. "All of the regular cast was extremely friendly and really open to the guest stars. All of them are very easy [to work with]."
Jessica Alba was just 16 when her two Beverly Hills, 90210 episodes The Nature of Nurture and Making Amends aired in March 1998 (Credit: Fox)
That being said, Joel Feigenbaum was mainly a producer, only directing five episodes of the show. In addition, other female guest stars on Beverly Hills, 90210 have backed up Alba's allegations that the cast was not always welcoming.
Tiffany Thiessen, who had joined the cast three seasons prior to Jessica Alba's appearance, notably told Howard Stern about her time on the show, "The girls were not very nice to me."
AnnaLynne McCord, who worked on the CW network reboot of the show, BH90210, worked alongside members of the original cast, echoing Thiessen and Alba's sentiments, telling Us Weekly, "They were being a little shady toward me!"
It's hard to say whether or not the "don't make eye contact with the cast" Jessica Alba spoke of was put in place to be cruel or as a joke. Either way, not cool!
Jessica Alba wears her hair down as she heads to an office in Santa Monica on February 6, 2013 (Credit: WENN)
Jessica Alba knows how to pull together the best casual-chic looks for everyday wear.
In February 2013, the business-savvy mom was spotted heading to a meeting in LA in a pair of black wedge sneakers.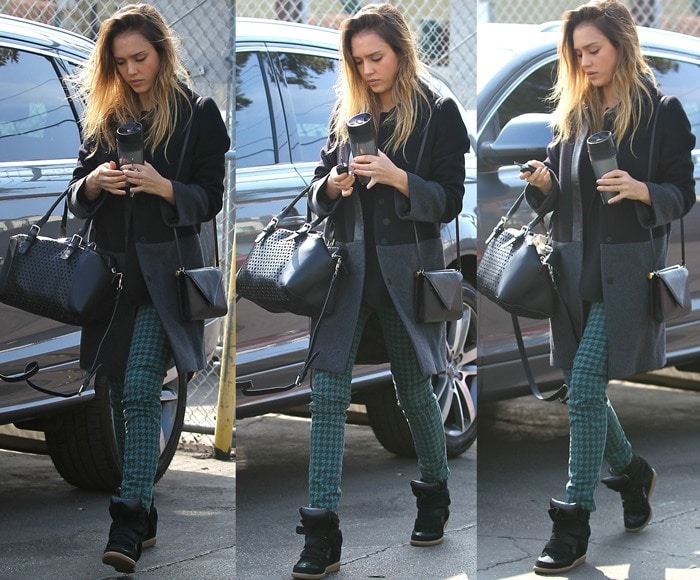 Jessica Alba wears houndstooth skinny jeans and a black jacket while out in Santa Monica (Credit: WENN)
She added her trendy kicks to a pair of black-and-green houndstooth "Alex" skinny jeans from Big Star and a black jacket.
The American actress, model, and businesswoman was loaded down with bags and was carrying a cup of coffee to go, which is typical of this busy actress.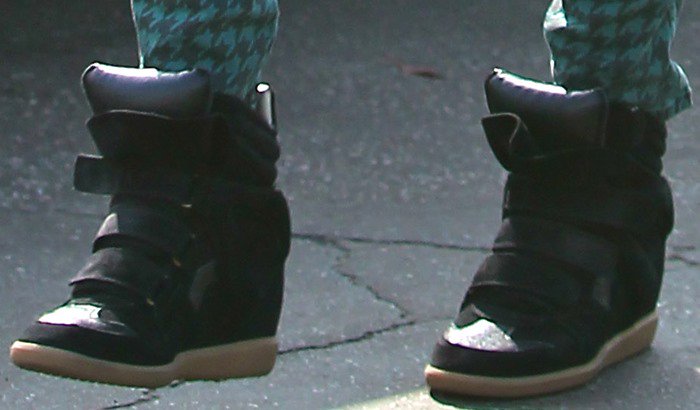 Jessica Alba wears a pair of black Isabel Marant wedge sneakers (Credit: WENN)
Jessica sported an incredibly expensive pair of suede and lambskin Isabel Marant "Bekett" sneakers.
If her exact shoes are a little out of your price range, we found a similar alternative from Steve Madden that you might like.
Steve Madden Hilight Fashion Sneakers, $65.99 – $99.99