In February 2016, a host of celebrities, including Fantastic Four actress Jessica Alba, gathered in Hollywood for the 2016 Saint Laurent at the Palladium event.
Jessica Alba wears her hair down at the 2016 Saint Laurent at the Palladium event held on February 10, 2016, in Los Angeles (Credit: FayesVision / WENN)
11 years earlier, she portrayed the Marvel Comics character Invisible Woman in the 2005 American superhero film Fantastic Four.
Starring opposite Ioan Gruffudd, Chris Evans, Michael Chiklis, Julian McMahon, and Kerry Washington, her performance earned her nominations for Best Hero (she lost to Christian Bale for Batman Begins) and Best On-Screen Team (lost to Vince Vaughn and Owen Wilson for Wedding Crashers) at the 2006 MTV Movie Awards.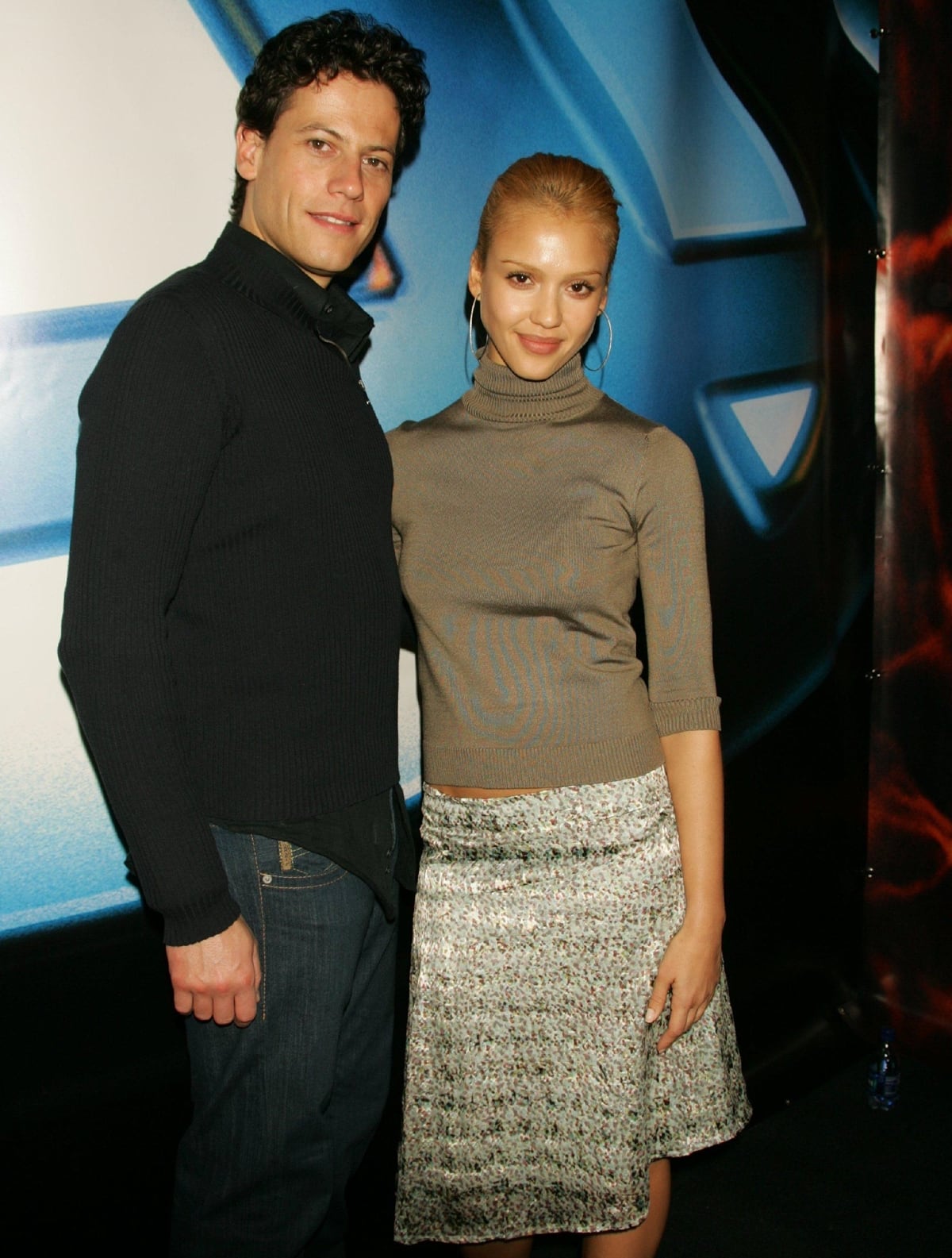 Ioan Gruffudd and Jessica Alba promoting their new movie Fantastic Four in Las Vegas on March 16, 2005 (Credit: Pop / WENN)
A box office success, Alba reprised her role as Susan Storm / Invisible Woman in the 2007 sequel Fantastic Four: Rise of the Silver Surfer. While she dyed her hair blonde for the first movie, Jessica opted to wear a wig in the 2007 sequel.
Meeting her future husband on the set of the film, Alba suffered a kidney infection during the shooting. She nearly fainted when she was with Julian McMahon as Victor Von Doom / Dr. Doom in the space station scene.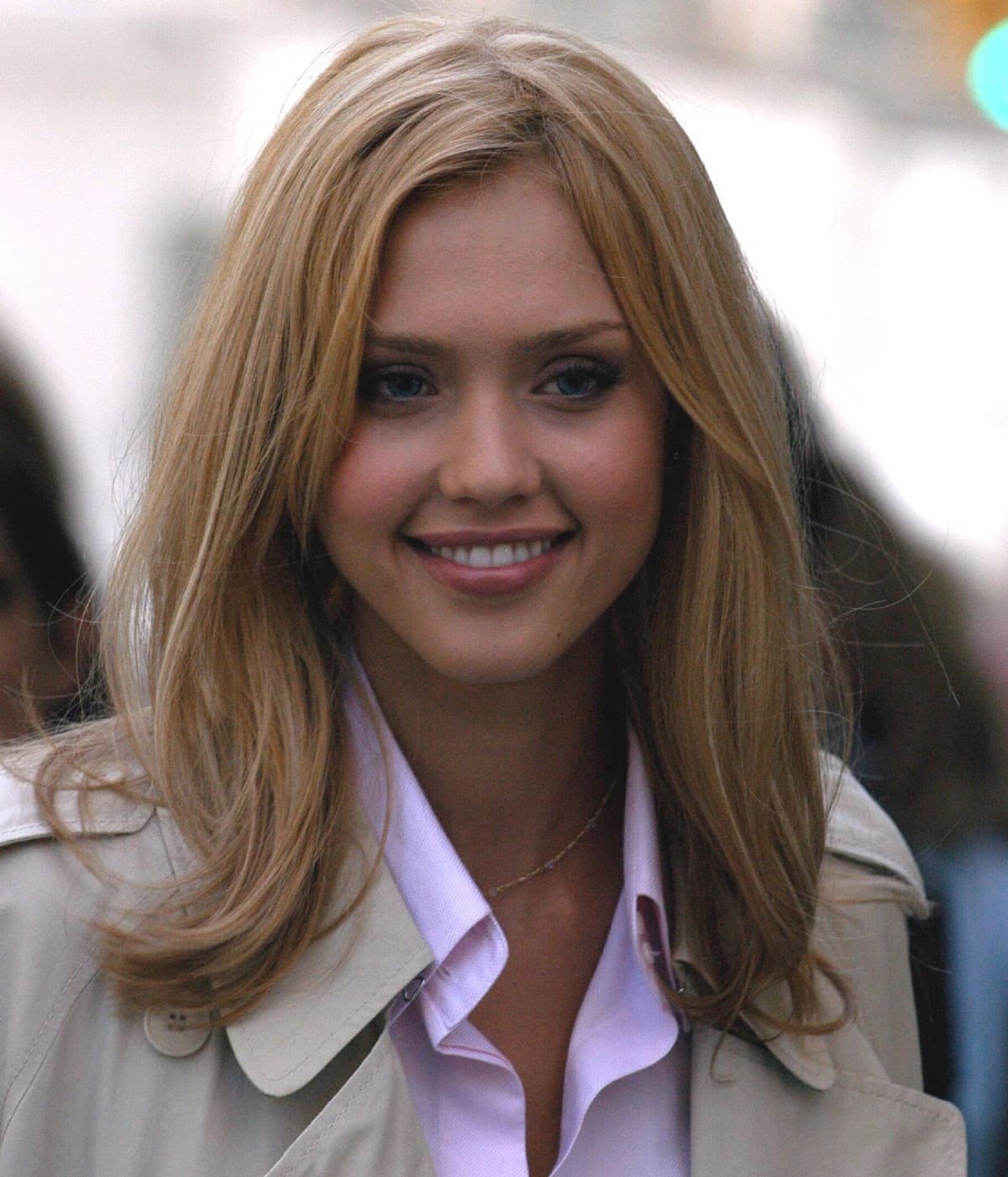 Jessica Alba with blonde hair on location for "Fantastic Four" on May 13, 2005, at 22nd & Broadway in New York City (Credit: Vallenilla / WENN)
Filming started in August 2004 and wrapped in January 2005 when Alba was 23 years old. Born on April 28, 1981, in Pomona, California, she turned 24 on April 28, 2005.
Some additional scenes were filmed in May 2005. The movie was released in the United States on July 8, 2005.
For the 2016 Saint Laurent at the Palladium event, Jessica, of course, wore a head-to-toe ensemble from the fashion house.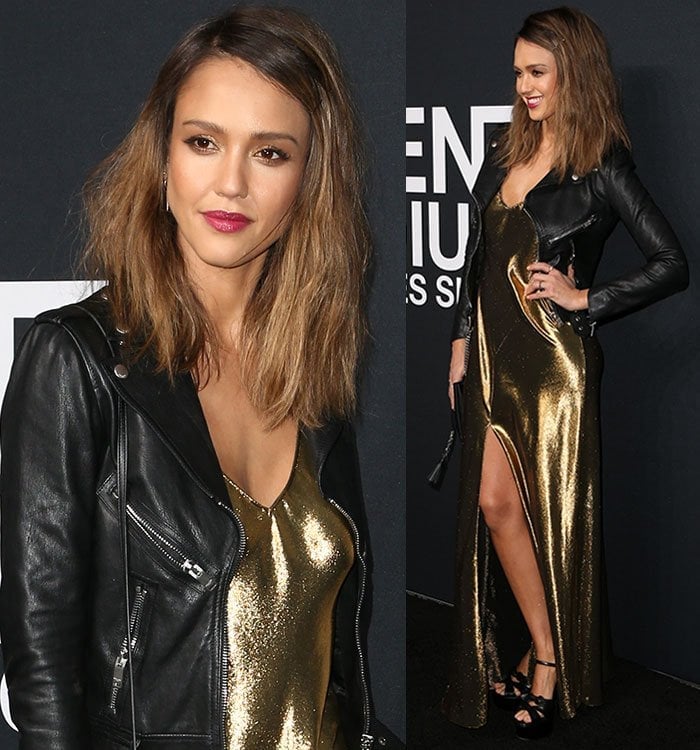 Jessica Alba wears a Saint Laurent slip dress to a Saint Laurent event (Credit: FayesVision / WENN)
The Honey actress wore a slinky floor-length slip dress from the luxury fashion house's Spring/Summer 2016 collection.
Her shimmering gold number featured spaghetti straps, a cleavage-baring plunging neckline, and a thigh-high center slit that put her toned, tanned legs on display.
Jessica Alba wears berry-colored lipstick and shimmering eye makeup to the debut of Saint Laurent's latest collection (Credit: Brian To / WENN)
She teamed the sexy frock with a black leather jacket that lent a hint of biker chic flair to the rather sultry look.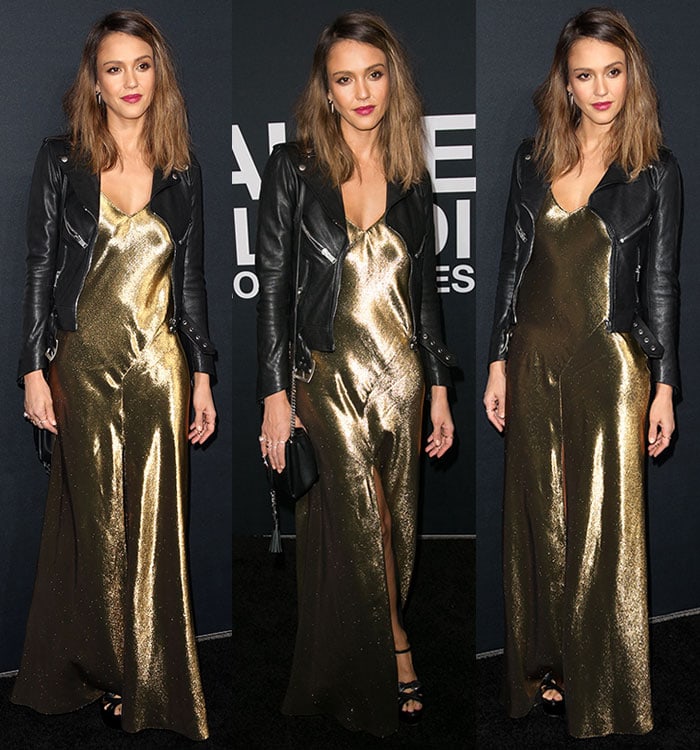 Jessica Alba wears a Saint Laurent gold dress and leather jacket (Credit: Brian To / FayesVision / WENN)
The Dark Angel actress completed her look with several edgy accessories, including a chain-strapped black clutch, a selection of rings and earrings, and a pair of black sandals.
Jessica Alba's feet in black leather Saint Laurent sandals (Credit: WENN)
Jessica added a few inches to her height with Saint Laurent "Candy" sandals in black leather.
These towering shoes feature tapered crisscross front straps, bow details on the front, about two-inch platforms, and five-inch heels.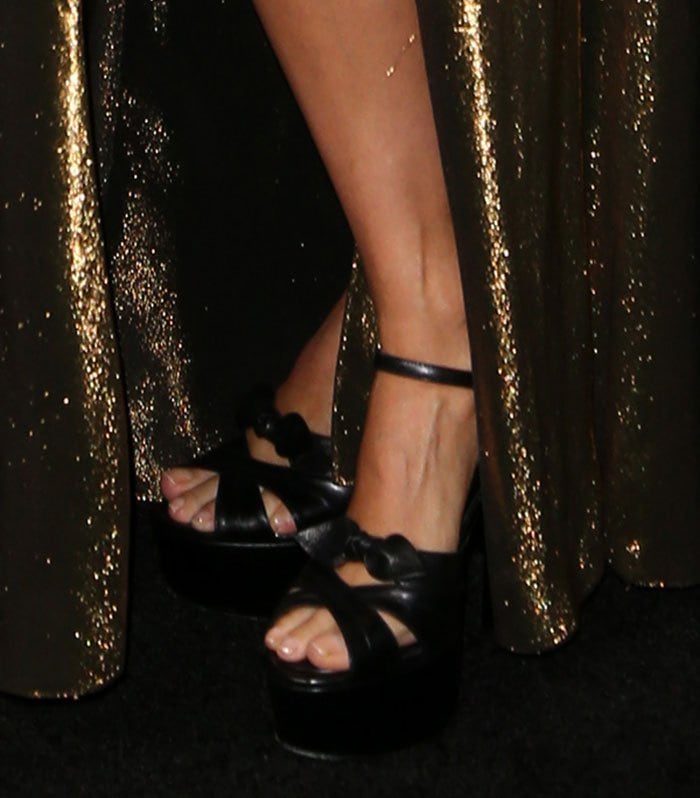 Jessica Alba's feet in platform "Candy" heels (Credit: WENN)
These Saint Laurent sandals are available in a variety of versions at Farfetch and Nordstrom.
Saint Laurent Candy Platform Sandals, $492-$995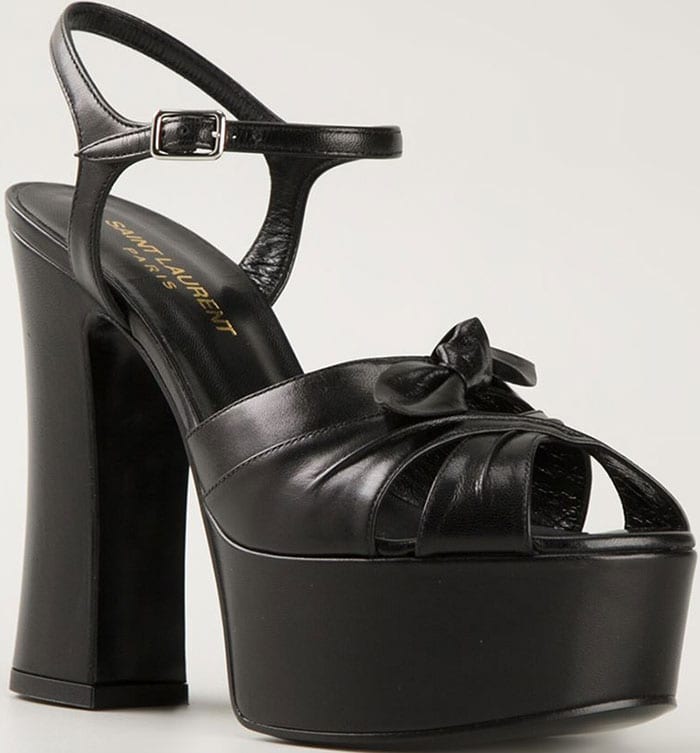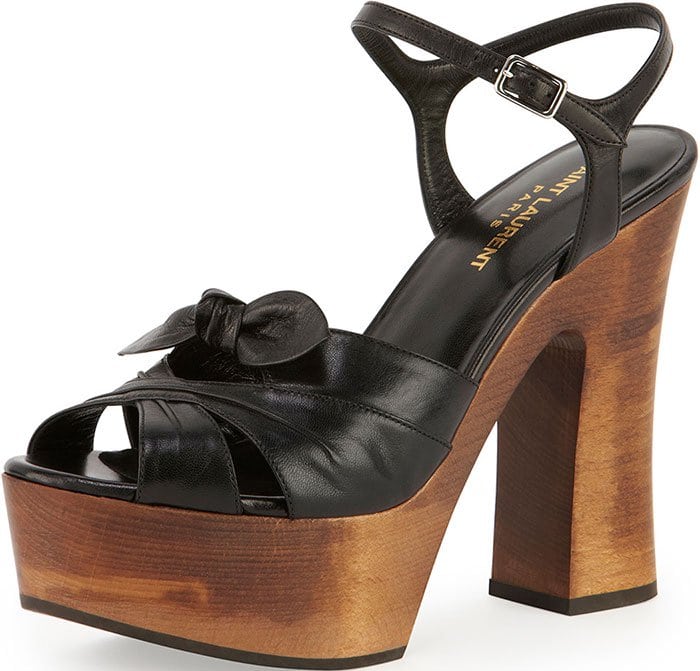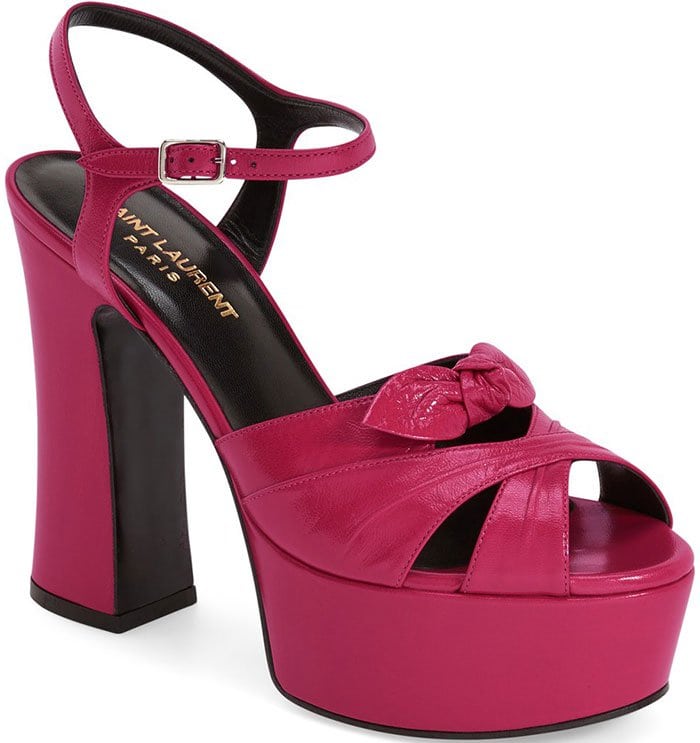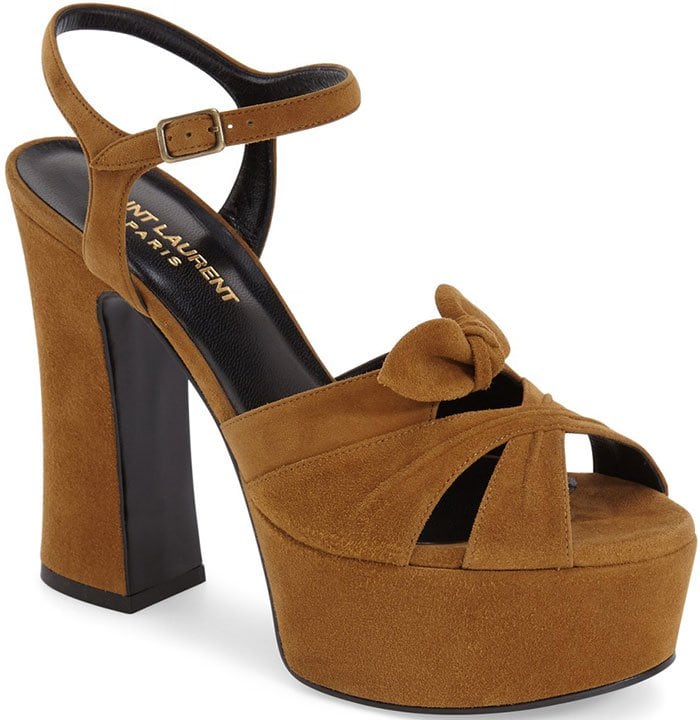 Retro-chic leather sandal fashioned with a slim ankle strap and a graceful bow embellishment