Actress Jessica Alba has earned and deserved much praise for her wide range of variety in movie and tv roles that she has played. Not all of her movie appearances have been met with rave reviews.
She has struggled with bad films that were either poorly written, poorly directed, or a combination of both. Still, Derek Jeter's ex has always found a way to rise above the critics and continues to produce performances on the big screen and television and is now a prominent businesswoman.
The ethnically mixed actress founded and owns her own company, The Honest Company, specializing in safe and honest baby, beauty, and household products that promote ethical consumerism and natural ingredients.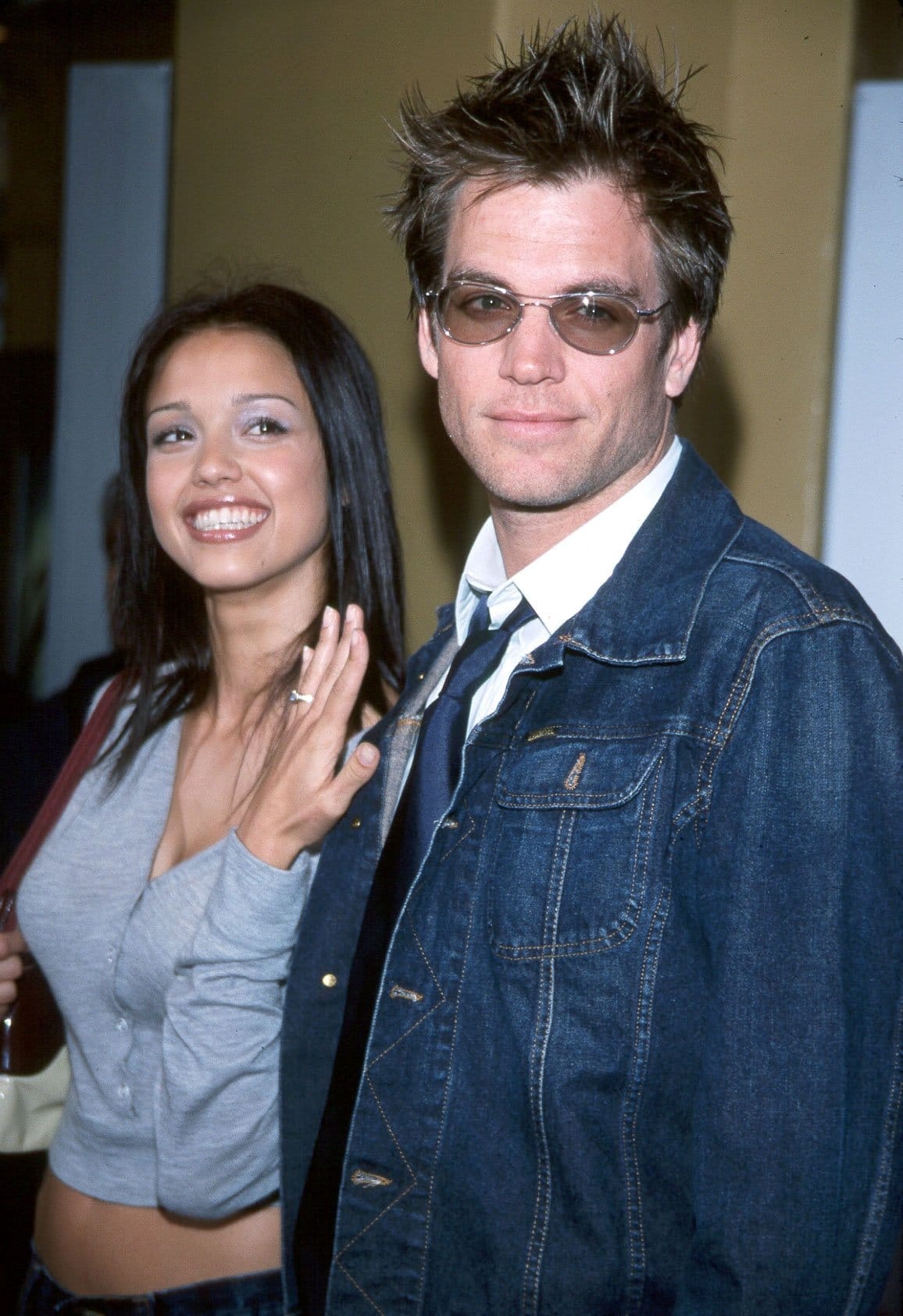 Jessica Alba shows off her engagement ring from Michael Weatherly at the Lara Croft: Tomb Raider premiere at the Westwood Village Theatre in Los Angeles on June 11, 2001 (Credit: WENN)
On April 21, 1981, Jessica Alba was born to parents Catherine Louisa and Mark David Alba in California. She inherits her mother's French-Danish heritage and her father's Mexican-Indian and Spanish lineage.
Her father's air force career caused them to move to Mississippi and Texas until they settled back in California when Alba was nine. At 14, she started acting on television in The Secret World of Alex Mack and the movies Camp Nowhere and Flipper.
Jessica Alba out for a walk with her mother Catherine Louisa (née Jensen) (Credit: WENN)
Alba graduated early from high school at 16 and attended the Atlantic Theater Company. At 19 years old, Alba started to gain notoriety for her performances in the TV series Dark Angel.
The following is a list of Jessica Alba's top 10 best movies according to the Rotten Tomatoes movie critics:
10. Honey (2003) – 21%
In the dramatic movie Honey, she plays hip-hop choreographer Honey Daniels, a character who wants to make a name in the hip-hop dance world. She teaches dance by day to underserved youth and visits downtown clubs with her friends at night.
She meets a director who wants to make a music video of her but starts demanding sexual favors, yet Honey stands up to him and succeeds despite him. The movie advocates for reaching out to and funding poorer communities. It is a poignant movie that tackles the #MeToo movement even before it was in the spotlight.
Jessica Alba at the premiere of Honey held at the Chelsea West Theater in New York City on November 24, 2013 (Credit: WENN / Vallenilla)
Released on December 5, 2003, Alba was 22 when making the movie Honey. Though Alba had experienced some success as a movie actress, she had shifted to a television role in Dark Angel, where she received much praise and recognition.
Honey was her return to the big screen. Even though critics gave Honey a low score of 21%, audiences gave the movie a 71%, saying that it is worth seeing.
9. Awake (2007) – 23%
The conspiracy thriller, Awake, failed to captivate audiences upon its release on November 30, 2007, receiving a dismal score of only 23% from critics. The movie's lackluster performance left viewers feeling unenthused and underwhelmed.
Jessica Alba, aged 24, plays the secret fiancé of the main character, Clay, who needs heart surgery. The man discovers that his surgical team plans to kill him. While on the operating table, he realizes this, experiencing anesthesia awareness with a clairvoyant episode.
Hayden Christensen as Clay Beresford, Jr. and Jessica Alba as Samantha "Sam" Lockwood/Tunnel filming the 2007 American conspiracy thriller film Awake on 68th Street and Madison Avenue in New York City on November 17, 2005 (Credit: WENN / Vallenilla)
Alba's character, Sam Lockwood, is the hidden villainess. Playing the personal assistant to the main character's mother, she is in on a plan with the surgeon for her to marry Clay and take the money once he is killed on the operating table.
8. Fantastic Four (2005) – 27% and Fantastic Four: Rise of the Silver Surfer (2007) – 37%
In the Fantastic Four movies, Jessica Alba portrays Susan Storm, a formidable superhero with the incredible abilities of invisibility and force field manipulation.
As a researcher aboard a space station, Alba's character and the rest of the team are unexpectedly exposed to a powerful cosmic storm, which imbues her with her remarkable powers.
She played Susan Storm in both the Fantastic Four movie and the Rise of the Silver Surfer. Her performances earned her Best Hero and Best On-Screen Team nominations at the 2006 MTV Awards.
The Fantastic Four was released on July 8, 2005, when she was 24 and scored 27%.
Fantastic Four: Rise of the Silver Surfer was released on June 15, 2007, when the actress was 26 and earned a score of 37%.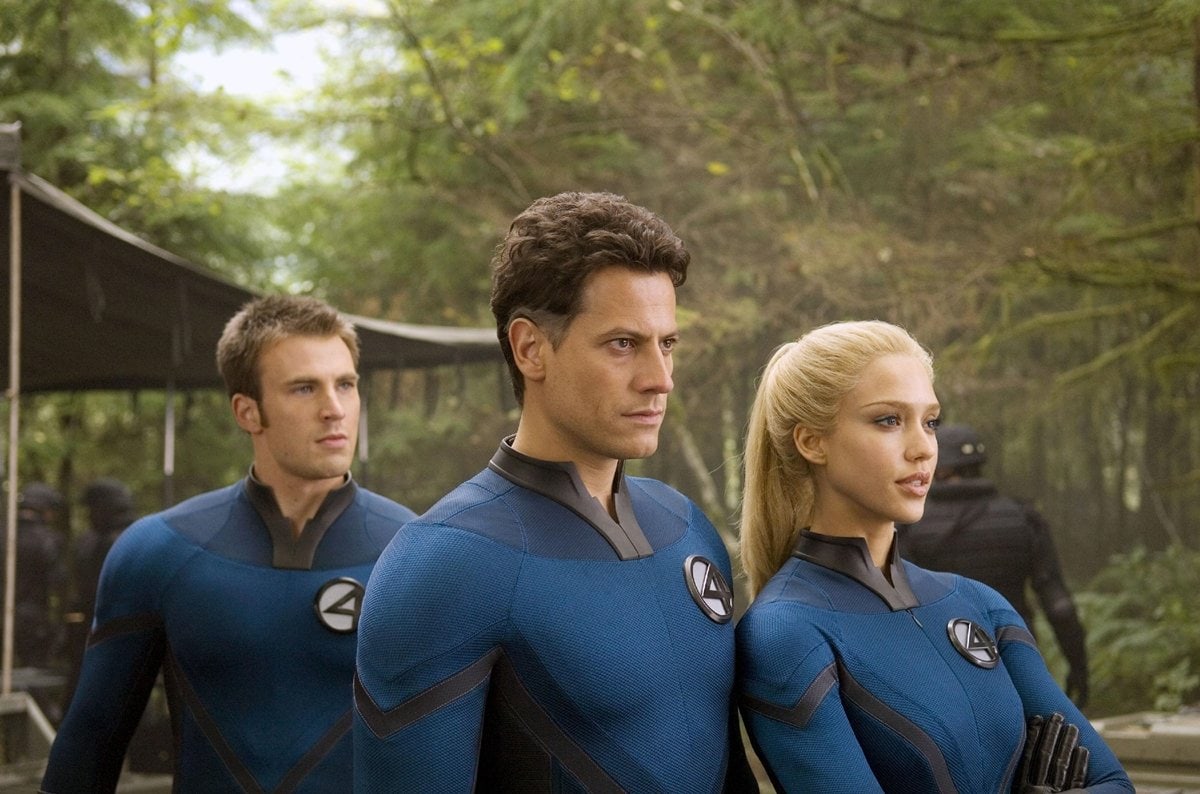 Ioan Gruffudd as Reed Richards, Jessica Alba as Sue Storm, and Chris Evans as Johnny Storm in Fantastic Four: Rise of the Silver Surfer (Credit: 20th Century Fox)
Jessica Alba admits to wanting to quit acting after her experience with the Marvel Studios movie The Fantastic Four: Rise of the Silver Surfer. Her experience caused her to doubt her ability to act as the director was quoted to have criticized her acting, saying her acting looked "too real… Can you be prettier when you cry? Cry pretty, Jessica."
She also felt that she did not have creative license with her character, and writers and directors were not open to dialogue regarding her ideas. When she voiced these frustrations, she received some backlash from the writers and directors alike.
Even though the Fantastic Four was not the set of her dreams, she met her husband, Cash Warren, on the first movie set. Warren was a director's assistant while she played the superhero when she was 23. They were married in 2008 and have three children, Honor, Haven, and Hayes.
7. Mechanic: Resurrection (2016) – 31%
In Mechanic: Resurrection, Jessica Alba takes on the role of Gina, who finds herself in a dangerous situation after being kidnapped by her boyfriend's arch-nemesis.
Despite her perilous circumstances, Alba's portrayal of Gina is anything but that of a helpless damsel in distress. With fierce determination and unwavering strength, Gina proves to be a force to be reckoned with, fighting back against her captors and demonstrating her incredible resilience.
She worked with directors, writers, and producers to craft a character that could stand up to being the love interest of a hard-care assassin boyfriend.
Dennis Gansel, Jessica Alba, and Jason Statham the premiere of Summit Entertainment's Mechanic: Resurrection at ArcLight Hollywood in Los Angeles, California, on August 22, 2016 (Credit: Michael Boardman / WENN)
Jessica Alba, age 35 at the time of filming, said that she was thrilled that her character was able to have "toughness and a real heart" that showcased the character's complexities of being a social worker with a military background.
Starring with Jason Statham, she had fun having a role where she could "kick butt" alongside the famous action movie star. The movie was released on August 26, 2016, and received a 31% score.
6. Sin City: A Dame to Kill For (2014) – 42%
Sin City: A Dame to Kill For is a sequel to the popular and one of Alba's best movies, Sin City, released August 22, 2014.
The sequel aired nine years after the original movie and probably suffered due to the time gap. Jessica Alba (33) plays a character named Nancy, who is dealing with the aftermath of another character's sacrificial suicide.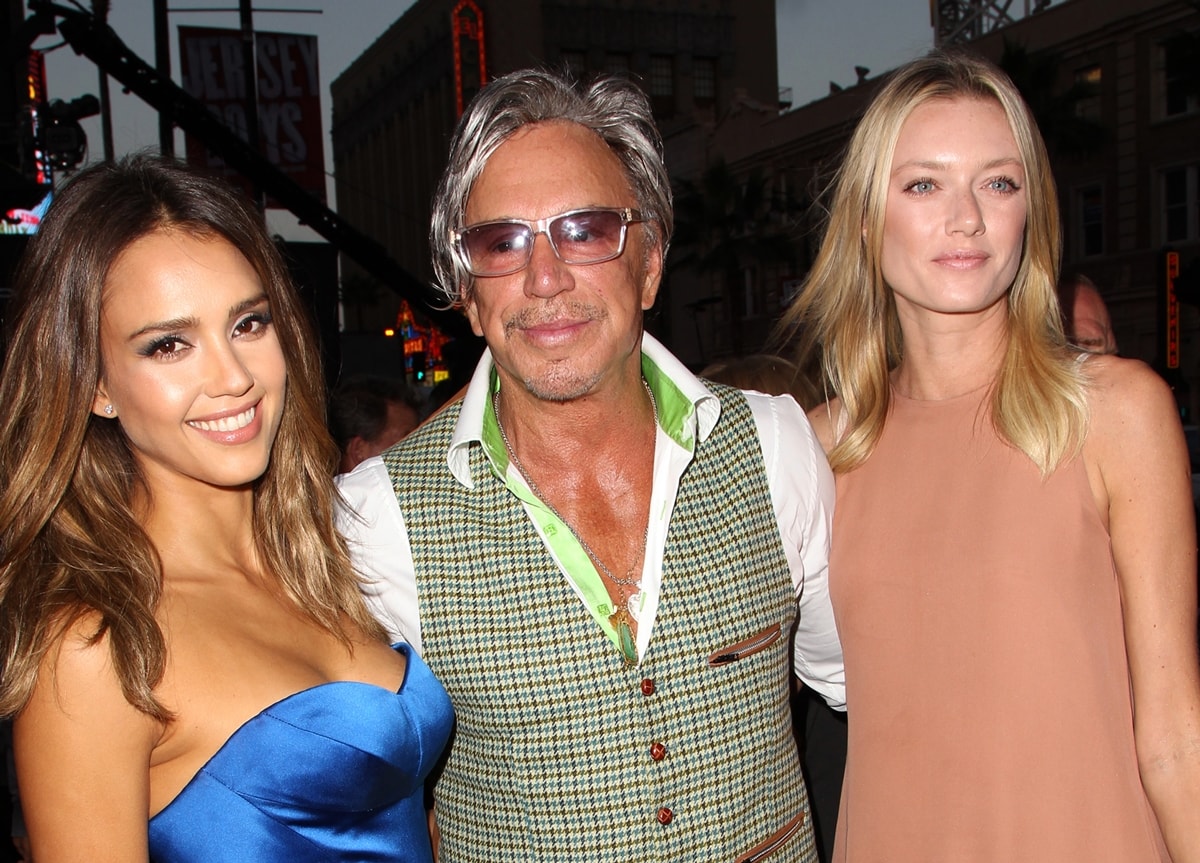 Model Anastassija Makarenko, actors Mickey Rourke and Jessica Alba attend the premiere of Dimension Films' "Sin City: A Dame To Kill For" at TCL Chinese Theatre on August 19, 2014, in Hollywood, California (Credit: FayesVision / WENN)
Jessica Alba said of her character in Sin City: A Dame to Kill For, "She was more naive in the first film. Ignorance was bliss. In this one, there's no bliss and no ignorance. I wanted her to transition from being a victim to being someone who's in control of her own story."
Alba even sees her Hollywood career reflected in her character, saying that she developed a fearlessness and quality that she did not have in her early years as an actress.
Nearly a decade had passed since Jessica Alba's earlier performance in Sin City, and as she reprised her role in the sequel, Alba found that both her character and herself had evolved significantly
5. The Killer Inside Me (2010) – 55%
In the erotic crime thriller, Jessica Alba stars alongside Hollywood stars Casey Affleck and Kate Hudson. She plays the role of a prostitute, Joyce Lakeland, who gets involved in a sadomasochistic relationship and is eventually killed.
Released on September 28, 2010, the movie received mixed reviews due to the violent content and disturbing material that some critics felt was too controversial for the big screen and received a score of 55%.
Jessica Alba and Kate Hudson attend the "The Killer Inside Me" premiere during the 9th Annual Tribeca Film Festival at the SVA Theater on April 27, 2010, in New York City (Credit: WENN)
The movie departs from Alba's usual audience-friendly films like the Fantastic Four movies or Spy Kids. She wanted to have the opportunity to work with a more experienced director who knew how to pull the performance out of her. She starred in this movie when she 29.
She likens her experience with The Killer Inside Me to her experience with Sin City, where the director helped her bring the character to life.
4. Never Been Kissed (1999) – 55%
Jessica Alba starred in the 1999 movie Never Been Kissed when she was 17. Never Been Kissed, released on October 26, 1999, is a romantic comedy that starred Drew Barrymore and was director James Franco's big-screen debut.
It is about a young copywriter who goes undercover in a local high school. Barrymore's character must befriend fellow students like Alba's character named Kirsten.
At the time of the April 9, 1999 release of Never Been Kissed, Jessica Alba portrayed Kirsten Liosis at 17 years old, Marley Shelton played Kristin at age 24, Drew Barrymore starred as Josie Geller at age 24, and Jordan Ladd played Gibby at age 24 (Credit: 20th Century Fox)
Though Alba had only a minor role as a popular mean girl in the film, the movie is a fan favorite and features some of Jessica Alba's best acting. The movie has a score of 55%.
Jessica Alba thanked Drew Barrymore for giving her and unknown actors like her a chance in their movies. She has thanked Barrymore for the platform and opportunity that Never Been Kissed gave her. Jessica Alba got to celebrate her 17th birthday on set.
3. Machete (2010) – 72%
Jessica Alba plays Sartana Rivera in the 2010 action film Machete. Some consider the movie a spinoff of the Sky Kids movies, in which Jessica Alba also stars. In Machete, Alba is an immigration officer struggling between enforcing the law and family expectations.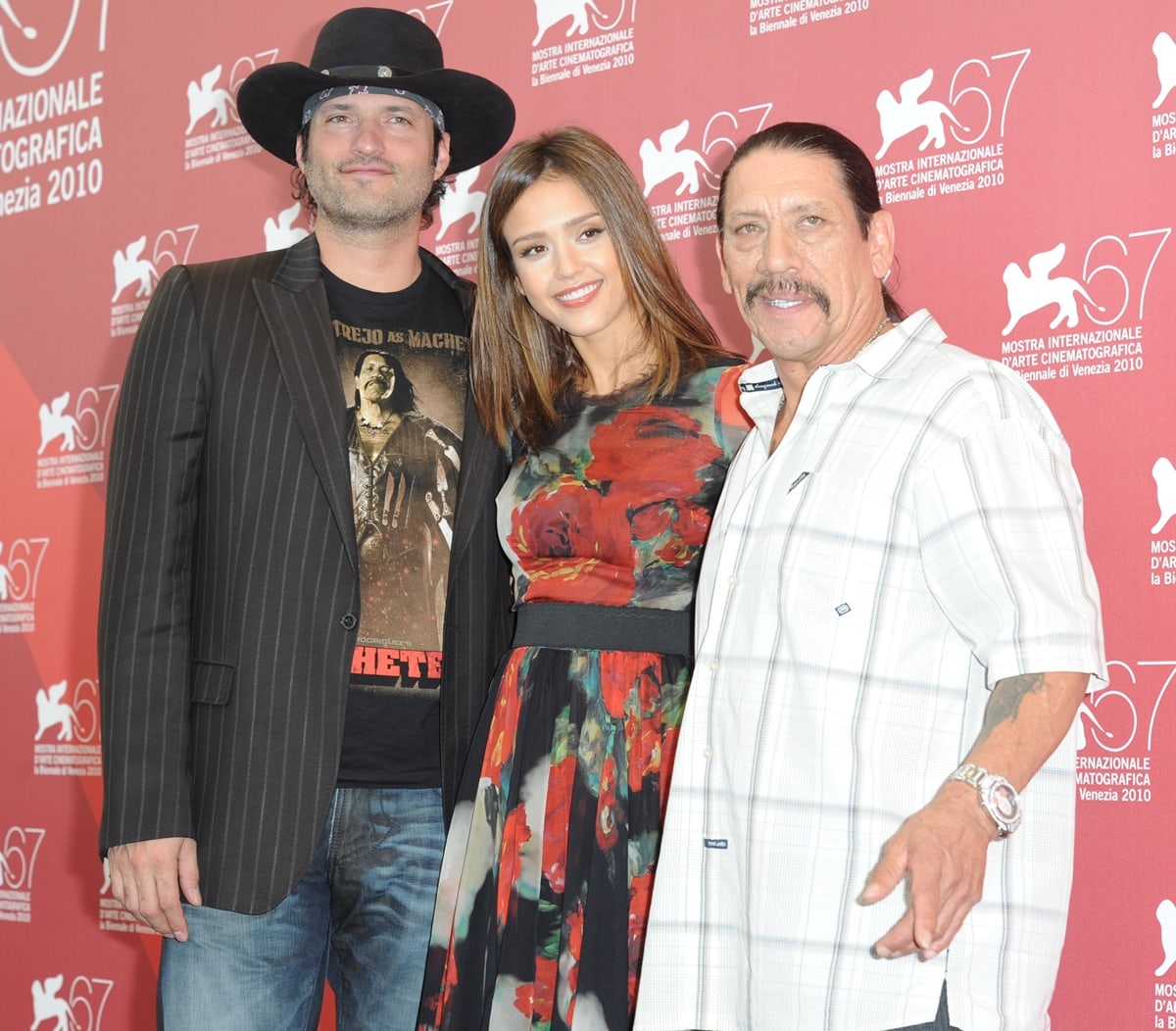 Director Robert Rodriguez, Actress Jessica Alba and Actor Danny Trejo attends the "Machete" photocall during the 67th Venice Film Festival at the Palazzo del Casino on September 1, 2010, in Venice, Italy (Credit: WENN)
Although there is a scene in Machete where Jessica Alba appears to be nude, in reality, she did not actually expose herself on set.
Alba has a standard nudity clause in all her contracts, and for this particular scene, she wore undergarments that were later removed digitally during post-production editing.
Jessica Alba won the ALMA Award for Favorite Movie Actress – Movie/Adventure for her role in Machete but the Razzie Award for Worst Supporting Actress. The movie, released on September 3, 2010, when Jessica Alba was 29, has a score of 72%.
2. Sin City (2005) – 77%
Sin City is one of Jessica Alba's most well-known and best performances in this dark neo-noir compilation of four stories. She plays the character Nancy Callahan, the main character's love interest.
Jessica Alba and Clive Owen arrive at the UK premiere of "Sin City" at the Empire Leicester Square on May 23, 2005, in London, England (Credit: Daniel Deme / WENN)
Her character is so distraught over the death of her lover that she slashes all her hair off and cuts into her face. Critics and audiences loved Sin City, which was given a score of 77%.
Alba says that the role was fun because it was so opposite to whom she has played as an actress and who she is as a person. At the age of 24, the role was a big change from her earlier movies of Honey and Never Been Kissed. The film was released in theaters on April 1, 2005.
1. Stretch (2014) – 88%
Though a little-known movie, not released to the big theaters, Stretch received a high 88% score. Jessica Alba, age 33, plays a more reserved female character named Charlie, the receptionist at a limo company.
She helps guide the main character, a limo driver who must pay off a large gambling debt. The main character picks up a billionaire and attempts to fulfill all the client's requests. The movie is a unique film, a mixture of dark comedy and thriller.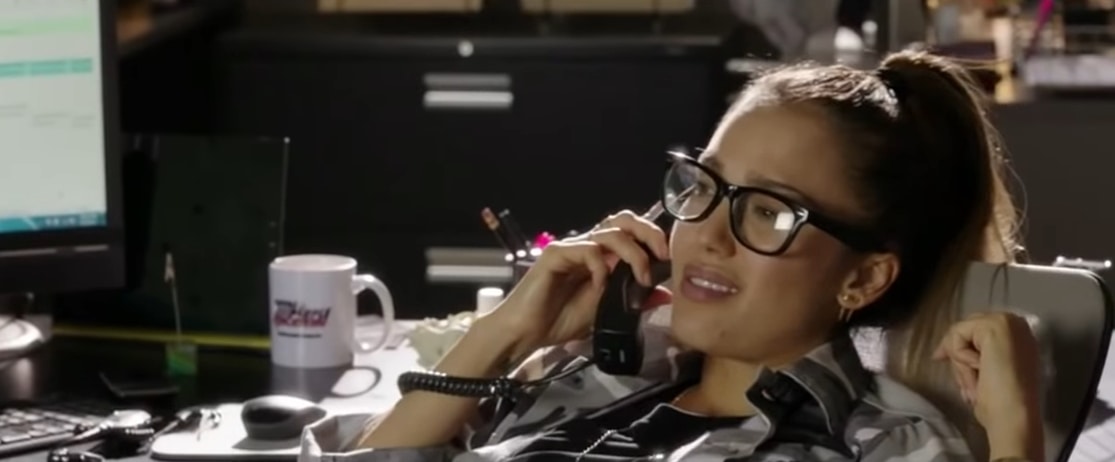 Jessica Alba as receptionist Charlie in the 2014 American comedy crime film Stretch (Credit: Universal Pictures)
Stretch was meant to be released on the big screen, but Universal Pictures removed it from their schedule because of cost. The movie was released to streaming services on November 25, 2014, and still received a fair amount of media attention.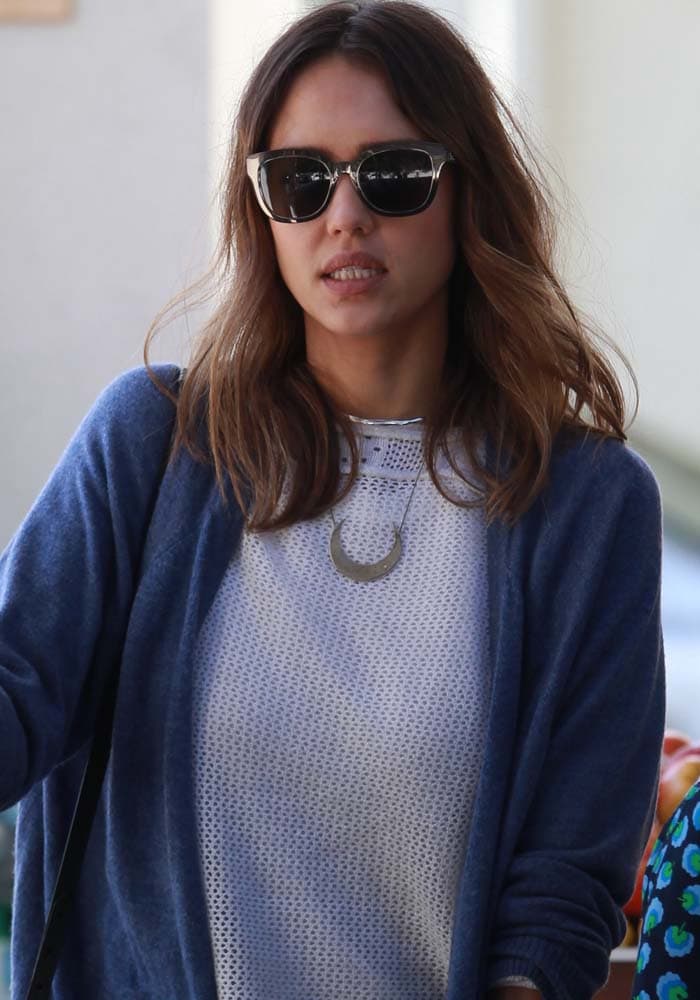 Jessica Alba wears her hair down for a casual Sunday with her family in Beverly Hills on March 6, 2016 (Credit: WENN)
Hollywood seems to hold the record for some of the shortest marriages in the history of mankind, which means it's absolutely crucial for a celebrity to do whatever it takes to protect his or her family.
So even though superstar Jessica Alba is tasked with managing her million-dollar business — The Honest Company — she makes sure to keep her family time as normal and low-key as possible.
In March 2016, the actress-turned-entrepreneur was spotted enjoying a casual Sunday with her husband, Cash Warren, and their two daughters.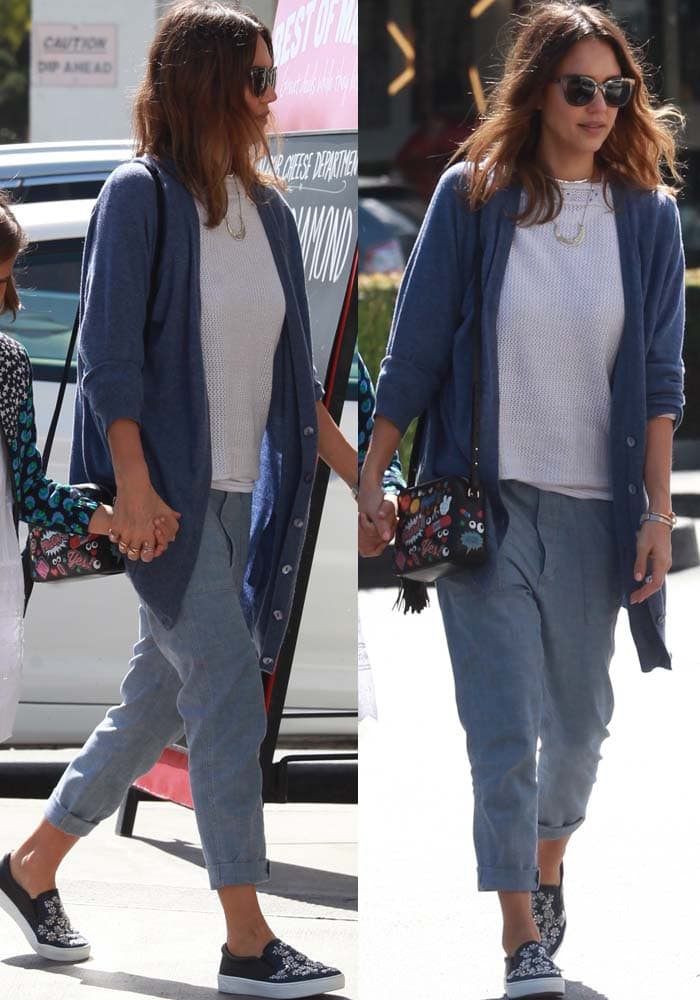 Jessica Alba wears a casual look comprised of an Inhabit cardigan and jeans while out with her family (Credit: WENN)
Jessica wore a white ribbed top with loose chambray pants beneath a long blue cardigan by Inhabit.
The mom-of-two accessorized her Sunday look with Cartier jewelry, a purse from Anya Hindmarch, and embellished denim-and-leather "Happy" sneakers from Christian Dior.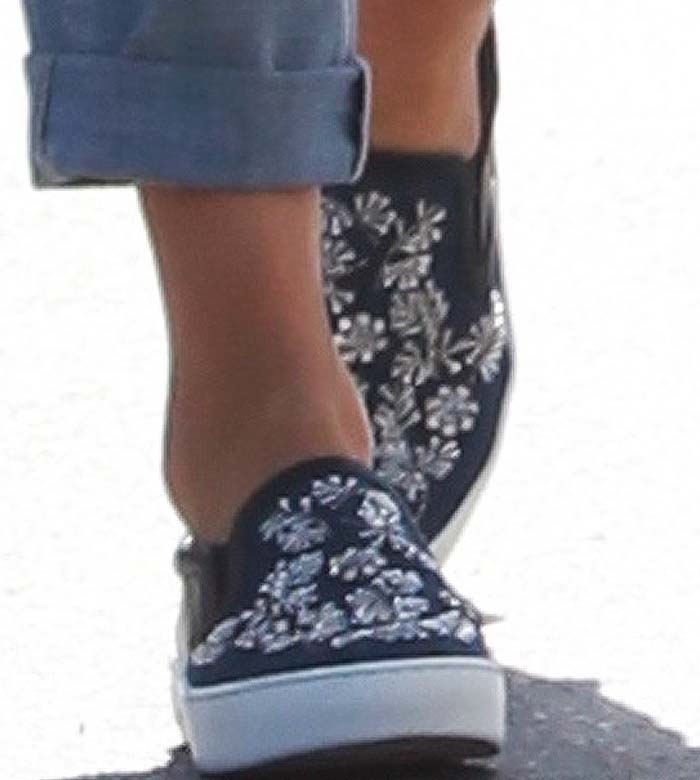 Jessica Alba wears a pair of casual Christian Dior sneakers (Credit: WENN)
The family was spotted grabbing groceries together as the parents guided their children into an awaiting car afterward.
Jessica Alba and her family go grocery shopping in Beverly Hills (Credit: WENN)
Later that day, Cash uploaded a hilarious photo of their eldest daughter in front of the television, wrapped in balloons.
"For some reason, I don't think she wants me to watch golf right now," he captioned the photo.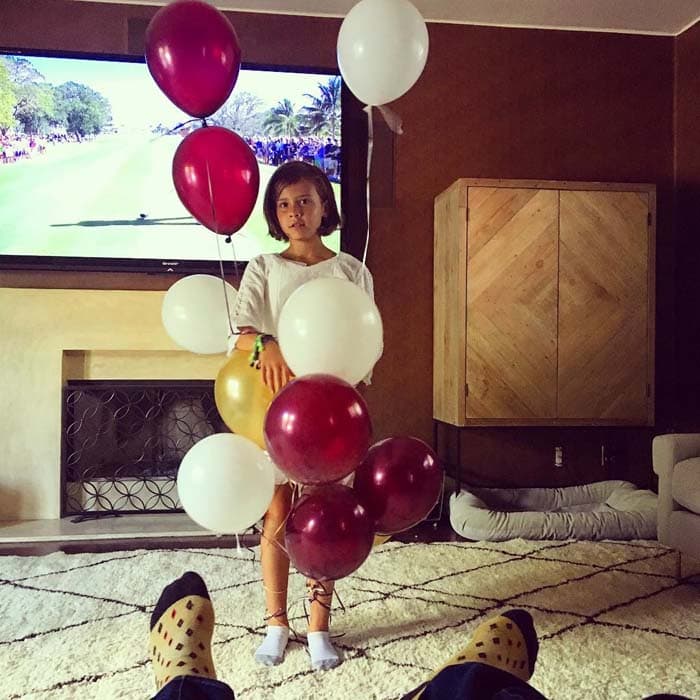 Via Cash Warren's social media, captioned, "For some reason, I don't think she wants me to watch golf right now" (Credit: Cash Warren's Instagram)
Stay chic even on your casual days by grabbing a pair of the Christian Dior "Happy" sneakers on Nordstrom.
Christian Dior "Happy" Sneakers, $623.15