Famous American actress Kate Hudson has been acting since 1996 at just 16 years old. However, the Los Angeles native was not the first in her family to rise to fame.
Hudson is the daughter of the Oscar-award-winning actress Goldie Hawn and actor and comedian Bill Hudson. Although Hudson takes her father's name, she claims that she had little relationship with her biological father due to the divorce of her parents when she was only 18 months old.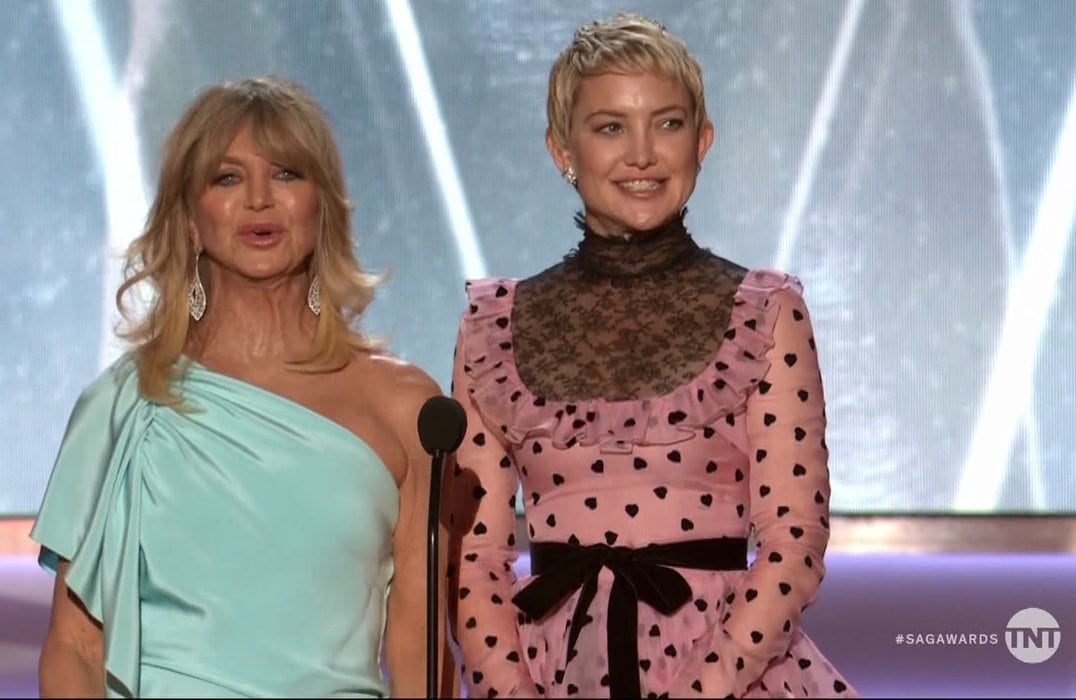 Kate Hudson and her mother, Goldie Hawn, at the 24th Screen Actors Guild Awards (Credit: TNT)
Hudson claims her mother's longtime boyfriend, Kurt Russell, to be her father, who was by her side during her upbringing. Throughout her childhood, she was always singing and dancing with a yearning for the stage.
Although she had her humble start in small roles on television shows in 1996, she put her name on the map only four years into her career at 21 years old, and since 2000, she has become a household name as a widely-known film actress.
Hudson has taken on various roles in iconic films like How to Lose a Guy in 10 Days, Fool's Gold, You, Me and Dupree, Almost Famous, and Bride Wars. So let's review Kate Hudson's top 10 movies throughout her career, according to critic reviews at Rotten Tomatoes!
10. Wish I Was Here (2014) – 47% Rating
The movie Wish I Was Here is an American comedy-drama starring Zach Braff and Kate Hudson as the leading characters, Aidan Bloom and his wife Sarah.
Kate Hudson as Sarah and Zach Braff as Aidan filming Wish I Was Here in Los Angeles on August 13, 2013 (Credit: WENN)
The film is about a couple financially struggling to send their two children, Tucker and Grace, to a good school. They enlist the help of Aidan's father, who later reveals his cancer relapse.
This then changes the course of direction for the Blooms, who decide to homeschool their children so that they can reallocate the children's school money to Aidan's father's cancer treatment. Aidan goes through an unexpected self-discovery journey as he homeschools his children.
Hudson, who was 35 years old when the film was released, plays Aidan's wife, Sarah, who serves as the main source of income for the family by working an office desk job with data. According to reviews, the film was given a 47% approval rating.
Ashley Greene and Kate Hudson on the set of the 2014 American comedy-drama film Wish I Was Here (Credit: Cousart / JFXimages / WENN)
Multiple reviews have stated that although the purpose of the film is heartwarming, the film is still relatively average. The film was directed by starring actor Zach Braff and co-written by Braff and his brother Adam Braff.
It was later revealed that Hudson had read the script and complemented Braff for the writing, to which he responded with an offer to her to join the cast.
9. The Killer Inside Me (2010) – 55% Rating
The Killer Inside Me is an American erotic crime drama based on the novel The Killer Inside Me by Jim Thompson (available on Amazon), published in 1952. This film adaptation stars Casey Affleck, Jessica Alba, and Hudson, with Affleck as the protagonist.
Kate Hudson as Ford's schoolteacher girlfriend Amy Stanton in The Killer Inside Me (Credit: IFC Films)
This film is the second adaptation; the first adaptation of the book was released in 1976, starring Stacy Keach, Susan Tyrrell, and Tisha Sterling.
The Killer Inside Me is the story about Lou Ford, played by Affleck, who is a sheriff's deputy in Texas who ends up getting romantically involved with a prostitute before unraveling into a spree of violent murders in his town.
Hudson, who was 31 years old at the time of release, played Amy Stanton, a school teacher and Affleck's girlfriend and later fiance in the film.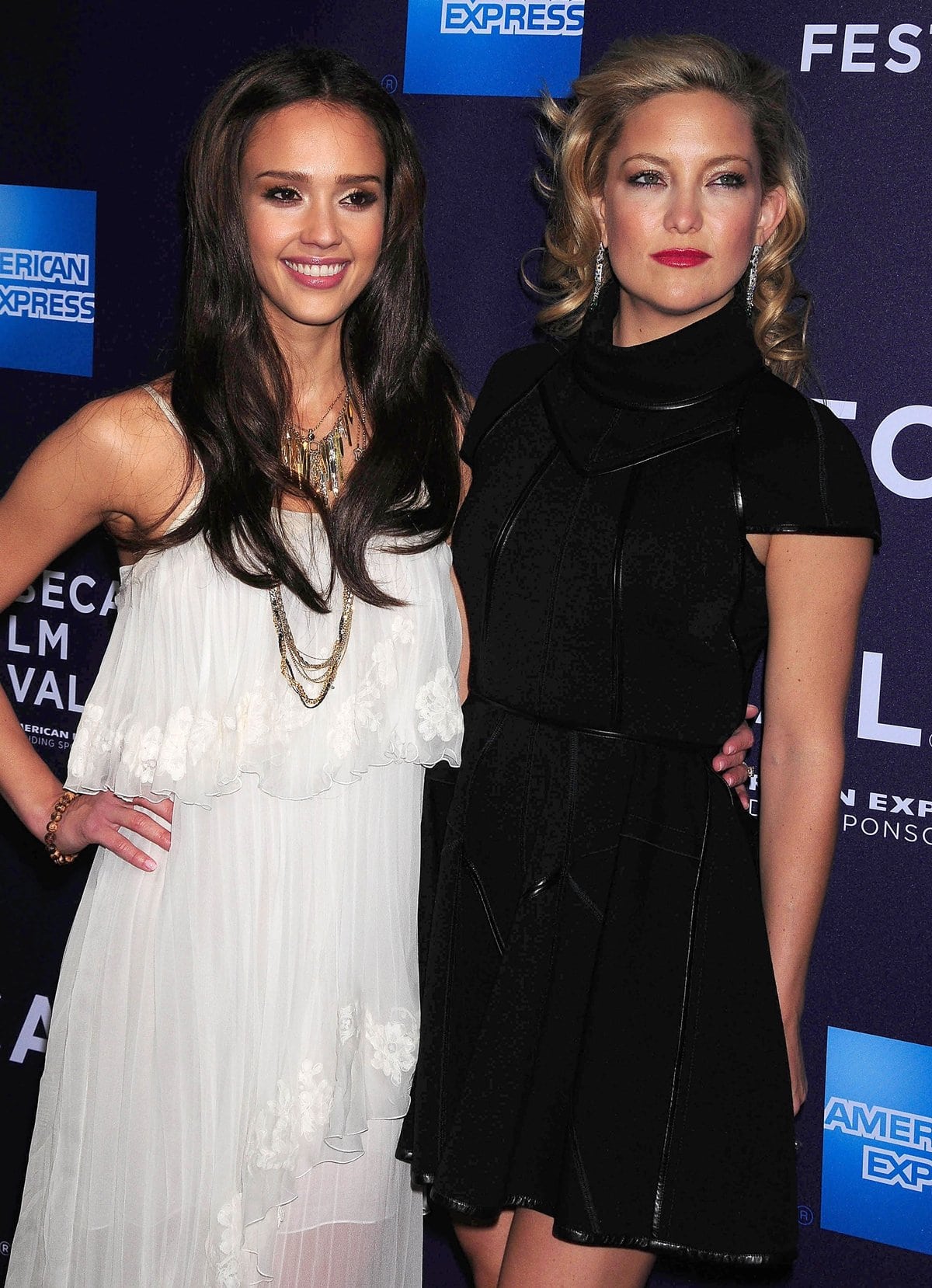 Jessica Alba and Kate Hudson attend the "The Killer Inside Me" premiere during the 9th Annual Tribeca Film Festival at the SVA Theater on April 27, 2010, in New York City (Credit: WENN)
The film received a slightly higher rating of 55%, although it also received mixed reviews from critics. While the stylistic filming was well-received, the lack of emotional closeness to the characters in the film was found as one of its biggest downfalls.
8. The Reluctant Fundamentalist (2012) – 57% Rating
The Reluctant Fundamentalist is a political thriller based on the book The Reluctant Fundamentalist by Mohsin Hamid, published in 2007. The adaptation starred Riz Ahmed, Kate Hudson, and Liev Schreiber.
The film is a fictional post-9/11 world revolving around the story of a Pakistani man named Changez Khan and his treatment of Americans as a result of the 9/11 attacks.
Hudson, who was 33 years old, played Erica, an American photographer who ends up in a romantic relationship with Riz Ahmed's character and film protagonist, Changez Khan.
Riz Ahmed and Kate Hudson attend the screening of "The Reluctant Fundamentalist" during the 2013 Tribeca Film Festival at BMCC Tribeca PAC on April 22, 2013, in New York City (Credit: Kyle Blair / WENN)
Hudson's character is heavily conflicted as she still feels responsible for being the cause of her former boyfriend's accidental death, which affects her relationship with Khan. She takes inspiration from intimate parts of her relationship with Khan for her work, which upsets Khan and prompts him to break up with her.
The Reluctant Fundamentalist only received reviews barely higher than The Killer Inside Me, receiving an approval score of 57%.
Again, the reviews were very mixed due to the positive reception of the acting and cinematography but poor communication with the audience regarding the purpose and meaning of the story.
7. Dr. T & the Women (2000) – 57% Rating
Dr. T & the Women is an American romantic comedy starring Richard Gere, Helen Hunt, Farrah Fawcett, Laura Dern, Shelley Long, Tara Reid, Kate Hudson, and Liv Tyler.
Gere starred as Dr. Sullivan Travis, aka "Dr. T," a rich gynecologist who has multiple encounters with a variety of women on a daily basis. The relationships he has with all of these women vary from his wife to his children, to his coworkers, to secret affair partners.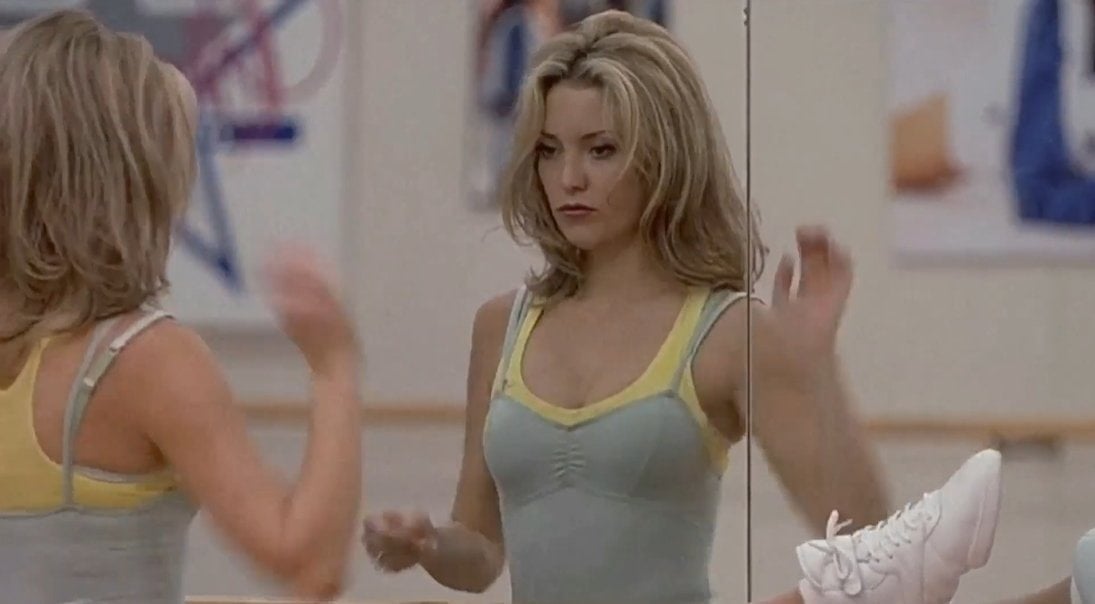 Kate Hudson as Dee Dee Travis in the 2000 American romantic comedy film Dr. T & The Women (Credit: Artisan Entertainment)
Hudson plays Dr. T's eldest daughter, Dee Dee, a college student planning her wedding. Still, he is later revealed to be secretly romantically involved with her maid of honor, Marilyn, played by Liv Tyler.
The film was released when Hudson was only 21 years old but also only received a 57% approval score with most reviews stating the movie is good but still overall average.
6. Clear History (2013) – 61% Rating
Clear History is an American comedy that starred Larry David, Kate Hudson, Danny McBride, Philip Baker Hall, Jon Hamm, Michael Keaton, Eva Mendes, Amy Ryan, Bill Hader, and J.B. Smoove.
The film, which was co-written by Larry David himself, follows the story of a man named Nathan Flomm, played by David, who is a former business associate of Will Haney, played by Jon Hamm.
Kate Hudson rocks a flashy denim Balmain Resort 2014 short-sleeve mini dress, Dana Rebecca Designs jewelry, a silver metallic Jimmy Choo 'Carmen' clutch, and nude Casadei suede pumps while attending the premiere of her film Clear History held at ArcLight Cinemas Cinerama Dome on July 31, 2013, in Hollywood (Credit: DVSIL / iPhotoLive)
A decade later, Flomm moves to the island of Martha's Vineyard to start a new life, only to find Haney later also coming to Martha's Vineyard with his wife Rhonda, portrayed by 34-year-old Hudson, to build a mansion. Flomm, infuriated by the arrival of Haney, devises a plan to take revenge on his former boss, Haney.
Although a highly beloved actor and comedian, Clear History was noted as not one of David's best works. The film received subpar reviews from critics, with some stating that this film was not up to David's usual high standards.
Across the board from multiple critics, the film received average ratings at best, reflected in its 61% approval score.
5. About Adam (2000) – 68% Rating
About Adam is a romantic comedy about a young man with a unique seductive charm named Adam who meets Lucy, played by 21-year-old Hudson, in a restaurant and soon becomes intertwined with not only Lucy but also her two sisters Laura and Alice, played by Frances O'Connor and Charlotte Bradley respectively.
Kate Hudson as Lucy Owens and Stuart Townsend as the young Dubliner Adam in the 2000 romantic comedy film About Adam (Credit: Miramax Films)
This film is the first big jump in approval compared to numbers 6 – 10 on our list, although it still stands heavily behind the top 4 films on our list.
About Adam received a 68% approval score, with many reviews praising the gritty side and seduction of the film. However, the film ultimately still did not receive any particularly high reviews.
4. Marshall (2017) – 81% Rating
Marshall is an American biographical legal drama that starred Chadwick Boseman, Josh Gad, Kate Hudson, Dan Stevens, Sterling K. Brown, and James Cromwell.
The film tells the tale of Chadwick Boseman, portraying Thurgood Marshall, who would eventually become the first African-American Supreme Court Justice. It focuses on one of his initial legal cases, State of Connecticut v. Joseph Spell.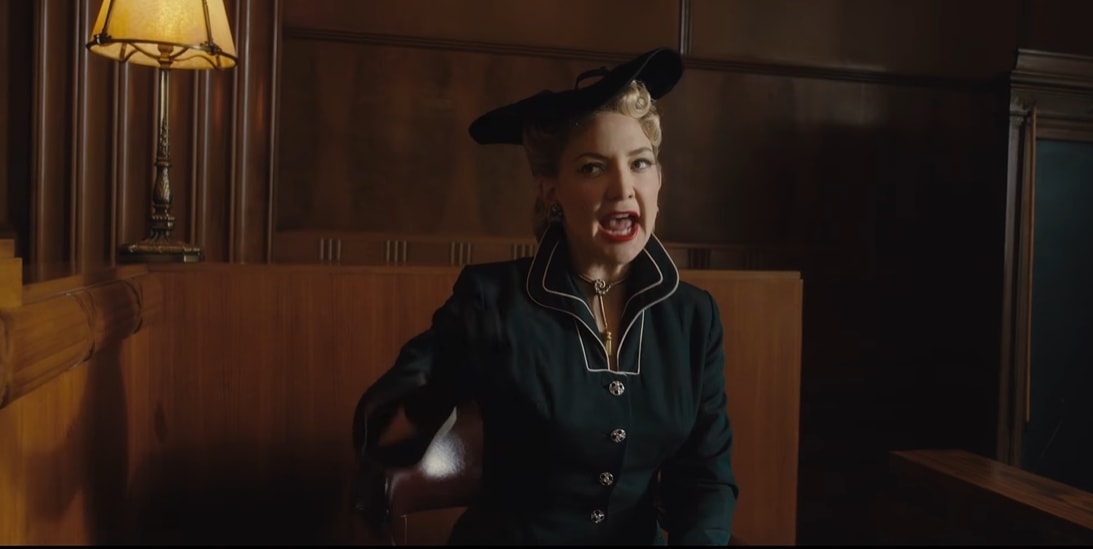 Kate Hudson as Eleanor Strubing in the 2017 American biographical legal drama film Marshall (Credit: Open Road Films)
38-year-old Hudson portrayed Eleanor Strubing, a white employer who accuses her black chauffeur, Joseph Spell, played by Sterling K. Brown, of rape.
This film was mostly well-received by critics, earning itself an 81% approval rating as well as great praise for the structure of the film.
The film follows one specific case of Marshall's as a way to display his life as opposed to a lifelong biography, which was well received by reviewers of the film. Marshall was nominated in the 90th Academy Awards for Best Original Song for "Stand Up for Something."
3. Deepwater Horizon (2016) – 83% Rating
Deepwater Horizon is an American disaster film that starred Mark Wahlberg, Kurt Russell, John Malkovich, Gina Rodriguez, Dylan O'Brien, and Kate Hudson.
The film is based on the real-life Deepwater Horizon explosion and oil spill in the Gulf of Mexico in 2010. It is also an adaptation of The New York Times article "Deepwater Horizon's Final Hours," written by David Barstow, David Rohde, and Stephanie Saul.
Actresses Gina Rodriguez and Kate Hudson attend the 2016 Toronto International Film Festival Premiere of "Deepwater Horizon" at Roy Thomson Hall on September 13, 2016, in Toronto, Canada (Credit: Jaime Espinoza / WENN)
The film reveals the real-life incident in which a drilling rig exploded and caused a huge fireball that resulted in the death of multiple crew members. Husdon, 37 at the time of release, played Felicia Williams, the wife of protagonist Mike Williams, played by Mark Wahlberg.
Although the film had a somewhat disappointing box office opening weekend, the film was still generally well-received by critics and ultimately received an approval rating of 83%.
Some critics noted the film's attention to accuracy to the real-life events. However, it was later revealed that former crew members who had survived the real Deepwater Horizon explosion had attempted to create their own documentary before the film's release due to their frustration over the portrayal of what had happened by the media and in the script.
2. Kung Fu Panda 3 (2016) – 87% Rating
Coming in as a close second is Kung Fu Panda 3, which is the third installment of the Kung Fu Panda series that revolves around the story of a panda in China who is prophesied as the legendary Dragon Warrior.
The panda Po Ping, voiced by Jack Black, goes on various adventures with his fellow anthropomorphic animal friends in his journey to prove his worthiness as Dragon Warrior. Hudson joined the franchise at 37 years old as Mei Mei, a giant female panda who is a resident in the secret panda village.
Kate Hudson posing as Po at the European Premiere of Kung Fu Panda 3 at the Odeon Leicester Square in London, England, on March 6, 2016 (Credit: WENN)
Kung Fu Panda 3 continues its usual highly positive reception by critics and fans, scoring an 87% approval rating.
The first two films in the series were so well received that they each were nominated for an Academy Award in the category of Best Animated Feature. However, neither film won. Kung Fu Panda 3 was not selected for this award but still received high reviews nonetheless.
1. Almost Famous (2000) – 89% Rating
Topping our list is Almost Famous, Hudson's breakthrough film that put her on the map as an actress to watch out for at only 21 years old. The American comedy-drama stars Billy Crudup, Frances McDormand, Kate Hudson, and Patrick Fugit.
The film revolves around the story of Fugit's character, William Miller, and his journey as a teenage journalist for Rolling Stone in 1970, and his efforts to get a cover story published while he tours with his band Stillwater.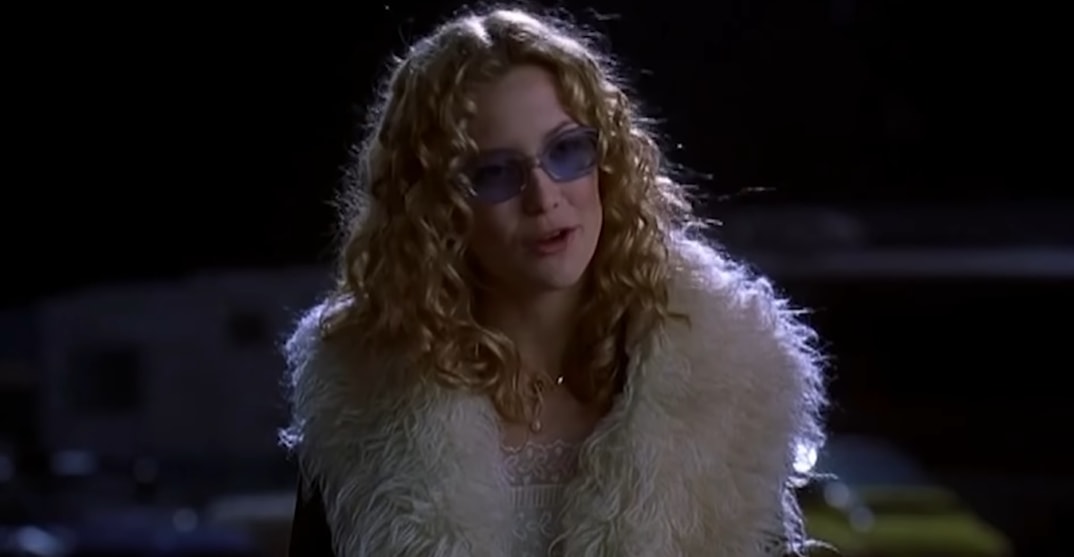 Kate Hudson as Penny Lane (Lady Goodman) in the 2000 American comedy-drama film Almost Famous (Credit: DreamWorks Pictures)
Hudson plays Penny Lane, a huge groupie for Stillwater who forms a relationship with Willam. This film holds Hudson's highest approval rating of 89%, with high reviews of the acting and world-building.
The film went on to land four Oscar nominations, including one win for Best Original Screenplay. It later won a Grammy for Best Compilation Soundtrack Album for a Motion Picture and two Golden Globes for Best Motion Picture and Best Supporting Actress – Motion Picture, which Hudson herself won.
Kate Hudson Stuns in Academy Awards-Inspired Dress at Vanity Fair After Party
Kate Hudson wears her hair back at the 2016 Vanity Fair Oscar Party held on February 28, 2016, at the Wallis Annenberg Center for the Performing Arts in Los Angeles (Credit: Adriana M. Barraza / WENN)
In February 2016, it was no surprise that everyone wanted to celebrate with Leonardo DiCaprio after the actor snagged his much-anticipated first Oscar, including the beautiful Kate Hudson.
The actress was not invited to the Oscars ceremony but made waves at the Vanity Fair After Party in Los Angeles.
Kate Hudson wears an Academy Awards statue-inspired dress from Maria Lucia Hohan (Credit: FayesVision / WENN)
The Academy Awards statue-inspired dress was custom-made.
Kate Hudson shows off her arms and legs in a floor-length metallic gown (Credit: Dennis Van Tine / Future Image / WENN)
Kate styled the silver dress with a gold pair of Brian Atwood's "Tribeca" platform heels.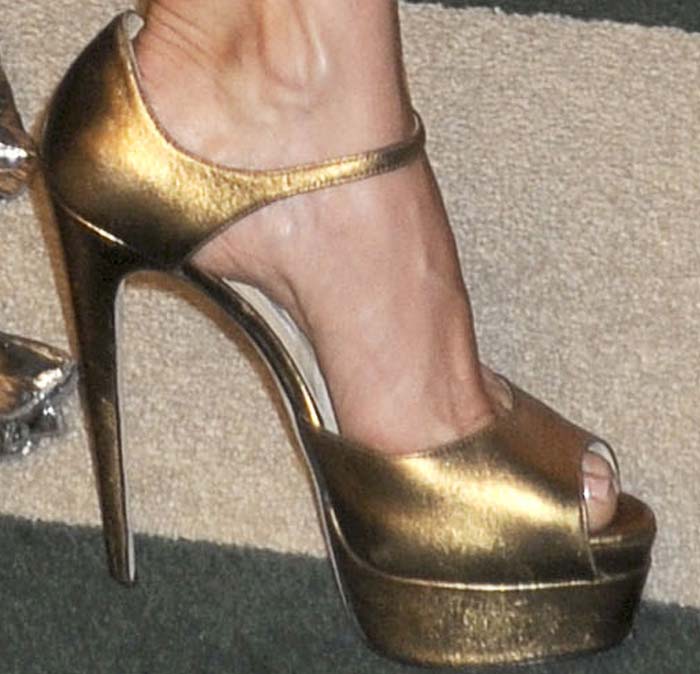 Kate Hudson's feet in platform Brian Atwood sandals (Credit: Dennis Van Tine / Future Image / WENN)
When Kate was asked whether she would start a dance party with Leonardo DiCaprio, she gave an enthusiastic yes.
Brian Atwood's "Tribeca" platform heels in patent black are no longer available online.
Brian Atwood 'Tribeca' Patent-Leather Pumps, $895