Goldie Hawn and Kurt Russell have long been one of America's favorite "IT" couples.
Thanks to their charming personalities, bright spirits, and almost limitless talents, the two celebrities have enchanted us for quite some time now.
Goldie Hawn and Kurt Russell at the Los Angeles premiere of 'Raising Helen' held at the El Capitan Theatre in Hollywood on May 26, 2004
Even though the two are constantly in the public eye — and face immense pressure to get married — while coping with their age difference, this power couple has somehow managed to push past the obstacles in order to withstand the test of time.
Where it all started
Let's go back to the set of the 1968 film "The One and Only, Genuine, Original Family Band."
The American live-action musical marked Goldie's big-screen debut, as she took on the small role of Goldie Jeanne Hawn. Coincidentally, Kurt portrayed Sidney Bower in the same production.
Surprisingly, Goldie and Kurt didn't experience love at first sight. While the two had a great time working together, a romance seemed out of the question due to both their working relationship and the age difference.
Goldie Hawn became known as a sex symbol and "it" girl of the 1960s
At the time, Goldie was 21 and Kurt was merely 16. "I thought he was adorable, but he was too young," Goldie later said during an interview with BBC's Desert Island Discs in 2012.
A bit of bad timing
After their first encounter, Goldie and Kurt went on to pursue their separate careers.
Goldie in particular was quick to hit her stride. The talented actress-slash-singer rose to fame on the NBC sketch comedy "Rowan & Martin's Laugh-In," before receiving the Acadamy Award and Golden Globe for Best Supporting Actress for her performance in the 1969 American comedy film Cactus flower.
While Goldie was rising in fame and building an adoring fan base, Kurt was busy keeping occupied with minor roles — at least, until he landed the lead role in the 1979 television film "Elvis," which earned him an Emmy nomination.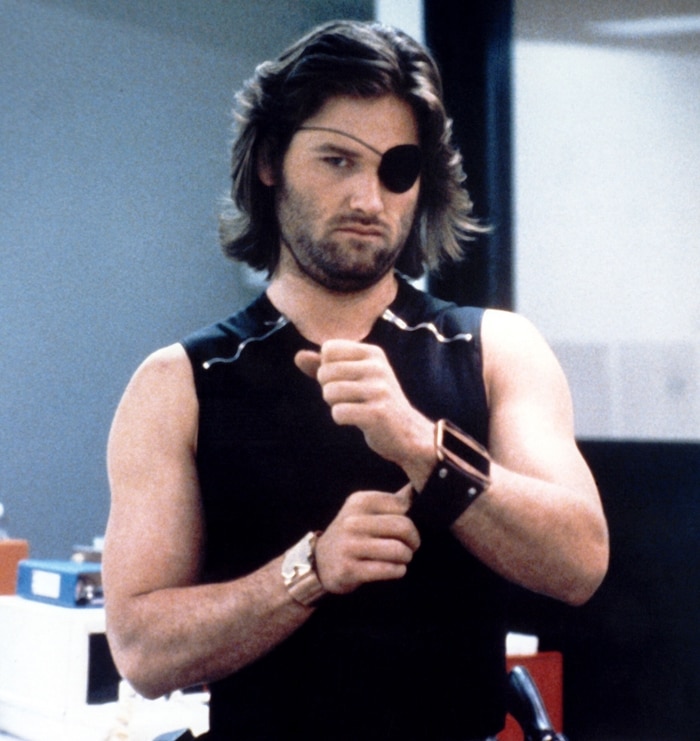 Kurt Russell with an eyepatch as S.D. "Snake" Plissken in Escape from New York, a 1981 American science fiction action film
Both Goldie and Kurt kept busy in their personal lives, too.
On May 16, 1969, Goldie tied the knot with dancer Gus Trikonis in Hawaii. The two, who share the same birthday, were married for seven years before they divorced in 1976. Just one month after her divorce from Gus Trikonis was finalized, Goldie married musician Bill Hudson of the Hudson Brothers.
They met on a first-class flight from New York to Los Angeles during the summer of 1975. Their marriage lasted long enough for the two to have children. Kate Garry Hudson and her almost equally famous brother Oliver Rutledge Hudson were born in 1979 and 1976, respectively.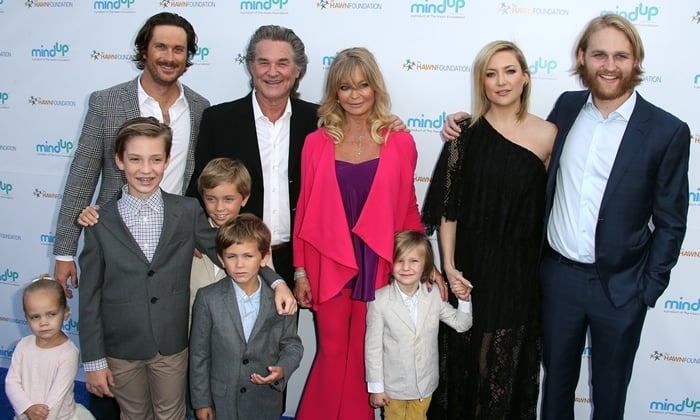 Oliver Hudson, Oliver's children, Bodhi, Rio, and Wilder Hudson, Kurt Russell, Goldie Hawn, Kate Hudson, Kate's sons, Ryder Robinson and Bingham Bellamy, and Wyatt Russell arrive at the Goldie Hawn Hosts Annual Goldie's Love In For Kids at Ron Burkle's Green Acres Estate on May 6, 2016, in Beverly Hills, California
During this time, Kurt married his Elvis co-star, Season Hubley, and had a son named Boston Russell in 1980.
Coincidentally, both Goldies' and Russells' marriages ended around the same time, leaving them both single. Kurt and Season divorced in 1983 after four years of marriage, and Goldie and Bill divorced in 1982.
After divorcing Bill, Goldie dated French actor Yves Rénier, television star Tom Selleck, and Moroccan businessman Victor Drai.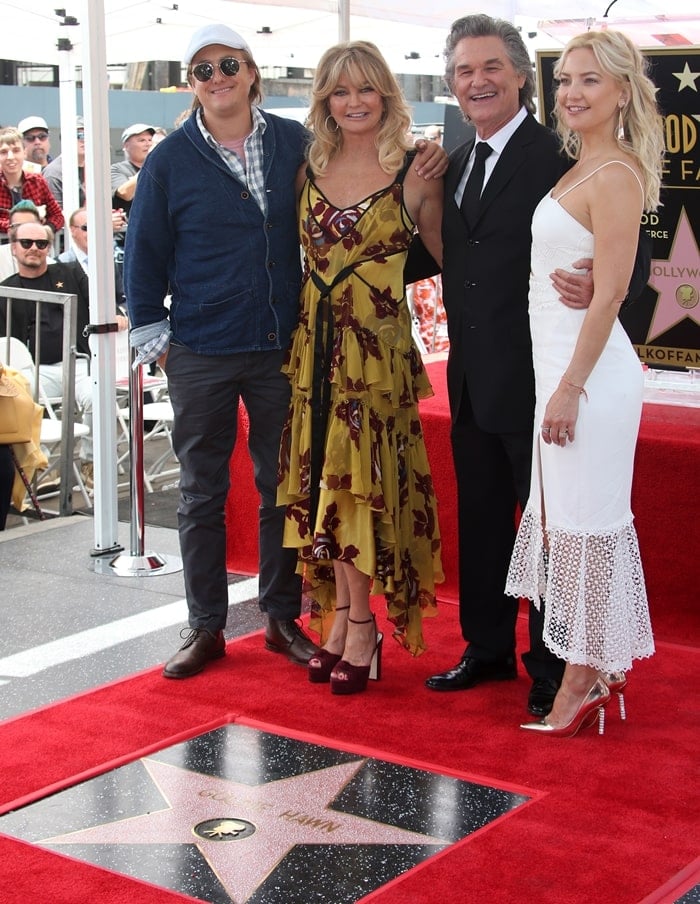 Boston Russell and Kate Hudson celebrate Goldie Hawn and Kurt Russell receiving their stars in a joint ceremony on the Hollywood Walk of Fame in Hollywood on May 4, 2017
Finally, in 1983, Goldie and Kurt met again at an audition for Swing Shift, a 1984 American romantic drama war film that bombed at the box office.
The night before the audition, Kurt had been out drinking with his father, Neil Oliver "Bing" Russell. When he arrived at the audition the next day, he couldn't quite find the right words to express his infatuation with Goldie.
Instead, he admitted to Conan O'Brien in 2017, he approached Goldie and said, "Man, you've got a great figure."
Luckily, those smooth words granted him a date with the beautiful actress. "You know what's crazy? You do that and it's cool, and you end up with her for 34 years," Conan replied. "I've done that many times in my life, and I get maced."
Goldie Hawn and Kurt Russell arrive at the Museum Of The Moving Image Salute To Ron Howard at the Waldorf-Astoria December 4, 2005, in New York City
A first date to remember
This duo has restored faith in Hollywood relationships since their first date, which took place on Valentine's Day in 1983. Goldie and Kurt started their date at the movies, before going swing dancing and then returning to Goldie's newly-purchased home.
However, Goldie hadn't yet received the keys to her new place. The two decided to find an alternate route inside, which ended up triggering the alarm system and summoning the police. "We eventually found our way upstairs, looking around at imaginary furniture," Kurt later told People magazine.
"We were in the imaginary bedroom when the police walked in because we had to break into the place to get in. That was our first date." Luckily, Goldie and Kurt didn't let the cops stop their date. They moved to a hotel, and their date went down in history as one to remember.
The start of their family
Throughout the years of pressure from the media and their steady careers, their love never withered. Kurt and Goldie got together in 1983, combining their separate families into one blended family before coming pregnant with Wyatt, who was born in 1986.
Three years after their union, Goldie became pregnant with their son Wyatt, who was born in 1986.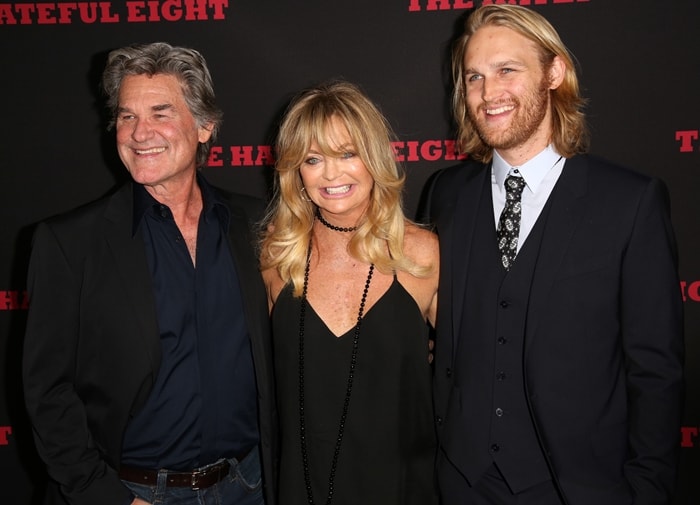 Actors Kurt Russell, Goldie Hawn, and Wyatt Russell arrive at the Los Angeles Premiere of 'The Hateful Eight' at ArcLight Cinemas Cinerama Dome on December 7, 2015, in Hollywood, California
After the birth of Wyatt, the Russell and Hawn family was complete. Goldie often fawned over her husband and children.
"What really got me was when I watched my kids when they'd come to the set and see how amazing he was with them," Goldie told People magazine in May 2017. "He was such a natural".
No walking down the aisle, any time soon
Even though Kurt and Goldie have been happily coupled for 35 years, they've never felt the need to get married. Despite being questioned over and over again about when they plan to tie the knot, it's clear that the couple has never needed marriage to signify their bond.
"What is being married going to do for us?" Goldie once asked. Goldie and Kurt have even admitted that their decision to not marry has likely contributed to their long, happy relationship.
Even when questioned over and over again about when they are going to get hitched, Goldie and Kurt have always stood by their decision. By the looks of how strong their relationship is, the decision was right.
(L-R) Oliver Hudson, Lamorne Morris, Judah Lewis, Kurt Russell, Darby Camp, and Kimberly Williams-Paisley attend 'The Christmas Chronicles' Premiere on November 12, 2018, in Los Angeles, California
They have even stated that it was the very fact of their choice to not marry that has contributed to their long, happy relationship.
Goldie took to the British talk show "Loose Women" to again explain their rationale for avoiding the aisle.
Marriage is an interesting psychological thing. If you need to feel bound to someone, then it's important to be married. If you have independence, if you have enough money and enough sense of independence and you like your independence, there's something psychological about not being married.

Because it gives you the freedom to make decisions one way or the other. So for me, I chose to stay, Kurt chose to stay, and we like the choice.
Are they still together, today?
The answer is a resounding "yes." After all of these years, this inspiring couple still seems to be madly in love — and having a ton of fun.
If you follow Goldie on Instagram, you might catch a glimpse of Kurt dancing on the counters at their home while doing the dishes, or beautiful family photos full of laughter and joy.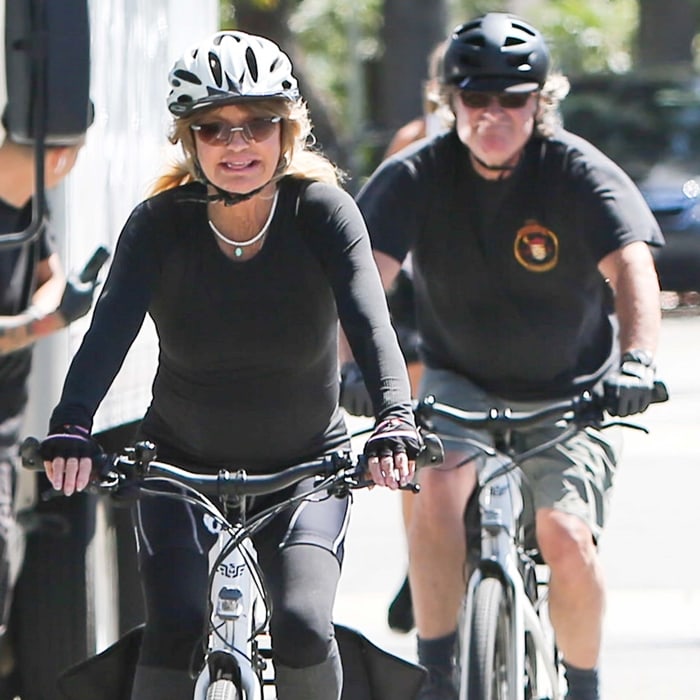 Goldie Hawn and Kurt Russell go for a bike ride in Los Angeles on May 21, 2020
"Nobody laughs like him, nobody loves like him," one of Goldie's recent captions reads. "Happy Fathers Day to you my angel."
It's clear that the heat and romance between these lovebirds haven't faded one bit throughout the decades, and they'll likely remain #relationshipgoals for ages to come.
Credit: WENN / Cortes / FayesVision / Brian To