Ever try to match Ariana Grande's vocal range as you sing in the shower, at the bus stop, or while walking to w ork?
While you (or your best friends, partners, or parents) may believe you're made for the hot 100 charts—it's important to remember that professional singing isn't strengthened through shower singing alone.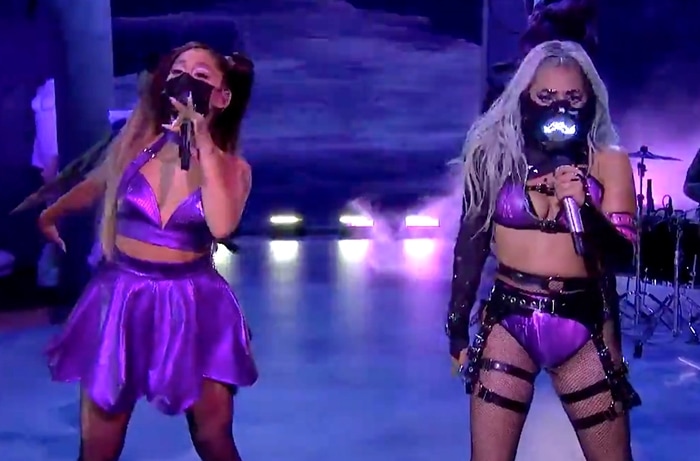 Ariana Grande and Lady Gaga give the first live performance of their collaborative single "Rain on Me" during the 2020 MTV Video Music Awards
It takes a lot of hard work and dedication — in addition to natural talent — to make it in the entertainment industry. That's why Ariana Grande has joined the ranks of success along with other musical powerhouses like Taylor Swift and Mariah Carey.
What is Ariana Grande most famous for?
The controversial superstar was born in Boca Raton, Florida, and had her first role in the 2008 Broadway musical 13.
Elizabeth Egan Gillies, Graham Phillips, Ariana Grande, Allie Trimm, Delaney Moro, Eric M. Nelsen, Joey La Varco, Al Calderon, Aaron Simon Gross, Brynn Williams, Eamon Foley, Caitlin Gann, and Malik Hammond pose backstage at the musical"13″ on Broadway at Bernard B.Jacobs Theater on November 5, 2008, in New York City
From there, she gained recognition from her role as Cat Valentine in two Nickelodeon television series: Victorious, which ran from 2010-2013, and its spin-off Sam & Cat, which aired from 2013-2014.
She transitioned from acting into singing in 2011, when her vocal talents were picked up by Republic Records after the discovery of her phenomenal YouTube videos.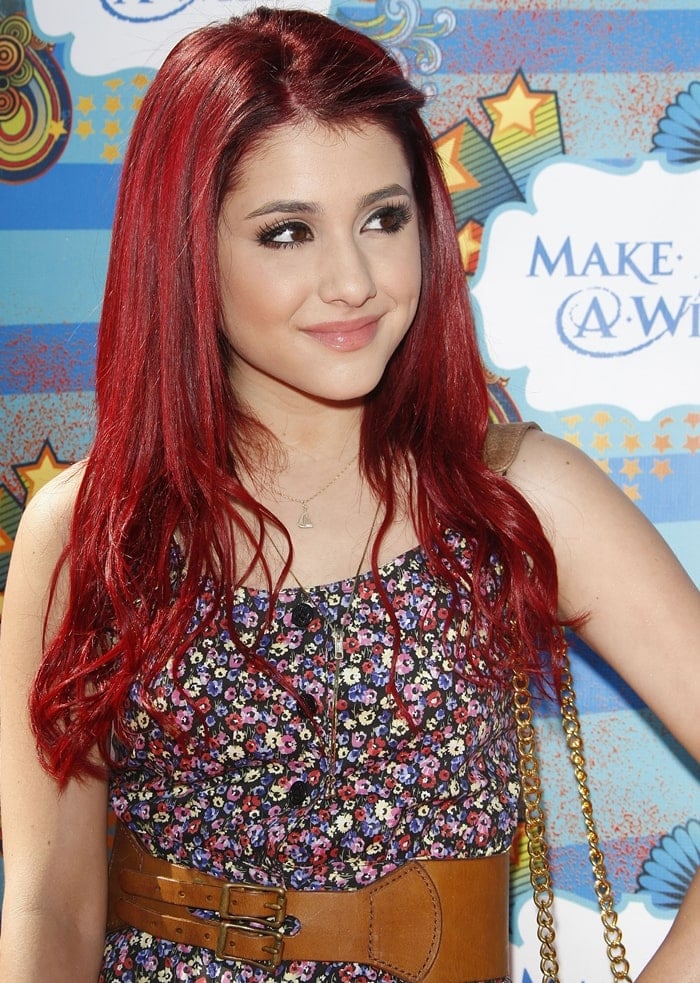 Actress Ariana Grande attends the Make-A-Wish Foundation event at Santa Monica Pier on March 14, 2010, in Santa Monica, California
Since then, Ariana has topped US Billboards 200 charts, produced multiple number-one singles, and won a Grammy Award for Best Pop Vocal Album while setting a record for the largest streaming week for a pop album.
Even if you're not a major Ariana Grande fan, you've likely heard the singer's famous songs "Thank U, Next," "7 Rings," and "Break Up with Your Girlfriend, I'm Bored."
All three made the top Billboard Hot 100 all at once. Grande's trophy cabinet contains accolades ranging from the coveted Grammy Awards, Brit Awards, Billboard Music Awards, American Music Awards, MTV Video Music Awards, to the Guinness World Records.
However, the question remains… how does her vocal talent compare to the pop music legends?
What is an octave?
So, what is it that makes a singer good? Many famous singers are well-known for their octave ranges. So, what's an octave? And why is it so important for a singer to be able to hit multiple octaves?
Ariana Grande opens the 2018 Billboard Music Awards with a fiery performance of 'No Tears Left to Cry'
An octave is a name for the interval between one musical pitch and another with double its frequency. For most people, it takes a lot of vocal exercises and professional training to make any big jump in octaves sound effortless.
Hitting multiple octaves is challenging. So, the more octaves a singer can hit, the better vocal range he or she has.
Which female singer has the most powerful voice?
Whitney Houston's vocal range spanned five octaves and Mariah Carey has the ability to reach notes beyond the seventh octave.
Even though she's never had any formal training, Ariana Grande has a four-octave vocal range.
"Music just kind of happened, I never really trained for anything," she told Complex in 2013.
"I played French horn for a few years, that's where I learned a lot about sheet music and theory. I play a little bit of piano by ear but it's mostly just singing, which I never was trained in."
Growing up in a family that enjoyed embracing their weirdness, she was interested in music from an early age.
"Growing up, I was listening to Whitney Houston all the time, The Bodyguard soundtrack, a lot of Judy Garland and oldies, and divas," Ariana said."
Other female vocalists with broad vocal ranges include Christina Aguilera, Paramore's vocalist Hayley Williams, Celine Dion, and Beyoncé Giselle Knowles-Carter.
How can I get Ariana Grande's style?
In addition to her voice, Ariana is also known for her trademark style: A high ponytail, oversized sweatshirts, animal ears and lots of eye makeup.
Take, for example, Ariana's September 2014 look at the after-party for the 2014 iHeartRadio Music Festival at the 1 OAK Nightclub in Las Vegas.
Ariana Grande at the 2014 iHeartRadio Music Festival after-party at 1 OAK Nightclub in Las Vegas, Nevada, on September 19, 2014
Rumored to have undergone plastic surgery, the then 21-year-old singer donned a variant of the same mini dress style she likes to wear. She accessorized with sequined cat ears and a red Kabbalah bracelet on her wrist.
Her shoe choice was also nothing new. She showed off her small feet in Saint Laurent "Tribtoo" pumps, which look tired on Ariana, especially considering that she already has pumps from the same designer in almost the same style and color.
Ariana Grande's feet in beige Saint Laurent "Tribtoo" pumps
Has Ariana Grande ever messed up on stage?
Yes, in fact! Ariana is human just like the rest of us.
While doing the hip-shaking dance moves during her "Problem" number at the iHeartRadio Music Festival, held just prior to the after-party at 1 OAK, she inadvertently shook out the mic pack from her bodysuit.
She had to pause her performance to stop it from swinging around her legs.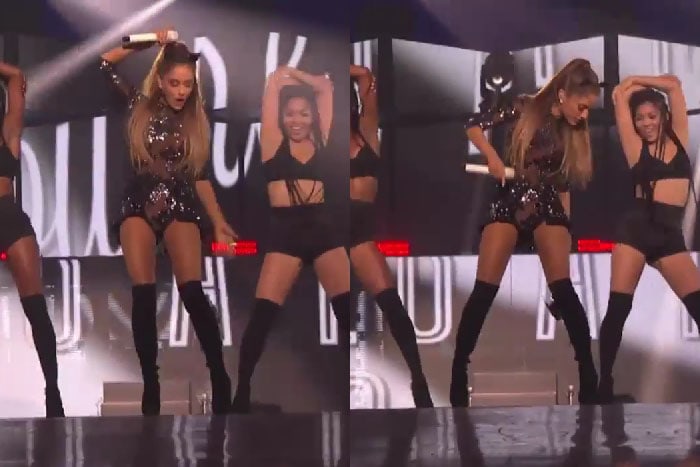 Ariana Grande blooper at iHeartRadio Music Festival
You also might have noticed that Ariana flipping and shaking her trademark high ponytail was as much a part of her performance as her dancing and singing. She couldn't even stop touching it and posing with it on the red carpet.
That thing has gone beyond criticism and has taken a life of its own. Maybe fashion was Ariana's biggest flub that night?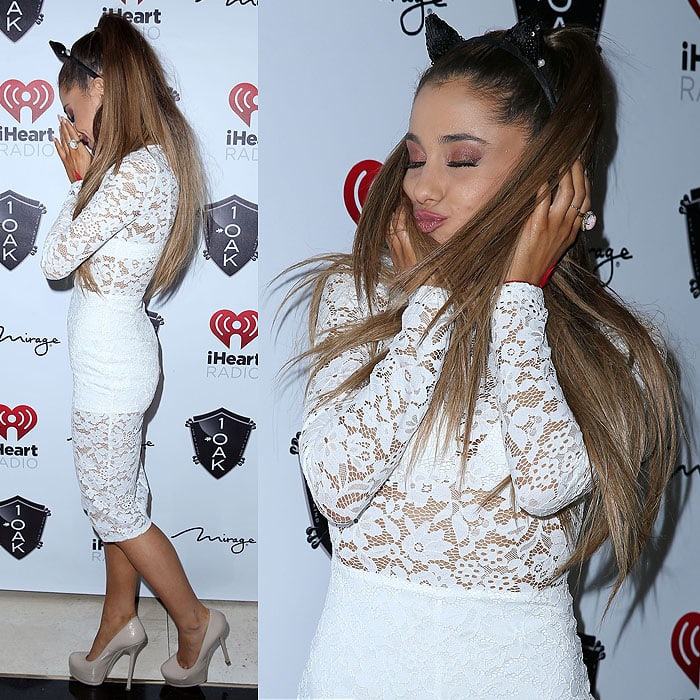 Ariana Grande shying away from the cameras and playing with her hair
Saint Laurent's "Tribtoo" pumps are not available online anymore, but these favorite look-for-less alternatives still are available on Nordstrom and Zappos:
Kelsi Dagger "Linzy" Pumps, $42.99–$119.99
Pour la Victoire "Irina" Pumps, $55.50–$185
Chinese Laundry "Whistle" Pumps, $29–$69.95
Credit: Judy Eddy / WENN / Avalon / Starbux