Ariana Grande was once again in her same old Lolita style at the after-party for the 2014 iHeartRadio Music Festival at the OAK 1 Nightclub in Las Vegas on Friday. The 21-year-old singer donned a variant of the same mini dress style she likes to wear. She accessorized with passé cat ears and the usual red string tied around her right wrist.
Her shoe choice was also nothing new. She wore the Saint Laurent "Tribtoo" pumps, which look tired on Ariana, especially considering that she already has pumps from the same designer in almost the same style and color.
Ariana Grande at the 2014 iHeartRadio Music Festival after-party at 1 OAK Nightclub in Las Vegas, Nevada, on September 19, 2014
Beige Saint Laurent "Tribtoo" pumps on Ariana Grande
However, as much as we're not into Ariana's look, fashion wasn't her biggest flub that night. While doing the hip-shaking dance moves during her "Problem" number, she inadvertently shook out the mic pack from her bodysuit. She had to pause her performance to stop it from swinging around her legs.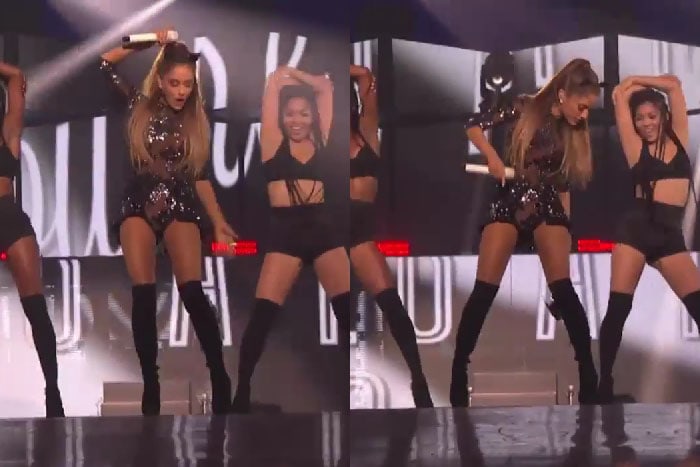 You also might have noticed that Ariana flipping and shaking her weave was as much a part of her performance as her dancing and singing. She couldn't even stop touching it and posing with it on the red carpet. That thing has gone beyond criticism and has taken a life of its own. Maybe fashion was Ariana's biggest flub that night?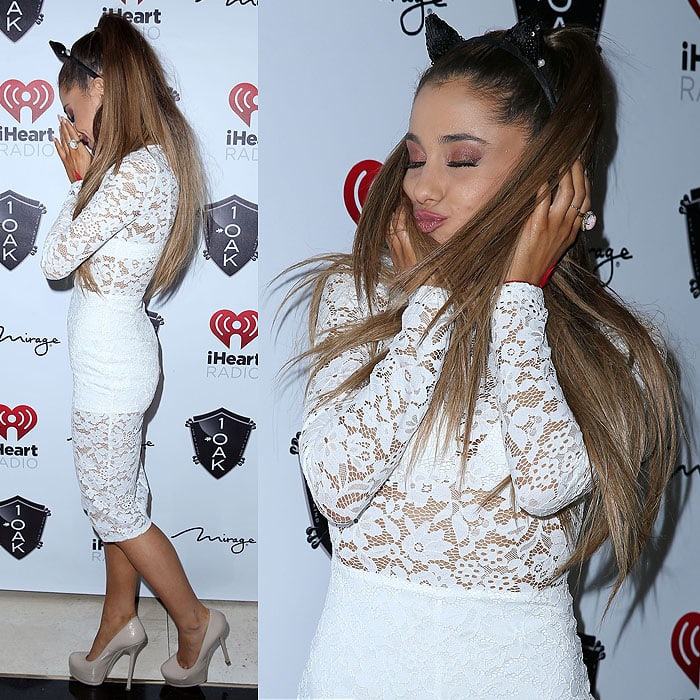 Ariana Grande shying away from the cameras and playing with her hair
The Saint Laurent "Tribtoo" pumps are not available online anymore, but these favorite look-for-less alternatives still are:
Kelsi Dagger "Linzy" Pumps, $42.99–$119.99
Pour la Victoire "Irina" Pumps, $55.50–$185
Chinese Laundry "Whistle" Pumps, $29–$69.95
Credit: Judy Eddy / WENN