Ariana Grande is believed to be around 5ft ½ in (153.7 cm), though she has claimed to be taller in interviews.
She is considered petite and is approximately 3.5 inches (about 8.9 centimeters) shorter than the average American woman, whose height is typically around 5 feet 4 inches (162.6 cm).
In June 2009, the successful singer claimed on Twitter that she's grown taller.

Ariana Grande claims on Twitter that her real height is 5-foot 3-inches (Credit: Twitter)
Two years later, she indicated that her height might be only 5 feet, approximately 152.4 cm.
Ariana Grande says her height is 5 feet or a little more (Credit: Twitter)
Ariana Grande has a shoe size of 6 US, which is relatively small. The average shoe size for women in the United States is around 8.5 US.
When converted to other international shoe sizing systems, her size of 6 in the United States roughly corresponds to 4 in the UK, 36.5 in Europe, and 6 in Australia.
Playing with Perception: How Ariana Grande Appears Taller
Usually seen in high heels and short hemlines that give the illusion of being taller, Ariana Grande is known for her killer legs.
Short singer Ariana Grande flaunts her legs at the 2010 Tribeca Film Festival opening night premiere of "Shrek Forever After" at the Ziegfeld Theatre on April 21, 2010, in New York City (Credit: WENN)
"Being petite means shorter hemlines are way more flattering on me – longer options tend to overwhelm me," Grande told Cosmopolitan about her styling tips for short women.
In a tweet from December 17, 2012, Ariana Grande tweeted about the importance of embracing and loving our bodies, regardless of whether we are petite or curvy, tall or short.
"Petite or curvy tall or short, we've gotta work with and love what god gives us!" Ariana Grande tweeted on December 17, 2012
She also knows how to pick the right haircuts and hairstyles to look taller.
Ariana Grande wears a shoe size 6 (US) (Credit: WENN / FayesVision)
The Rich Life of Ariana Grande
According to Variety, she got paid $8 million for Coachella 2019, and her net worth is estimated at around $240 million as of 2023. Her 2015 Honeymoon tour made $40 million in ticket sales.
"Sources say Ariana is getting a whopping 20 to 25 million dollars for the show, putting her in the same category as Katy Perry on American Idol," podcast host Rob Shuter revealed in an episode of the iHeartRadio podcast in March 2021. Ariana Grande served as a coach on season 21 of The Voice.
Recording artist Ariana Grande wears Versace platform pumps to look taller at the 57th Annual GRAMMY Awards at Staples Center on February 8, 2015, in Los Angeles, California (Credit: INFphoto)
She left The Voice to focus on her role as Glinda, the Good Witch, in Wicked, an upcoming 2-part movie produced by Universal Studios set to be released in 2024 and 2025.
Ariana Grande: Fun Facts and Rise to Fame
How much is Ariana Grande worth in 2023?
Ariana Grande is an American singer, songwriter and actress with an estimated net worth of $240 million as of 2023.
Full Name:
Ariana Grande-Butera
How old is Ariana Grande?
Ariana Grande-Butera, born on June 26, 1993, in Boca Raton, Florida, U.S., and turned 30 in 2023.
Dating:
Ariana Grande is currently dating Ethan Slater, her co-star in the upcoming film adaptation of Wicked.

She was previously married to Dalton Gomez from 2021 to 2023, and has also been engaged to Pete Davidson in 2018.

Ariana Grande's relationship history includes Mac Miller from 2016 to 2018, Ricky Álvarez in 2015 to 2016, Big Sean from 2014 to 2015, Nathan Sykes in 2013, Jai Brooks spanning 2012 to 2014, Graham Phillips from 2008 to 2011, and a list of voice actors including Tom Kenny, Mr. Lawrence, Rodger Bumpass, Paul Tibbitt, Clancy Brown, Bill Fagerbakke, and Stephen Hillenburg.
Kids:
Ariana Grande does not have any children.
Weight:
There are rumors that Ariana Grande's weight is approximately 108 pounds, equivalent to about 48.988 kilograms. It's important to note that she has not publicly confirmed her weight.
Does Ariana Grande have big feet?
No, Ariana Grande does not have big feet. She has a shoe size of 6 US, which is relatively small. The average shoe size for women in the United States is around 8.5 US.
How tall is Ariana Grande without high heels?
While Ariana Grande has claimed to be between 5′0 and 5′3, her real height without high heels is believed to be 5ft ½ in (153.7 cm).

When wearing high heels, she is usually around 5 inches taller.
Nationality:
Ariana Grande is an American citizen.
Source of Wealth:
Ariana Grande's wealth comes from a variety of sources, including her music career, acting career, and brand endorsements.
Ethnicity/Race:
Ariana Grande-Butera has an Italian ethnicity, including Sicilian heritage.
Is Ariana Grande considered short?
Yes, her height is just 5ft ½ in (153.7 cm), which makes her shorter than the average American woman.
Born in Boca Raton, Florida, Ariana Grande's musical talents blossomed early. Her vocal prowess and passion for performance led her to participate in various theatrical productions during her childhood.
At 13, her career took a significant leap when she landed the role of Cat Valentine in the popular Nickelodeon series Victorious. This role propelled her into the spotlight, paving the way for her future success.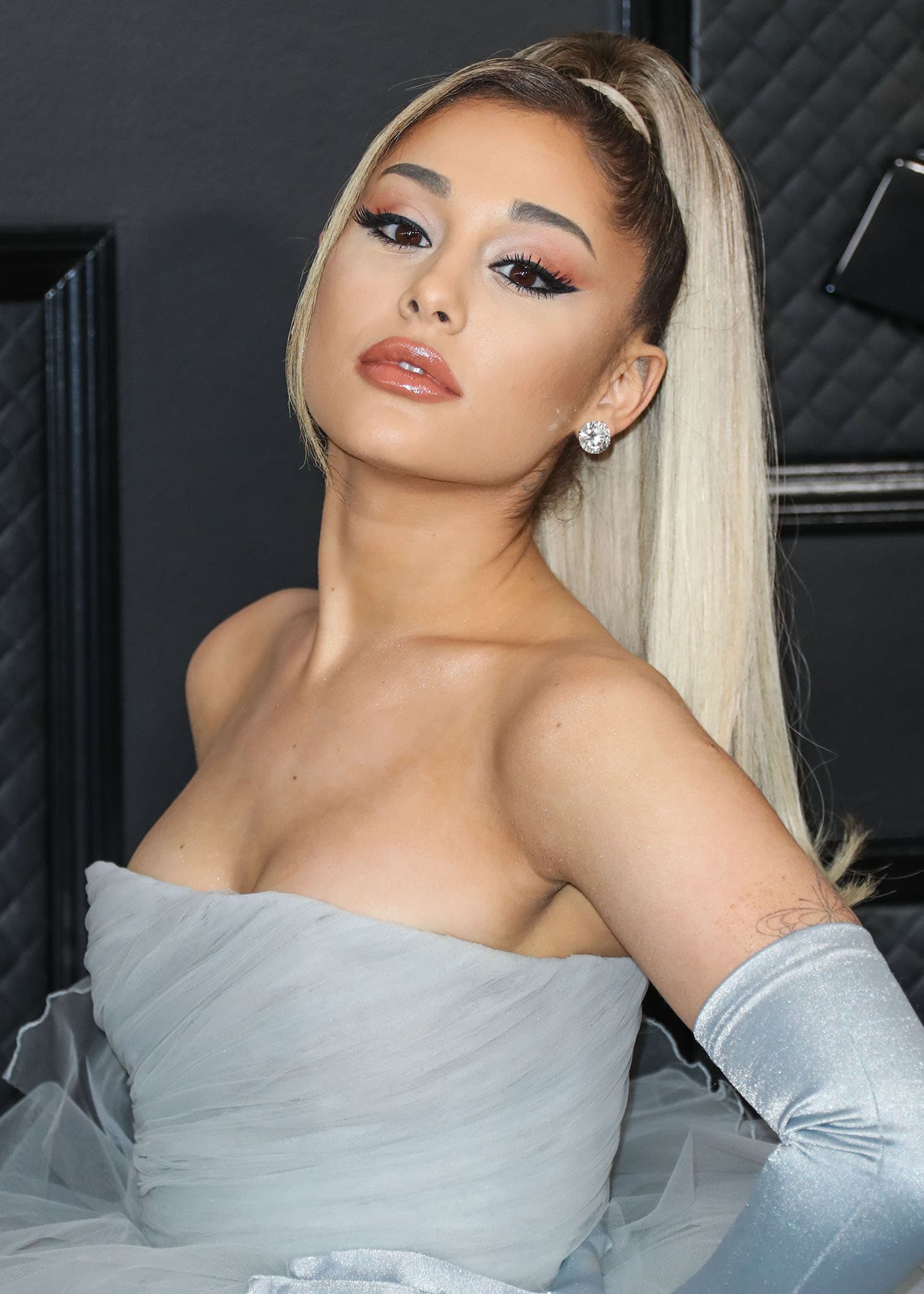 Ariana Grande doesn't know her height, as she has been giving contradictory responses about how tall she is (Credit: Avalon / WENN)
Ariana Grande's musical journey continued with her participation in the Nickelodeon spin-off Sam & Cat, further solidifying her status as a rising star.
In 2013, she released her debut album, "Yours Truly," which showcased her captivating vocal range and blend of R&B and pop influences. The album's success propelled her into the mainstream music industry, establishing her as a force to be reckoned with.
Over the years, Ariana Grande has consistently delivered chart-topping hits and critically acclaimed albums, solidifying her position as one of her generation's most influential and successful pop icons. Her music seamlessly blends pop, R&B, and electronic influences, while her powerful vocals and captivating stage presence have earned her a devoted global fan base.
Ariana Grande kick-started her career in Nickelodeon's Victorious and Sam and Cat (Credit: Nickelodeon / YouTube)
Unraveling Ariana's Height: Is She Really That Petite?
One undeniable fact is that Ariana Grande possesses a striking appearance. Her petite stature is often complemented by stylish heels, making it somewhat challenging to determine her exact height.
Ariana Grande's height remains a subject of curiosity, leaving many to wonder just how tall she truly is (Credit: Ivan Nikolov / WENN)
Some have attempted to estimate her height based on her stated heights of 5'2″, 5'3″, or even 5'5″. Others have analyzed her compared to other celebrities with known heights.
Ariana Grande looks much shorter on the red carpet than Elizabeth Gillies, who is 5 feet 7 inches (170.2 cm) tall. The height difference between Ariana Grande and Elizabeth Gillies is 16.5 centimeters, approximately 6.5 inches.
Ariana Grande is 5 feet ½ inches (153.7 cm) tall, while Elizabeth Gillies is 5 feet 7 inches (170.2 cm) tall (Credit: Kathy Hutchins / Shutterstock)
However, Ariana Grande is taller than Kristin Chenoweth. Ariana Grande's height is 5 feet ½ inches (153.7 cm), while Kristin Chenoweth's height is 4 feet 10 inches (147.3 cm).
The height difference between Ariana Grande and Kristin Chenoweth is about 6.4 centimeters, which is approximately 2.52 inches (Credit: Kathy Hutchins / Shutterstock)
Big Sean is 5 feet 7 ½ inches (171.5 cm) tall and is taller than Ariana Grande. His real name is Sean Michael Leonard Anderson.
He got his nickname because he was once a lot shorter than another Sean in his neighborhood, who was 6'8″. The other Sean was called "Little Sean," and Big Sean was named "Big Sean" as a joke.
The height difference between Ariana Grande and Big Sean is approximately 17.8 centimeters, or about 7 inches (Credit: DFree / Shutterstock)
Ariana's Styling Tips for Petite Figures
In 2016, Ariana announced her collaboration with the famous street brand LIPSY, which she admitted to having had a great time working with.
They made the process fun for her, from picking the materials to cutting them and even to the photo sessions. She has a banging petite figure, and over her first collection launch with the brand, the media caught up with the star, who dished out some tips about her styling.
Ariana Grande expresses her fondness for wearing flirty skirts and dresses, considering them emblematic of her signature feminine style. She believes that opting for hemlines above the knee is a more flattering choice for those with a petite stature, as longer ones might draw excessive attention and potentially detract from the overall allure.
Ariana Grande poses for Lipsy London in a feminine A-line mini dress (Credit: WENN)
Regarding larger clothing, Ariana Grande prefers wearing them only on rare occasions, indicating that she isn't particularly inclined towards this style.
Indeed, opting for oversized clothing can sometimes conceal one's actual figure, but Ariana Grande isn't inclined to hide what she should be proudly flaunting.
Ariana's perspective on heels suggests that she doesn't consider them a mandatory accessory in every outfit. Nevertheless, she acknowledges that they can enhance an ensemble's overall appearance when chosen thoughtfully.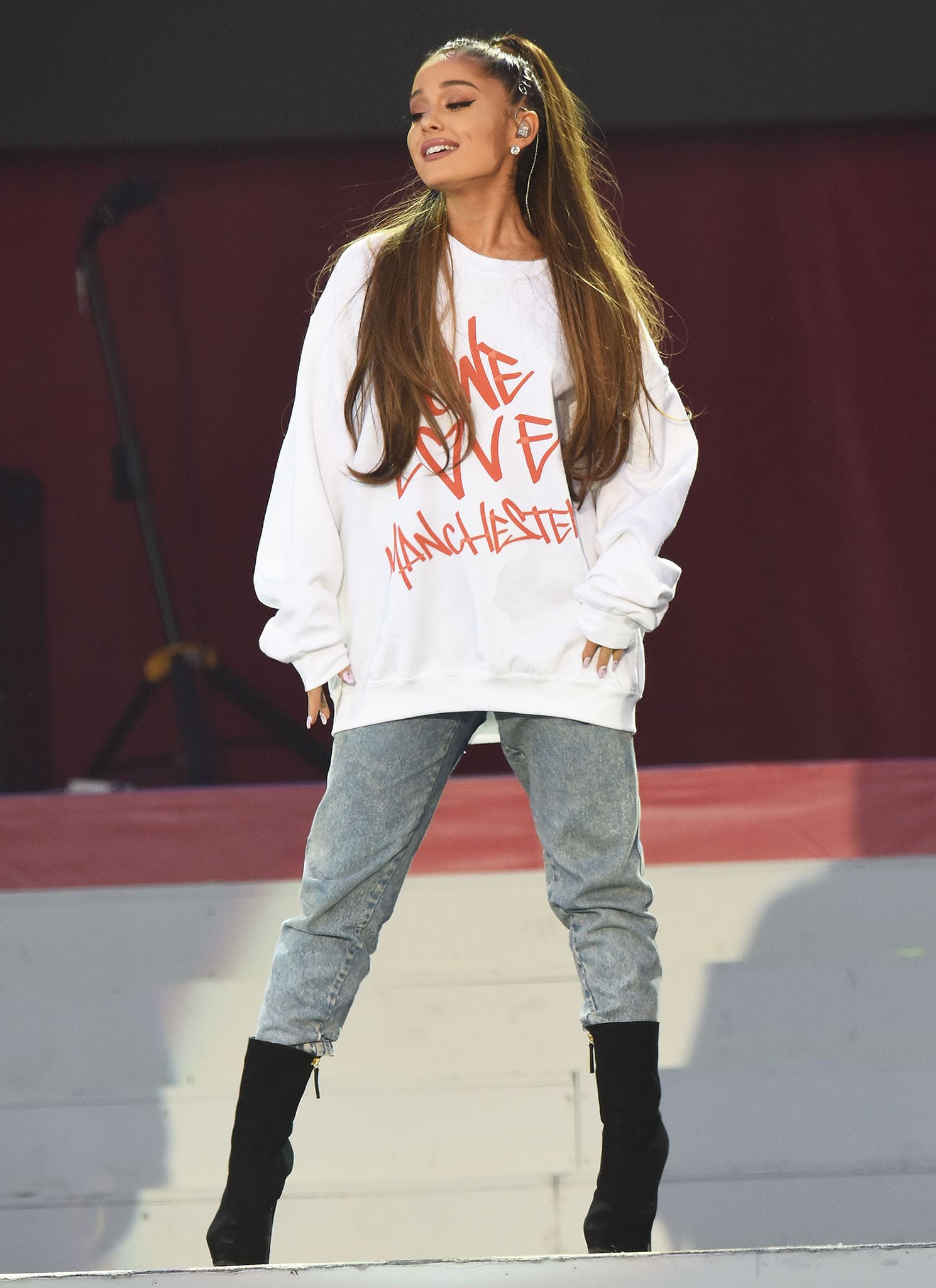 Ariana Grande also wears baggy clothes occasionally, covering up her actual figure (Credit: Dave Hogan for One Love Manchester / WENN)
Ariana enthusiastically embraces crop tops as a current favorite in her wardrobe. She considers them both adorable and sexy.
Indeed, it has contributed to her being one of the sexy icons we always want to see on our screens. She has always loved to rock these tops with skimpy skirts.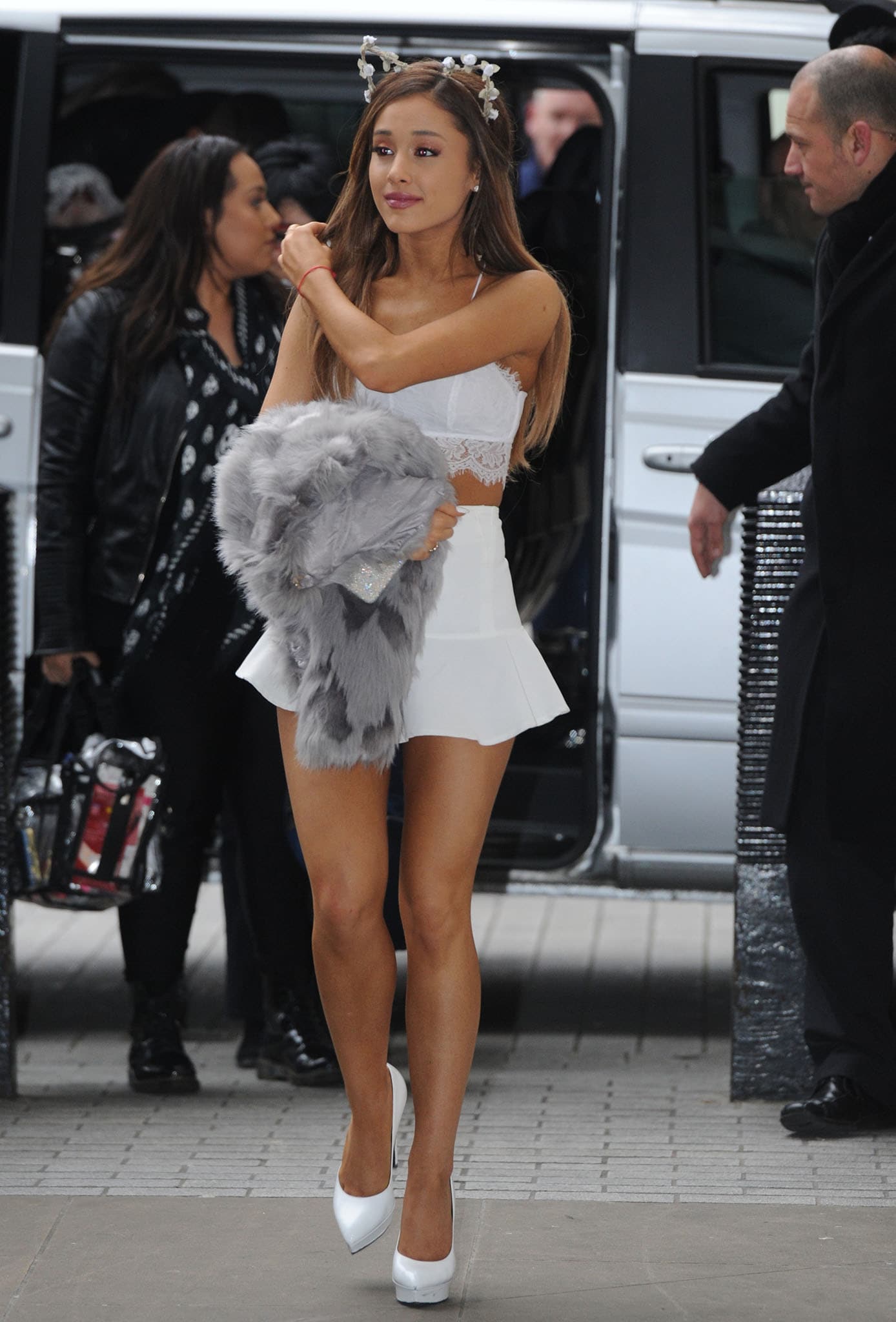 Ariana Grande is a fan of crop tops, which she usually pairs with mini skirts (Credit: WENN)
Regarding jackets, Ariana Grande has a penchant for cropped styles, mirroring her preference for casual crop tops.
In an interview with Cosmopolitan, she admitted, "I love the Lipsy one we included in the collection. It is perfect to be thrown over a dress for an edgier look or with a pair of jeans and a tank top for a simple look."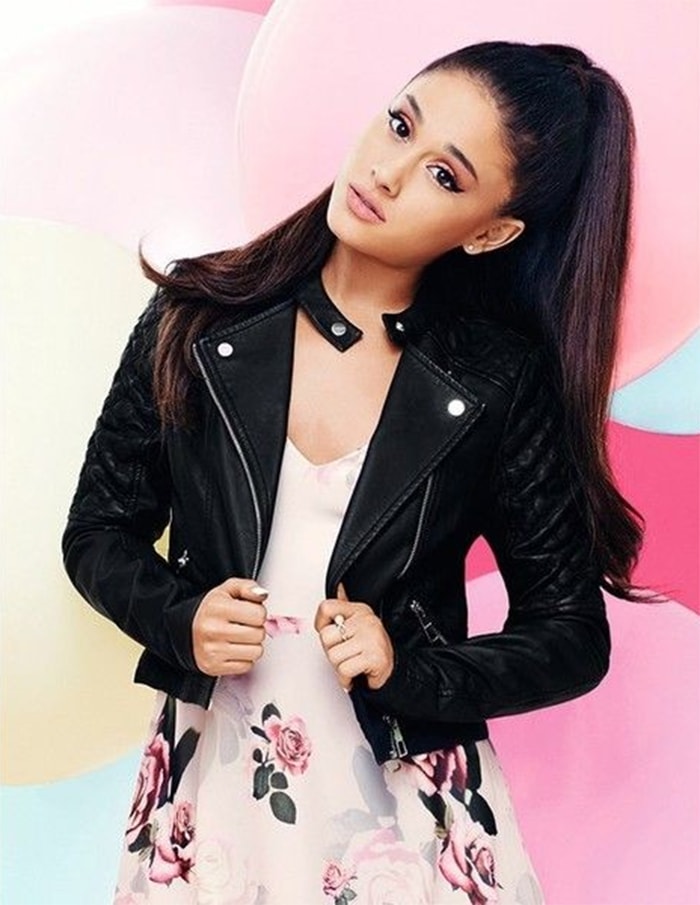 Ariana Grande in a biker jacket from Lipsy (Credit: Lipsy / Instagram)
Ariana Grande has a strong affinity for elegant maxi outfits and even included a red one in her Lipsy collection.
According to her, a maxi dress should be snug-fitting and long enough to gracefully sweep the floor, revealing just the right amount of skin for a stylish look.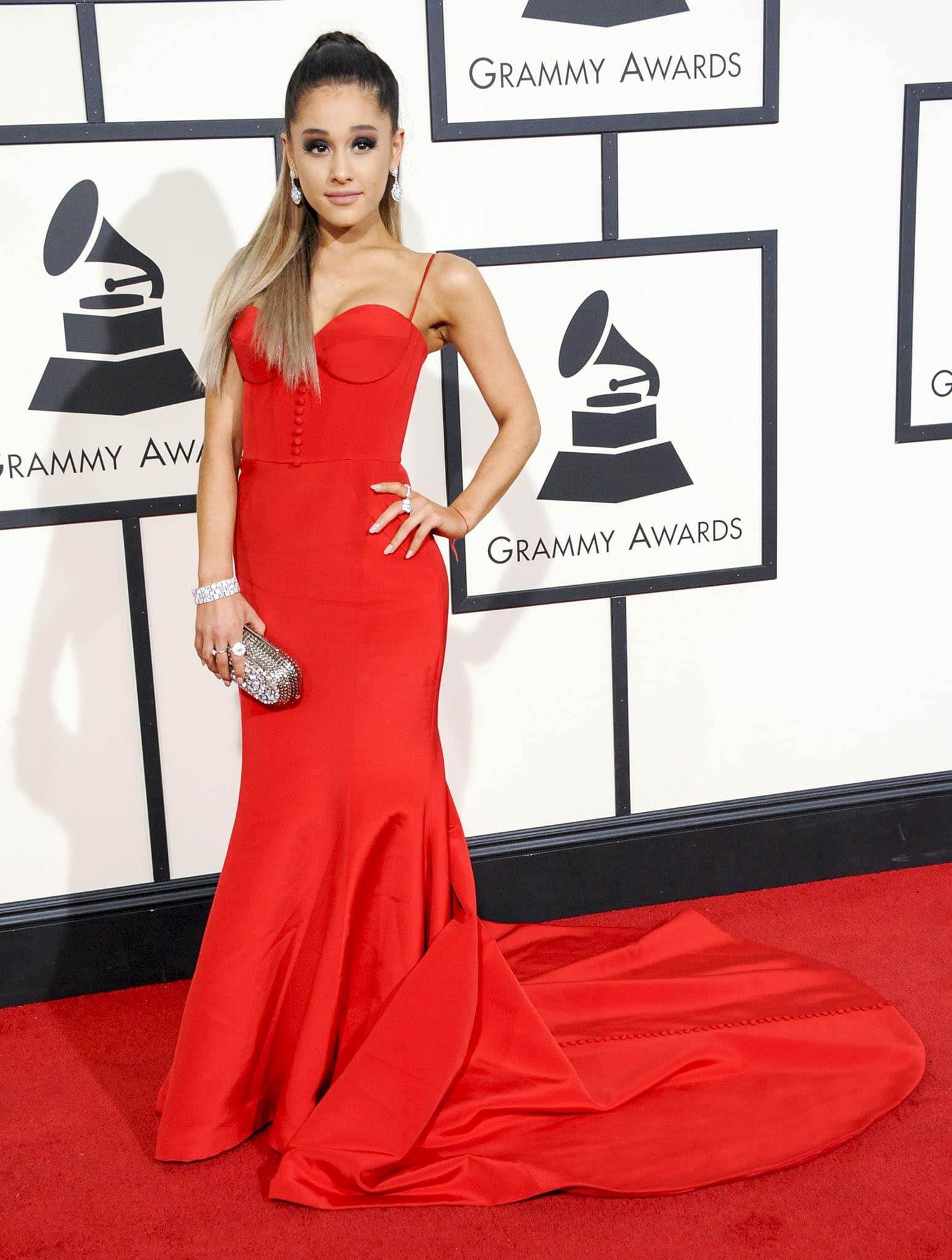 Ariana Grande loves wearing gowns and maxi dresses that sweep the floor and highlight her figure (Credit: Apega / WENN)
Other Short Female Stars in the Industry
Popular Avril Lavigne is 5ft 1 (154.9 cm); Lady Gaga turns out to be 5 feet 1 ¼ inches (155.6 cm), and Ashanti is 5ft 3 (160 cm).
Ariana Grande and Lady Gaga perform online during the 2020 MTV Video Music Awards (Credit: Avalon / WENN)
People have diverse style preferences tailored to their body types. While some may exude confidence in revealing outfits that highlight cleavage, others might find comfort and confidence in looser, less form-fitting attire.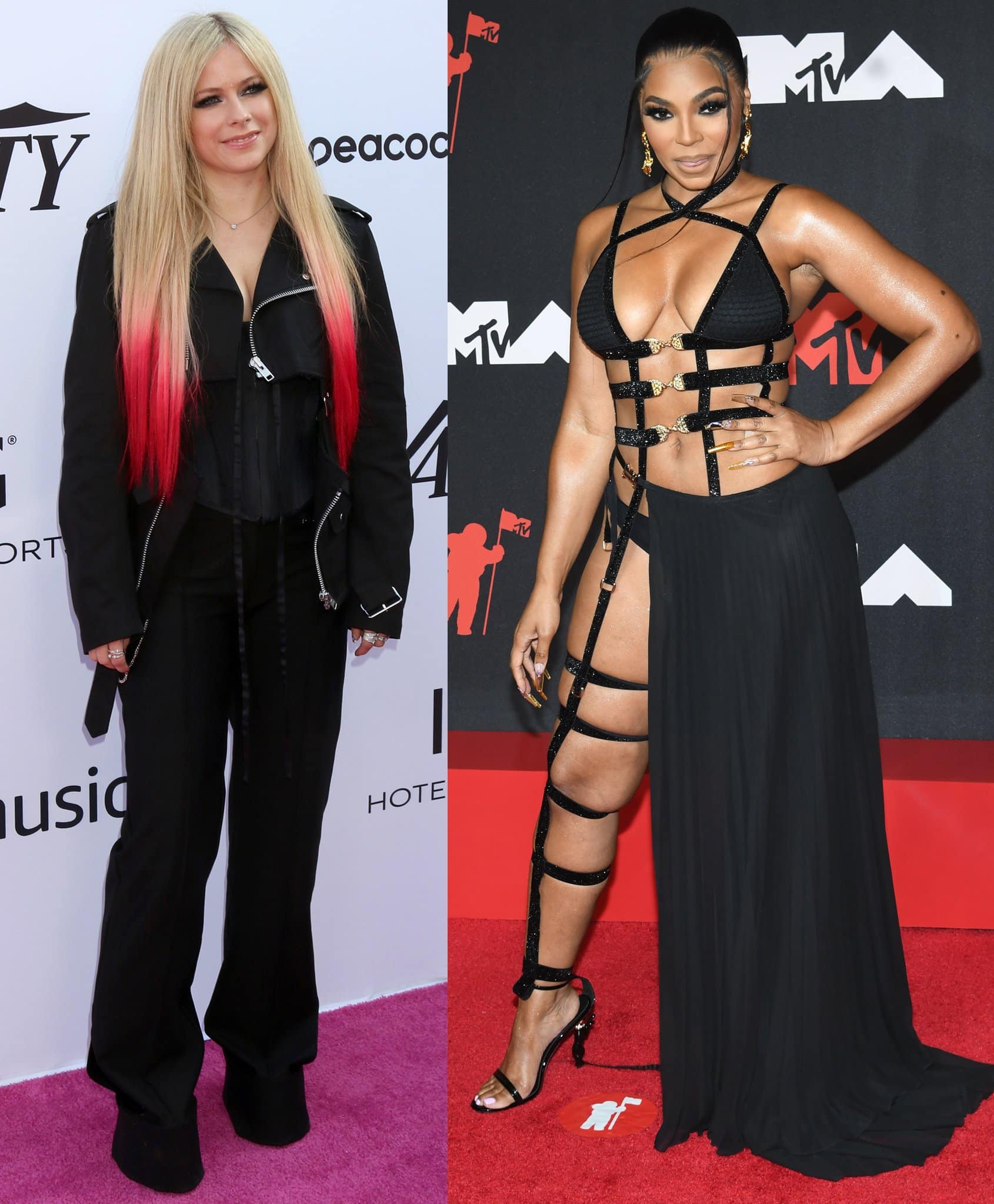 Aside from Ariana and Lady Gaga, Avril Lavigne and Ashanti are two other famous short singers (Credit: Nicky Nelson / Mega / WENN)
Mary Kate and Ashley Olsen are examples of celebrities who transitioned from revealing fashion to a more modest and covered style, and they have not been seen exposing extra skin for many years.
Black baggy outfits have indeed become the signature style of Mary-Kate and Ashley Olsen (Credit: Rob Rich / WENN)
Style Evolution: Ariana's Fashion Choices Over the Years
In April 2016, Ariana Grande was all smiles as she greeted her fans outside BBC Radio 1 studios on a Wednesday morning in London.
Ariana Grande wears her hair in her signature ponytail outside the BBC Radio 1 studios on March 30, 2016, in London (Credit: Mario Mitsis / WENN)
She stopped to sign autographs and pose for pictures as she held onto gifts from her followers.
The then 22-year-old singer looked fierce in a '60s mod-inspired longline trench coat by contemporary American outerwear and accessories brand Dawn Levy.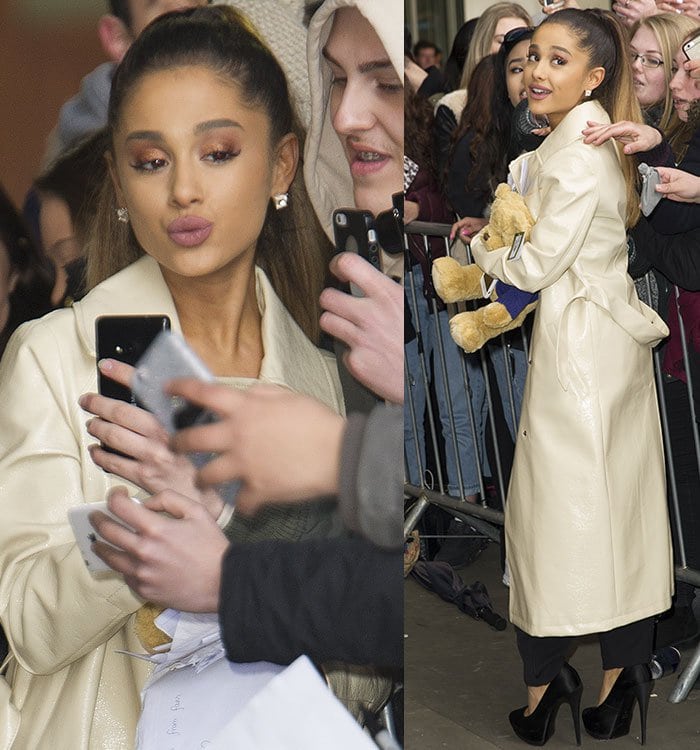 Ariana Grande poses for selfies and signs autographs for fans outside of the BBC Radio 1 studios in London (Credit: Tim McLees / WENN)
The stone-colored outerwear is made of high-shine polyurethane material, which not only makes it water-resistant but also makes it look like leather. Ariana arrived at the studio for an interview on "The Radio 1 Breakfast Show with Nick Grimshaw."
She talked about her new song "Dangerous Woman," the lead single for her third studio album. The singer also got the chance to offer advice to the people of Britain.
Ariana Grande holds a teddy bear and wears a trench coat while out in London (Credit: Mario Mitsis / WENN)
The "Problem" hitmaker wore a revealing black jumpsuit by Self Portrait underneath her coat. Though we could barely see it, the daring number featured a cleavage-baring low-cut neckline and cutouts that flattered the waist and back.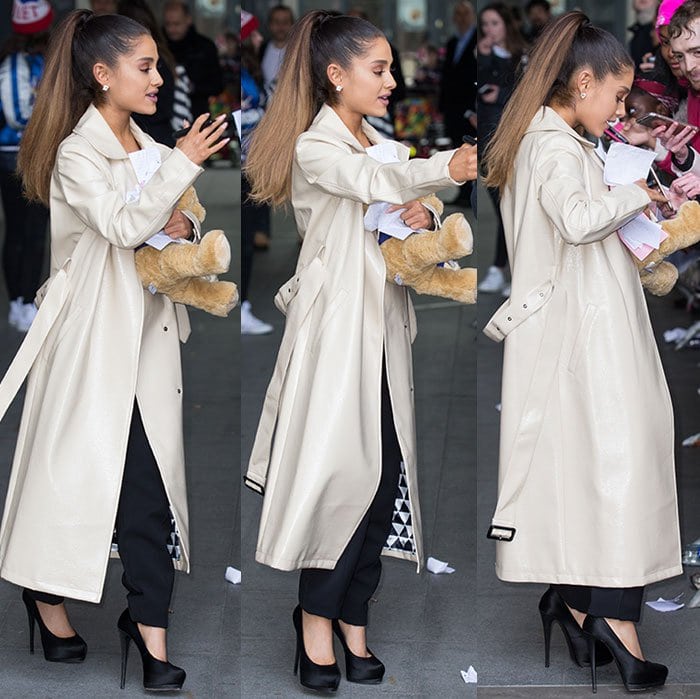 Ariana Grande wears a Dawn Levy trench coat over a Self-Portrait jumpsuit (Credit: Mario Mitsis / WENN / Tim McLees)
She kept her accessories simple, with only a pair of sparkling earrings, and rounded out the ensemble with towering black pumps.
The short singer pulled her long tresses back into her signature high ponytail, allowing a clear view of her facial features. She completed her look with glittery bronzed eyeshadow and pale pink lipstick.
Ariana Grande's feet in platform Giuseppe Zanotti pumps (Credit: WENN)
Ariana teetered on a pair of Giuseppe Zanotti pumps that boosted her height a few inches. They are made of black satin and feature hidden platforms and about 5.7-inch tapered heels.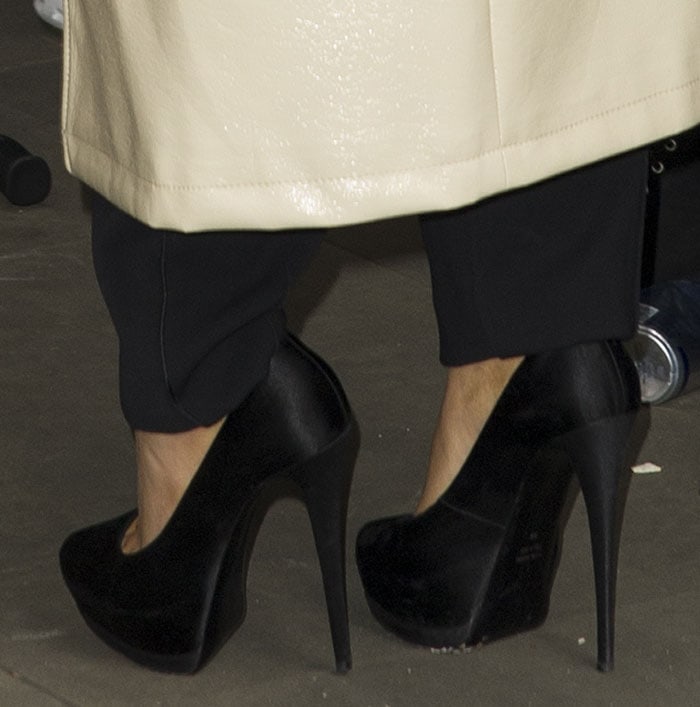 Ariana Grande's feet in black satin Giuseppe Zanotti pumps (Credit: WENN)
These pumps are no longer available, but a similar style from the same brand can be purchased on Farfetch.
Black Giuseppe Zanotti 'Sharon' Platform Pumps, $750