Cat from Victorious is a spunky, ditzy, red-headed beauty that gave us all laughs for the entire four seasons that the show was on the air.
Though she is comical, she also came with a lot of secret dark moments that were impossible to catch unless you were really paying close attention. This all begs the question, why was she so strange?
Cat's Behavior on Victorious
Cat's behavior is something that made Victorious interesting, but it's something that has also been talked about since the show's premiere.
She is a fiery ball of depression. That's the best way to describe her. She is distracted easily and has very huge mood swings. One minute she is loud and standing up to everyone and everything, the next minute she is reserved and talking so low that she is mumbling.
Ariana Grande promotes Nickelodeon's "Victorious" at Planet Hollywood Times Square on April 30, 2010, in New York City (Credit: PNP / WENN)
She is impulsive and often participates in activities that could cause harm to herself or others, she is very talkative, and she mentions several times that she is having odd and persistent thoughts.
Cat's Family History
As with anyone in the real world, family shapes a lot about who you are and why you do the things you do. Cat Valentine is no different and makes references throughout the show to her dark past with an abusive family.
Cat explains that her hair is red because her brother hit her in the head with a vase, which made her head bleed. When she saw the red from the blood, she decided she liked the color and decided to dye her hair.
Ariana Grande became famous for her role as Cat Valentine in the Nickelodeon television series Victorious (Credit: PNP / WENN)
Later, Cat says that she was used to hiding in closets because she had to hide in them to get away from her brother in order to survive. She also talks about how her brother has been to prison and about how she learned to pick locks from him.
All of this indicates parents that weren't around much and a brother that is abusive towards Cat. There is mention of mental illness within her family, as Cat states that her brother was sent to a mental hospital for 6-24 months with his parents in Idaho.
Ariana Grande's childish character Cat Valentine appeared to be mentally ill in some episodes of Victorious (Credit: Nickelodeon)
She doesn't clarify whether their parents are IN the mental hospital with him or just there for moral support. Nevertheless, one or more of her family members do suffer from a mental illness.
Why is Cat the Way She Is?
Her behavior and her family's medical history all point to one thing. Cat likely suffers from bipolar disorder or a mental illness like ADHD or borderline personality disorder. However, it's of course not possible to diagnose someone through the television screen.
The Mayo Clinic classifies bipolar disorder as "a mental health condition that causes extreme mood swings that include emotional highs (mania or hypomania) and lows (depression)."
While we'll never know if she suffers from a lifelong condition such as bipolar disorder, Cat's behavior seems to fit all of the characteristics for diagnosis.
In addition, at one point in the series, Robbie actually sings about Cat and states that she is bipolar. How did we miss that?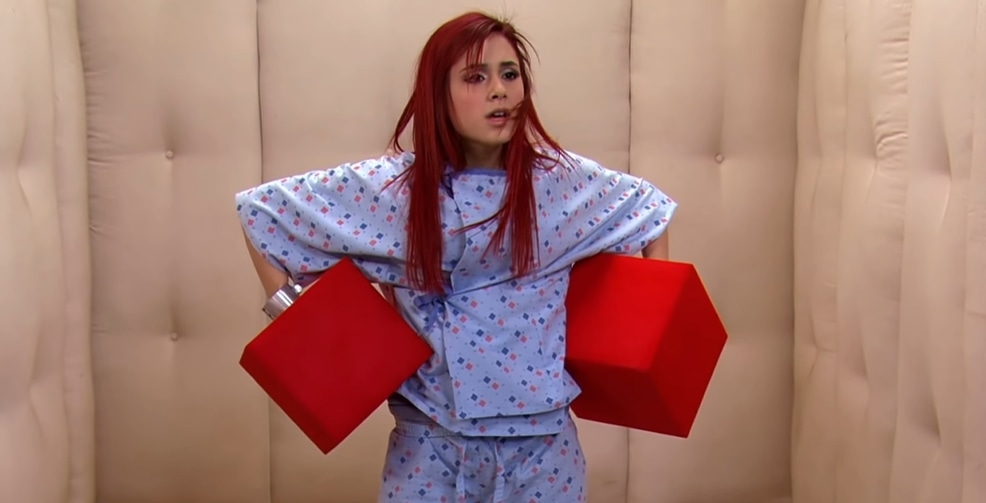 Catarina "Cat" Valentine from Victorious is known for her mood swings and fans suspect she could be bipolar (Credit: Nickelodeon)
You can visit The National Institute of Mental Health (NIMH) to learn more about bipolar disorder (formerly called manic-depressive illness or manic depression).
Her struggle with mental illness explains her sometimes crazy seeming behavior and makes her more relatable to viewers going through the same thing.
Cat is one of the best characters on Victorious and this only makes her more lovable!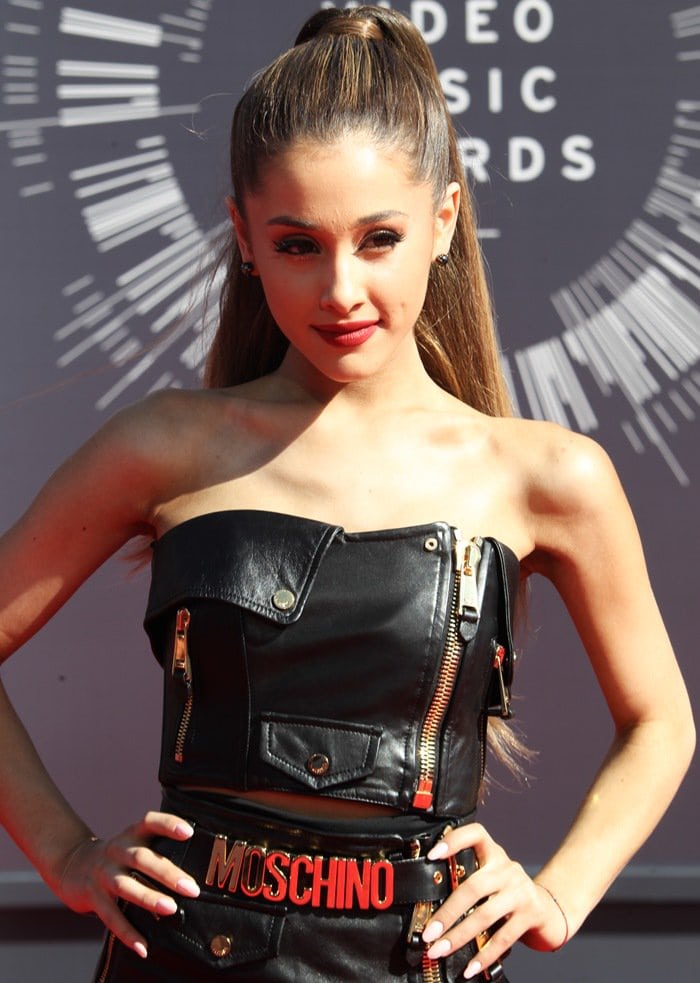 Ariana Grande at the 2014 MTV Video Music Awards at The Forum in Inglewood, California, on August 24, 2014 (Credit: FayesVision / WENN)
In August 2014, Ariana Grande heated up the red carpet at the 2014 MTV Video Music Awards held at The Forum in Inglewood.
The Victorious actress donned a sexy black leather mini dress from the Moschino Resort 2015 collection.
Ariana wore her signature girly high ponytail and paired the strapless dress with a stunning pair of $2,950 nappa-stretch-leather over-the-knee boots by American fashion designer Tom Ford featuring metal stilettos.
Ariana Grande's over-the-knee boots by Tom Ford (Credit: FayesVision / WENN)
Do you like how Ariana styled her Tom Ford over-the-knee boots? These Italian-made shoes feature functional back zippers and 110 mm heels.
Tom Ford Nappa-Stretch-Leather Metal-Stiletto Over-the-Knee Boots, $2,950