Mary-Kate and Ashley Olsen have been raking in paychecks since before they could walk.
Named two of the richest ladies in Hollywood by Forbes, the Olsen twins have a long history of hard work, personal turmoil, and entrepreneurship. So how did the Olsen twins get so rich?
Mary-Kate and Ashley Olsen are some of the richest ladies in Hollywood by Forbes (Credit: Ivan Nikolov / WENN)
Early Life and Entrance into Show Business
The Olsen twins were born and raised in Sherman Oaks, California in 1986. Sherman Oaks is an exclusive and upscale community that is home to many of Hollywood's biggest players.
They also have an older brother, ex-actor and comic book writer Trent Olsen, a younger sister, Elizabeth Olsen, and younger half siblings, Courtney Taylor Olsen and Jake Olsen, from their father David "Dave" Olsen's second marriage.
Twins are highly desirable in the entertainment industry and Mary-Kate and Ashley's mom sent their photos to a casting agent, who then recruited them to their roster (Credit: WENN)
The twins were remarkably happy babies, and their mother, Jarnette "Jarnie" Olsen (née Jones), took the opportunity to send their picture to a casting agent, who quickly recruited the girls to their roster.
Twins, as it turned out, were a highly desirable asset in entertainment as nearly identical children could be cast as a single character and rotated when one hit the maximum of 20 minutes working on set.
While Mary-Kate and Ashley are referred to as being identical, they are actually fraternal twins that are highly similar in appearance. Genetically speaking, they very likely could have ended up looking completely different from each other.
Full House Makes Room for Two More
Mary Kate and Ashley Olsen were one of several twin sets considered for the part of Michelle Tanner in the show Full House, starring talents like Bob Saget, John Stamos, and others.
Although a different set of siblings had been announced as receiving the part, the show quickly pivoted to cast the jovial, blonde girls at only six months old.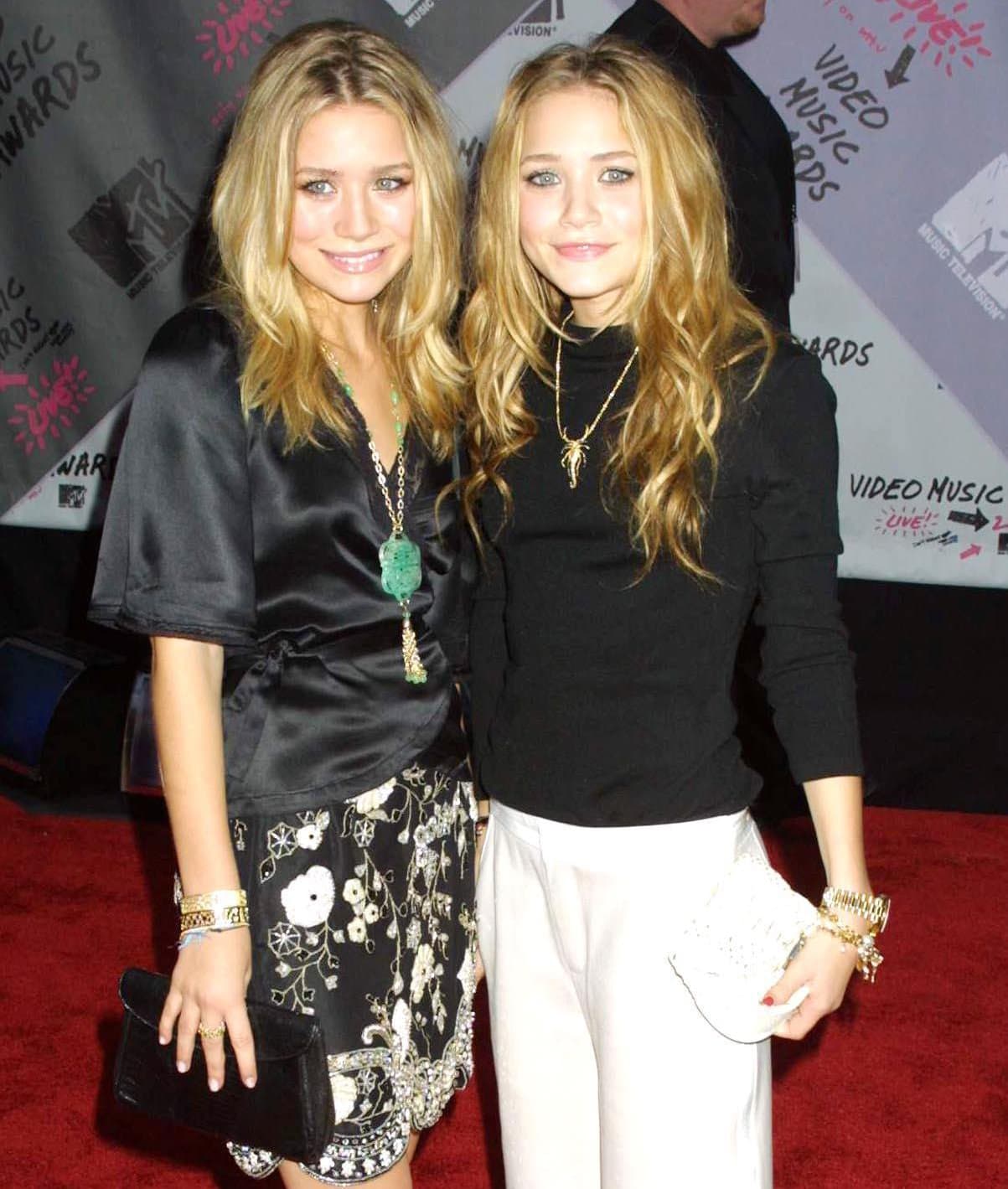 Mary-Kate and Ashley Olsen were only six months old when they were cast in the role of Michelle Tanner on ABC's Full House (Credit: WENN)
The show was incredibly popular in American households. The girls appeared on Full House for a total of eight seasons, raking in over $80,000 per episode by the final season.
Mary Kate and Ashley compare their working life to that of "performing circus monkeys." Filming life was grueling for the pair; however, their hard work catapulted the girls into positions of financial and cinematic success.
Life After Full House on the Screen
The Olsens experienced crossover success starting in 1992 when they starred in the feature-length film To Grandmother's House We Go under Dualstar Entertainment, the production company founded under the twins' umbrella of assets.
Full House wrapped in 1996; however, the Olsens' careers were just warming up. They went on to star in fourteen films, culminating with the film New York Minute in 2004.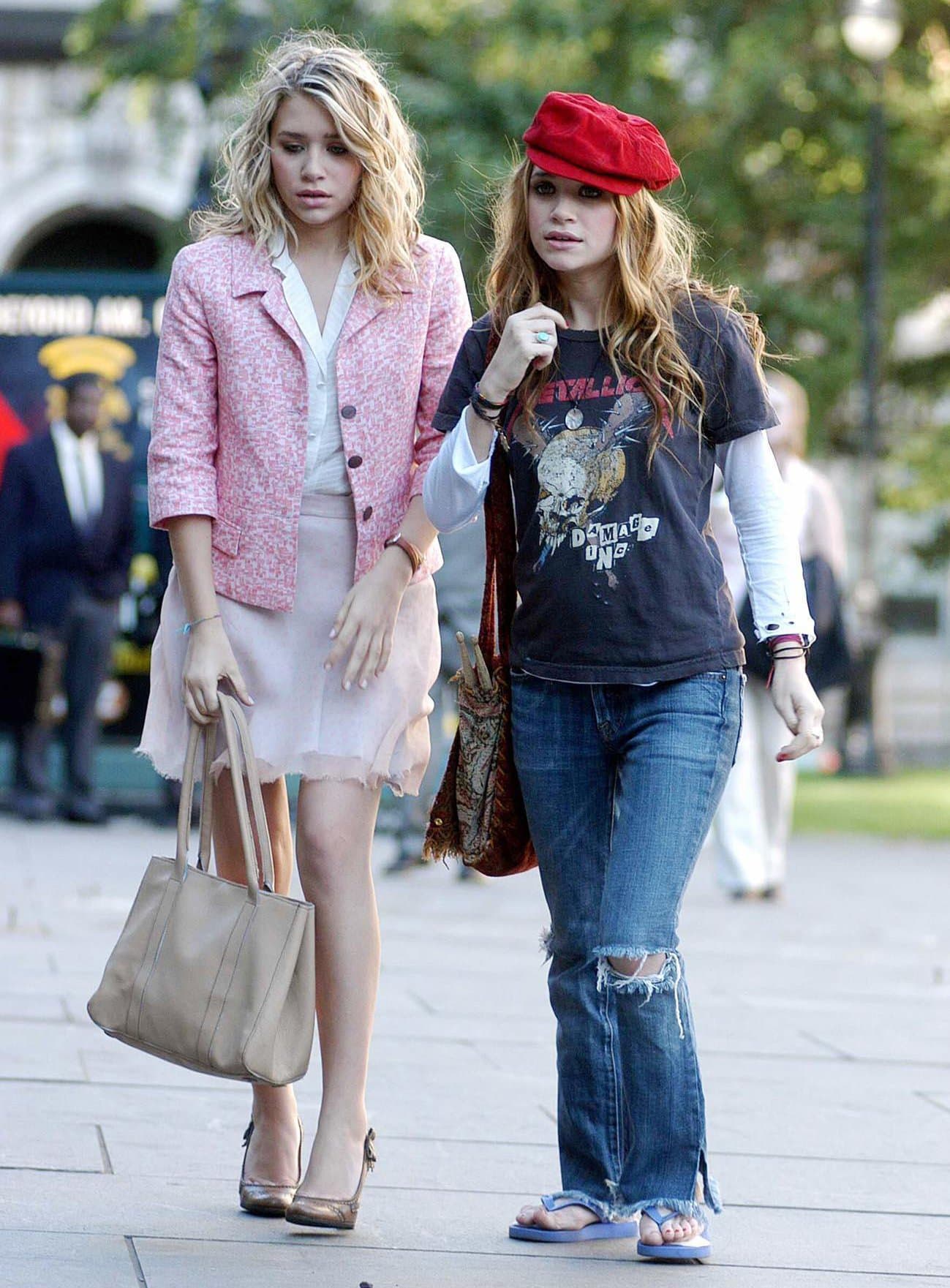 New York Minute was Mary-Kate and Ashley Olsen's last movie together (Credit: WENN / Vallenilla)
By the time Mary-Kate and Ashley retired from appearing side by side in the entertainment industry, their credits included their library of films, three different television series, musical videos, a video game, and two animated series.
The two, however, would go on to work on projects individually as they got older.
Olsens in the Wild, College and Beyond
Show business had made both of the girls incredibly wealthy, especially after assuming full control of their production company and ensuing royalties when they turned 18 in 2004. It was then that they enrolled at New York University.
The college years seemed bumpy, at best, with the twins often being called out for skipping class. The two were often spotted partying alongside New York celebrities during their time in the city.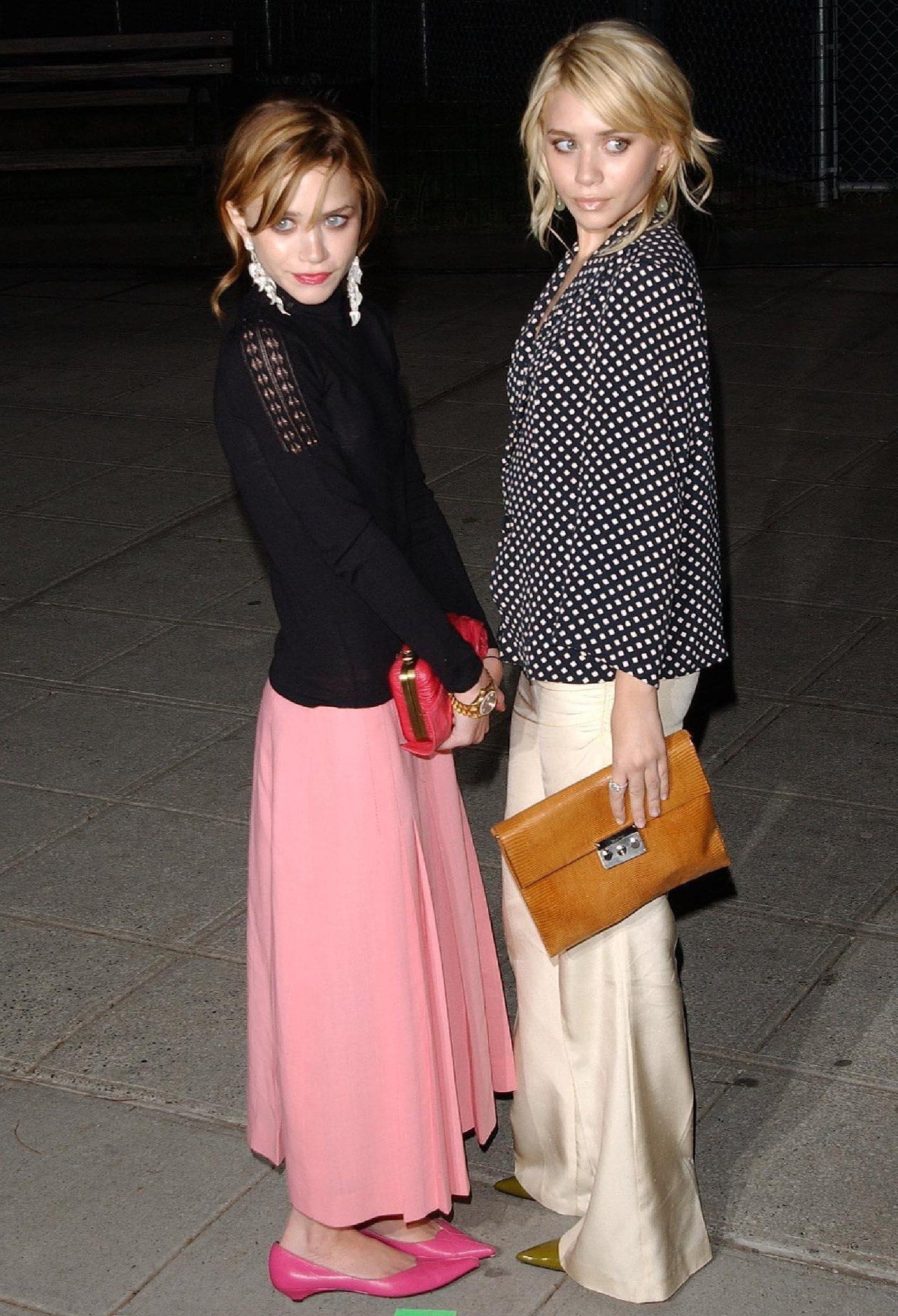 Mary-Kate and Ashley Olsen enrolled at New York University but often skipped classes to party with their fellow celebrities in New York City (Credit: WENN)
As it turns out, the two reported being stalked by paparazzi and onlookers eager to get a glimpse of the Olsens in real life.
Classmates were sometimes bribed into collecting candid photography and lurid tabloid stories, which led to the inability to trust any of their peers for fear of being the next cover story featuring a child actor gone astray.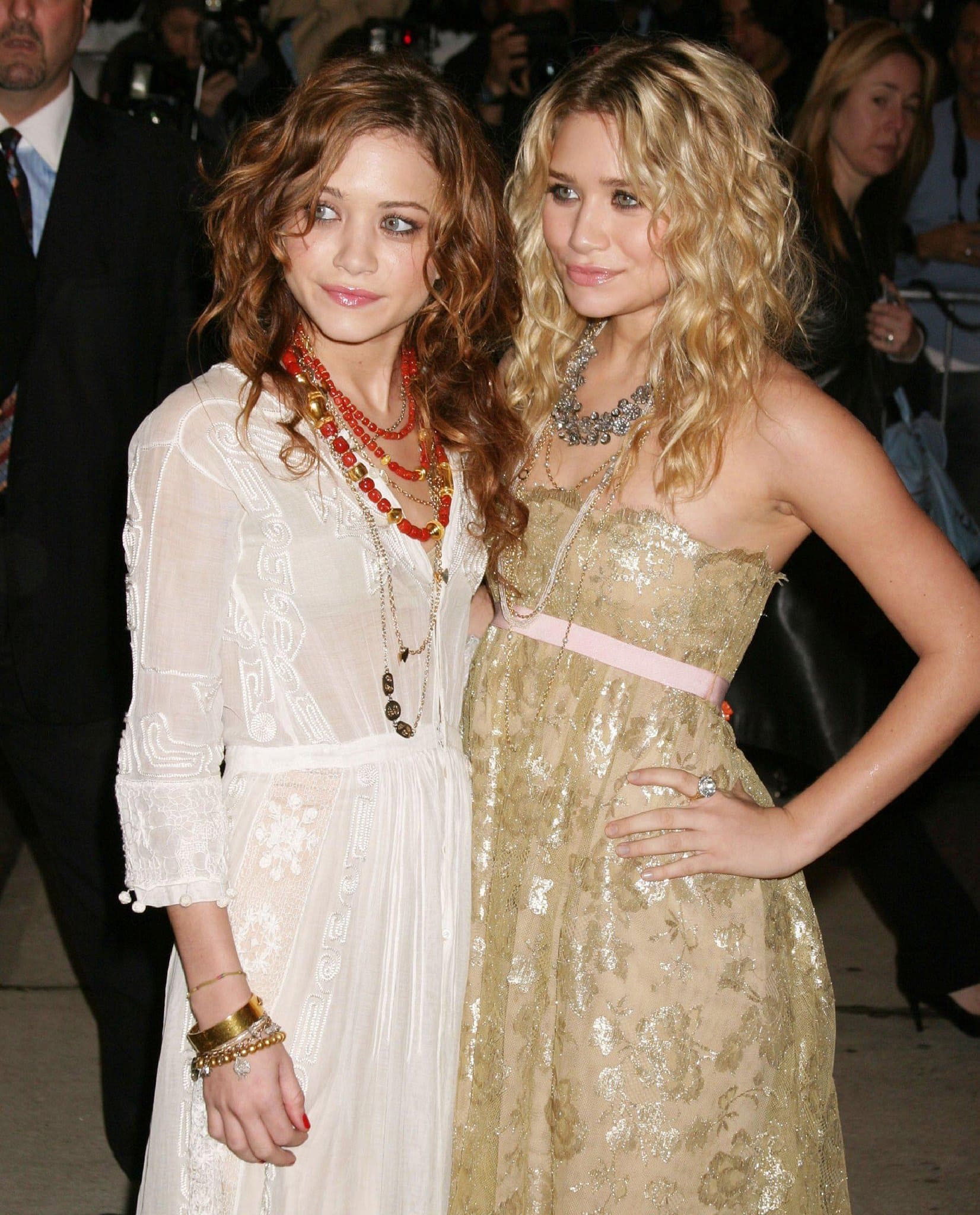 Mary-Kate and Ashley Olsen were reportedly stalked by paparazzi to get a glimpse of the Olsens in real life (Credit: PNP / WENN)
Because of their celebrity status, they sorely missed out on the privacy and anonymity that they desired in New York City, even purchasing a "humble" $7.3 million penthouse that they never ended up living in.
They intended to live in the West Village penthouse together but decided to live separately instead. The Olsens describe the decision as "the best decision we ever made."
Oprah Drags the Olsen Twins About Weight
Following their 18th birthday, the twins appeared on Oprah, where they assumed they would be speaking about their work as child stars, their new projects, and their clothing line. Oprah soon took the interview in a new direction, addressing rumors about the stars' weight.
The two seemed shocked to find themselves suddenly on the spot, speaking about a potential eating disorder. Several photographs had recently been published, fueling rumors.
Oprah faced backlash in early 2021 after a 2004 video of her asking Mary-Kate and Ashley Olsen their size resurfaced online (Credit: LK / WENN)
Ashley responded, saying "Yeah, you know people are gonna write what they're gonna write. We try not to read the good or the bad because it just comes with the territory. Either you're too fat, too skinny…"
Before she could finish her statement, Oprah was quick to interrupt, "What size are you by the way?"
Again, seemingly flabbergasted, Ashley said simply that she didn't know, considering they usually had clothes tailored to their petite 5'1" frames.
Oprah went on to chide, "Oh, isn't that interesting. That is so interesting, I'm obsessed with size and you're like, "I really don't know."'
For years following the interview, Oprah has been scolded for the way she seemingly attacked the girls with her insensitive and tone-deaf remarks. Within the year, Mary-Kate did seek help for anorexia nervosa at a facility. No apology was ever issued from Oprah's team.
Mary-Kate Is a Magnet for Drama
The Olsen twins attended high school in California, alongside party boy and The Hills reality star Spencer Pratt. Pratt has a talent for stirring up trouble, it seems.
On one particular appearance on The Tonight Show with David Letterman, he described various mischief he had caused, including the sale of a photograph featuring Mary-Kate, apparently inebriated, at a high school party, for $50,000.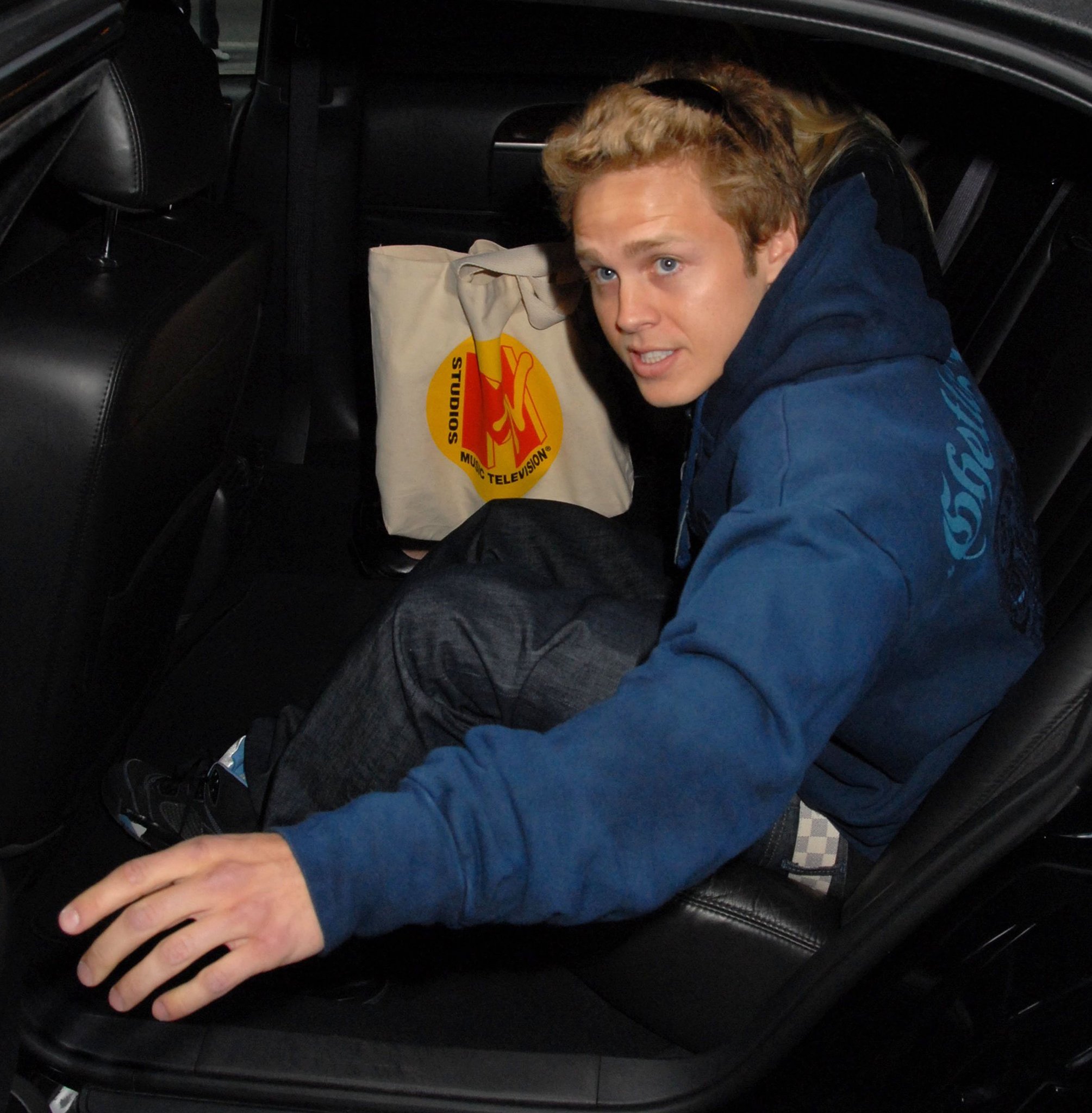 Reality TV star Spencer Pratt, the Olsen twins' former schoolmate, revealed on The Tonight Show with David Letterman that he sold a photo of an intoxicated Mary-Kate for $50,000 (Credit: Patricia Schlein / WENN)
The photo and his account caused waves in tabloids and continued in Mary-Kate's next Letterman appearance where Dave continually fished for jabs at Spencer while Mary-Kate tried to promote her newest film, The Wackness, as diplomatically as she could.
Despite her best efforts to navigate the murky waters of the interview, Pratt fired back with a narcissistic diatribe in Us, calling her a "troll" and dragging her new movie as a "little indie film that no one's going to see."
Mary-Kate Olsen at the Cinema Society's screening of The Wackness on June 25, 2008
Mary-Kate's college experience came to a head following a painful breakup with Stavros Niarchos, who went on to date Paris Hilton.
Mary-Kate described it as "a hurtful and painful subject," and despite being on historically friendly terms with Hilton, she said that they were no longer on speaking terms.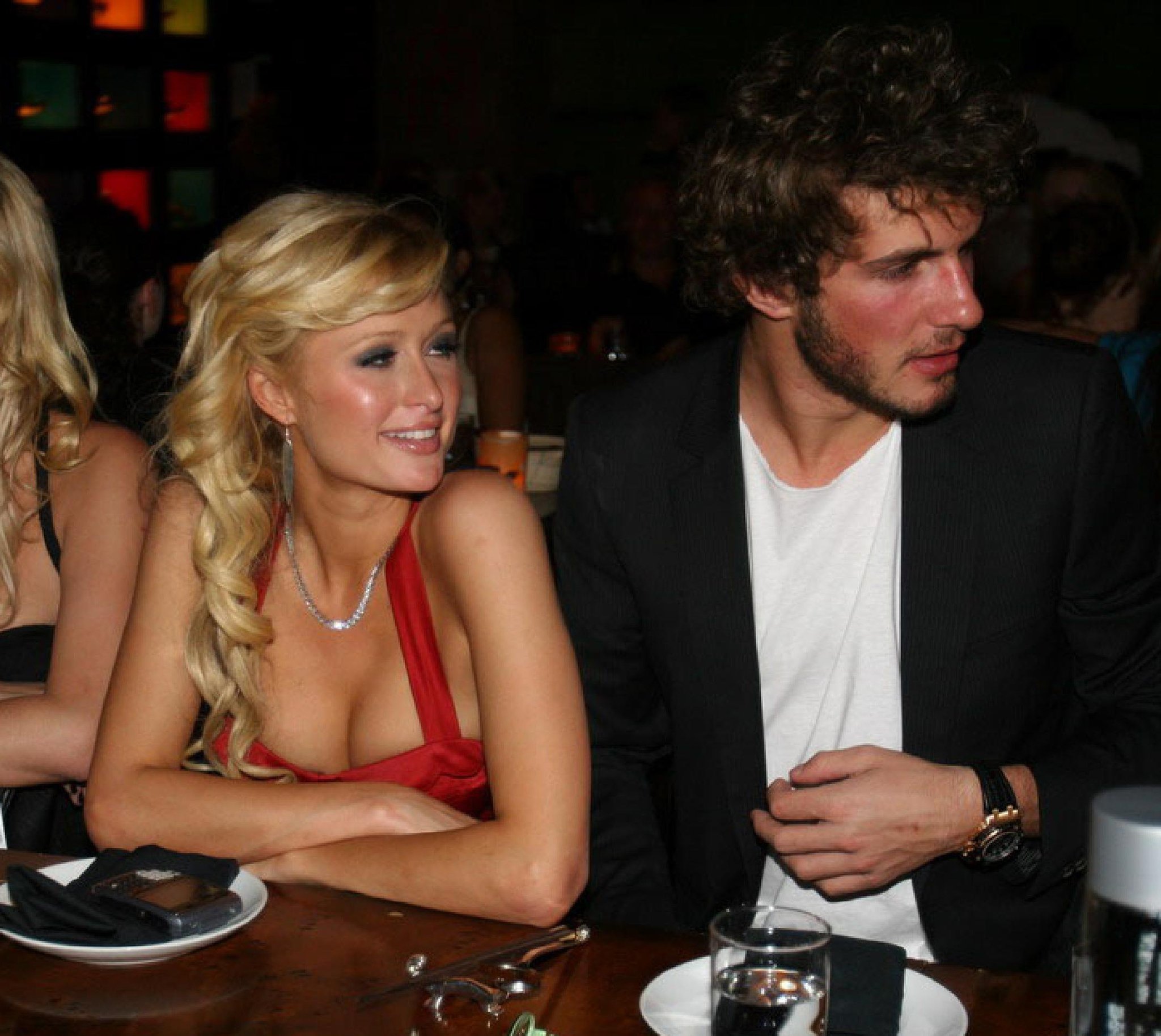 Following his breakup with Mary-Kate, Greek shipping heir Stavros Niarchos III dated Paris Hilton (Credit: Michael Politz / WENN)
Ashley Olsen's Drug Scandal
Mary-Kate's twin Ashley Olsen seems to be the more private of the two Olsen twins. She did, however, find herself linked to a drug scandal by tabloid National Enquirer.
Ashley Olsen was linked to a drug scandal by National Enquirer in 2005 (Credit: WENN)
When faced with a hefty lawsuit, National Enquirer quickly backpedaled, insisting they didn't mean to associate her with the issue.
The Olsen Twins' Eye for Fashion
The Olsen twins have been fashion contributors since their tween years. The twins helped design clothing and accessories for the in-between ages, where girls are often caught somewhere between juvenile clothing lines and adult fashion lines.
It was considered very fashion-forward at the time, capturing enormous sales figures from the unrealized market.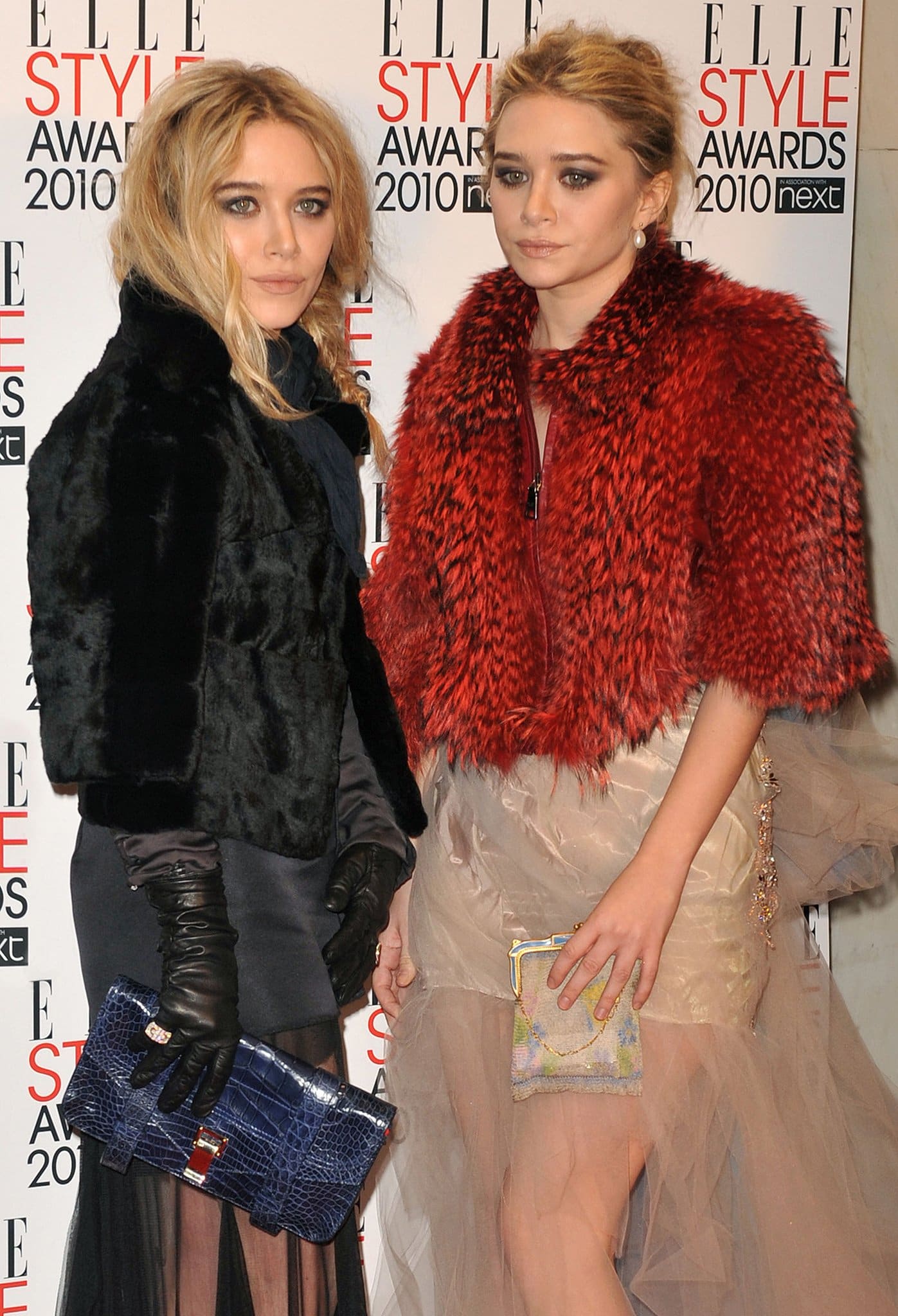 Mary-Kate and Ashley Olsen at The ELLE Style Awards 2010 (Credit: WENN)
Mary-Kate and Ashley grew their fashion empire to include their newest line, The Row. The luxury brand fetches hundreds for a simple shirt and thousands for an evening gown, with prices comparable to leading fashion houses like Gucci.
The Row is carried in high-end, exclusive stores like Saks Fifth Avenue, netting the twins millions in sales. Their styles are highly sought after by the wealthy and affluent, with many designs often being sold out due to high demand.
In 2006, Ashley and Mary-Kate Olsen established the luxury fashion label The Row, which has received recognition and awards from the CFDA (Credit: Ivan Nikolov / WENN)
As they grew their brand, they hesitated to act as the front of the company, favoring the clothes to speak for themselves. Regardless of their notoriety, the line has grown legs of its own, successfully launching season after season.
In fact, every year for nearly a decade, The Row brand has received recognition and awards from the Council of Fashion Designers of America. They've also collaborated with other popular brands like TOMS shoes and Mytheresa.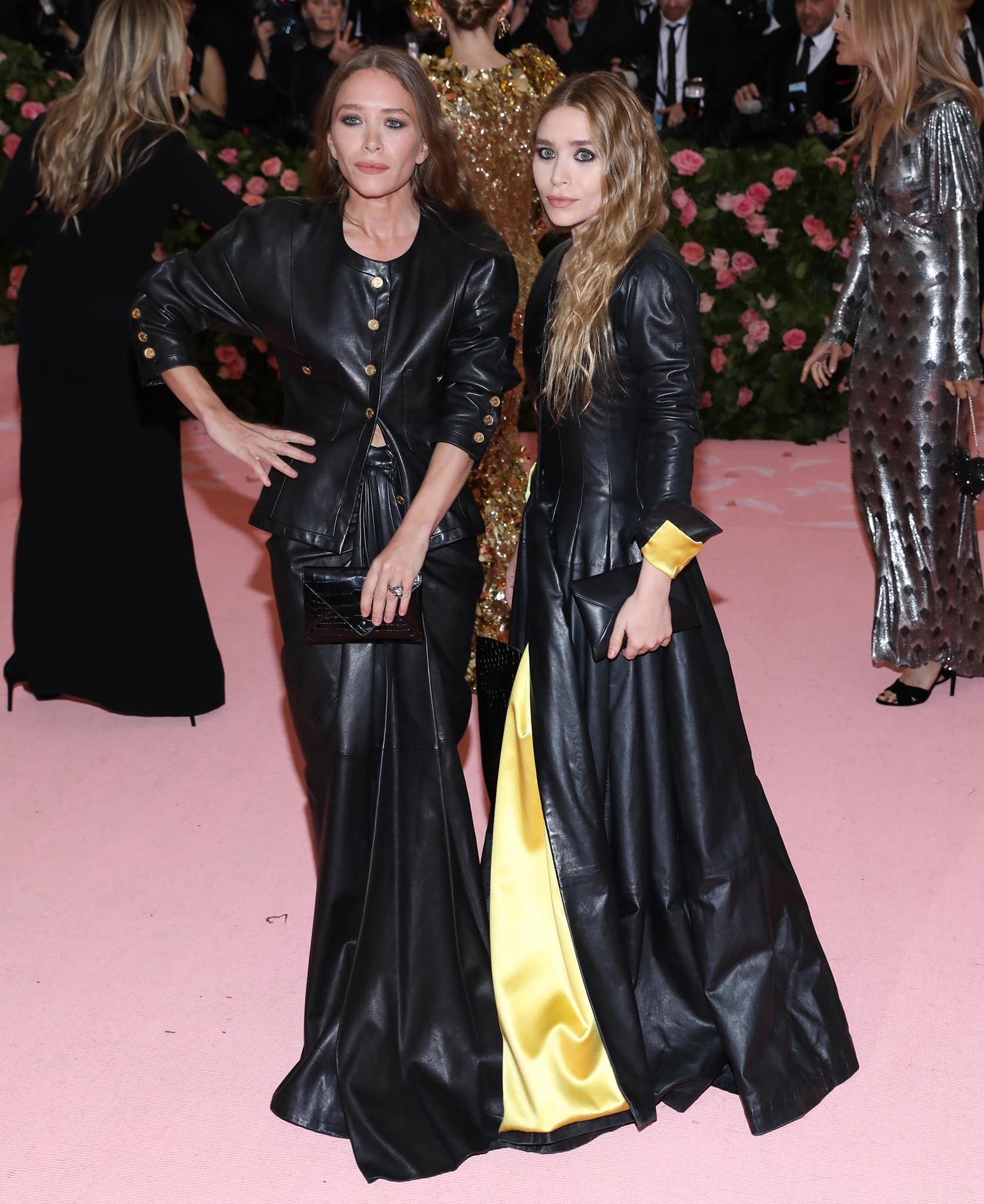 Mary-Kate and Ashley Olsen also own other fashion labels: Olsenboye, StyleMint, and Elizabeth and James
The Olsens also have other fashion lines at varying price points, including Olsenboye and StyleMint.
One of their newest brands, Elizabeth and James, named for their younger siblings, is an affordable taste of the Olsens' style available at the low-to-mid priced retailer, Kohl's.
At a price point of less than $100, consumers are scooping up their styles even with a slender budget.
So What Is the Olsen Twins' Net Worth?
So how rich are these pint-sized business moguls? By age 35, both Olsen twins are estimated to have a net worth of roughly $250 million each, or a cool half-million dollars between the two of them.
Even with twists and turns throughout their lives, they can't seem to miss on their investment opportunities.
It seems these ladies have a knack for business, dating back to the formation of their production company at age 6, followed by ingenious marketing behind them.
These days they enjoy time outside of the public eye, and with a quarter-million each, they can afford- and certainly deserve- the luxury of privacy.