There aren't too many brands that think beyond selling products and earning a profit. TOMS seems to be one of the few companies that place more value on social responsibility than dollar signs.
For every pair of shoes you purchase, TOMS will give a pair to a child in need
The for-profit company based in Playa Del Rey is known not just for its comfortable alpargata-style shoes (alpargata is the Spanish word for "espadrille"), but also for its inspiring mission and charitable outreach. Did you know that you can also donate your shoes directly to charitable organizations?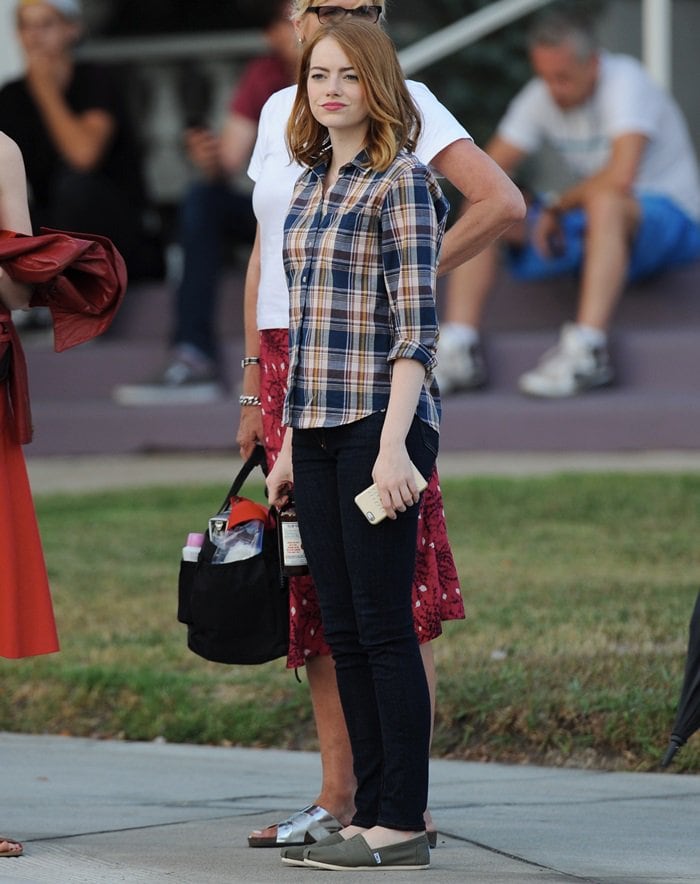 Emma Stone wearing TOMS shoes on the set of 'La La Land' in Pasadena on August 18, 2015
TOMS operates by the mission statement "for every pair you purchase, TOMS will give a pair to a child in need. One for One."
The brand has also expanded its "One for One" mission in order to provide safe water to impoverished communities.
Sarah Hyland at TOMS for Target Launch Event held at the Book Bindery in Culver City in Los Angeles on November 13, 2014
Even celebrities like Jessica Alba, Sarah Hyland, and Emma Stone are fans of the brand.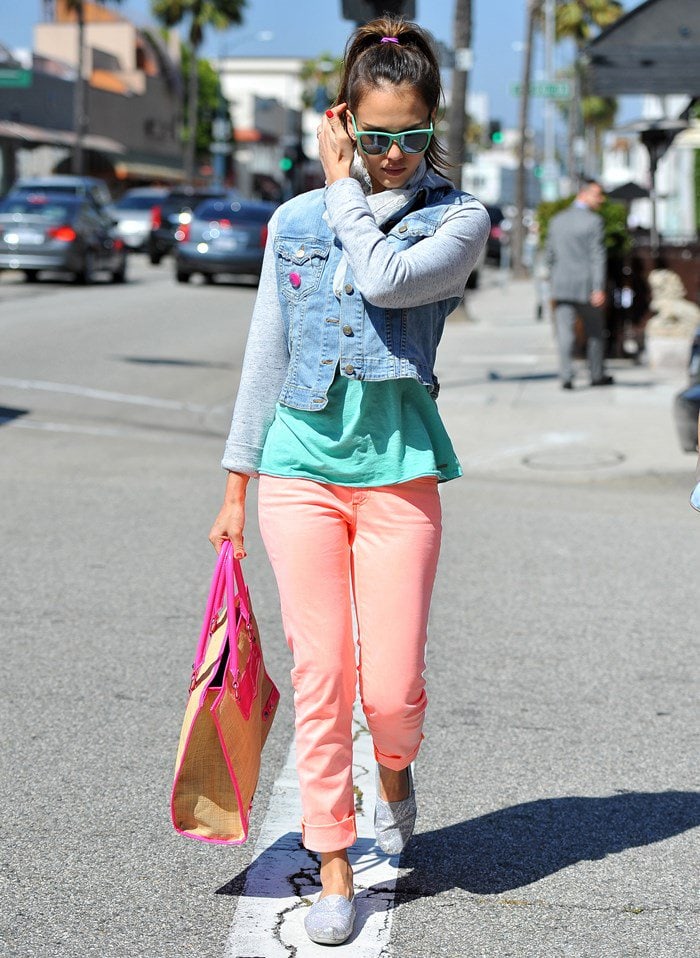 Jessica Alba arrives at Le Pain Quotidien for lunch in Beverly Hills, Los Angeles on May 22, 2012
To support this cause, it is important to purchase authentic TOMS shoes. When buying online, always be on the lookout for scammers offering "discounted TOMS" on unauthorized websites.
Shopping sites like eBay may display low prices for these items, but that's because a lot of sellers are selling counterfeit TOMS.
Where to Buy Toms Shoes
To avoid the hassle, and to ensure you're truly supporting the charitable mission of the company, always buy TOMS from authorized stores or directly from the official website. The five most popular shopping sites that carry authentic TOMS shoes online are:
1. TOMS (Official Site)
2. Amazon
3. Nordstrom
4. Zappos
5. DSW
Here are 10 things to check when buying TOMS Shoes online, to protect yourself from counterfeiters:
1. Check the Seller
If you decide to buy TOMS from an unauthorized retailer or settle for second-hand items, it is very important to do a little digging first. There are several sellers that claim to stock authentic goods, but really only have fake items.
Make sure to check reviews and inspect the website first. If you come across negative reviews or dubious claims, find another store with a better reputation.
Make sure to watch the below video of Katie Patton, who had the unfortunate experience of purchasing a pair of fake TOMS on eBay.
2. Check the Packaging
All TOMS shoes come packaged in eco-friendly and recycled materials because of the brand's commitment to the environment. An authentic TOMS shoe box should include a canvas bag designed with the TOMS flag and a TOMS sticker.
The design or print of the shoe box may change periodically, depending on the season or style of the shoe that you purchase.
3. Check the Tag
A lot of fake TOMS have "Made in China" printed on their tags, located on the outer right part of the shoe. Original TOMS shoes are made in Haiti, China, Ethiopia, and Argentina, but this is not indicated or printed on any part of the shoe.
The company has committed to producing one-third of its shoes in the regions where they are donated.
Since local production helps to build industry and create jobs and sustainable futures, it makes us wonder why they don't commit to manufacturing 100% of their shoes in these countries.
Fake TOMS often have "Made in China" printed on their tags
The small tag should only be printed with the brand TOMS and nothing else. Also, note that these tags should lay flat on the shoe and should not be sticking out from behind.
4. Compare the Sizing
Authentic TOMS shoes run true to size and stretch slightly when broken in. Fake ones, on the other hand, are oftentimes too short because of the different and low-quality materials used in production.
You can check the sizing by comparing your newly-bought TOMS with other shoes in your closet.
5. Check the Logo Placement
The logo of a genuine TOMS pair should be placed halfway on the back heel part, with even stitches around the flag.
The logo of a genuine TOMS pair should be placed halfway on the back heel part
Fake TOMS typically have logos that are too low or too high, with very uneven stitching.
6. Check the Insoles and Outsoles
One of the surest ways to check for fake TOMS is through its insoles. If the inside soles can be removed, then they are most likely imitations. The insoles of genuine TOMS shoes, regardless of the style, are sewn in the soles and not glued!
One of the surest ways to check for fake TOMS is through its insoles
They do not slide off and definitely can't be removed. The soles should also have arch support and cushioning.
Fake ones will have flat insoles that do not give any support or cushioning for your feet. These will feel uncomfortable when worn.
The outsoles of original TOMS have a light, textured pattern and are easily bendable even when they are new. Fakes will feel really thick and stiff, and cannot be flexed.
7. Check the Lining
Authentic TOMS typically use printed linings on their shoes. The graphic prints of the lining differ depending on the color and style of the shoe. A lot of fakes have very poor quality inside linings with the same prints on different styles of TOMS.
Authentic TOMS typically use printed linings on their shoes
Some do not even have graphic patterns, which is not very common for real TOMS.
To be sure, compare them with the styles posted on the TOMS website. Take note that there are more lining designs on the women's collections.
Most of the men's styles have simple inside prints, while some men's TOMS shoes do not have any inside prints at all.
8. Check the Text Prints
The insoles display the TOMS mission statement – "With every pair you purchase, TOMS will give a pair of new shoes to a child in need. One for One." One of the telltale signs of fake shoes is badly printed text, uneven lines, and misspellings.
The insoles display the TOMS mission statement
Be on the lookout for these little signs as well as the spacing on the text print. The font used throughout the whole text should match the font of the TOMS brand.
9. Check the Style
Fake shoes come in all types of styles, some with strange and really tacky designs. Sellers can even tag these shoes as "limited editions" or "rare finds" to fool you. It is always better to verify the style on the TOMS website first.
Typically, the most imitated styles are the classic canvas TOMS because they are the easiest to manufacture and also because they are the most popular styles.
Always double-check and compare the style with product photos from the TOMS website or other authorized retail stores online.
10. Check the Fit, Comfort, and Texture
Aside from the worthy advocacy, TOMS shoes are known for another thing — they are super comfortable on the feet. Real TOMS should feel comfortable when worn. They boast soft canvas uppers, arch support, and bendy soles.
Fake TOMS often look and feel stiff because they are manufactured with cheaper materials. If they feel weird and too rigid on your feet, then they are probably counterfeit.
Questions Regarding TOMS
Do you wear socks with Toms?
Yes, your closed-toe shoes will stain quickly if you wear them with sweaty feet without socks. Wearing socks with sandals is controversial, but wearing TOMS with stinky feet is just a bad idea.
If you insist on wearing your shoes without socks (it can be quite comfortable), at least make sure you know how to prevent foot sweat.
How much do Toms cost?
Shoes for kids usually cost around $30 while adult styles sell for $50 and up. Boots can retail for $150 and are the most expensive.
What does Toms stand for?
According to Blake Mycoskie, the company name is derived from the word "tomorrow," and evolved from the original concept, "Shoes for Tomorrow Project." Since it was too long to fit on the label, he simply shortened the company name to TOMS.
Credit: WENN / TOMS / Adriana M. Barraza / Cousart / JFXimages