The terms used to market shoes can sometimes be deceiving. Greenwashing is when brands use words like sustainability, eco-friendly, vegan, and conscious to sell their items.
When people read the word vegan, they often assume the brand is also eco-friendly and sustainable. It is important to note vegan and eco-friendly are not synonymous.
Faux leather and synthetic materials that make many vegan shoes can emit toxic chemicals when produced. So, if being vegan doesn't mean eco-friendly, what does eco-friendly mean?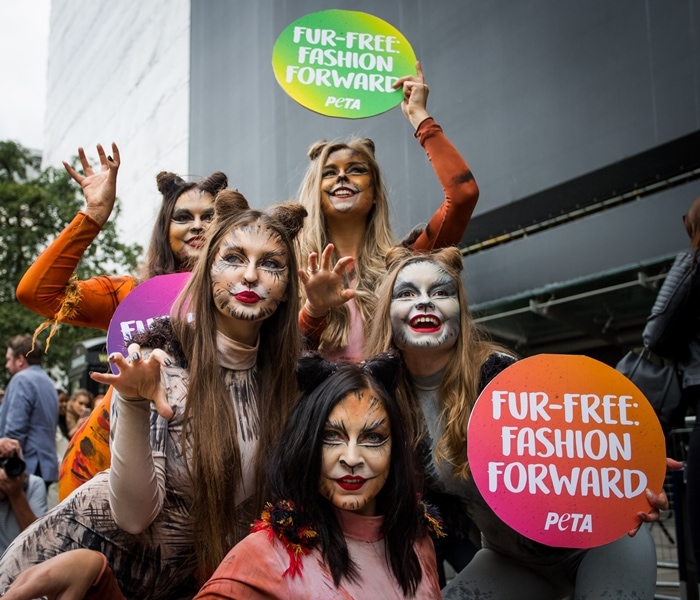 PETA supporters celebrate the news that London Fashion Week will not showcase any animal fur (Credit: Wheatley / WENN / Phil Lewis)
Eco-friendly fashion, or eco-fashion, aims to minimize the impact on the environment. This includes the materials, processes, shipping procedures, suppliers, and working conditions.
When looking for eco-friendly and vegan shoe brands, you must look beyond the materials of the shoe. It is essential to understand the company's values and pledge to sustainable practices.
Each person can reduce the greenhouse gases that his or her lifestyle contributes to climate change by going vegan (Credit: Wheatley / WENN / Phil Lewis)
As you can imagine, this will require a bit of research. If you are looking for eco-friendly and vegan shoes, we've done the homework for you and have compiled a list of the eight best eco-friendly and vegan shoe brands.
1. Ethletic – Fairtrade and eco-friendly vegan shoes
For ethical athletic footwear, look no further. This brand creates eco-friendly, fair trade, and vegan shoes. Ethletic is not simply greenwashing; they have the awards and certifications to back them up.
In 2015, they were awarded the "most sustainable shoe brand" by Rank a Brand and have received a number of certifications from third-party auditors. The shoes are made from FSC-certified rubber and organic and fair-trade cotton.
Ethletic sneakers are made from Fairtrade-certified organic cotton and are 100% cruelty-free
The brand is PETA-approved vegan, meaning that every one of the components meets the requirements of this animal welfare organization.
Their ethical practices go beyond the materials used; as a fair trade company, they maintain a safe working environment and living wages for all employees. They have created the Talon Fair Trade Workers Welfare Society, to which $1 of each pair is donated.
The society then decides which educational or health initiatives the money will be used for. They have a fashionable selection of sneakers, including high tops and slip-on shoes in a large variety of colors. Ethletic sneakers cost $100 and up.
2. Verdura Shoes – Sustainable vegan shoes
Verdura is an extraordinary brand with extraordinary fashion. All the shoes are made from original fishing nets. This brand aims to clean up the oceans and beaches by reusing the materials found and turning them into shoes.
The brand's philosophy is "Love for the planet is in the heart of Verdura as well as love for beauty and for the aesthetics." As an eco-friendly brand, they use upcycled materials and new fabrics derived from pineapple and hemp, dyed with only natural colors.
Verdura Shoes are made in Italy from recycled fishing nets and leather-free materials
The fishing nets used to make the shoes are recovered from the waters and never produced. The shoes are then handcrafted in Tuscany, Italy.
A great deal of work goes into making these stunning shoes, so it is no surprise that they have a slightly elevated price tag.
3. Native Shoes – 100% Animal-free footwear
Native Shoes is a PETA-approved Canadian shoe brand that is both eco-friendly and vegan. Their philosophy is to "Live Lightly." By 2023, they plan to make each pair of shoes from 100% life cycle material.
Innovation, originality, sustainability, and lightness are the guiding principles behind the brand. The Native Shoes Remix Project takes their pre-loved Native shoes, breaks them down using a unique process, and then turns them into a new pair of shoes.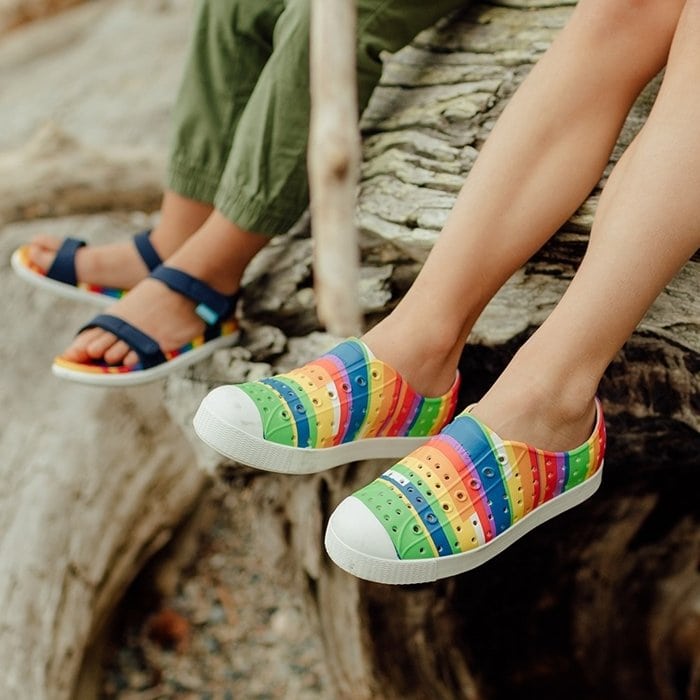 The Vancouver-based shoe company aims to ensure that every pair of Native Shoes will be 100% life cycle managed by 2023
Owners of Native Shoes can ship them back to the company for free to have them upcycled. They hope that none of their shoes will end up in landfills.
The material is unique to the brand. Their shoes are made from injection-molded EVA rubber. It is hand washable, absorbent, and odor-resistant!
The material Native Shoes are constructed with allows them to break old shoes down and turn them into new shoes. The Jefferson is their most popular shoe and is available in 8 different colors, retailing for $45.
4. Beyond Skin – Ethical luxury brand with a sustainable DNA
For ethical, sustainable, eco-friendly, and vegan footwear that is luxurious and stylish, Beyond Skin surely delivers. This UK-based brand, launched in 2001, strives to create luxurious footwear from vegan materials.
All shoes are made in Spain, using factories and fabrics that reduce their carbon footprint. Materials are chosen based on their environmental impact.
These camel knee-high boots from Beyond Skin are lined with 100% recycled faux leather
Their vegan satin is made from polyester, more eco-friendly than the traditionally used viscose. Vegan leathers are made from cotton-backed polyurethane (PU), sourced from Italy.
Unlike commonly used PVC leatherette, PU is better for the environment. Insoles are made from 70% post-consumer cardboard, and the sole of the shoe is made from 70% recycled materials.
In addition to the materials used in their shoes, Beyond Skin contributes 5% of profits to the environment and social initiatives. Women looking for luxurious, fashionable shoes they can wear guilt-free will find everything from pumps to boots to flats.
There is an abundance of styles and colors to choose from, with prices starting at $200.
5. Veerah – Mission-driven designer vegan shoes
This shoe brand is "a mission-driven luxury shoe company that designs for the modern woman." The brand was launched in 2014, striving to create a sustainable luxury brand.
Veerah is Sanskrit for "warrior," a suitable name for a fearless brand. Veerah expresses luxury in the form of cruelty-free, sustainable footwear.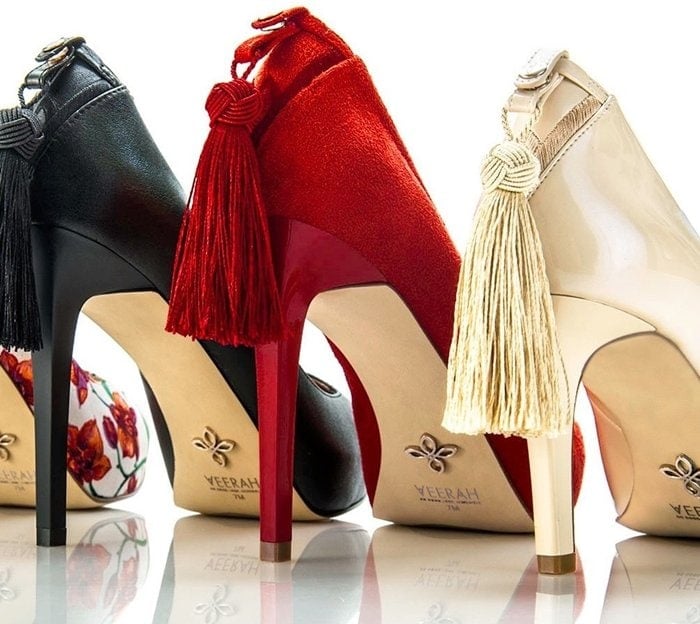 Veerah is a mission-driven luxury shoe company that designs for the modern woman
The values of the brand are rooted in sustainability, feminine strength, individuality, and tailored versatility. The Frida heels are a gorgeous classic pair of pumps that retail for $268.
To be a truly eco-friendly brand, these values are extended throughout the company. Veerah donates at least 1% of its revenue to social impact causes and provides employees with ten paid hours per quarter to volunteer or take self-improvement courses.
Further, for every 100 customer feedback surveys, Veerah provides a one-year scholarship as a part of the She's the First girl scholar program.
6. Matt & Nat – Linings made out of 100% recycled plastic bottles
This brand is notorious for its vegan leather that looks and feels just like real leather. The name stands for Material + Nature. All Matt & Nat shoes are made from vegan and sustainable materials.
Their faux leather is made from PU, a much more eco-friendly version than PVC. Each factory is diligently inspected and maintained, ensuring ethical and sustainable practices are in place. Further, Matt & Nat actively encourage employee volunteering and upcycling.
Women's vegan mid-heel booties from Matt & Nat with YKK gold zipper
All the styles are highly fashionable, incorporating the latest trends in footwear. Sandals, mules, and flats are all available in a multitude of colors and patterns, often with specially designed hardware adorning them.
The Itza women's vegan Oxford shoes have a patent leather look and are made from PU. This pair retails for $110; however, if you are looking for eco-friendly and vegan shoes under $100, you will find a great selection with Matt & Nat.
7. Bhava Studio – Premium vegan shoes slow-crafted in Spain
This New York City-based brand creates shoes from sustainable, organic, and vegan materials. Bhava believes that the biggest victims of fashion are animals, workers, the environment, and consumers.
In their pursuit of making fashionable footwear, they aim to change this. The shoe brand's aesthetic represents elegance and emphasizes superior craftsmanship. Bhava is fully committed to environmental and ethical practices.
Handmade in Alicante, Spain, every pair of Meadow boots comes with two pairs of removable insoles
Their shoes are 100% vegan and are made with organic cotton lining, cork, and premium recycled microfibers. Bhava's shoes are tested on the NYC streets. Durable and supportive, these heels are designed to last for years with their repairable soles.
To encourage long-time use, Bhava has created a shoe care kit to prolong their life and keep shoes looking as beautiful as the day they were purchased.
Their boots are incredibly versatile. You can take a short ankle boot to an over-the-knee boot by purchasing the two items separately.
Made from Italian vegan leather, the upper boot can be added to different ankle boots with a strap under the foot.
8. TOMS – Pioneering socially responsible businesses
TOMS's mission is "using business to improve lives." Their Earthwise initiative strives to include earth-friendly products, materials, and processes. They have also received a B Corp environmental score as they work to reduce waste and energy use.
The vegan shoes are made from cotton, and by 2025, they aim to make their cotton use 100% sustainable.
Their eco-friendly efforts go beyond their footwear; they also offer greener packaging, with 100% of their packaging from sustainably managed forests and at least 80% from recycled materials.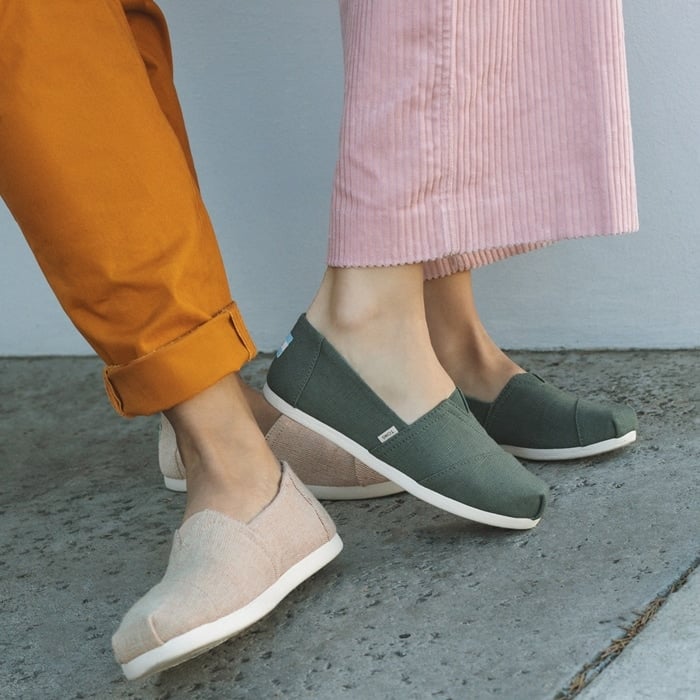 The vegan Alpargatas feature a high-traction outsole with extra-thick cushioning that keeps feet happier for longer
Although not all their shoes are vegan, they have a very expansive vegan collection. The Leopard CloudBound Alpargata is a part of this collection, 100% vegan and made from cotton with an EVA outsole.
TOMS shoes are reasonably priced, retailing for $65 at authorized retailers like Nordstrom and Zappos.
You can feel good about your purchase when purchasing a pair of TOMS. For every $3 TOMS makes, $1 is given away to improve lives, as their mission states.
In conclusion, it's crucial to be aware of the marketing tactics that can sometimes mislead consumers regarding eco-friendly and vegan shoes. While "vegan" may imply a commitment to sustainability, digging deeper and examining a brand's values, certifications, and practices is essential.
True eco-friendly fashion encompasses a holistic approach, considering materials, processes, supply chains, and ethical working conditions. To make informed choices, consumers should research and prioritize brands that genuinely align with their values and contribute to minimizing the fashion industry's environmental impact.