When recent reports broke out that Andrew Garfield and Emma Stone were back together again, the internet broke out into a chorus of I-told-you-so's (because let's face it, they are perfect for one another). We can't blame Andrew either because, come on, look at how adorable Emma is.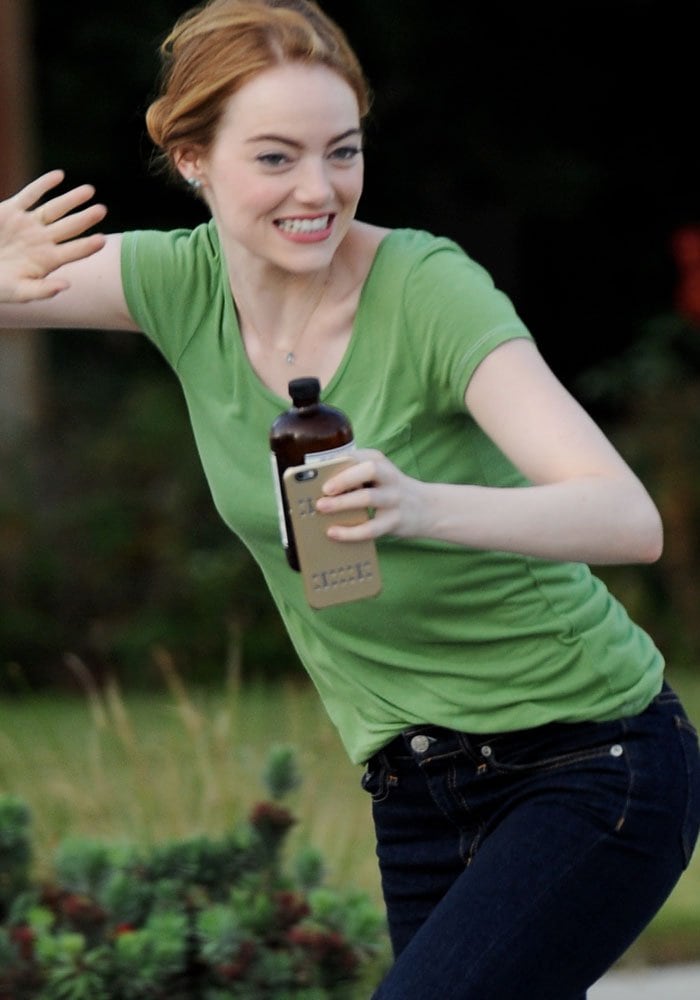 Emma Stone having fun on the set of La La Land
Emma Stone was spotted goofing off with the staff in what appeared to be a race of some sort, looking every bit like she's just one of us common folks when in fact, she is one of Hollywood's most powerful names today.
Oh, and did we mention that Emma doesn't have social media accounts? Or that she loves K-Pop? Yep, she's just like one of us.
Emma Stone styled her green shirt with jeans and TOMS
The best part out of all this is that on the other side of the camera, a very serious Ryan Gosling was receiving last minute instructions as he struggled to finish his take. The guy must have been envious.
Emma wore a green T-shirt paired with black jeans and her comfortable green TOMS. She, later on, switched to a plaid shirt.
Emma Stone wears TOMS while filming La La Land
Emma Stone wears TOMS with a plaid shirt
Emma Stone goofs around with the film crew of La La Land in Pasadena on August 18, 2015
To get this casual off-duty look, head on over to Amazon or Nordstrom and grab your TOMS in the exact same shade as Emma's.
Ryan Gosling receives last minute instructions before filming his scenes as his co-star Emma Stone has fun with the film crew
TOMS Canvas Classic in Green, $12.46 – $190.00 at Amazon or Nordstrom
A breathable leather footbed offers essential comfort in the versatile, wonderfully lightweight slip-on that started it all.
Credit: Cousart / JFXimages / WENN