Emma Stone's height of 5 feet 6 inches (167.6 cm) is slightly above the average height for American women.
Her shoe size is reported to be a size 8 US. In the context of women's shoe sizes in the United States, a size eight is considered average. It translates to roughly a size 6.5 in the UK, a size 39.5 in European sizing, and approximately a size 9.5 in Japanese sizing.
Emma Stone stands at 5 feet 6 inches (167.6 cm), while Alicia Vikander is 5 feet 5 inches (165.1 cm) tall, making Emma Stone one inch (2.5 cm) taller than Alicia Vikander.
Alicia Vikander stands at 5 feet 5 inches (165.1 cm), while Emma Stone is slightly taller at 5 feet 6 inches (167.6 cm), making a one-inch (2.5 cm) difference in height between the two actresses (Credit: Shutterstock / DFree)
According to the Centers for Disease Control and Prevention (CDC), the average height for adult women in the United States is around 5 feet 4 inches (162.6 cm).
Emma Stone stepped out in style at the Louis Vuitton Cruise Show 2024 at Isola Bella on May 24, 2023, in Stresa, Italy, wearing a black knit two-piece set with patterned eyelet detailing, marking the latest trend in knitwear: matching sets (Credit: Abaca Press / INSTARimages)
Emma Stone is approximately 2 inches (5.1 cm) taller than the average American woman.
What ethnicity is Emma Stone?
While cast as "part-Asian" Hawaiian in the 2015 American romantic comedy film Aloha, which bombed at the box office, Emma Stone has Swedish, German, English, Scottish, and Irish ancestry.
Who are the parents of Emma Stone?
Her parents are Krista Jean Stone (née Yeager), a homemaker, and Jeffrey Charles Stone, the founder, and CEO of a general-contracting company named Edwards Communities Construction Co. Her dad is a 1978 graduate of Upper Arlington High School in Columbus, Ohio.
Krista Stone, who is very close to her daughter, was diagnosed with triple-negative breast cancer in October 2008. Following treatment, she is now cancer-free.
Krista and Jeffrey allowed Emma to drop out of high school so that she could focus on her acting career.
Actress Emma Stone and her mother Krista Stone attend the AFI Life Achievement Award gala at Dolby Theatre on June 8, 2017, in Hollywood, California (Credit: Nicky Nelson / WENN)
Emma Stone: Facts, Rumors, and Everything in Between
What is the net worth of Emma Stone?
Emma Stone is an American actress who has a net worth of $40 million as of 2023.
Full Name:
Emily Jean "Emma" Stone
Born:
November 6, 1988, in Scottsdale, Arizona, United States
Dating:
She has been dating SNL writer and director Dave McCary since October of 2017.

Dave McCary and Emma Stone were married in September 2020 in a private ceremony.

Emma Stone has had a few high-profile relationships over the years. She was engaged to Andrew Garfield, who she co-starred with in The Amazing Spider-Man films, from 2014 to 2015. She also dated Justin Theroux in 2018, Kieran Culkin from 2010 to 2011, and Teddy Geiger from 2007 to 2009.
Kids:
In March 2021, Dave McCary and Emma Stone welcomed their daughter, whom they named Louise Jean McCary, in honor of Emma's grandmother, Jean Louise.
Weight:
Emma Stone's rumored weight is 49.9 kilograms (110 pounds).
Feet/Shoe Size:
Emma Stone's reported shoe size is US 8, which is considered average in the United States. In other systems, it roughly corresponds to UK 6.5, EU 39.5, and JP 9.5.
Is Emma Stone short?
No, Emma Stone is not short compared to the average American woman.

With a height of 5 feet 6 inches (167.6 cm), she is slightly above the average height for adult women in the United States, which is around 5 feet 4 inches (162.6 cm).

Therefore, she is taller than the average American woman, not shorter.
Nationality:
Emma Stone's citizenship is American.
Source of Wealth:
Stone's net worth is largely due to her successful acting career. She has earned millions of dollars from her films, as well as from endorsements and other business ventures. She is also a very popular actress, and her films often generate a lot of box office revenue.

Stone is a talented actress, and she is sure to continue to be successful in the years to come. Her net worth is likely to continue to grow, as she continues to star in successful films and earn endorsements.
Ethnicity/Race:
Emma Stone's paternal grandfather, Conrad Ostberg Sten, was from a Swedish family that anglicized their surname to "Stone" when they immigrated to the United States through Ellis Island. She also has German, Welsh, Irish, English, Scottish, and Swiss-German ancestry.
How did Emma Stone meet Dave McCary?
The couple met in 2016 when Stone hosted Saturday Night Live. They began dating shortly after and got engaged in December 2019.
What health problem does Emma Stone have?
Emma Stone has been open about her struggles with anxiety since she was a teenager. She has said that she often feels "overwhelmed" and "stressed out," and that she has had panic attacks in the past.
Emma Stone's Wise Words on Life, Love, and Acting
"I love improv. 'Crazy, Stupid, Love,' the script was really great, but the directors were open to letting you try different things. And that felt like a muscle I hadn't exercised in a really long time." – Emma Stone
"If I feel strongly about anything, I get overwhelmed with emotion." – Emma Stone
Emma Stone donning an impeccable ensemble designed by creative director Nicolas Ghesquiere, featuring a periwinkle-blue suit adorned with delicate light red stripes at the Louis Vuitton Womenswear Fall Winter 2023-2024 show as part of Paris Fashion Week on March 6, 2023, in Paris, France (Credit: ABACA / INSTARimages)
"Comedy was my sport. It taught me how to roll with the punches. Failure is the exact same as success when it comes to comedy because it just keeps coming. It never stops." – Emma Stone
"My favorite thing about movies is the ending, and so all my favorite movies have really great endings." – Emma Stone
"I was very lucky with the parents I was blessed with. I don't think it could have worked out any better. They've always been so understanding of me and understanding of what I want to do." – Emma Stone
"My life is PG-13 sometimes, and I really want Josh Groban to propose to me, and he just won't do it." – Emma Stone
Ryan Gosling is taller than Emma Stone by approximately 9.5 inches (15.9 cm), with him standing at 6 feet ¼ inch (183.5 cm) and her at 5 feet 6 inches (167.6 cm) (Credit: DFree / Shutterstock)
"I have a friend who says that roles choose you at the time that you need them most, and you have to believe, as an actor, if you didn't get a part that you really, really wanted, and it went to someone else, it was because it was theirs to begin with." – Emma Stone
"I always loved acting and improv and sketch comedy and theater, which I did at a local youth theater." – Emma Stone
"I was a good-looking kid. I never felt, like, dorky. I was just like, 'Yup, these are my braces. I've had them forever.'" – Emma Stone
"I used to do Facebook, but you get a little too wrapped up in that stuff. It's more distracting than anything, so I don't anymore. I left it behind. I detoxed!" – Emma Stone
"My parents are both very funny, but they're also relatively soft-spoken, normal human beings while I'm just a lunatic. I don't know where this loud, ballsy, hammy ridiculousness came from. I'm just glad I followed my goals, and my parents did too. It's not like we even had a plan when I dragged my mom to Los Angeles." – Emma Stone
"It's definitely a shock to go from being 15 in high school to working. There's no real cushion there. There's no preparation at all. You learn by doing." – Emma Stone
"In general, I get nervous when I do print interviews because I know that whatever I say is going to be shown through the lens of whomever I'm talking to." – Emma Stone
"I was just a ham since about the age of five. If I was performing at Medieval Times or something, I'd be the court jester. That was always my defense mechanism. I was never all that funny; I was just obnoxious and loud." – Emma Stone
"I think there are plenty of soulmates out there. That's what I choose to believe." – Emma Stone
"I'm not very computer savvy." – Emma Stone
"There's so much I'm interested in that I didn't discover in high school. For 'The Amazing Spider-Man,' because Gwen is a scientist, we went to a lab in San Diego, and we were learning about biology. And I'm fascinated! Because I never went to biology class in high school." – Emma Stone
"Comedy's my first love. I love that so much. You play comedy in drama, too. The difference between genres doesn't really change the method of acting." – Emma Stone
"I had a trainer during 'Spiderman,' and I discovered I have deep-seated rage when I'm holding heavy weights over my head. Whatever dormant anger I have in me, that's where it comes out. That's not the kind of working out I want to do." – Emma Stone
"The last thing in the world my parents would want to do is get on a stage or do a movie. They would probably rather die. But they let me be who I was, and they supported me." – Emma Stone
"I just live my life how I live as a person. I certainly am not, like, a saint or an angel by any means. I'm not anything like that. But I live just how I live. I mean, I have a little paranoia, but that's about it." – Emma Stone
"I mean, I haven't been around very long. I can't expect everyone to have seen 'The House Bunny.' Oh God. I am having such waves of internal embarrassment, which now I'm admitting on a tape recorder. This is so one of the things I should keep in my head." – Emma Stone
"The end of 'City Lights' makes me cry every time I see it – when Charlie Chaplin walks by the shop window, and the once-blind girl brings him a flower and pins it to his lapel." – Emma Stone
"I just like to keep working and being able to pay my bills." – Emma Stone
"When I look back, I don't have regrets. In the moment, I am really, really hard on myself; I'm definitely my own worst critic and can be my own worst enemy, and I'm trying very hard not to be that." – Emma Stone
"Often, joking for me is a way of diffusing the awkwardness of a situation, so it's kind of exhilarating to be a part of projects where there's nothing funny or lighthearted." – Emma Stone
"I've never played someone where I felt it was beneficial to build from the outside in." – Emma Stone
"I had massive anxiety as a child. I was in therapy. From 8 to 10, I was borderline agoraphobic. I could not leave my mom's side. I don't really have panic attacks anymore, but I had really bad anxiety." – Emma Stone
"I like to look like a person. It drives me crazy when you see women in movies playing teachers, and they have biceps. It totally takes me out of the movie. I start thinking, Wow, that actress playing this part really looks great!" – Emma Stone
"I'm actually the last person to ask about school. I kinda ducked out at 12, before all that stuff might have happened. I left school after sixth grade and was basically home-schooled after that." – Emma Stone
"I think the number one thing that I find important is the importance of honesty with your friends and your parents, if you can be. But I think that telling people how you really feel, being who you truly are, being safe, and taking care of yourself is the most important thing." – Emma Stone
"Arizona is the worst place to spend the summer – it's like 125 degrees – so my mom, my brother, and I would go to the beach for two months to escape the heat." – Emma Stone
"I've read a lot of different versions of myself – and all of them are true because it's all opinion, and they're as accurate as it can ever be. But I don't think that I've been deft at hiding parts of my personality." – Emma Stone
"The roles that have come into my life have taught me – and in that time period maybe I didn't even know it, but whatever came up or whatever it is that you have to express at that time has benefited me in a particular way." – Emma Stone
"I'm a huge music fan. I usually say that if I had been born with a musical inclination, it would've been great. The Beatles changed everything for me, and I wanted to be a journalist for 'Rolling Stone.' I'm a big music fan in a Cameron Crowe way, kind of in a spectator way." – Emma Stone
"I really like grammar. And spelling. I was a spelling-bee kid. I'm hard-core about grammar." – Emma Stone
"I used to spray tan a lot when I was a teenager. The last time I got spray-tanned was for the Golden Globes. And I was like, 'I love spray-tanning so much.' I still really like it. But it definitely makes me look like I have leprosy, after a point." – Emma Stone
"Running is bad for your knees, and I like to do things I actually enjoy, like going for a swim." – Emma Stone
"I'm shockingly terrible at action movies." – Emma Stone
"Just because I don't have a college degree doesn't mean I am not smart!" – Emma Stone
"When I was 14-years-old, I made this PowerPoint presentation, and I invited my parents into my room and gave them popcorn. It was called 'Project Hollywood 2004,' and it worked. I moved to L.A. in January of 2004." – Emma Stone
"So anyway, I've learned a lot about myself just in terms of acting but just work ethic and interesting things like full-page monologues or talking straight into the camera, which I had never gotten to do before." – Emma Stone
"The only movie I can watch on a loop, over and over, is 'Help,' the Beatles movie. It's so funny and irreverent and great." – Emma Stone
"Drama is hard for me. Crying is much harder for me than laughter." – Emma Stone
"He's my favorite! He wrote and produced, and starred in and cast all of his movies! Can you imagine? I get really excited when I talk about Charlie Chaplin." – Emma Stone
"You know how sports teach kids teamwork and how to be strong and brave and confident? Improv was my sport. I learned how to not waffle and how to hold a conversation, how to take risks and actually be excited to fail." – Emma Stone
"So one day, in a fit of trying to do something different, I just dyed my hair dark brown and got my first role a week later, after which I thought: 'People are closed-minded, man! Like a different hair color changes everything!'" – Emma Stone
"I think 'Saturday Night Live', starting in the 1970s, really gave women an outlet to be funny. A lot of those women went on to have film careers, from Kristen Wiig now to Tina Fey and Gilda Radner." – Emma Stone
"A lot of times, I feel like people come up to me because they think I'm like my character in 'Easy A', or because they've seen me in interviews, but really what they're a fan of is a movie or a character." – Emma Stone
"I'm not one of those shoppers where I go to a store and I'm like, trying it on, I'm not sure, 'Oh, can you put this on hold?' No. It's either love it or hate it. And it's the same way with scripts. I usually know within the first 10 pages. If I don't latch into it by then, then it's not going to happen." – Emma Stone
"My stylist has really great taste – Petra Flannery has really great taste. I mean, I am opinionated, and as time goes on, as I've gotten to see more dresses or more clothes, it's easier to say, 'I like that' or 'I don't like that,' but it's nothing I would ever, you know, design." – Emma Stone
"I think women should wear whatever makeup they want for themselves. Makeup should be fun." – Emma Stone
"I'd like to produce. I'd like to come up with ideas and collaborate with people and directors and writers that I like, be a part of movies that have the same idea that the movies that impacted me have. I'd like to be able to do that for people." – Emma Stone
"At first, when you go to premieres and award shows, you're thinking, 'How the hell am I here? All these people I've never met are here, and it's so cool!' And then, as time goes on, it's a little bit like, 'Ah… it's more like work.'" – Emma Stone
"You won't hear me saying I have no body issues because I wouldn't be human if I didn't." – Emma Stone
"Yes, you should be healthy and take care of yourself, but growing up, I've seen people who have horrible issues with food." – Emma Stone
"I was raised in Arizona, and I went to public school, and the extent of my knowledge of the civil-rights movement was the story of Rosa Parks and Martin Luther King, Jr. I wonder how much my generation knows." – Emma Stone
Emma Stone's Stylish Hollywood Film Awards Appearance in Jonathan Saunders Dress
In October 2011, Emma Stone and her "The Help" co-stars attended the 2011 Hollywood Film Awards, where they were awarded the Hollywood Ensemble Cast Award for their team effort on the hit film.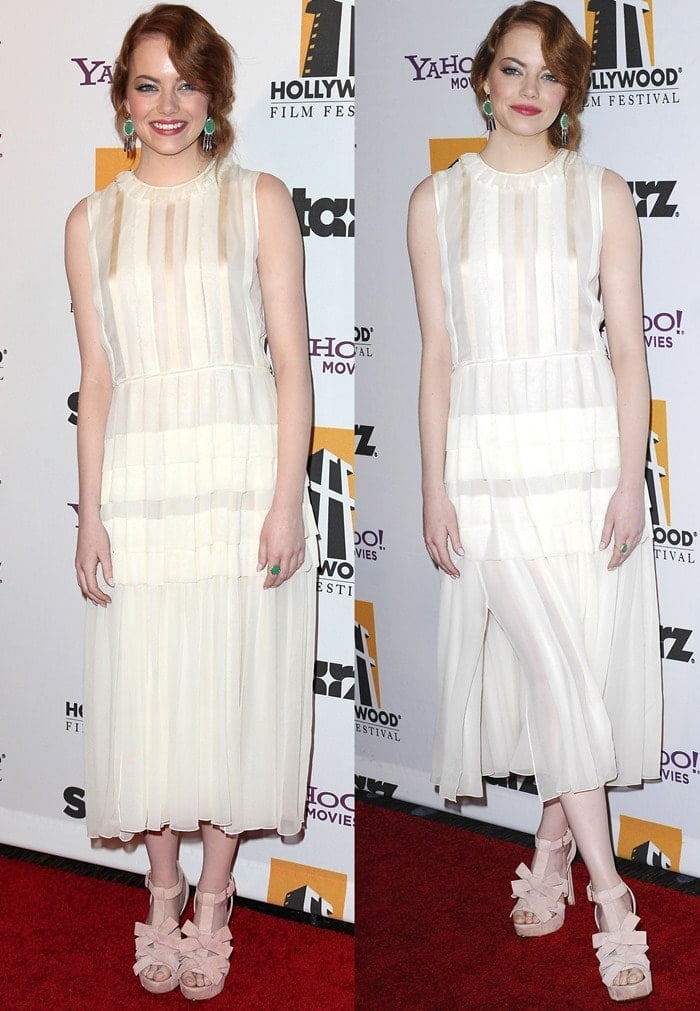 Emma Stone wearing a Jonathan Saunders Spring 2012 ruffled and pleated mid-length sleeveless dress (Credit: Brian To / WENN)
The popular American actress wore light nude tones for the event, opting for a Jonathan Saunders Spring 2012 ruffled and pleated mid-length sleeveless dress and Christian Dior t-strap sandals with bows on the toes.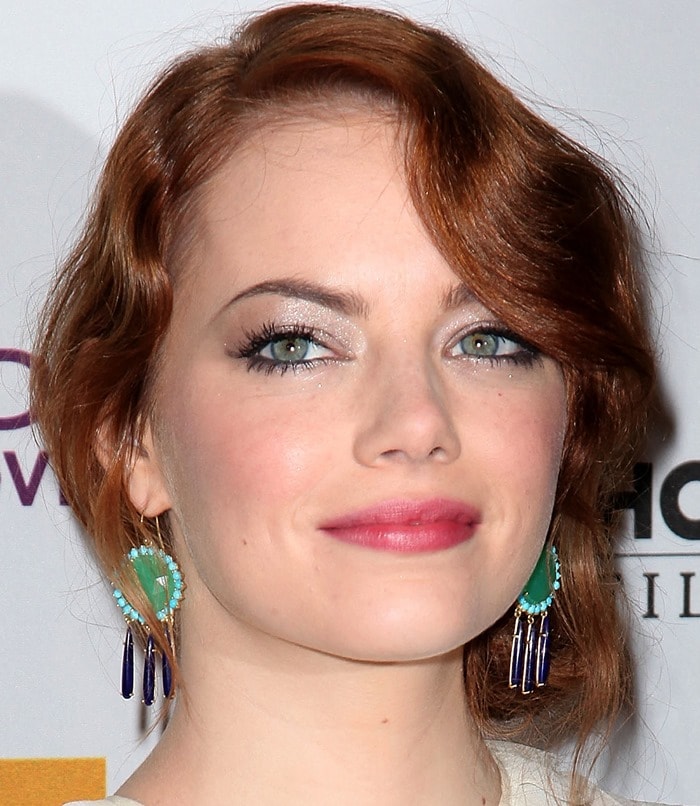 Emma Stone arrives at the 15th Annual Hollywood Film Awards Gala Presented By Starz held at The Beverly Hilton Hotel in Beverly Hills, California on October 24, 2011 (Credit: Brian To / WENN)
Emma Stone's Christian Dior sandals change color depending on the light. Sometimes, they look almost the same color as Emma Stone's skin, and other times, they appear to be a darker beige.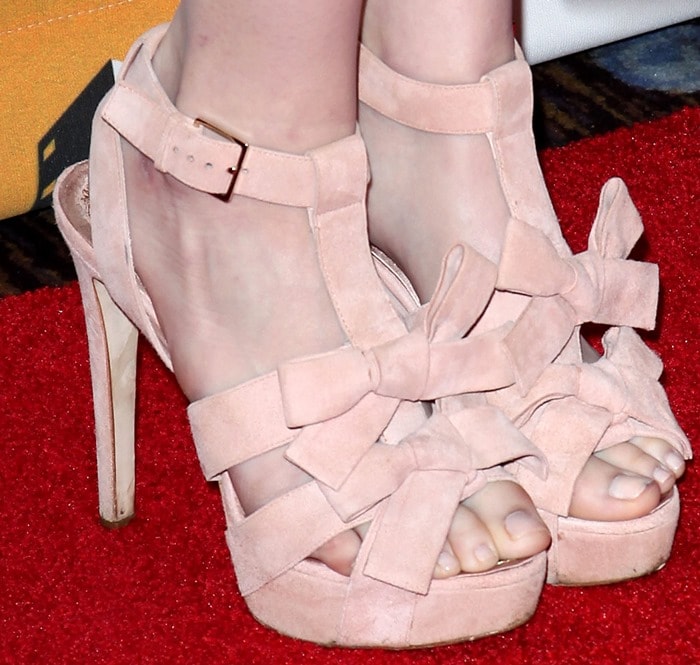 Emma Stone shows off her pretty toes in Christian Dior sandals (Credit: Brian To / WENN)
Only one way to tell what color they really are. And that's by looking at the sandals in these standalone product images.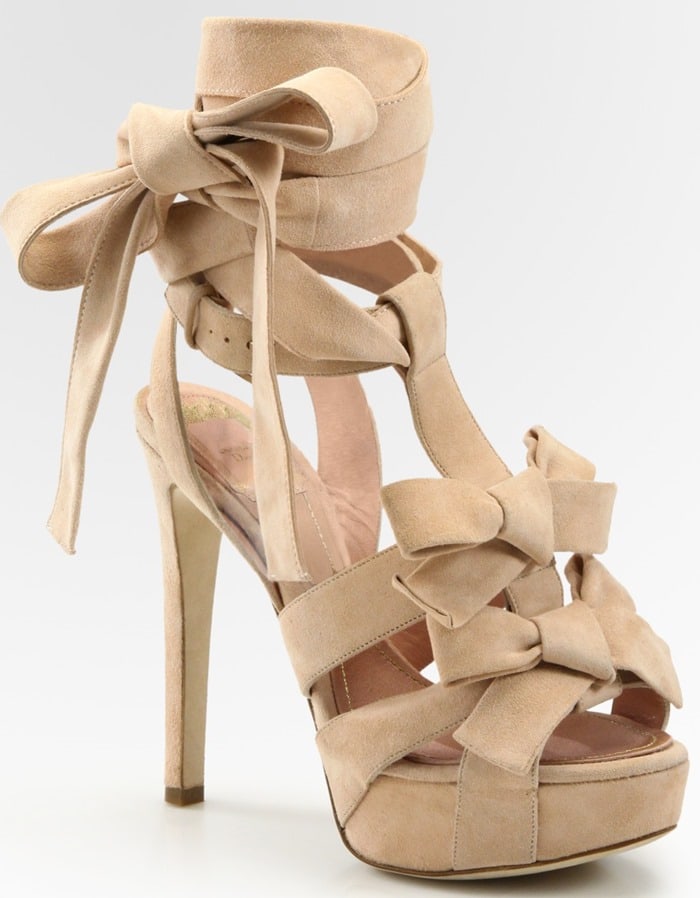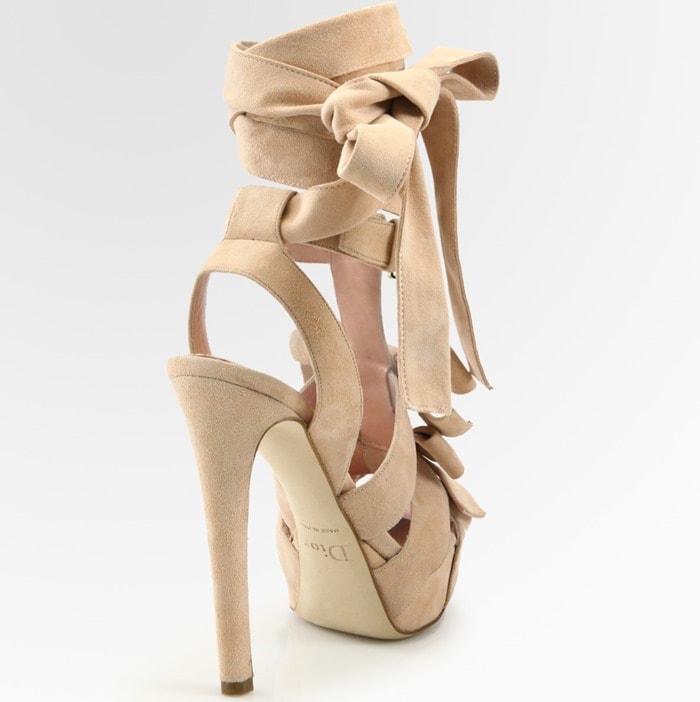 Dior Ingenue Suede Bow T-Strap Sandals, $1,270
The description says that this color is "flesh." The little differences between nude tones can sometimes be so confusing!
If you think these Dior Ingenue suede bow t-strap sandals are your next shoes, prepare to drop $1,200 for them. They also come in a black suede color.