The Veuve Clicquot Polo Classic made a dazzling comeback this June, signaling the perfect start to the sunny season.
Drawing a crowd of celebrities, influencers, and trendsetters, the event became a magnet for fashion-forward individuals who have gathered at New Jersey's Liberty State Park to immerse themselves in the polo world. They were treated to Veuve's renowned champagne bars and meticulously themed gardens.
As expected, the occasion showcased a masterclass in daytime summer fashion, with attendees effortlessly flaunting dramatic yet chic dresses, lightweight suits, and an array of stunning warm weather-friendly heels and platforms.
Stealing the spotlight effortlessly, Emma Stone graced the star-studded event, emanating timeless elegance while soaking up the summer vibes.
Emma Stone with Jean-Marc Gallot and Anne-Sophie Stock at the Veuve Clicquot Polo Classic held at Liberty State Park in Jersey City, New Jersey on June 3, 2023 (Credit: Janet Mayer / Startraksphoto)
Among the esteemed company of Veuve Clicquot president Jean-Marc Gallot and LVMH's senior marketing manager Anne-Sophie Stock, the 34-year-old American actress navigated the event impeccably.
Stone dressed to impress, donning a high-waisted, cream Louis Vuitton tiered snap button skirt that shimmered with delicate circular gold accents scattered throughout the fabric.
The Amazing Spider-Man star paired this with a short-sleeved, white Louis Vuitton crinkle-knit top tucked into the skirt's waist, boasting thin yellow stripes that added a playful touch to her ensemble.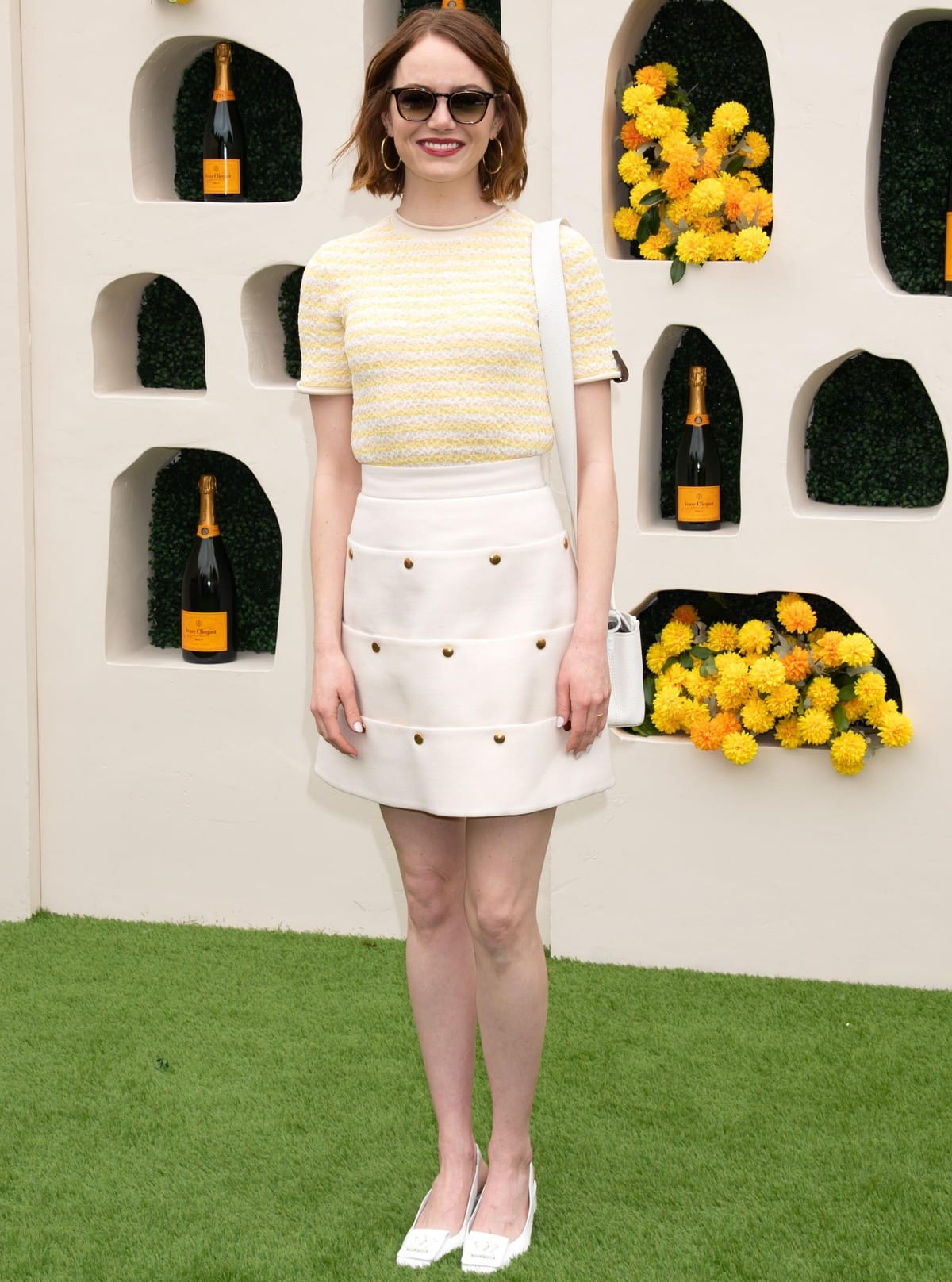 Emma Stone showcased her impeccable sense of style, embracing the early summer vibes with a chic ensemble from Louis Vuitton (Credit: Janet Mayer / Startraksphoto)
Adding the perfect finishing touches to her impeccable outfit, Stone sported an off-white Louis Vuitton Capucines BB handbag.
This small top-handled satchel, featuring gleaming gold hardware and a detachable shoulder strap, effortlessly hung from her left shoulder, conveniently holding a few essentials for the event.
With her short auburn locks styled to the side and gently grazing her shoulders, Stone showcased a stunning pair of gold Melinda Maria Kendall 2 hoop earrings.
The La La Land actress wore a pair of tortoiseshell-framed Leight Getty sunglasses to shield her eyes from the sun, flawlessly merging style and functionality.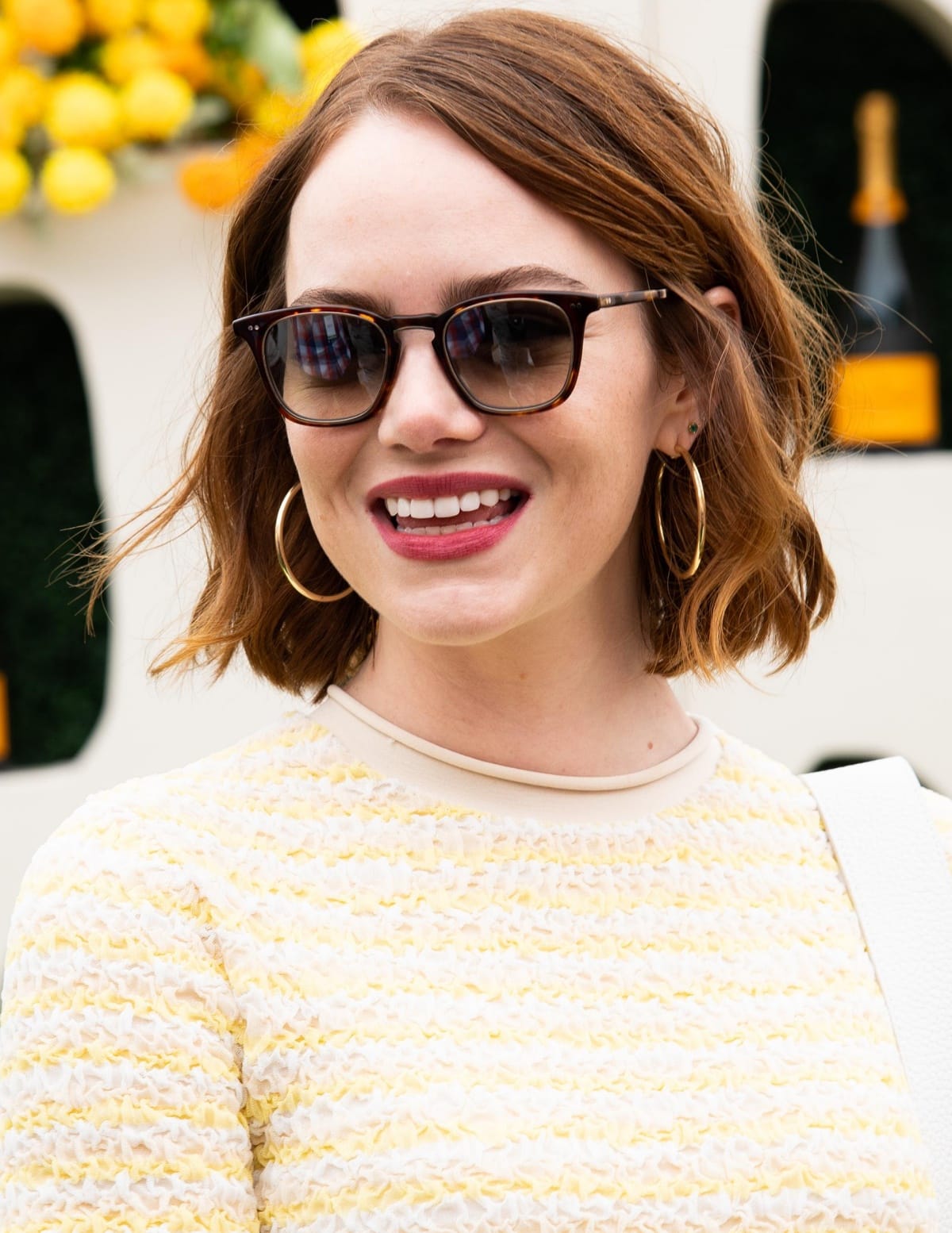 Emma Stone accessorized with Leight Getty tortoiseshell sunglasses and Melinda Maria Kendall 2 hoop earrings (Credit: Janet Mayer / Startraksphoto)
Accentuating her captivating ensemble, Stone wore a reddish, satin lip tint that beautifully contrasted against the colors of her outfit.
As for her footwear, the Easy A star gracefully slipped into a pair of white Louis Vuitton pumps to put the finishing touch on her outfit.
The chic Shake style featured squared toes, slender slingback straps delicately wrapped around the back of her ankles, and folded front panels embellished with charming white and gold "LV" accents, infusing a burst of stylish logo mania.
These chic pumps stood tall on slightly flared 2.2-inch block heels, providing the perfect balance and a monochrome finish for a race day.
Emma Stone's look was composed of a short sleeve knit top featuring thin pale yellow and ivory strips, paired with a white, tiered A-line skirt with gold button embellishments (Credit: Janet Mayer / Startraksphoto)
While captivating everyone's attention at the Polo Classic, Emma Stone has even more in store for her fans this year. The Oscar Award-winning actress will grace the silver screen in two major projects, including the highly-anticipated sequel to 2021's Cruella.
Additionally, Stone has teamed up with The Favourite filmmaker Yorgos Lanthimos once again for Poor Things. In this surrealistic sci-fi masterpiece, she portrays a woman resurrected with the mind of an infant.
Alongside Stone, this star-studded film will feature the incredible talents of Mark Ruffalo, Ramy Youssef, Jerrod Carmichael, and Willem Dafoe.
Emma Stone flaunts her legs and feet in Louis Vuitton square-toed pumps at the Veuve Clicquot Polo Classic (Credit: Janet Mayer / Startraksphoto)