Emma Stone has always been adamant about not appearing naked in any films or television shows since the very beginning of her career.
That was until she premiered in the film The Favourite and all of that changed. What was it that made Stone so persistent in the first place? And what made her go against her beliefs to appear nude on screen after all?
Emma Stone in The Favourite
The Favourite is a period comedy film that was released in 2018 and stars Olivia Colman, Rachel Weisz, and Emma Stone.
Emma Stone made her nude film debut as Abigail Hill in the 2018 period black comedy film The Favourite (Credit: Fox Searchlight Pictures)
The film is set in Great Britain during the war with France in the early 18th century, and it is focused on two cousins who both want to be the favorite of Queen Anne.
It received ten Academy Award nominations, won seven BAFTA Awards, and ten British Independent Film Awards, among many other awards.
Rachel Weisz, Olivia Colman, and Emma Stone attend the UK Premiere of "The Favourite" & American Express Gala at the 62nd BFI London Film Festival on October 18, 2018, in London, England (Credit: Cubankite / Shutterstock)
Emma Stone played the role of Abigail Masham, a courtier who fought for the Queen's attention against her cousin.
Body Image Issues or Keeping the Peace?
Emma Stone has always been outspoken about not appearing nude on screen, but she has always given several different reasons.
Hollywood is notorious for giving everyone body image issues, even the actresses we all look at in disbelief because they're so beautiful.
While Emma Stone has been looked at for years as one of the prettiest faces on TV, she has still faced critics who have nothing better to do than make comments about her body.
Emma Stone promotes The Favourite in a custom silver Louis Vuitton gown featuring a scooped neckline, cinched waist, long sleeves, and figure-skimming skirt (Credit: Featureflash Photo Agency / Shutterstock)
In an interview with USA Today, she stated, "That has been kind of bothering me lately. I've shamed myself for it. We shame each other online. We're always too skinny or too fat or too tall or too short. They're just confirming this feeling I have about myself. I'm trying to figure my body out. It bothers me because I care so much about young girls. We're shaming each other and we're shaming ourselves, and it sucks,".
So is the reason she chose for a while not to appear naked in any projects because of this or because of something else?
Emma Stone with her father, Jeffrey "Jeff" Charles Stone, who's the founder and CEO of a general contracting company (Credit: Featureflash Photo Agency / Shutterstock)
Stone has a great relationship with her parents, and like many who make it big, she credits a lot of her success to them for setting her up on the right path. These stringent values that were placed on her at a young age aren't something that she ever took lightly.
She told interviewers, "My dad would kill me if I posed naked, he wouldn't speak to me again and I really love my dad so that's always something that makes me a little nervous."
Between not wanting to disappoint her parents and protecting her own mental health from online trolls, Emma Stone decided to remain fully clothed in all of her film projects. That is, until The Favourite.
Appearing Nude in The Favourite
In The Favourite, Emma Stone plays the mean girl character of Abigail, a servant who will do whatever it takes to become the favorite of the Queen.
Surprisingly, the naked scene that Stone appeared in had no nudity at all in the beginning. In fact, Stone is the one that requested that her character be naked!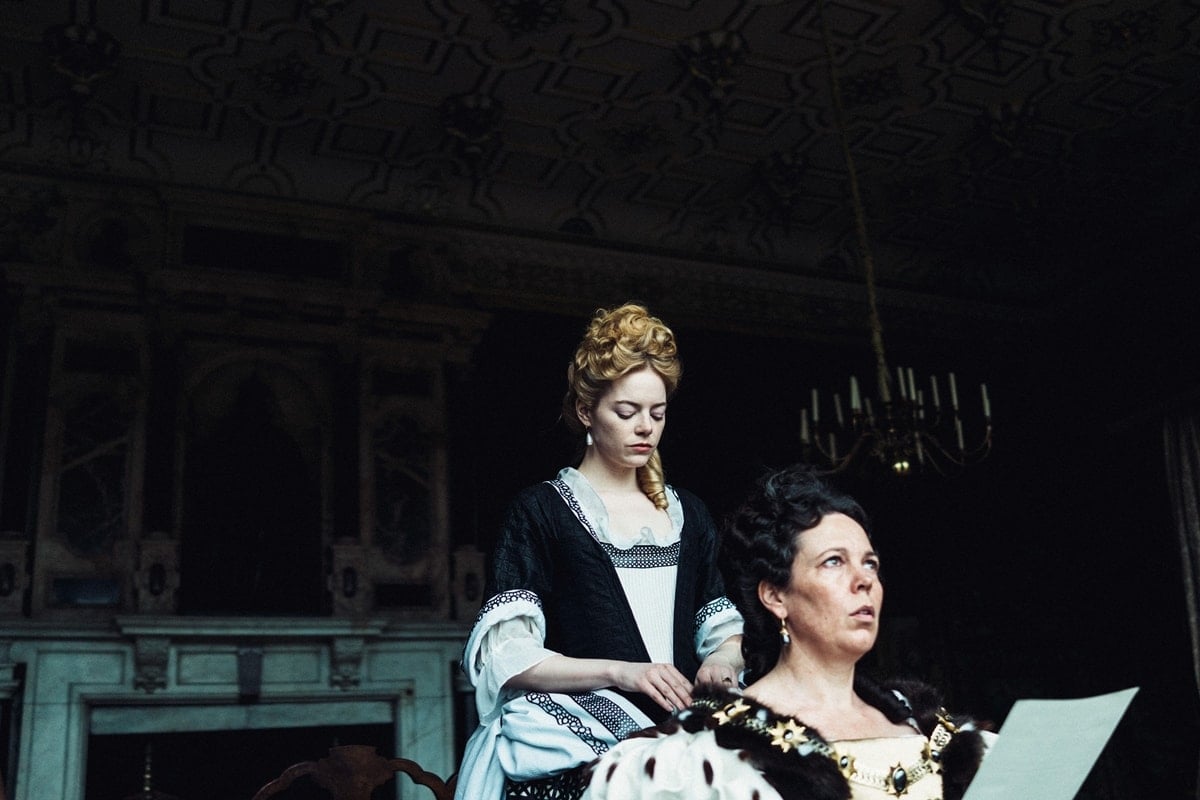 Olivia Colman as Queen Anne and Emma Stone as Abigail Hill in The Favourite (Credit: Fox Searchlight Pictures)
Stone told The Hollywood Reporter, "And as we were shooting it and we did a few takes, I said, 'Can I please just be [naked]?' I think it's going to give Sarah something to look at when she sees that I'm not just under the sheet covered up. Olivia was like, 'No, don't do it!' Yorgos was like, 'Are you sure that's what you want to do?' And I was like, 'Absolutely.' I chose to do it. I was like, this makes sense to me. It's an absolute [Stone flips the bird] to Sarah,"
Stone's dedication to her character and the movie itself helped make The Favourite an award-winning film.
Switching Emmas
Ironically enough, because of scheduling conflicts with The Favourite, Emma Stone had to drop out of filming Little Women.
The irony comes from her replacement, Emma Watson. Two Emmas from different places, they actually ended up switching accents for the films.
Emma Stone flaunts her legs in an asymmetrical draped Louis Vuitton mini skirt at the 'The Favourite' photocall during the 75th Venice Film Festival at the Palazzo del Casino on August 30, 2018, in Venice, Italy (Credit: Andrea Raffin / Shutterstock)
Emma Stone would play a British woman in The Favourite, even though she's American. Emma Watson would play an American woman in Little Women, even though she's British!
It's no surprise, though, that Stone would master a British accent by the end of filming, as she and Rachel Weisz were the only Americans in the cast, and even Weisz holds both British and American citizenship!
Pranks While Filming The Favourite
The Favourite is a film full of laughs and inappropriate jokes, and the filming was no different!
Olivia Colman, who played the role of Queen Anne, played a practical joke on Emma Stone during filming that was hilarious and disgusting.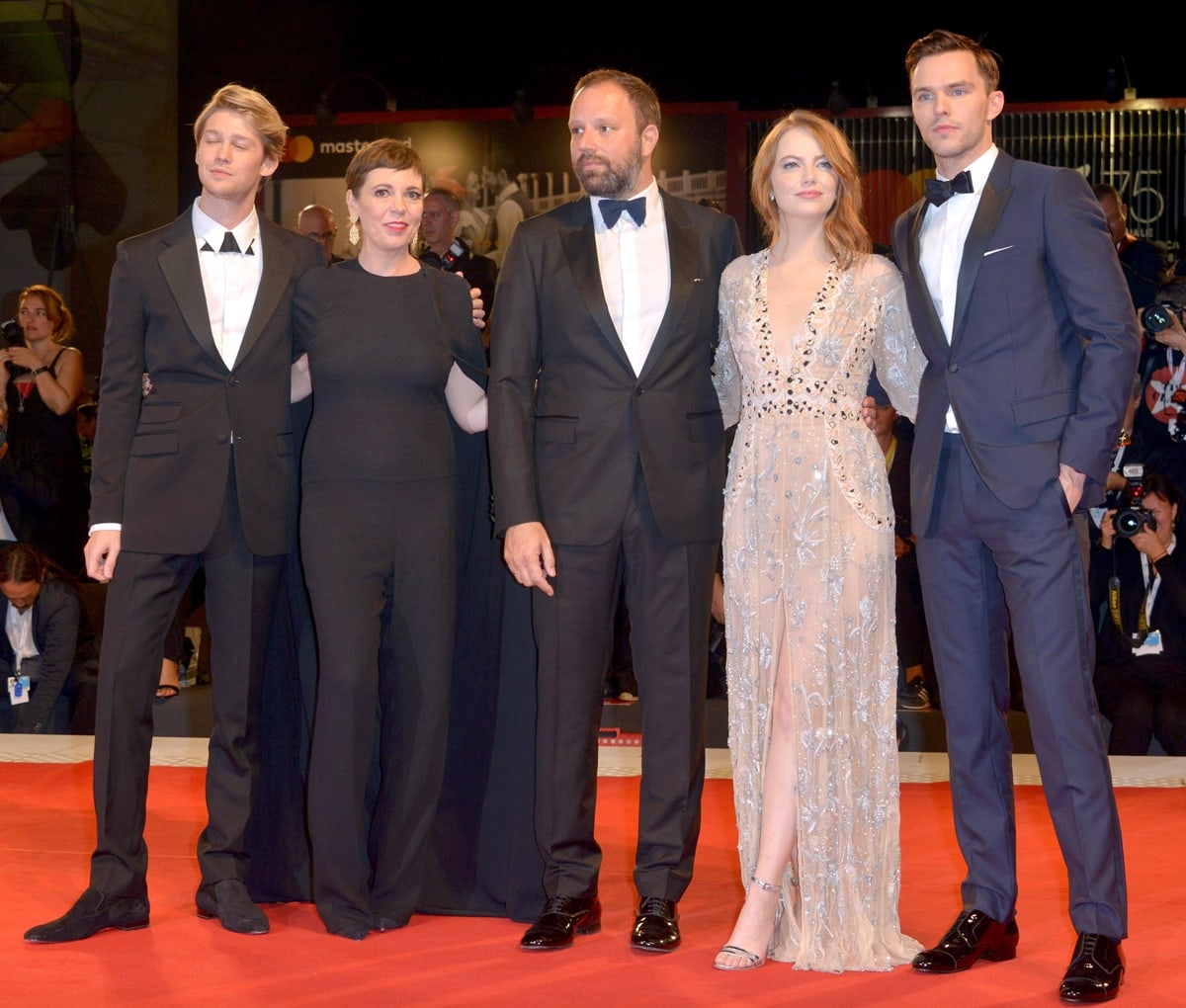 Joe Alwyn, Olivia Colman, Yorgos Lanthimos, Emma Stone, and Nicholas Hoult walk the red carpet ahead of The Favorite screening during the 75th Venice Film Festival at Sala Grande on August 30, 2018, in Venice, Italy (Credit: IPA / INSTARimages)
Before filming an intimate scene with Stone, Colman went to the makeup department and asked them if she could borrow a sponge. She then wet the sponge and put it in between her legs, giving Stone a big surprise when she went up her leg.
Colman told Vogue, "I put a damp sponge between my legs [during an intimate scene] because I thought it would be funny for Emma to find. You can see in her face the sudden look of horror."
The Favourite Starring Emma Stone
The Favourite is a comedy that shook up period pieces and showed the world that you can make them into something hilarious.
Talented actress Emma Stone fully dove into her role as a backstabbing mean girl and did what she had to do in order to truly showcase emotions during the film.
This leaves us all wondering, was the nudity in this film a one-time thing, or has Stone officially broken her no-nude rule for good?
Emma Stone curls her hair for an appearance on "El Hormiguero" on July 5, 2012, in Madrid (Credit: Sean Thorton / WENN)
In July 2012, Emma Stone went casual for her appearance on "El Hormiguero," a Spanish TV program on which she promoted the 2012 American superhero film Amazing Spider-Man alongside fellow actor Andrew Garfield.
Emma paired her Valentino "Rock Stud" pumps with dark skinny jeans from Rag & Bone and a casual but interesting black silk blouse from Isabel Marant's Fall 2012 collection.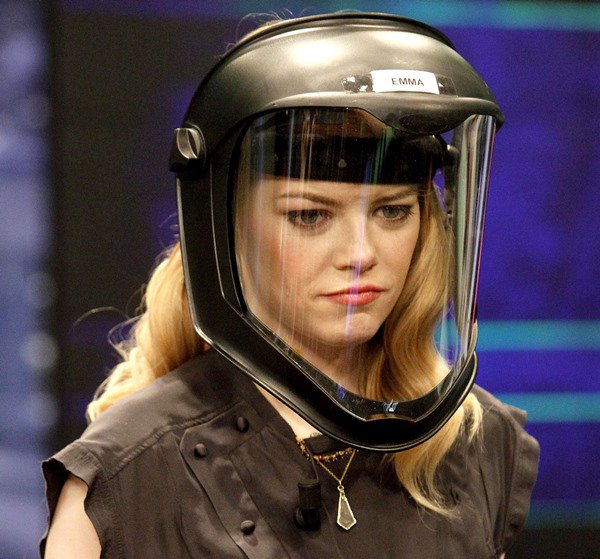 Emma Stone wears a face mask as part of a game during her appearance on the Spanish TV show "El Hormiguero" (Credit: Sean Thorton / WENN)
While she typically wears dresses and skirts, this look worked really well for Emma.
Emma Stone and Andrew Garfield applaud during an appearance on "El Hormiguero" (Credit: Sean Thorton / WENN)
The American The House Bunny actress managed to look totally polished and fabulous even though she just wore skinny zipper denim leggings.
Emma Stone wears a gray silk blouse with casual pants during a TV appearance with Andrew Garfield (Credit: Sean Thorton / WENN)
Emma completed her outfit with mini diamond "Lauren Joy" stud earrings by Dana Rebecca Designs, a pave cushion diamond necklace, and a pink cluster necklace by Nikki Baker combined with a J/Hadley blue "Drusy" pendant necklace.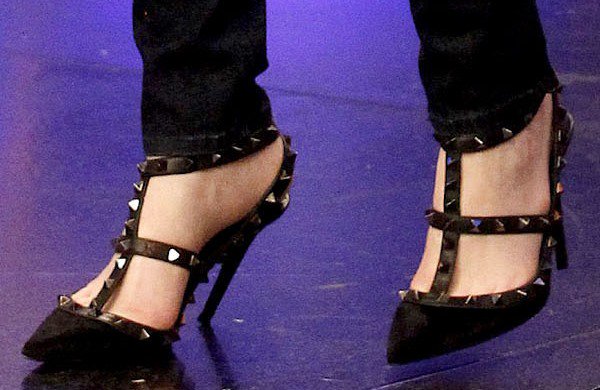 Emma Stone's feet in studded black Valentino pumps (Credit: Sean Thorton / WENN)
The "Rock Stud" sandals feature an edgy T-strap design with a patent upper and all-over stud details on the straps and trim.
Her shoes somehow managed to mix edgy rock-n-roll with sophistication thanks to a combination of the studded detailing and pointed toes.
They look great the way Emma styled them, but you could also pair them with dresses and skirts.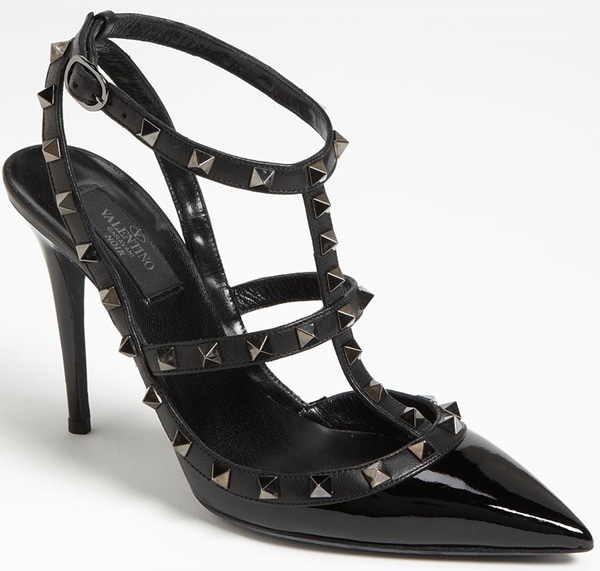 Valentino 'Rock Stud' So Noir Patent Pumps, $1,019
As it turns out, Emma can rock more than just harsh studs.
Emma Stone shows off her short red hair at the 2008 MTV Movie Awards held on June 1, 2008, at the Gibson Amphitheater in Universal City (Credit: WENN / Nikki Nelson)
Back in 2008, Emma was spotted wearing a pair of ruffle-accented Bruno Frisoni sandals with a strapless Blumarine dress.
Emma Stone wears a strapless Blumarine dress to the 2008 MTV Movie Awards (Credit: WENN / Nikki Nelson)
She accessorized with an orange clutch, a large gold bangle, and dangling gold earrings.
Emma Stone's feet in ruffled Bruno Frisoni sandals (Credit: WENN)
Her sandals featured black straps accented with navy satin ruffles.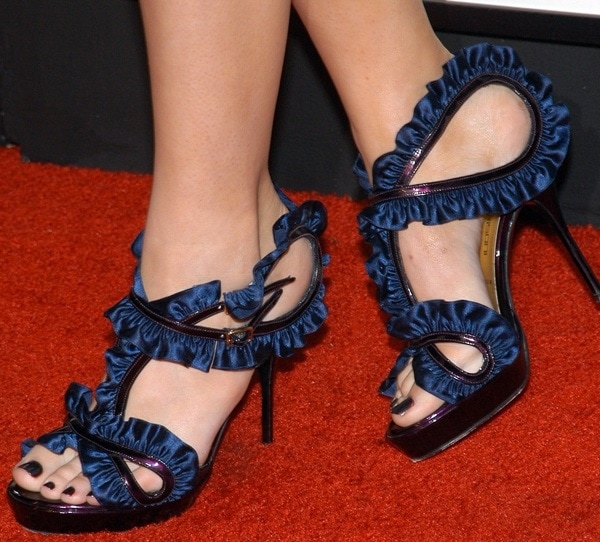 Emma Stone's feet in black-and-blue Bruno Frisoni sandals (Credit: WENN)