As one of the United Kingdom's most fashionable couples, Daniel Craig and Oscar winner Rachel Weisz surprised us in true James Bond fashion with a super-secretive wedding!
Rachel Weisz and Daniel Craig were friends for several years before they started dating (Credit: Patricia Schlein / WENN)
What else do these two have hidden up their sleeves?
Daniel Craig's Early Career
Born in 1968 in England, Daniel Craig is the youngest of two. His parents divorced when he was only four years old, and he and his sister lived with their mother for most of their childhood.
He developed a keen interest in acting at an early age and was accepted into London's National Youth Theatre when he was just sixteen.
His education at the National Youth Theatre proved to be quite spendy, leading Craig to accept part-time work as a server to help finance his education.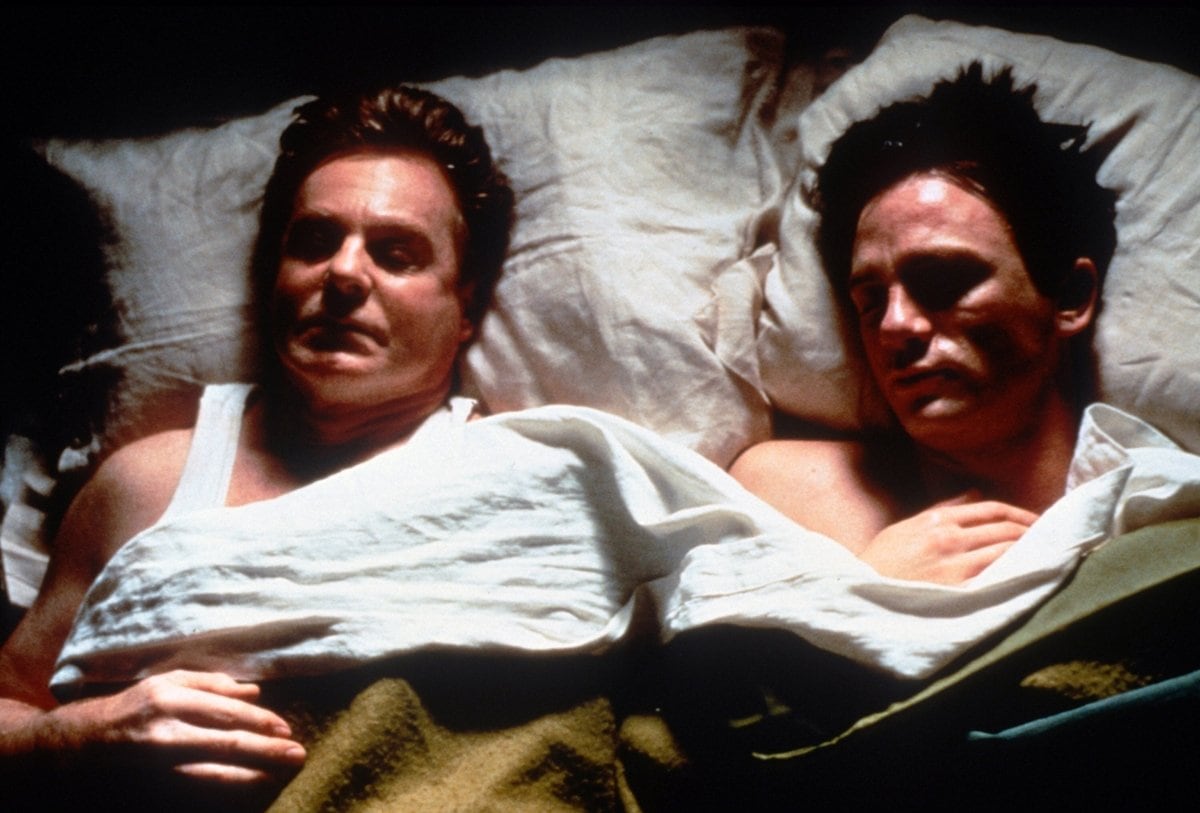 Derek Jacobi as Francis Bacon and Daniel Craig in his breakthrough role as George Dyer in the 1998 BBC film Love Is the Devil: Study for a Portrait (Credit: WENN)
His invaluable experience at NYT took him as far as Moscow while touring with the group. Daniel then earned a spot at the coveted Guildhall School of Music and Drama where he received expert guidance from alumni of the Royal Shakespeare Theatre.
We saw Craig's first appearance in a full-length film in the drama, The Power of One, in 1992. Soon after, Daniel's screen career quickly gathered momentum both on the big screen and on television.
He appeared on The Young Indiana Jones Chronicles in 1992; however, he found much more notoriety from his role in the series Our Friends From The North in 1996.
Daniel Craig as London cocaine distributor XXXX in the 2004 British crime film Layer Cake (Credit: Columbia Pictures)
He received praise for his performance as small-time thief George Dyer in the 1998 television film Love Is the Devil: Study for a Portrait of Francis Bacon.
Some of his full feature-length credits include Disney's A Kid in King Arthur's Court (1995), Elizabeth (1998), and Laura Croft: Tomb Raider (2001). Before long, his celebrity would soon be catapulted by his success in the James Bond franchise.
Daniel Craig's Affair With Sienna Miller
Over the years, he's generated quite the list of movie and television credits; however, following the release of Layer Cake in 2004, he found himself cast in a much juicier role.
A journalist hacked Craig's voicemail account, discovering a saucy message from Layer Cake co-star, Sienna Miller. Ms. Miller's boyfriend at the time was actor Jude Law, who starred alongside Daniel Craig only years prior in 2002's Road to Perdition.
While both Law and Craig were previously regarded as friends, the publicly outed tryst soured both their friendship and ended the short-lived relationship between Miller and Craig.
Sienna Miller had an affair with her Layer Cake co-star Daniel Craig (Credit: Columbia Pictures)
Law and Miller remained together for some time afterward. However, their relationship took an ironic turn when Jude Law pursued a relationship with a nanny from a previous relationship.
Perhaps due to the rapid proliferation of social media or due to the somewhat twisted origin of the relationship, Jude Law took much more heat over his infidelity than Sienna Miller or Daniel Craig did only a year prior.
Daniel Craig as Bond, James Bond
Perhaps his most famous role came when he was cast as Ian Fleming's iconic spy, James Bond, in Casino Royale. At the London release of Casino Royale on November 14, 2006, Craig was a young and dashing 38 years old.
Born on March 2, 1968, in Chester, an English walled cathedral city on the River Dee, close to the border with Wales, he turned 38 on March 2, 2006. The filming for the twenty-first film in the Eon Productions James Bond series concluded on July 20, 2006.
Even though he was sporting light silvery locks, he was still incredibly young compared to his predecessor, Pierce Brosnan, who was 49 when his final installment, Die Another Day hit theatres.
When asked about what advice he received about the role from Brosnan, he was told to "hold on for the ride."
Daniel Craig was 38 years old when making his debut as James Bond with Caterina Murino as Solange Dimitrios in the 2006 spy film Casino Royale (Credit: Sony Pictures / WENN)
Each Bond actor contributed to the franchise in terms of personality and agenda in some way. Craig was excited to step into the role that found Bond catching feelings for Bond girl, Vesper Lynd, played by Eva Green, before being seemingly betrayed in the final moments of the movie.
The heartache affects his character throughout his work within the franchise, adding complexity to James Bond not seen in prior installments.
Daniel Craig's Relationships and First Marriage
What is James Bond without his love interests? Daniel Craig has been seen with some incredibly beautiful ladies on his arm before settling down with his soulmate.
Stage actress Fiona Loudon met Craig early in both of their careers in London. The two were wed in 1992, just as Daniel was beginning to see early professional success in acting.
Only months after their nuptials, the pair welcomed their daughter, Ella Craig, to the family. Before their third wedding anniversary, the couple was already divorced. Craig admits to acting immaturely during their marriage, which contributed to the split.
Ella Craig is the daughter of Daniel Craig and his former wife Fiona Loudon (Credit: MEGA / WENN)
"I was too young. I thought it was the mature thing to do. I don't regret it, but I do wish I'd lived it in a different way," Daniel said of the relationship.
A couple of years later, Craig met German actress, Heike Makatsch, on the set of Obsession in 1996.
Their professional relationship spun into a seven-year partnership, ending in early 2004. Heike and Daniel attribute the split to prolonged work engagements that caused them to grow apart.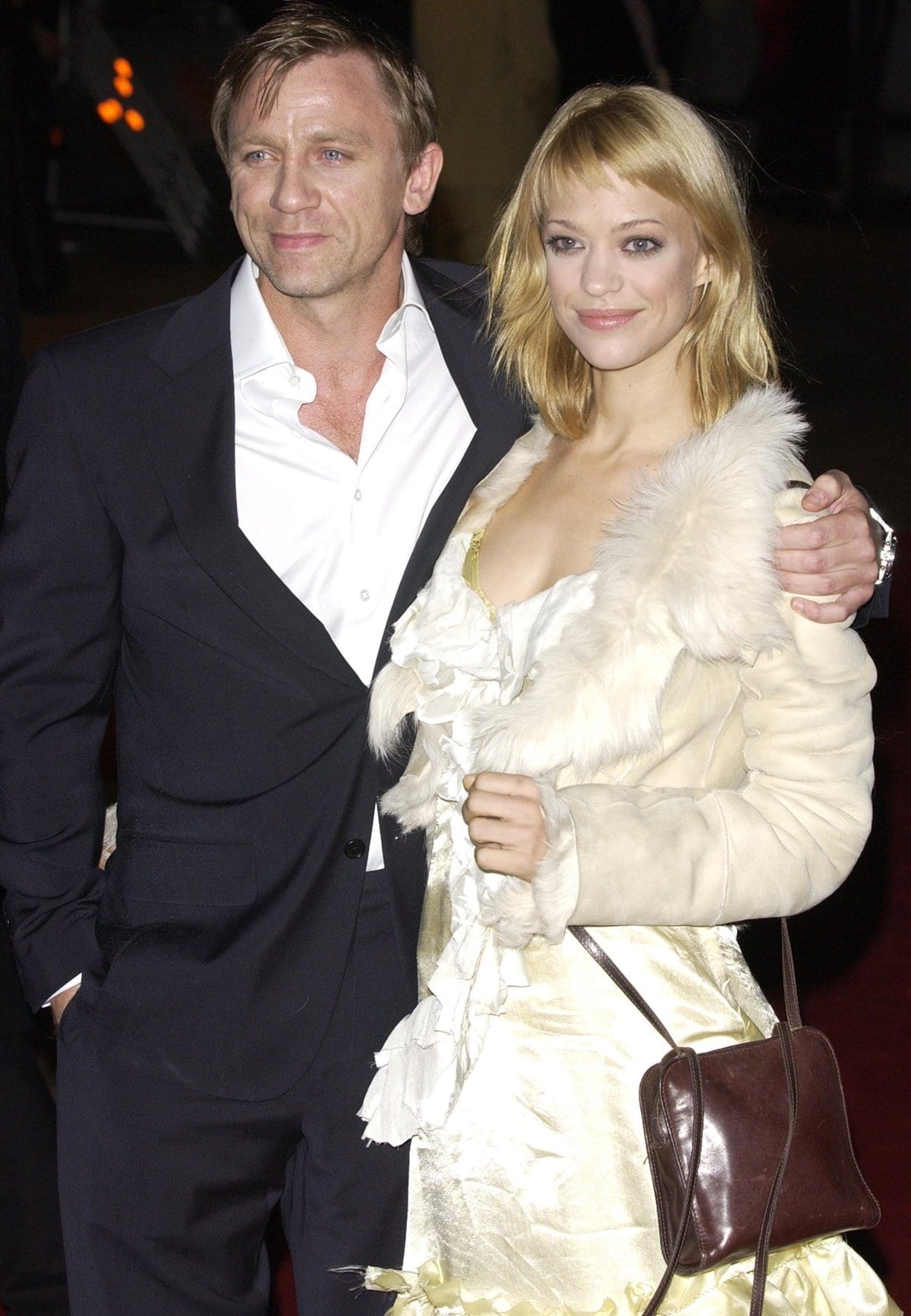 Daniel Craig dated German actress Heike Makatsch split in 2004 after dating for seven years (Credit: WENN)
The Bond actor was later connected with producer, Satsuki Mitchell. They even got engaged in 2007. Remember Sienna Miller?
Daniel Craig dated and was engaged to film producer Satsuki Mitchell from 2005 until 2010 (Credit: WENN)
When the rumor mill was churning the airwaves following their outed affair, Craig's relationship with Mitchell hit some turbulence that eventually led to the end of their engagement.
Daniel Craig Reunites On Screen With Rachel Weisz
In 2011, amid his tenure as 007, Daniel Craig starred opposite actress Rachel Weisz in Dream House, a psychological thriller.
Both Craig and Weisz seemed to maintain their professional composure on and off set. Weisz was, as we'll soon discuss, in a long-term relationship with director Darren Aronofsky.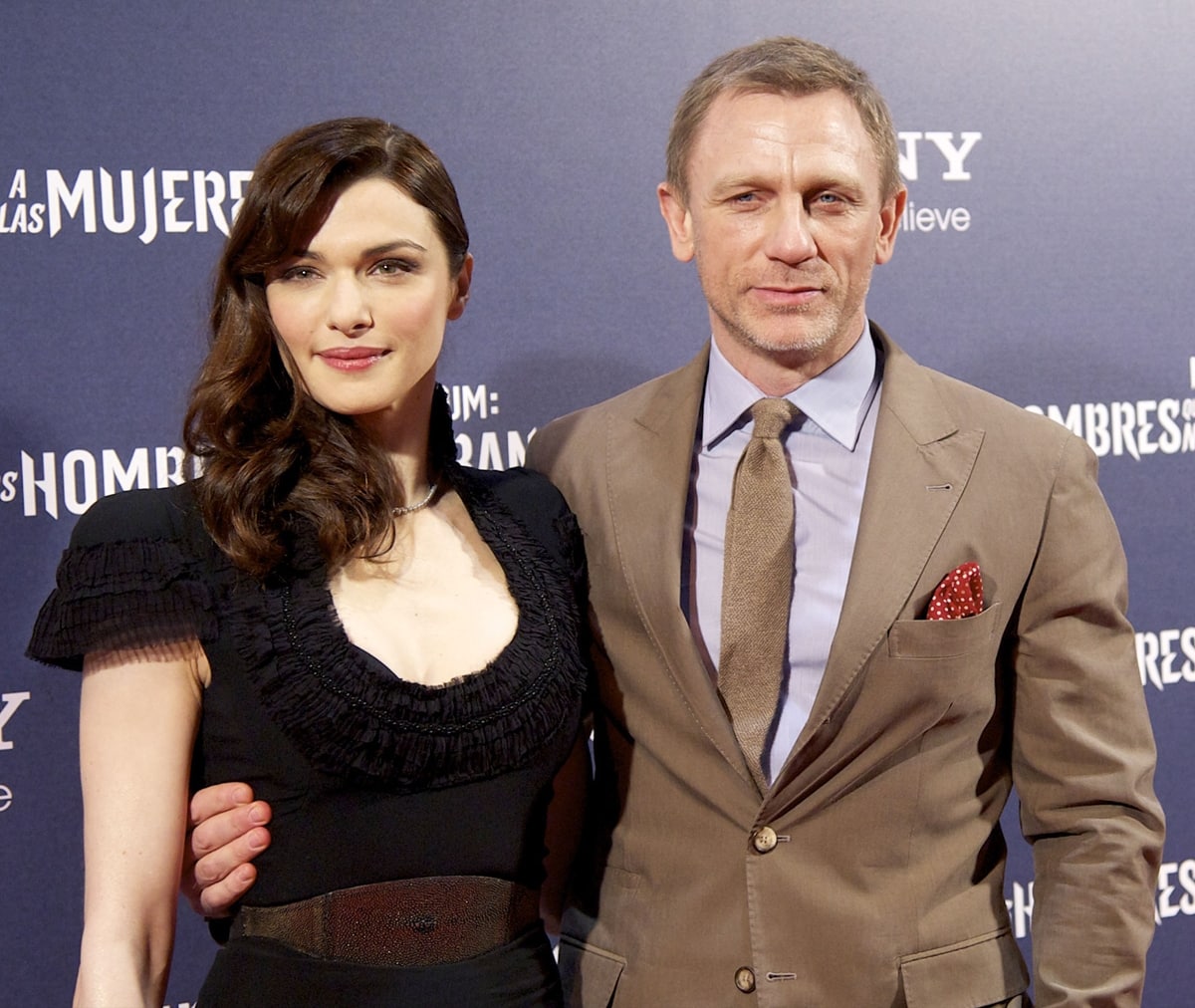 Rachel Weisz and Daniel Craig secretly tied the knot in New York in 2011 (Credit: Sean Thorton / WENN)
This wasn't the first meeting between Daniel Craig and Rachel Weisz, though. The two were in the stage production of Les Grandes Horizontales in 1994 during their time in London.
Who is Daniel Craig's Wife, Rachel Weisz?
British actress, Rachel Weisz, was born in London only two years after Daniel Craig in 1970. She has had quite a successful career on both stage and screen. While she got her start in modeling at age 14; however, she captured a role in King David alongside Richard Gere.
She made her big-screen debut in Death Machine (1994), but she experienced mainstream success in her role as Evelyn Carnahan in The Mummy franchise, starting in 1999 and reprising the role in 2001, opposite actor Brendan Fraser.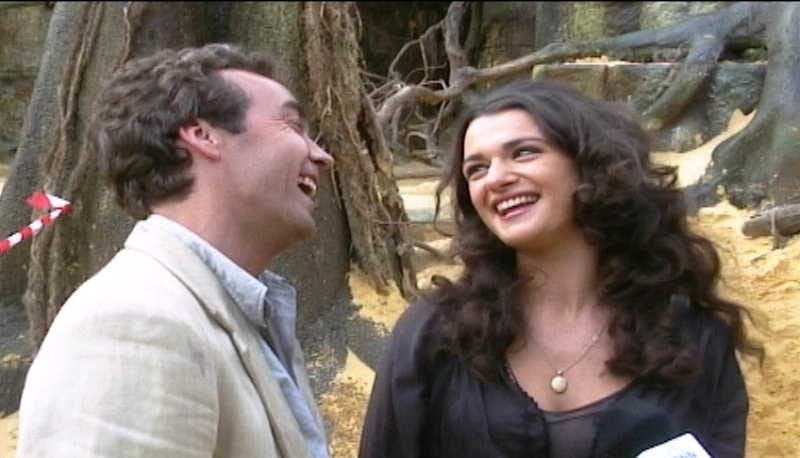 John Hannah and Rachel Weisz on the set of the 2001 American adventure horror film The Mummy Returns (Credit: Universal Pictures)
Rachel Weisz began dating director Darren Aronofsky following a chance meeting backstage in 2001. The next year, she followed Aronofsky back to New York, where they lived together in Manhattan.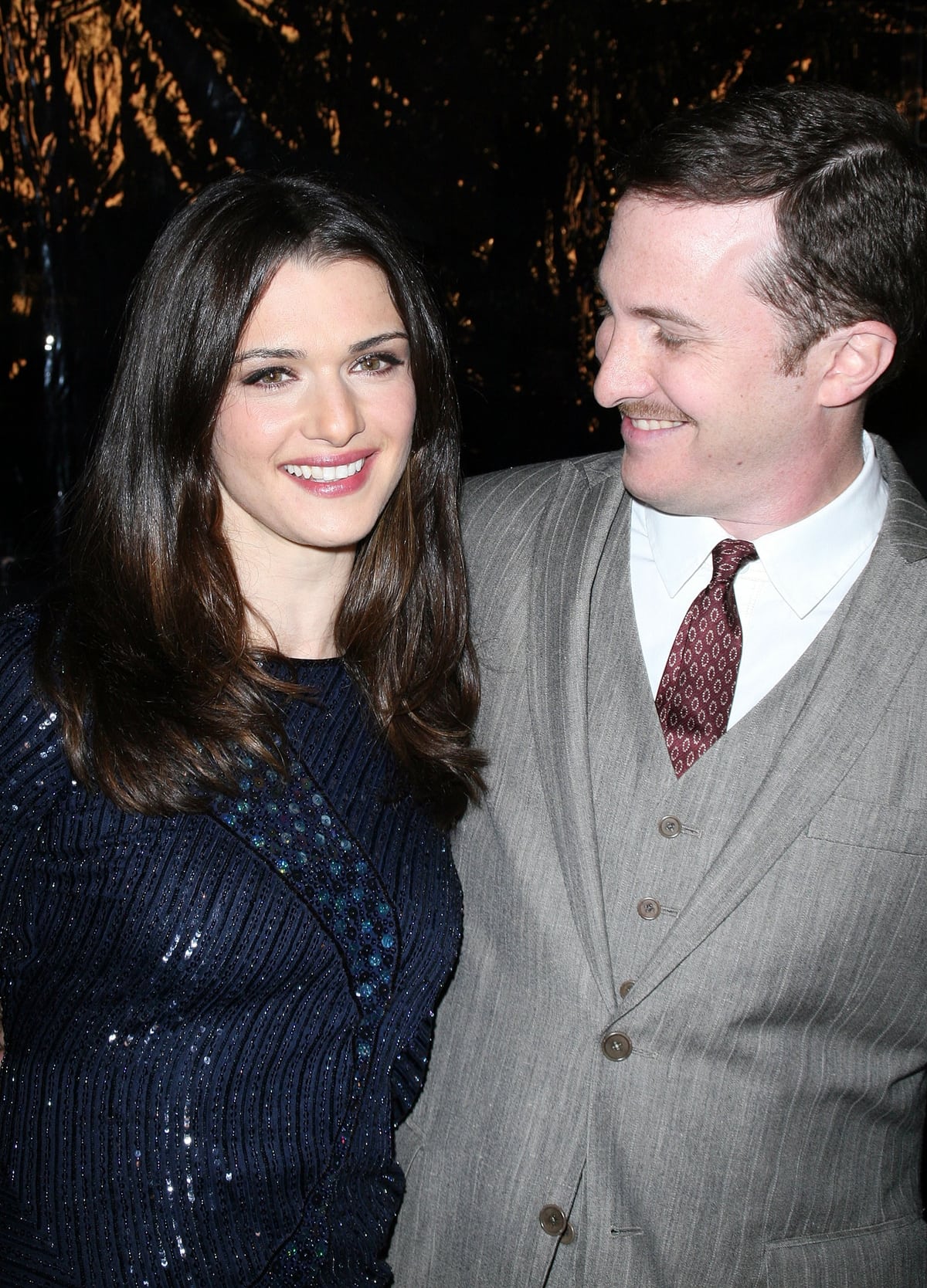 Darren Aronofsky and Rachel Weisz were engaged until 2010 and their son Henry was born on May 31, 2006 (Credit: WENN / FayesVision)
After a few years, the two were engaged in 2005, followed by the birth of their son, Henry, in 2006.
In 2010, Darren Aronofsky and Rachel Weisz announced they had separated on good terms in an effort to raise their son peacefully as co-parents.
Daniel Craig and Rachel Weisz Shock Everyone With a Quiet Vows
During the filming of Dream House, starring both Daniel Craig and Rachel Weisz, the actors dished up amazing chemistry on screen as a married couple.
When the camera stopped rolling, the two seemed to simply go their own way, presenting a front of extreme professionalism.
We never saw what was coming next. The two had apparently been quietly dating one another, rarely being seen together.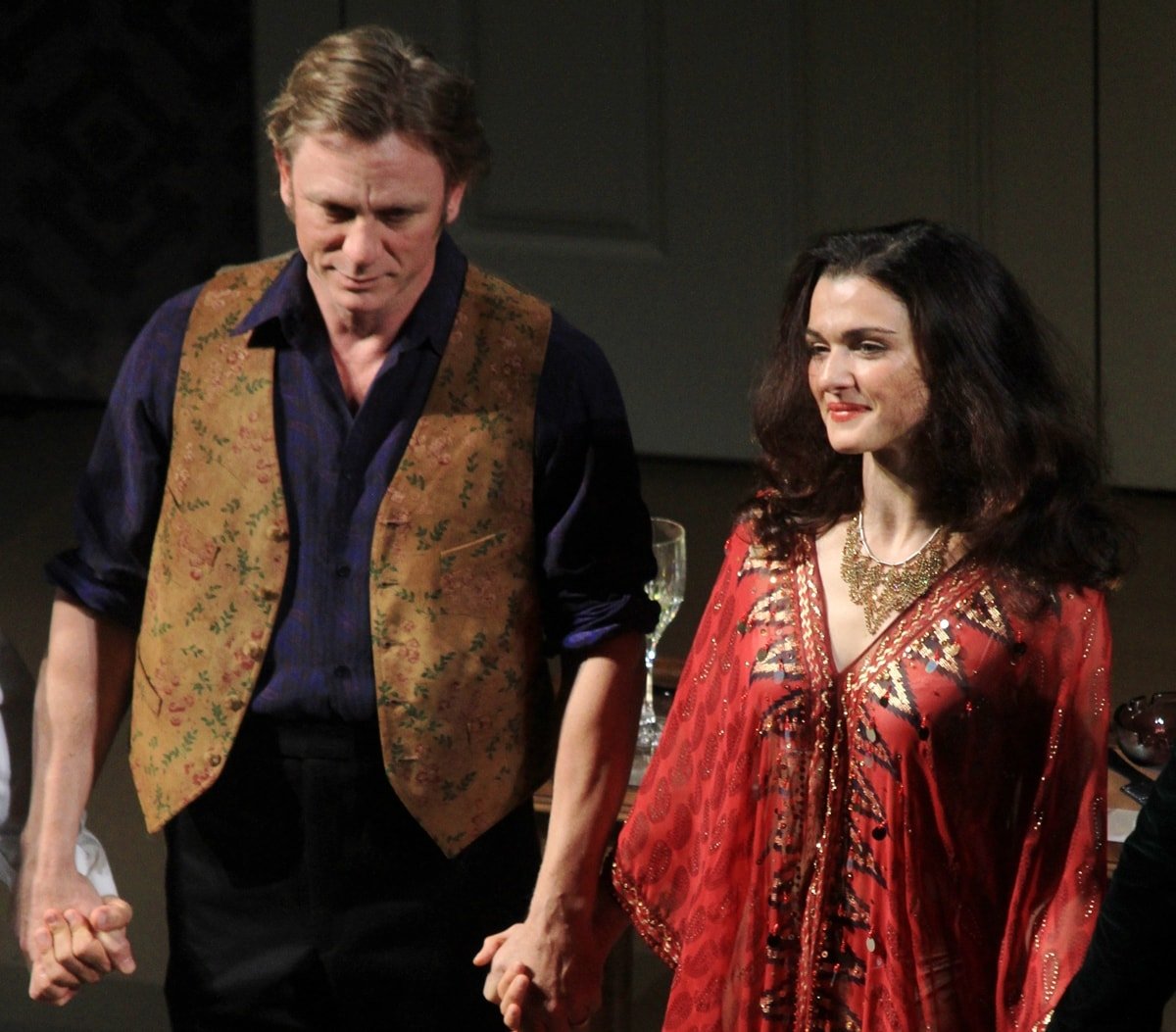 In 2013, Daniel Craig and Rachel Weisz starred in a Broadway revival of Harold Pinter's Betrayal (Credit: Joel Ginsburg / WENN)
In 2011, it was announced that Craig and Weisz were married in perhaps one of the most intimate ceremonies of all time. Only two guests in addition to each of the stars' children, Ella and Henry, were in attendance.
Craig told GQ, "We did it privately, and we've got a lot of people to thank for that… But that was the point. We did it for private reasons because we didn't want it f*cked up, because that would be sharing a secret. And the whole point is that it was a secret. A secret is a secret in my mind."
Spoken like a true super-spy.
What are Daniel Craig and Rachel Weisz Doing Now?
The Craig family welcomed another daughter to the mix in 2018. Daniel and Rachel are remarkably private about the inner workings of their family- so much so that the parents haven't officially released the name of their youngest.
Daniel's oldest daughter, actress Ella Craig, may have actually let the name slip in an innocent Instagram post over the 2020 holiday season. The suspected name of her little sister? Grace Craig.
The toddler's face is usually blurred by photographers to protect the minor's identity, so it looks like we'll have to wait a while longer before putting a name with a face.
Daniel Craig and Rachel Weisz are notoriously private when it comes to their family (Credit: Ivan Nikolov / WENN)
Craig and Weisz are rarely photographed outside of an arm's length from one another, often hand in hand, trudging through the streets of New York or the English countryside.
As Craig has wrapped his fifth and final Bond movie, No Time To Die, in 2020, he has been able to work on new projects, including Knives Out 3, currently in production.
Rachel has recently been cast as Elizabeth Taylor in a biographical drama about the actress's life, but the film is still in the early production stages.
Neither of the stars seems to comment deeply on their relationship- and that seems to be by design. We regularly catch the two on the red carpet as their careers toss them into the spotlight again and again. We suppose we'll have to settle for red carpet and big-screen footage of this stunning couple for now, then!
In 2015, Naomie Harris stepped up her fashion game with some seriously chic ensembles while on a promo run for her latest James Bond movie, "Spectre."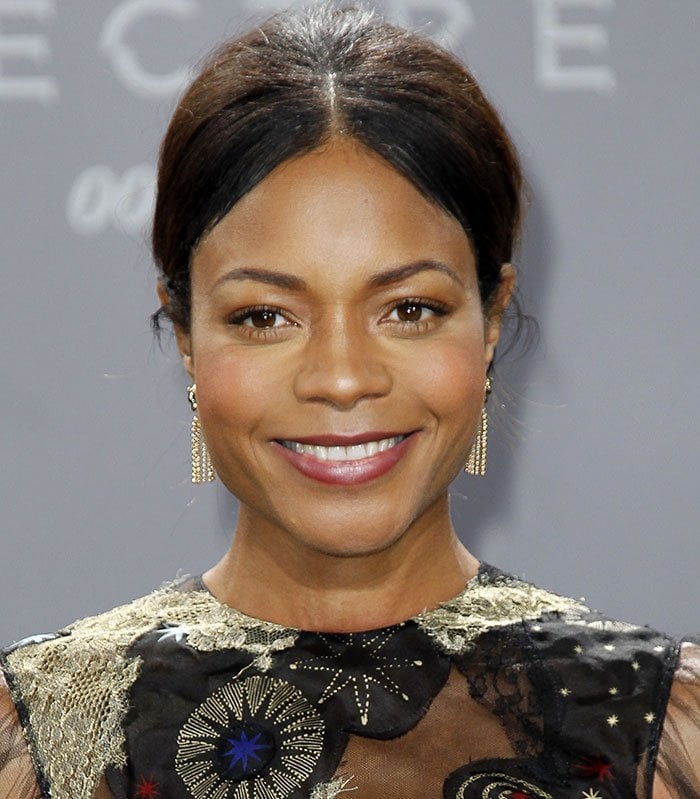 Naomie Harris wears her hair center-parted at the German premiere of "Spectre" held at CineStar movie theatre at Sony Center on Potsdamer Platz in Berlin, Germany, on October 28, 2015 (Credit: Ralf Succo / Tschiponnique Skupin / Future Image / WENN)
Right after wowing us in a bright yellow frock at an Omega event, the then 39-year-old actress captured our attention once again when she walked the black carpet at the German premiere of the 24th James Bond film held at CineStar in Berlin.
Daniel Craig, Naomie Harris, and Christoph Waltz pose for photos at the "Spectre" premiere (Credit: AEDT / WENN)
She was joined by her co-stars Daniel Craig and Christoph Waltz, who both looked dapper in suits.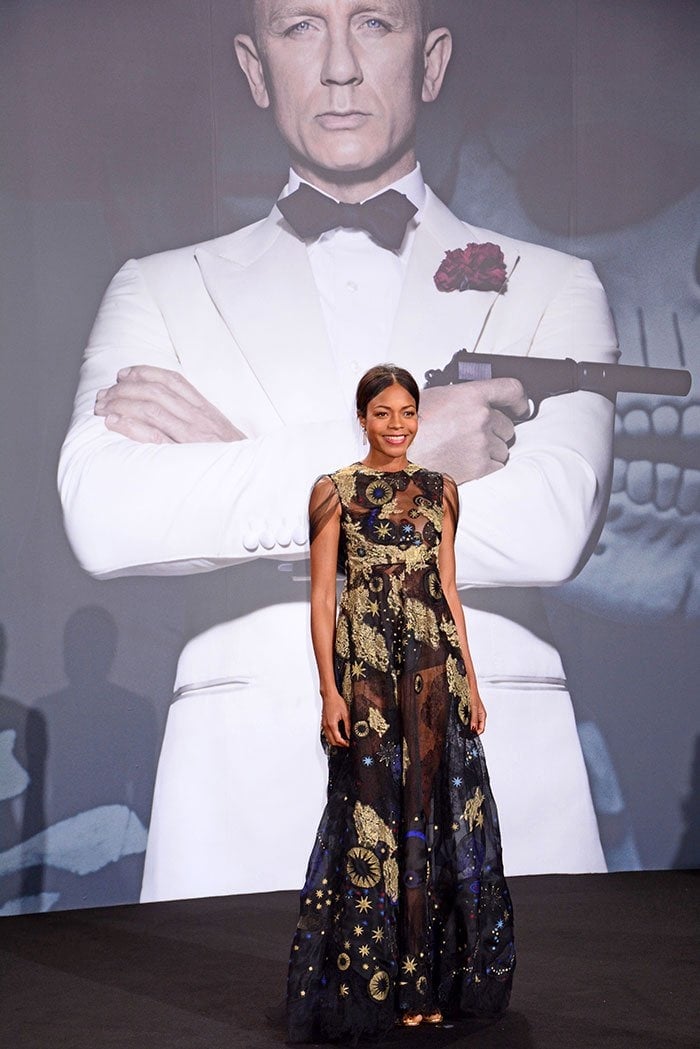 Naomie Harris wows in a Valentino dress with metallic intergalactic prints (Credit: AEDT / WENN)
The "Mandela: Long Walk to Freedom" actress looked nothing short of stunning in an enchanting floor-skimming Valentino Fall 2015 gown, which was crafted from silk-chiffon material and featured metallic intergalactic prints and embroidery.
Naomie Harris shows off the embroidery on her Valentino Fall 2015 gown (Credit: AEDT / WENN)
She wore the gown with strappy gold heels and accessorized with gold chandelier earrings.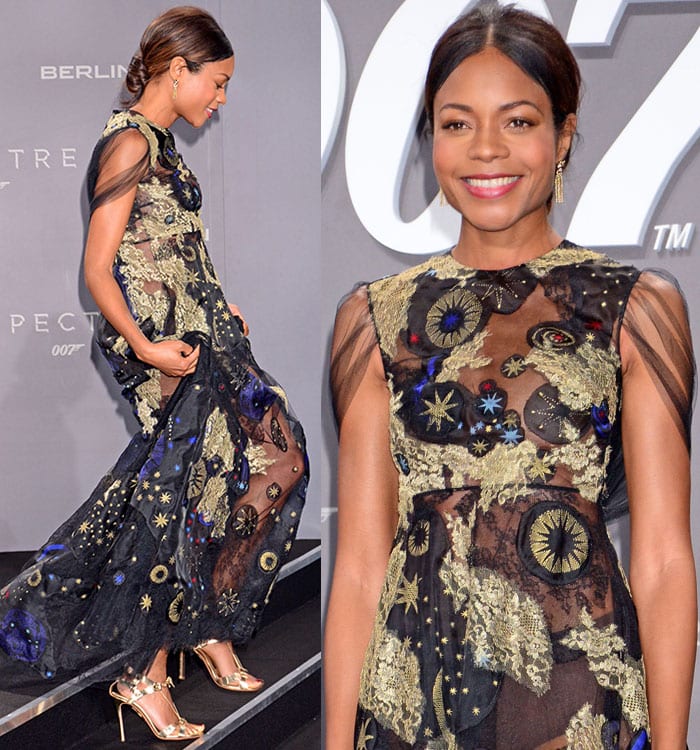 Naomie Harris shows off her strappy gold sandals as she hikes up her Valentino dress (Credit: AEDT / WENN)
For a more glammed-up look, she pulled her hair into a low bun with a center parting and wore neutral makeup with berry lipstick.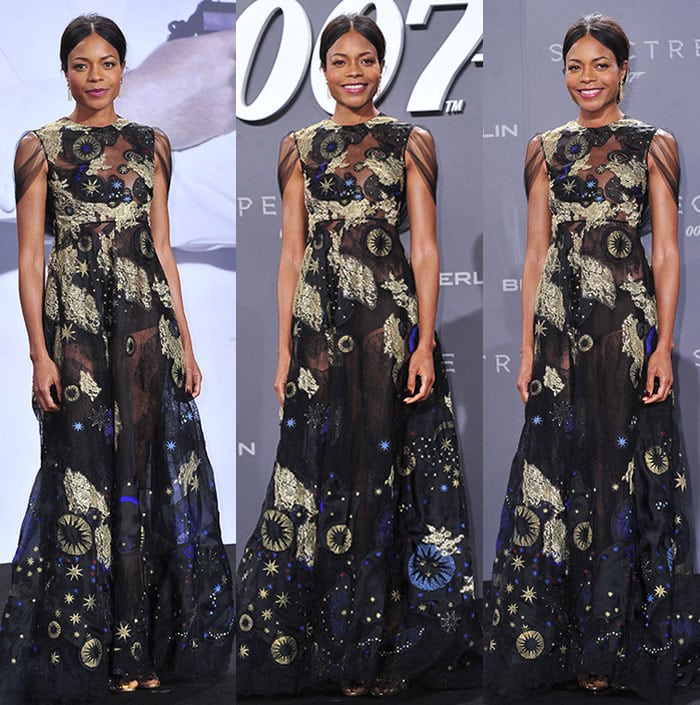 Naomie Harris wears a Valentino dress at the German premiere of "Spectre" (Credit: AEDT / Ralf Succo / Tschiponnique Skupin / Future Image / WENN)
The first black actress to play Moneypenny, Naomie showed off her bare feet in a pair of Aquazzura "Bel Air" sandals in metallic gold leather.
These open-toed 4.13-inch heels from the popular women's shoe brand feature slim lace-up fastenings at the vamps with ankle ties and cage-style heel counters with gold-tone studs.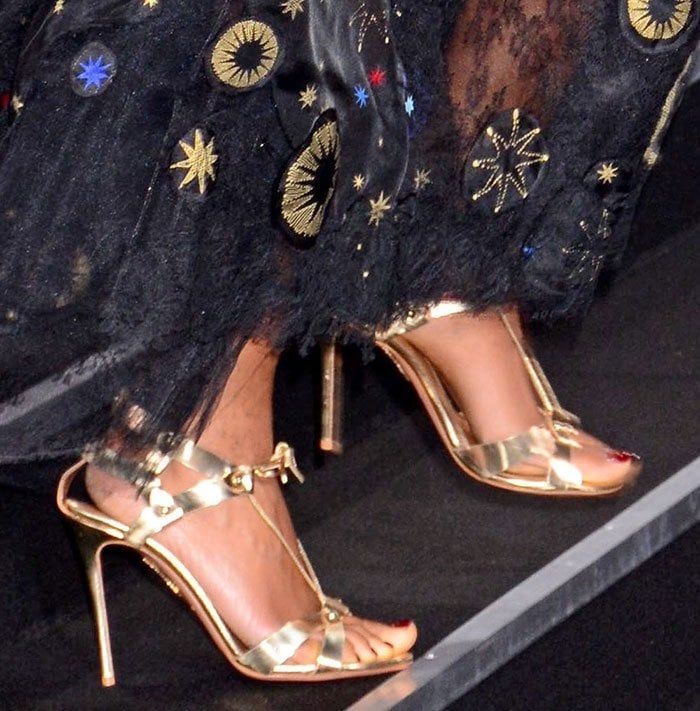 Naomie Harris's feet in Aquazzura sandals (Credit: AEDT / WENN)
You can get these sandals in different versions at Farfetch and Nordstrom.
Aquazzura Bel Air Sandals, $795–$895