For the premiere of Eternals at the BFI IMAX Waterloo on Wednesday, Angelina Jolie was joined by five of her six children – Maddox, 20, Shiloh, 15, Knox, 13, Vivienne, 13, and Zahara, 16. Her 17-year-old son, Pax Thien Jolie-Pitt, was the only one missing.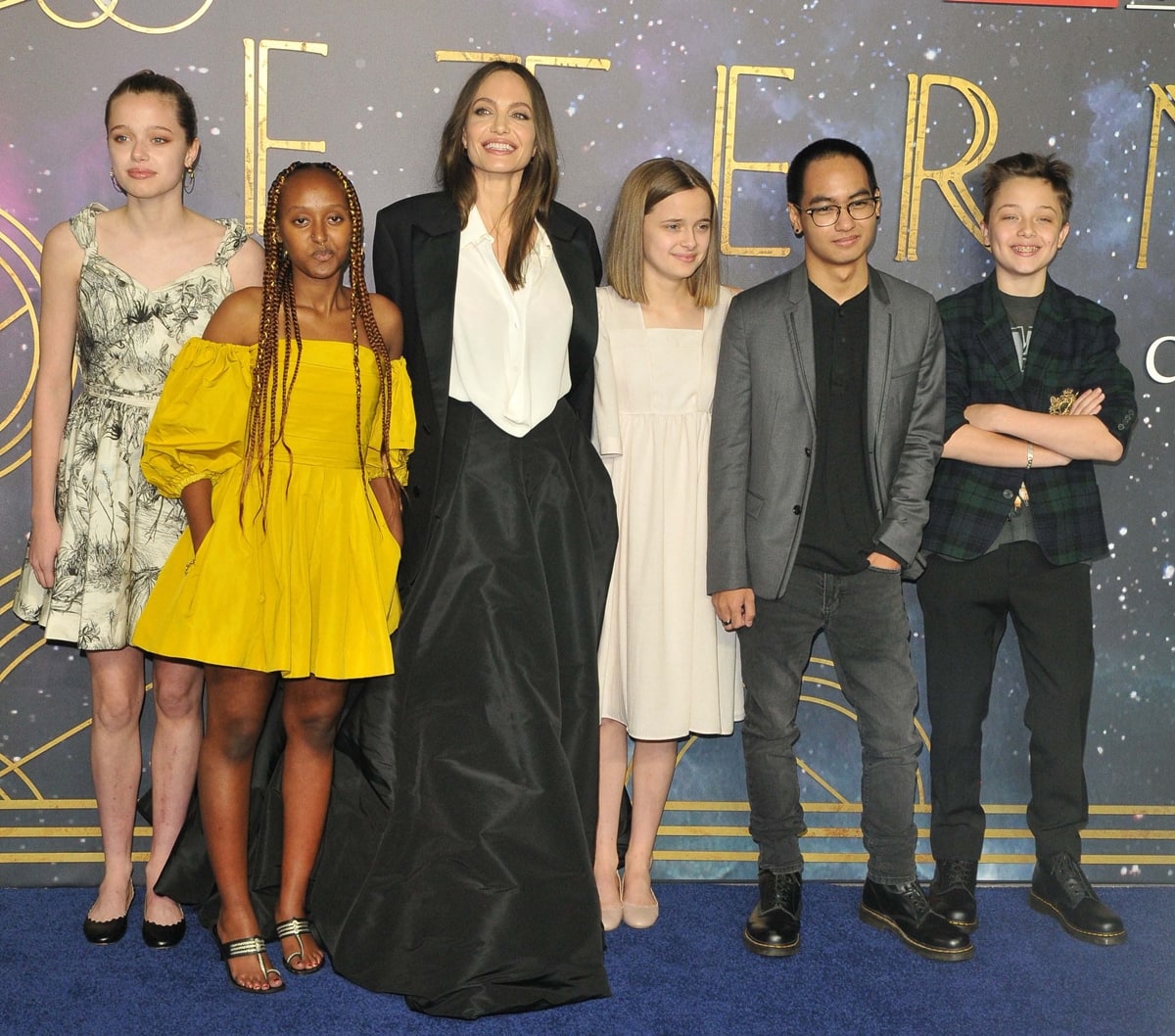 Shiloh Jolie-Pitt, Zahara Jolie-Pitt, Angelina Jolie, Vivienne Jolie-Pitt, Maddox Jolie-Pitt, and Knox Jolie-Pitt attend the "The Eternals" UK Premiere at BFI IMAX Waterloo on October 27, 2021, in London, England (Credit: MEGA / WENN)
Her new American epic superhero film Eternals is reportedly awful. Slate Magazine calls it "one of Marvel's worst movies yet" and The Guardian describes it as "magic hour meets PowerPoint."
"I'm not a perfect parent by any means," she recently told People. "Every day I feel like I'm more aware of everything I don't do right. And I'm pretty tough on myself, because I feel often, 'Am I doing the right thing? Did I says the right thing?'"
"My children have done many, many loving things. My children's kindness has been very healing to me," Billy Bob Thornton's ex-wife added.
Angelina Jolie admits she's not a perfect mom for her children (Credit: MEGA / WENN)
"They're pretty great people, and because there's so many of them, I think they've had a very significant effect on each other. It's not like I'm the head of anything. I'm very honest with my kids. And I'm very human with my kids," she continued.
"I have six very individual human beings in my home. I am so excited about all the different stages and feelings and curiosities that they go through. Why wouldn't you be? We're supposed to help them figure out who they are. And you can't figure out who they are if you don't enthusiastically develop with them," the Original Sin actress said.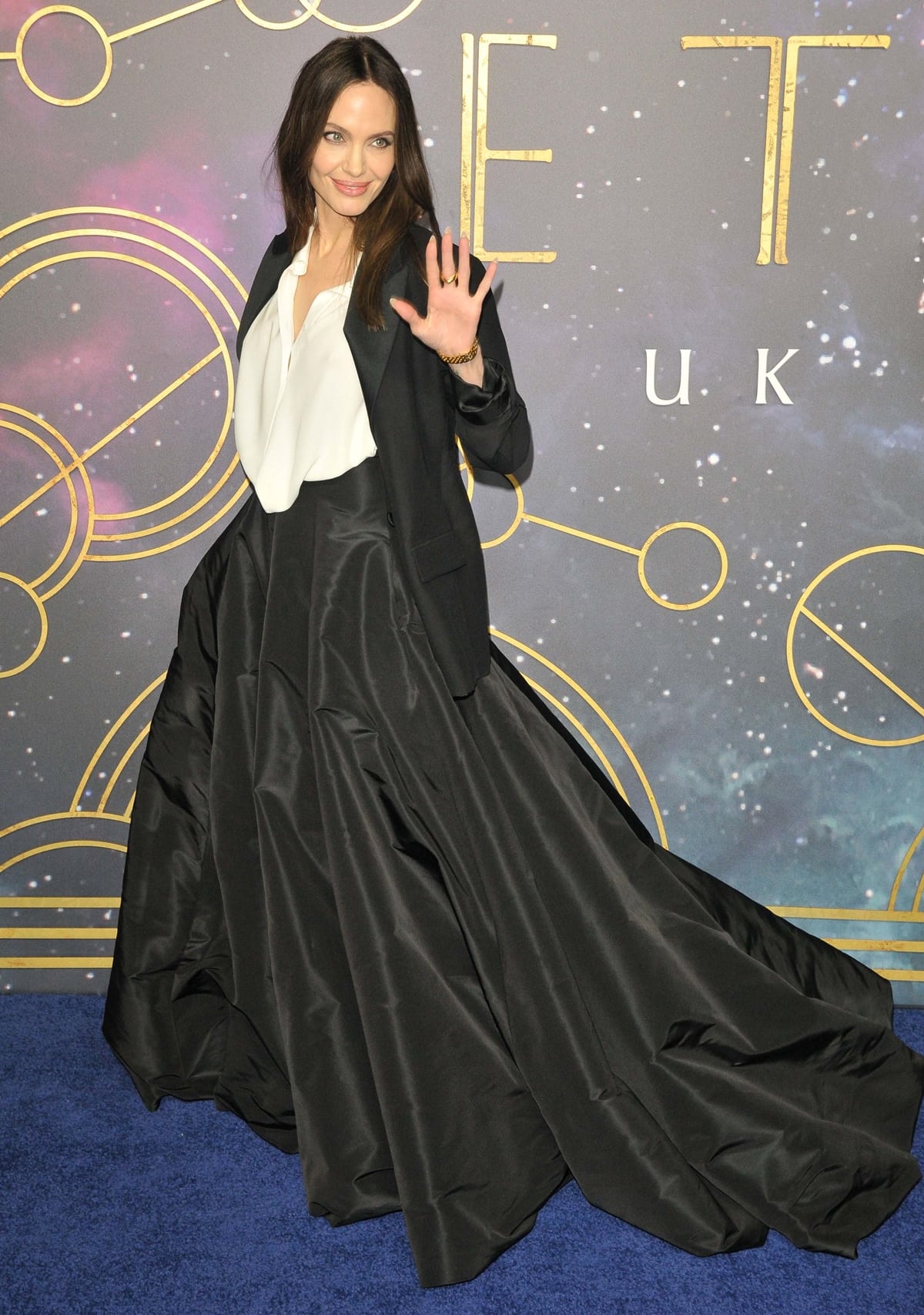 Angelina Jolie styled her custom Valentino Haute Couture look with Cartier jewelry (Credit: MEGA / WENN)
The 46-year-old actress donned a custom Valentino Haute Couture look courtesy of creative director Pierpaolo Piccioli. Her outfit consisted of a black blazer, a white shirt and a black flowing skirt.
She accessorized with Cartier Love earrings, a Goldmaster ring, and a Cartier Panthere De Cartier watch that you can buy for $8,050 at Net-A-Porter.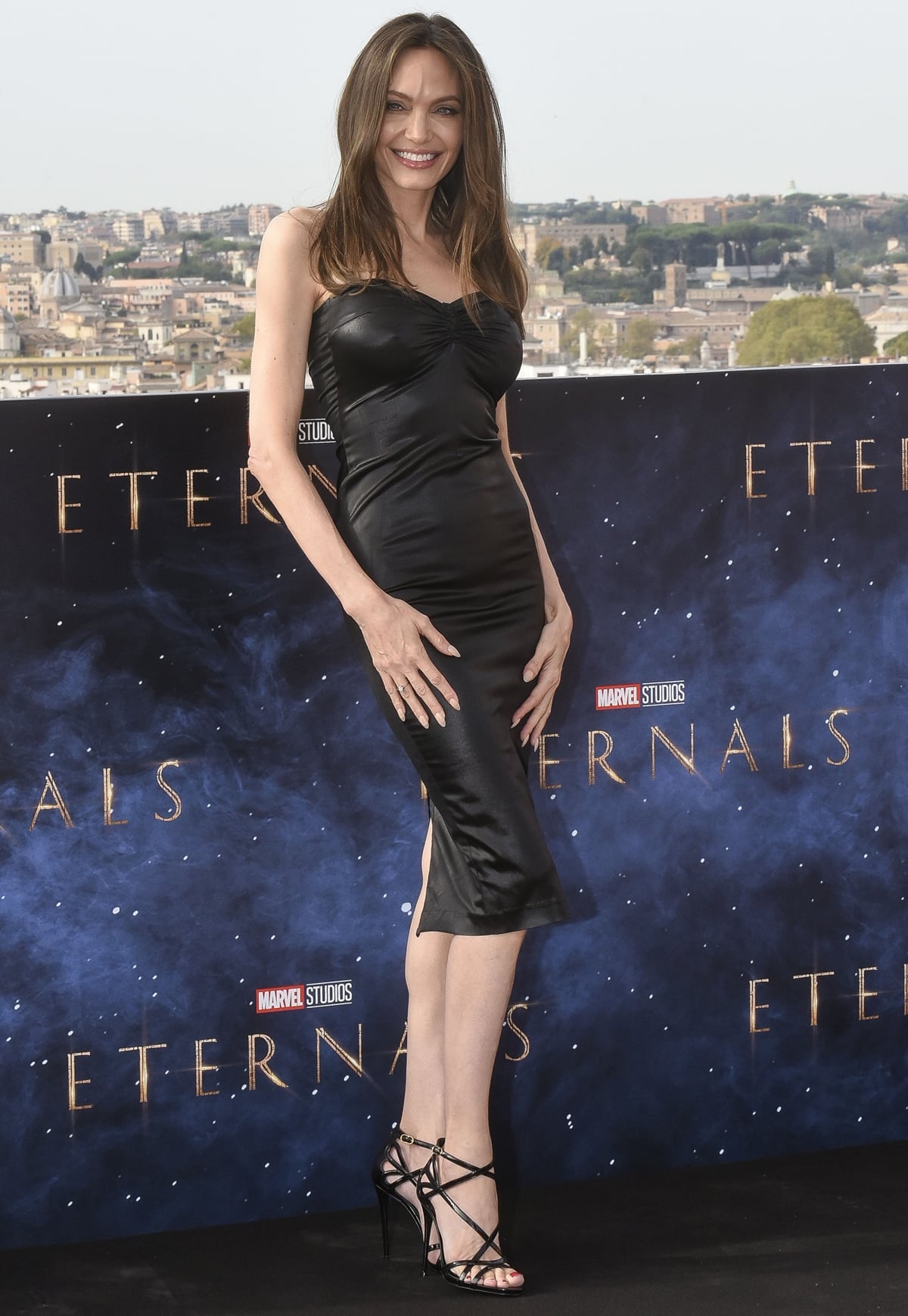 Angelina Jolie in a black Dolce & Gabbana dress and sandals for the second 'Eternals' Rome Film Festival photocall on October 25, 2021, in Rome, Italy (Credit: MEGA / WENN)
Much like her "rival" Jennifer Aniston, Angelina favors achromatic hues and most often than not, prefers to dress either in black or white.
Angelina Jolie arrives at Narita Airport in Japan on July 28, 2013 (Credit: Kento Nara /Future Image / WENN)
Her taste in fashion is very understated. Some may say it's boring, but I think she carries it with unparalleled elegance.
For everyday wear, she definitely favors black — especially when she travels. And that's not all; when it comes to clothes, shoes, and bags, Angelina has a penchant for collecting pieces from a certain label — Saint Laurent.
Among her favorites are the Saint Laurent chain and leather flat sandals, which she has worn several times.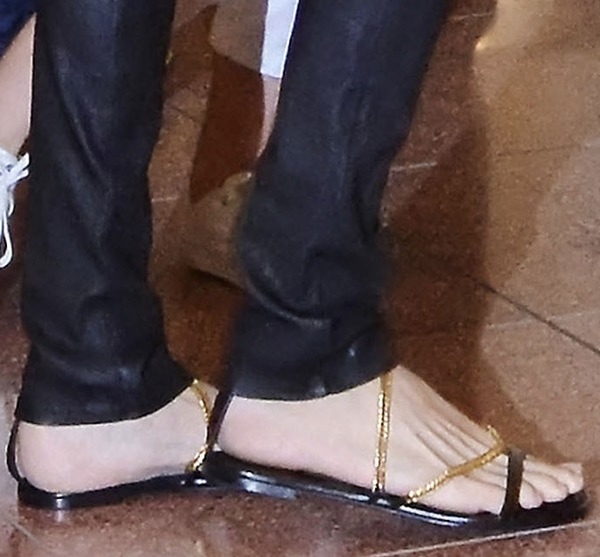 Angelina Jolie shows off her feet in Saint Laurent flat sandals (Credit: Kento Nara /Future Image / WENN)
Do you like her sandals? They're quite simple but with just enough drama thanks to those chain straps. What you see is what you will get with these strappy signature flats.
They are made of leather and detailed with chain straps that follow a flattering V pattern. Angie's pair comes with gold hardware — a style we can no longer find online.
Saint Laurent Chain and Leather Flat Sandals, £685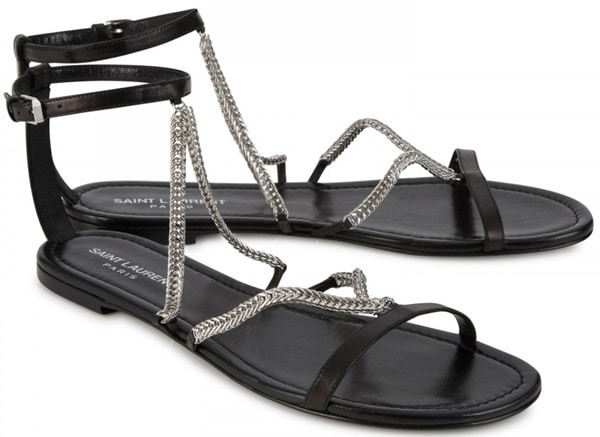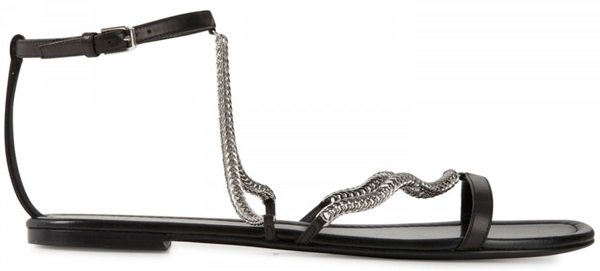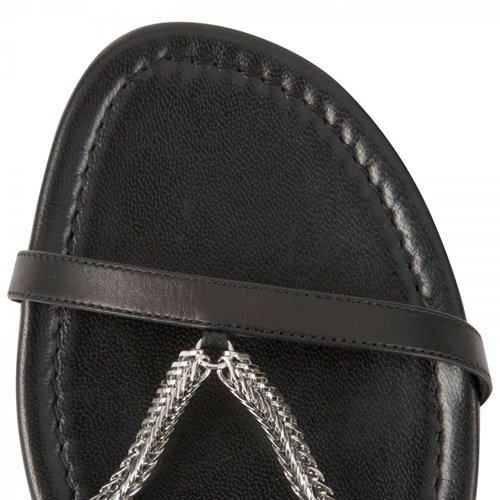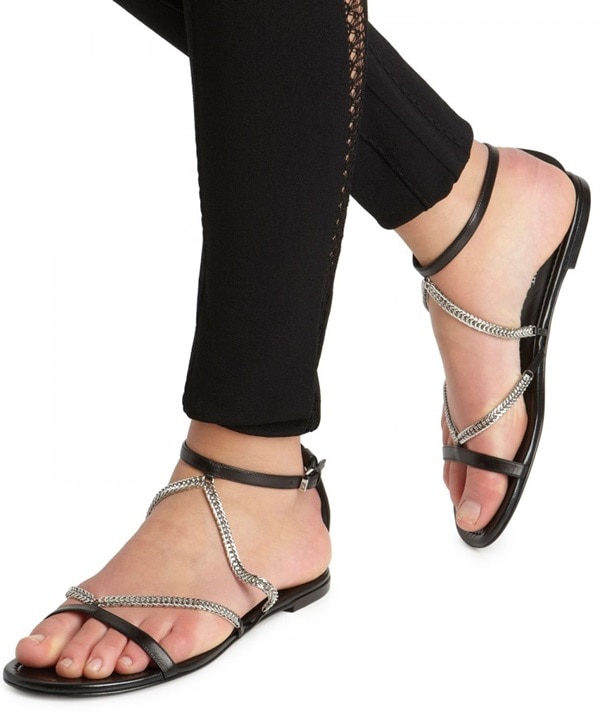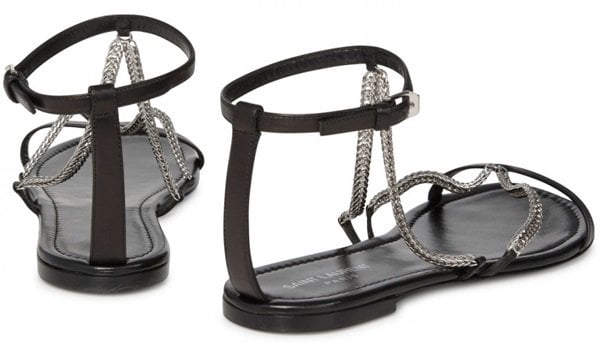 Saint Laurent also has other flat sandal styles that may be worth looking at — even if you won't be shopping for them until next season.
If you're into gold, mixed-media embellishments, or color block treatments, you can check out the ones available for pre-order at Nordstrom. We're particularly in love with the "Alice". What about you?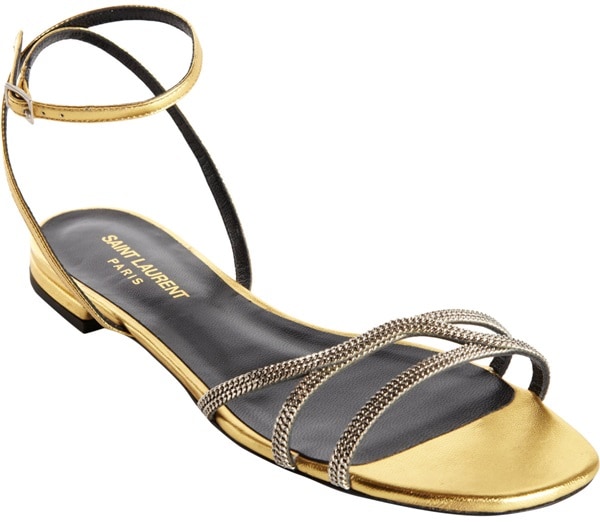 Saint Laurent Jane Flat Sandals, $895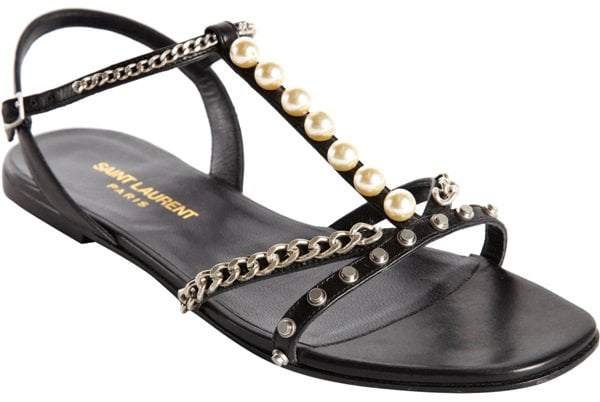 Saint Laurent Alice Flat Sandals, $895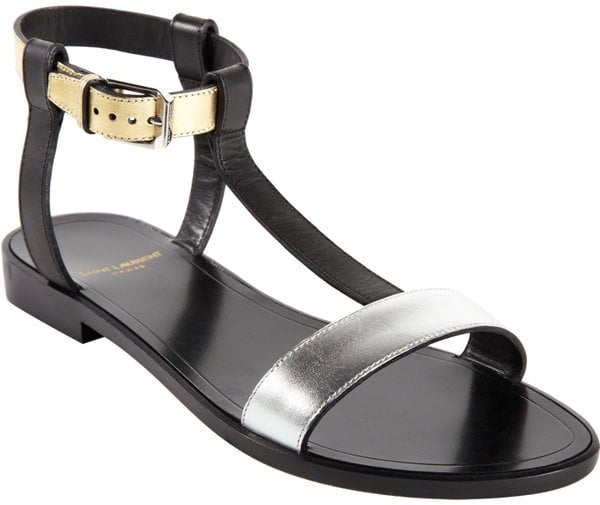 Saint Laurent T-Strap Sandals, $695