Ah, the early 2000s. They were the best of times and the worst of times, but we remember them fondly while wearing rose-colored nostalgia glasses. The era was filled with iconic pop culture, questionable outfit choices, and weird celebrity matches.
One of the most notable celebrity couples to come from this time period was none other than Billy Bob Thornton and Angelina Jolie, who served as #relationshipgoals for edgy and goth kids everywhere.
That's right, before Brad Pitt and Angelia Jolie got together, adopted a bazillion kids, and subsequently split, the actress was in a highly publicized (and very strange) marriage with none other than Sling Blade's Billy Bob Thornton.
Billy Bob Thornton and Angelina Jolie paid a visit to Rocket Video in Hollywood where they rented comedies Canadian Bacon and Waiting for Guffman on March 12, 2001 (Credit: WENN / David Buchan)
The pair allegedly met for the first time in 1999 on the set of the box office failure Pushing Tin, a dramedy about air traffic control. Though the film was doomed, Jolie and Thornton play a married couple, and their on-screen chemistry translated off-screen, too.
At the time, Jolie had just split from her first husband, Johnny Lee Miller, and was dating actor Timothy Hutton, and Thornton was still with then-fiancée, dinosaur wrangler Laura Dern.
For whatever reason, this did not stop the actors from continuing their relationship, despite their 20 year age difference (at the time, Jolie was 24 and Thornton was 44).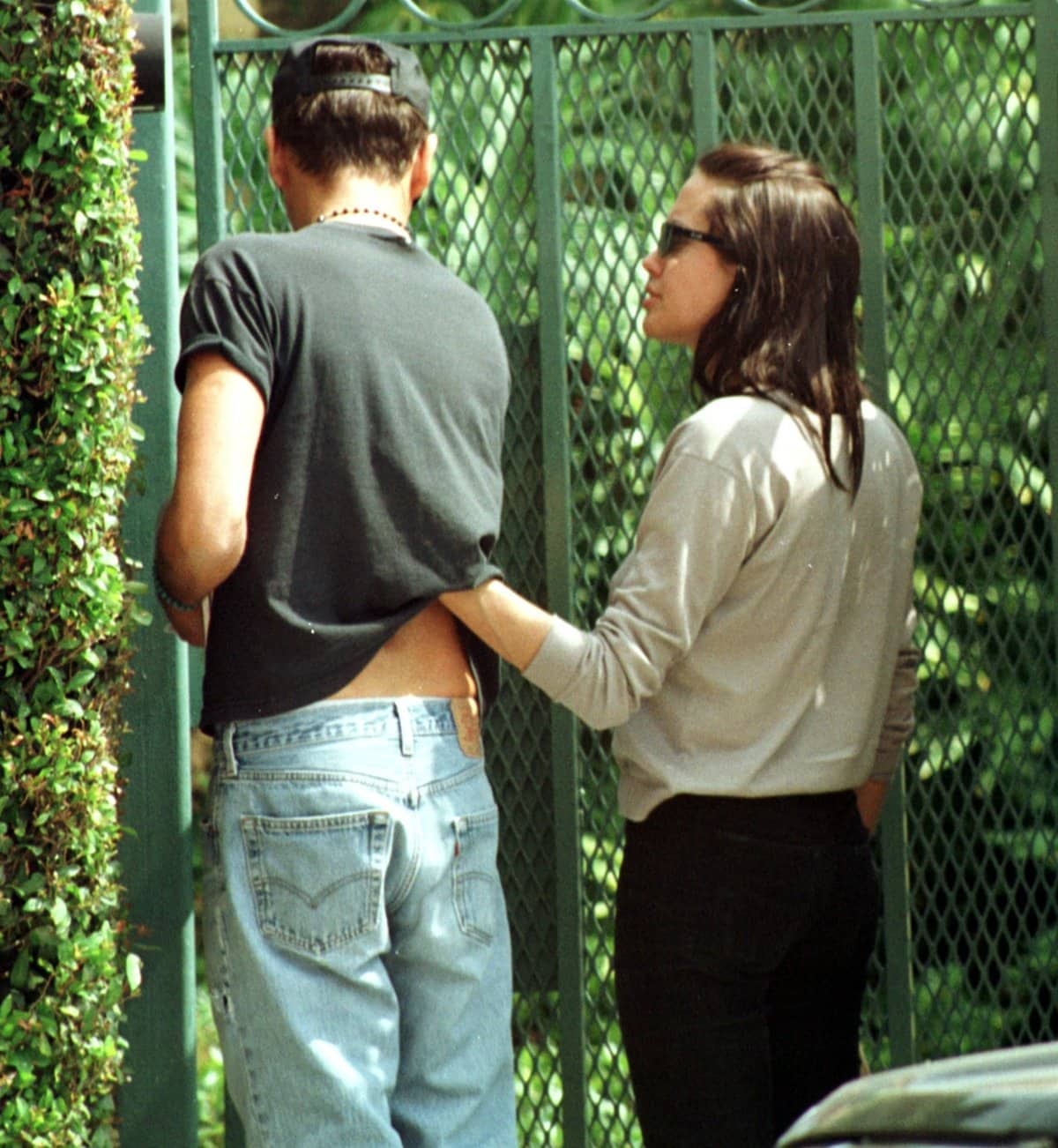 Angelina Jolie scratches her husband Billy Bob Thornton's back outside Sunset Marquis Hotel in Los Angeles in September 2000 (Credit: WENN)
Jolie and Thornton never confirmed how long they had been together after Pushing Tin, but their feelings for one another became apparent to the world when they shocked fans — and their lovers — by getting married in a surprise Las Vegas ceremony in May of 2000.
Thornton was actually still engaged to Laura Dern at the time, and after finding out about their wedding, Dern told Talk magazine in 2000 that she "left our home to work on a movie, and while I was away, my boyfriend got married, and I've never heard from him again."
Not cool, Billy Bob! Though we feel for Ben Harper's ex-wife Laura Dern, it cannot be denied that Jolie and Thornton's spur-of-the-moment marriage gave us some of the most iconic pop culture moments of the early 2000s.
Actress Angelina Jolie kisses her husband Billy Bob Thornton during a break in filming on the set of the movie "Life or Something Like It" in Times Square in New York City on June 30, 2001 (Credit: Michael Carpenter / WENN)
Jolie and Thorton were notorious for oversharing about the sexual nature of their relationship.
At the red carpet premiere for Gone in 60 Seconds, an MTV correspondent asked Thornton about his "favorite moment in a car", and the actor revealed that the pair had gotten intimate on the way there, saying, "I think it was today. My favorite one in a car was today, just before we got here. What is this MTV? Well, here's… you want me to be honest with you? We f*cked in the car on the way here."
TMI, but, hey — the MTV correspondent did ask.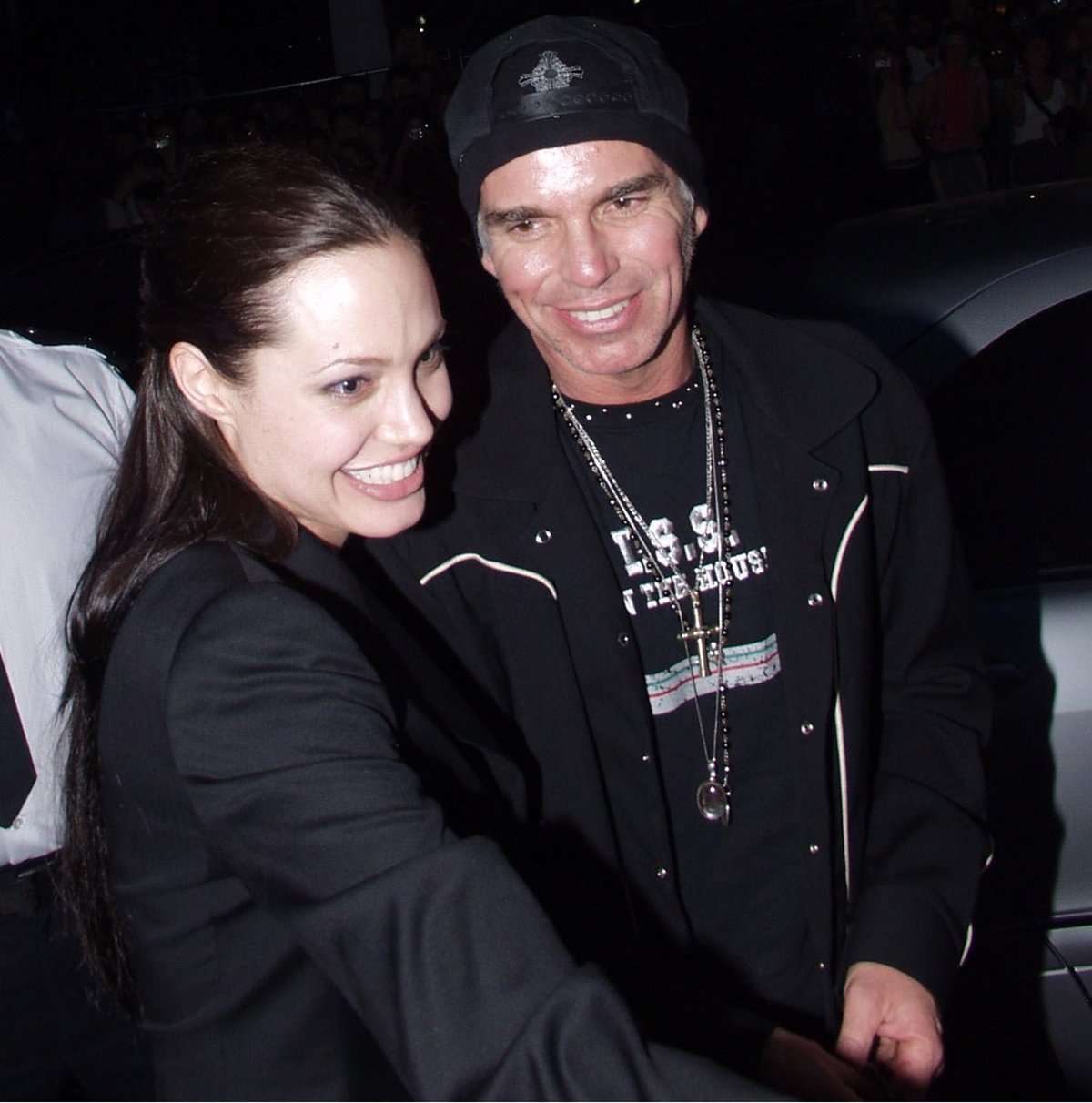 Angelina Jolie and Billy Bob Thornton fell in love after meeting on the set of the 1999 film Pushing Tin (Credit: WENN)
In another instance, Thornton said in an interview with The Morning Call that the couple shared everything — including their underwear.
However, he wanted to clarify that this was not an everyday occurrence (still, ew), saying, "I did wear my wife's underwear working out in the gym one day and a guy saw it. But I don't wear my wife's underwear every day. I wear it, like, occasionally."
Perhaps the most iconic thing that Thornton and Jolie did while married occurred in 2001 when the couple was spotted wearing matching vials of each other's blood on necklaces.
The media went into a frenzy about this, but the couple had not intended for their body fluid accessories to be so sensational. Thornton explained to People, "The necklaces were a very simple thing, 'Hey let's poke our fingers with a pen and smear a little blood on there and when we're away from each other we'll wear the necklace.' It was that easy. But by the time it came out in the press it sounded like we were wearing a bucket of blood around our necks."
Meeting on the set of the 1999 film Pushing Tin, Billy Bob Thornton is 20 years older than Angelina Jolie (Credit: Frazer Harrison / WENN)
What happened to Angelina and Billy Bob?
Unfortunately, as with many celebrity couples, Thornton and Jolie were just not meant to last.
In 2002, rumors began to pop up that Billy Bob had been cheating on his much-younger wife — not surprising since he had cheated on his former fiancée, Laura Dern, in order to be with Jolie.
That same year, the couple finalized their divorce. In 2004, Jolie told Vogue that they rushed into their marriage too fast and grew apart, saying, "It took me by surprise, too, because overnight, we totally changed. I think one day we had just nothing in common. And it's scary but… I think it can happen when you get involved and you don't know yourself yet."
Billy Bob Thornton and Laura Dern dated for three years after meeting in 1997 on the famous Ellen episode when Ellen DeGeneres came out as gay (Credit: WENN)
In 2005, Angelina Jolie had her iconic 'Billy Bob' dragon tattoo laser removed, saying she is "never going to be stupid enough" to get another man's name tattooed on her body again. It has since been replaced with a sweet tattoo dedicated to her children.
Are Billy Bob and Angelina still friends?
Though it was the end of an era, the former couple seems to be on good terms. "We're good friends. We've been friends for years and years and years," Billy Bob told Us Weekly in September 2019 at Tribeca TV Festival's presentation of Goliat.
"So we keep up with each other. She's not in town a lot, so we don't see each other much, but we talk," he added.
In 2012, Jolie even wrote the foreword to Thornton's memoir, writing, "Some people walk through life able to quiet the voices in their heads. He can't. And I, and everyone else who knows him well, we love him for it. I know one thing: the world would certainly be a hell of a lot more dull if that man weren't in it."
Angelina Jolie and Billy Bob Thornton weren't meant to last, but we will always remember them fondly.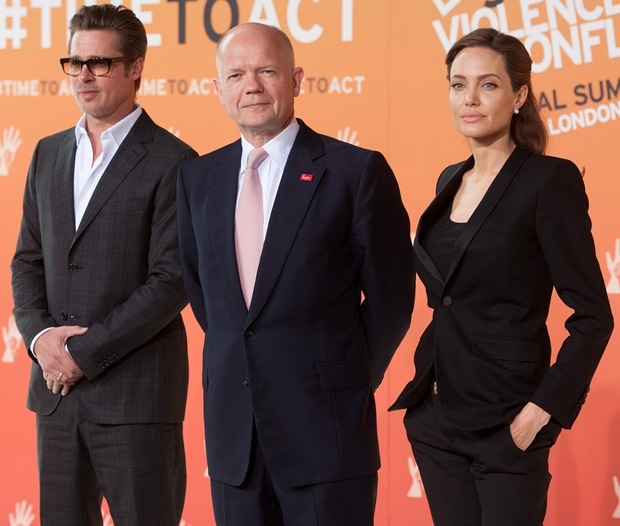 Brad Pitt, William Hague, and Angelina Jolie at the End Sexual Violence in Conflict Global Summit held at ExCeL in London, England, on June 12, 2014 (Credit: Daniel Deme / WENN)
In June 2014, Angelina Jolie and UK Foreign Secretary William Hague hosted the Global Summit to End Sexual Violence in Conflict in London.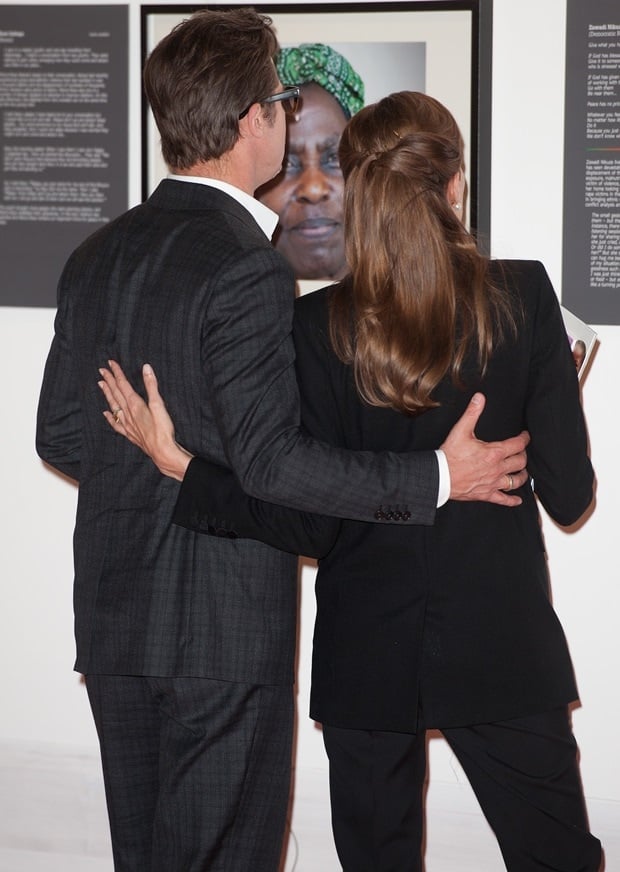 Brad Pitt and Angelina Jolie in suits by Salvatore Ferragamo and Saint Laurent (Credit: Daniel Deme / WENN)
On the third day of the event, the then 39-year-old actress and humanitarian donned a black suit by Saint Laurent.
Angelina Jolie styled her black suit with matching black patent pumps (Credit: Daniel Deme / WENN)
She styled the outfit with a pair of black pointy-toe pumps. Her fiancé, Brad Pitt, wore a two-button notch-lapel black-and-gray checkered suit by Salvatore Ferragamo.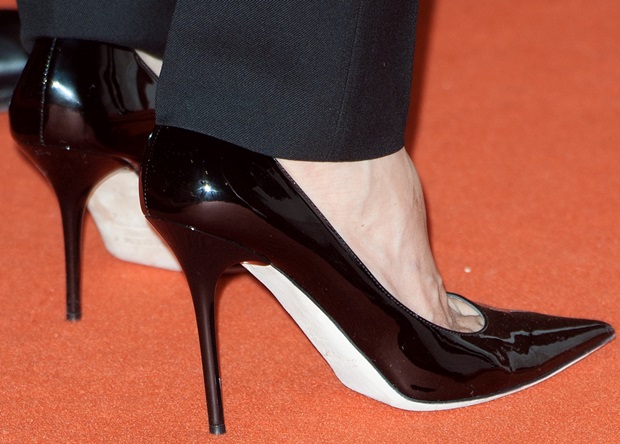 Angelina Jolie shows off her feet in black pointy pumps (Credit: Daniel Deme / WENN)
How do you like Angelina's suit and black pumps? While it was not an exciting outfit, we believe she dressed appropriately for the occasion. Can you help us identify her black pumps?
They look a little similar to the shoes that she wore to the British Academy Film Awards earlier the same year.
In the meantime, here are a couple of alternatives from Shopbop that we hope you'll like: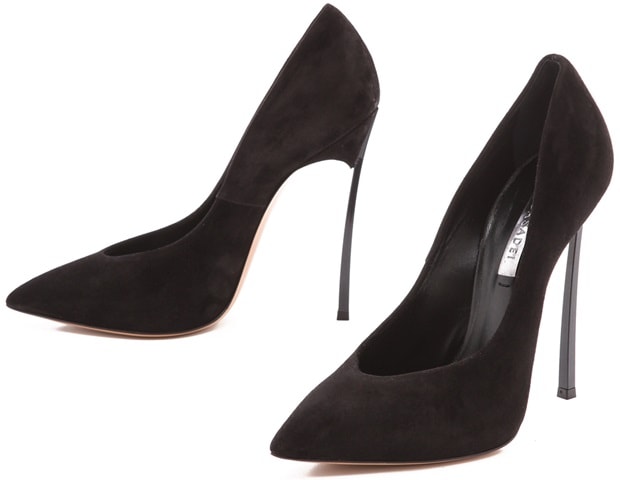 Black Casadei Suede Pumps, $690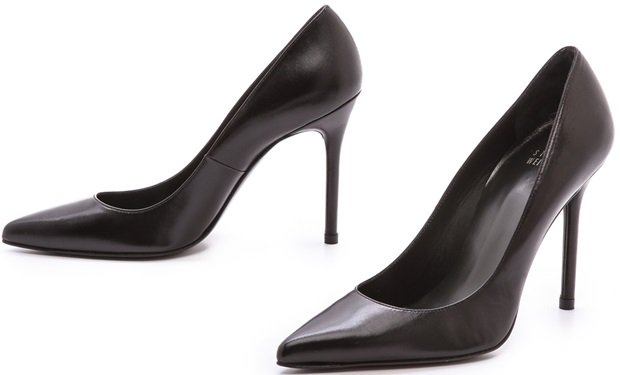 Stuart Weitzman 'Nouveau' Pointed-Toe Pumps, $355